Grillled sweetcorn is one of those classics that go hand in hand with traditional BBQ recipes. Especially, if you've got impatient kids waiting by the grill. Grilled sweetcorn is a must have for children, plus it's healthy too!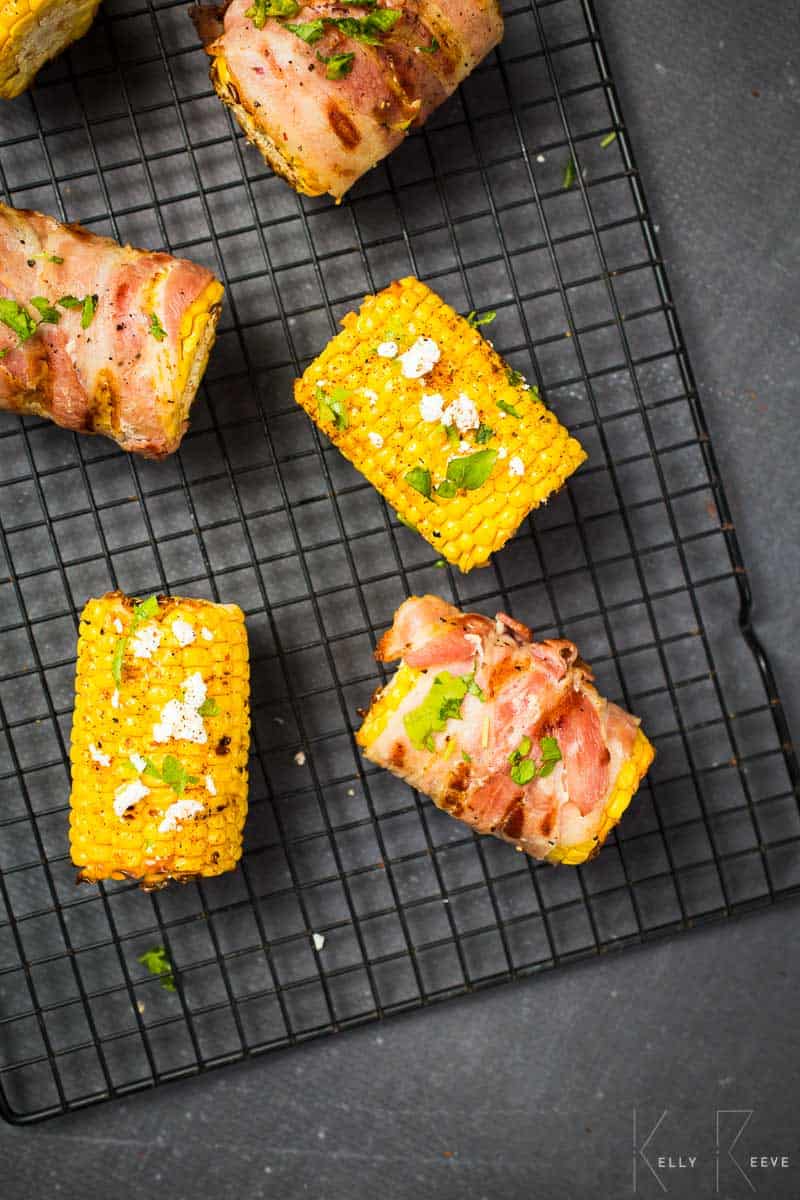 I remember when I was little, we often had sweetcorn on a stick over an open fire. I just love that char it gets, which makes it nice and smoky! If you think about it, you can cook the sweetcorn in any way you want.
In optimal conditions, you should grill it. However, you can boil it, roast it or bake it. Some people even eat it raw!
In this instance, I grilled the sweetcorn and then sprinkled some feta and fresh herbs on top. The best part about having grilled sweetcorn on the menu at home is that you can whip up any BBQ dipping sauce or melt some butter to go with it.
This will enhance the flavours of the grilled sweetcorn and turn it into a sophisticated and a more complex dish. Let me know how you decide to eat the grilled sweetcorn. Plain with butter or a special sauce?
preparation
Before you put the corn on the grill, there is some preparation to be done. I used to love peeling the back of the husks, which is a great activity for the kids.
Also, it's good to give them a job, while getting other things done in the kitchen. Next, cut the sweetcorn half!
Traditionally, kids prefer eating the whole sweetcorn. Very cartoon like, I would say. However, for practical purposes, it's always better to cut in half!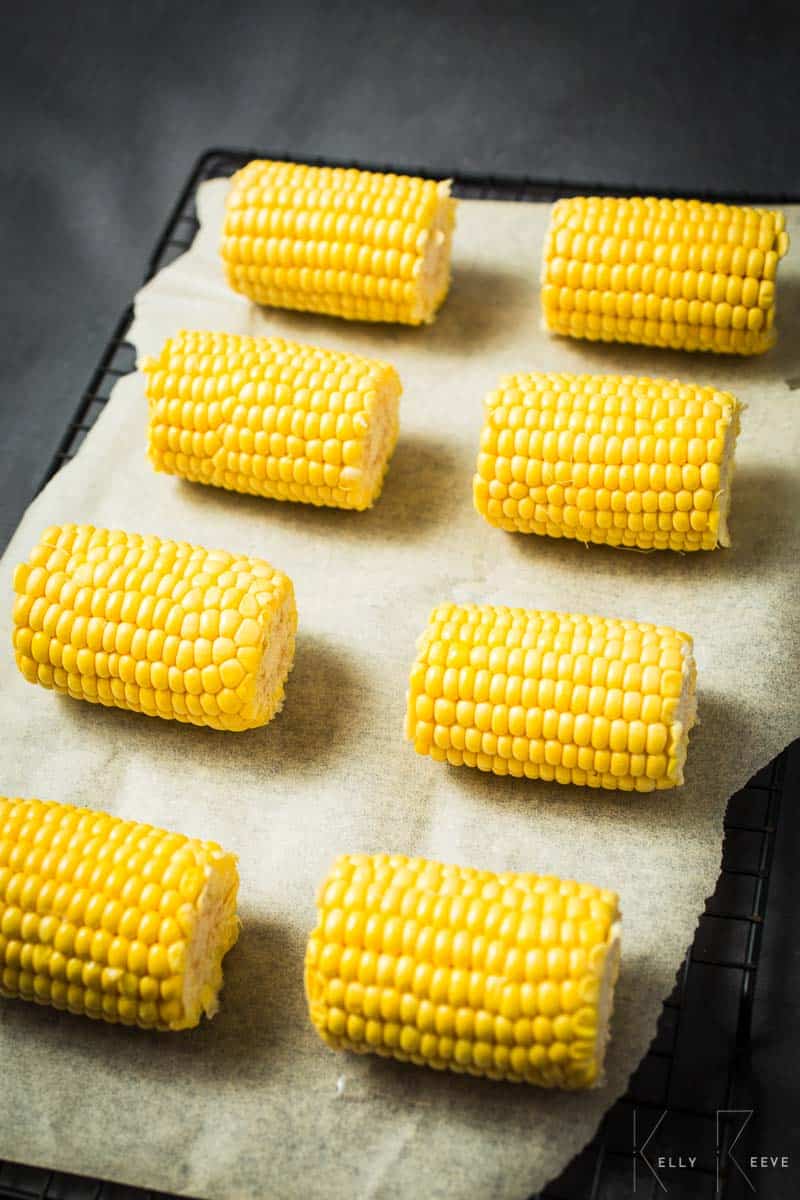 things you should know about butter
Once you finish the preparation process, the next step is to heat up your grill. As soon as you place your sweetcorn on the grill, add some butter to create that silky texture.
Some people think that salted butter is the way to go here. However, using unsalted butter gives you the opportunity to season the vegetable exactly according to your liking.
Another thing you should know about butter when applying it on the grilled sweetcorn is, that is can burn really easily. Therefore, many people prefer to use olive oil instead of butter.
If you've ever burnt butter you know how easily butter can burn as a result of its milk solid content. You'll be left with a bitter taste, rather than silky.
The olive oil doesn't burn, and it gives off a very pleasant aroma to the smoky flavours from the grill.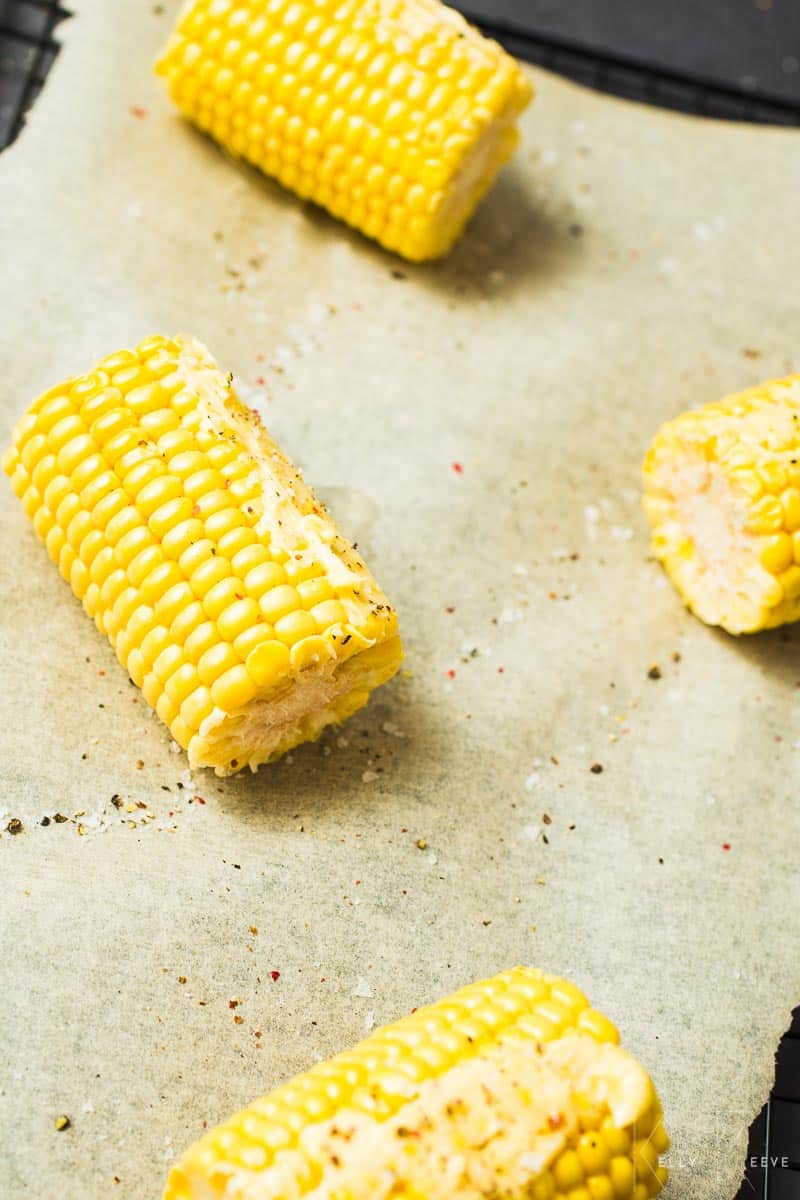 grilling
To make sure that your sweetcorn grills thoroughly, have some aluminum foil ready by the grill. Use the foil to cover the sweetcorn.
This way, you'll isolate some heat and you'll ultimately ensure that the heat is distributed evenly. In addition, you'll trap the smoke coming from the bottom of the grill into the sweetcorn.
Therefore, the smoky flavours will infuse easily and more intensely!
dipping sauce
Some kids always ask for a dipping sauce for the grilled sweetcorn. If you are cooking BBQ smoked ribs alongside your grilled sweetcorn, here's an idea.
Click on the BBQ smoked ribs recipe, and make an extra portion of the BBQ glaze for the ribs. It will perfectly complement those smoky flavours in the grilled sweetcorn.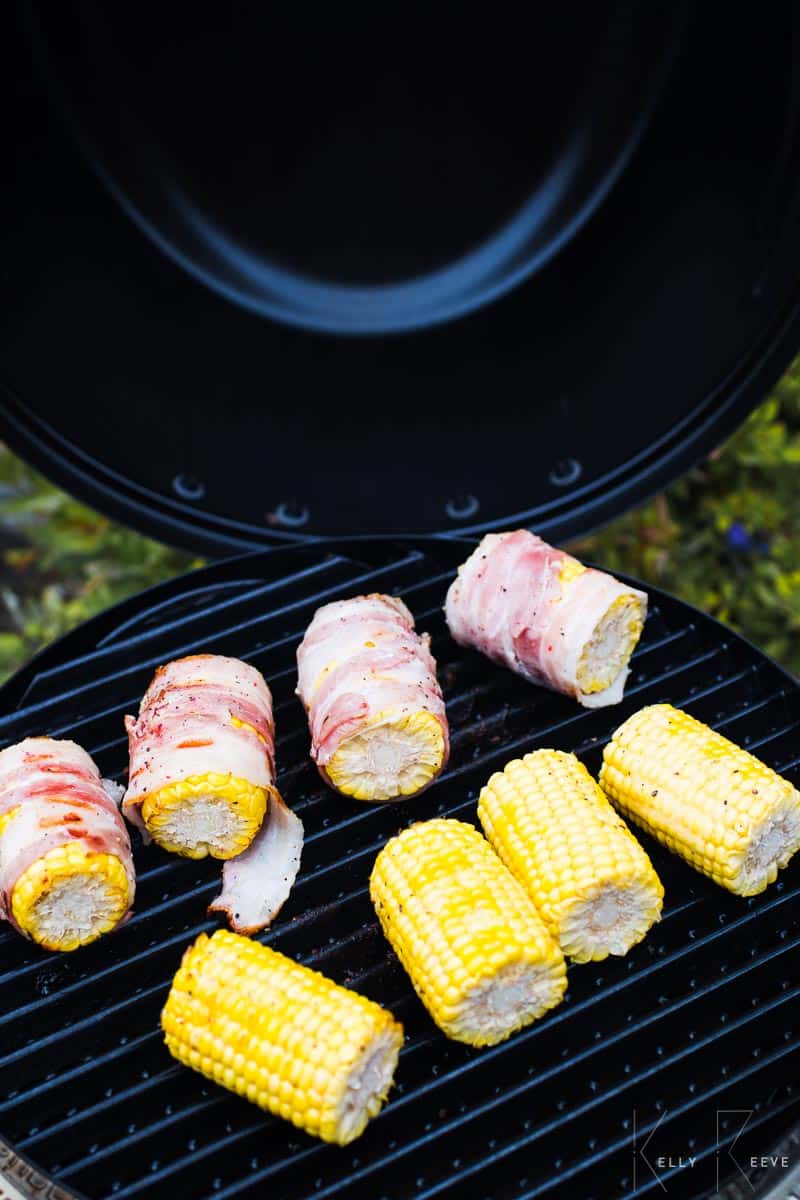 more meat
Are you a self-declared meat lover? On top of that, do you love to use the grill out in your garden? Why don't you check out more of my BBQ recipes here.
The best bit about barbecues is that anything tastes amazing once you put it on the grill. Meat, vegetables, cheese, fish, you name it. You can grill almost anything to your liking.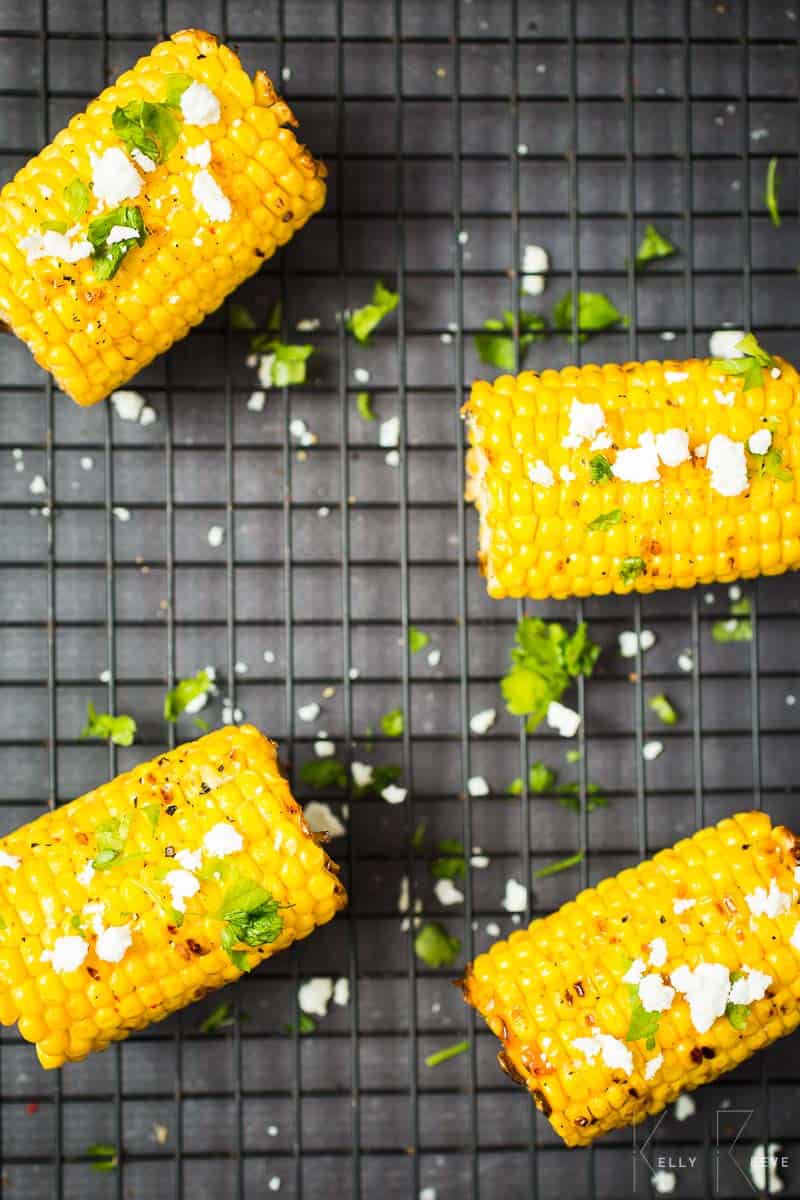 no grill, no problem
If you haven't got a grill at home don't worry about spending tons of money to get one. Sure, you won't get those smoky flavours in your food or that lovely char we love to see.
However, grilling is not the only way to prepare a great dish. The closest you can get to the grilling process is by oven-baking the sweetcorn.
If you've got a grill function, you can even benefit from having that char on some parts of the corn. You can actually get lovely BBQ flavours from an oven.
Don't believe me? Just check out my oven baked barbecue chicken recipe here.
If you don't own an oven, no judgment, you can also microwave your sweetcorn. The time settings vary from microwave to microwave, so you'll have to monitor closely how the sweetcorn is doing.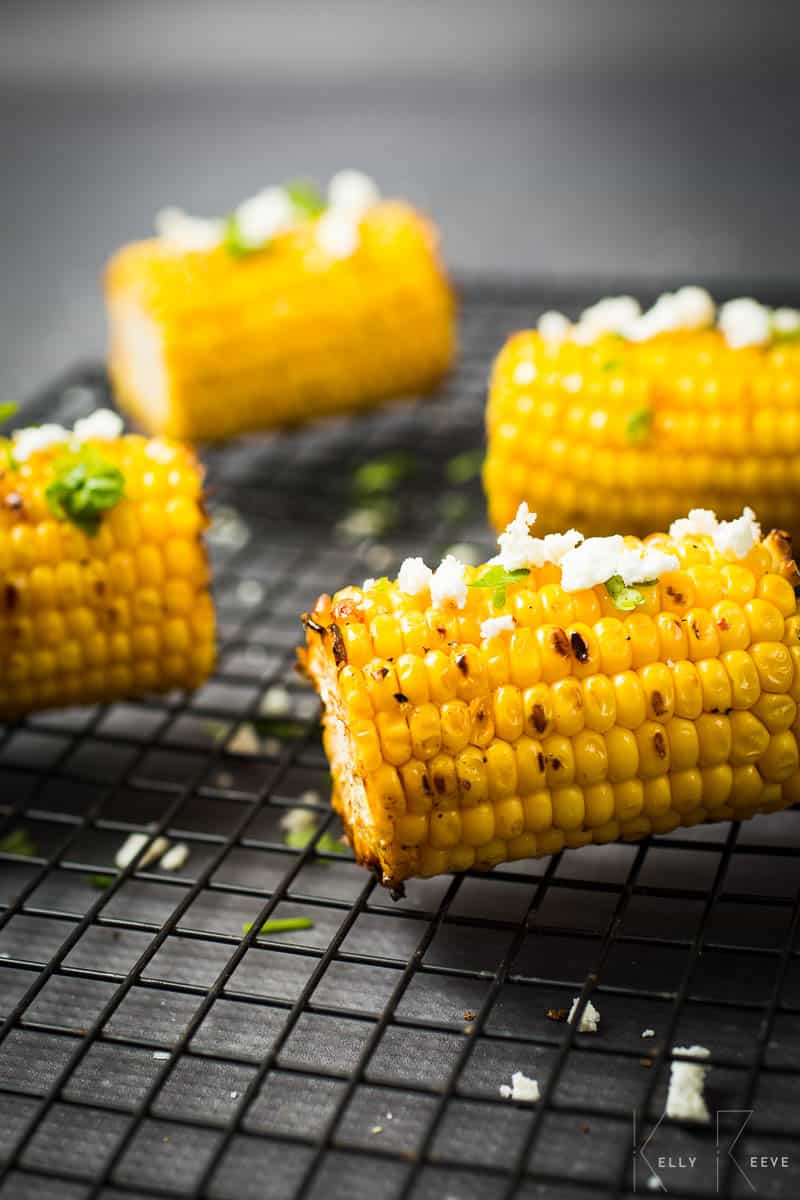 Intensify with flavours
In this grilled sweetcorn recipe, I used feta, chili and some fresh herbs to intensify the flavours of the grilled sweetcorn. You can use parsley or coriander.
Sometimes, people aren't such a big fan of coriander as it can get too aromatic. So, make sure you've got parsley as a spare herb, and don't forget to ask your guests for their preferences.
You can also get take some bacon or Parma ham and wrap it around your grilled sweetcorn. A little warning for those who don't like too much grease.
By wrapping the sweetcorn in bacon, you will definitely risk an oily or greasy sweetcorn. Not so healthy, but super tasty.
It's one of those things where you know you'll have to sacrifice something tomorrow, like some time to go to the gym.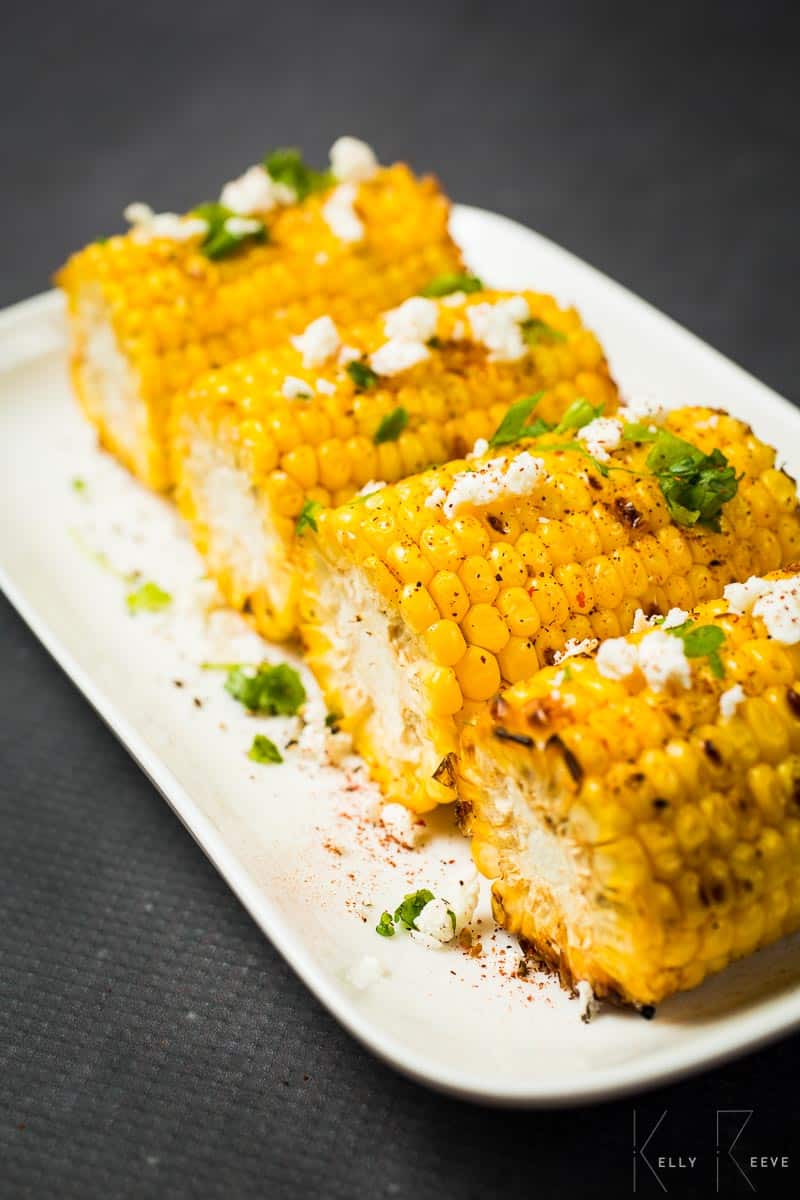 other things you can grill
As mentioned before, there are so many things you can just pop on the grill. Whether it be a masala grilled aubergine, or asparagus wrapped in parma ham.
As you can see, lots and lots to choose from! Let me know how your sweetcorn turn out and what you serve it with!
Another great side dish recipe that is ideal to make in the summertime is roast marrow and tobacco onions.
Here are more recipes for inspiration:
Print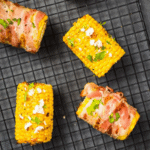 Grilled Sweetcorn with Feta and Chilli
---
4

sweetcorn cobs, peeled and cleaned

20

ml

(4 tsp) butter, melted
Salt and pepper

90

g

(3oz) feta cheese, crumbled

5

ml

(1 tsp) dried chilli powder
Coriander leaves for garnishing
---
Instructions
Brush the sweetcorn cobs with the melted butter.
Place the sweet corn on the barbecue or under the grill and cook for about 10 minutes, turning them constantly before they char.
Remove the cobs from the heat and sprinkle with cheese, chilli and coriander. Serve immediately as a side dish.
Notes
You don't need to melt the butter but it would go further than its smeared counterpart, thus making it less calorific.
I prefer my sweet corn with a crunch but if you prefer it completely cooked then cook for longer according to your preference.
Prep Time:

10 minutes

Cook Time:

10 minutes
Nutrition
Serving Size:

1 serving

Calories:

129

Sodium:

279 mg

Fat:

9.4 g

Saturated Fat:

5.8 g

Carbohydrates:

6.9 g

Protein:

4.5 g

Cholesterol:

30 mg
save the recipe to your pinterest board

A special thanks to Kelly Reeve for assisting with the recipe shoot.