The centerpiece to your Thanksgiving or Christmas dinner, this whole roast turkey recipe is truly as good as it gets!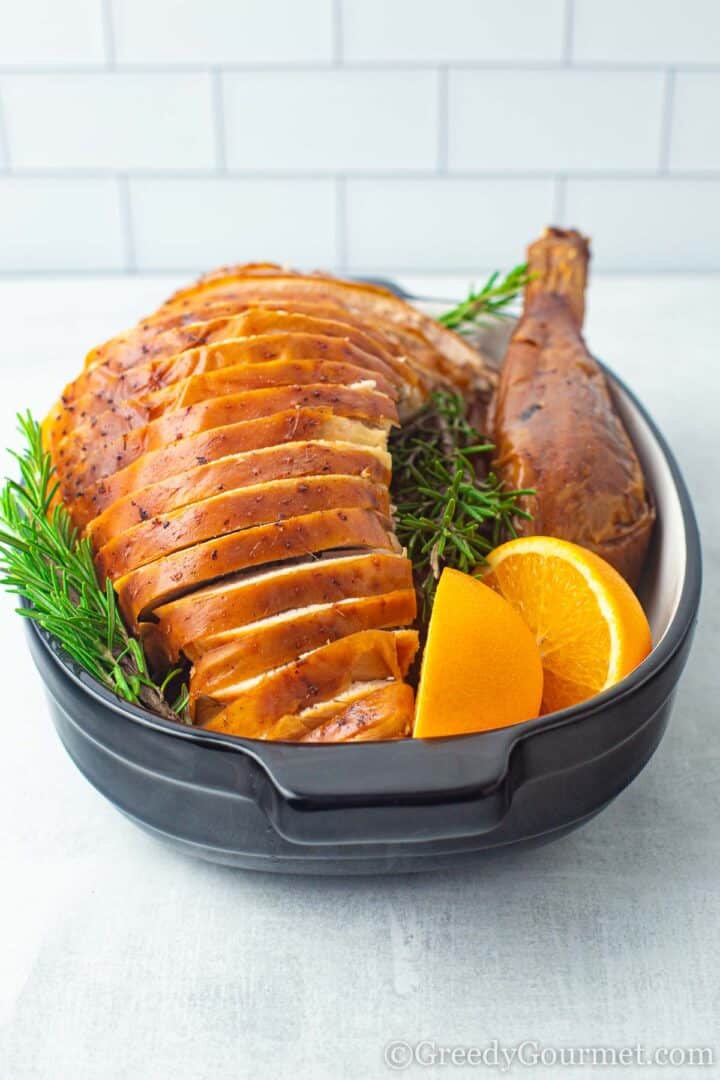 Deliciously tender meat that melts in your mouth, with luscious crispy bits for that extra wow factor, this is the perfect roast turkey recipe for the ultimate family feast!
Products you need for this recipe
Before you dive in and get started, let's take a look at some essential kitchen items you'll need to make your Thanksgiving turkey: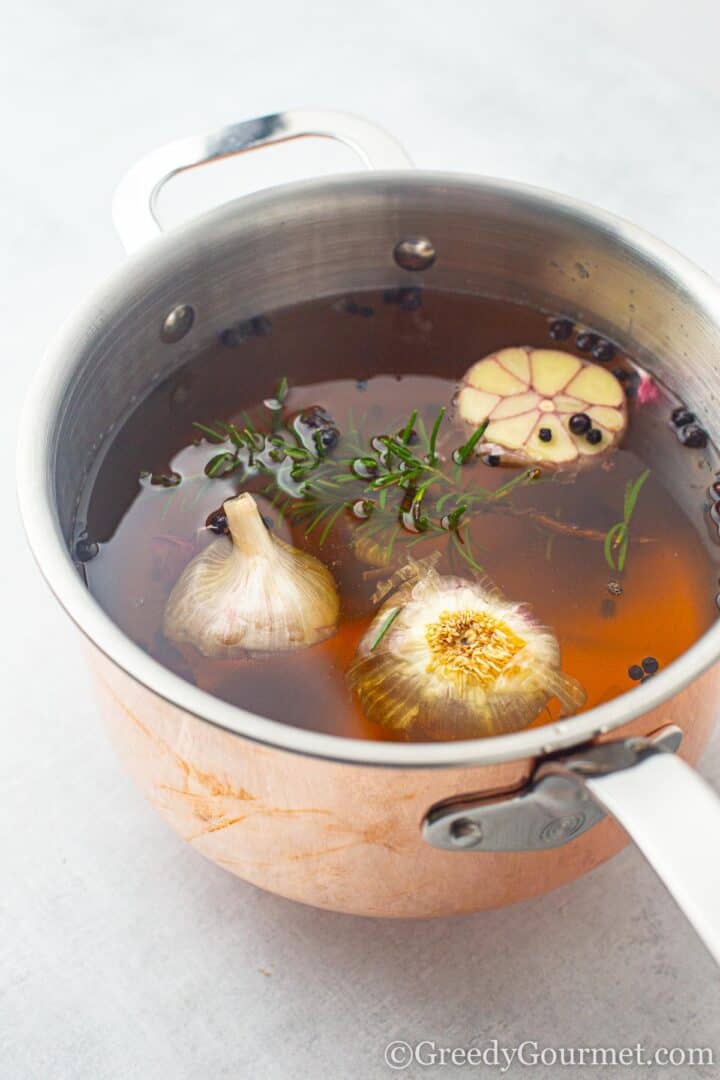 Whole roast turkey recipe
Let's talk turkey! When the festive season rolls around, nothing hits the spot like a perfectly roasted whole turkey. Whether it's a Thanksgiving turkey or one for Christmas, when you roast a turkey, you want to get it right.
This turkey recipe gets all the basics right – from the perfect prep and the simple salt and pepper seasoning to the ideal temperature and cooking time. Then, we take your Thanksgiving dinner to another level, with a few tricks of the trade to ensure perfectly juicy, tender meat every time.
If you've never roasted a turkey before, this recipe is ideal. It's easy to follow, the ingredients are straightforward and the whole cooking process doesn't take too long. It's an ideal roasting recipe to begin with and a great one to try again and again, until you master it.
In fact, a great idea is to make a Thanksgiving turkey, then try it again when Christmas rolls around!
What size turkey to buy for Thanksgiving
The size of your Thanksgiving turkey depends on how many people you're cooking for. In general, you want to aim for around 1.25lbs (560g) per person. So, if you're cooking for 4, you'll need a 5lbs turkey, for 6 you'll need an 8lbs turkey and for 8 you'll need a 10lbs turkey, etc.
Should I buy a frozen or fresh turkey?
While I understand that buying a frozen turkey is a lot easier and is the best option for some, if you can, I recommend you opt for a fresh one. Fresh turkeys retain their moisture better than turkeys that have been frozen.
Plus, from a practical point of view, if you go fresh you won't have to worry about defrosting your turkey.
How do you defrost a frozen turkey?
If you do opt for a frozen one, the safest method to defrost a frozen turkey is by leaving it in the refrigerator. You might need to do a bit of rearranging, depending on how large your turkey is, but it's definitely worth it!
It might also take a long time to get a thawed turkey, depending on its size. Allow a day of defrosting for every 4-5 pounds. So, if you have a particularly big turkey – say, 16 pounds – you're going to need around 4 days to defrost.
While old school foodies will no doubt tell you that leaving a turkey outside on Christmas Eve or the day before Thanksgiving is the way to go, modern food safety standards advise against this method.
Should I wash my turkey?
Despite what you might think, it's not recommended that you wash your turkey before roasting it. For a start, cooking should kill all the germs on the turkey. If you do wash your turkey, you only increase the likelihood of spreading harmful germs and bacteria.
Instead of focussing on washing your turkey, you should wash your hands and surfaces during the cooking process.
What temperature should you cook a turkey?
I like to cook my turkey on a lower temperature, with regular basting, to ensure a perfectly juicy taste.
My advice is to cook turkey at 180°C/fan 160°C/355°F/gas mark 4. 
How long does it take to cook a whole turkey?
If you cook your turkey to the above temperature, your turkey cooking time will be approximately 4 to 4 and a half hours.
Why should you rest a turkey at room temperature before roasting?
If you bring your turkey to room temperature before placing it in a preheated oven, it will cook evenly and quicker. So, be sure to remove it from the refrigerator around an hour before you plan to place it in the oven.
Can I stuff the turkey in advance?
No. You should always stuff your turkey just before placing it in the oven. This is because when you leave stuffing in a raw turkey for a certain period of time, harmful bacteria can potentially grow.
So, always leave the stuffing until last!
Do you cover turkey when roasting?
Lots of cooks insist on covering a turkey with aluminum foil, in order to prevent it from drying out. However, if you baste it regularly, it's not necessary to cover your turkey.
How can you tell when a turkey is done?
There are two ways to find out whether your turkey is cooked. First of all, you can use a meat thermometer.
Using a meat thermometer is the most accurate and reliable way to ensure your roasted turkey is fully cooked. Insert it into one of the thigh bones, but make sure it's not touching the bone, only the meat.
When the temperature reaches 158°F/70°C, your roasted turkey is ready to roll! 
If you haven't got a meat thermometer, you can use the simple 'juices running clear' test. All you need to do is to pierce the turkey in the thickest part of the thigh with a fork. If the juices run clear, as opposed to a pinkish or red color, your turkey is done.
Do I need to let it rest after it's cooked?
Absolutely! Letting a turkey rest for at least 30 minutes allows the turkey juices to work their way through the meat and keeps everything nice and juicy.
It also helps the turkey fibres to relax. Let your turkey rest and you'll end up with juicy dark meat in the thighs, as well as perfectly moist turkey breast meat.
You can rest your turkey for up to an hour and a half. Don't worry about it going cold. If you cover it with aluminum foil, most of the heat will be retained. Either way, if you make sure your gravy is piping hot, you'll have the perfect turkey meat at the right temperature.
How do you carve a roast turkey?
It's easy when you know how!
Before you start carving, make sure your turkey has had enough time to rest, so that all the juices have had a chance to redistribute.
First, slice through the turkey skin between the breast and the leg.
Pull the leg away from the breast until the connecting joint is exposed.
Cut through the joint and any attached skin. Repeat on the other side.
Find the joint that connects the leg and thigh and cut through the middle.
Cut the thigh meat from either side of the bone and transfer the meat to your serving platter. Keep the legs whole and add them to the platter.
Slice through the skin between the wing and the breast. Pull the wing away until you see the joint. Then slice through the joint. Add everything to the serving platter.
Run the tip of your knife along the breast bone. Use your other hand to pull the turkey breasts away from the center until each one fully comes away.
Slice each turkey breast lengthways and add to the platter.
What should you do with turkey bones?
Definitely use them to make stock! Check out my turkey stock recipe to find out how to get the most amazing cooking liquid, using the leftover turkey carcass and bones.
How do I make a whole roast turkey extra tasty?
One way to make this turkey extra juicy and extra tasty is to drape bacon rashers over each turkey breast. 
This will keep each turkey breast incredibly tender, salty and rich, preventing it from drying out. It also means the pan juices will be extra lovely.
Another idea is to spread butter underneath the skin of each turkey breast. Carefully peel the skin away from the bottom of each breast and work your hand underneath, spreading the butter all over. You could even use garlic and herb butter. This method ensures amazingly tasty breast meat.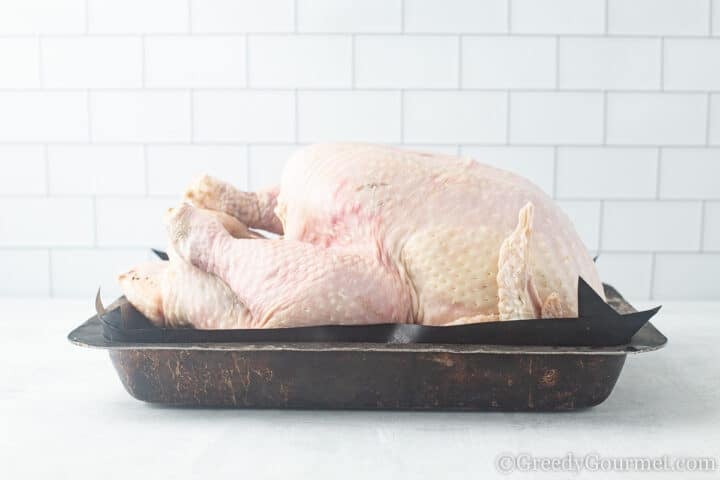 Tips for the perfect Christmas or Thanksgiving turkey
Let's recap on a few key points that will ensure you end up with a perfect whole roast turkey:
Don't throw the neck and giblets away! Leave them in the pan – they will add flavor to the pan juices.
Make sure your turkey is at room temperature before it goes in the oven. A cold turkey cooks unevenly. Give it about an hour out of the fridge before you place it in the oven.
Stuff your turkey just before placing it in the oven. A stuffed turkey that has been left around for a while has a chance of developing dangerous bacteria.
Don't skimp on the basting! Make sure those rich turkey drippings are used to ensure your turkey stays moist. Keep it regular – every 30 minutes is perfect – and use a turkey baster if you have one. It will help to keep the legs, wings and breast meat amazingly tender.
Don't forget to season the whole turkey with salt and freshly ground black pepper.
Don't over cook your turkey! Follow the timings below and check for doneness at the first available opportunity. Try pricking the thickest part of the turkey thigh meat and, if the juices run clear, your turkey is done. For a more accurate test, use a meat thermometer.
It's essential to allow your turkey at least 20 minutes before carving. This will enable all the turkey juices to redistribute throughout the turkey, giving you amazingly succulent meat.
Don't waste the leftover bones and the turkey carcass – you can make the most amazing turkey stock or turkey gravy.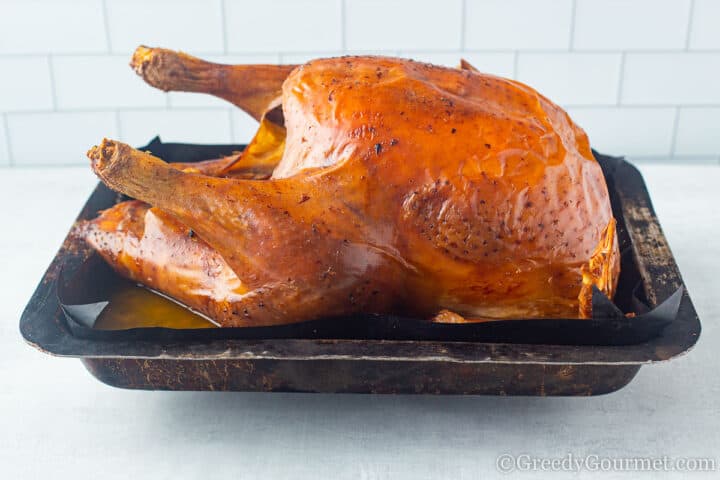 More amazing Christmas and Thanksgiving recipes
It's that time of year when indulgent comfort food is all that we crave. Whether you're looking for the perfect side or the most scrumptious leftover dish, I've got the perfect holiday treat for you and your family:
Dried cranberry sauce – what would a Thanksgiving turkey be without the most delicious cranberry sauce? This recipe is super simple and will please the whole family
Marmite roast potatoes – my special roastie recipe is proving very popular and it's easy to see why. These delicious roast potatoes are simply irresistible! The star of the recipe is the classic favourite Brit ingredient, which works a charm as the ultimate flavor bomb, alongside the goose fat. You'll end up with the most incredible potatoes that are crispy on the outside and fluffy on the inside, every time!
Apple cider turkey brine – brining a turkey produces some incredible results and this recipe takes things to the next level. If you fancy stepping things up a gear this Thanksgiving or Chrismtas, you have to try this. It's like nothing you've ever tasted!
Turkey giblet broth – incredible broth that deserved to be made a lot more than it is. This is stunning proof that you should never throw away turkey gilets. Full of flavor and fantastically simple, this is a broth recipe that works to add depth to so many different dishes 
Apricot stuffing – a vegetarian stuffing that brings a whole lot of flavor. It's fantastically fruity and incredibly moreish. Make a big batch and serve it up either as a stuffing for this Thanksgiving turkey or as a delicious side
Leftover turkey curry – leftovers have never been this good! If you're a fan of Indian cuisine this recipe is the one for you! It's quick and Incredibly easy… essential for any leftover recipe. It's also got an immense amount of flavor. It could well become your go-to holiday leftover special
Leftover turkey chowder – another wonderful leftover dish, this creamy, smoky sensation brings a lot of flavor and makes you feel all warm and cozy! 
Leftover turkey lasagne – an Italian feast piggy-backing on Christmas coattails! Rich, indulgent and too good to be true… until that first mouthful, that is!
Print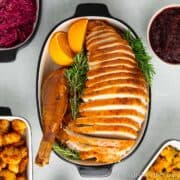 Whole Roast Turkey
---
Author:

Michelle Minnaar

Total Time:

4 hour 30 minutes

Yield:

24

portions

1

x

Diet:

Gluten Free
Description
A Whole Roast Turkey is the most important dish of your Christmas or Thanksgiving dinner. Serve with your favourite trimmings!
---
11

kg

(24lbs) turkey

1

orange, halved

57

g

(1/4 cup) butter, at room temperature
---
Instructions
Preheat the oven to 180°C/fan 160°C/355°F/gas mark 4.
Remove the giblets and neck from the turkey cavity. (These are usually found in a plastic bag. Check out these Giblet Stock and Giblet Gravy recipes to see how to make best use of them.)
Place the orange halves inside the turkey. 
Rub butter evenly all over the turkey. 
Season with salt and pepper to your preference. 
After 2 hours of cooking, remove the turkey from the oven and baste with the pan juices all over and place back in the oven. Repeat this process every 30 minutes until cooked. 
When the turkey has been cooked, remove from the oven and let it rest for between 20 and 40 minutes before carving, depending on how patient you are. 
Serve with the usual Thanksgiving and Christmas side dishes. Enjoy!
Notes
For best results, you should brine the turkey first, as this yields a much juicier result with less chance of drying out the meat if you overcook it. Check out this Apple Cider Brine and Buttermilk Brine. Once brined, drain the turkey first and pat dry with paper towels, then proceed with the recipe.
If you have brined a turkey (with sugar in the brine), chances are that its skin will brown quicker, but the meat will still need the original cooking time. In this case, when the perfect colour has been achieved, cover the turkey with tin foil and place back in the oven for the remaining cooking time. 
To get a prettier look to your turkey, you can tie the legs together with a bit of string.
Don't forget to save the carcass, which you can make beautiful turkey stock with!
Got leftovers? Check out these leftover turkey recipes!
Prep Time:

10 minutes

Cook Time:

4 hours 20 minutes

Category:

Dinner

Method:

Roast

Cuisine:

American
Keywords: whole roast turkey, roast turkey recipe, thanksgiving turkey, christmas turkey recipe, easy roast turkey recipe