I can't stand food waste! When it comes to wasting good ingredients, people wasting turkey giblets are top of the list. Well, my tremendous turkey giblet broth aims to put an end to that.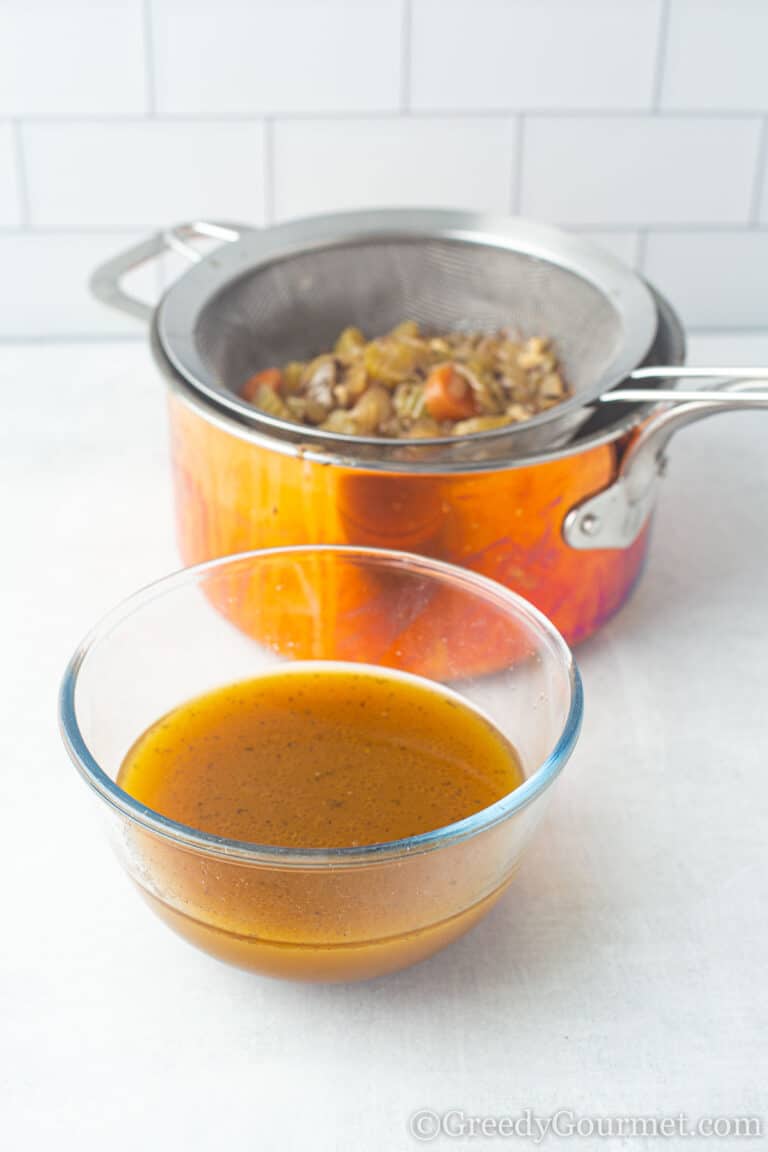 Turkey giblets are the part of the festive centerpiece that usually gets tossed in the trash, yet contain an immense amount of flavor. So, let's put them to good use, with a broth that will take your breath away.
Products you need for this recipe
There are a few important items you'll need for this recipe:
Medium sized stock pot – you'll need a good quality stock pot for your giblet broth to simmer away in
Fine-meshed sieve – unless you want to make a big chunky giblet gravy, you'll need a fine-meshed sieve. This will ensure you'll get a nice smooth giblet broth
Pyrex measuring jug – get yourself a good measuring jug to pour your giblet broth into
Kitchen knife – a sharp kitchen knife is needed to chop up the vegetables
Chopping board – always make sure you have a quality non-slip chopping board in your kitchen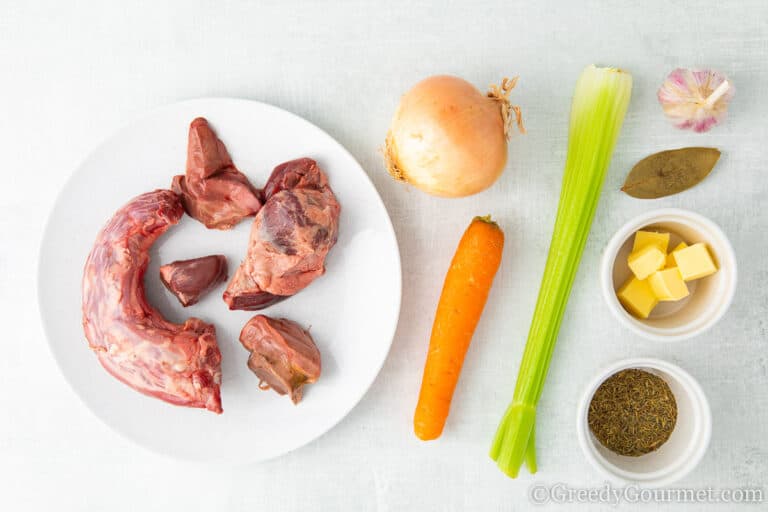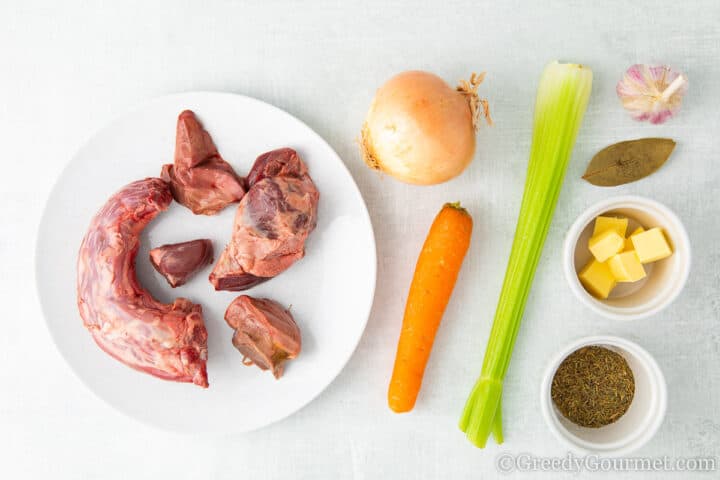 Turkey giblet broth recipe
During the holiday season, you shouldn't let anything go to waste. Particularly when it comes to a delicious part of your centerpiece.
For me, using up the giblet meat is essential. If you throw it in the trash, you're letting all that flavor slip away. Getting the best out of turkey giblets is very simple and barely takes up any extra time. You can make it and let it simmer away while the turkey is roasting in the oven.
Plus, there are so many fantastic uses for this delicious broth, from the most amazing giblet gravy or a normal gravy flavored with the broth, to soups and a stock for rice dishes, or even to moisten stuffing. More on all of these later.
Just think… if you bought this broth in the shop, it would be pretty pricey! To get it fresh, homemade and packed full of flavor is so special – in fact, you wouldn't be able to buy this kind of flavor at the store!
So, all the more reason to save these ingredients, neck and giblets and all, and turn them into something special!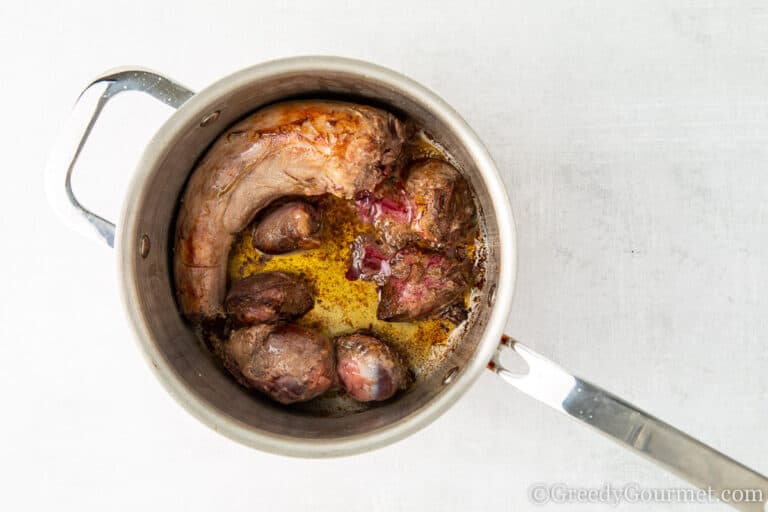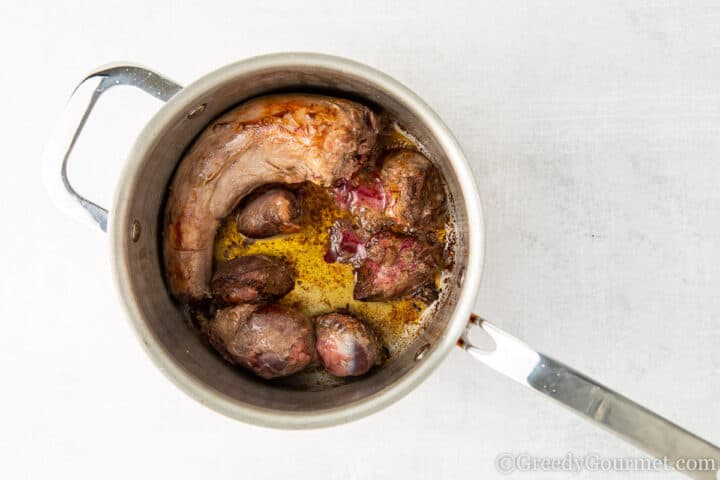 What are turkey giblets?
'Giblets' (pronounced with a 'g' for gin) is the term used to describe the unused parts of the bird. These are the heart, gizzard, liver and the turkey neck. 
Traditionally, when buying a turkey from a supermarket or butcher's, you'd often find the giblets in a bag under the flap of skin covering the neck end of the turkey. Many supermarkets no longer provide the neck and giblets, but most butchers still do. So, buy your bird from your local butcher to make this recipe.
Giblet meat is packed full of flavor and contains lots of nutrients, including essential vitamins and minerals.
Are giblets edible?
Absolutely. While there aren't many people who enjoy eating cooked giblets on their own, giblets produce an immense amount of flavor when simmered into a stock or broth. So, let's not let them go to waste!
One way many cooks make use of giblets is to add them to the roasting pan when cooking the Thanksgiving or Christmas Day turkey. Another way is to make this delicious giblet broth, which can then be used to make giblet gravy among many other things.
How long do you simmer giblets?
After frying the giblets for a few minutes, you'll remove them from the pan before frying the vegetables. Then, you'll return the cooked giblets to the pan and add the liquid and simmer for an hour.
It's important to give this broth an hour of simmering, to allow all the wonderful flavors to intensify.
Can you cook a turkey with giblets in it?
Giblets usually come packaged in paper, so you definitely don't want to cook them inside the turkey while wrapped in paper.
Besides, turkey giblets are best used added to the pan drippings in the roasting pan or to make this delicious broth while the turkey cooks in the oven.
How do I skim the froth off giblet broth?
While simmering your broth, a layer of froth will accumulate on the top. This is made up of fats and proteins that rise to the surface during the cooking process.
To skim the froth from the top of your broth, run a large cooking spoon along the surface.
What other ingredients can be used in this recipe?
For extra fragrance and earthy flavor, you can add a few herbs into the mix. Fresh thyme, rosemary, sage or oregano would work well. You could also add a bit of acidity with a segment of lemon.
For some extra warmth, add a teaspoon of black peppercorns.
Can I make my turkey broth richer?
Absolutely! To bring some extra depth of flavor to your turkey broth, you can add chicken broth or vegetable broth into the mix. Use 500ml (2 cups) of each with a liter (quart) of water. 
How do you store turkey giblet broth?
Storage depends on how long you plan on waiting before using your broth.
In the refrigerator
If you're planning on using it within a few days, store the broth in the refrigerator overnight.  Make sure you keep it in an airtight, properly sealed container. If stored correctly, it will last for up to 4 days.
In the freezer
Alternatively, if you want to keep your broth for longer, you can freeze it. Either freeze it in one freezable airtight container, or freeze it in smaller batches – you can use small ziploc bags or a large ice cube tray. Then, when you want a small amount of stock, you can simply throw a few stock ice cubes into a casserole or soup.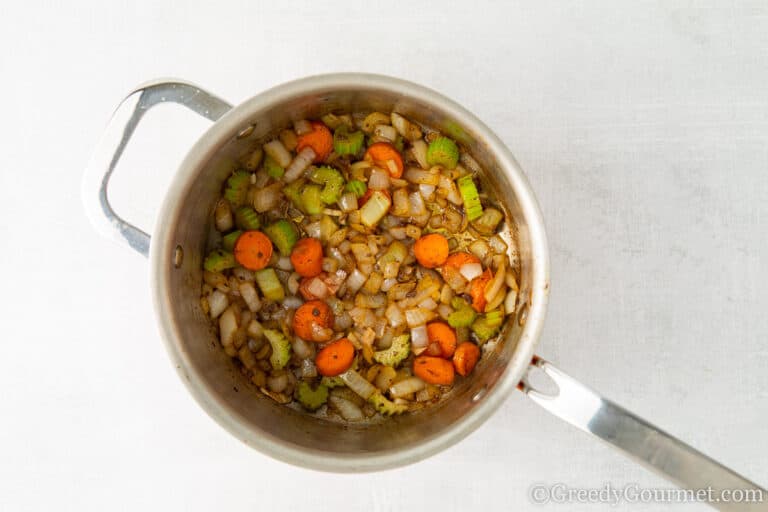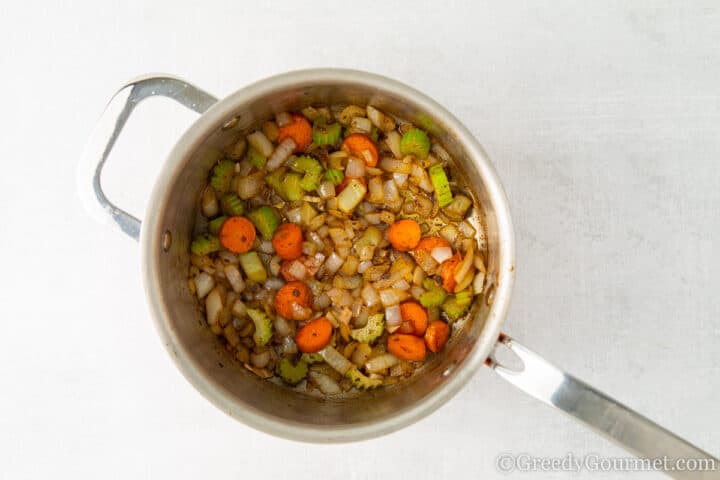 How to use this broth
There are so many different ways you can use this broth. Here are a few suggestions:
Giblet gravy
You can combine this broth with pan drippings from your roast turkey to make my turkey giblet gravy recipe.
With stuffing
Add some of this broth into your stuffing to help moisten the mixture.
Stews or soups
As a stock for a seasonal soup or stew, this broth is pretty hard to beat.
Rice dishes like risotto
A rich turkey giblet stock would add an incredible depth of flavor to any rice dish.
With a curry
If you want a stock to bring an extra level of richness to a chicken or turkey curry, this would work wonders. Try it with my leftover turkey curry, below.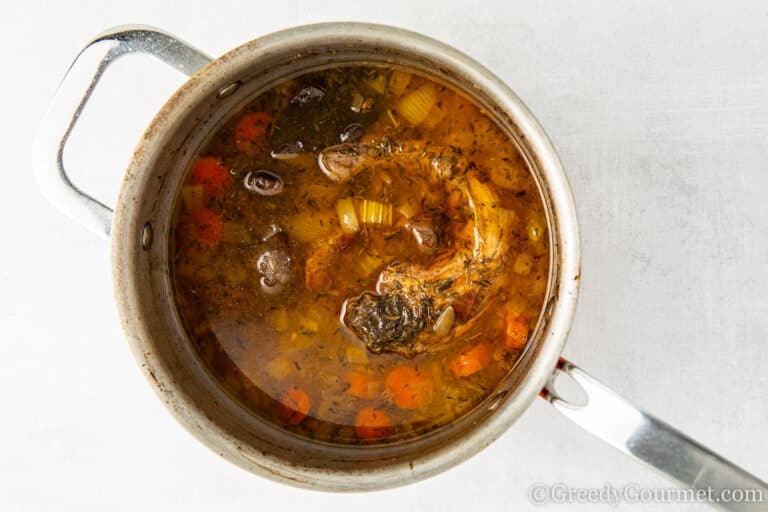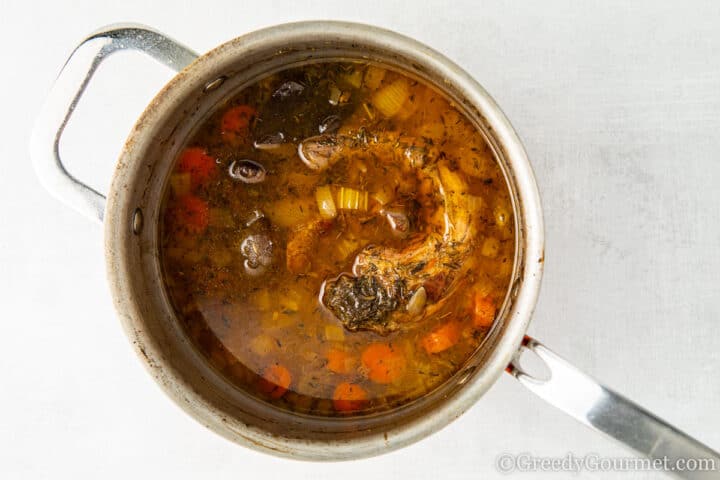 More Thanksgiving and Christmas recipes
Need some more inspiration for your Thanksgiving or Christmas feast? Look no further!
Whole roast turkey – the big centerpiece to your feast. Follow my recipe and you'll end up with a juicy, tender turkey every time
Dried cranberry sauce – the all-important sauce for your Thanksgiving meal. This recipe is fuss-free and very easy to follow
Marmite roast potatoes – these potatoes are very special indeed. The star of the recipe is the classic Brit ingredient, which brings an intensely rich flavor, alongside the goose fat. Deliciously crispy on the outside and irresistibly fluffy on the inside
Apple cider turkey brine – brining a turkey takes things to the next level and this brine is very special
Apricot stuffing – a vegetarian stuffing that packs in a lot of flavor. It's extremely fruity and hard to resist. Make an extra big batch and use it to stuff your turkey or serve it on the side. Either way, it's a winner
Leftover turkey curry – leftovers don't get much better than this! If you're a fan of Indian food, then this recipe is absolutely essential. Quick and easy, with stacks of flavor, it could become a festive family favorite
Leftover turkey chowder – another lovely leftover dish, this one is creamy, smokey and oh so satisfying
Leftover turkey lasagne – the last of my leftover recipes, this is an Italian feast riding on the Christmas coattails! Wonderfully rich and epically indulgent… you simply have to try it!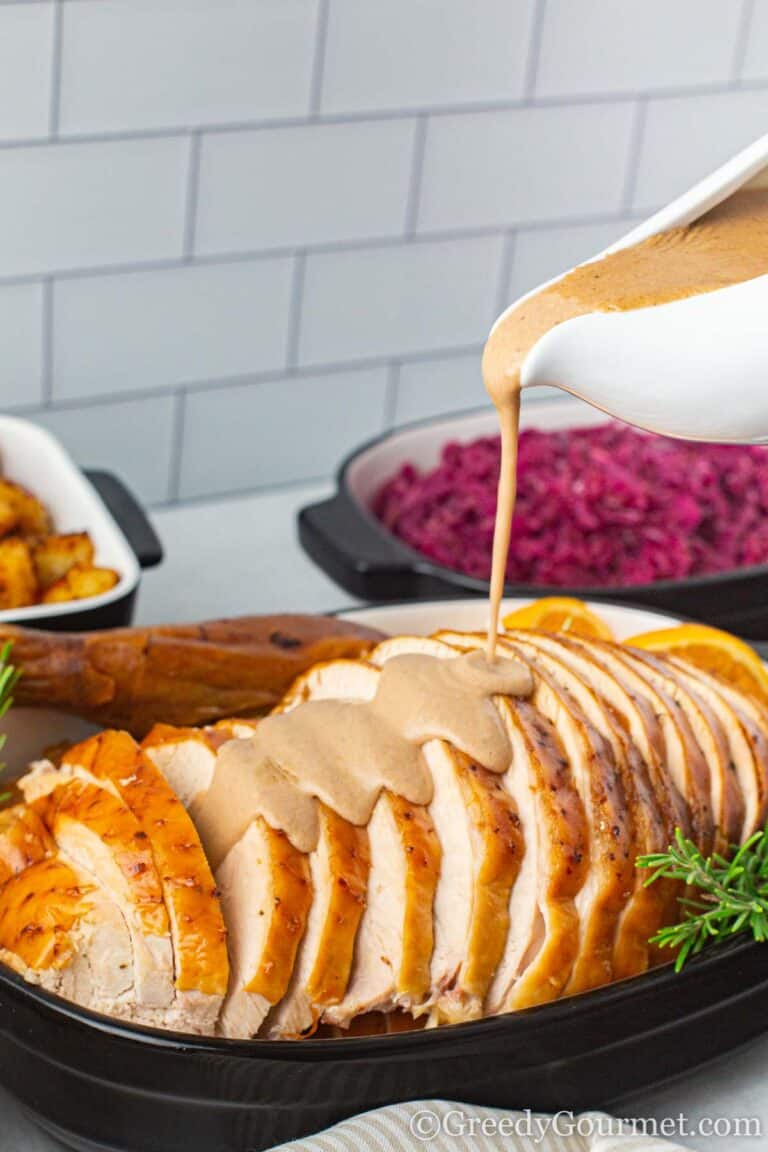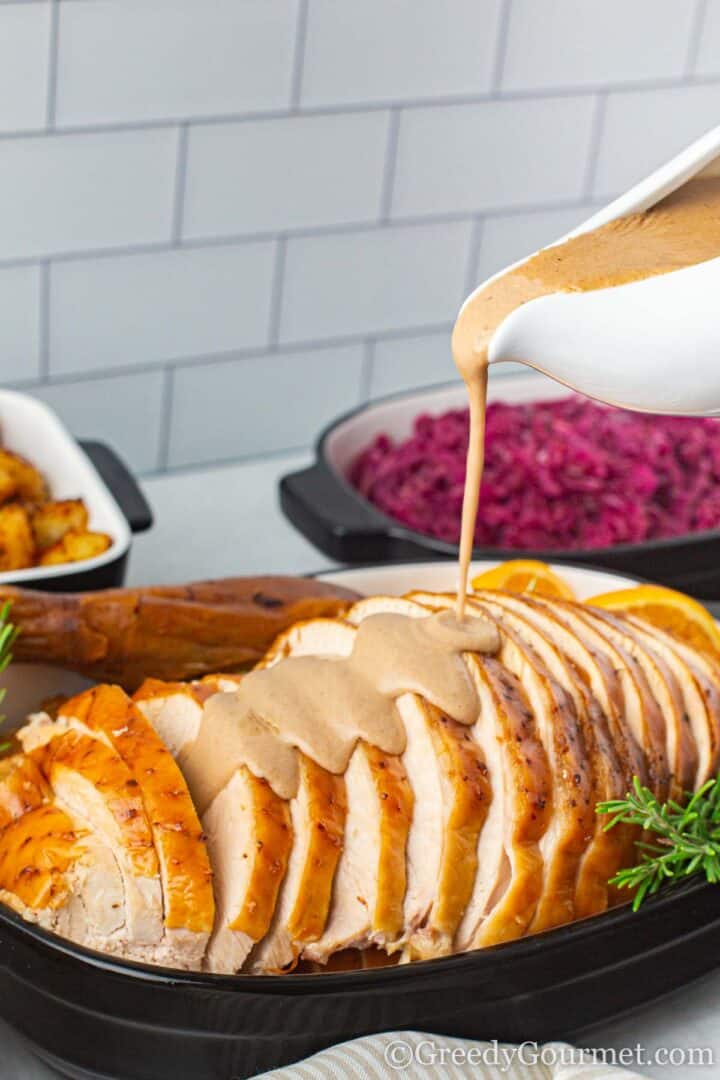 Print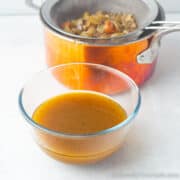 Turkey Giblet Broth
---
Author:

Michelle Minnaar

Total Time:

1 hour 30 minutes

Yield:

750

ml (3 cups)

1

x

Diet:

Gluten Free
Description
Let's reduce food waste! Instead of throwing away your turkey giblets, transform them into a Turkey Giblet Broth full of flavour? 
---
15

ml

(1 tbsp) butter

5

ml

(1 tsp) vegetable oil

1

turkey's giblets

1

onion, chopped

1

carrot, chopped

1

celery stalk, chopped

3

garlic cloves, crushed

1

bay leaf

1

g

(1 tsp) dried thyme
---
Instructions
Heat the butter and oil in a medium-sized stock pot.
Fry the giblets on all sides until golden brown. Remove the giblets from the pan and set aside. 
Tip the onion, carrot, celery and garlic into the stockpot and fry the vegetables for 5 minutes or until softened.
Pour in 1.5L (6 cups) of water, along with the bay leaf, dried thyme and reserved giblets.
Bring the mixture to a boil, then reduce the heat to a steady simmer. 
Cook for 1 hour, skimming the froth every now and then. The aim is to halve the amount of liquid, so that the flavour intensifies.
Strain the stock through a fine-meshed sieve into a bowl. Store in the fridge overnight and use as you see fit in recipes such as soups, gravies and casseroles. Alternatively, freeze in practical batches for future use.
Notes
 Turkey giblets usually comprise the heart, gizzard, liver, and neck of the bird. 
If you don't want to use bay leaf in this recipe, try one of these bay leaf substitutes instead.
You can also check out these celery substitutes as well!
Prep Time:

15 minutes

Cook Time:

1 hour 15 minutes

Category:

Gravy

Method:

Boil

Cuisine:

American
Keywords: turkey giblet broth, turkey giblet recipe, thanksgiving gravy recipe, giblet broth recipe, turkey giblet stock, giblet stock recipe