Want to know the secret to making incredible roasties? Well, I've got the answer just in time for the festival season - marmite roast potatoes!
This recipe is the perfect complement to your Sunday roast, this side dish is something else! Best of all, it's an absolute breeze to make.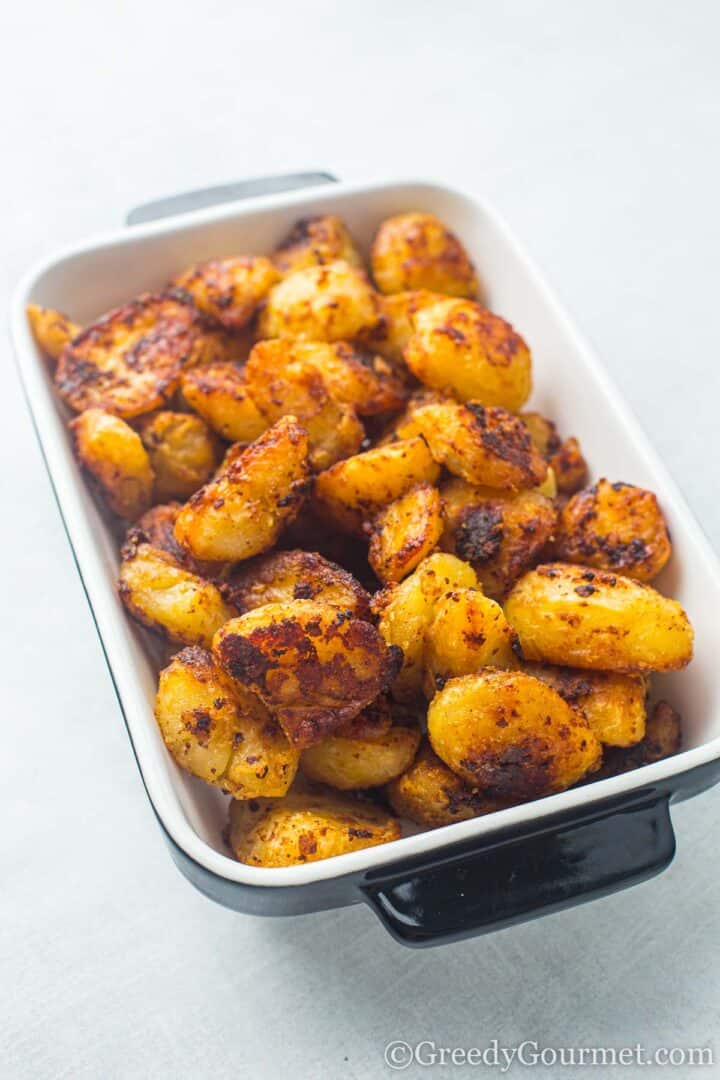 Products you need for this recipe
There are a few essential items you'll need for this recipe: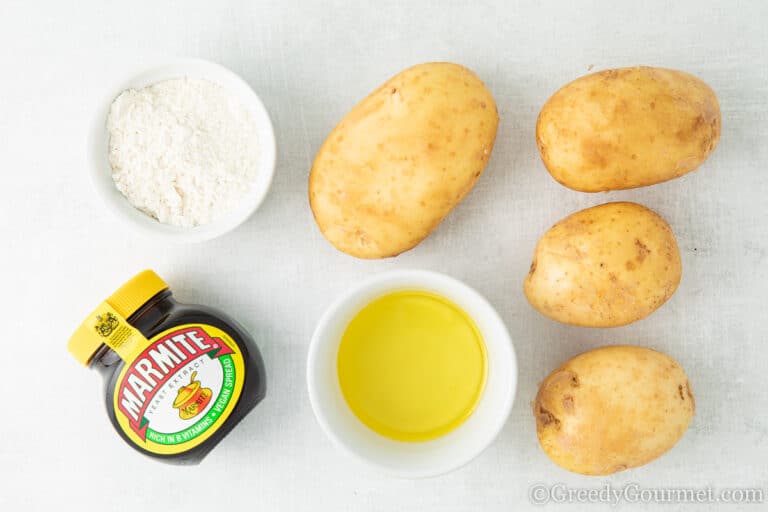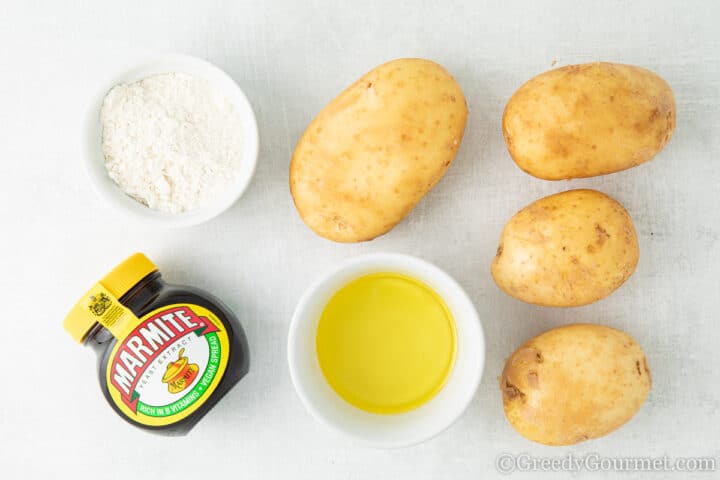 Marmite roast potatoes recipe
If you're looking for the perfect side dish for your Thanksgiving or Christmas feast, look no further! These Marmite roast potatoes really are on a different level to your standard Sunday roasties. They're crisp on the outside, fluffy on the inside and full of amazing flavour.
The details really make the difference – to the taste and the texture – while the ingredients take the humble spud to another dimension.
The ingredients are so simple! There are only five – potatoes (obviously!), Marmite, duck fat, sea salt and flour. That's it! No need to go ingredient hunting with this recipe.
The actual cooking process is simple too. There's minimal prep – you just need to peel and boil the spuds, prepare the pan, fire up the oven and let it work its magic.
With just a few turns of the spuds, within an hour you'll have the tastiest, crispiest, most mouth-watering roast potatoes you've ever tasted in your life!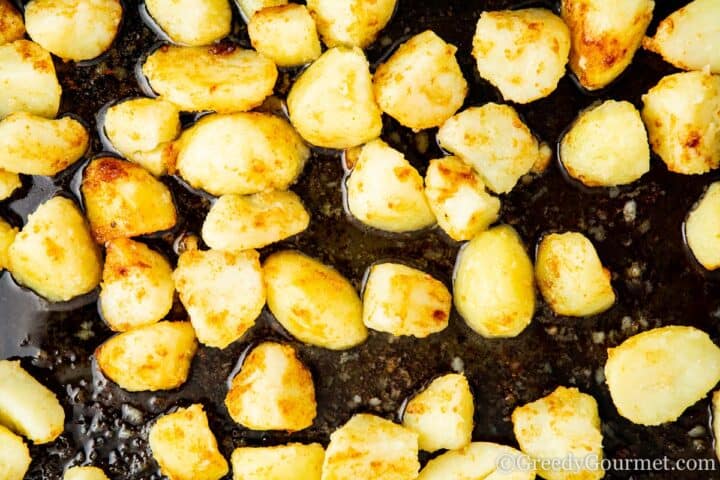 What's the best oven temperature for Marmite roast potatoes?
For this recipe, the best temperature is 190°C / 170°C fan / 370°F / gas mark 5. This is just right for potatoes that have been parboiled (half cooked and softened by simmering them for a few minutes).
Is this recipe vegan?
No, it's not vegan. Although one of the key flavouring ingredients – Marmite – is a vegan product, the other one – duck fat, is obviously not!
But don't worry, vegans! You can simply replace the duck fat with an oil with a high smoking point. Any vegetable oil is fine – something like grapeseed oil, avocado oil, canola oil or olive oil would be perfect.
Is it gluten free?
It's not gluten free, as flour is used to crispen up the Marmite roast potatoes. Flour is not an essential ingredient, so feel free to leave it out completely or use a gluten free flour in its place.
What are the best potatoes for roasting?
Some types make better roast potatoes than others and it's important to pick the right spuds before you fire up the oven. You'll need something floury that, when roasted in the oven, goes crispy on the outside and fluffy on the inside.
The following types make the best Marmite roasties:
Maris Piper
My personal favourite and the one I've gone for in this recipe. Maris Pipers are the definitive roasting potato. Cook them right and you'll end up with a perfectly crispy, fluffy potato.
Russet
A particularly starchy potato, russets are great for getting crispy in the oven.
King Edward
Another great floury potato, King Edward's are a classic Christmas variety that hold up well when roasted.
Desiree
A red coloured Dutch potato, desirees are a good alternative option if you can't find any of the three above.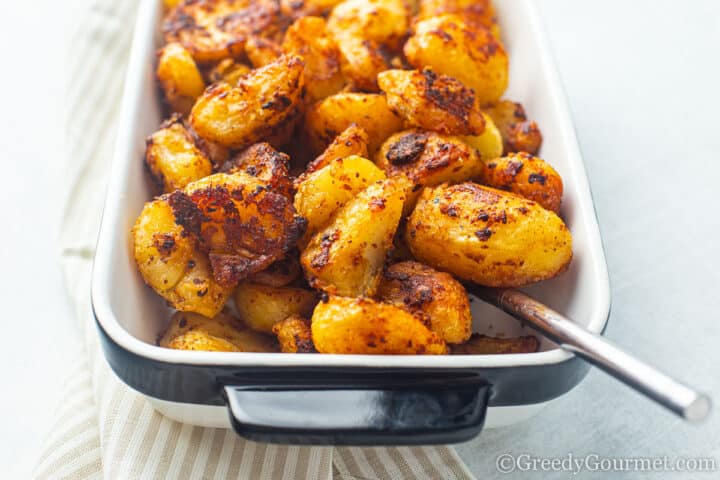 Tips for getting perfectly crispy Marmite roast potatoes
Follow these simple points and you'll roast up the perfect Marmite roast potatoes every single time:
Always parboil them before you roast them. Simmering the spuds for around 10 minutes helps to ensure they turn out soft and fluffy on the inside when roasted.
After you've parboiled them, make sure you dry them out properly. The drier your potatoes when they go onto the baking tray, the crispier they'll end up.
Give your spuds a shake in the pan after you've drained them. This will 'chuff' up the edges, helping to get those wonderful crispy edges.
Use flour to help soak up the fat and produce extra crispy spuds.
Salt the water when you parboil them, then salt them before you pop them in the oven.
Make sure you give your potatoes plenty of space on the roasting tray.
Use duck fat for the perfect taste or texture. Otherwise, go for vegetable or olive oil.
If you're looking for something to serve alongside this dish, dried cranberry sauce goes very well alongside these crispy roast potatoes to give a refreshing sweet hit.
More amazing potato recipes
Once you've mastered this Marmite roast potatoes recipe, try one of these with your Sunday roast: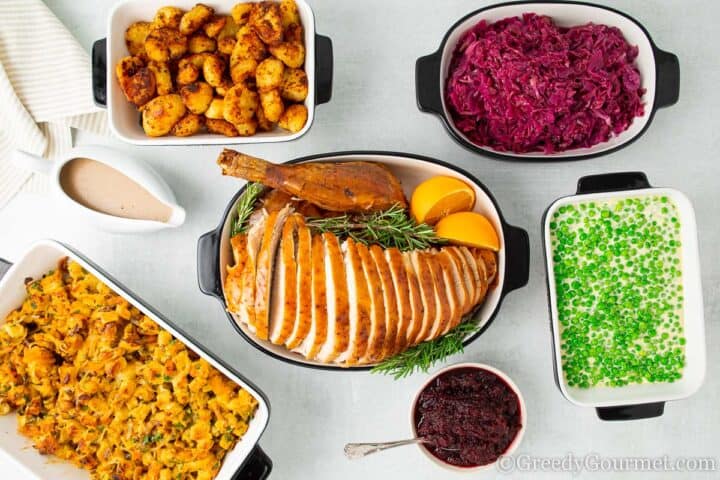 Print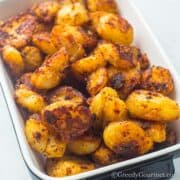 Marmite Roast Potatoes Recipe
---
Author:

Michelle Minnaar

Total Time:

1 hour 30 minutes

Yield:

8

portions

1

x

Diet:

Low Lactose
Description
Marmite Roast Potatoes are the perfect addition to any Sunday roast. Packed with flavour, this side dish recipe is easy to prepare. 
---
2 1/2

kg

(5 1/2 lb) Maris Piper potatoes

10

ml

(2 tsp) Marmite

300

g

(1 1/2 cups) duck fat

15

g

(1 tbsp) flour

6

g

(1 tsp) sea salt
---
Instructions
Preheat your oven to 190°C / 170°C fan / 370°F / gas mark 5.
Fill a large saucepan halfway with cold water.
Peel and cut the potatoes to desired size and place into the saucepan.
Once all potatoes are done place the saucepan onto the stove and bring to the boil over a medium to high heat. Add a good pinch of salt to the water.
Once boiling, turn the heat down and simmer for 10 minutes until the potato edges are getting soft.
Meanwhile, get a large roasting tray and spoon in the duck fat. Place the tray in the oven.
Once your potatoes are cooked, drain them in a colander. 
Once drained, transfer them back to the saucepan. Place the lid over the top and shake well which should allow the edges to break slightly.
Sprinkle the flour over to coat all the potatoes.
Remove the roasting tray from the oven, then add the Marmite and mix it with the duck fat.
Tip the potatoes gently onto the roasting tray. Mix to cover all surfaces of the potatoes with duck fat. Sprinkle over some sea salt, then transfer back to the oven.
Roast for 1 hour or until golden brown, turning the potatoes every 20 minutes.
Transfer to the serving plate of your choice. Enjoy!
Notes
If you would like to make this dish vegan you can exchange the duck fat for any oil of your choice. I would suggest sunflower oil as it is more capable of handling the higher heats.
Marmite is vegan already as it is a byproduct of the brewing industry.
Also if you are looking to make this recipe gluten free, you can substitute the flour for a gluten free version or omit the flour out all together. I like using the flour as it helps soak up some of the fat and gives you even crispier edges!
Prep Time:

15 minutes

Cook Time:

75 minutes

Category:

Side Dish

Method:

Roast

Cuisine:

British
Keywords: roast potatoes, marmite roast potatoes, roast potato recipes, oven roast potatoes, marmite potatoes, roast potatoes in duck fat, duck fat roast potatoes