Once you try these confit potatoes, you'll never go back to the normal potatoes ever again. In fact, confit potatoes are soft, moist and above all delicious.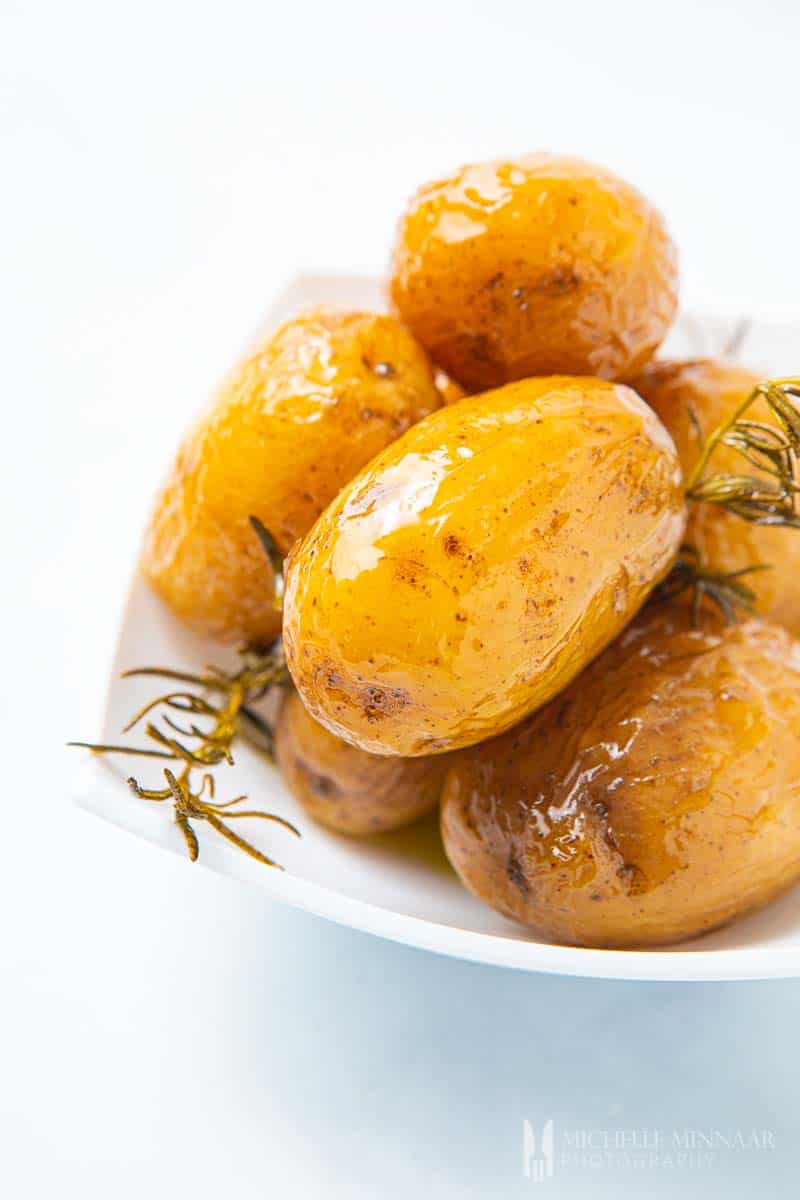 This confit potatoes recipe requires only a few humble ingredients such as your choice of potatoes, olive oil, herbs and garlic.
There's not much to it. In fact, you can put your own twist to this confit potatoes recipe. For example, you can use herbs such as rosemary, oregano or basil and let the confit potatoes infuse with those herbal flavours.
As you might have guessed, these are not your ordinary boiled potatoes, but something way more sophisticated.
Confit potatoes are an excellent idea as a side dish to a meaty recipe. For example, you can pair the confit potatoes with recipes like this venison roast or this 7-hour slow-roasted shoulder of lamb.
Generally speaking, people always tend to think that it's all about the meat and forget about the importance of getting the side dish right.
Well, this confit potatoes recipe will impress even those who often oppose potatoes as a side, or think they are too simple.
If you've got friends with this mindset, you'll see that this confit potato recipe will prove them wrong. Enjoy and let me know what you think!
Rosemary confit potatoes easy recipe
All in all, the level of difficulty of this confit potato recipe is very easy. The recipe can be mastered by the most inexperienced cooks; however the results can persuade anyone that the recipe was made by a gourmet chef.
Dare to try this confit potatoes recipe. Forget about ordinary roasted potatoes and try to take your potato side dish to the next level.
My confit potatoes are made with fresh rosemary. The fresh rosemary contains those fragrant essential oils, which allow the potatoes to take on a lovely herbal aroma.
Once finished, it is a totally melt-in-your-mouth experience, with a subtle herbal flavour, that no other potato side dish can match.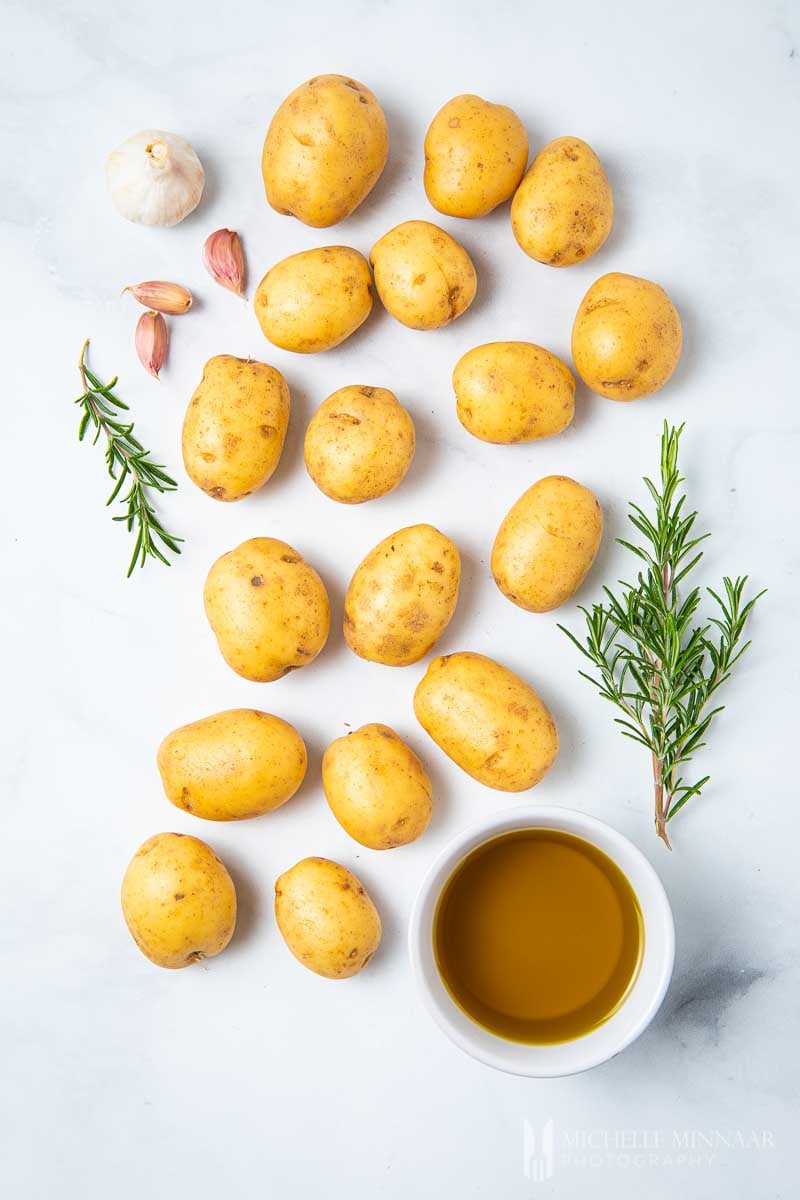 What is confit style?
In short, confit potatoes is a dish in which the potatoes are 'poached' in oil or fat. The potatoes are cooked very slowly at a lower temperature, allowing them to take on a soft texture.
In fact, the term 'confit' refers to being preserved. The essential part of confit cooking is to use a high-quality extra virgin olive oil or animal fat (generally duck).
Handy tip: The oil from the confit recipe can be reused. For instance, you can reuse the flavour-infused oil on salads or as a base for cooking other recipes.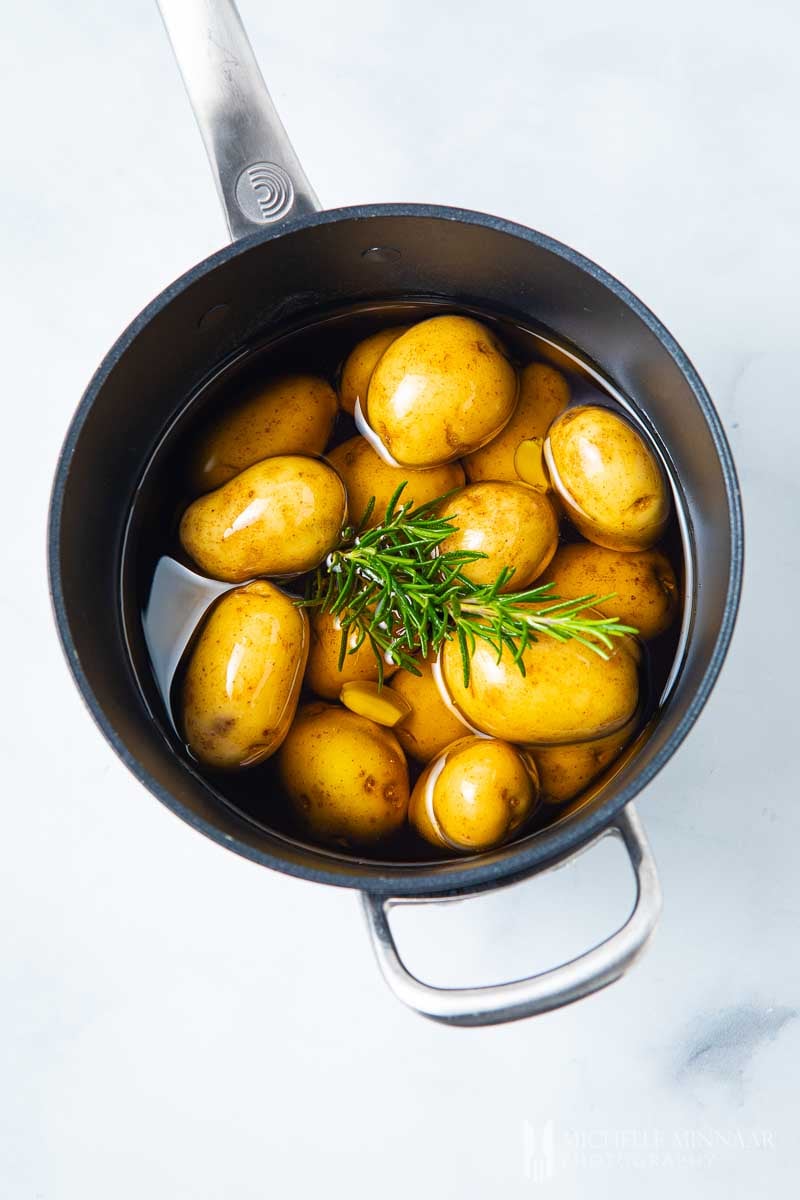 In essence, these products are completely reusable for other recipes such as these rosemary potatoes, gluten-free scalloped potatoes recipe or parmentier potatoes.
Confit potatoes in duck fat
As mentioned above, it is completely possible to substitute the olive oil with duck fat. However, this will change the nature of the confit potatoes recipe. In short, it won't be a vegetarian side dish anymore.
So, please give your guests a fair warning, especially if they are vegans or vegetarians.
Making this type of potato recipe in duck fat is very French inspired. Often, in French cuisine, duck fat is added into stews or into potato recipes for extra flavour.
If you love duck, you should try to pair these potatoes with a delicious duck liver parfait.
Confit potatoes sous vide
Yes, you can use a sous-vide machine for this confit potatoes recipe. The sous-vide cooking style has a very similar effect to the confit cooking style.
In both cases, the cooked ingredient is completely tenderized (cooked in its own juices or in olive oil).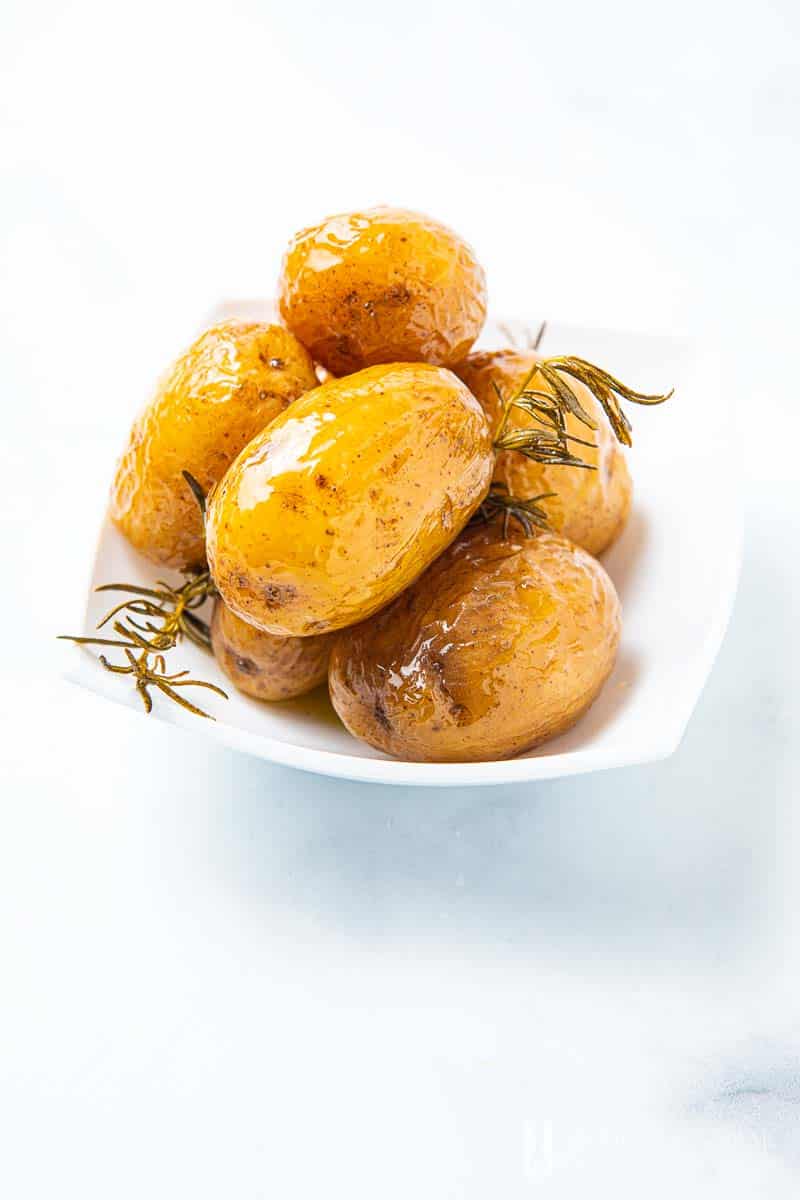 If you are looking for other inspiring sous-vide recipes, then check these recipes below:
If you've purchased a sous-vide machine and don't know how to make sous-vide recipes with it, then check out these articles:
Bacon confit potatoes
You can also infuse these confit potatoes with other types of flavours. For example, you can add bacon. The bacon will provide a smokiness as well as a rich flavour to the potato dish.
Plus, it will make those who love bacon very happy, as they would have discovered a new way to enjoy bacon.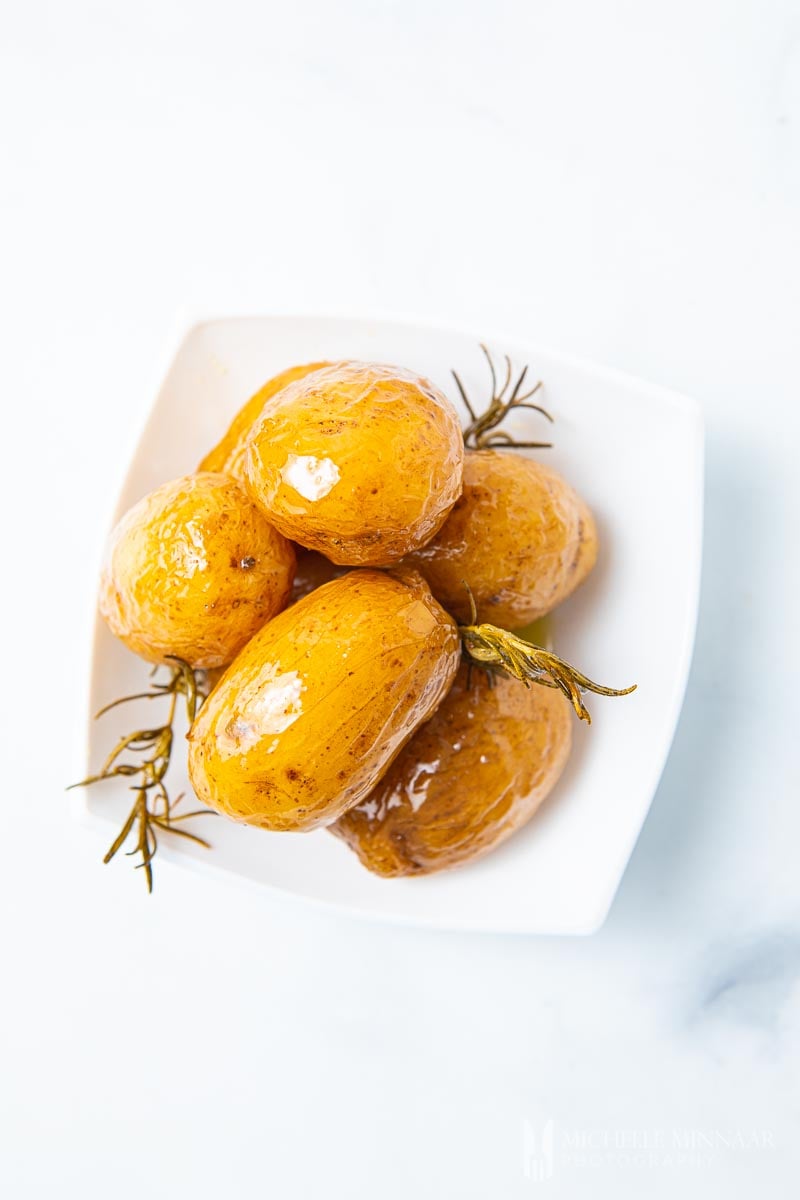 Confit potatoes calories
On the whole, potatoes are not the most ideal when it comes to watching calories. First of all, potatoes contain a lot of carbohydrates. Second of all, the additional element of olive oil or duck fat adds even more calories (and mostly fat).
Although olive oil contains a lot of healthy fats, the duck fat is slightly harder to digest by the body. If you are looking out for your waistline, then please be aware of the portion sizes. This will help you monitor your daily calorie intake.
By the way, if you love French cuisine, you should check out these boulangere potatoes. Roast Marrow complements this side dish beautifully.
If you love sweet, spicy and crunchy onions, check out tobacco onions.
Have you ever tried to make confit potatoes before? How would you serve them? Let me know in the comments section below.
Print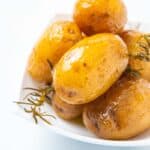 Confit Potatoes
---
Description
Learn how to to make confit potatoes at home. You can reuse the oil for cooking, which will have a lovely flavour of garlic and rosemary.
---
1

kg (2lbs) new potatoes, scrubbed

3

garlic cloves, peeled

2

sprigs rosemary

5

ml (1 tsp) sea salt

1

litre (4 cups) olive oil
---
Instructions
Preheat the oven to 110

°

C/225

°

F/gas mark ½.

Place all the ingredients in a large ovenproof saucepan. 

Cover the saucepan with a lid, transfer it to the oven and cook for 90 minutes.

Turn the heat up to 210

°

C/400

°

F/gas mark 6 and cook for another 15 minutes.

Drain the potatoes and serve as a side dish for a main meal.
Notes
The amount of olive oil you use it up to you. Preferably, you want the oil to cover all the potatoes. 

You can use duck fat if you can source it.

Wondering what to do with all the leftover oil? Using a coffee filter, you can filter the impurities out and store it in a clean bottle for future cooking. You'll love it because the oil is infused with garlic and rosemary!
Prep Time:

10 minutes

Cook Time:

1 hour 45 minutes

Category:

Side Dish

Method:

Confit

Cuisine:

French
Keywords: potato confit recipe, confit potatoes, French confit recipe, potato side dish, Christmas dinner side dish