Try this succulent restaurant quality sous vide salmon recipe in the comfort of your own home. The best way to start learning about "sous vide" cooking is simply by doing it, it's almost impossible to fail!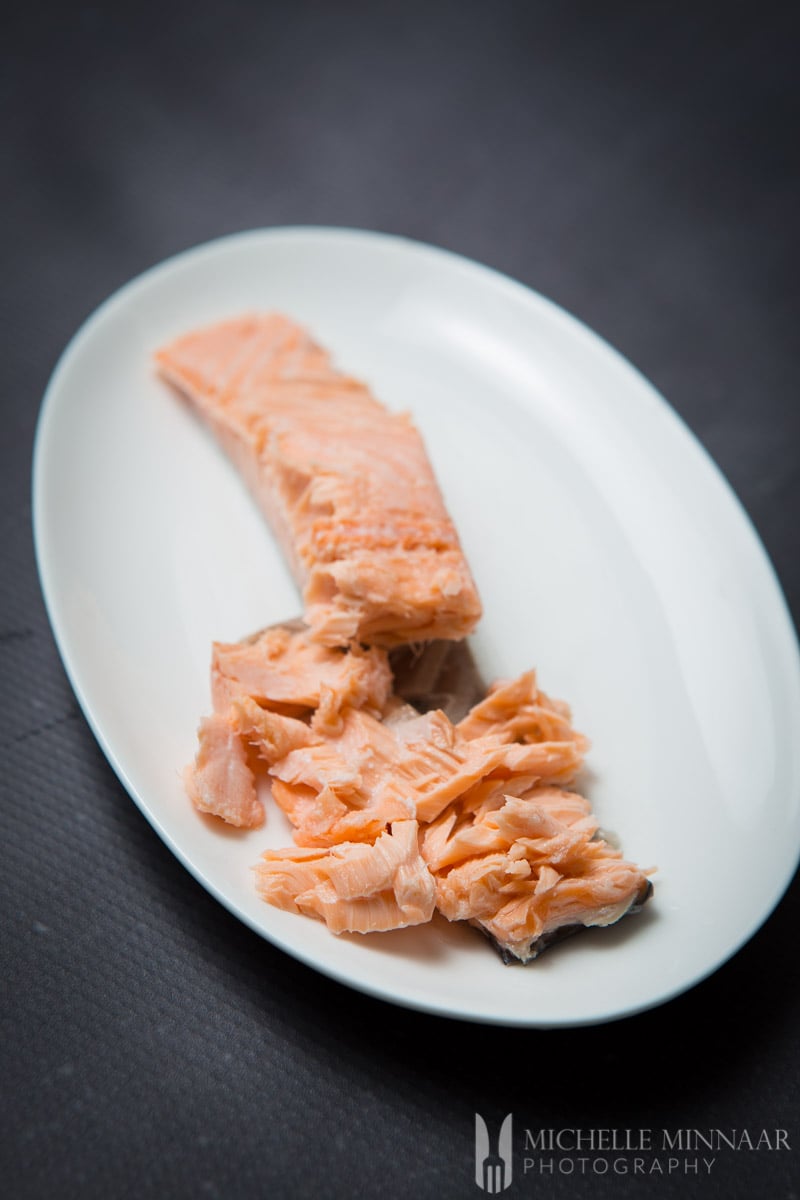 What is Sous Vide?
Pronounced "sue-veed", it is French which means "to under vacuum". This is a culinary technique immersing vacuum sealed food into a water bath, cooking it at a very consistently precise temperature and time.
Read further on and I will share my sous vide salmon experiments with you below.
What is the History of Sous Vide Recipes?
Reference to the methodology was first made by Sir Benjamin Thompson (Count Rumford ) in 1799. However, he used air to transfer the heat and not water.
Later, American and French engineers rediscovered the technique in the 1960's. They developed it into an industrial method of food preservation.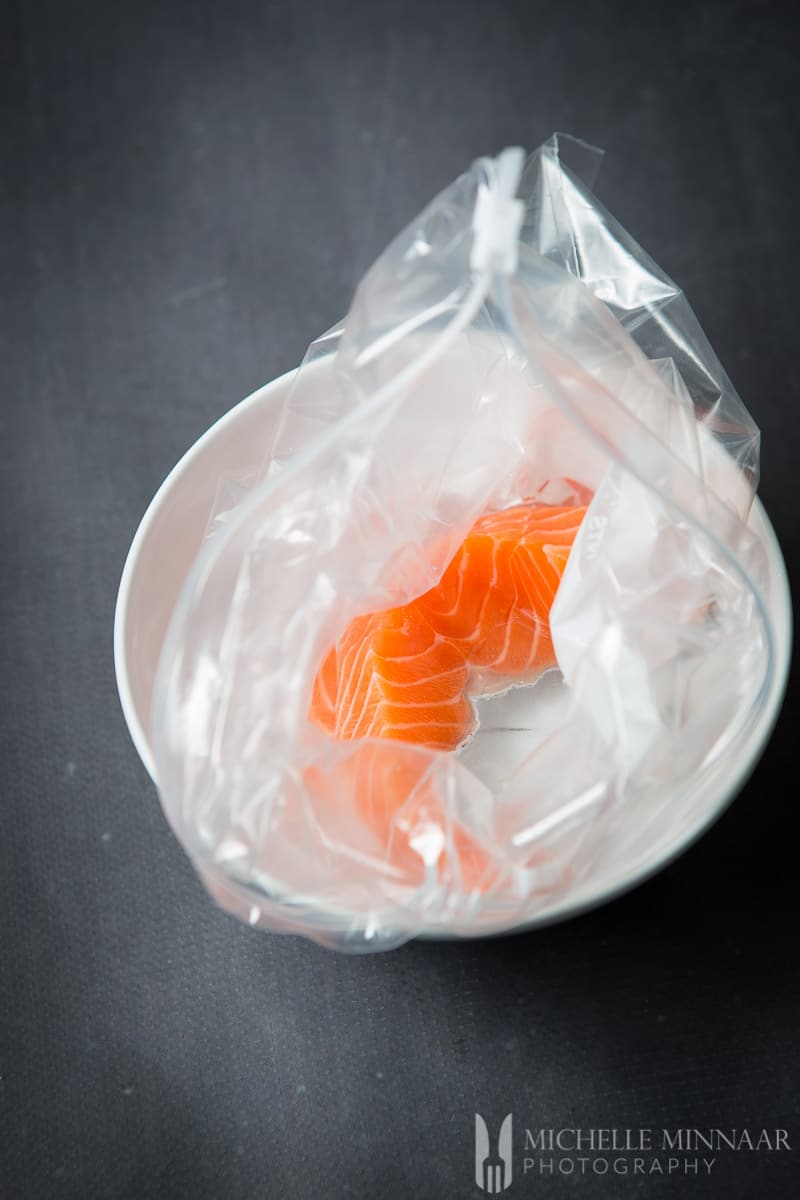 Troisgras to Foie Gras
George Pralus started practising sous vide in 1974 for the restaurant "Troisgros" in Roanne, France. His sous vide recipes started with foie gras.
He discovered that when cooked in this manner it kept its original appearance and did not lose excess fats. Most importantly it had a much better texture than traditional cooking methods of the time.
Bruno Goussault further researched the effects of temperature on various foods and became well known for training top chefs in this method.
As the chief scientist of Virginia-based food manufacturer Cuisine Solutions, Goussault developed the parameters of cooking times and temperatures for various foods. This resulted in the sous vide cooking table we use today.
Sous Vide Fish
The perfect way to start cooking sous vide fish is choosing the freshest fish possible. If you can buy it as it comes out the water, do so!
I know that is not always possible, so start by allowing your nose to lead you when you are choosing your fish. Fresh fish does not smell fishy, it smells more like seaweed.
How to pick fresh fish
The eyes must be clear and alive, stark black pupils, and clear lenses, not milky. If your fish has milky eyes do not buy it. The eyes must not be sunken in or protruding out, looking like it has a thyroid problem.
The flesh, either the inner flesh or the scaled part, must not remain depressed when you push your thumb into it. It must pop back out again when you have placed pressure on it with your finger.
The gills should be freshly pink, I'm quite sure you will intuitively know when you see a healthy fresh pink colour in the gills, how fresh the fish is.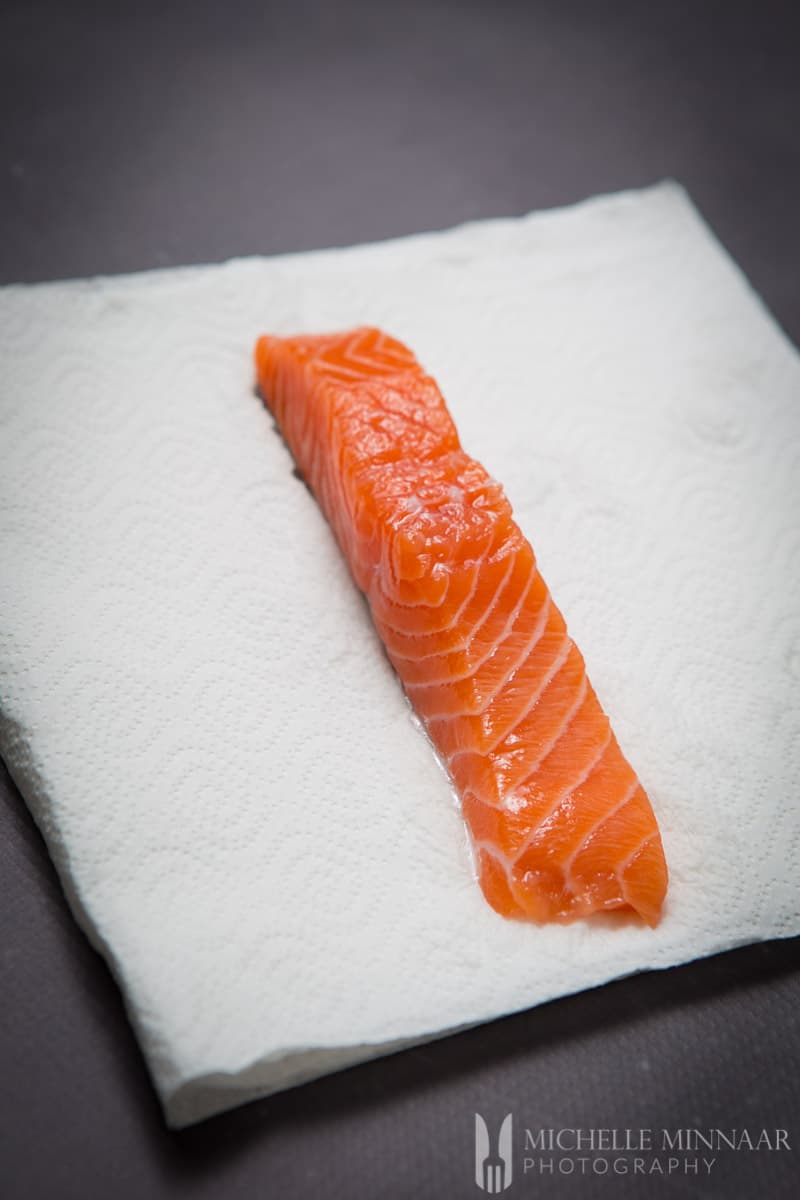 Keep it Cold and Fresh
Fresh fish should always be packed on ice. It will only retain a healthy freshness for about one week after it is caught and only if the cold chain is kept constant.
If you live in a hot country this lifespan could be a lot shorter and the fish can turn very quickly in warmer climates.
Check your local seafood watch lists to ensure you are buying ocean-friendly produce – don't purchase overfished species or highly toxic contaminated fish types.
Cooking Fish
Fish is cooked for three main reasons. The last reason we would ever think of, but the most important one is to destroy pathogens.
Our priority for cooking fish is taste, to develop gorgeous flavours and play with different types of fish and all the ingredients we can possibly add to it.
The second reason we cook fish is to change the texture. You need to ask yourself, "how many textures could you possibly derive out of one type of fish?"
Ideal Temperatures
Most of us who cook often, know that the standard tradition, to determine if a fish is cooked, is when the flesh flakes. Flaking occurs when the collagen that separates the flakes converts into gelatin at about 115-120˚F ( 46-49˚C).
However, this temperature does not destroy pathogens, it is too low. So cooking fish for people who have compromised immune systems or who are not prepared to eat raw fish should be cooked at 140˚F OR 60˚C.
It needs to be kept at that temperature, constantly, until the fish has been pasteurised. People who have preferences for sushi, rare or medium-rare fish should only eat sushi-grade fish.
Whatever your temperature preference, texture choices and taste requirements, sous vide fish retains more omega 3 fatty acids and essential nutrients, than fish that is cooked in any traditional manner.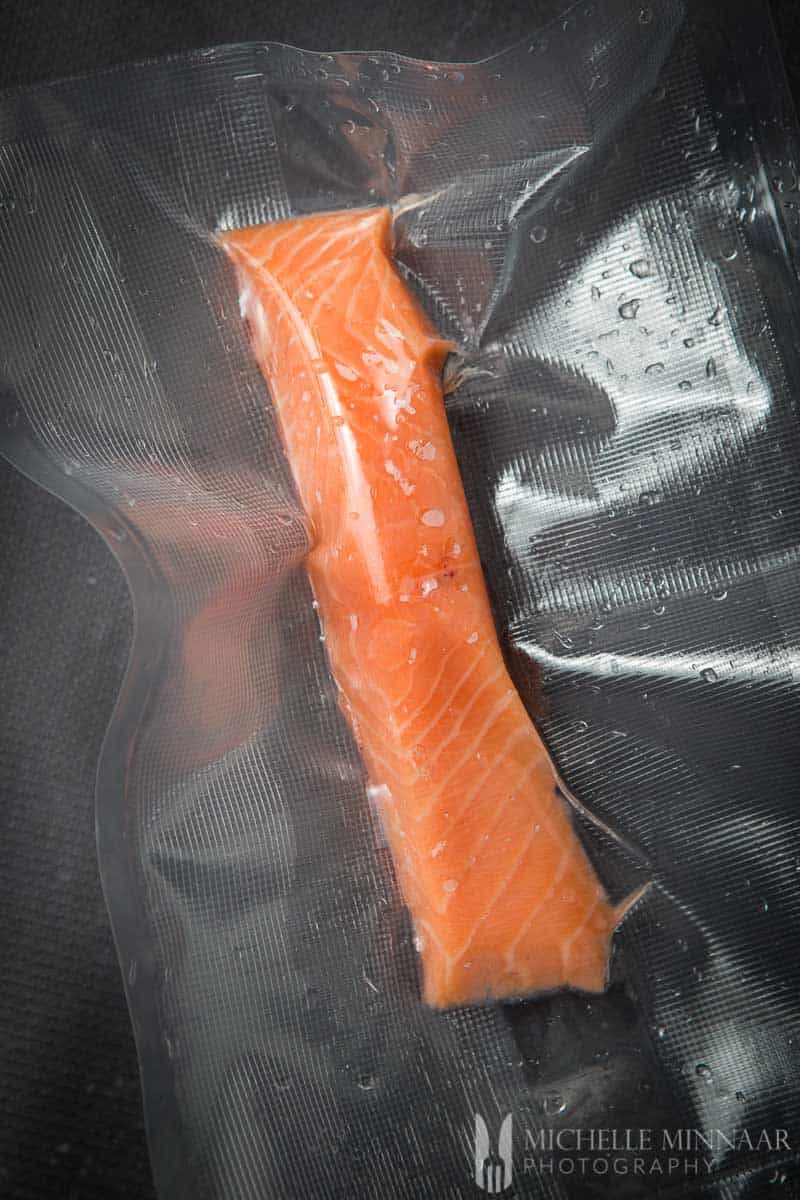 Sous Vide vs Traditional Cooking
Traditional cooking on a stove top causes heat to flow from the burner to the pot or pan and then the food. Traditional oven cooking is when the elements of the oven heat the air around the food and cook it from the heat distribution inside the oven.
The air in the oven or the metal of the pan are much hotter than you want your food to be. That is why we need to remove the cooking food, on time and in time, before it burns or overcooks.
Sous Vide Polyscience
Sous vide is better than traditional cooking as the purpose is to cook the food gently below boiling point. It is a process of heating water to a specific temperature and keeping that temperature constant.
The temperature chosen depends on the ideal internal temperature of the food you are cooking. "Sous vide" means not exceeding this heat and never taking the heat to a boiling point.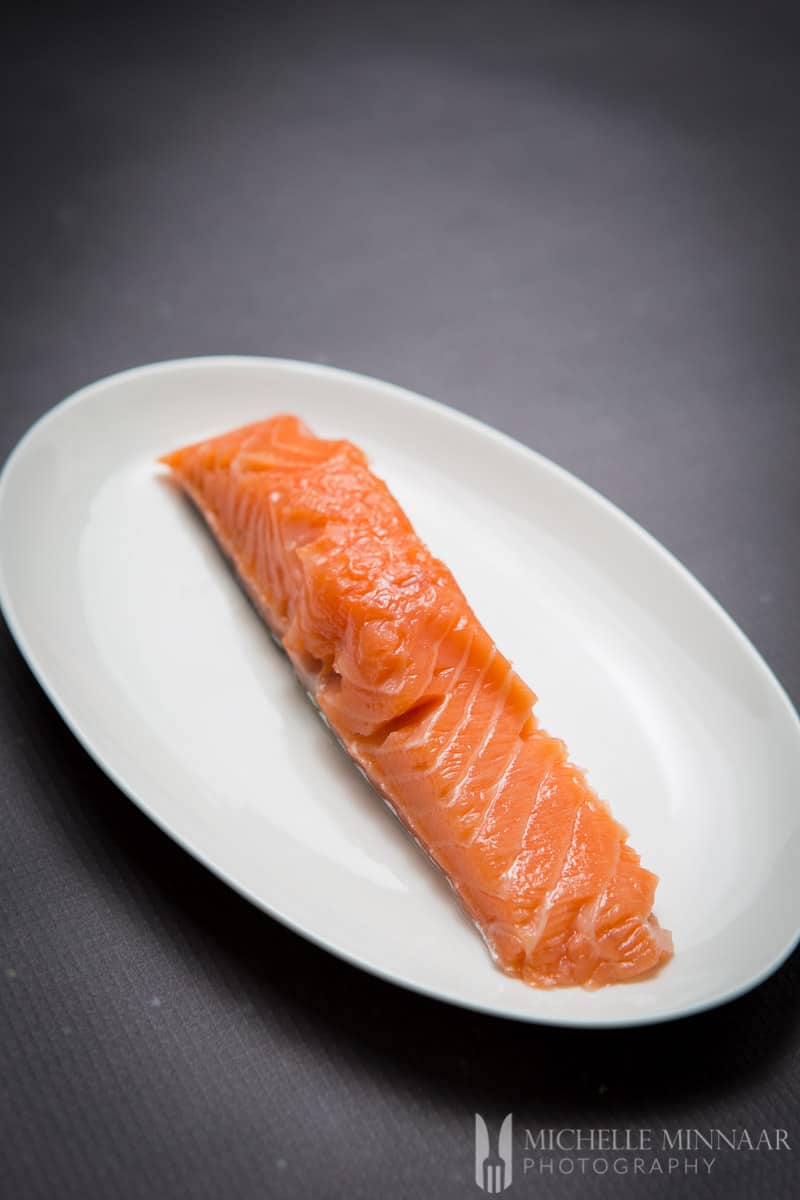 It is Not Boiling Food in A Bag!
Let me dispel the common myth or misconception right now; sous vide is not boiling food in a bag. There are many boil-in-bag foods available in stores, like certain brands of rice, Indian foods, creamed spinach etc.
The process here is definitely boiling the food in the bag and these foods are not "sous vide".
Cooking in this manner with water allows you to raise the temperature to the exact temperature you require. You can take it out the water when it is cooked or you can leave the food in the water, at that same temperature, until you are ready to serve it. It will not burn or overcook.
Cook everything Sous Vide!
Once you become adept at cooking sous vide it will be very difficult to use more traditional methods again.
The work and constant checking on the pan or oven is eliminated, you can concentrate on more intricate recipes for salads or desserts while your mains are safely tucked away in their haven of water.
Perhaps by the end of this article, the only food you will not be cooking "sous vide" will be your fresh garden salads.
Hugely popular in restaurants this process of cooking has been used for decades by restauranteurs all over the globe. I am going to show you how you can adapt this innovative procedure in your own home.
It will improve all processes in your kitchen, the nutritional value of your food will be higher. Most of all you will be having fun. Gone are the days of being chained to the stove.
Once you have developed your own methodology around sous vide and all the recipes you can think of, you will have identified your own individual preferred tastes, textures and doneness for many meals.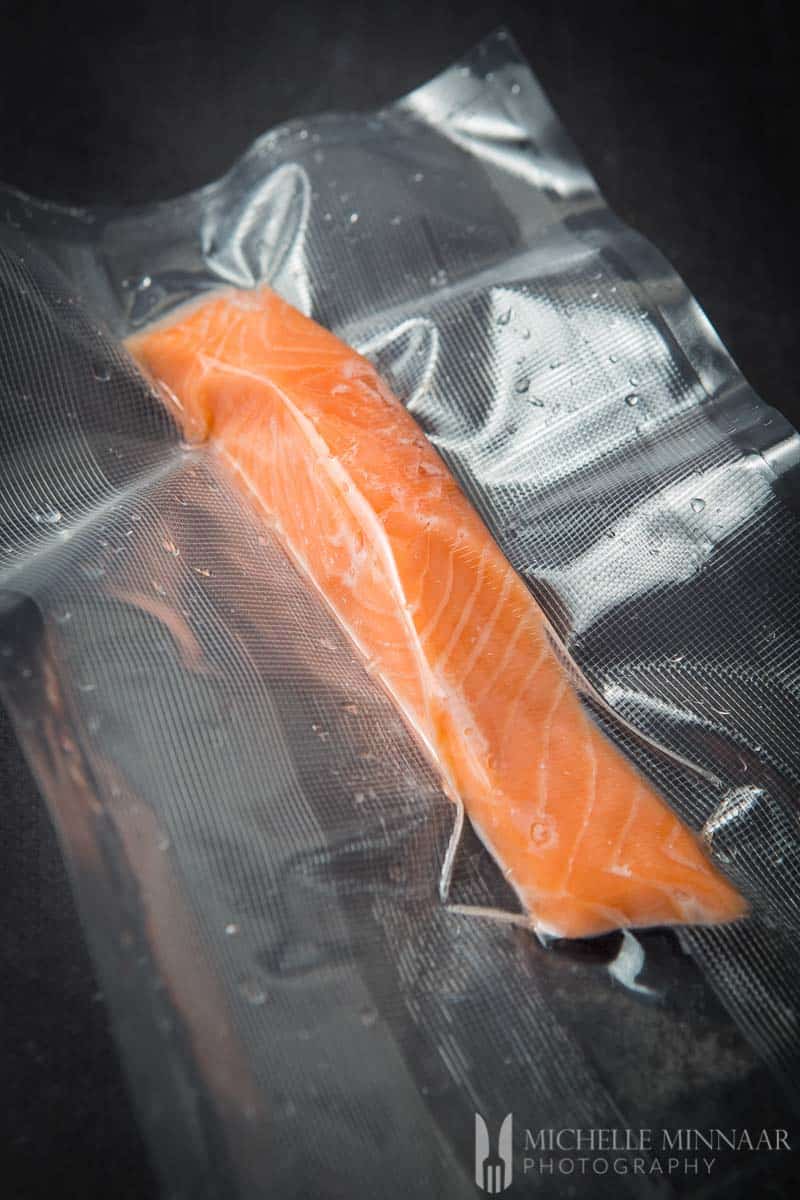 Portion and Store for Later
Now your food is cooked sous vide, what do you do with it? The other defining element of sous vide cooking is that food can be stored after cooking, whether you are preserving for later use, storing and re-portioning. It does not have to be eaten immediately.
If you are serving your meal immediately, be it meat, chicken or fish then quickly sear it in a pan to crisp the skin or outer layer and develop the favour.
Foods that can be cooked "sous vide"
Many people may know that you can cook chicken, fish and steak sous vide, what may surprise you is the epic amount of meals, foods and dishes that can be cooked "ȧ la sous vide".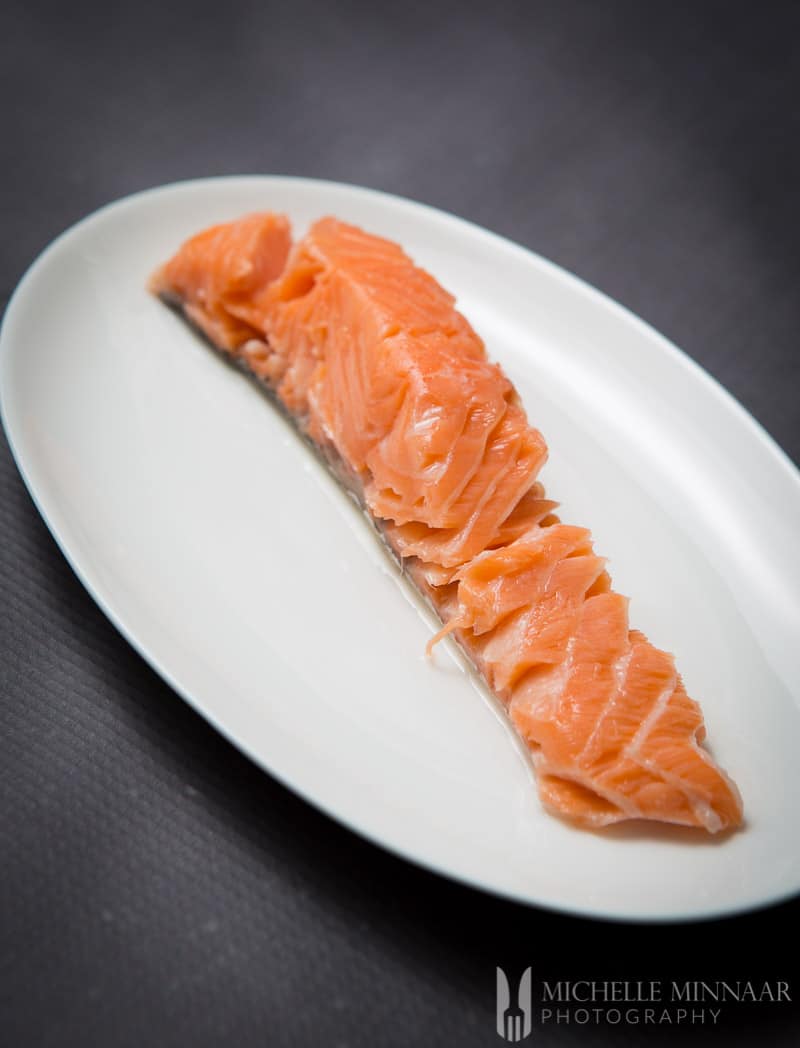 Sous Vide Recipes
If you are new to this concept and would like to learn how to sous vide chicken breasts. Or if you are confused about how to sous vide steak and what to do next. I will show you how in this step by step photo guide.
Transform cheap meat cuts into tender juicy steaks, cook batches of creamy crème brulee, whip up some flavoured oils. Try your hand at cheese curds, what could be more decadently delicious than your own homemade lemon curd.
French Fries in a Bag!
Don't laugh! French fries and oysters can be vacuumed in water and they are gorgeous.
Mashed potatoes, stock and egg nog at Christmas, pureés and burgers. There is no end to what you can pop in a bag and cook in a pot of water. Don't forget your thermometer.
You can cook sous vide without a plastic bag, sous vide foods that set as they cook are cooked in glass canning jars and not plastic bags like patés, even yoghurts and custards.
Here is some light humour for your day; you are already a sous vide chef if you boil eggs. Eggs are vacuum cooked when they are boiled in their shells!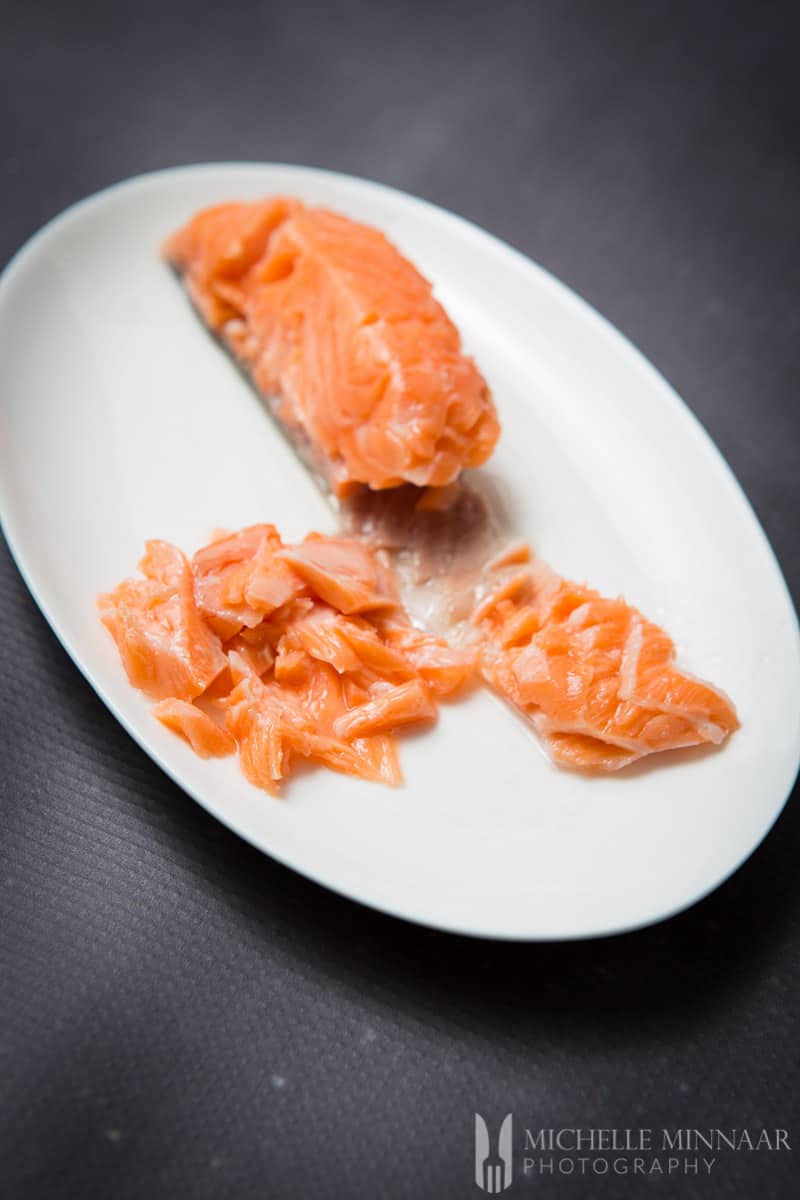 Salmon Sous Vide
This brings me to my experimentation with the Salmon Sous Vide recipe below.
I tried all 3 temperature variations and I was pleasantly surprised at the different outcomes when using these different temperatures.
I do not have a chamber style vacuum sealer to control the vacuum. Unfortunately, the vacuum was too tight and the plastic stuck to the fish. That was a bit inconvenient in the greater scheme of things.
Next time I will use a Ziploc bag instead of a sous vide bag and adapt the recipe that way instead.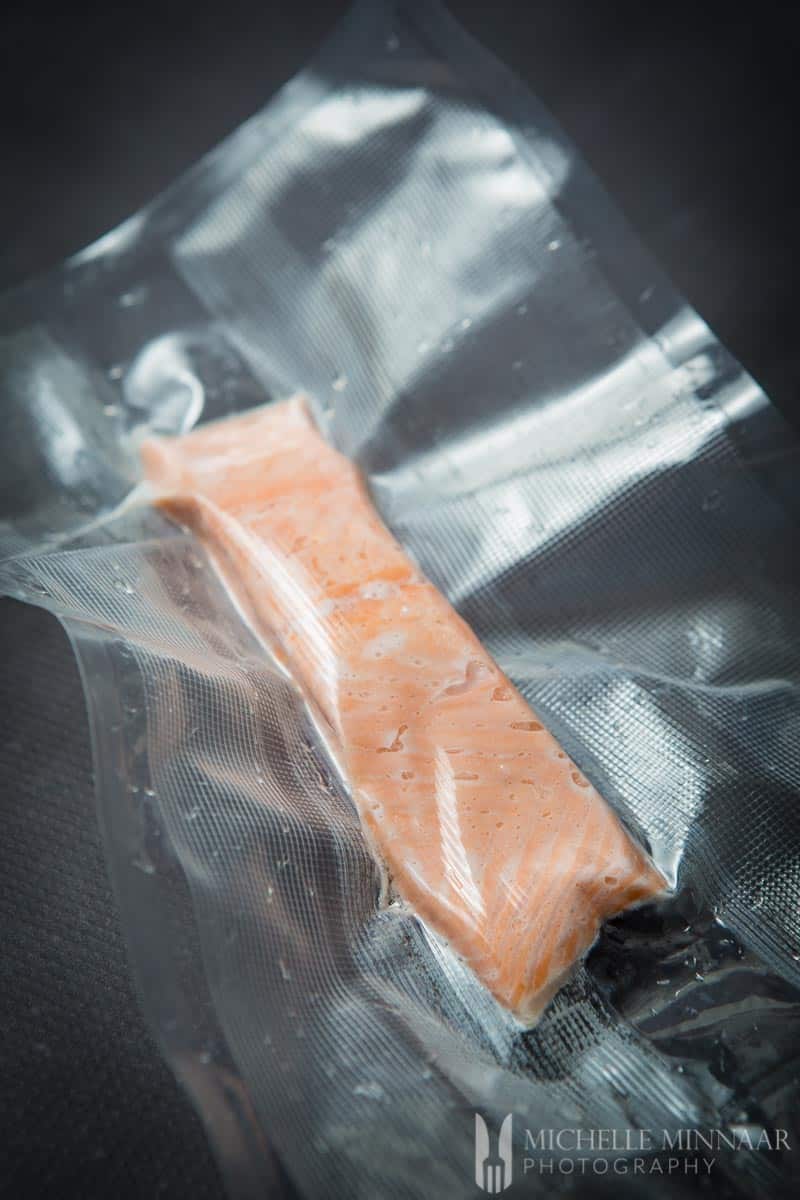 Sous Vide Salmon Temperatures
I used three different temperatures 42˚C and 50˚C for 20 minutes and 60˚C for 40 minutes. I did not use any oil but washed and brined my fish first.
Cooking at 42˚C the salmon reminded me of smoked salmon, very velvety and luscious. Then at 50˚C the texture was slightly firmer but it was still gliding on my tongue.
When I cooked it at 60˚C it was much moister than the other cooked versions I have ever tasted and it was pasteurised.
Try These Sauces
There are so many sauces you could choose to serve with this Salmon Sous Vide. I love this decadent creamy mushroom and sherry sauce. If you want more contrast and excitement try this blue cheese sauce.
On the days that I am feeling more weight conscious and trying to stay healthy, I opt for a homemade mayonnaise, like this avo oil mayonnaise. It is absolutely perfect for chilled sous vide salmon in a garden salad.
If you love the texture of raw salmon, you will love this salmon terrine!
Print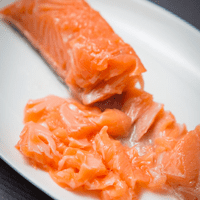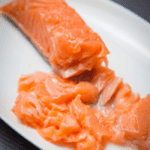 Sous Vide Salmon
---
Author:

Michelle Minnaar

Prep Time:

5 minutes

Cook Time:

50 minutes

Total Time:

55 minutes

Yield:

1

1

x
140g

(

5 oz

) salmon fillet

15

ml (1 tbsp) salt
---
Instructions
Preheat the water bath to 60° C/140° F
Prepare the brine by stirring the salt into 125ml (1/2 cup) cold water until it dissolves completely.
Put the fish and brine into a plastic container or resealable pouch and seal.
Refrigerate for 10 minutes, then remove the fish and rinse it under cold running water to remove excess salt.
Dry the fish then vacuum-seal it in a separate pouch.
Place the pouch in the sous vide and cook for 40-50 minutes.
Serve immediately with your favourite sauce.
Notes
For medium-rare you can cook the fish at 50C/122F for 20 minutes.
If you like your fish rare, place the fish in the water bath for 20 minutes at 42C/108F.
Nutrition
Serving Size:

1 serving

Calories:

224

Sodium:

7054 mg

Fat:

9.9 g

Saturated Fat:

2.5 g

Protein:

33.8 g

Cholesterol:

30 mg
save the recipe to your pinterest board