If you've never tried homemade duck liver parfait, then you don't know what you are missing out on. First of all, duck liver parfait is an excellent way to enjoy the rich flavour of the duck.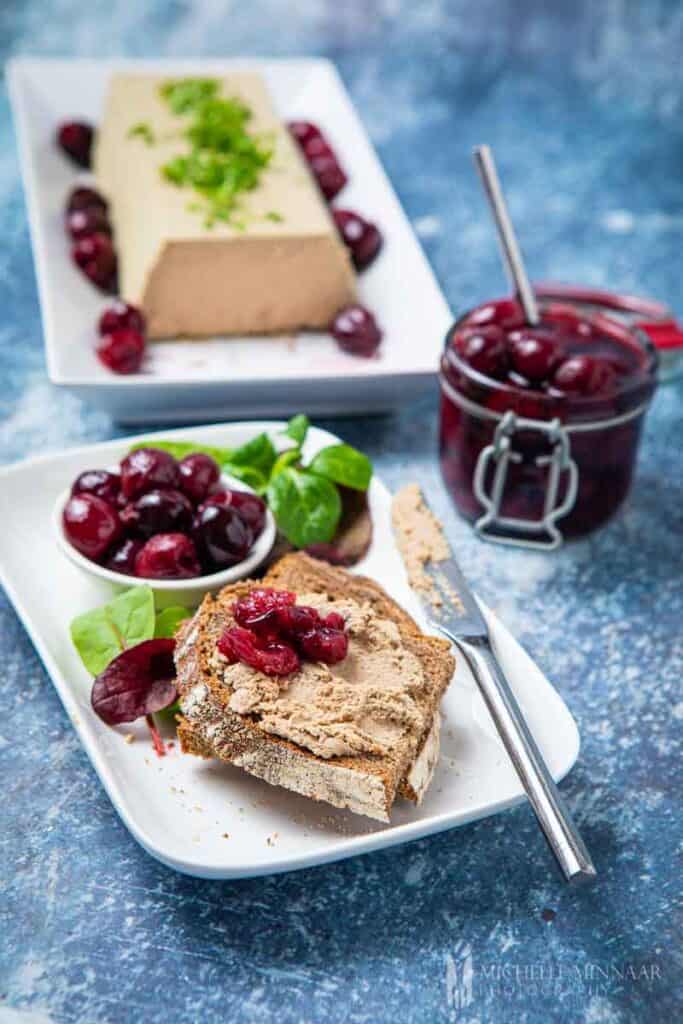 Use it as a spread on a piece of toast / bread and serve it along with these sophisticated brandied pears or Amaretto cherries. The fruit cuts through the rich and fatty texture of the duck liver.
It's no secret that duck liver parfait is a delicacy. In fact, you can find it being served as a starter all around France with a piece of baguette.
Understandably, who could resist a little taste of velvety duck liver parfait? This parfait recipe is not only delicious, but easy to make.
Don't believe me? Come and be persuaded. Try out this festive recipe and impress everyone with your cooking! Enjoy.
products you need for this recipe
Here's a list of the top products you need to make this fantastic Christmas starter:
duck liver parfait recipe
My duck liver parfait calls for a handful of ingredients. You'll need 1 kg of duck livers, butter, milk, herbs as well as port and brandy.
That being said, although these are not the most inexpensive ingredients, they will last you for ages. Moreover, you'll not only be able to enjoy a glass of port or brandy on occasion, you'll also be able to make delicious recipes with them.
For instance, when it comes to savoury recipes, you can inspire yourself with the following combinations: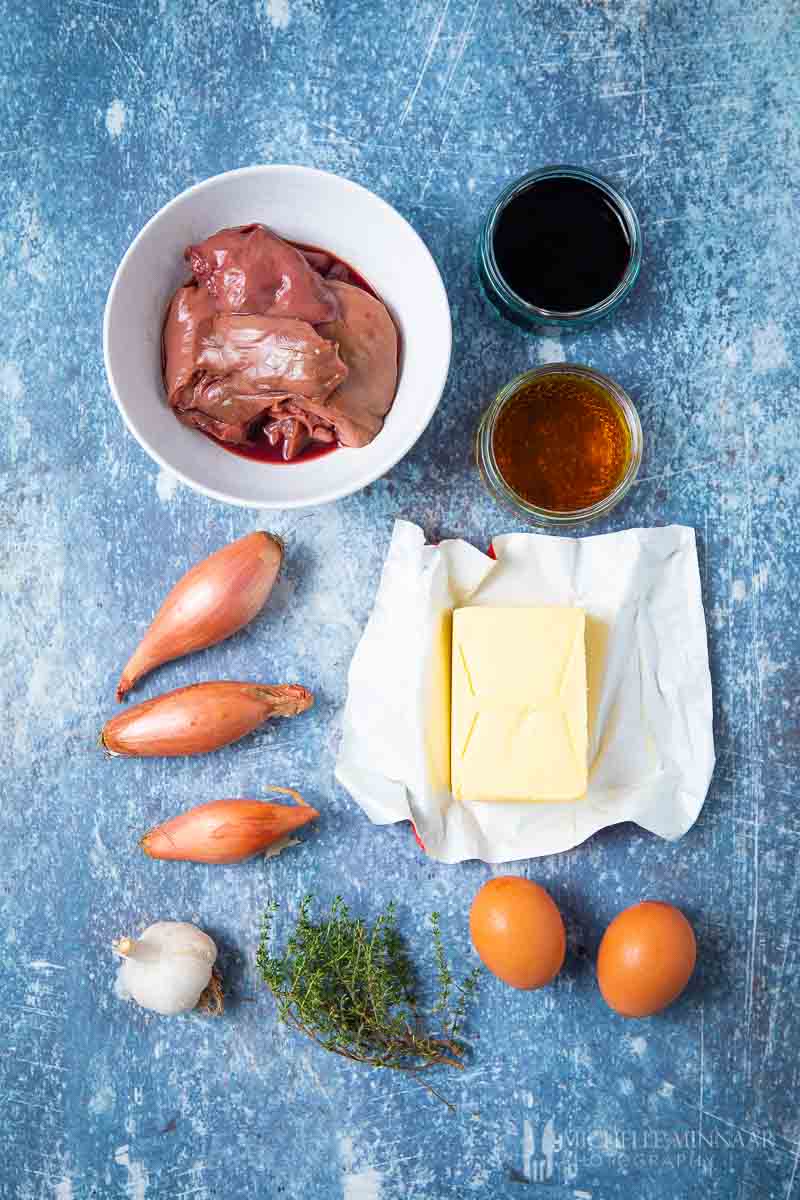 When it comes to sweet recipes, you can inspire yourself with these tasty recipes:
Brandy snaps – a crispy and delightful snaps recipe
Chocolate brandy torte – if you start off with a rich duck liver parfait, you can finish with a slice of this rich cake and a glass of brandy
Easy plum and port crumble – I use port all the time in baking recipes as it enhances the flavour of the fruit I am cooking with
Cooking with duck liver
A lot of people refrain from cooking with internal organs, because somehow it repulses them. However, when duck liver is prepared and cooked, it offers a lot of flavour.
Moreover, it is healthy as it contains a lot of phosphorous and zinc. It is also an excellent source of protein.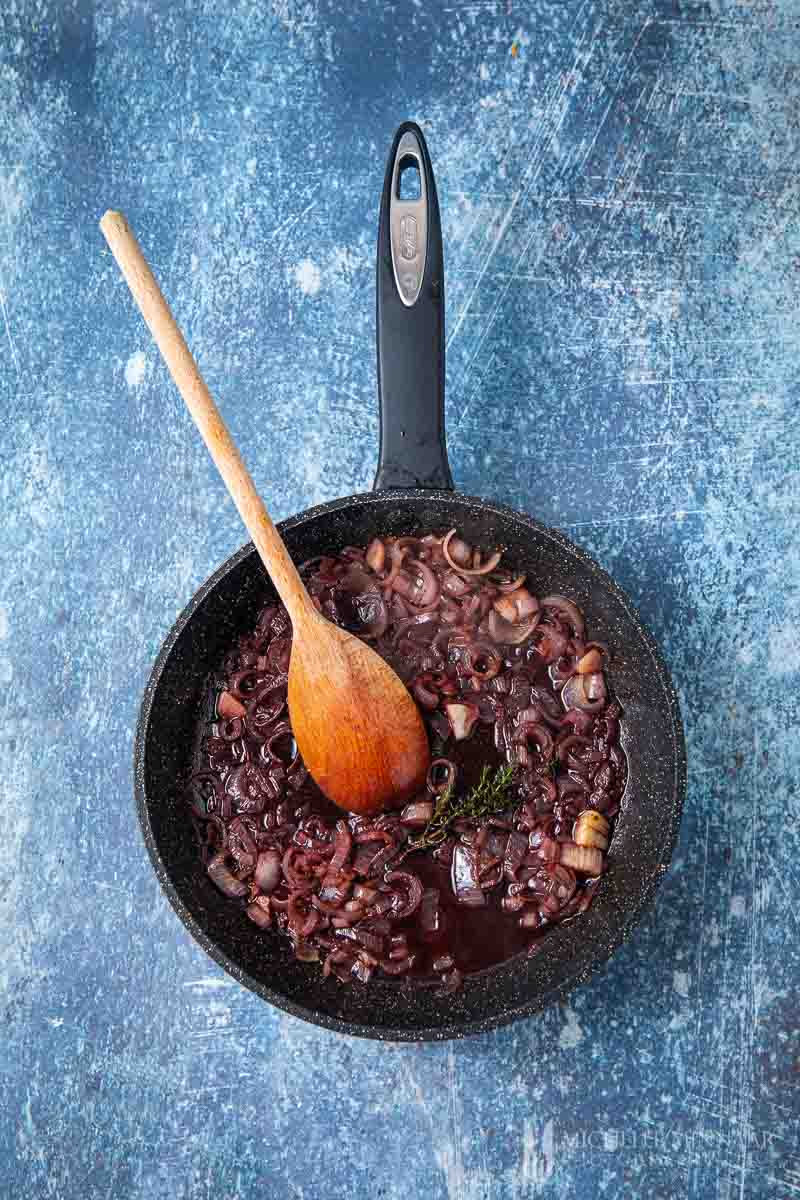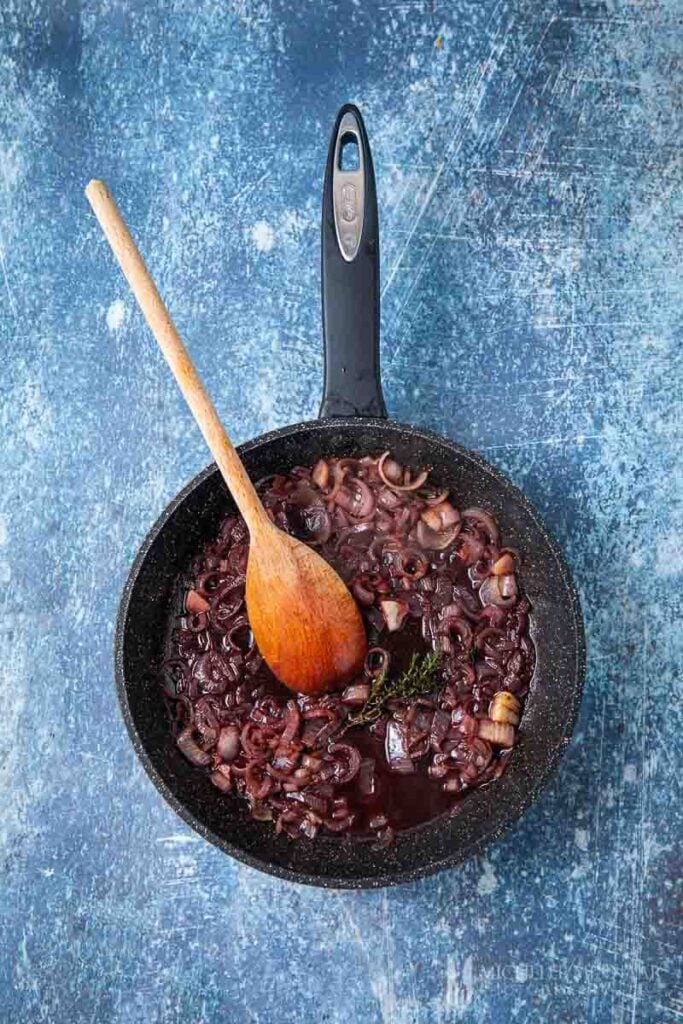 For example, take foie gras. Foie gras is basically a product of fatty duck liver. It can also be prepared into a mousse, parfait or a pâté.
When it comes to cooking with duck liver and making this duck liver parfait, it's best to marinate the duck livers in the alcohol.
This way, they'll absorb the flavours of the alcohol. Just let marinate for an hour or more if possible.
duck liver mousse
You can turn this duck liver parfait into a duck liver mousse. Just use whipped cream (heavy cream) or double cream. Any cream above 38%.
Whip it up and mix it in with the remaining ingredients. The whipped cream will give it an airy texture that's completely irresistible.
In comparison to a duck liver parfait, the mousse will be lighter.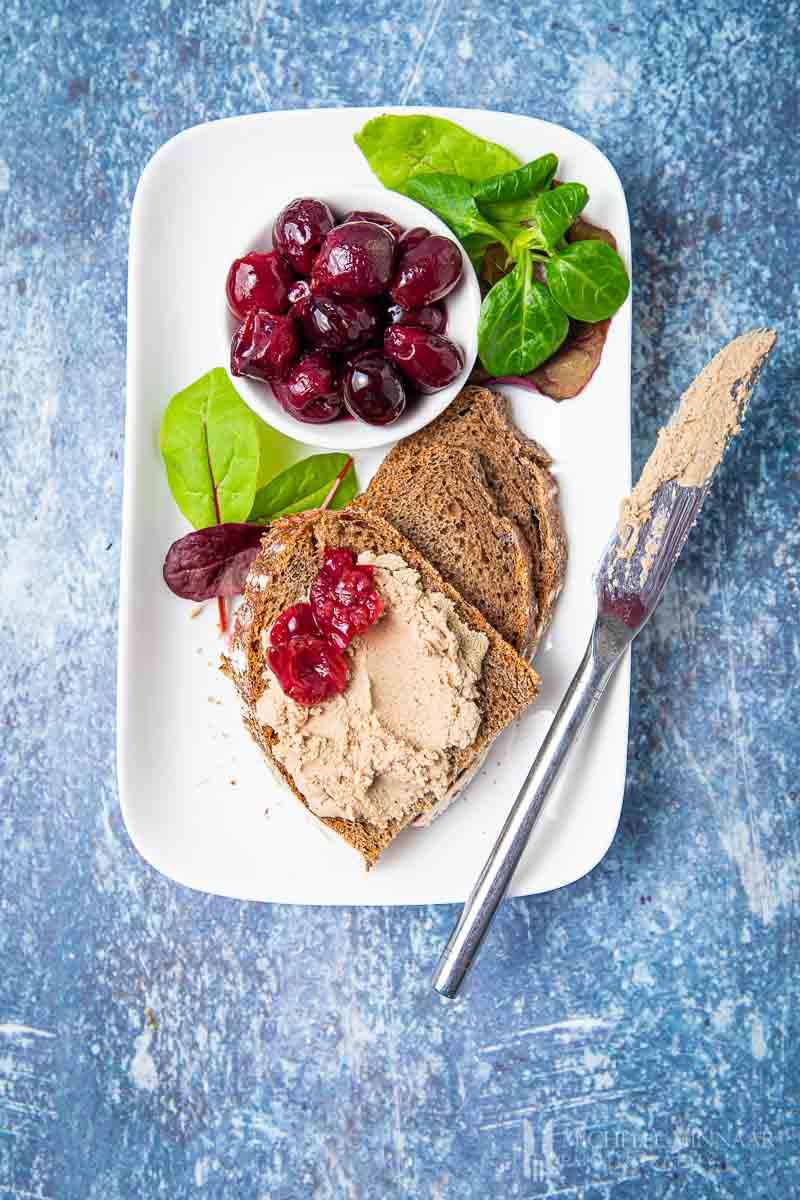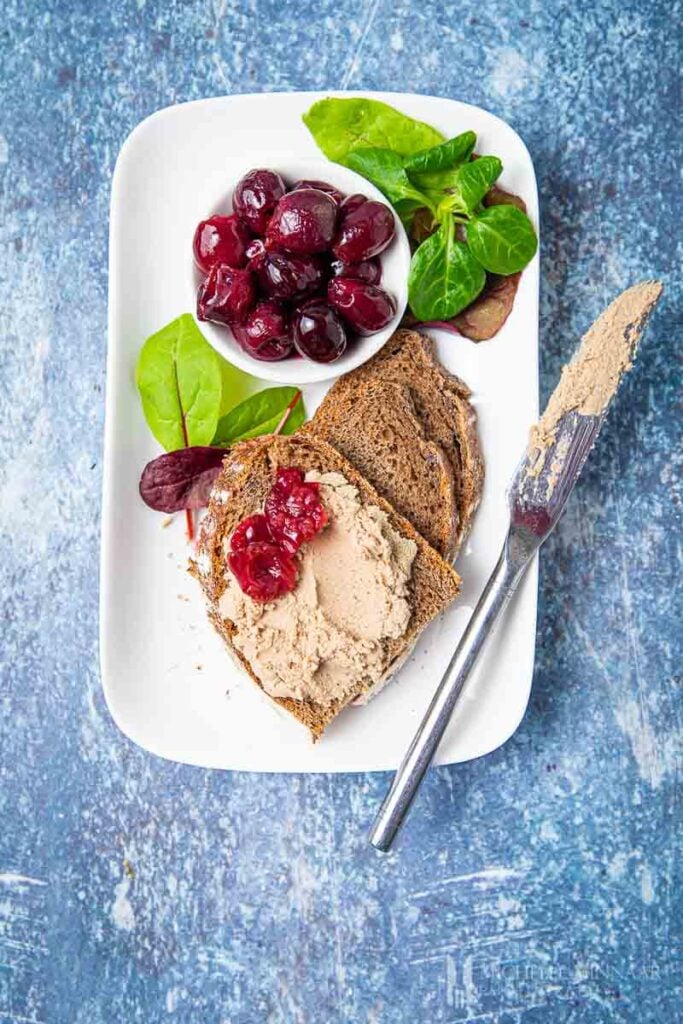 duck liver parfait calories
As mentioned above, duck liver is a healthy ingredient. However, this parfait contains quite a considerable amount of butter as well as the addition of alcohol (which contains a lot of sugar).
Lastly, duck liver parfait is best enjoyed with a piece or bread, baguette or crackers, which don't help as regards the calorie count.
Therefore, I recommend serving the duck liver parfait with rice crackers or a low-calorie bread alternative.
chicken liver parfait
You can substitute the duck liver with chicken liver. It is a cheaper alternative. Moreover, chicken liver is more widely available.
Chicken liver is completely interchangeable with the duck liver in this duck liver parfait recipe.
If you happen to have some leftovers, you can make this exceptional chicken liver pate. Otherwise, you can pan sear the chicken livers and make a delicious soy and honey chicken liver salad.
You can also try to make other types of pâtés. For instance, try this smoked salmon pâté or this mushroom and black garlic pâté.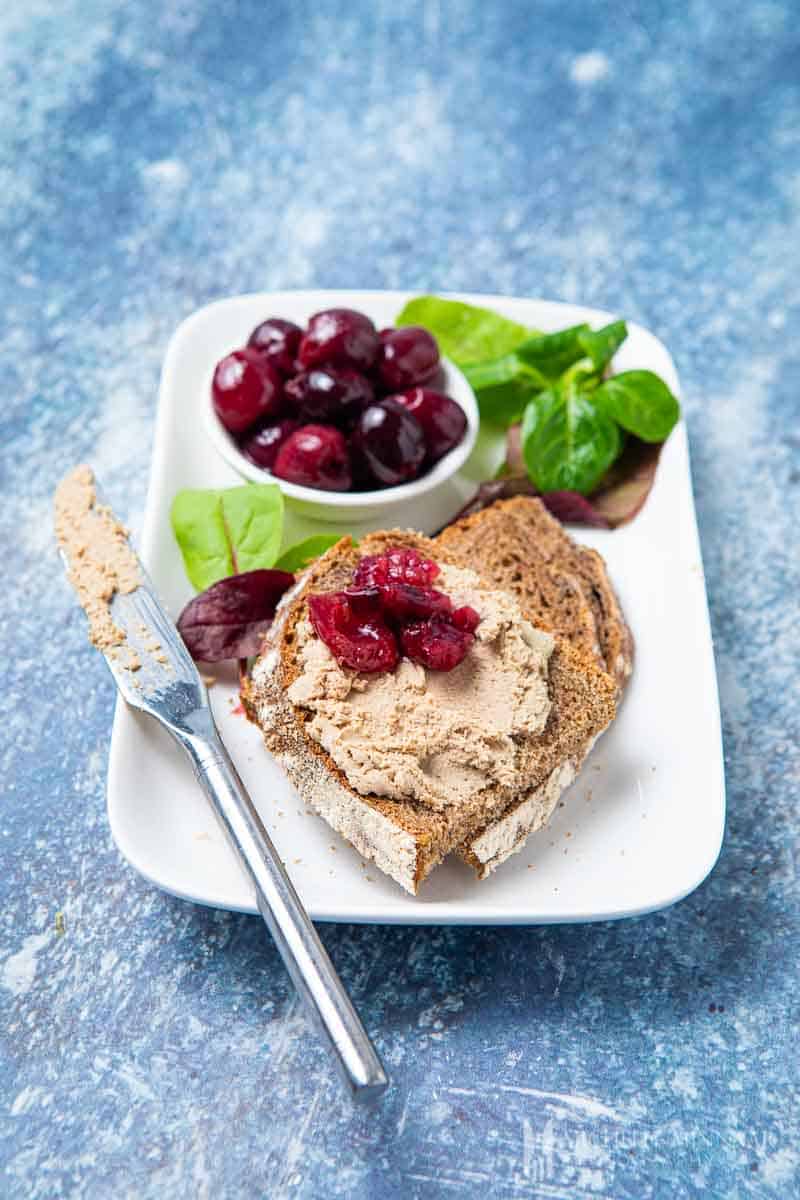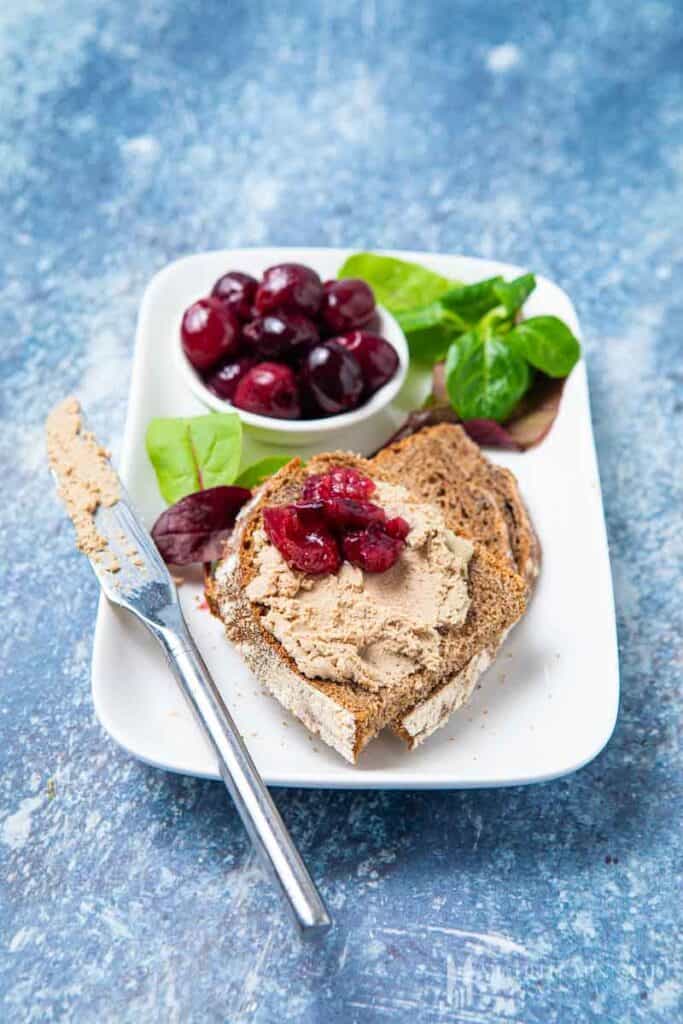 Other starter recipes
This duck liver parfait recipe is one of my favourite starter recipes. It's a very elegant dish. If you are looking for other starter recipes to inspire yourself, then check out these below:
What is you favourite way to use duck liver?
Print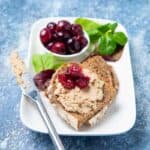 Duck Liver Parfait
---
Author:

Michelle Minnaar

Total Time:

1 hour 30 minutes

Yield:

24

servings

1

x

Diet:

Gluten Free
Description
Learn how to make a homemade duck liver parfait, worthy of being served at the best restaurants in France.
---
1

kg

(2lbs) duck livers, washed

500

ml

(2 cups) milk

15

ml

(1 tbsp) butter

15

ml

(1 tbsp) oil

3

shallots, peeled and sliced

2

garlic cloves, peeled and crushed

2

thyme sprigs, washed

125

ml

(1/2 cup) port

125

ml

(1/2 cup) brandy

8

eggs

800

g

(1 3/4lbs) butter, melted and warmed
---
Instructions
Two days before serving cut away and discard any large sinews from the duck livers.
Soak the livers in milk, 500ml (2 cups) of water and 10ml (2 tsp) salt, overnight. This will help to reduce any bitterness.
The day before serving, start making the parfait. Rinse the livers, pat dry and set aside.
Gently fry the shallots and garlic in oil and butter until softened. 
Add the thyme then pour in the port and brandy.
Bring the contents to a boil until the liquid has been reduced by a third. 
Lower the temperature to a minimum setting and add the livers, stirring them until they have browned, which should take around 2 minutes. Remove from the heat.
Preheat the oven to 130°C/27°0F/gas mark ½.
Remove the thyme sprigs and place the rest of the contents in a blender. Process until smooth.
While the processor is running, add one cracked egg into the mix every 30 seconds. This should take around 4 minutes and the mixture should be silky smooth. 
Pour the melted butter very slowly while the motor is running. 
Season to taste.
Sieve the mixture to ensure the parfait is perfectly smooth.
You can either use 24 ramekins or 2 large terrine tins. Whatever you decide, pour the parfait into the dishes and place them in deep baking trays. Cover all of them with greaseproof paper.
Fill the baking trays with water up to two-thirds of the height of the dishes.
Place the trays in the oven and cook for 40 minutes. You need a thermometer to test whether the parfait has reached an internal temperature of 65°C/150°F. If not, cook for a few minutes longer and keep checking until the desired temperature has been reached.
Remove from the oven and leave to cool for 30 minutes.
You now have a choice to freeze it for later use, or you can place it in the fridge overnight to firm up. 
If you choose the latter, you can remove the greaseproof paper and spread softened butter on top of each dish to help retain its moisture and prevents oxidation. 
Serve the next day with amaretto cherries or persimmon chutney.
Notes
If you used ramekins, you simply serve them as is so that guests can help themselves to the individual portions. 
If you used a terrine tin, you'll need to briefly dunk the parfait in hot water,  but do not submerge it! This will let the sides loosen up, so that you can flip the terrine onto a serving platter, turning it into a fantastic centrepiece with all the trimmings as a starter.
Prep Time:

30 minutes

Cook Time:

1 hour

Category:

Starter

Method:

Bain Marie

Cuisine:

French
Keywords: duck liver parfait, liver parfait recipe, duck liver recipe, Christmas starter, duck liver appetizer