Fancy more delicious Parmesan recipes? Luckily, I felt creative in the kitchen and decided to make these amazing Parmesan croquettes.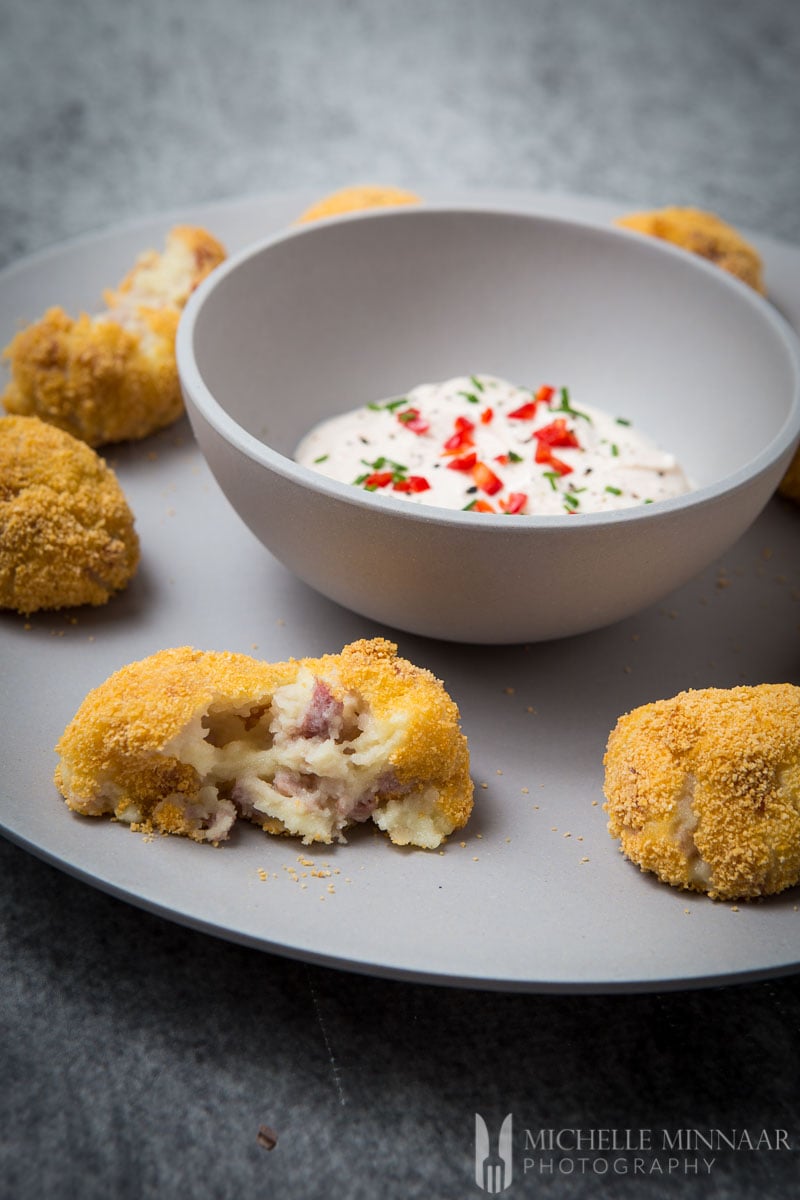 Again, a fabulous canapé, starter or snack. These Parmesan croquettes are a play on Spanish croquetas with jamon and manchego, and they came out fantastic!
I can't wait to make them again. Once you start eating one of these Parmesan croquettes, you won't be able to resist another one.
The golden exterior is crunchy, while the inside is soft and full of intense flavours thanks to the Parmesan cheese. Making these Parmesan croquettes is fun and not too messy.
I encourage you to involve other family members, especially if you've got kids at home. Make a large batch since these will disappear lightning fast. Enjoy!
Parmesan croquettes with Parmesan cheese
As one of the world's oldest and richest cheeses, Parmigiano Reggiano is known as the King of Cheeses. Being a P.D.O. product, it is 100% natural. As a result, it's very high in terms of quality, with no additives.
Using only natural fermenting agents and fresh raw milk, it is rich in free amino acids. It's a delicate task to yield optimum results, so it comes as no surprise that more than 50,000 people are involved in the production system.
In 2015, 49,400 tonnes of Parmigiano Reggiano were exported to the four corners of the Earth.
Parmesan is truly a valuable cheese worth its price. It's a hard-paste and long-maturation cheese, up to 48 months, with roughly 30% water content.
Therefore, when you purchase the cheese, you take home all the nourishing substances. It is easy to digest and is high in calcium, making these Parmesan croquettes a great source of nutrition.
Please check out my posts on Parmesan crisps and Parmesan arancini. For more information, you can inspire yourself with more delicious Parmesan recipes.
You can also visit this site for more detailed information about Parmigiano Reggiano cheese.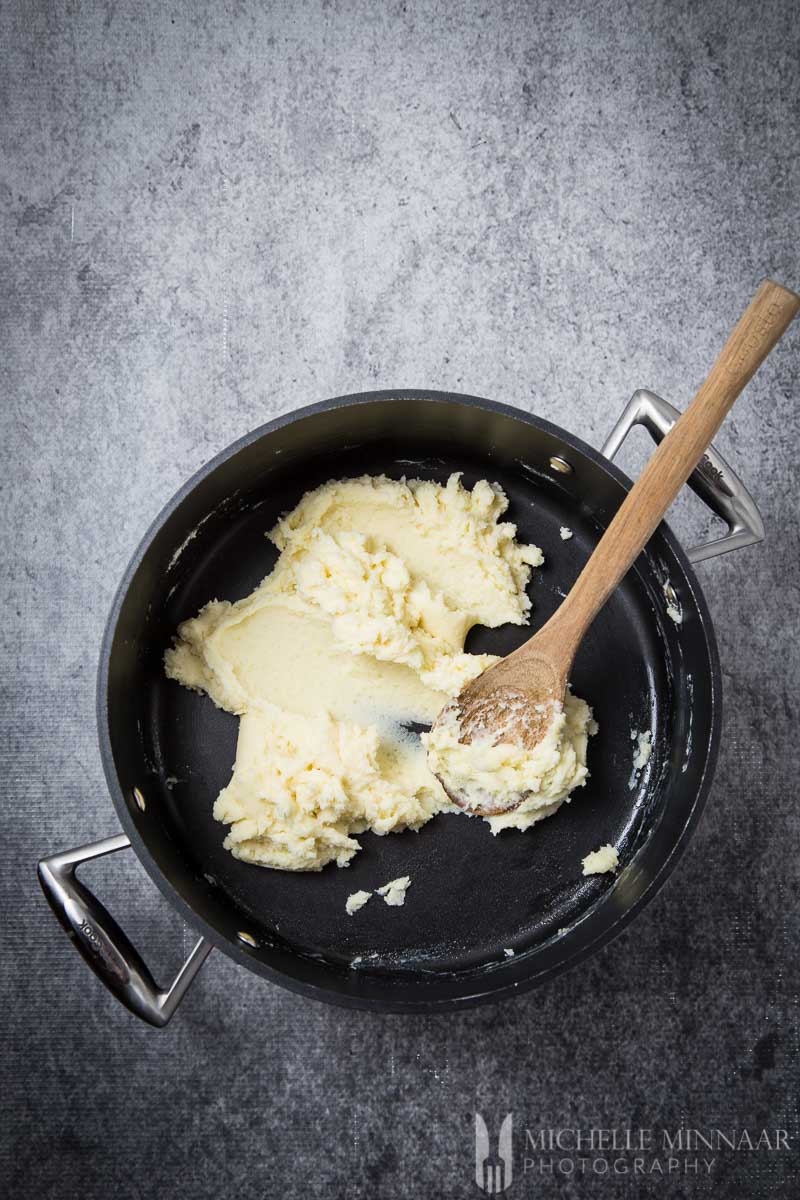 the mash
The mash, mixed with Parmesan and the Parma ham are essential to getting these Parmesan croquettes right. You'll need to source potatoes which are starchy, not waxy.
Russet potatoes for example are an excellent choice for this recipe. They have a thick skin and once you boil them, they fall apart easily.
Mix in the butter and cream and the mash will absorb them, creating that desirable fluffy texture. Remember to put salt in the boiling water, otherwise you'll need to use more salt later in the process.
Keep in mind, the Parmesan cheese itself is rather salty, which lend the mash an edge and a delicious richness. I tend to put loads of grated Parmesan cheese inside because I like the intensity of the flavours together.
However, you can control the amount of Parmesan cheese you want to include in the mash.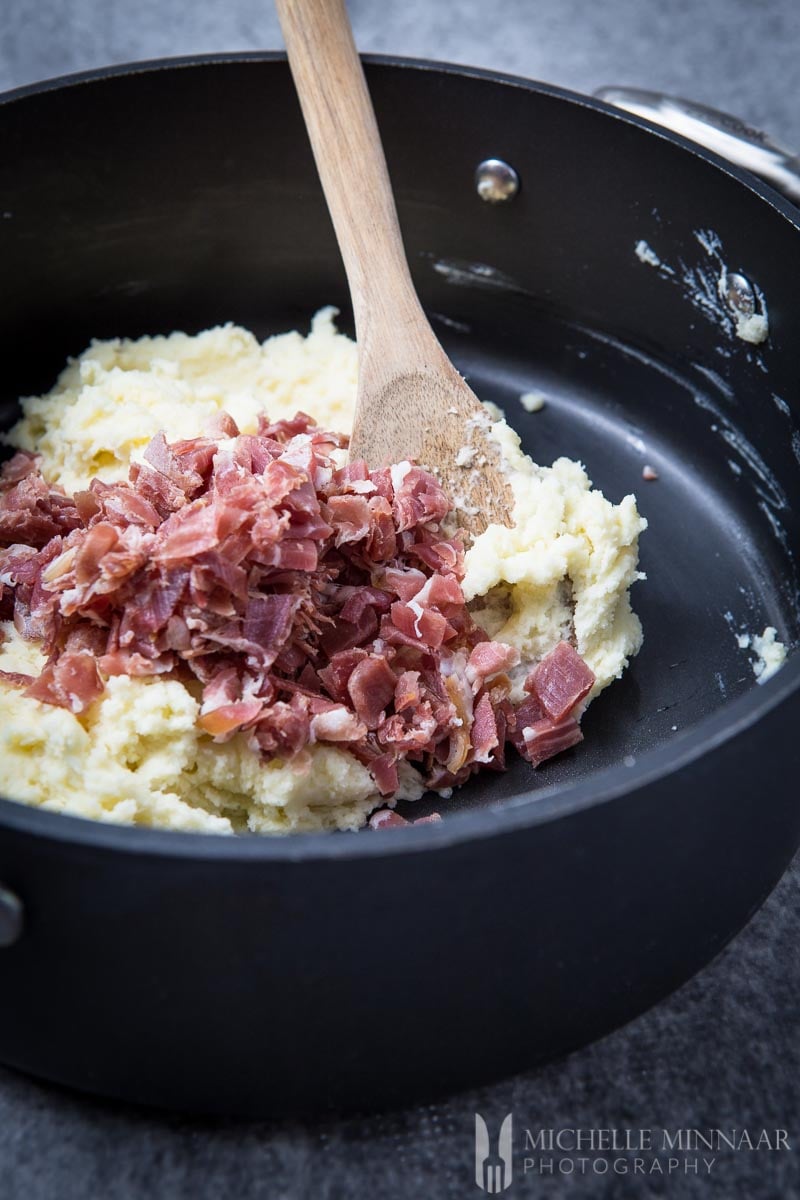 substitutes
The best substitute in my opinion are sweet potatoes. They also work very well with the Parmesan cheese. Plus, sweet potato Parmesan croquettes are a fabulous addition if you've got a diabetic relative or guest.
Never mind the lower glycemic index, I just love the taste of sweet potatoes. The next best substitutes are cauliflower or celeriac. You'll need to boil these for a bit longer as they have harder textures.
I recommend grating them to ease up the mashing process. Lastly, you can also use jerusalem artichokes. Their creamy and nutty nature will work wonders with Parmesan cheese.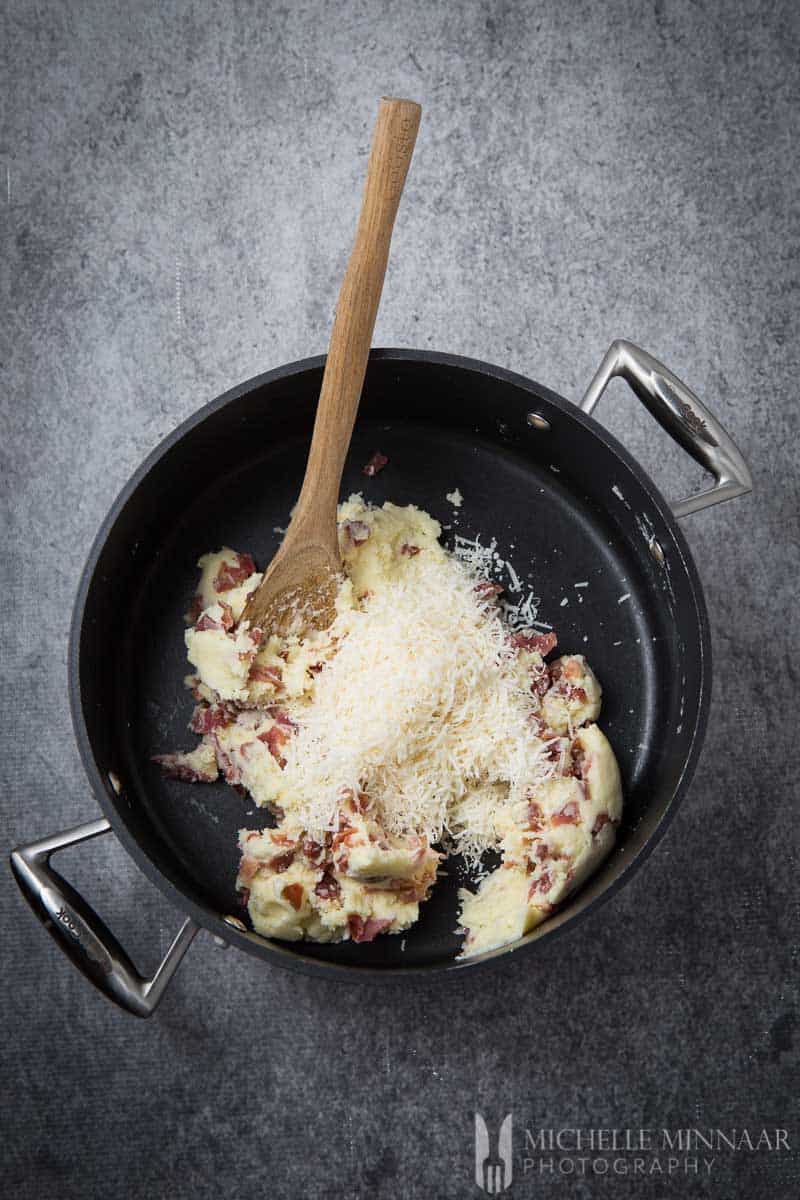 additions and seasoning
I've added Parma Ham for a bit of smokiness in the Parmesan croquettes. The Parma ham intensifies the overall flavour and it creates a new texture.
However, I could even imagine these Parmesan croquettes without the addition of meat. Add spring onions or chives in addition or instead to be vegetarian friendly.
If you want to make things slightly more luxurious, then add a bit of fresh truffle or truffle oil in the mash. Truffle, potatoes and Parmesan cheese is a combination to die for!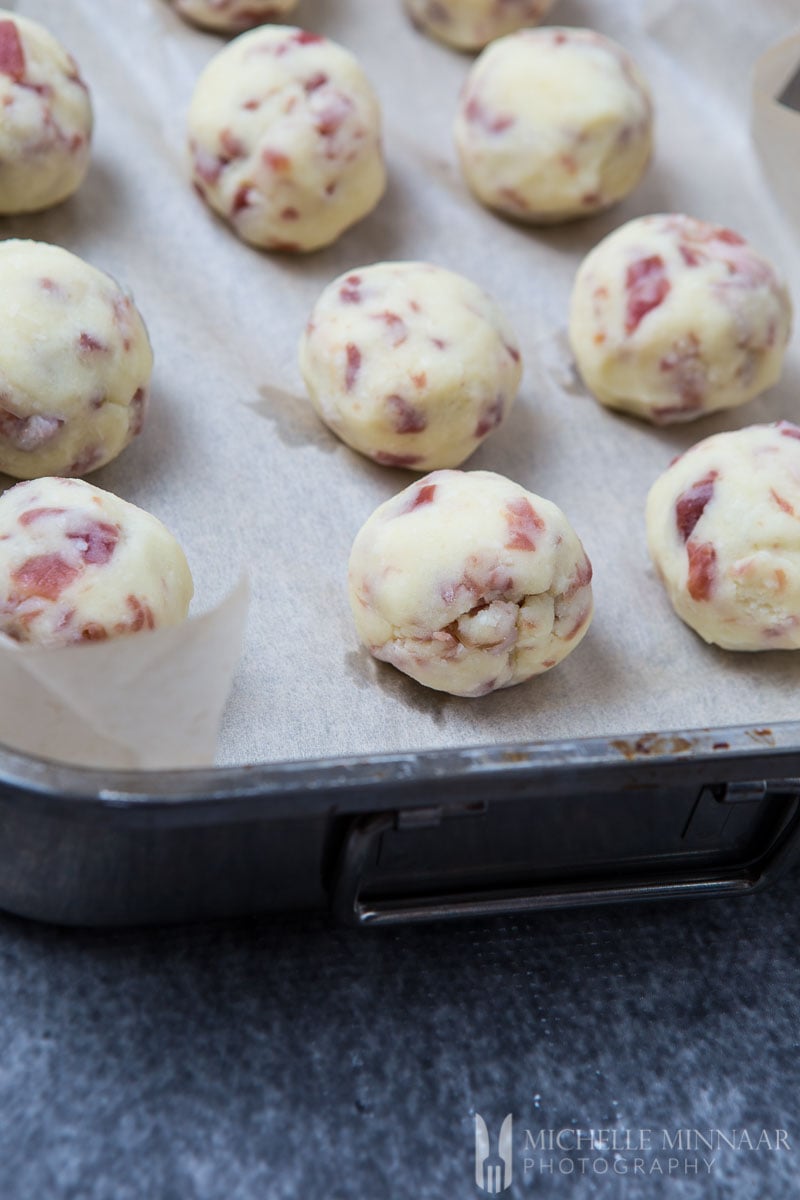 make more mash
I always like to be efficient in the kitchen and create many delicious courses with the minimum amount of work. These Parmesan croquettes are a fantastic opportunity for being efficient and getting a couple things done in parallel.
Make a large batch of the mash and you can serve the leftovers as a side on the dinner table during the holidays. Also, I would add an extra layer of Parmesan cheese on top for that amazing golden crust.
This mash with Parmesan mixed in is rather festive and it is so delicious, I can honestly eat it straight from the pot. I recommend serving it with some delicious meat, like the smoked turkey.
Toss in some roasted seasonal vegetables and homemade cranberry sauce and you are in for a treat!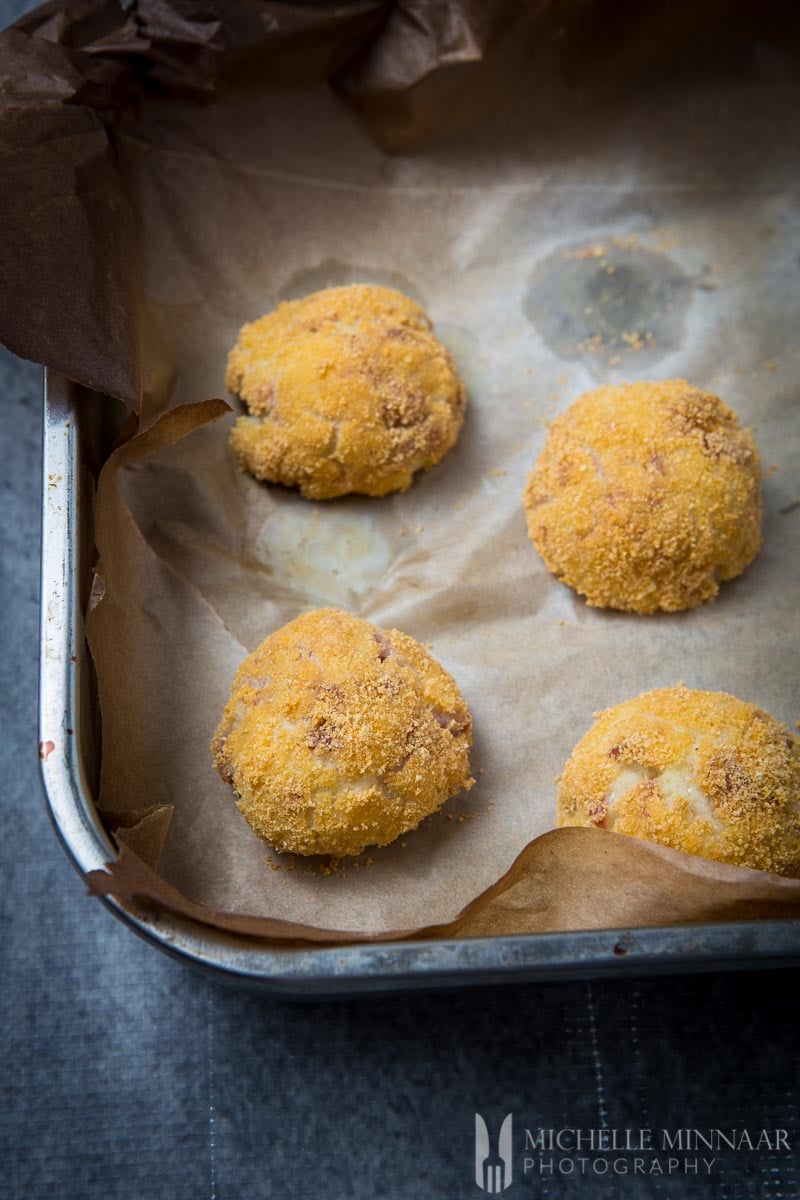 breadcrumbs
What I love most about the Parmesan croquettes is their crunchy exterior. Once you bite into these babies, you'll find them soft with delicious subtle flavours from the Parmesan.
I used traditional breadcrumbs to give them that golden glow. However, you can also use gluten-free breadcrumbs.
Sometimes when I feel like eating healthier, I like to coat my Parmesan croquettes with sesame seeds – either white or black.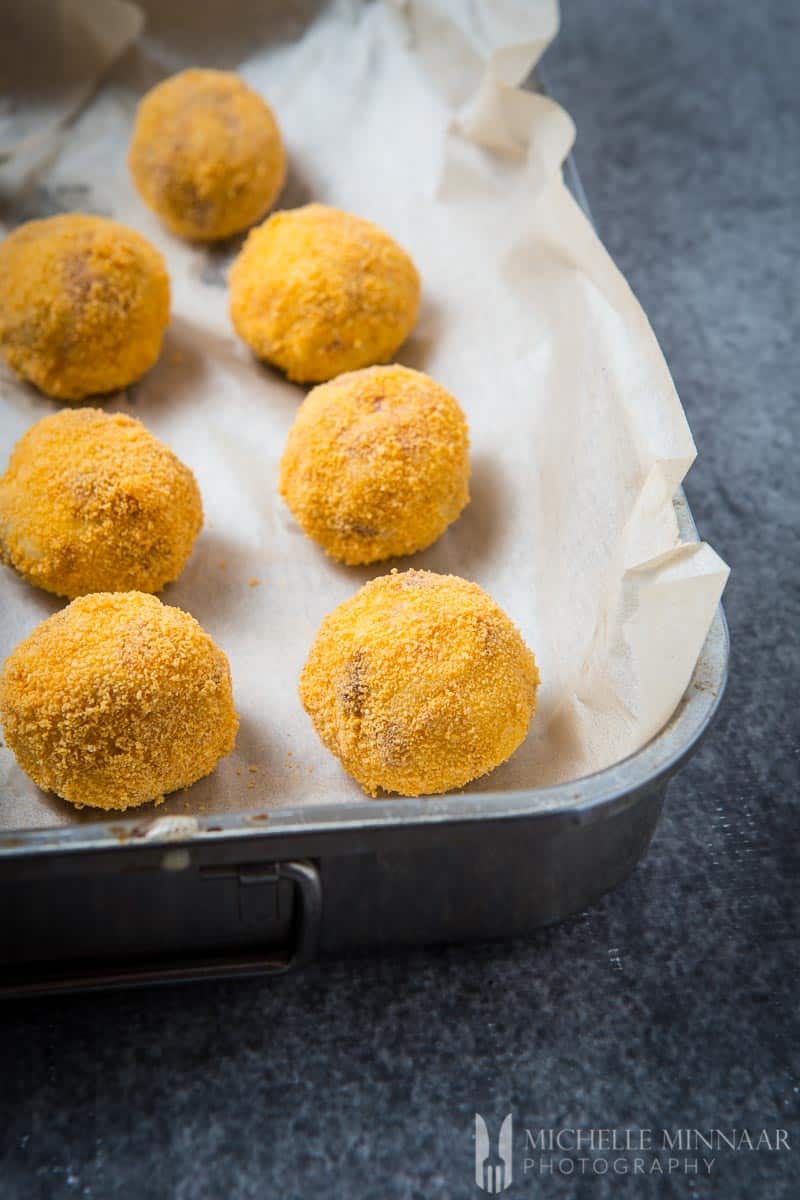 bake
Once your Parmesan croquettes are done, then it's time to put them in the oven and wait. Instead of drowning the Parmesan croquettes in oil, I prefer to oven bake them.
Towards the end of cooking time, I like to turn on my grill function to give them a good finish. If you must pan-fry, then I highly suggest using unscented coconut oil as a healthier frying option.
Butter is generally fatty, and olive oil is too fragrant. The latter can overpower the delicious flavours from the Parmesan and Parma Ham.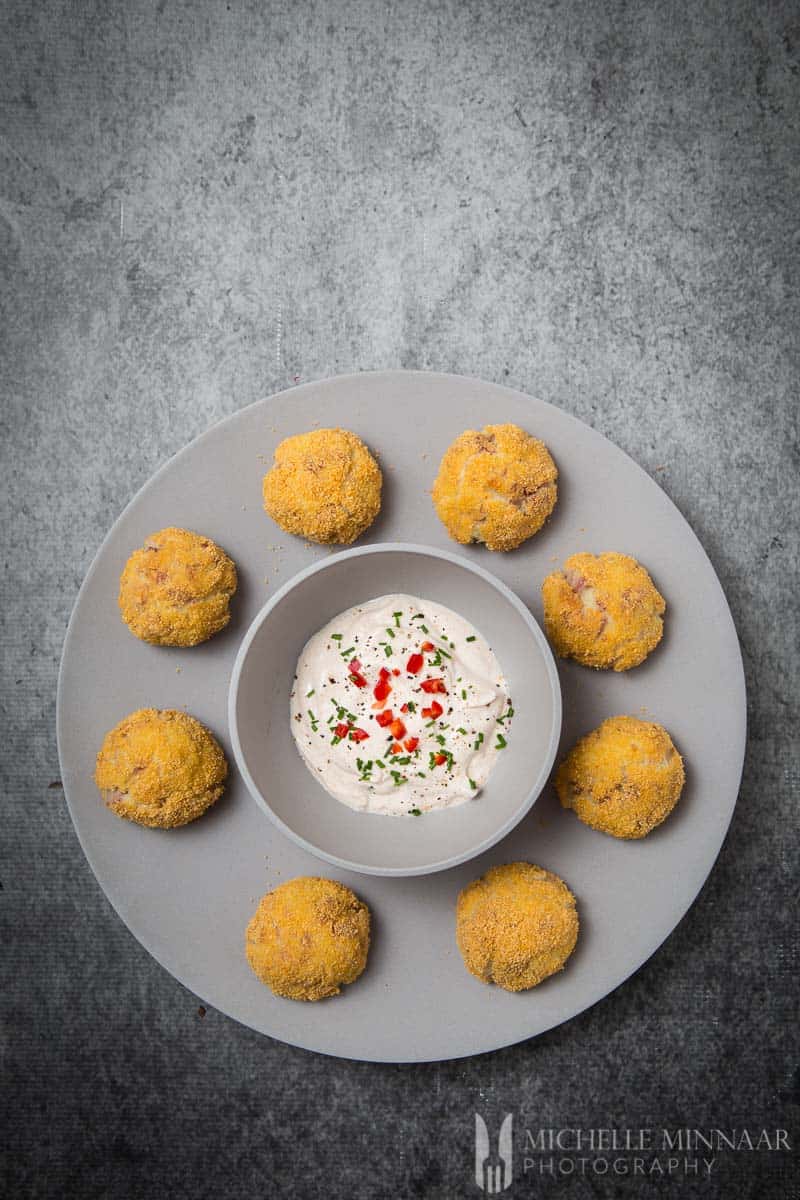 serving
While your Parmesan croquettes are in the oven, you can make a quick chilli and lime yogurt dip. This yogurt dip is very versatile and only takes ten minutes! Dip away and enjoy!
More potato recipes
Print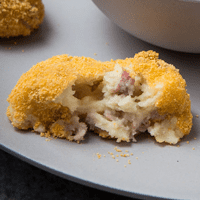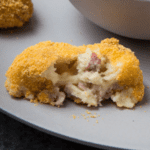 Baked Parmesan & Parma Ham Croquettes
---
500g

(1lb) cooked potatoes, mashed

60

ml (4 tbsp) double cream

30

ml (2 tbsp) butter

150g

(

5oz

) Parma ham, finely chopped

30g

(

1 oz

) Parmesan cheese, grated

1

egg, whisked

100

ml (3oz) breadcrumbs
---
Instructions
Once you've drained the cooked potatoes, mash well and add the cream and butter. Let the mash cool down.
Add the ham and cheese and mix thoroughly until the ingredients are evenly spread.
Line a large baking sheet with baking parchment.
Divide the mixture evenly in order to form 12 balls about 5cm (2in) in size.
Chill in the fridge for at least 30 minutes.
Preheat the oven to 200°C/400°F/gas mark 6.
Whisk the egg in a bowl.
Pour the breadcrumbs into another bowl.
Remove the potato balls from the fridge and dip each one in egg and then roll it around in breadcrumbs until all its surfaces are covered.
Place the ball back on the baking sheet and repeat the process until every ball is egged and breadcrumbed.
Place the baking sheet in the oven and bake until the croquettes are golder, which would take around 20 minutes.
Serve with salad, vegetables or with a dip.
Notes
Don't add salt to the water when boiling the potatoes because the cheese and ham will have plenty.
You can add more cheese but taste it first before doing so.
Prep Time:

30 minutes

Cook Time:

45 minutes

Category:

Starter

Cuisine:

Italian
Nutrition
Serving Size:

1 serving

Calories:

336

Sugar:

2.3 g

Sodium:

712 mg

Fat:

18.1 g

Saturated Fat:

9.9 g

Carbohydrates:

30.1 g

Fiber:

4 g

Protein:

14 g

Cholesterol:

104 mg
save the recipe to your pinterest board

P.S. This is a sponsored post.