These mini salmon rissoles are divine when paired with sour cream and Attilus Caviar. They make lovely entrées or starters. Better yet, these fancy salmon rissoles are just what you need for any festive occasion such as birthdays, celebrations, Easter, Christmas, you name it.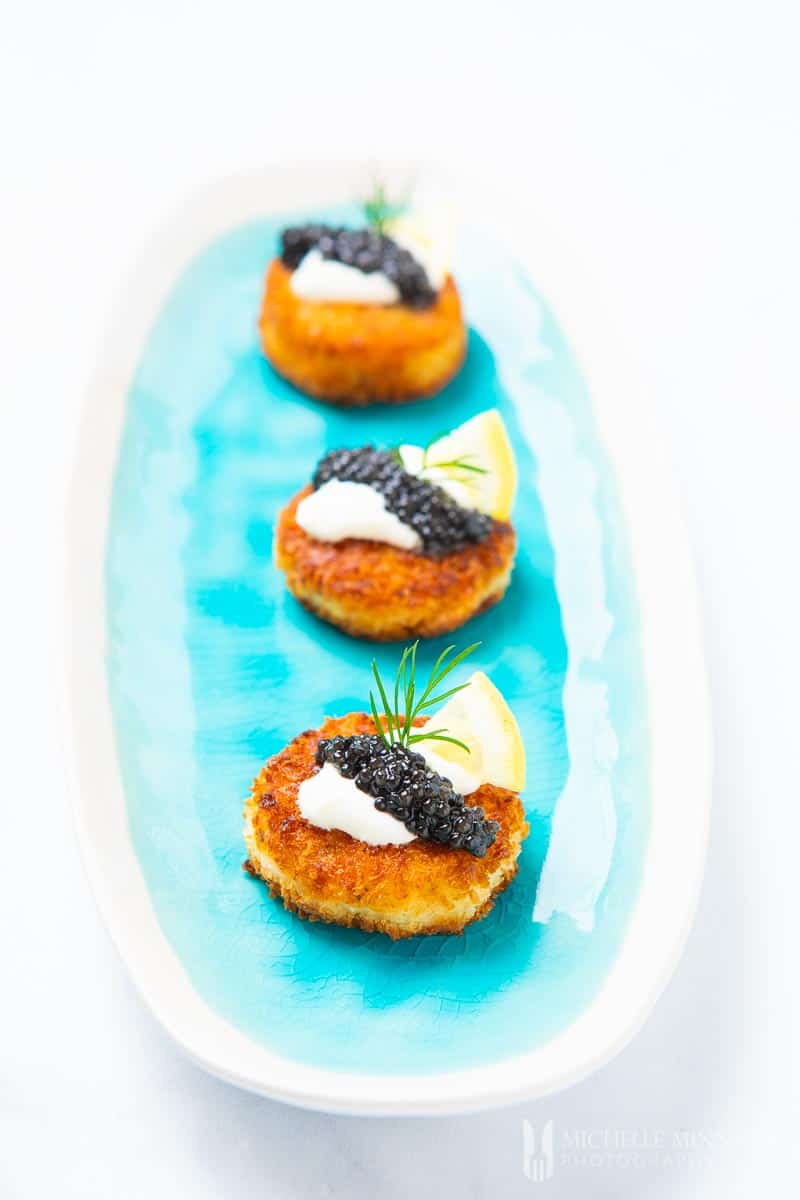 Together with the Attilus Caviar, they make the perfect little canapés. Talk about some elegant finger-food! So, take advantage of this simple yet elegant Russian starter which takes a mere 45 minutes to prepare.
Come to think of it, for the level of sophistication, these salmon rissoles are quite easy to master. This rissole recipe calls for only a handful of ingredients, plus you can easily get your hands on Attilus Caviar.
mini & elegant salmon rissoles with Attilus Caviar
What makes these salmon rissoles so delicate is the caviar from Attilus, which I added as a topping. Of course, one can enjoy caviar by itself – as true caviar connoisseurs love to do.
Caviar should always be eaten with a special spoon, which is typically made out of bone, pearl or crystal. Avoid a metal spoon at all costs if you wish to have a caviar tasting and enjoy this very special food all on its own. A metal spoon will alter the taste of the caviar ever so slightly.
Since caviar should always be served in very tiny potions – usually smaller than a tablespoon – I decided to apply the caviar delicately on the salmon rissoles. So, in order to complete my salmon rissoles, I've opted to go for Attilus Caviar, also known as the finest caviar in London.
Attilus translates from the Latin as 'great sturgeon' and the company is dedicated to raising premium sturgeon in a sustainable and state-of-the-art fishery which is also eco-friendly.
As such, the caviar produced adheres to the strictest quality control to uphold its elite standards, which of course makes it so exclusive.
To read more about Attilus and the Attilus way, click right here.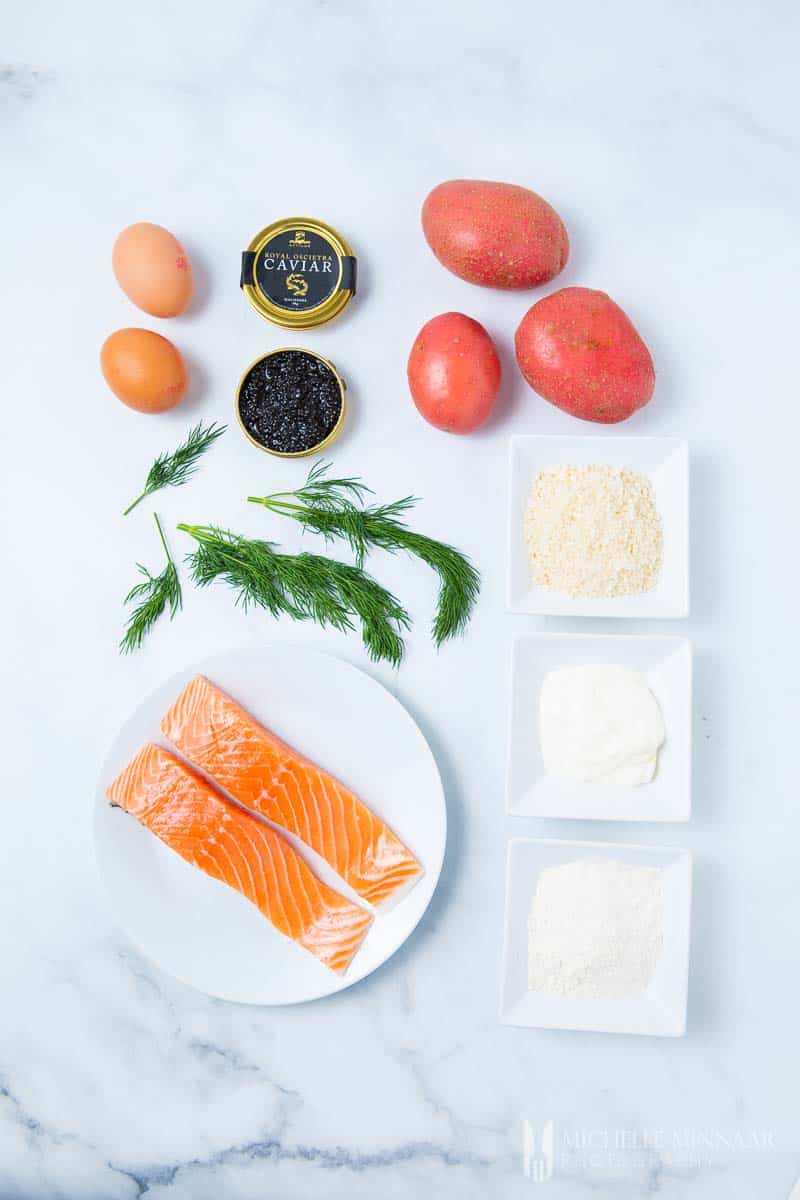 selecting the Royal Oscietra Caviar for my salmon rissoles
In the end, I went for the Royal Oscietra Caviar. This caviar is from the Russian sturgeon, which is famous for its premium egg quality. Indeed, after sampling the caviar, I note it carries a slightly nutty flavour that pairs beautifully with the salmon rissoles.
The colour of the caviar was dark grey, although apparently it can vary, taking on any shade from dark olive-green to golden brown. In terms of salt, it has a 4% salt content, which is very light. All in all, I could tell that this caviar was of premium quality.
I must add, that the Royal Oscietra Caviar which I ordered from Attilus came straight to my door in very luxurious packaging. Plus, it was a refrigerated delivery!
The process is very efficient and couldn't be easier. Hence, it's the perfect addition to the upcoming Easter celebrations.
Especially if you would like to cook to impress. Just take a peek at the caviar selection here and select whichever one fits your needs best.
If you aren't sure how to choose caviar, then click right here for more information and guidance. Lastly, what's a celebration without a glass of champagne and some caviar?
These two pair perfectly well together. So, combined with mini and elegant salmon rissoles, your guests will have a lot to look forward to!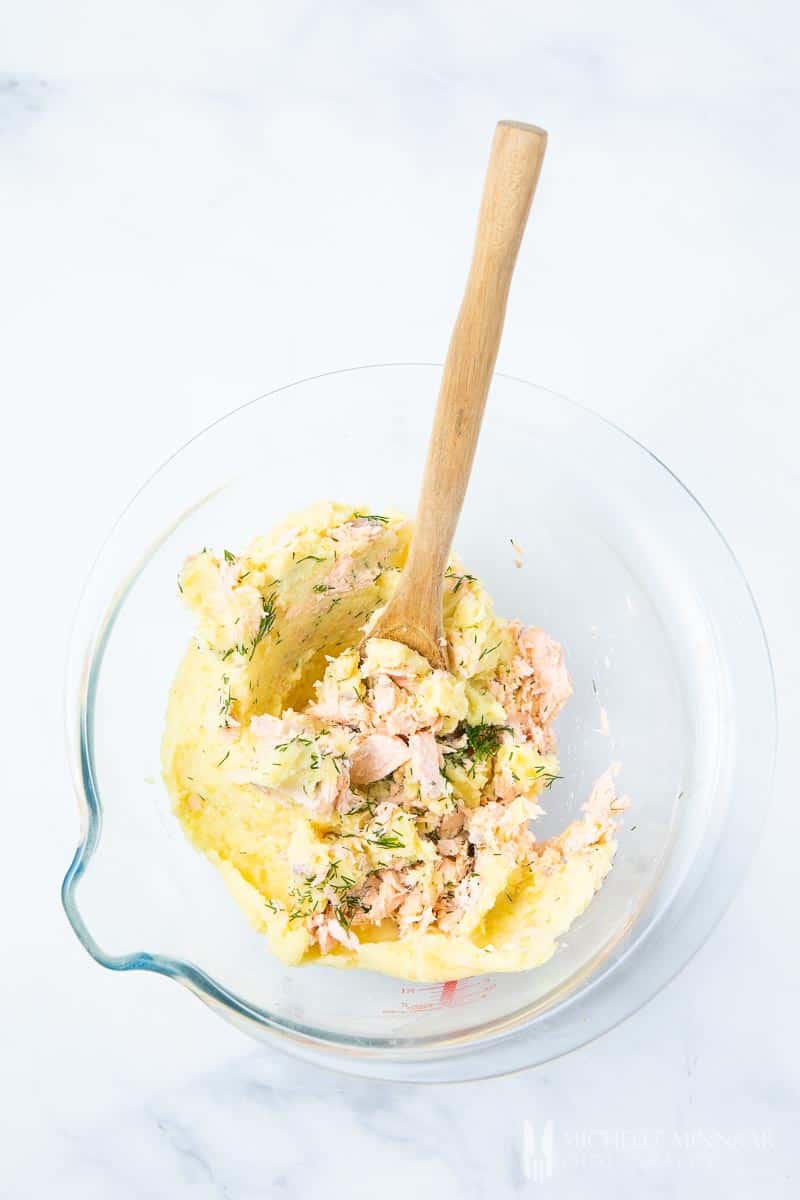 fresh salmon rissoles
Now that we have the caviar situation sorted, we can focus on the next essential component – the fish. These salmon rissoles are made up of fresh salmon fillets which are cooked in milk on a pan.
The milk is then reused to complete the salmon rissoles recipe. However, you can also use hot smoked salmon for a richer version of these salmon rissoles.
In the past, I've used the smoked salmon in a luscious smoked salmon pâté. Also, try to make these salmon fish cakes.
You can also experiment with these top salmon substitutes:
mackerel
striped bass
milkfish
bluefish
arctic char
ocean trout
amberjack
wahoo
In essence, you can actually make rissoles using any fish. So, you can make the recipe with tuna, sea bass or haddock. Besides, if you purchase smoked haddock, you can make delicious smoked haddock rissoles.
On the other hand, you can reuse leftover haddock fillets and make smoked haddock remoulade.
The choice is completely yours! In either case, the caviar will be the perfect finishing touch!

what are rissoles?
Rissoles are circular balls which are typically baked or deep-fried. The term rissole is derived from the French work 'rissoler' which means to redden. However, the actual country of origin of rissoles is Portugal.
Generally speaking, rissoles are made up of savoury ingredients. Usually these include minced meat or fish.
My rissole mix includes potatoes and the cooked salmon fillets. Together with the leftover milk and the rest of the ingredients, you should shape them into even discs.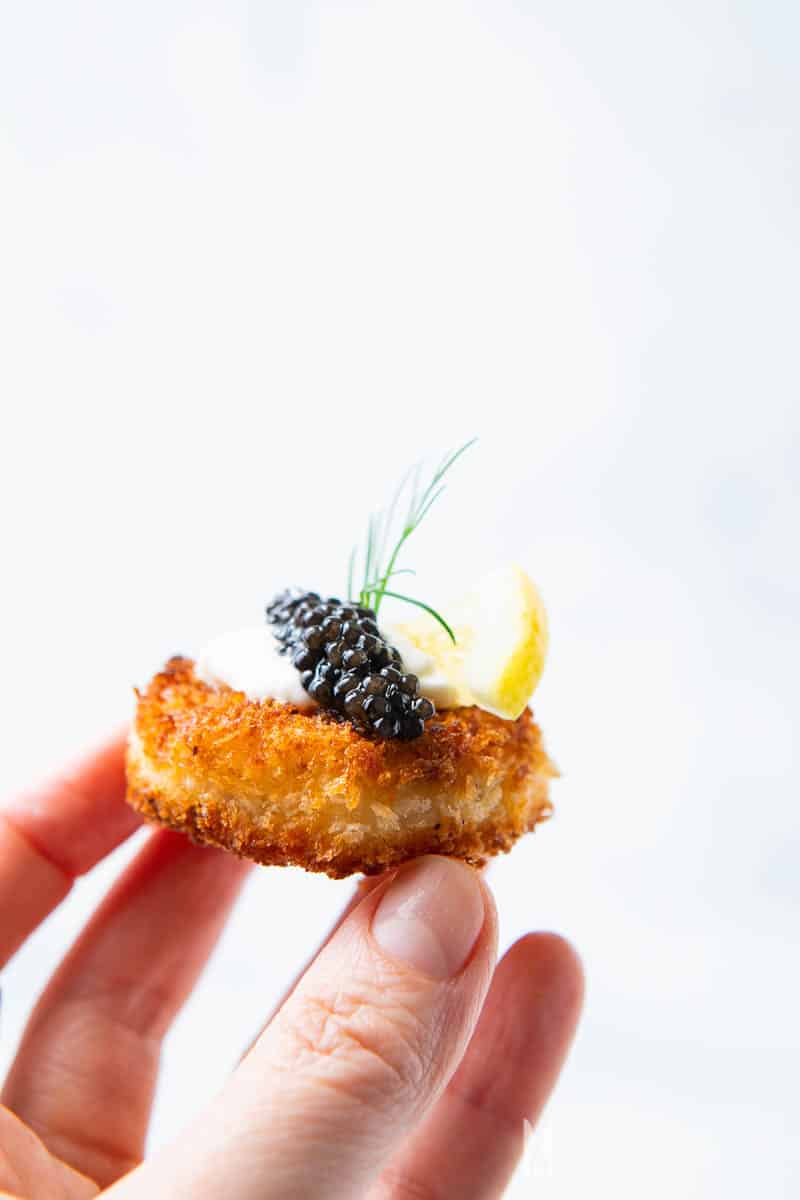 salmon rissoles with sweet potato
For a sweeter version, you can also opt for using sweet potatoes. Just take care, your rissoles might take on a slightly orange colour. You can play around with the proportion of the potato and the fish inside the rissole mix. If you want a more meaty rissole, then go heavy on the fish. For a softer alternative, use less fish.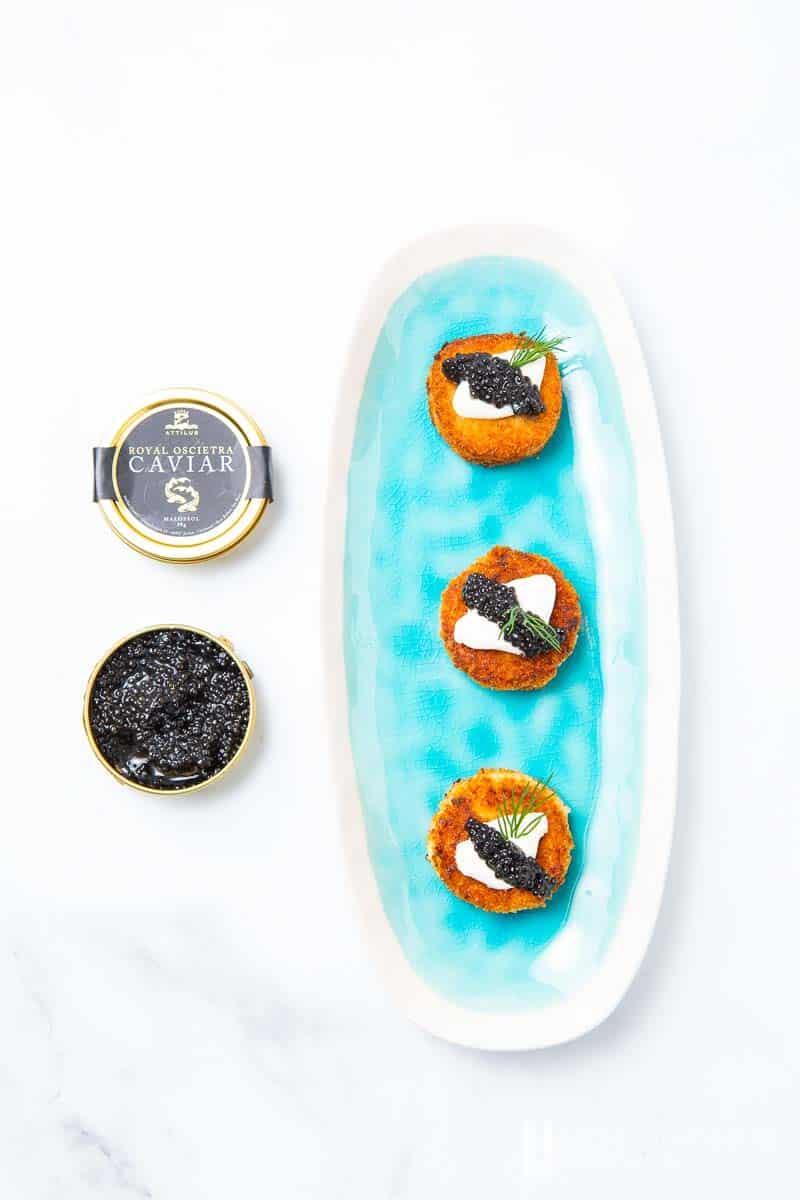 how to make fish rissoles
The key to making perfect salmon rissoles is to decorate them! This is where the caviar comes in. However, I highly recommend adding a base element, which is the sour cream. You can also consider cream cheese or creme fraiche.
If you would like to cram in even more flavour, then add the smoked salmon pâté or the smoked salmon terrine. If you run out of caviar, you can also consider this mushroom and black garlic pâté for a bit of flavour.
You can also consider these elements as toppings:
cress
dill
delicate pieces of thinly cut lemon
water cress
spring onions
chives
...Although, I really believe that nothing makes these salmon rissoles more fancy and sophisticated than the addition of the caviar. Dare to try this exciting and festive recipe.
Otherwise, you can always go for making something with chicken, like these chicken rissoles. For more finger food inspiration, check out these stuffed cherry tomatoes.
Print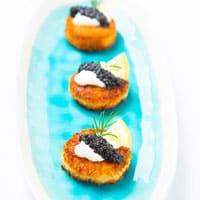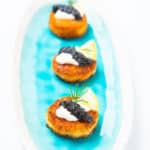 Mini Salmon Rissoles with Sour Cream and Attilus Caviar
---
Description
These Mini Salmon Rissoles with Sour Cream and Attilus Caviar are the most luxurious & delicate salmon rissoles ever! Don't miss out on this elegant recipe.
---
250

ml

(1 cups) milk

250

g

(1/2lb) fresh salmon fillets, skinless

500

g

(1lbs) potatoes, peeled and chopped

15

ml

(1 tbsp) dill, washed and finely chopped

45

ml

(3 tbsp) flour

1

egg, beaten

100

g

(3 1/2oz) dried breadcrumbs

45

ml

(3 tbsp) vegetable oil

100

ml

(3fl oz) sour cream

20

g

(3/4oz) Royal Oscietra caviar
---
Instructions
Heat the milk over high heat in a saucepan. When it begins to boil, add the salmon and season to taste.
Reduce the heat to medium and simmer your salmon for 15 minutes or until the fish is cooked.
Spoon out the fish and set aside to cool. Reserve the milk.
Meanwhile, place the potatoes in a large pan and cover with boiling water. Bring back to the boil and cook for 10-15 minutes until soft. Drain, then mash, using splashes of the reserved milk to attain the desired consistency.
Place the fish, potatoes and dill in a large bowl and stir until the ingredients are evenly distributed.
Shape the mixture into small, bite-sized discs, about 5cm (2in) in diameter and finger-width in thickness.
Preheat your oven to 120°C/100°C fan/250°F/ gas mark ½.
Place the flour, egg and breadcrumbs in 3 respective shallow dishes.
Dip each rissole into the flour, dust off any excess, then dip in the egg, and finally coat in breadcrumbs.
Place a large frying pan on a medium heat and add the vegetable oil.
Carefully place the rissoles into the pan and cook for 3 to 4 minutes on each side, or until crisp and golden, turning carefully with a spatula.
Transfer the fried rissoles to the oven and keep the cooked ones warm while you're frying in batches.
Top with a dollop of sour cream and caviar, respectively. Decorate with a slivers of lemon and dill sprigs.
Notes
The sour cream and caviar quantities in this recipe are guesstimates and depends entirely on how much or little you want to top the rissoles with.
Prep Time:

45 minutes

Cook Time:

45 minutes

Category:

Starter

Cuisine:

Russian
Nutrition
Serving Size:

1

Calories:

79

Sugar:

1g

Sodium:

46mg

Fat:

3.7g

Saturated Fat:

1.1g

Carbohydrates:

7.8g

Fiber:

0.7g

Protein:

3.7g

Cholesterol:

14mg
save the recipe to your pinterest board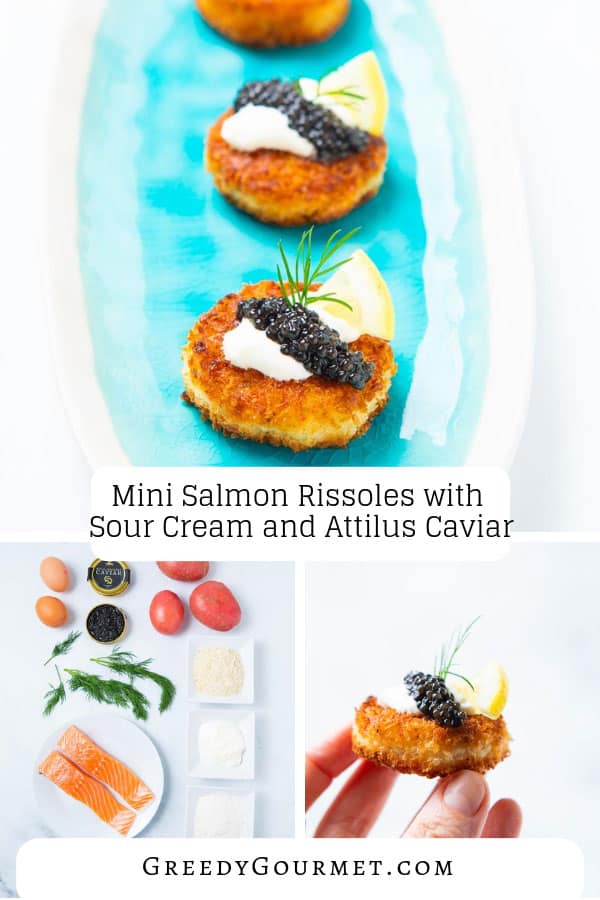 P.S. This is a sponsored post.