Whether I eat meat or fish, roasted green beans with garlic remains one of my favourite healthy side dishes. Actually, truth be told when I diet for the summer, I enjoy eating these garlic green beans for dinner by themselves.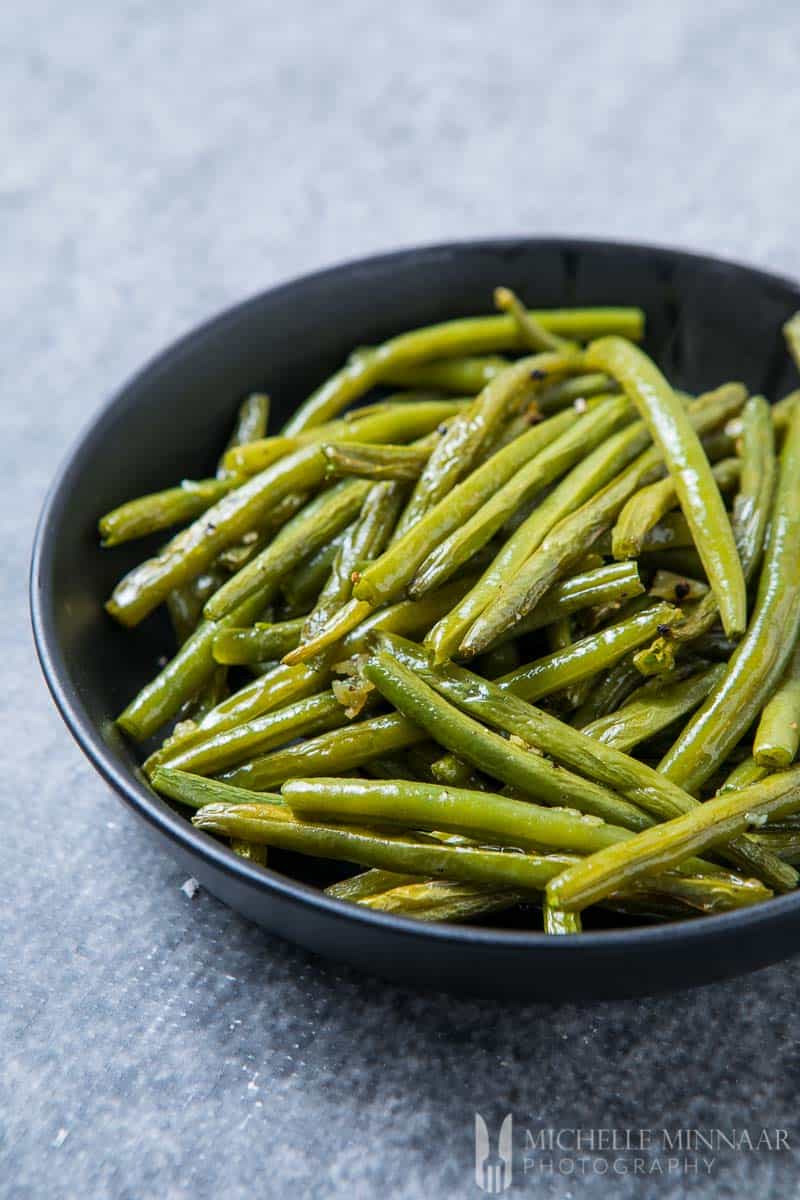 This side dish recipe is very low in calories and you can eat multiple portions without fearing what the scales will tell you the following day.
You can serve these with heavier meat dishes, such as a whole smoked turkey like I did in my earlier post.
Or, you can serve the roasted green beans with a fresh, grilled piece of fish. Pesto baked salmon is a great example!
These beans can be eaten hot or cold, so you can slip some of them into your kids' lunchboxes to increase their daily vitamin intake.
roasted green beans with garlic
Oven roasted green beans with garlic make a perfect weeknight side dish. The trick to mastering this recipe is to source the freshest green beans possible.
Naturally, you'll find green beans in the freezer section of the super market, and admittedly I've bought these at times due to convenience.
It's always easier when someone already prepared the green beans for you and all you have to do is to put them in a pot of boiling water. Trust me, cooking them fresh yields a better result.
Hence, source the green beans fresh and trim the ends. I like to roast mine slightly less time in the oven for two reasons. Firstly, I like my green beans with a bit of crunch and secondly, the beans will retain more nutrients if not overcooked.
If you want firmer green beans, then you'll need to pan-fry the garlic a bit beforehand. Otherwise, your garlic won't cook in time and it'll be raw.
The best option is to pan-fry the garlic for a minute or two in olive oil and then sprinkle it on top of the green beans.
Another alternative is to throw the green beans on the grill and get a lovely char on them. They'll carry a smoky flavour that works very well with fatty fish like salmon or heavier meats.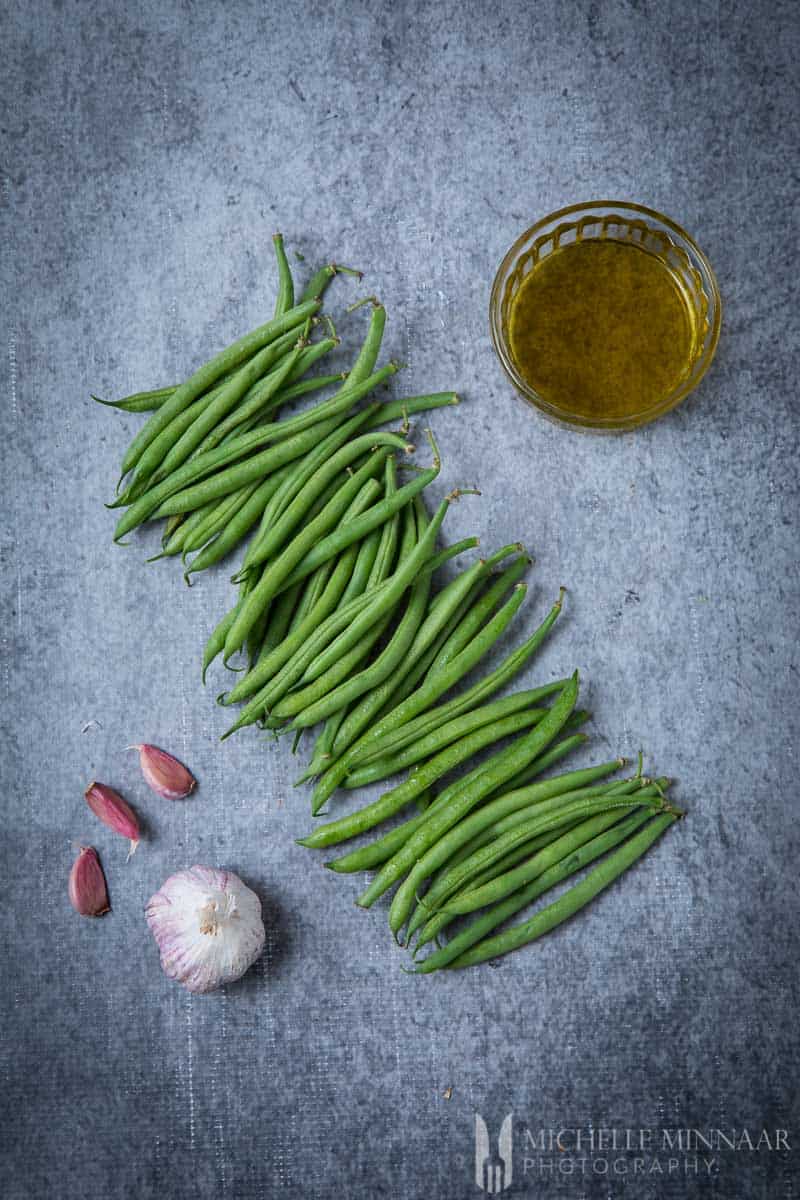 marinades
Some people don't like to cook green beans, thinking they are too bland. Well, this is where the beauty of cooking comes in. First of all, in combination with the garlic and a hint of butter or olive oil, this side dish disappears off the dinner table in an instant.
However, if you still feel like your roasted green beans still need a bit of flavour, then I've got a great trick for you.
I like to make a soy sauce marinade with crushed garlic and extra virgin olive oil. Once I stir everything together, I apply the soy sauce and garlic marinade generously with a brush and let the green beans roast in the oven.
The soy sauce with the garlic gives the roasted green beans that sweetness as well as salty flavours that are very addictive. The best part is that even with this marinade, you still have a healthy side dish.
I bet you anything that once you try to make this marinade, you'll go nuts for it and you'll start applying it to other roasted vegetables like carrots, beetroot or courgettes.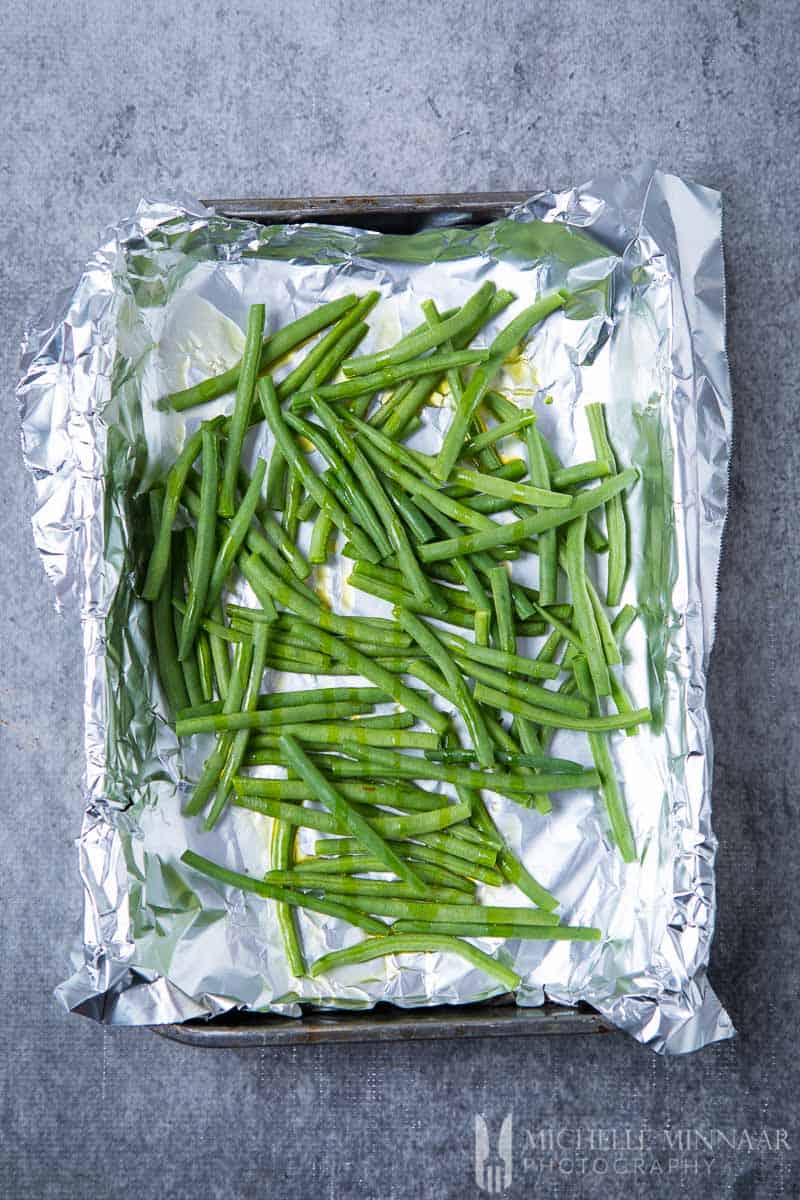 more variations
Alternatively, you can use other marinades as well or different types of spices. For example, you can take inspiration from these vegetable side dishes where I've used different types of spices to jazz up simple recipes:
So, as you can see your choices are limitless when it comes to experimenting with spices and sauces. Will you stick to the garlic and olive oil or did I tempt you for more flavour?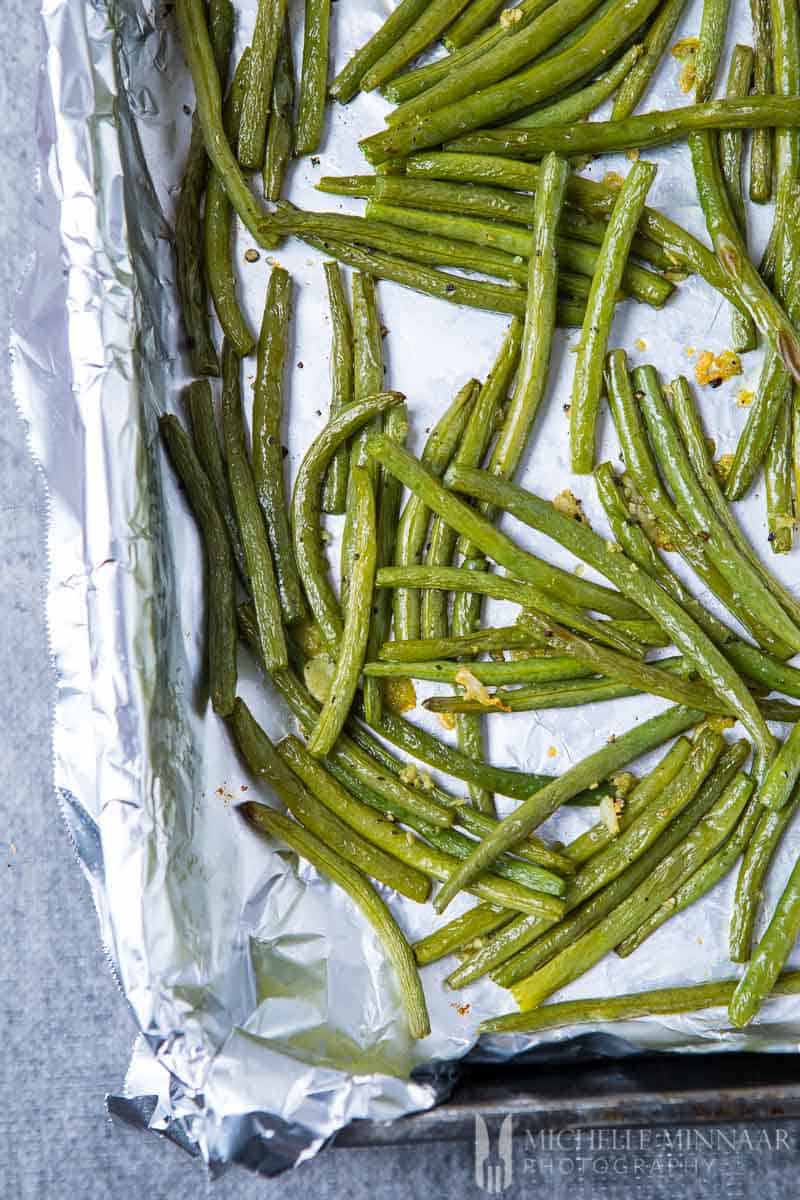 toppings
Straight after the beans have come out of the oven you can add a sprinkle of lemon juice as a finishing touch. Lime juice will also work.
This helps to break down fats and makes your food more alkaline, meaning with a pH level above 7. Eating this type of diet is very beneficial for your immune system and metabolism.
Plus, it helps eliminate those dangerous toxins and keeps your weight more stable than acidic food (pH below 7).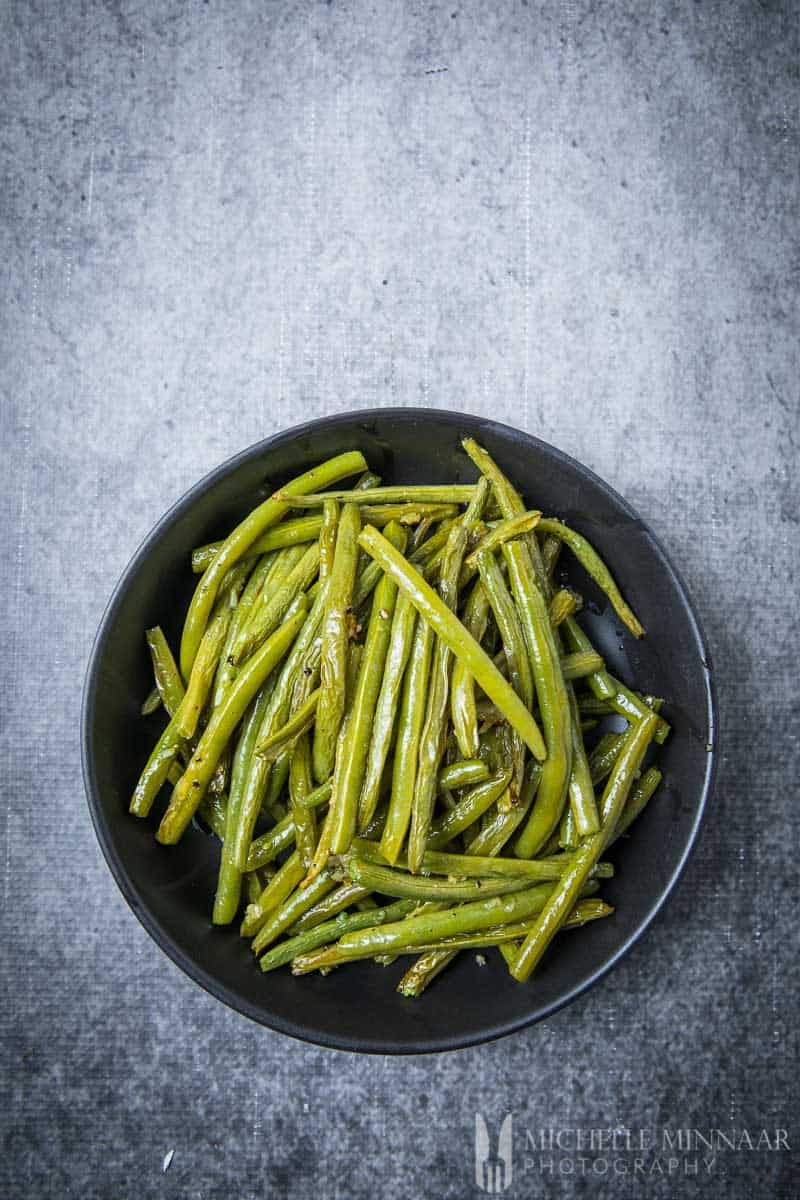 Once your roasted green beans are done, don't be shy and also add a bit seasoning such as salt and pepper. I like to toss in some fresh salad leaves or rocket for that extra bitterness and crunch.
You can use the cooled down roasted green beans in a healthy salad and toss in some pumpkin seeds. Can't get any healthier than that!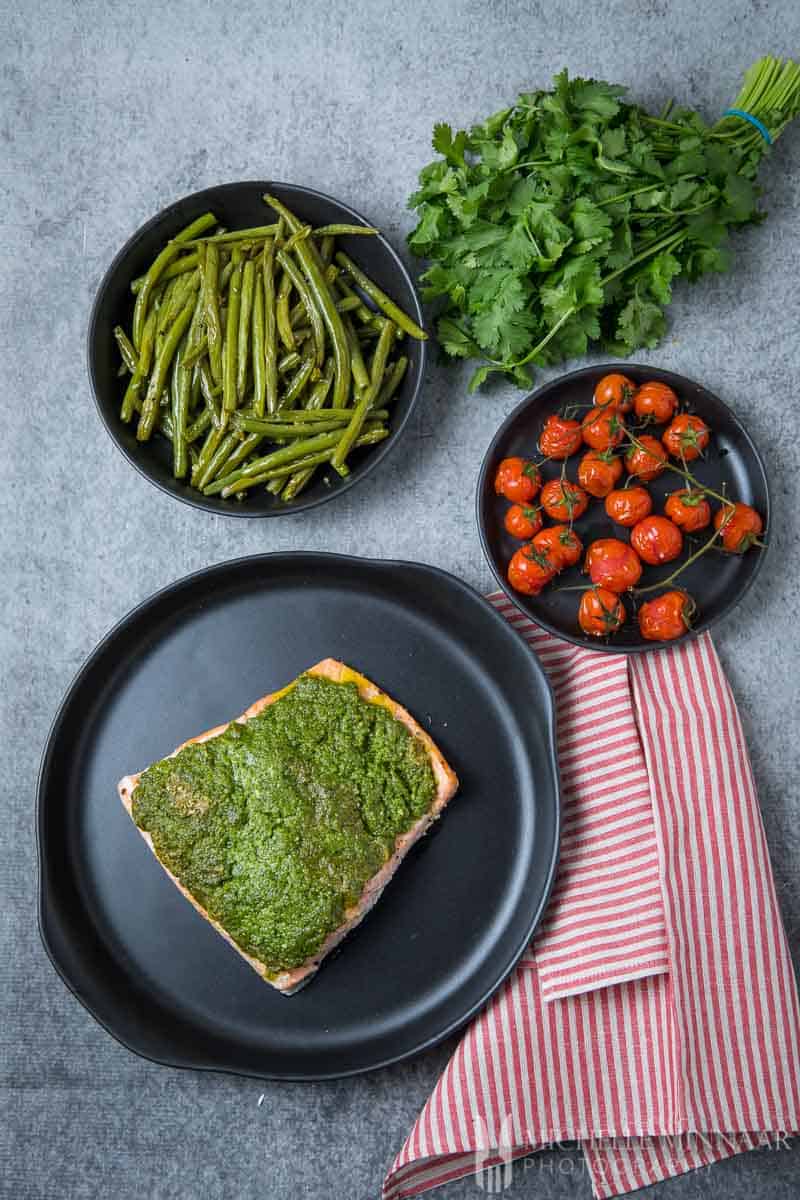 side
I've recently paired these roasted green beans with a delicious pesto baked salmon recipe, where I've covered the salmon in cashew pesto. The pesto provides a tanginess to the fatty nature of the fish and balances the dish.
You can find the recipe for baking the fish here, and making the pesto here.
Ultimately, my recommendation is to serve the beans immediately as soon as you have the fish ready. Meaning, bake the vegetables first before you throw the fish in because you'll have a ruling fish aroma in the green beans.
For a bit of acidity, also take some cherry tomatoes and roast them in the oven too with the vine. Once the vegetables are done, just cover them will foil and put the fish in the oven. The cooking of the fish doesn't take long.
Looking for more healthy vegetable side dishes? Check out the ones below:
What is your favourite way to cook green beans?
Print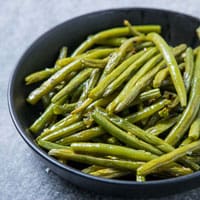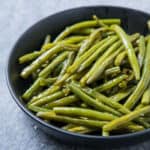 Roasted Green Beans with Garlic
---
Description
Roasted green beans with garlic is an great choice as a side dish. It is simple and inexpensive to prepare and only takes a couple of minutes. You can easily jazz up the roasted green beans with garlic with additional spices or marinades. Serve with a fatty fish or heavier meats. Double up to serve as a main course.
---
450

g

(1lb) green beans, washed

30

ml

(2 tbsp) olive oil

4

garlic cloves, peeled and crushed
salt and pepper
---
Instructions
Preheat the oven to 220°C / 425°F / gas mark 7. 
Top and tail the beans.
Line a baking tray with foil then place the beans on top, spreading them in an even layer.
Drizzle the beans with oil then bake in the oven for 10 minutes.
Remove the tray from the oven and sprinkle the garlic on top. Stir the beans to make sure all ingredients are evenly coated with oil.
Place the tray back in the oven and cook for around another 3 minutes or until garlic is cooked. 
Serve immediately with poached fish and new potatoes. 
Notes
When the garlic is heading for the oven, keep an keen eye on it because you don't want it to burn!
Prep Time:

5 minutes

Cook Time:

15 minutes

Category:

Side Dish

Cuisine:

French
Nutrition
Serving Size:

1 serving

Calories:

100

Sugar:

1.6 g

Sodium:

7 mg

Fat:

7.3 g

Saturated Fat:

1 g

Carbohydrates:

9 g

Fiber:

3.9 g

Protein:

2.2 g
save the recipe to your pinterest board