Fat-free refried beans are one of the best and easiest Mexican-style side dishes to make. A simple refried beans recipe has a low preparation time and is low in difficulty. In essence, this classic recipe is native to Tex-Mex cuisine and is a common addition to burritos and Mexican-style wraps.
However, in Mexico, it is more common to eat refried beans on their own along with a few toppings. Thanks to zero fats being used in this recipe, the calorie count is pretty low so feel free to eat to your heart's content without worrying about your waistline. In addition, refried pinto beans are a fabulous source of nutrition and energy and store quite well. You can save time by preparing a large batch and freezing this vegan meal in portion-sized batches.
how to make simple fat free refried beans
Fat-free refried beans are also commonly known as frijoles refritos, which is its original Spanish name. The Spanish name translates to 'well fried' or 'fried again', which is the essence of refried beans. To prepare an authentic Tex-Mex refried beans recipe, you'll need to stick to using pinto beans. First, you need to soak the dried beans overnight in plenty of water. Drain and rinse them properly before boiling them in water. Traditionally, the beans are then fried in fat and then mashed.
As you can see, no part of this recipe is particularly challenging and perhaps, before you know it, fat-free refried beans will become a staple to your diet too, as in Mexican, Texan as well as other Latin households.
how to cook dried pinto beans
Pinto beans are ideal for making fat-free refried beans. When you cook them, they have a beautiful, creamy texture which is great for mushing them up. It is the most common bean used throughout Mexico and North America. Now, to cook them perfectly, you'll need to either soak them overnight so they soften up.
To speed up the cooking process you can use a pressure cooker, which is much quicker than boiling the beans the old-fashioned way. For extra flavour, you can also season your fat-free refried beans while cooking by add inga bay leaf, salt and black pepper to the boiling water.
If you can't source pinto beans, you can substitute them with kidney beans, butter beans or black beans. Using the latter will create the dish known as frijoles negros. However, I highly discourage you to take shortcuts such as using canned pinto beans because the dish runs the risk of turning gooey. The best way to prepare fat-free refried beans is buy the dried beans and preparing them from scratch yourself!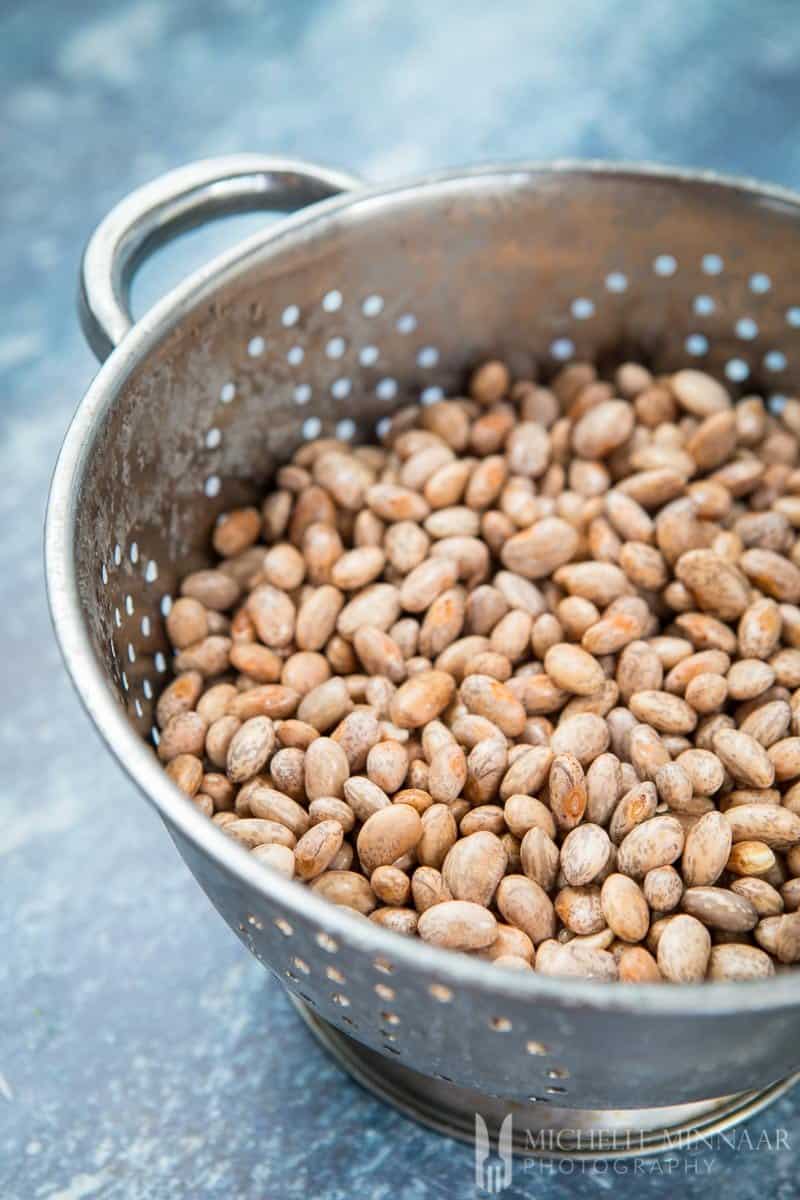 best texture and consistency for fat-free refried beans
Now, this is where you can get creative. Some households apply a little bit of fat-free yoghurt or sour cream to get a creamy texture. Others add a hint of butter or lard for extra flavours. Regardless, depending on the texture of the beans, sometimes they can get very dry. If you feel like this is the case, bind the mash with a bit of butter or sour cream to get the best consistency! In this case, I didn't want to use any fats and used a little bit of vegetable stock to lend some moisture to the Mexican side dish.
By the way, to get the answers for can you freeze baked beans, click here. You might always want to look at this can you freeze smoked salmon article.
a healthy recipe for weight loss
As mentioned earlier, the traditional way of serving fat-free refried beans is to serve them in a bowl with some toppings. These include pickled jalapenos, fresh coriander leave, and some salsa-like vegetables. However, the most common way to eat refried beans in Mexico is to add sour cream on the top. This meal is called frijoles con crema.
You can also pair it with this dairy free pesto recipe to make it healthy.
how to make vegan fat-free refried beans
Some frown upon the vegan lifestyle but as you can see vegan food can be vibrant and healthy. Since vegan dishes can be carbohydrate heavy, some people put on weight when on the vegan diet but these fat-free refried beans is one solution to the problem. If you do fancy something rich, add slices of avocado to take this dish to a new level.
refried beans wrap with egg and vegetables
One of my favourite ways to enjoy refried beans is to spread it on a tortilla wrap and then munch away. It will give you a healthy boost during the day if you need a quick lunch.
You can even create a Mexican-style wrap. My favourite additions are sweetcorn, jalapenos, cilantro and avocado. If I want a punch of protein I add a fried egg.
To make the fat free refried beans wrap resemble a Mexican style burrito, add some rice and some form of meat. This can either include small pieces of piri-piri chicken, cochifrito de coredero lamb or bits of pulled pork. As a golden finish, add some guacamole, sour cream or pico de gallo tomato salsa!
Whenever you go to a Mexican taqueria or Mexican restaurant, guacamole always appears to be the most expensive thing on the menu. Usually, they overcharge you by quite a lot when you wish to add guacamole into your wrap or burrito bowl. This is because guacamole is a spread made out of fresh avocados, tomatoes and lime juice. The taste of guacamole is simply divine and super addictive. Still, it's annoying to be overcharged for such a simple meal, so it's much more satisfying to make guacamole at home. It's really easy and even your kids can do this recipe!
Print
Fat Free Refried Beans
---
Author:

Michelle Minnaar

Prep Time:

10 minutes

Cook Time:

50 minutes

Total Time:

60 minutes

Yield:

8

1

x
Description
Fat-free refried beans, known as frijoles refritos in Spanish, are a traditional staple found in Tex-Mex cuisine. Use pinto beans to prepare refried beans.
---
Scale
Ingredients
500g

(1lb) dried pinto beans

1

red onion, peeled and finely chopped
fat free oil spray

2.5

ml (1/2 tsp) onion powder

2.5

ml (1/2 tsp) garlic powder

2.5

ml (1/2 tsp) chilli powder

5

ml (1 tsp) ground cumin

1.25

ml (1/4 tsp) salt

250

ml (1 cup) vegetable stock
---
Instructions
Soak the beans in water overnight.
Drain the beans, then place in a large pot with plenty of water and bring them to the boil. Lower the heat and let the beans cook at a slow simmer. Cook for 30 minutes or until the beans are fully tender. Drain and set aside.
Spray a frying pan with fat free oil spray and gently cook the onions until caramelised. Use a splash of water if needed during the process.
Add the beans and remaining ingredients to the pan and stir to incorporate all the ingredients.
Mash the refried beans manually or use a food processor to blend half of the ingredients and stir in the rest.
Serve immediately or freeze.
---
Category:

Side Dish

Cuisine:

Mexican
Nutrition
Serving Size:

1 serving

Calories:

226

Sugar:

2.1 g

Sodium:

54 mg

Carbohydrates:

41 g

Fiber:

10.2 g

Protein:

13.7 g
save the recipe to your pinterest board