Bohemia Suites and Spa Hotel is a luxury adult-only hotel located in Playa del Ingles, on the island of Gran Canaria, making this hotel perfect for a getaway vacation. You can absorb the tranquil environment, stay in a beautiful boutique suite and enjoy the stunning ocean views.
Check out Bohemia Suites and Spa's many pools, visit the Siam Spa and generally indulge yourself in the luxury that you deserve! In addition, Bohemia Suites and Spa Hotel also include a high-end dining experience at the 360° Restaurant which is reputed for having one of the best cuisines on the island. Consequently, if you're a foodie and want to explore the island's fresh produce – this is the place!
Bohemia Suites & Spa Hotel, Gran Canaria
In my review of the Bohemia Suites and Spa Hotel, I will highlight all the amazing things I've encountered during my stay here. By the end of the article, I'm sure you'll be booking your next vacation at this hotel. Make sure you check out Bohemia Suites and Spa Hotel whenever you visit the Canary Islands. By the way, the hotel promotes various special offers to residents.
I love my kids. I really do. Yet sometimes I need a break. Not just from them but everything – you know – the daily slog. Morning school runs, a never-ending stream of laundry, cooking, dirty dishes, helping with homework, and dealing with the constant onslaught of school letters and requests, the list goes on and on. "Mummy, I want…" "Mummy, when are we…?" or "Mummy, please help with…"
Now that's just on the children and housekeeping front. Running a business is a totally different kettle of fish, with its own demands and deadlines that need fulfilling. There are days, come 9 pm, after the kids are happy in bed, that I've turned into a zombie. At those times even the prospect of relaxing watching TV loses its appeal.
So this year I decided to take myself away to recharge. If you can relate to the aforementioned, I know just the place for you - Bohemia Suites and Spa.
To save yourself from reading a massive article, you can watch a short film about Bohemia Suites & Spa which captures the spirit of the hotel beautifully. See below!
Bohemia Suites & Spa, Playa del Ingles
This hotel is situated in Playa del Ingles in Gran Canaria. What sets Bohemia apart from the rest is that instead of catering for quantity, it focuses on quality. Case in point, nearby hotels possess as many as 1000 rooms.
In stark contrast, Bohemia only has 67 rooms, having a maximum capacity of 134 people. Yes, this hotel is completely child-free and specialises in hosting couples. Unsurprisingly, it was awarded Best for Romance by Conde Naste this year and in 2017 for Best Service.
When you arrive you'll immediately understand why. From the moment you set foot in Bohemia you are treated like royalty. After your baggage is safely stored, you're taken to the Atelier Bar to enjoy any cocktail from its extensive and exciting menu. Then a hotel representative will accompany you and make you feel at home. Afterwards, you are given a tour of the hotel, showing you all its facilities so that you can make the most of them from the get-go. All of this makes a refreshing change from the "wham-bam-thank-you-ma'am" approach taken by the majority of hotels these days.
Bohemia Suites & Spa – types of hotel rooms
Unlike most mainstream hotels which stick to drabby beige or other neutral colours in order to not offend visitors from goodness knows what, Bohemia bravely uses splashes of vibrant colours wherever possible, and it works. Different sized pools hug the hotel at various locations – just perfect for visitors who want to chase the sun through the course of the day.
All the rooms are spacious, luxurious, and offer breathtaking views. If you stay in one of these below, you will feel like royalty.
Deluxe Double Room: Size 28m2, 2 Adults, King Size Bed
Junior Suite: 59m2, 2 Adults, King Size Bed
Corner Junior Suites: 70m2, 2 Adults, King Size Bed
Sky Suites: 105m2, 3 Adults, Super King Size Bed
Bohemia Suites & Spa gardens, pools and facilities
Guests can relax in the hotel's gardens, in the shade of Royal palms as well as exotic plants, curry flowers, orchids, cacti and more. The lush gardens are very sizeable – a stunning 500m2.
The hotel has two pools and a jacuzzi for those who just want to chill. The biggest pool measures 22m in length for those of you who like to keep fit, even while on holiday. It even includes 3 water streams as well as underwater music! The smaller pool measures 20m2.
There's also a well equipped, air-conditioned gym with an excellent sound system, which you can control with TV and keyboard. On Tuesday and Thursday mornings from 9-11 am yoga classes are available, while on Mondays and Wednesdays personal training sessions are on offer, too. Everything is free for guests. On some days during breakfast, a nutritionist is available to advise you on how to lead a healthier lifestyle, if you wish.
10 minutes' walk away from Bohemia Suites & Spa Hotel
If you prefer to exercise in fresh air, the beach is 7 minutes' walk away. During the early morning you'll see runners puffing along the coast. If you're a beach bum, you're in paradise. Unlike a lot of pebbly British beaches, this beach actually consists of proper sand and stretches for many kilometres.
What's more, there are the Maspalomas Sand Dunes on the corner of the beach, which makes for impressive photos around 7 pm, i.e. near sunset.
Lastly, if you fancy a bit of golf, there is an amazing golf club just a 10-minute walk away!
Bohemia Suites, Siam Spa
If you want to feel truly pampered, go straight to Bohemia's Siam Spa where you can enjoy top-of-the-range treatments in a tranquil environment which will leave you relaxed and refreshed. Immerse yourself into the world of senses in this authentic Thai luxury spa. Treat yourself to a relaxing Thai massage or a healing Balinese treatment to get the best of Asian wellness.
A health centre is also available on site if you are in need of healing. Professionals will help you develop better habits for yourself.
Bohemia Suites & Spa food
Don't get me started on the food, because I can talk about it forever, as you'll see subsequently with lots of photos to give you a good idea of what the kitchen is capable of. If you want to have traditional tapas like papas arrugadas, you'll need to go elsewhere. However, trust me, once you've tried the food you wouldn't want to leave the hotel. A half-board option, called MyWay, is available, which allows guests to enjoy an awesome breakfast every morning while giving them the power to decide when and where they would like to eat next, be it poolside or in the restaurant.
So, if you haven't noticed, Bohemia is like an oasis in a swamp of average food. The hotel offers 5-star cocktails, fast food, breakfast, dinner – whatever you opt for, you won't be disappointed. Just check out the array of appetising beverages and food I had during my stay here.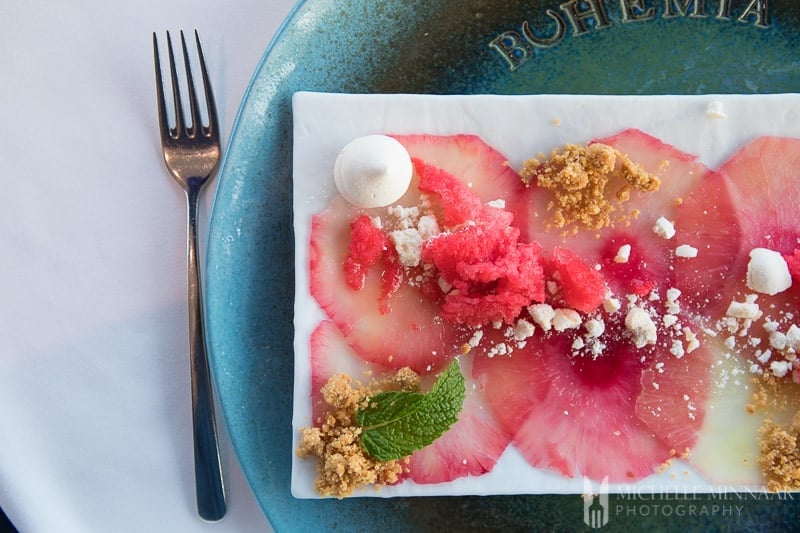 Most noteworthy, Bohemia is about attention to detail and personal touch. Staff are cordial and very quickly learn your name and even preferences. They are proactive and, if you ever need anything, will assist you at the drop of a hat. They can organise your excursions, too. If it's available on the island, they will make it happen.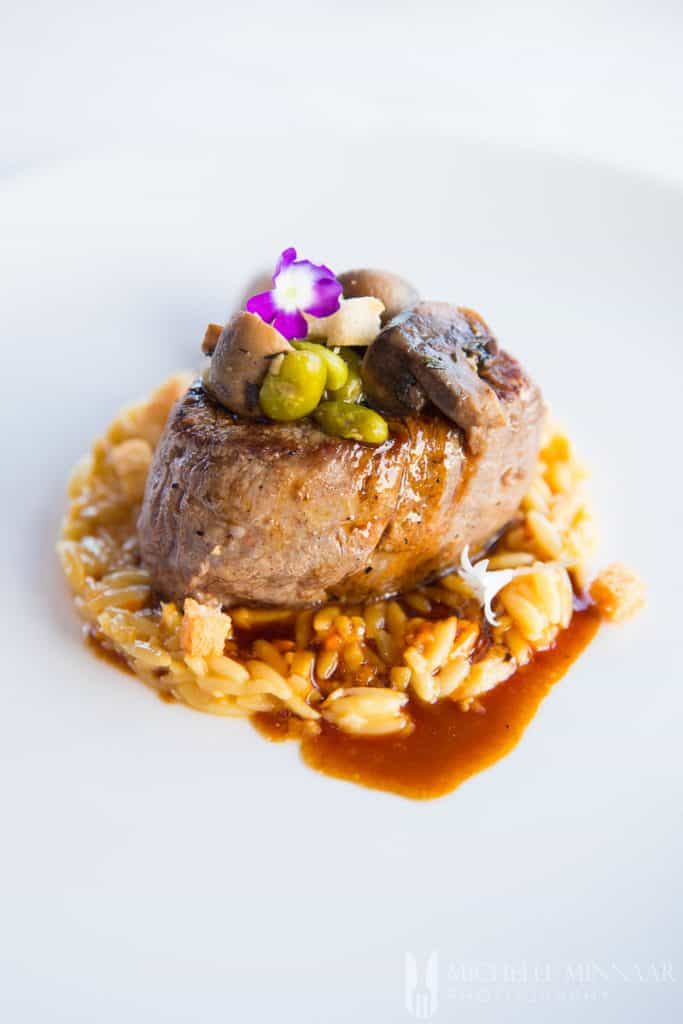 This approach definitely shows in the Bohemia's masterclasses, which the hotel offers to guests as a free service.
360° Restaurant
This is one of the best restaurants you'll come across for dining in Gran Canaria. It is located on the 8th floor of the Bohemia Suites and Spa Hotel. On offer is a high-end dining experience with modern furniture and a 360° view of the beach and the Dunes of Maspalomas! This is simply the ideal restaurant for sunny breakfasts, warm lunches and romantic dinners at sunset! The sumptuous menus were carefully developed by Juan Bertolín, chef of 360º restaurant. He is a well-recognised chef and has been awarded 2nd place at IV Salón Gastronómico de Canarias 2017 and 3rd place in 2018. The menus were also co-designed by Mikel Portugal, who was awarded 3rd place as best assistant, 2018.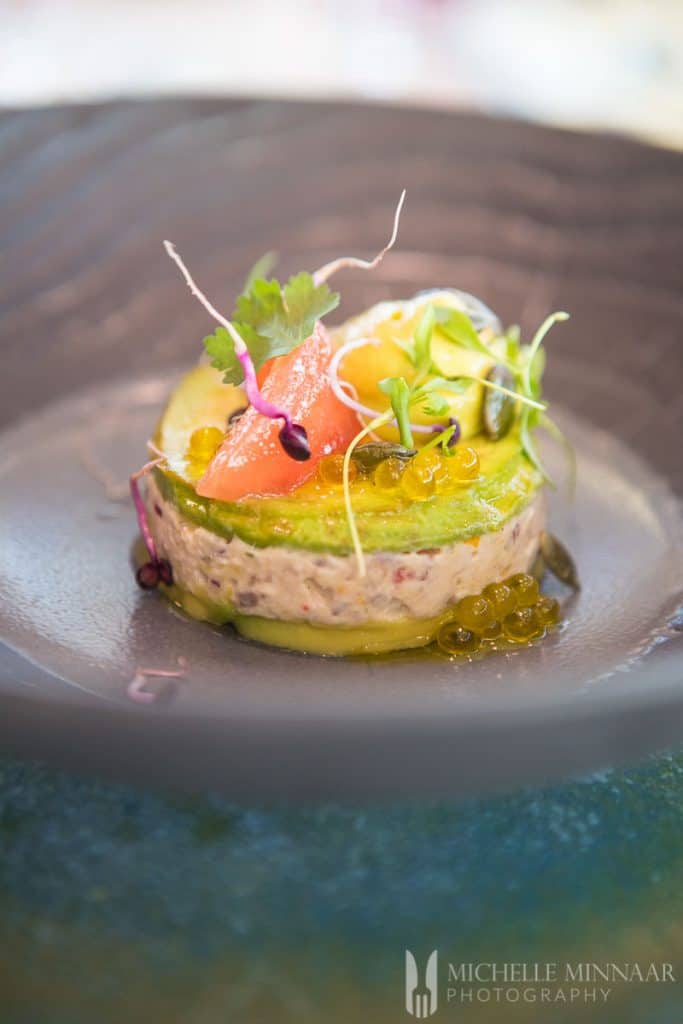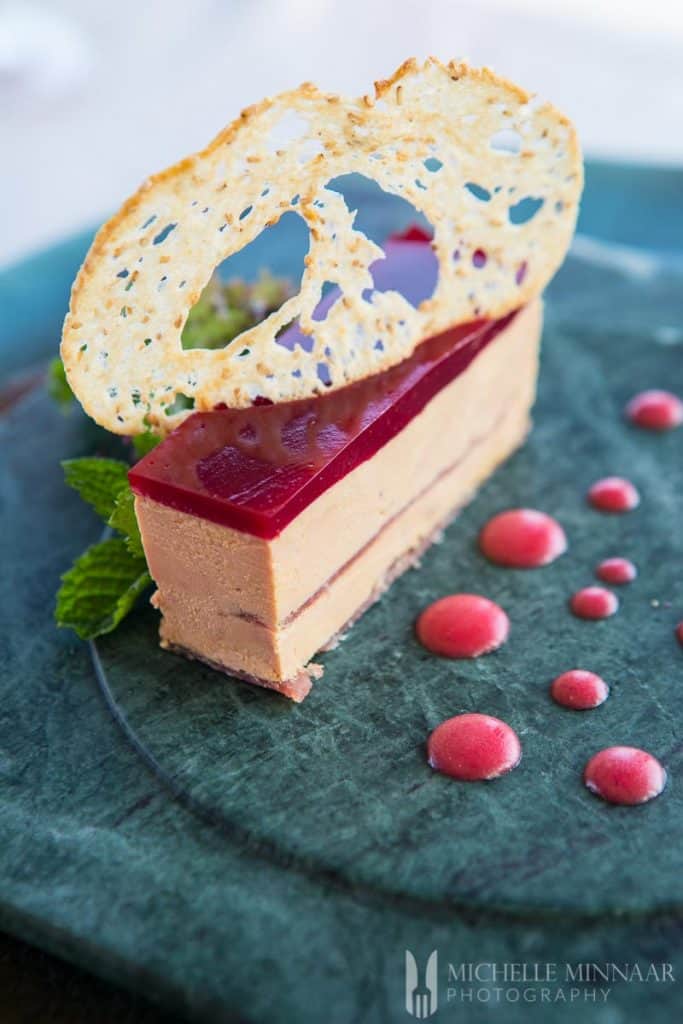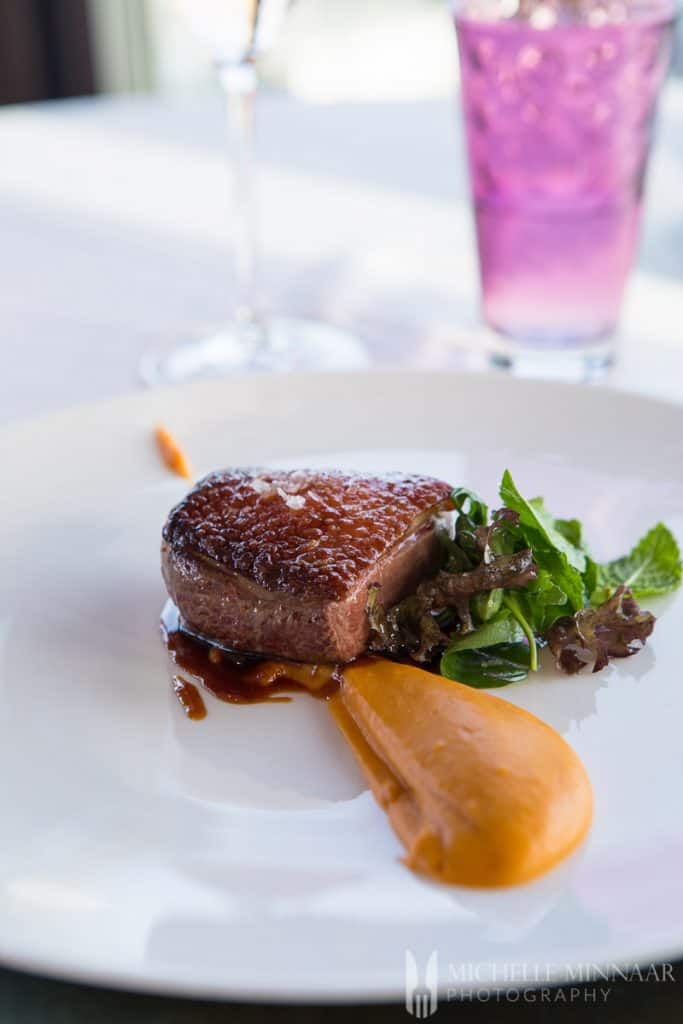 Breakfast
Since breakfast is the most important meal of the day, it gets taken seriously at Bohemia. This isn't your standard British fare of deep-fried foods with sausages and baked beans. Instead, there are various types of tropical fruit on offer, a decent array of European cheeses and cold meat cuts. The big square of fresh honeycomb every morning is a nice touch and who can say no to starting the day with some bubbly?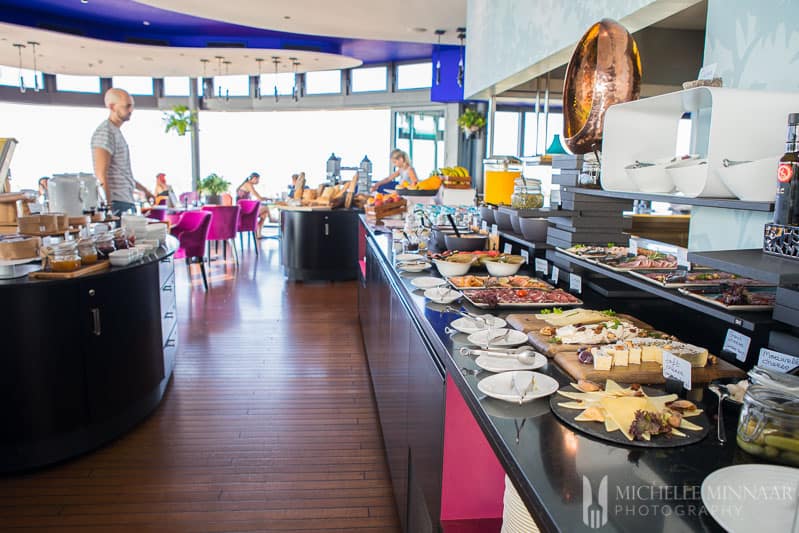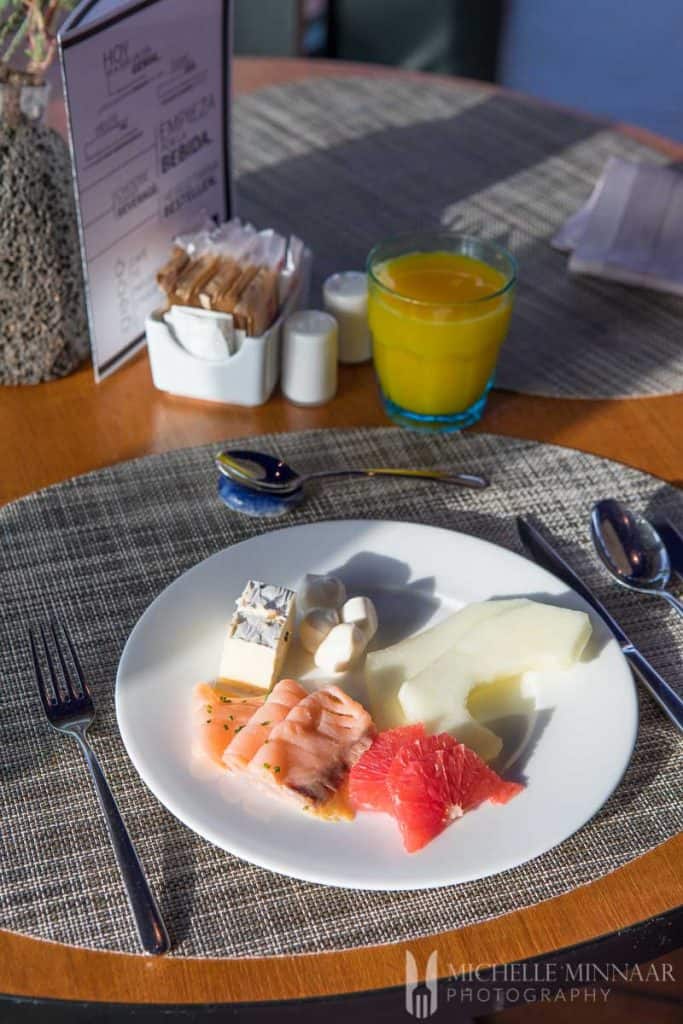 If the buffet spread isn't enough for you, an exciting cooked breakfast menu is available. I certainly couldn't get enough of the Huevos Rancheros below!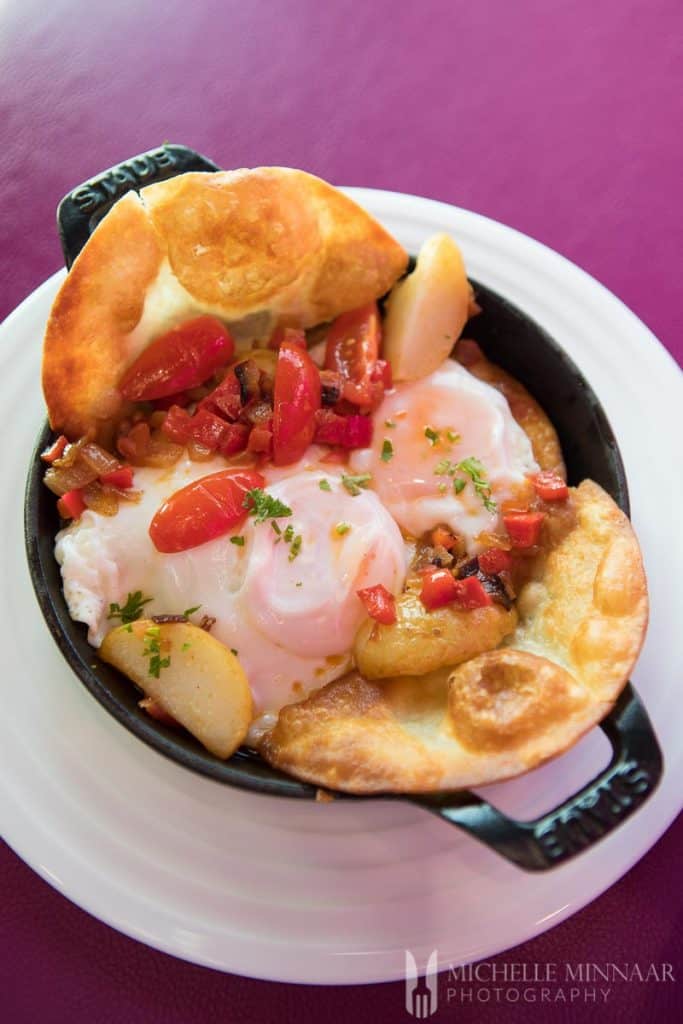 Degustation Menu:
The Tasting menu is a compilation of the most popular dishes at the 360º Restaurant, offering 6 courses accompanied by a wine pairing.
The 7 Islands menu – called Air from Sea to Sand
A complete 100% Canarian experience using fresh, seasonal products of the island. 7 courses accompanied by suitable beverages, each dish is a representation of the products of each of the 7 Canary Islands. A definite must-try if you are looking for innovative cuisine based on the Canaries!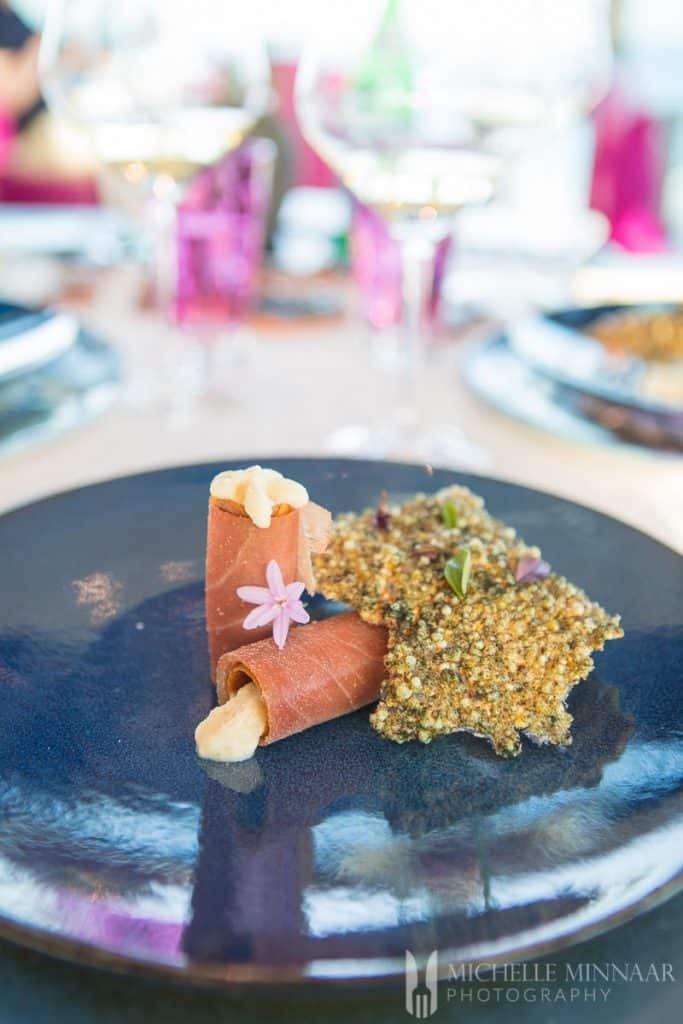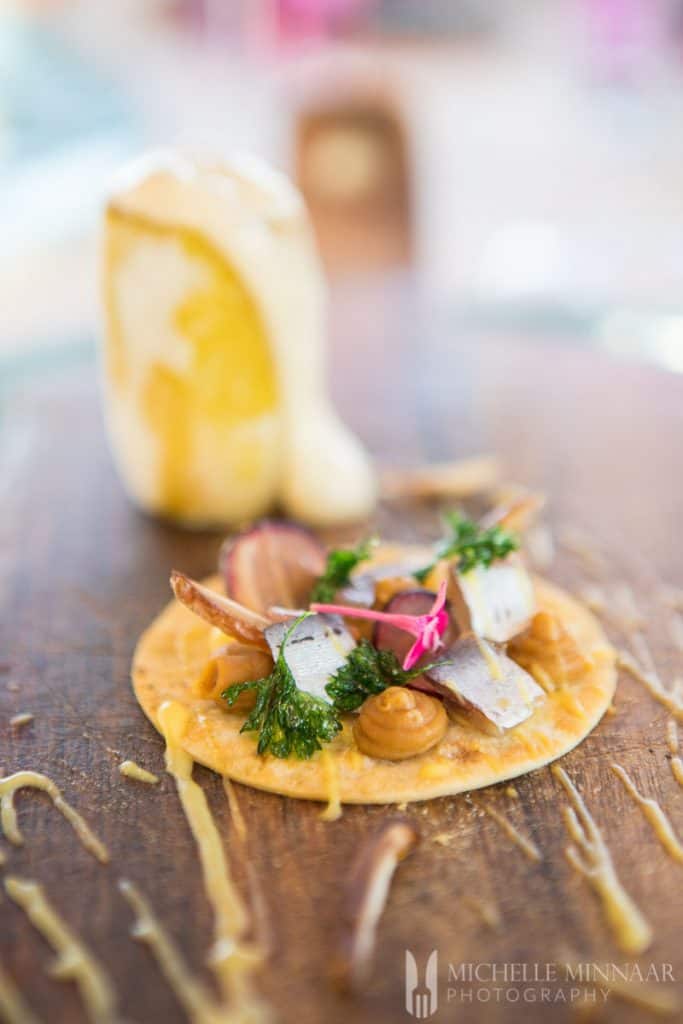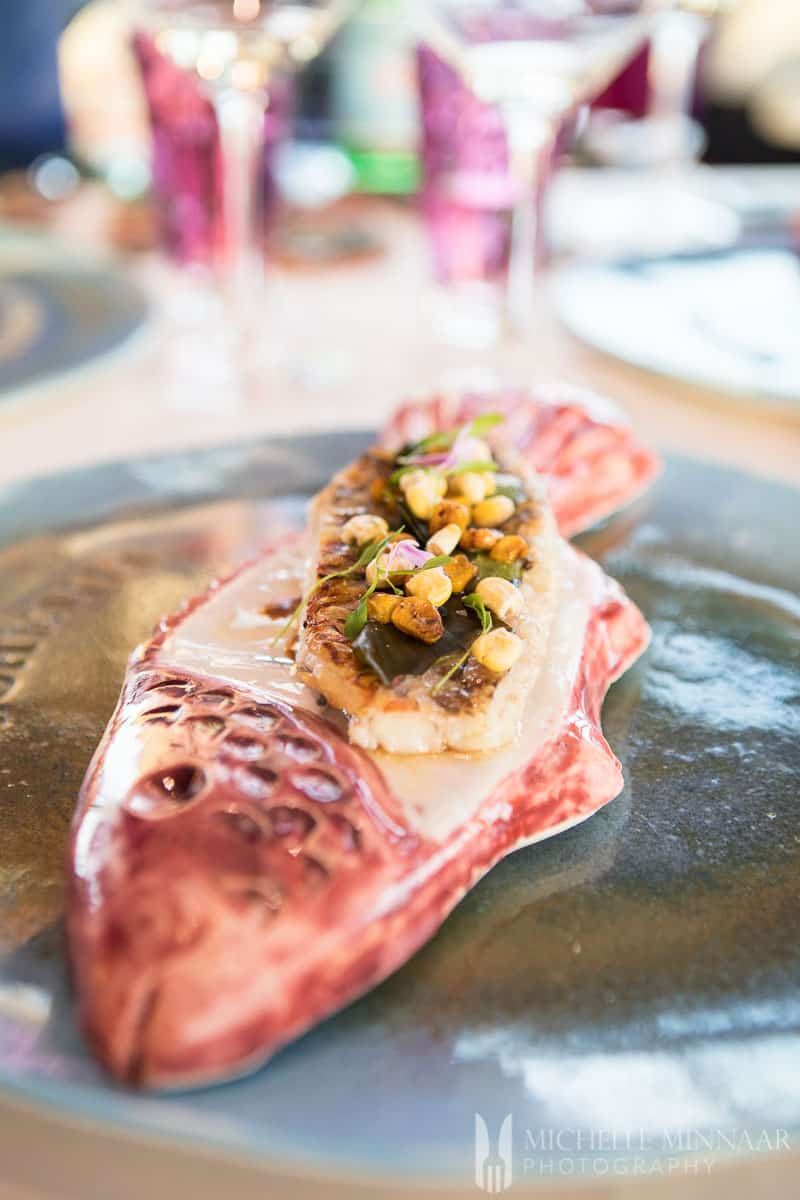 The opening hours of the restaurant are:
Monday – Thursday 06:00pm – 11:00pm
Friday, Saturday & Sunday 01:00pm – 11:00pm
P.S. All vegetarian and vegan items are specifically marked, making it one of the top 16 vegan restaurants in Gran Canaria to visit.
Atelier Cocktail Bar
This is a truly unique bar offering stunning panoramic and scenic views of the Atlantic as well as the Dunes of Maspalomas. Explore your senses with the best cocktail you are bound to have! The Atelier Cocktail Bar has a vibrant cocktail menu, on which they also include their own twist on old classics. One can see that much thought has been put into each creation, from the presentation of the cocktail, the nibbles accompanying it, to the actual cocktail – it's the whole package. Truly superb cocktails. Honestly, the best I've ever had.
Atelier Cocktail Bar
Below you'll find a list of Atelier's signature cocktails:
CO2 NEGRONI: Twist from negroni. Same recipe, but served with a siphon.
AGED MARTINEZ: Twist from classic Martinez. The quantity of the ingredients are different and includes "their touch" by aging it in a barrel.
EXPERIMENTAL MARTINI: Twist on Dry Martini. Same recipe but with 3 essential oils added and presented separately to make the guest play and try different tones.
ASIAN MARY: Twist on the Bloody Mary. Asian touch by using wasabi and ginger, with rosemary macerated in the vodka. Zubrowka vodka, tomato juice, soja sauce, Worcestershire sauce, celery bitters.
JULEP COLADA: Pina Colada Twist. Cocktail 100% homemade and 100% Canarian. They changed the classic recipe by macerating Canarian rum with coconut and Pineapple from El Hierro jam.
PISCO HIBISCO: Twist of pisco sour. They added hibiscus infused pisco. Orange and grapefruit bitters, lemon sugar, egg white.
GUANCHE ALEXANDER: Twist of brandy Alexander. Same recipe with a Canarian touch: Canarian Rum: Aldea single cane rum and a pinch of gofio. Almond milk, Mozart white liqueur.
THE ITALIAN JOB: Twist of espresso Martini. They changed the recipe with Canarian rum, Aldea 8 estra añejo. Illy coffee liqueur, Mozart white chocolate bitters and an espresso coffee.
ENGLISH BREAKFAST: Twist on classic breakfast Martini. Hendricks gin, artisan black-tea liqueur, bitter orange marmalade and orange bitters.
HOUSE OLD FASHIONED: Twist on old fashioned. Used spiced macerated rum instead of bourbon.
MONKEY AND SAND: Twist on Blood and Sand. Monkey shoulder whisky macerated with maraschino cherries, orange and carrot juice. Carlo Alberto red vermouth, artisan blackberry liqueur and orange bitters.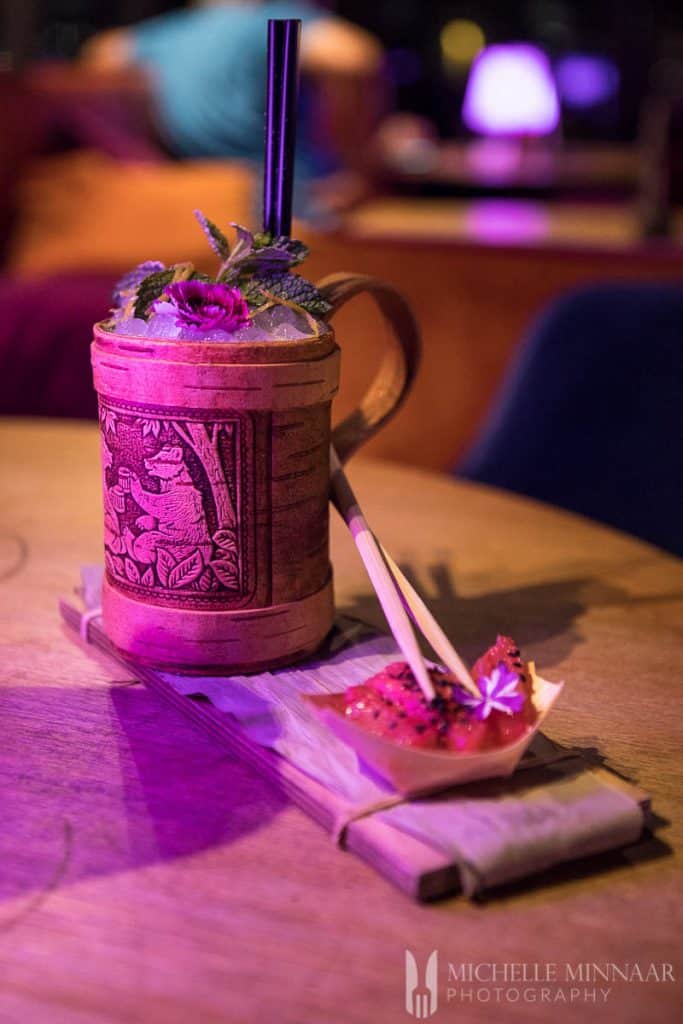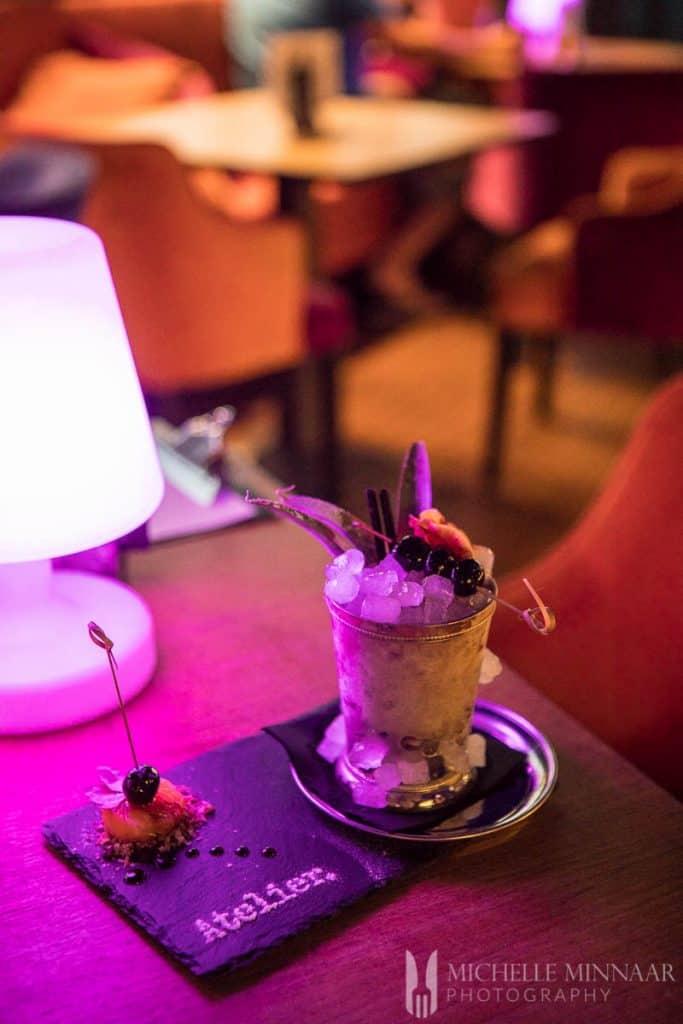 Sapphire Cocktail Bar
The first tropical cocktail, the first conversation with friends and guests takes place in this appealing bar which links the hotel with the ample garden terrace. Enjoy a fresh and light midday snack in an informal environment or a sun-downer under an amazing blue sky.
Not only does it serve luscious drinks throughout the day but the food is pretty good too. Less poncy and more down-to-earth. Think along the lines of your favourite Italian food such as pizza and pasta, plus burgers and other international dishes.
Opening hours: from 11.00am – 7.00pm every day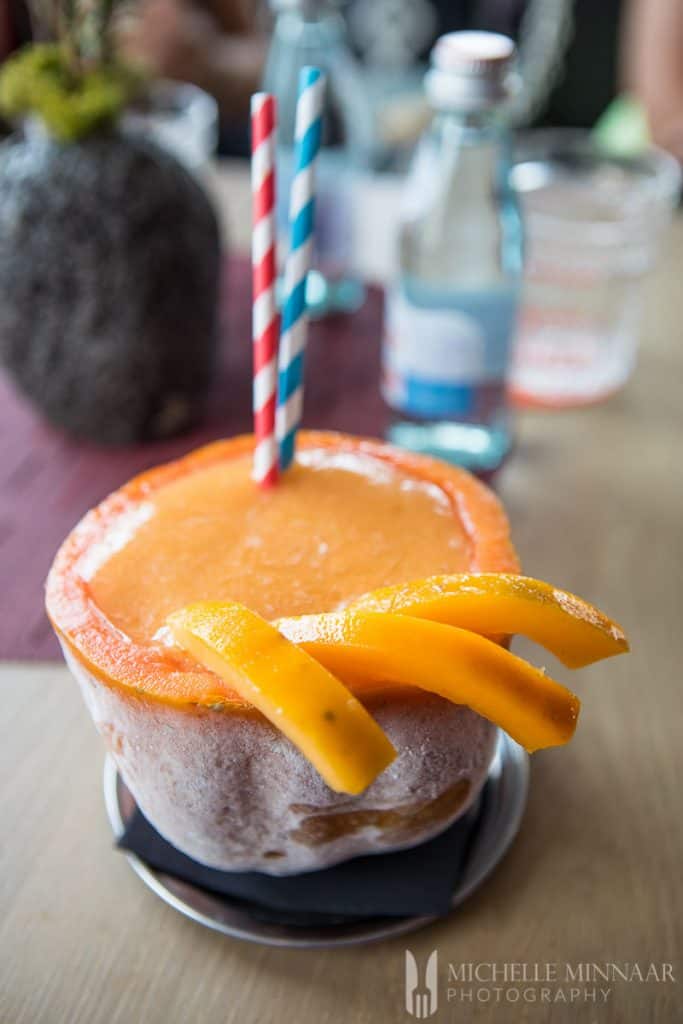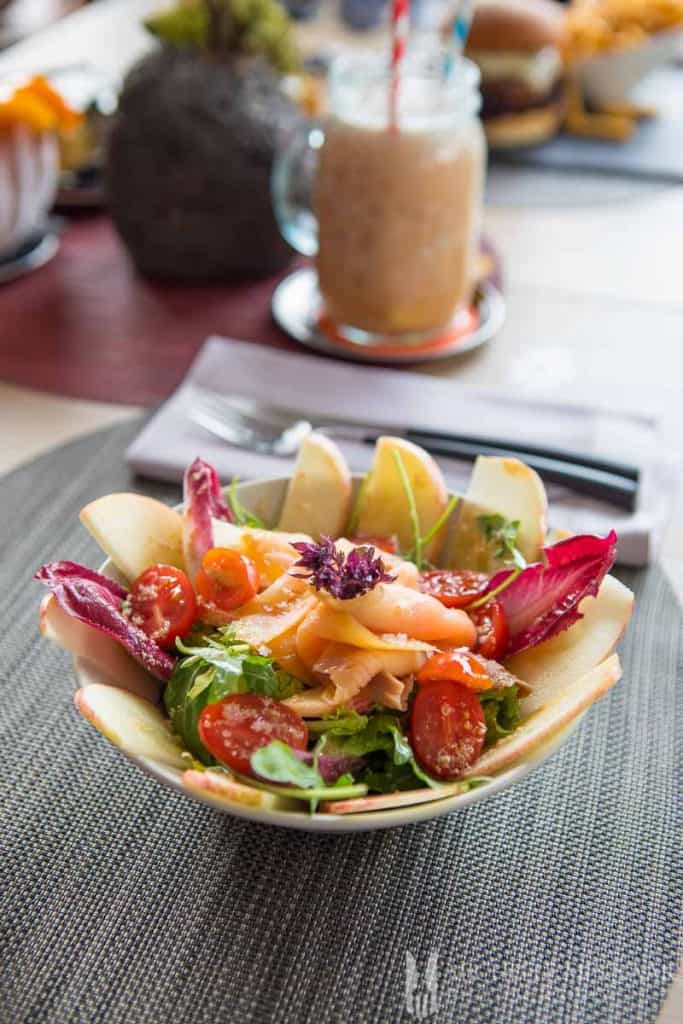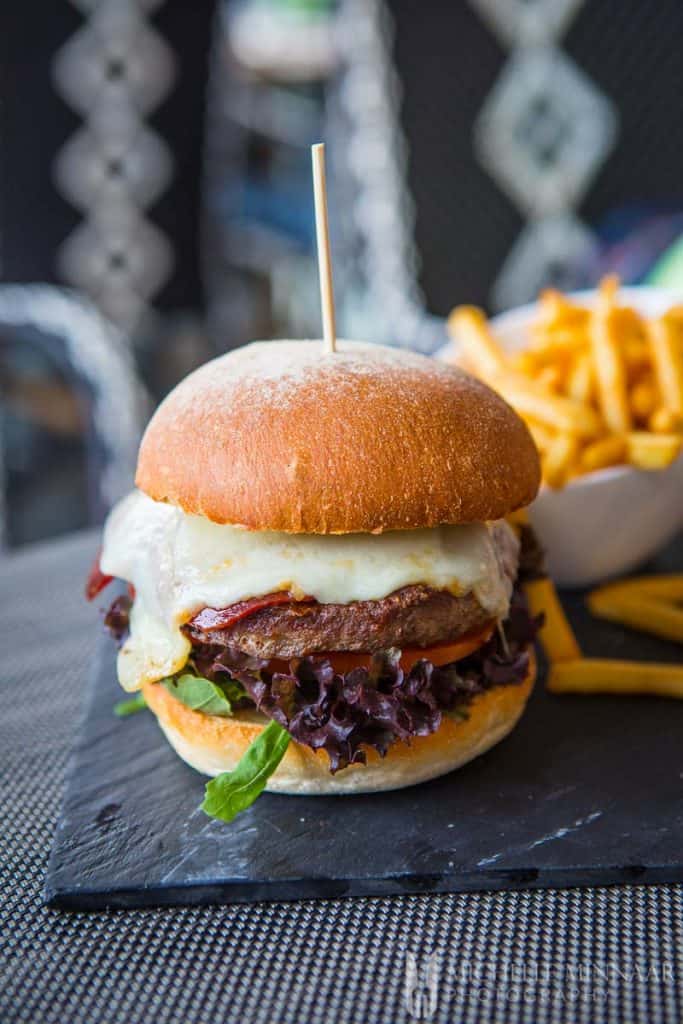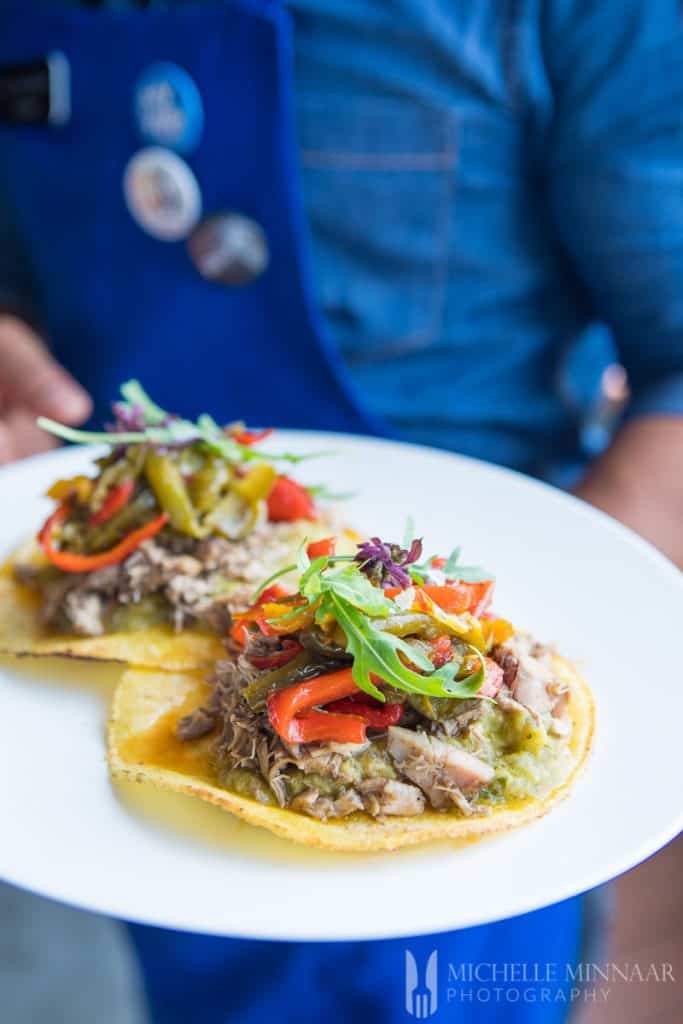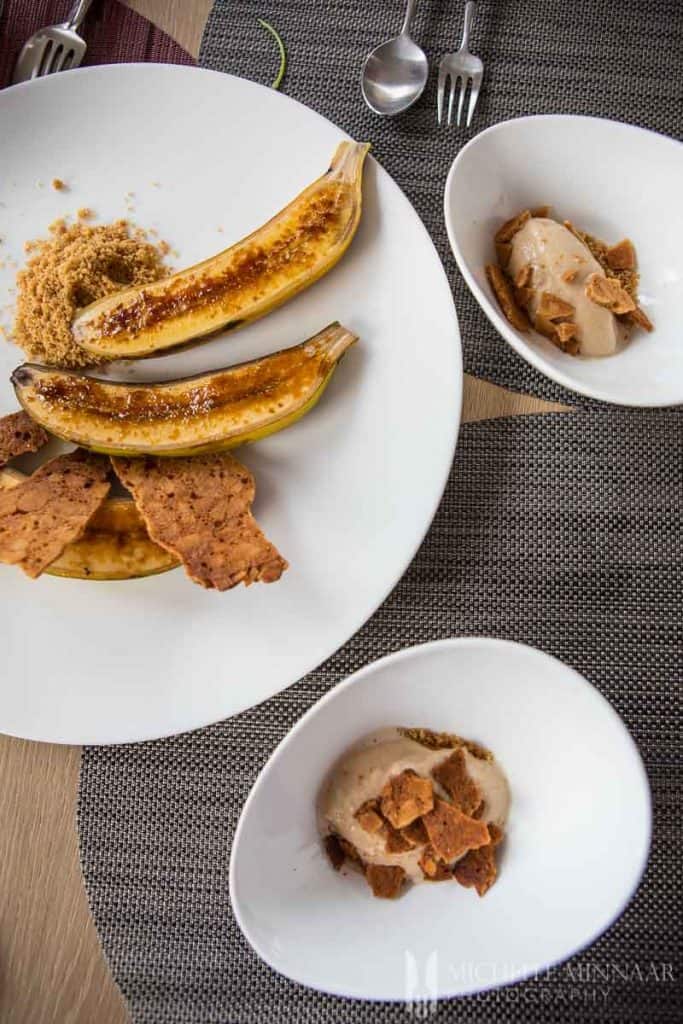 room service
One of the best features of the hotel. Bohemia Suites and Spa Hotel offers 24-hour room service every day. They even have a room service menu. Needless to say, guests can order practically anything from the hotel restaurants or bars while they are open. Below you'll see what kind of food to expect when you don't want to leave the room. It actually makes you want to stay in, doesn't it?!?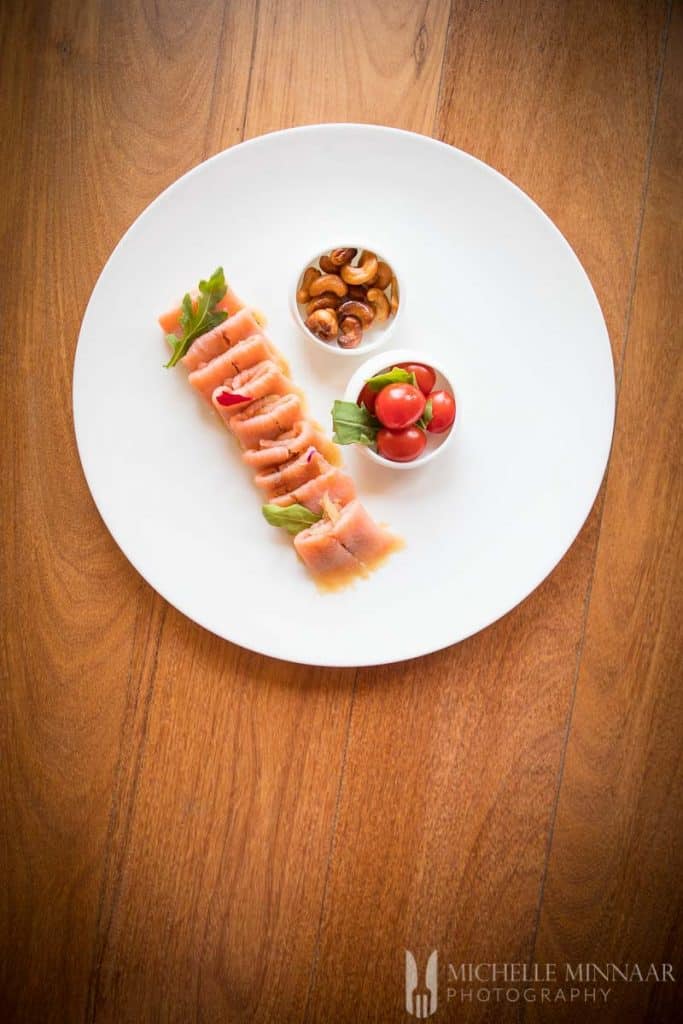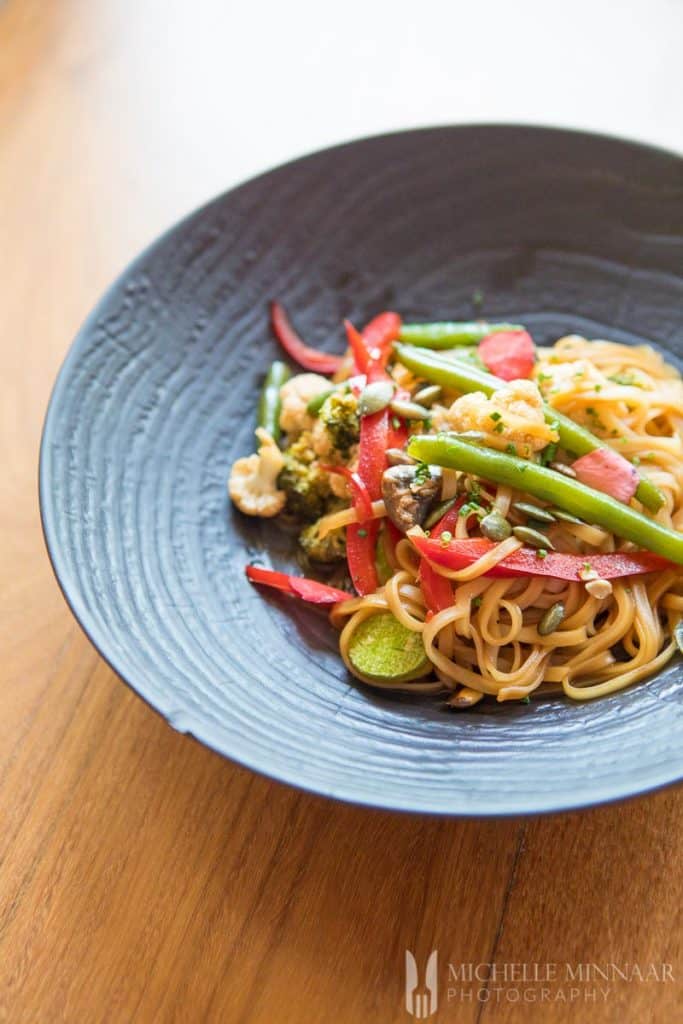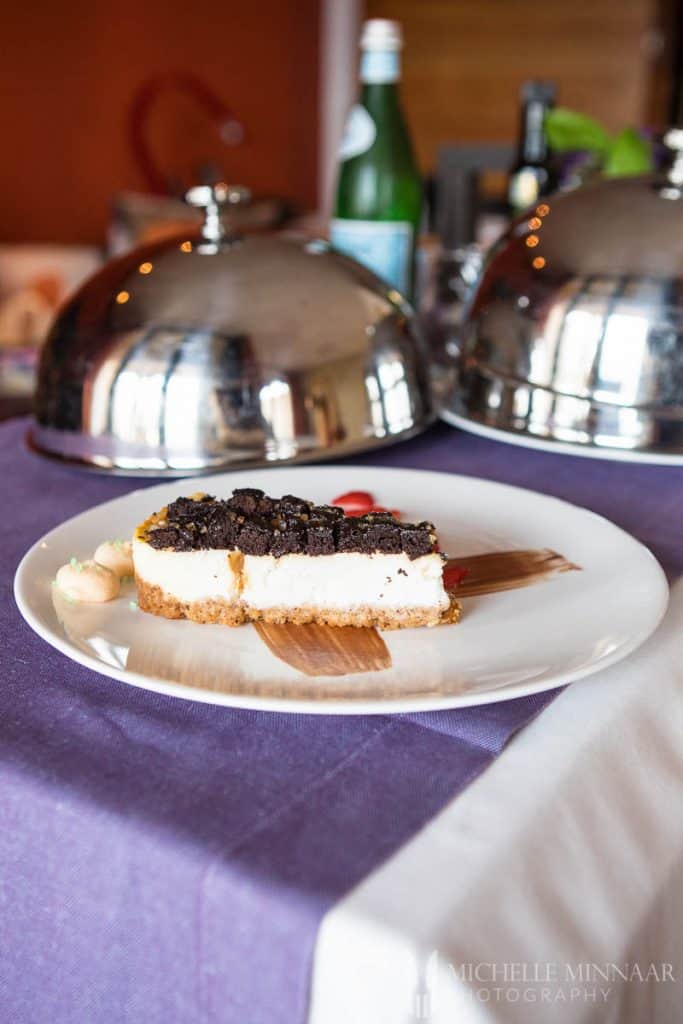 free masterclasses for guests – get togethers
The "get together" is a moment to share between the management of the hotel and the guests. The guests of Bohemia Suites and Spa can learn all there is to know about some of the hotel's distinct products and services in the form of an intimate masterclass. As a result you can try your hand at:
Photography
Cuisine
Cocktails
Gardening
Cava tasting
Champagne tasting
Distilled drinks tasting
Hand massage
Homemade lotions
Naturally, I took part in the masterclasses!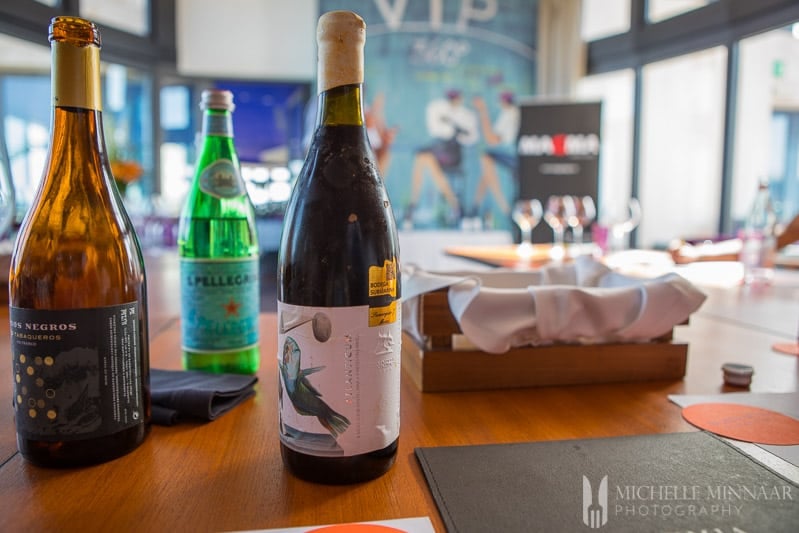 cookery masterclass
The first one was a Cookery Masterclass. During this, we were taught by the talented Chef Juan, who has tons of culinary experience behind him. I learned how to prepare and gut fresh Canarian fish that we'd caught while on one of the hotel's excursions. He also went with us to the Mercadillo de Vega de San Mateo market and helped us pick out the best possible produce for our recipes which we cooked in the masterclass. These included Canarian peppers, also called picones.
The recipes include the grilled wreckfish and the grilled bonito recipe. Make sure you check out these authentic recipes. During the masterclass, I had tons of fun understanding how to correctly gut and fillet a freshly caught fish. Thank you chef Juan for this lifetime skill!
We also prepared a beetroot gazpacho, tuna tartare, air of avocado mojo. Check out a video of our masterclass below where you'll also find the recipes!
https://youtu.be/q7yLCmdXadQ
cocktail masterclass
The second masterclass I took part in was the Cocktail Masterclass. This was a really handy masterclass because the bar staff will teach you how to put your own twist on classic cocktails and more. In the end, we made completely custom cocktails from the array of fresh fruit available to experiment with. Delicious!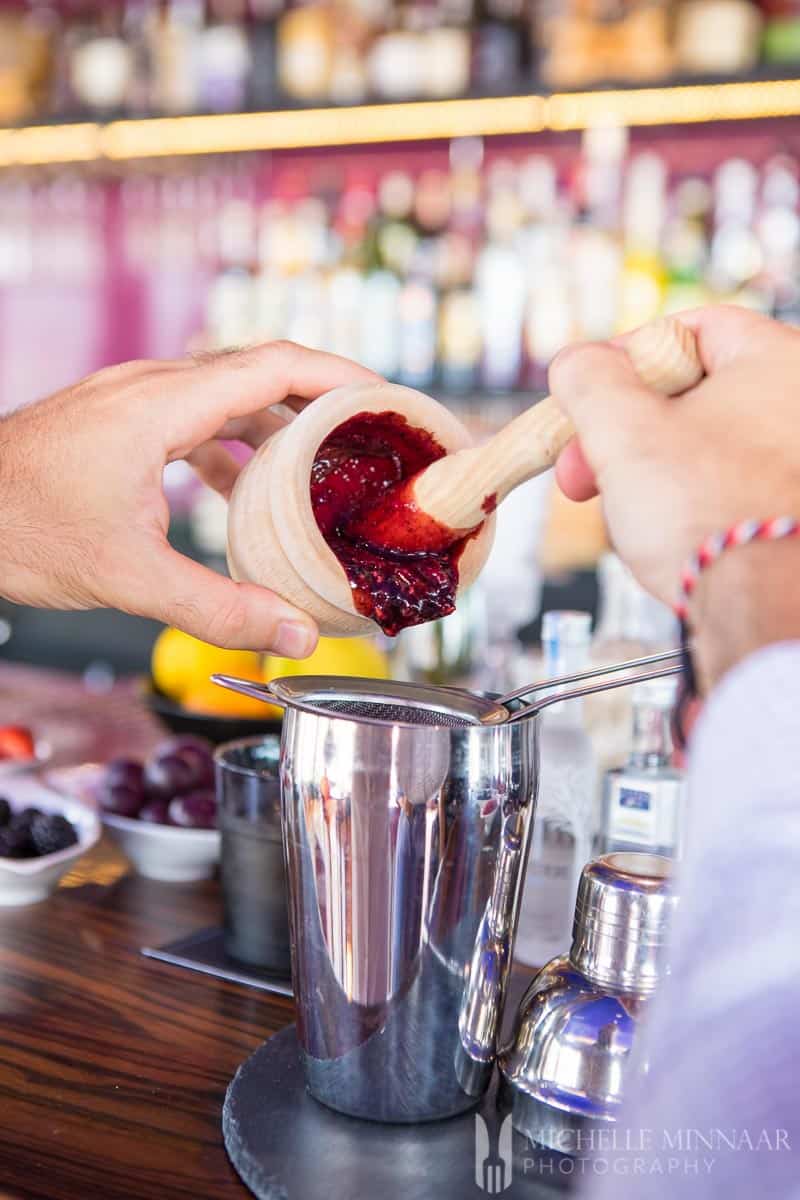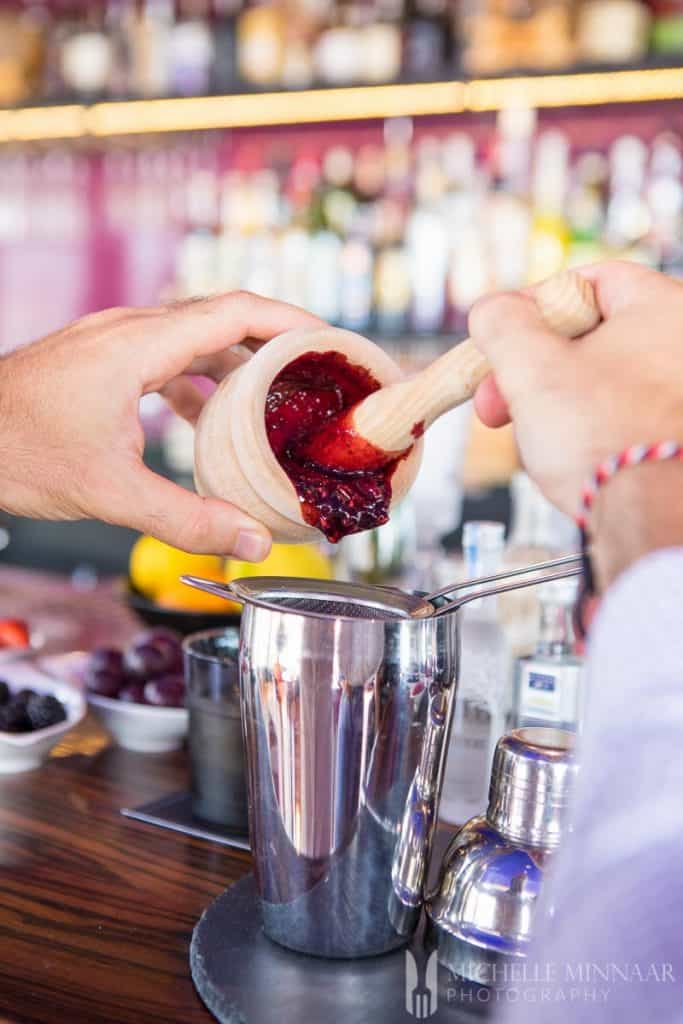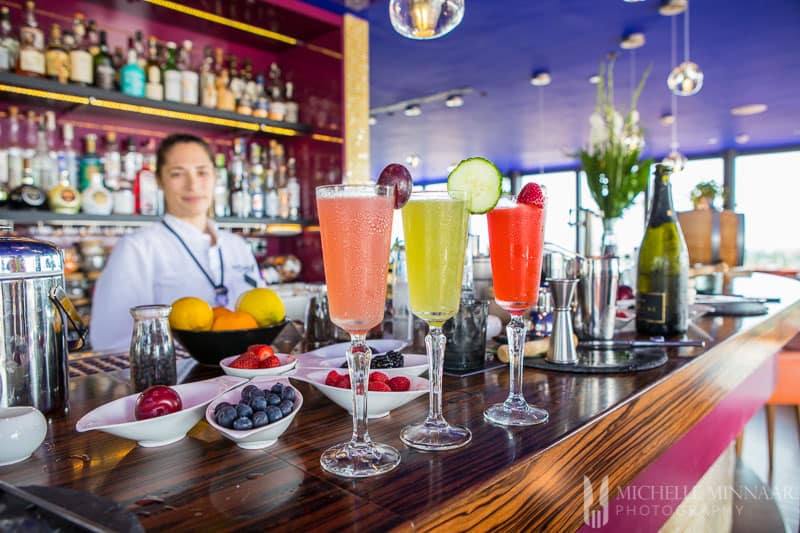 excursions
Again, pursuing my love of discovering new places and food, I found the hotel excursions to be the most exciting part of my stay! Bohemia Suites and Spa can organise any type of excursion or trip on request, provided the activity is available on Gran Canaria Island. How incredible is that?
Some of the most popular excursions they offer are:
Exclusive trip with chauffeur
Helicopter tour
Private Sailboat or Yacht tour
Buggy tour
Star-gazing
Fishing
As such, I decided to go on a fishing trip, on which I finally learned how to go fishing for bonito and other fish. The trip itself was a marvellous idea and a trip of a lifetime. Check out my trip here.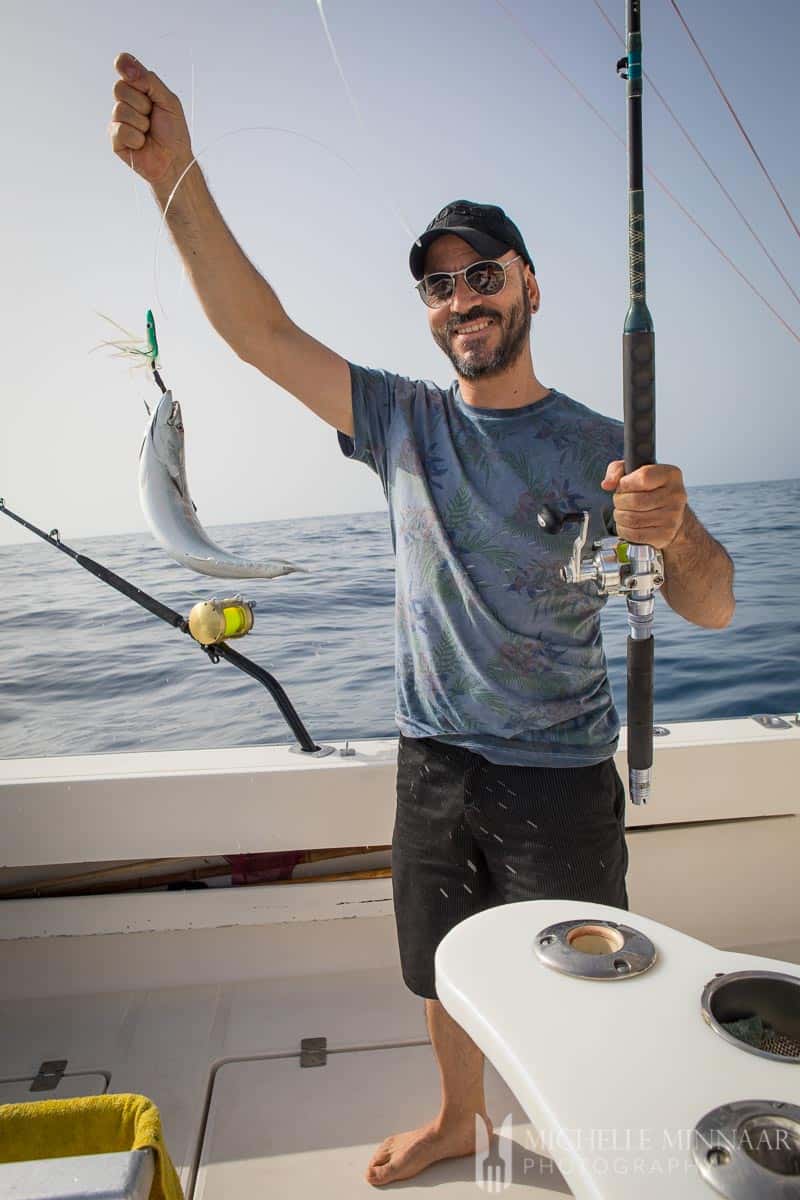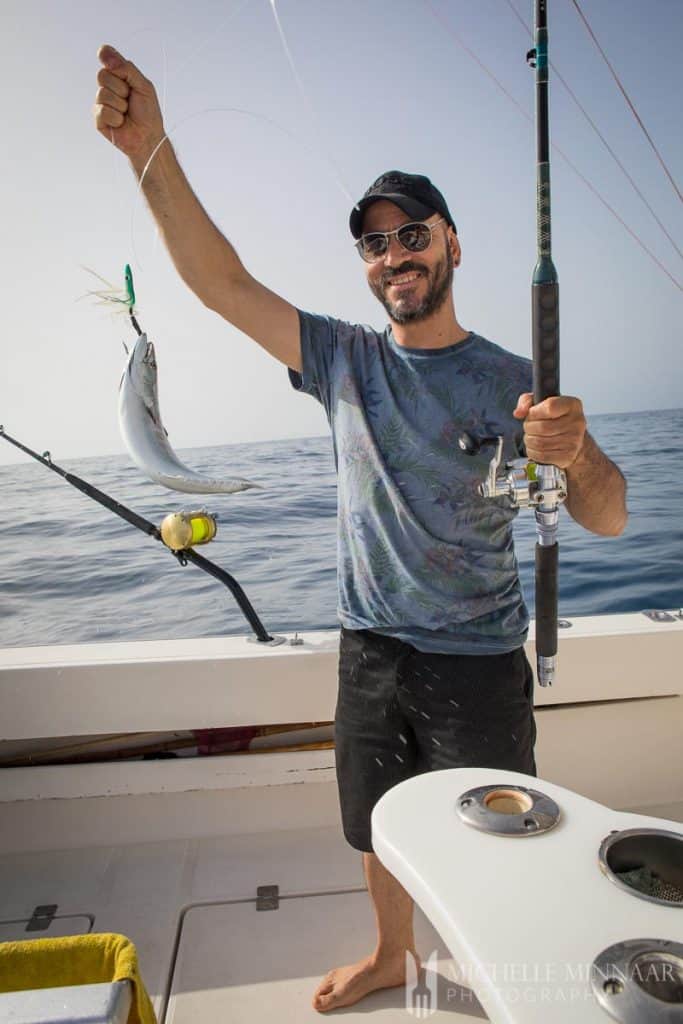 If you decide to go on a similar quest, make sure you take plenty of sun cream with you.
The excursion didn't end there! The second part was a visit to the Mercadillo de Vega de San Mateo market which I've already mentioned above. It was amazing to discover the island's fresh produce. We were accompanied by Chef Juan, who gave us incredible suggestions for picking ingredients.
What about Bohemia Suites & Spa appeal to you the most?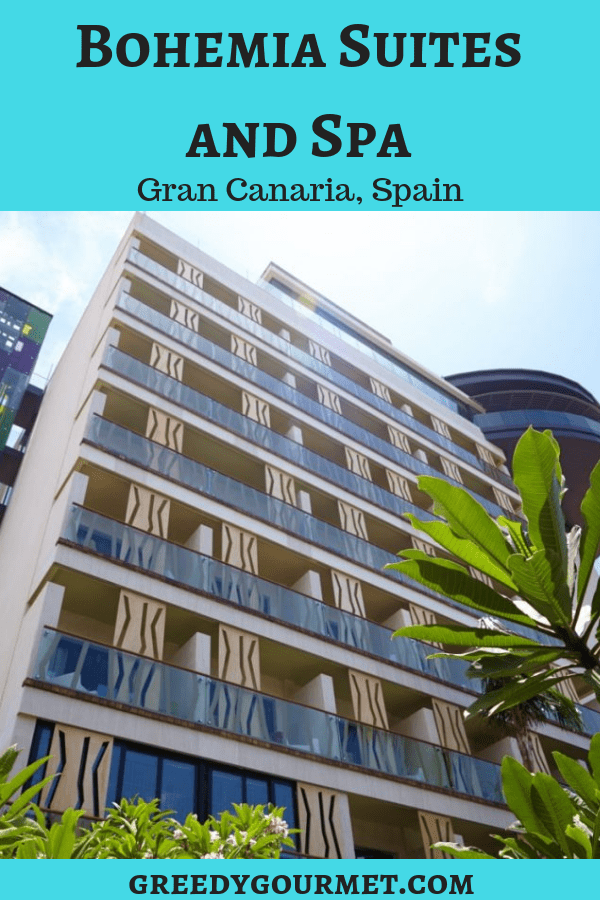 P.S. I was a guest of Bohemia Suites and Spa Hotel.