Sometimes it really pays off to go for some of the lesser known kinds of fish when shopping for a seafood dinner. By doing so, you get to try something other than your regular handful of fish species that most of us shuffle between. Secondly, you might even get a good price on the less saleable fish, than when choosing one of the more popular ones. While taking part in a masterclass organised by Bohemia Suites & Spa Hotel during my stay at Gran Canaria, I discovered the wreckfish. I'm very happy to have discovered this fish, as it turned out to be a very tasty and versatile fish, perfect for the summer. The beautiful fresh fish and the nice weather inspired me to conjure up a grilled wreckfish recipe. This grilled wreckfish is an elegant recipe, which I've learnt to master from a top quality chef!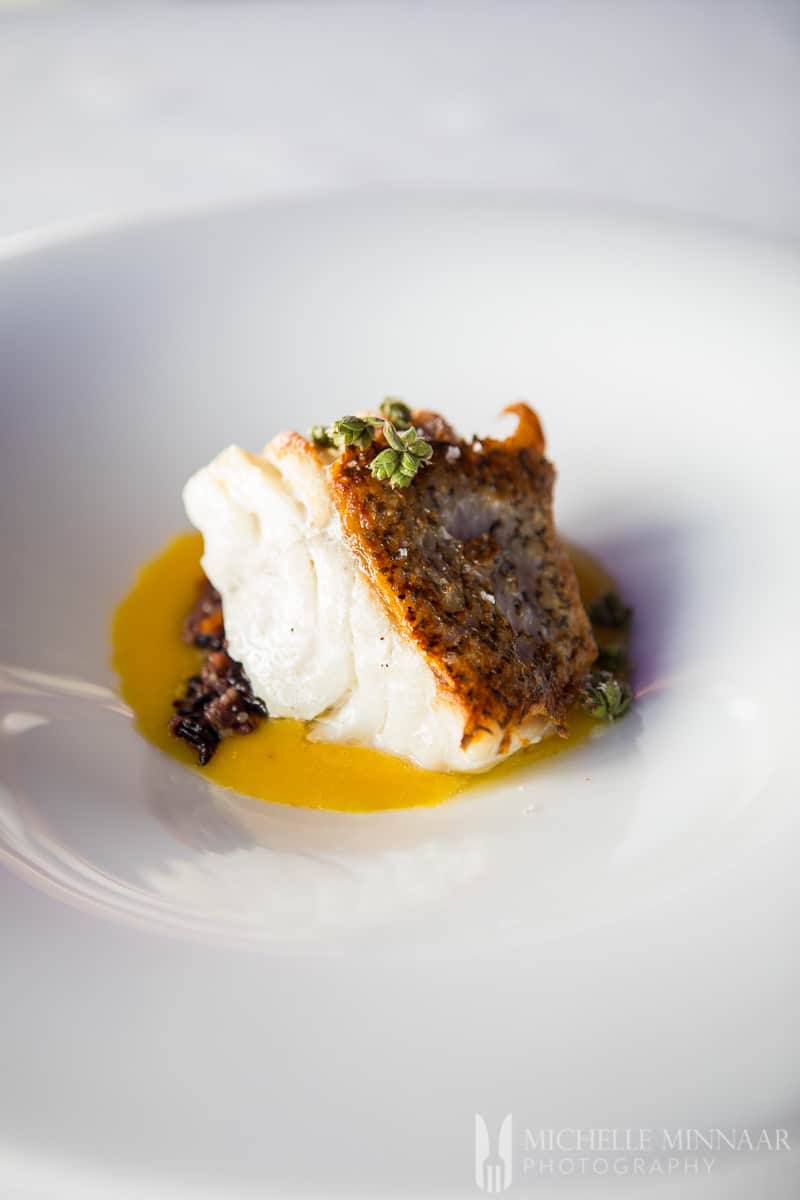 grilled wreckfish recipes
During my vacation in Gran Canaria, I was a guest of the adult-only 5 star hotel, Bohemia Suites & Spa. It was thanks to them and their special Get Togethers or masterclasses, I was able to go on a first ever fishing for bonito excursion. This was only the first part of my masterclass. The end result of the masterclass was, of course, learning how to prepare and become adept at this beautiful grilled wreckfish recipe. Since my first interest is always food and food-related activities, I couldn't wait to take part in this excursion.
The Get Togethers are all organised by the hotel, exclusively to fit the needs and interests of its guests. It is also a way for guests to learn how the hotel sources and prepares its products. Some of the hotel's excursions include:
Photography
Cuisine
Cocktails
Gardening
Cava tasting
Champagne tasting
Distilled tasting
Hand massage
Homemade lotions
I gladly took part in two masterclasses!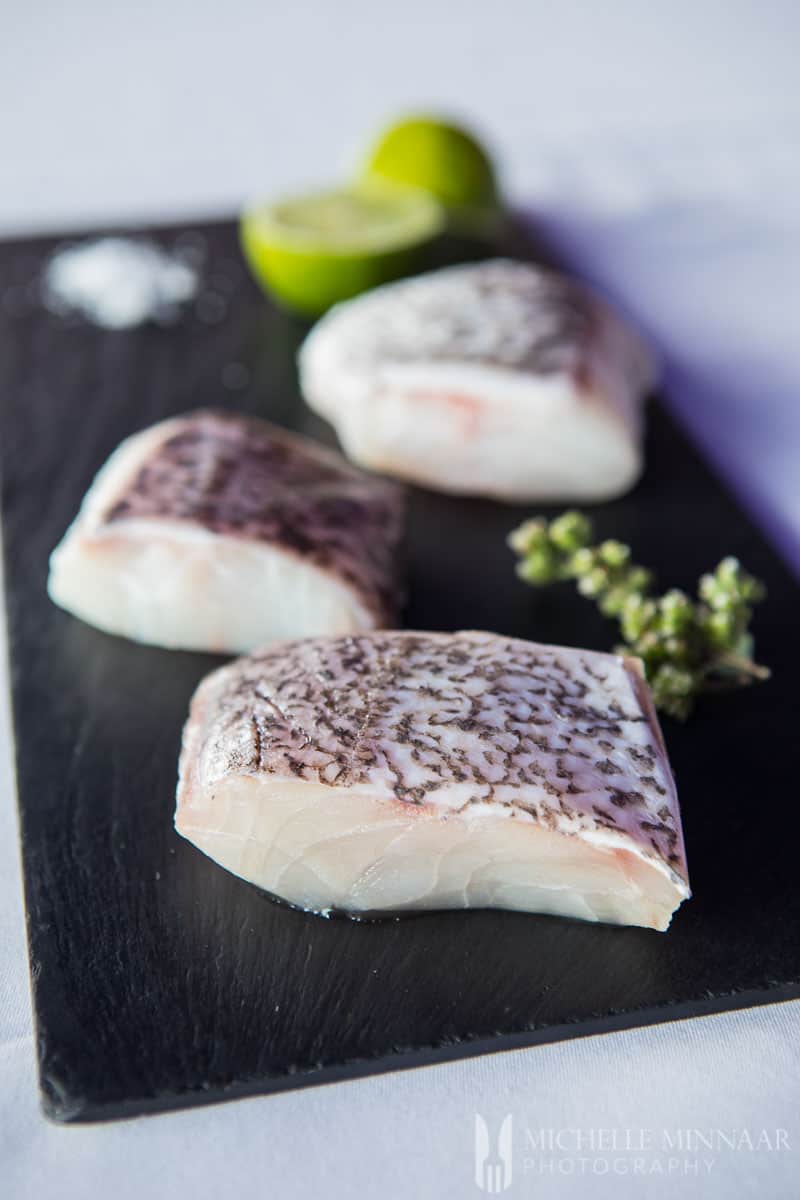 1. fishing for bonito and grilled wreckfish masterclass
First, we toured the warm waters with the boat, where I managed to spot a pod of wild dolphins. Soon after, the Captain found the perfect spot for fishing bonito as well as wreckfish. After that, Chef Juan took us to the market as part of a special Get Together (organised by the hotel) to source some local spices and produce. During our masterclass, I learned exactly how to prepare and gut freshly caught fish as well as how to cook Canarian fish. As a result, I highly recommend you try this excursion! Here's a handy tip for those who don't have such strong sea legs – if you are prone to seasickness, read this article on how best to manage symptoms from seasickness.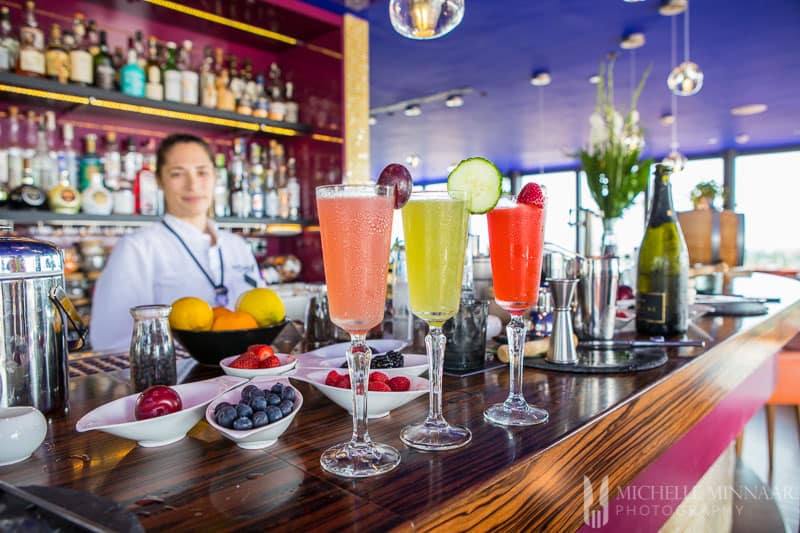 2. cocktail masterclass
On another day, I took part in a cocktail masterclass, which had a very positive and happy atmosphere. We used only high-quality ingredients to make the exotic cocktails. In addition, we were encouraged to be creative, in order to discover exciting new cocktail recipes. Chef Juan taught us all the tricks again – for example, how to use fresh fruit to prepare custom cocktails. To learn more about Chef Juan, check out my grilled bonito recipe where I also detail his experience.
You can check out a video of the masterclass here or see below.
I must add, the food at Bohemia Suites & Spa is excellent, thanks to Chef Juan. The 360º Restaurant truly offers a 360-degree view of the beach in a modern and elegant setting. The menu screams sophistication and high quality. Overall, the food is easily worthy of a 5 star hotel! Check out their stylish and mouthwatering menu here.
To learn more about Bohemia Suites & Spa, click here. Also, keep an eye out for my review of the hotel.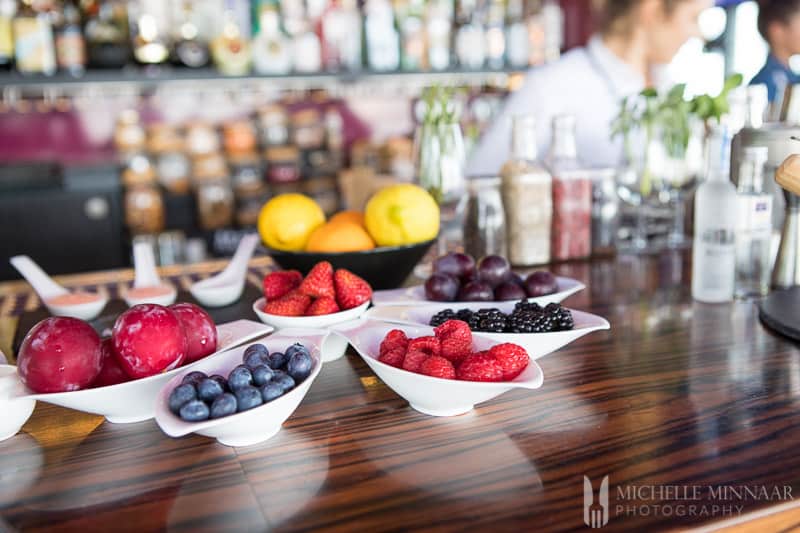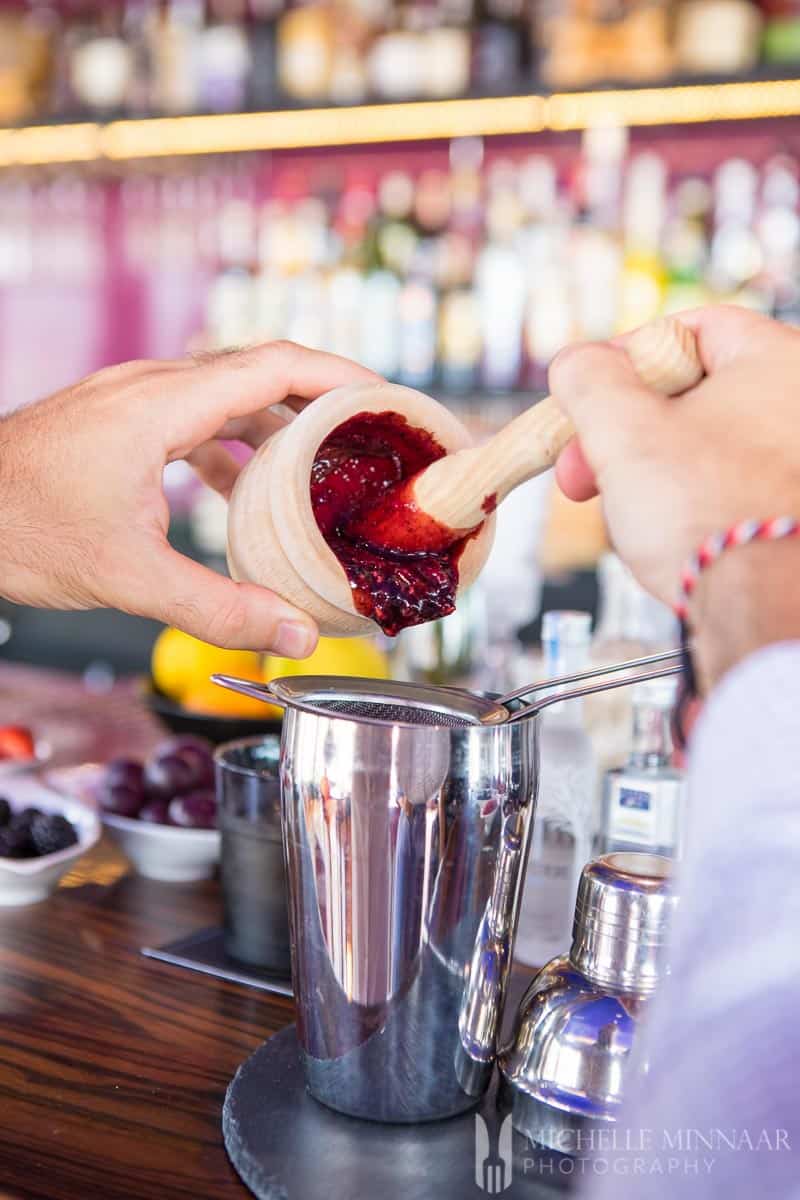 grilled wreckfish
The name wreckfish may not sound too appetising. However don't be fooled by the sinister name, it is actually from a family of saltwater fish, the most common of which is the Atlantic wreckfish. The wreckfish lives in very deep waters and inhabits caves or alternatively shipwrecks. Hence the common name of the fish. In some parts of the world it is also known as stone bass. The Latin name Polyprionidae, comes from its many saw-like spikes on the back fin.
The meat of the wreckfish is white and firm with big flakes, The taste is delicate but yet distinct. The flesh is quite lean, therefore the fish needs to be treated gently during preparation. The season for wreckfish runs roughly from April to December, however this species is not fished on a massive commercial scale, nor is it being farmed like so many other fish. For this reason it can be tricky to find wreckfish in the shops. Sometimes you might get lucky and stumble across a frozen piece or, even better, a whole fresh fish.
To learn more about wreckfish, click here.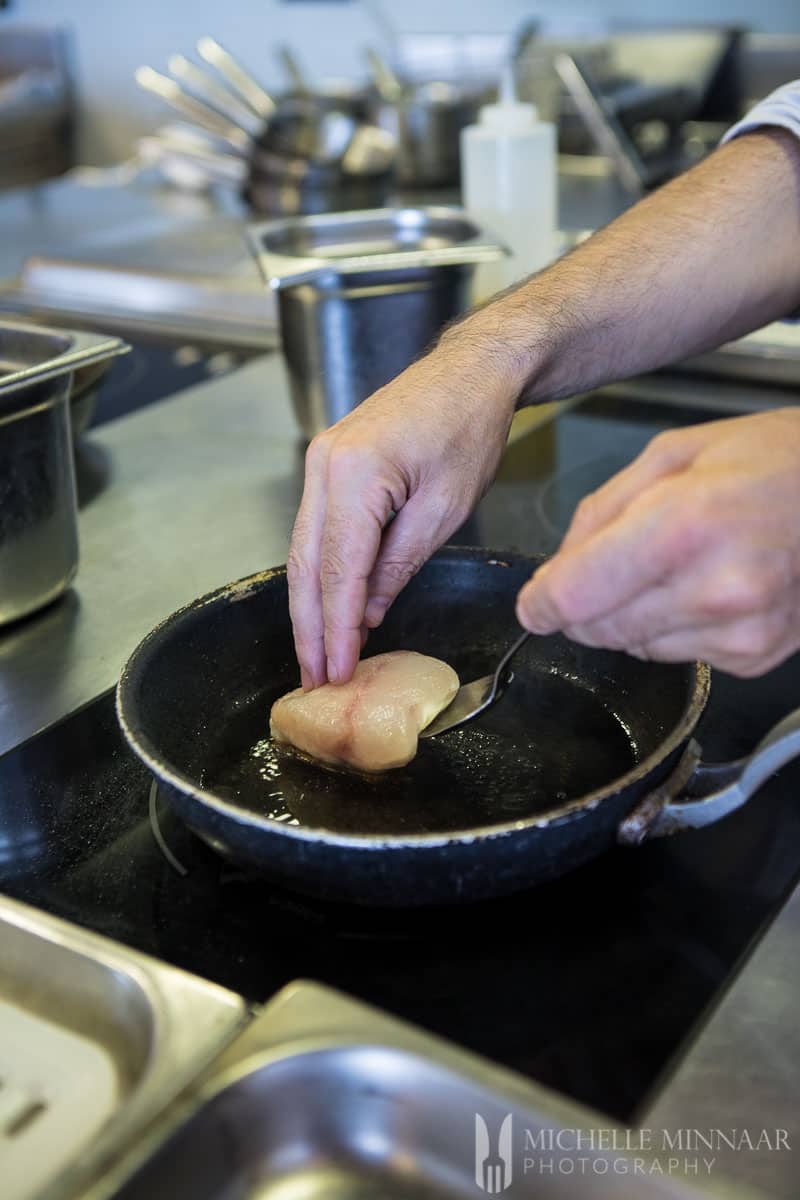 Atlantic wreckfish
The wreckfish has a firm white meat that takes the form of delightfully large flakes. It is somewhat similar to the meat of a swordfish. Therefore, if you can't get your hands on a wreckfish, have this in mind when looking for alternatives. The best direct substitute for wreckfish is sea bass. The texture of the meat and the flavour of the sea bass are very similar to the wreckfish. The cooking time should be roughly the same. Seabass is albeit a relatively expensive fish, so for a more budget-friendly alternative, you can look in the direction of the more common local fish.
Codfish or haddock can also be used for this recipe. Other suitable white fish include fillets of sole and halibut. Keep in mind that you want the firm, white flaky meat.
Obviously, this recipe for grilled wreckfish is fairly simple and the same method can be applied to grilling pink fish such as tuna or salmon. Keep in mind that the cooking time might vary depending on the kind of fish you substitute with.
best way to prepare wreckfish
The best way to prepare the wreckfish in a tasty way is to grill it. A simple grilled wreckfish, lightly seasoned is simply heavenly. The fillet only needs a very short grill time on each side, so be careful not to overcook it. If either you or the weather is not in the mood for grilling and outside dining, you can pan sear it instead. Another option is to oven bake the fish. However, I find that the subtle smokiness that you get from the grill does wonders for the flavour of the fish.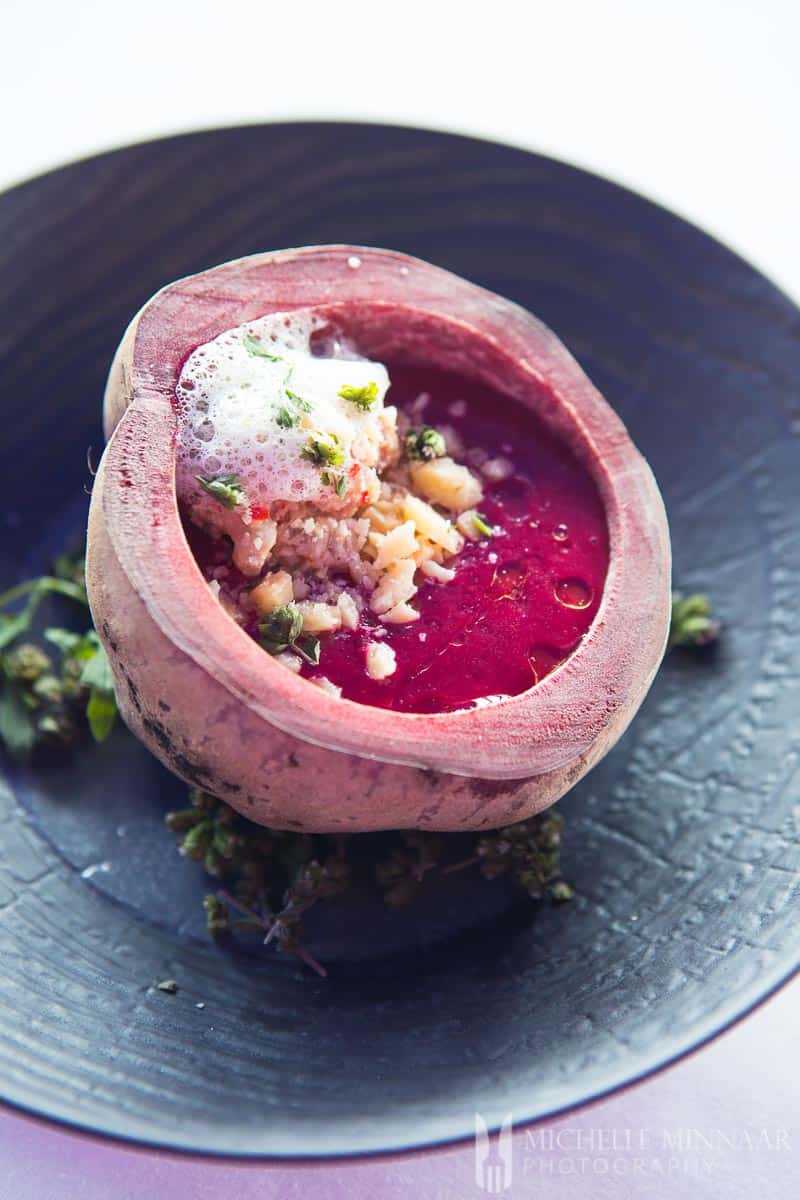 wreckfish – taste and seasoning
The grilled wreckfish only needs a light seasoning of salt, pepper and perhaps a touch of lemon zest. Instead of normal black pepper, you can use rose pepper. It has a slightly more perfumed flavour that is simply wonderful with any white fish. Plus, it looks beautiful on the plate to have the white meat of the grilled wreckfish sprinkled with the bright pink pepper. You can also be braver and season with chilli flakes but be careful not to overpower the flavour of the fish itself. That would be a pity.
Otherwise, rub a bit of cashew pesto. For inspiration, follow this pesto baked salmon recipe.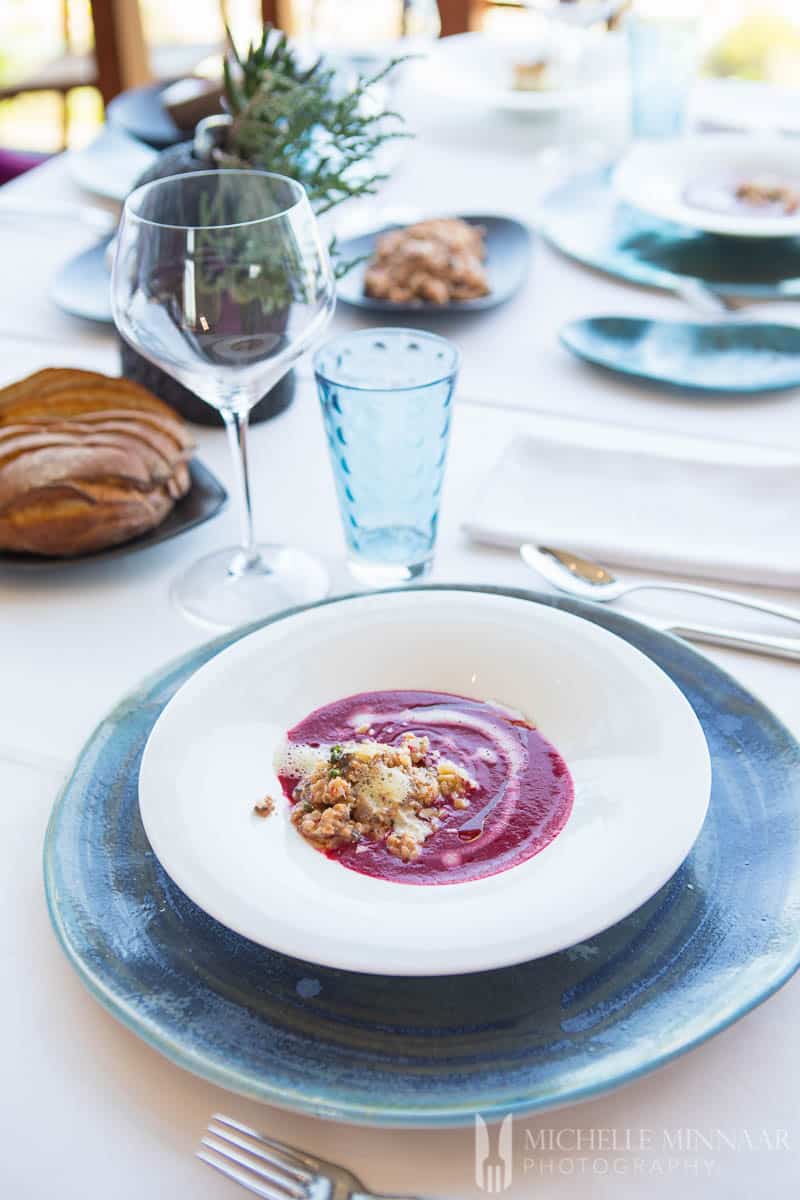 wreckfish with citrus beurre blanc
As with any fish recipe, making a simple citrus beurre blanc can complete the dish! It can create harmony between the side dish together with the fish. Admittedly, I like to just eat the beurre blanc sauce alone with the fish. What about you?
In addition, fresh herbs are always a hit with fresh fish, and great for seasoning the fish after cooking it. Simply sprinkle the grilled wreckfish with the freshly chopped herbs as they are, or make a little herb dressing. Add a splash of olive oil and a little bit of lemon juice to your chopped herbs and use the herbal oil to dress the fish. As the flavour of the grilled wreckfish is quite versatile, you can use pretty much any herb you like. Dill, parsley and chives are the self-nominated all-stars for white fish.
However, you can just as well use watercress, tarragon or chervil. You can even take the grilled wreckfish in an Asian direction and make a dressing with coriander and a bit of soy sauce. My advice is to stick to the softer, leafier herbs rather than the more tree-like ones such a thyme and rosemary. Also, I reckon these tarragon substitutes will do the trick too.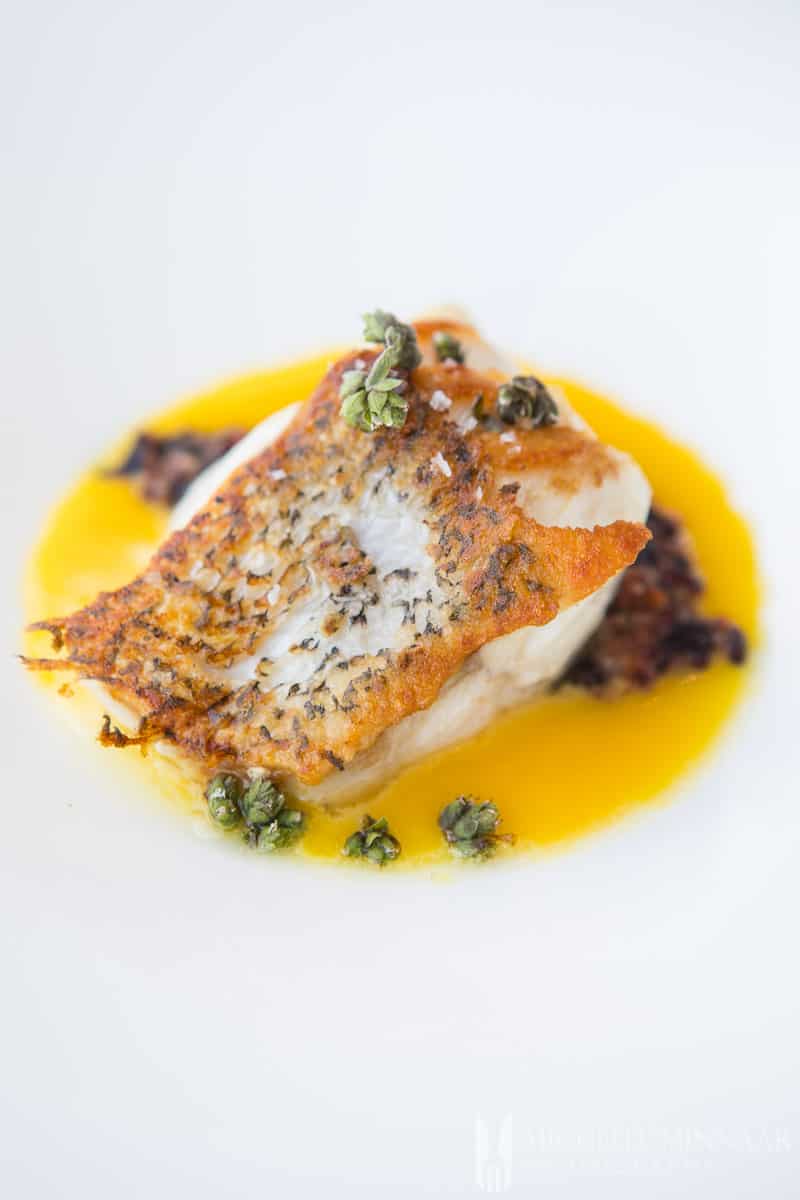 serving
The grilled fish is absolutely a summer dish. Therefore I recommend keeping the serving simple with something green and refreshing on the side. For example you can do a simple carrot and avocado salad like the one I did for my baked sea bass recipe. Another green and refreshing summer salad to go with the grilled wreckfish could be sugar snap pea salad or a lovely cherry tomato salad.
Alternatively, prepare some of the vegetables that are in season right now. That could be fresh green peas, string beans, young carrots or beets. Cook the vegetables gently so that they maintain their freshness and bite, and you will have summer on a plate! For a sturdier meal, you can serve the grilled wreckfish with freshly boiled new potatoes. Alternatively, you can do a potato salad.
What is your favourite dish to order in Spain?
Print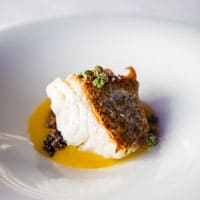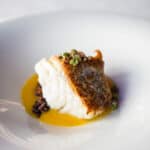 Grilled Wreckfish
---
Author:

Michelle Minnaar

Prep Time:

5 minutes

Cook Time:

5 minutes

Total Time:

10 minutes

Yield:

4

1

x
Description
Grilled wreckfish is a delicacy. A wreckfish lives in deep seas and hides in caves and shipwrecks. With its firm white flesh, it's perfect for the grill.
---
4

wreckfish fillet, skin-on, weighing 200g (

7oz

) each

60

ml (1 tbsp) olive oil
Salt
---
Instructions
Brush each fish fillet all over with olive oil.
Fry the fillets skin side down in a hot frying pan until the skin is crisp. Turn the fish over and cook for another 2 minutes or until cooked through.
Season and serve immediately.
Notes
Alternatively, you can stick the fish, skin side up, under the grill for 5 minutes.
Category:

Main Course

Cuisine:

Spanish
Nutrition
Serving Size:

1 serving

Calories:

478

Sugar:

2.5 g

Sodium:

1182 mg

Fat:

28.7 g

Saturated Fat:

8 g

Carbohydrates:

38 g

Fiber:

3.5 g

Protein:

23 g

Cholesterol:

49 mg
save the recipe to your pinterest board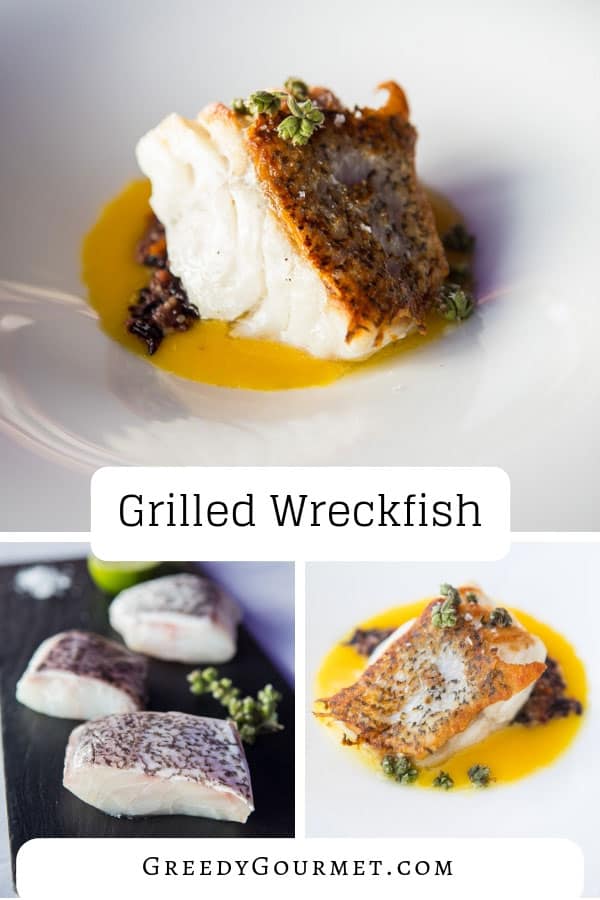 P.S. I was a guest of Bohemia Suites & Spa.