You'd be forgiven for thinking stuffed marrow recipes are nothing special. However, you'll be amazed at the wonderful flavours you can get out of this underrated vegetable when you use the right ingredients and the proper cooking techniques.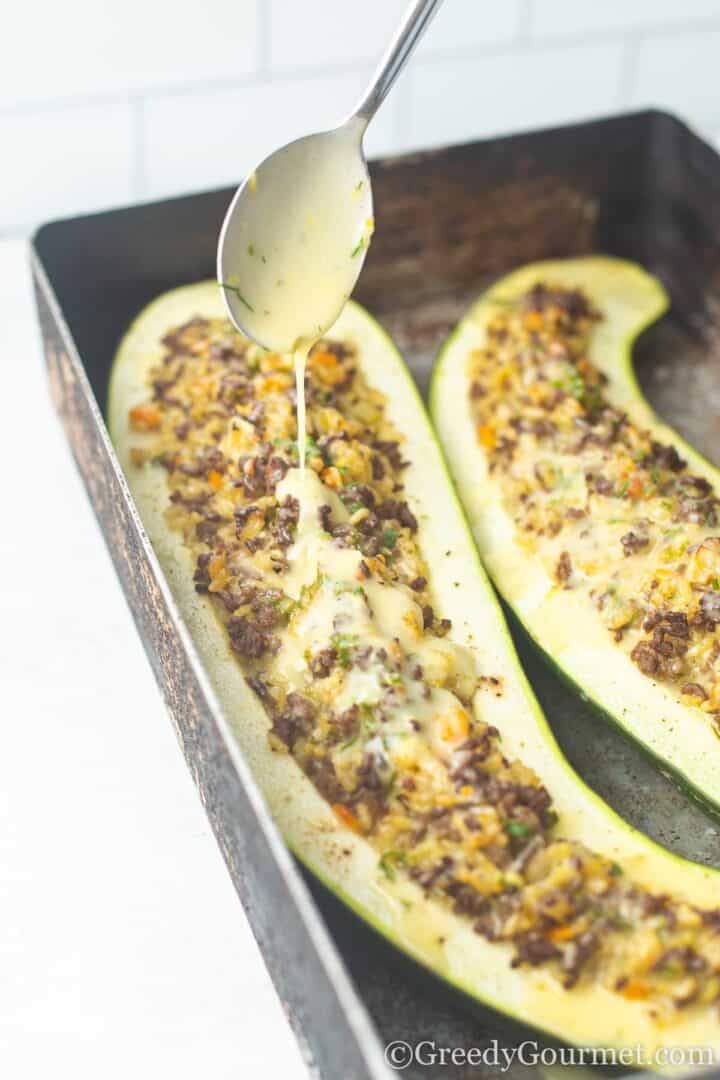 This recipe is a Mediterranean stuffed marrow, meaning the focus is on fresh ingredients and typical Mediterranean flavours that are good for you and get the taste buds going. You're going to love it!
Why you'll love this stuffed marrow recipe
There are a few kitchen items you'll need to get the best out of this stuffed marrow recipe:
The Mediterranean flavours are a pure delight!
It's the perfect example of how cooking with love and good ingredients can create something very special
It looks great and is the kind of dish that will impress your friends and family
The finishing sauce is sensational!
Equipment you'll need
There are a few essential items you'll need for this stuffed marrow recipe:
Large skillet – a heavy duty cast iron pan is best
Ice cream scoop – use this heavy duty ice cream scoop to hollow out your marrow halves, then to fix dessert afterwards!
Baking dish – a large baking dish or baking tray is needed for roasting the stuffed marrow halves
How to make stuffed marrow
Brown the beef mince first, then set aside.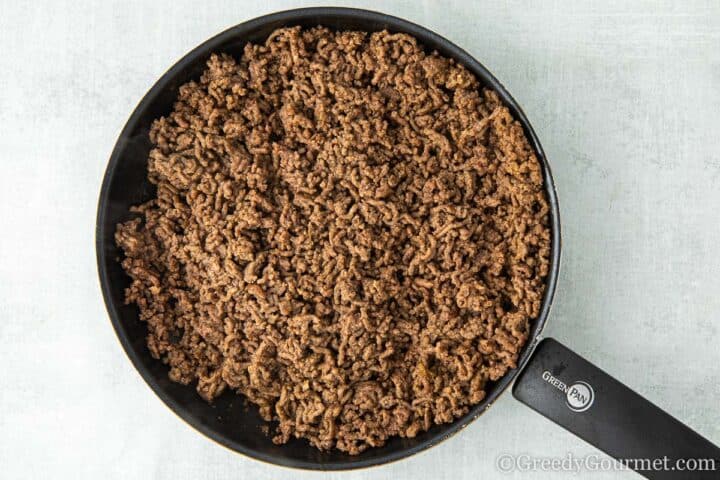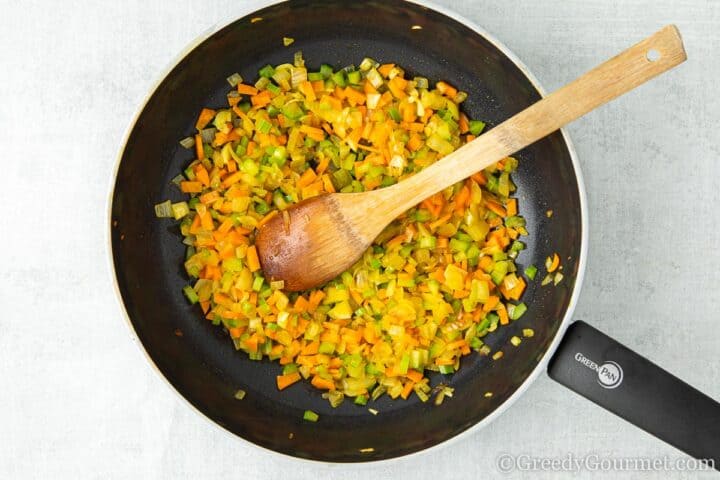 Gently fry the onions, garlic, celery, and carrot until softened.
Stir in the rice. Sizzle with white wine. Cook for 15 minutes; add a splash of water when needed.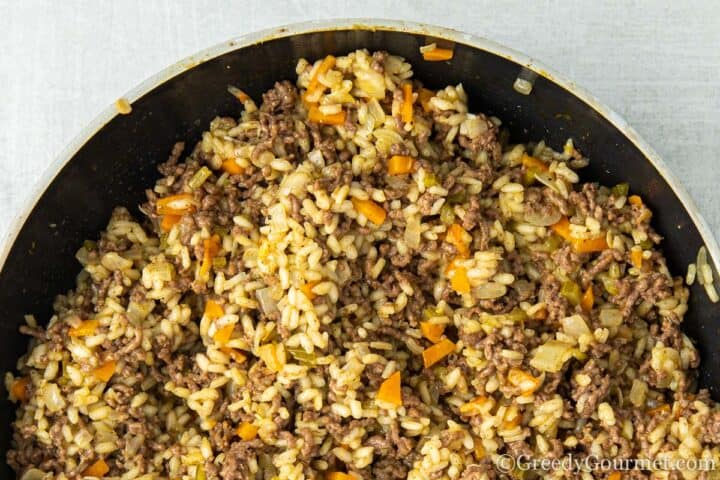 Stuff the halved, scooped-out marrows, and bake until the marrows are cooked. Drizzle with sauce and serve immediately. Enjoy!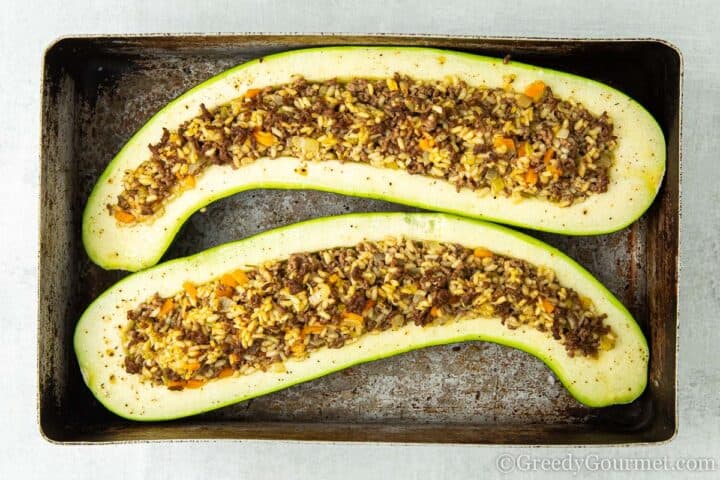 Top Tip
When making the sauce, slowly add the chicken stock to the roux. Add a ladleful at a time, whisking constantly – this way, you'll get a smooth, delicious sauce.
What to serve with stuffed marrow
Salad
Greek stuffed Marrows are often served with a side of Greek salad. You could also pair this dish with a simple, fresh Mediterranean salad or a halloumi salad.
Bread
The Greeks love to serve fresh crusty bread on the side. Keep it simple and get it fresh from your local bakery, or put your twist on it – homemade chia seed bread or pesto-stuffed bread would be divine!
Wine pairings
A dry white wine like Chardonnay or Sauvignon Blanc would make an ideal pairing with this stuffed marrow recipe.
Variations to this recipe
Grate some Greek cheese over your stuffed marrows for extra richness. Kefalotyri is delicious and would go well with the meat sauce. You could also bring some Italian flavours for a fabulous fusion – try grated or parmesan-type cheese.
The instructions below call for adding white wine, but it's not strictly necessary. Replace the amount of white wine with stock if you prefer to leave it out.
Add chopped tomatoes and tomato puree to the sauce for a more tomatoey flavour.
Make this a vegetarian stuffed marrow recipe by replacing the beef mince with Quorn or tofu. You could even use wild mushrooms to bring a meaty flavour. Also, use vegetable stock in place of chicken stock.
Popular substitutions for this recipe
This dish works well with lamb mince as well as beef mince. If you prefer lamb, you can substitute it for beef. Either way, it'll end up as your new favourite mince recipe!
You can replace the chicken stock with beef stock, or vegetable stock if you prefer.
If you can't find glutinous rice, replace it with a different medium-grain rice. You can also use long-grain rice, but I prefer the medium-grain texture for this recipe.
Top Tip
When scooping out the marrow flesh to create the 'boat shape,' be careful not to scoop too much. It would be best to leave at least a 1/2-inch layer around the outside of the marrow. This will ensure that the marrows hold their shape during baking.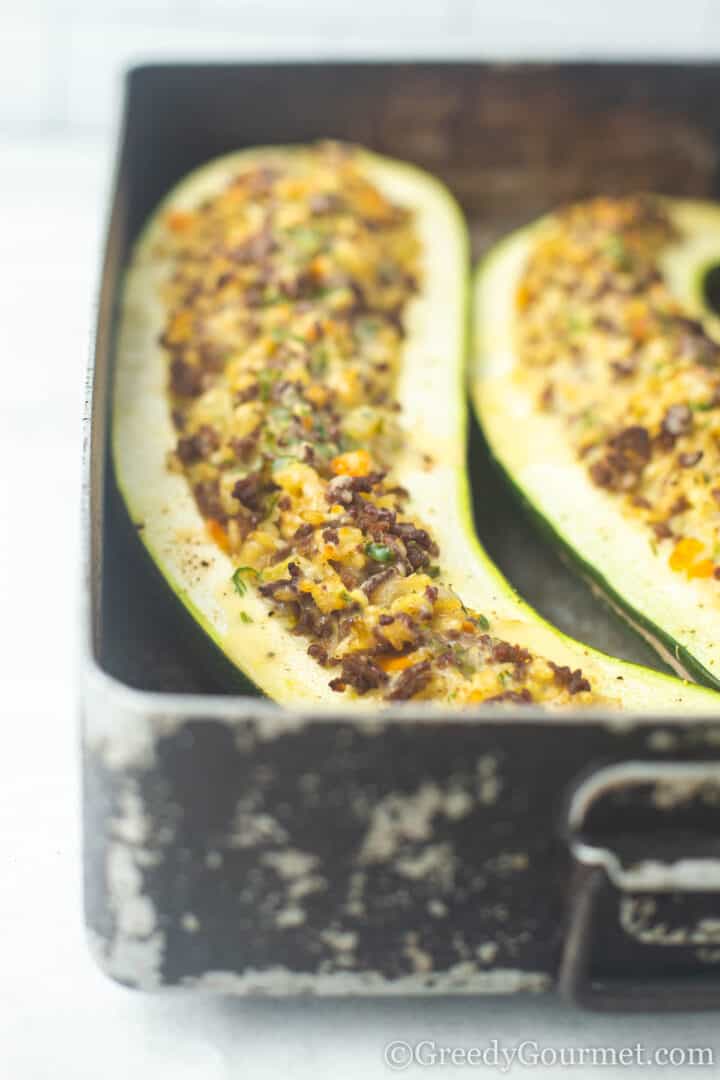 What kind of marrows are best for stuffing?
Medium-sized marrows are best for this recipe. Make sure they are firm and fresh. If they're too big or overly ripe, marrows may have a watery texture and may not hold their shape well when stuffed and baked.
How do you prepare marrow to be stuffed?
Using a sharp chef's knife, carefully cut the tops off the marrows, then cut them in half lengthways. Then, using a high-duty ice cream scoop, remove the insides, taking care to leave about 1/2 inch thickness remaining.
What can you do with a marrow?
All kinds of things! For me, stuffed marrow is one of the most delicious recipes and showcases just how great an ingredient this underused vegetable is.
You can also use marrows to make soup, curry, chutney, and many other fantastic dishes. I have included my recommendations below for the best marrow recipes.
What is glutinous rice?
Glutinous rice, also known as sticky rice, is a medium grain rice that's traditionally used by many cuisines around the world. It's notably used in Greek cooking, as well as Thai and Japanese cuisines. Glutinous rice brings a unique texture, and is perfect for cooking in a mince sauce – ideal for stuffed vegetables recipes such as this one.
You can use long grain rice for this stuffed marrow recipe, but for me, glutinous rice is key because it gives you that perfect taste and texture that you get from traditional Greek cooking. So, it's definitely worth getting hold of glutinous rice.
You should be able to get hold of glutinous rice in most good supermarkets. If not, you can buy glutinous rice online.
Is wine necessary for the sauce?
For the white wine, you can use a dry white wine like Chardonnay or Sauvignon Blanc. The wine adds flavour to the stuffing, so choose one you enjoy drinking.
More marvellous marrow recipes
Marrow is such an underrated vegetable! Here are a few other suggestions on how to get the best out of marrows:
Print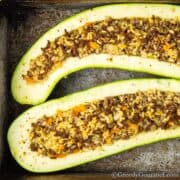 Greek Stuffed Marrow
---
Author:

Michelle Minnaar

Total Time:

1 hour 30 minutes

Yield:

4

portions

1

x

Diet:

Gluten Free
Description
Transport your taste buds to Greece with our Greek Stuffed Marrow recipe. A savoury delight filled with Mediterranean flavours and love!
---
For the Stuffed Marrows
750

g

beef mince

2

medium onions, finely chopped

2

garlic cloves, minced

1

large carrot, grated

2

celery sticks, finely chopped

3 tbsp

olive oil

300

g

glutinous rice, rinsed and drained

250

ml

white wine

1.25 tsp

dried parsley

1.25 tsp

dried mint

1.25 tsp

dried dill
Zest and juice of 1 lemon

4

medium-sized marrows (zucchinis)
For the Sauce
160

g

butter

160

g

flour

500

ml

chicken stock
Juice and zest of 2 lemons

4

egg yolks

2 tbsp

fresh dill, finely chopped

2 tbsp

fresh parsley, finely chopped

2 tbsp

fresh mint, finely chopped

0.25 tsp

nutmeg
---
Instructions
For the Stuffed Marrows: Preheat your oven to 180°C (350°F).
Cut the tops off the marrows and scoop out the insides, creating hollow "boats." Reserve the scooped-out flesh for later.
heat the olive oil over medium heat in a large skillet. Add the onions, garlic, carrot, and celery. Sauté until they become soft and translucent, about 5-7 minutes.
Add the beef mince to the skillet and cook until it's browned and cooked through, breaking it apart with a spoon as it cooks. This should take about 7-10 minutes.
Stir in the dried parsley, mint, dill, and lemon zest. Cook for an additional 2 minutes to infuse the flavors.
Add the glutinous rice to the skillet and cook for another 2 minutes, stirring frequently.
Pour the white wine and lemon juice, then add the reserved marrow flesh. Stir well, reduce the heat to low, cover, and simmer for 15 minutes or until the rice absorbs most of the liquid and becomes tender. Remove from heat.
Carefully stuff the hollowed marrows with the beef and rice mixture.
Place the stuffed marrows in a baking dish, cover with foil, and bake in the preheated oven for 30-40 minutes or until the marrows are tender when pierced with a fork.
For the Sauce: While the stuffed marrows are baking, prepare the sauce. In a saucepan, melt the butter over medium heat.
Stir in the flour to make a roux. Cook for 2-3 minutes, stirring constantly until it turns golden.
Gradually whisk in the chicken stock, lemon juice, and zest until the sauce thickens and becomes smooth. This will take about 5 minutes.
In a separate bowl, whisk the egg yolks. Slowly add a ladleful of the hot sauce to the egg yolks, whisking constantly to temper them.
Return the tempered egg yolk mixture to the saucepan and stir well.
Add the fresh dill, parsley, mint, and nutmeg—season with salt and pepper to taste.
To Serve: Once the stuffed marrows are done baking, serve them hot with the lemony sauce drizzled over the top. Enjoy your delicious Greek Stuffed Marrows!
Prep Time:

30 minutes

Cook Time:

1 hour

Category:

Dinner

Method:

Bake

Cuisine:

Greek
Keywords: stuffed marrow, stuffed marrow recipe, old fashioned stuffed marrow, greek stuffed marrow, stuffed marrow with mince, baked stuffed marrow, stuffed marrow with rice