Normandy Chicken, known in France as "Poulet à la Normande", is a warm, creamy fall dinner favorite that makes enough to feed the whole family. It combines garlic, onions, herbs, apple cider, and even a bit of brandy, with slowly braised whole chicken legs.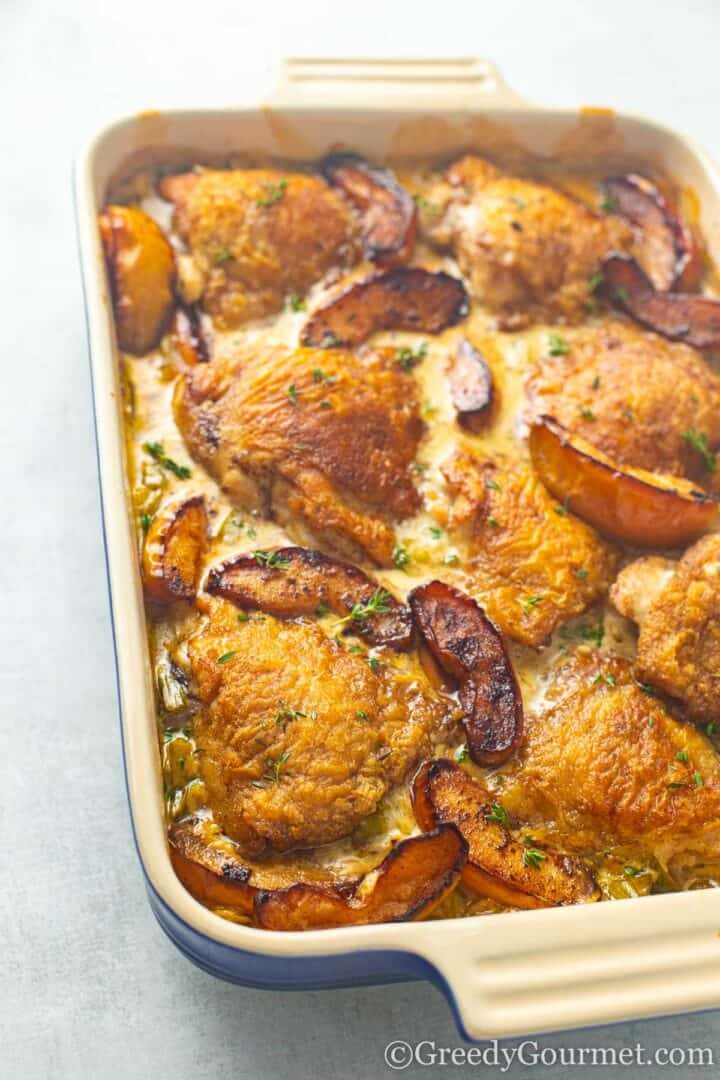 It is a famously rich and flavorful dish that is an incredible example of the delicious recipes that France has gifted to the culinary world.
Why You'll Love This Recipe
You're going to love Chicken Normandy primarily because it's such an undeniably delicious main course, but more than that, it's easy to make. You can finish in just over an hour, putting a delicious bit of French cuisine on the table without dedicating a half-day to it.
Special Equipment Needed To Make Chicken Normandy
You'll need a relatively large casserole dish that's oven safe.
To braise the chicken legs, you'll also need a skillet or large saute pan, with the skillet being preferable since it can handle a larger volume of chicken at once and has higher sides to contain everything.
An apple corer makes prepping the apples much easier and quicker, though the same can be accomplished by bisecting the apples, slicing them, and using a paring knife to remove the bit of core on each slice.
What To Serve With This Chicken Recipe
Sides
Normandy Chicken pairs well with fresh vegetables, such as green beans, either roasted or pan-cooked with a tiny amount of olive oil. Other well-matched sides include a variety of side dishes featuring potatoes, such as mashed potatoes or boulangere.
Cocktails
This recipe will pair well with a variety of white wines. For those that like a bit stronger spirit, chicken also pairs well with whiskeys, as well as ginger beer.
This Ginger Beer Cocktail will go down a storm with this meal! The slight saltiness of the meat lends itself well to drinks like these.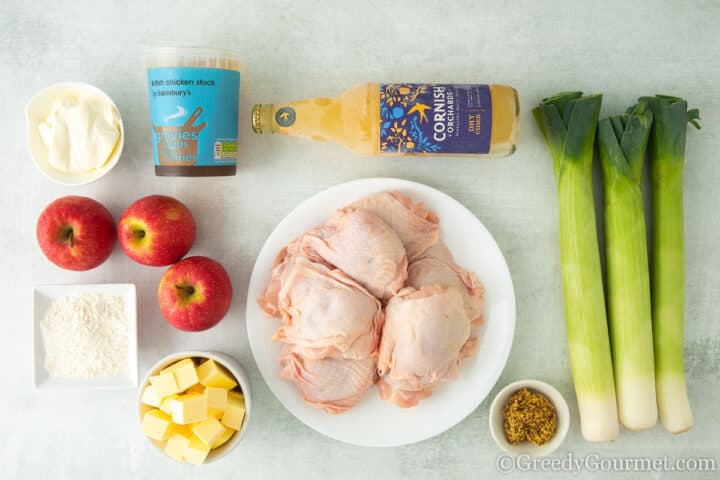 Popular Substitutions
For those who prefer white meat to dark, the chicken thighs or legs can be replaced with chicken breasts or tenderloin cuts. This will also reduce the overall liquid, so you may need to compensate for that with additional apple cider or heavy cream.
Variations To This Recipe
Low-Fat Version: For a healthier option, you can opt for skinless chicken thighs or other skinless chicken parts. While you won't have that divine crispy skin, you will cut out a significant amount of rendered chicken fat from the skin-on chicken, that would otherwise incorporate into the dish.
Add Some Kick: By adding some crushed red pepper flakes to the simmer you can add a little heat, without altering the overall flavor profile of the dish.
Top Tip
Be sure to use crisp, firm apple types, such as Fuji, for your cooked apples. Using softer apples like Red Delicious or Granny Smith will result in the apple slices becoming softened and mushy.
How to make this recipe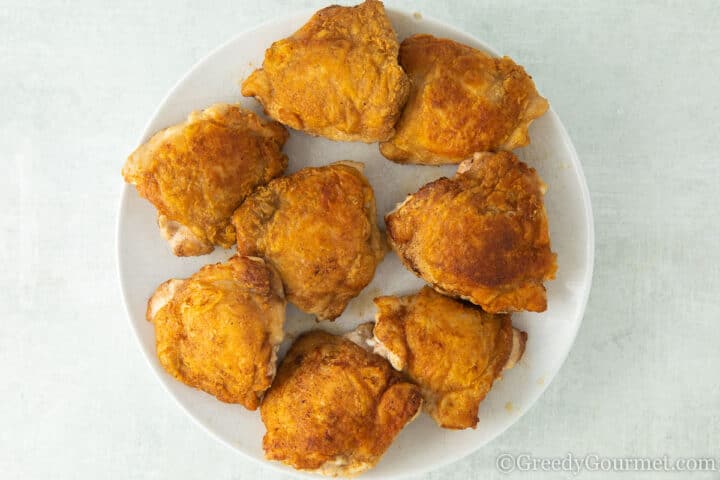 Fry the chicken portions until golden brown and crispy on the outside.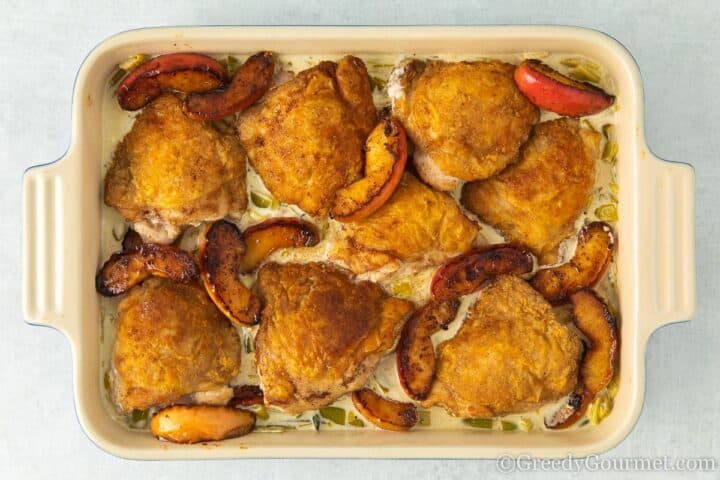 Prepare the sauce, pour it in a casserole along with the chicken and bake.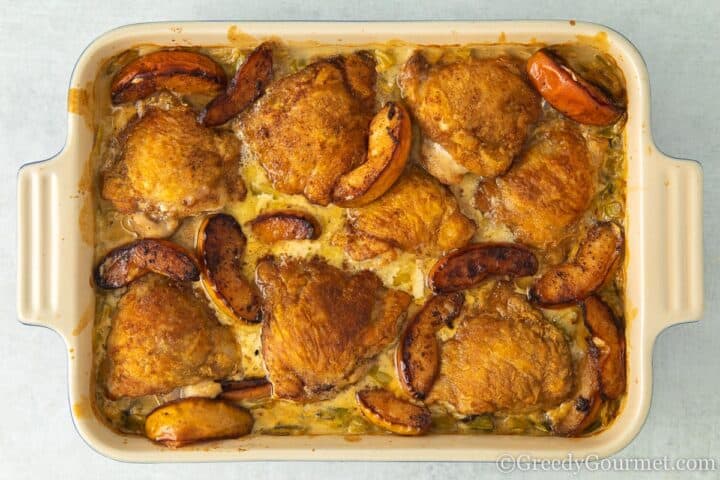 Ready to eat with other French side dishes!
Top Tip
Don't be afraid to braise the chicken well, getting a good fond (that's the yummy browned bits on the skin & meat), since that will give you the deepest and most complex flavors. Even if you overcook it a bit, simmering in the broth will make up for any moisture loss.
How Long Will This Food Last In the Fridge?
This dish will be best if eaten within 72 hours. Be sure you store it in an airtight container in the fridge. While it may last up to a week in the fridge under perfect conditions, the flavors will significantly diminish, and much of the deeper and more complex notes will be lost.
How do I Reheat This Dish?
Leftovers can be easily reheated in the microwave or the oven. If reheating in the oven, be sure you cover it to avoid uneven heating. If the microwave is used, it can be easy to dry out if heated too vigorously.
Can this recipe be scaled?
This recipe can be doubled with relative ease, however, more than that and you may experience issues with cooking it all at once, and significantly longer cooking time. It can also be halved easily, for those cooking for fewer people, or who simply don't have the oven or casserole space for a full recipe.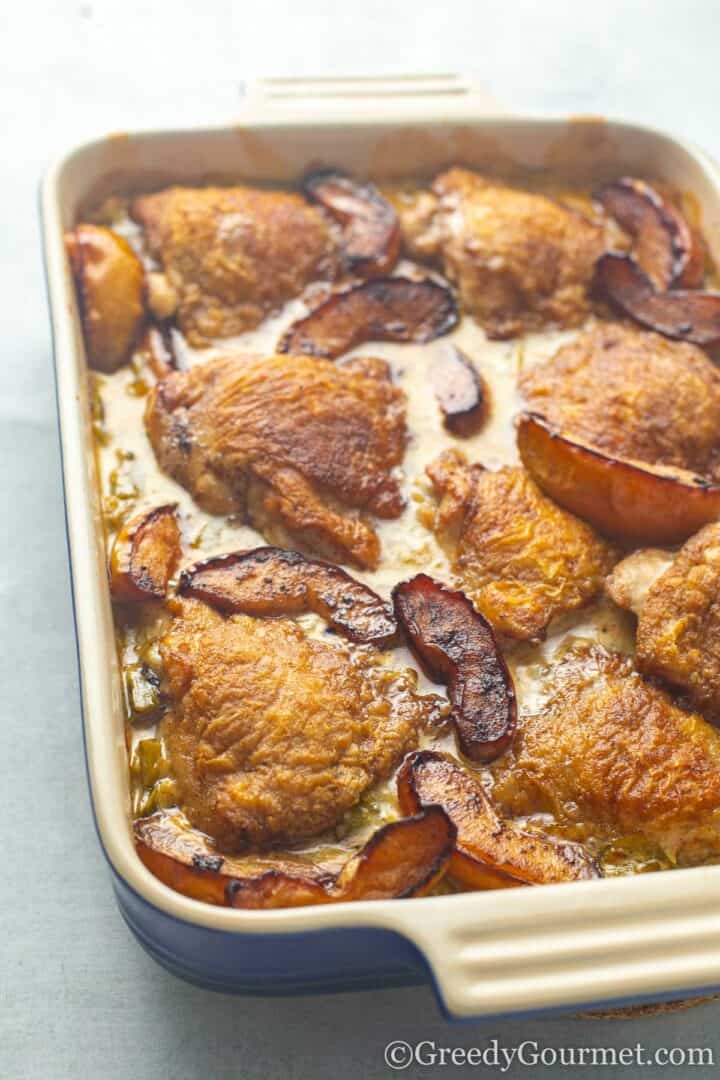 Other Chicken Recipes You'll Love
Chicken & Pea Risotto – This chicken & pea risotto is another wonderfully rich comfort food that not only fills you up but does so with only minimum effort required. You can often throw it together with leftovers and frozen peas, so it also won't usually require a trip to the store. On top of all that, you only need to worry about dirtying a single pan. It's a great recipe for all seasons, and it's incredibly versatile so it can be a light main or a hearty side dish, depending on what else you have planned.
Romesco Chicken Tray Bake – This romesco chicken tray bake is another one-pan dish that will simply knock your socks off with its flavor, color, and ease. We all hit a bit of a lull in the middle of the week, but this low-effort masterpiece will make it easy to put a delicious meal on the table without breaking a sweat. This one-tray superstar is loaded with healthy protein, spicy and savory cayenne and paprika, garlic and tomato, and lighter flavors from parsley and lemon. To finish it off it's got a crunch that the almonds bring in to make it uniquely romesco.
Chicken & Leek Pasta Bake – For an easy and incredibly filling casserole-style bake, this chicken and leek pasta bake will quickly make it to the front of your recipe collection for the cooler months. It's a quick meal that only needs 30 minutes in the oven, and helps you get a cheesy, crunchy dinner on the table in about an hour. It's also a meal that works well with meal prep, so you can have individual portions ready for the week in no time at all.
Food Safety
Handling raw chicken should always be met with caution. Be sure you do not reuse cutting surfaces where chicken has been cut or prepped. Also, make sure you always wash your hands well, both before and after handling any raw poultry.
Don't Forget To Come Back And Let Me Know How Your Recipe Turned Out!
Print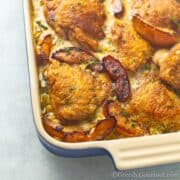 Normandy Chicken Recipe
---
Author:

Michelle Minnaar

Total Time:

1 hour 15 minutes

Yield:

4

servings

1

x

Diet:

Gluten Free
Description
Normandy Chicken is made with chicken, apples, leeks, cider and cream. Best served with mashed potatoes and greens. 
---
14g

(

1 tbsp

) butter

8

chicken thighs, weighing around 1.2kg (3lbs)

3

leeks, weighing around 450g (1lb), halved lengthwise and sliced

3

apples, cored and sliced

16g

(

1 tbsp

) wholegrain mustard

4

thyme sprigs

500

ml (2 cups) cider

500

ml (2 cups) chicken stock

300

ml (1¼ cup) creme fraiche
---
Instructions
Preheat the oven to 210°C / fan 190°C / gas mark 6.
Melt the butter in a large ovenproof casserole dish then arrange the chicken thighs skin side down in a single layer.
Fry the chicken over a high heat until the skin is golden and crispy, which should take around 10 minutes. 
Turn the pieces over and brown for 3 minutes. Remove from the pan and set aside.  
Using the same pan, lower the heat to medium, then fry the leeks, stirring constantly. 
After 5 minutes, add the apples and continue to stir fry for another 5 minutes.
Stir in the mustard and add the thyme sprigs, then pour in the cider. Let the mixture bubble away until the liquid has reduced by half.
Pour in the chicken stock, let it simmer again until the liquid has reduced by a third. 
Stir in the creme fraiche until everything is well incorporated. 
Nestle the chicken pieces in a single layer in the sauce. 
Transfer the casserole to the oven and cook uncovered for 25 minutes or until the chicken is fully cooked. 
Serve immediately with heaps of mash or Mousseline Potatoes. Enjoy! 
Notes
For a sharper tang to the sauce, you can add another tablespoon of wholegrain mustard.
Prep Time:

15 minutes

Cook Time:

1 hour

Category:

Dinner

Method:

Bake

Cuisine:

French
Keywords: normandy chicken, chicken with cider, chicken with apples, french chicken recipe, french chicken casserole, chicken dinner recipe