Who can resist the subtle sweetness of a prawn korma curry? It is known as one of the milder Indian curries and is a kid-friendly meal. Kids usually refer to it as the yellow curry due to its distinct yellow colour. In my opinion, it is a fantastic way to introduce anyone to Indian cuisine without the fear of the curry burning their tongues off. Sometimes, I refer to this prawn korma as an Indian "conversion curry", as this is the curry that originally got me into Indian food. Just a few days ago, I cooked the jeera chicken. See? I can't stay away from Indian cuisine for too long.
With the prawn korma being rich and creamy, you can combine it with any type of meat or fish. Forget about getting into shape and enjoy this prawn korma recipe, it's totally worth every bite!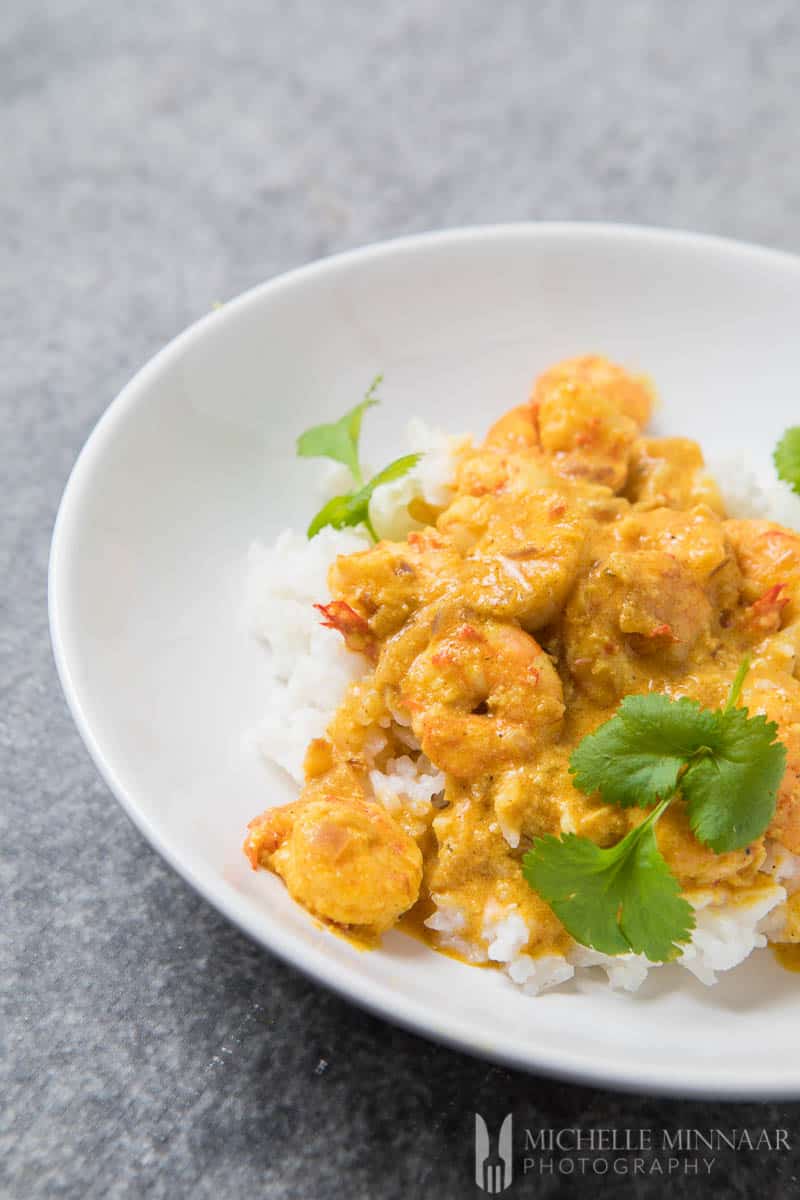 what is prawn korma?
Prawn korma is a cream, coconut milk or yoghurt based curry dish from India. In fact, it is a Mughal dish, from the Mughal empire which is the Indian subcontinent founded in 1562. Apparently, the korma has been served to royalty for many decades and made its way to court kitchens.
As mentioned above, it is known for its yellow colour which comes from the korma and garam masala paste. This usually involves all kinds of spices such as turmeric, cumin or coriander seeds and much more.
What is the actual meaning of korma? Korma originates from the Urdu word 'kormah', and translates to 'braise'. I find the name very fitting as it clearly refers to the cooking technique needed to prepare this dish.
the korma mix
I think a prawn korma is one of the most popular Indian curries in western culture. You can either create the curry paste yourself using a wide variety of spices, but this can be a lengthy and arduous process. However, to tackle this issue people usually opt for the ready-made korma mix in a store-bought jar. These can easily be found in your local supermarket. In fact, I bet you have your own favourite korma brand that you use regularly. I'd be very curious to find out which one you think is best, so please do share and comment below.
consistency issues
Generally, I find that some of the pre-made sauces don't have the proper texture. Don't worry, you can easily fix this with dessicated coconut. Just add the shredded coconut to create the texture and density of your liking. Alternatively, you can add ground almonds just like I did in my prawn korma recipe. This will help thicken your curry in an instant.
If you prawn korma curry is too thick, you can add a splash of water, coconut milk or cream. This depends whether you think you've achieved the perfect flavour combination and you don't want to unbalance the dish. In this case, I suggest to stick to the water.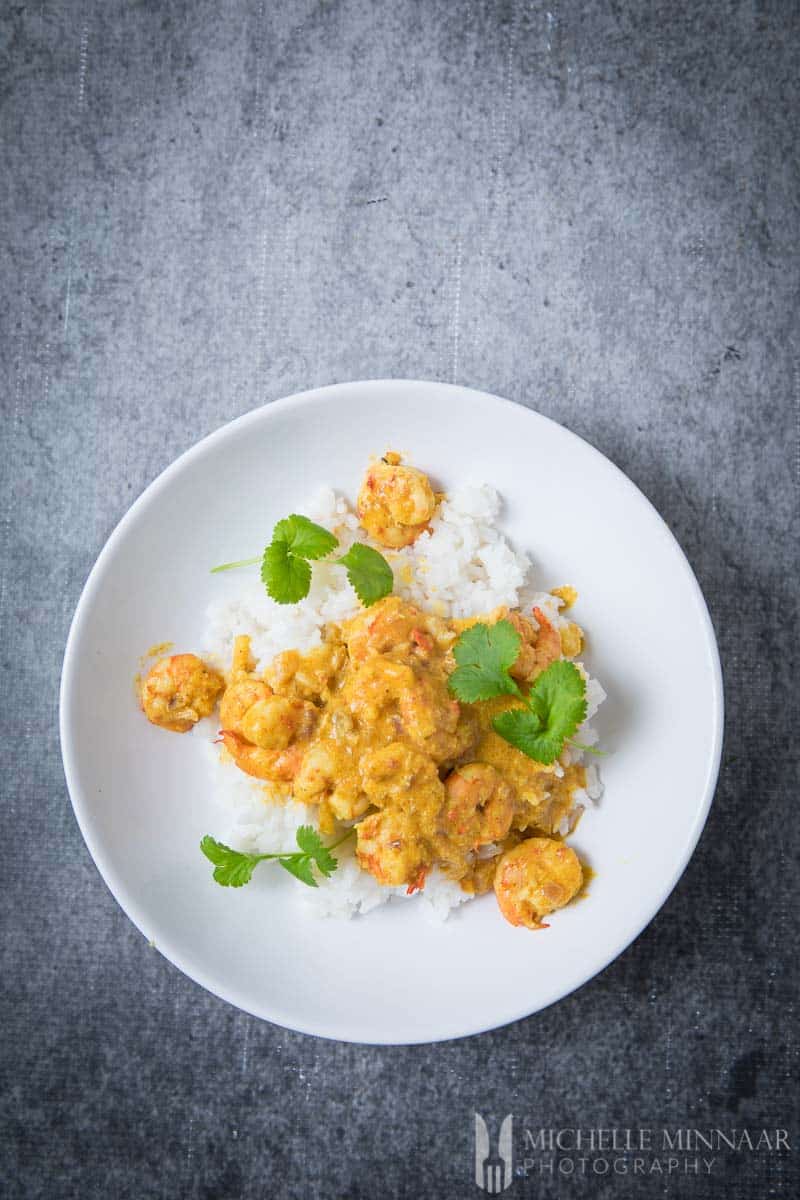 cooking the prawns
Once you've added the masala paste and coconut milk and let the mixture bubble for a minutes or two, toss the prawns into the simmering south indian korma. Remember, prawns cook quickly, so they only need a few minutes. Cook for a few minutes until the prawns turn a pinkish colour and then seasoning with salt and pepper to taste.
For a more luxurious version, you can opt for the king prawns and make a king prawn korma. Alternatively, tiger prawns are larger than standard prawns.They are more juicy so it's really important that you don't over cook them! Otherwise, it's one big waste.
got too much prawns?
You can never go wrong in buying more prawns than you need. Other prawn recipes are at your fingertips, such as prawn puri, which is also Indian-inspired. In fact, for that recipe I proudly made my own rotis which I think would also go very well this the prawn korma.
For Far Eastern flavours, you can use the prawns and create prawn dumplings with soy and mirin dipping. If you feel like making a quick dish, then I recommend making the classic pan-fried garlic butter prawns or jerk prawns. Super easy and done in a few minutes.
alternatives
Don't fancy prawns? You can easily replace them with chicken, beef, lamb, pork, turkey or fish. My protein of preference would be a white meat such as chicken korma, beef korma or turkey korma. The meat will need searing beforehand first though, to ensure it's properly cooked through.
Otherwise, you can always go for a vegetarian cauliflower kurma.
If you're feeling something other than a korma, why not try a classic Chicken Chaat?
beware
Again, as with prawns, be careful not to cook the prawn korma over too high heat. If using yogurt to make the dish less calorific, you risk the yoghurt curdling up or splitting which admittedly, can look unappetising. The best method when it comes to cooking is to cook over low-heat. This way, the juices of the prawn or any other main ingredients can fuse well with the curry sauce. Also, remember to incorporate the cream, coconut milk or yoghurt slowly. Don't toss it in all at once, but do it in a few steps.
suitable vegetables
Popular additions into the prawn korma curry are larger slices of onions, turnip or even spinach. I would recommend sticking to the white vegetables as they won't affect the visual appearance of the curry. However, I must admit, spinach in a prawn korma tastes fantastic! Plus, it lightens up the dish and you won't feel like you've eaten a super heavy and creamy dish.
toppings and sides
For toppings, I highly recommend using slices of almond and fresh coriander leaves. Don't forget to serve the prawn korma with plain rice, peshwari naan, rotis or kerala paratha!
What is your favourite Indian prawn recipe?
Print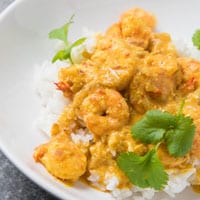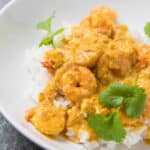 Prawn Korma
---
Description
This prawn korma recipe is a favourite British Indian Restaurant curry in the UK. Learn how to make your own at home in this coconut-based version.
---
30

ml (2 tbsp) vegetable oil

1

large onion, peeled and finely chopped

2.5

cm (1 in) fresh ginger, peeled and grated

150g

(

5oz

) Korma curry paste

50

ml (2fl oz) water

450g

(1lb) raw, peeled prawns

400

ml (1 can) coconut milk

50

ml (2fl oz) double cream

50g

(

2oz

) almond flour

5

ml (1 tsp) sugar
---
Instructions
Gently fry the onion and ginger in the oil until softened and lightly browned.
Add the Korma curry paste and water. Let the mixture bubble for two minutes.
Add the prawns, coconut milk, cream, almonds, cream and sugar to the curry sauce and let it simmer for 5 minutes.
Serve with plain rice, garnished with cilantro.
Notes
Don't fancy prawns? You can easily replace it with chicken, beef, lamb, pork, turkey or fish. The meat will need searing before hand first though, to ensure it's properly cooked through.
Prep Time:

10 minutes

Cook Time:

20 minutes

Category:

Dinner

Method:

Braise

Cuisine:

Indian
Nutrition
Serving Size:

1 serving

Calories:

608

Sugar:

11.4 g

Sodium:

745 mg

Fat:

51.2 g

Saturated Fat:

27 g

Carbohydrates:

19.9 g

Fiber:

5.8 g

Protein:

29.5 g

Cholesterol:

17 mg
Keywords: prawn korma, shrimp korma, king prawn korma, prawn korma recipe, shrimp korma recipe, king prawn curry, best prawn curry recipe, prawns korma, prawn curry sauce in a jar, creamy prawn curry, curry paste
save the recipe to your pinterest board