In my opinion, there's nothing better than a spicy crispy chilli beef dish on a bed of rice. This Asian beef recipe will certainly please your palate with distinct Asian savoury flavours. Although crispy chilli beef is something that you'd normally find on Asian restaurant menus, you can easily replicate this at home! All you need are the right ingredients, a good skillet and you are good to go. Also, this crispy chilli beef recipe is very versatile. You can substitute the beef steaks with pork, venison, chicken, turkey, tofu or even stick to a vegetarian version and use only fresh vegetables. So, don't be afraid to make this Asian recipe your own. You can turn up the heat by adding fresh red peppers. Careful though, it's not for the faint-hearted! I hope you enjoy making this tasty dish.
Crispy chilli beef recipe Chinese
Crispy chilli beef is a Chinese recipe that one can frequently find in Chinese takeaways. So, why not create your own fakeaway instead and drop the expensive takeout habit? Seriously, ditch the takeaway and make this pan-fried beef steak with vegetables, typical Asian sauce and white rice. That being said, a crispy chilli beef recipe is similar to a Chinese stir-fry recipe. However, the chilli beef calls for more meat. So, consider this crispy chilli beef recipe a meaty Chinese stir-fry with a higher meat ratio than a traditional stir-fry.
You might be wondering why it's called crispy beef? Well, the secret to landing this recipe is the fact that the beef steak is flash fried. This means adding the slices of rump steak at the last minute and flash frying it until it is freshly cooked. If you let the slices of meat sit in the sauce too much or if you add the meat too early, it will get less crispy.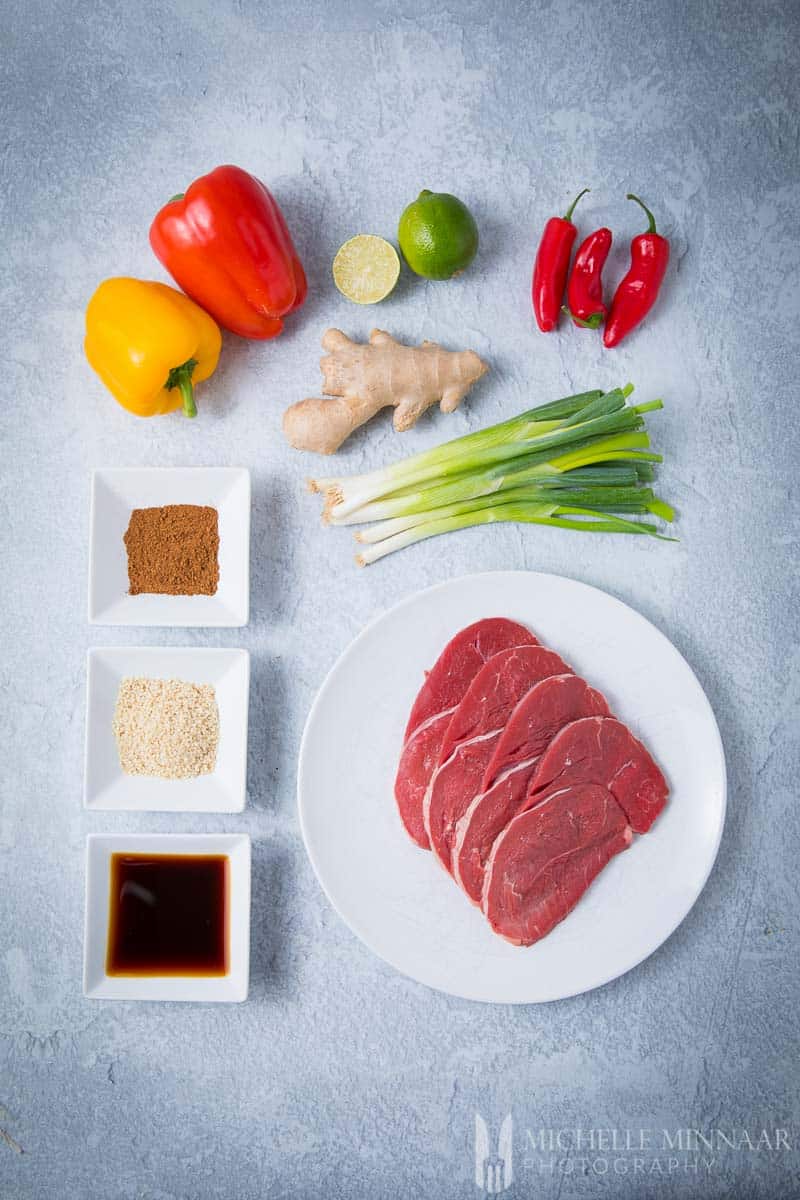 Crispy chilli beef Chinese style with Circulon
Now, every cook knows that a recipe which requires frying ingredients calls for an excellent skillet – especially if your recipe fries delicate ingredients like these slices of rump steak to perfection. There is nothing I hate more than pans where the ingredients stick to the bottom. Luckily, I have this 24mm Circulon Skillet Premier Professional to make my crispy chilli beef recipe.
This skillet has Circulon's patented TOTAL® Hi-Low Non-Stick system, which speaks for itself. With very high resistance to abrasion, you need little or no oil when you are making your meals at home. This implies that you can also go for making very healthy recipes, like this tofu in black bean sauce. In addition to its advanced non-stick exterior, it contains comfortable silicone and stainless steel handles which are oven safe. So, if you want to reheat this recipe directly in the oven or you need to make a recipe that requires oven cooking, not to worry! Besides, I know that those who hate using the microwave will appreciate this feature!
Speaking of features, you guys will love this one. The Circulon skillet is dishwasher safe, so you can just put it in the dishwasher without any regrets or concerns whatsoever.
So, as you might have guessed – this is a skillet and a pan for life!
To check out more of Circulon's products, click right here and find your perfect skillet. To learn more about Circulon and their amazing cookware, check out their homepage. Also, don't forget to check out Circulon's Pans For Life Campaign.
In the meantime, you can also use the Circulon skillet to replicate other Chinese takeaway recipes. Take this popular Hong-Kong-style sweet and sour chicken recipe. It is finger-licking good!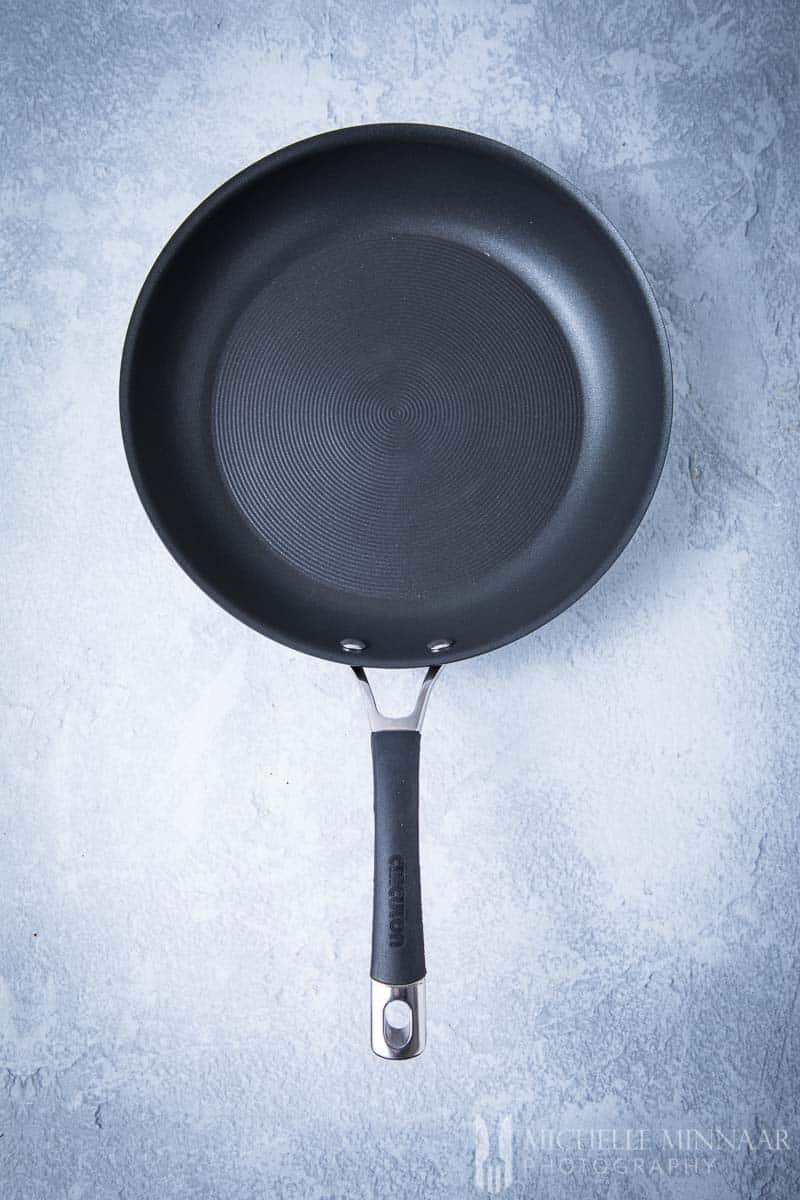 Beef rump steak Chinese chilli
The most popular version of a crispy Chinese chilli recipe calls for using beef. I used rump steak, which you might also know as sirloin. The best part about this recipe is that it is very versatile. You can practically use any cut of beef you prefer. For a refined version of the crispy beef chilli, feel free to use the silverside cut or the tenderloin. That meat is truly tender and juicy when cooked right. Otherwise, you can always go for less expensive cuts.
Other great meat substitutes include venison, which is quite lean and perfect for flash-frying. You can also go for a more gamey flavour and use lamb, like I did with this Mongolian lamb stir fry with onions. If you prefer chicken or poultry in general, go for it. Pork works extremely well too. Whatever option you choose, it won't compromise the excellent flavours of the sauce which ties everything together.
If you;d like a vegan option, try this vegan chop suey instead.
Chinese crispy chilli beef recipe serving
Traditionally, you should serve this crispy chilli beef on a bed of white rice. This is because the Asian flavours are very pungent and powerful. The steamed white rice is a neutraliser for the palate that makes you enjoy those flavours and aromas even more!
What's also an excellent and common substitute for plain rice is egg noodles. Check them out in this leek and mushroom egg noodles recipe. You can toss them directly into the skillet. This way, the egg noodles absorb the flavours of the sauce.
If you want to keep your carb intake low, then you can use a vegetable substitute like courgetti. I've made a creamy curried courgette noodles recipe with them before. Not only did I not miss noodles or rice with the creamy curry sauce, but I ate them all guilt-free! I highly recommend tossing courgetti into the skillet.
To replicate courgetti, you'll need a spiralizer like this one. You can use it practically with all vegetables, so feel free to use carrots, too, for extra sweetness.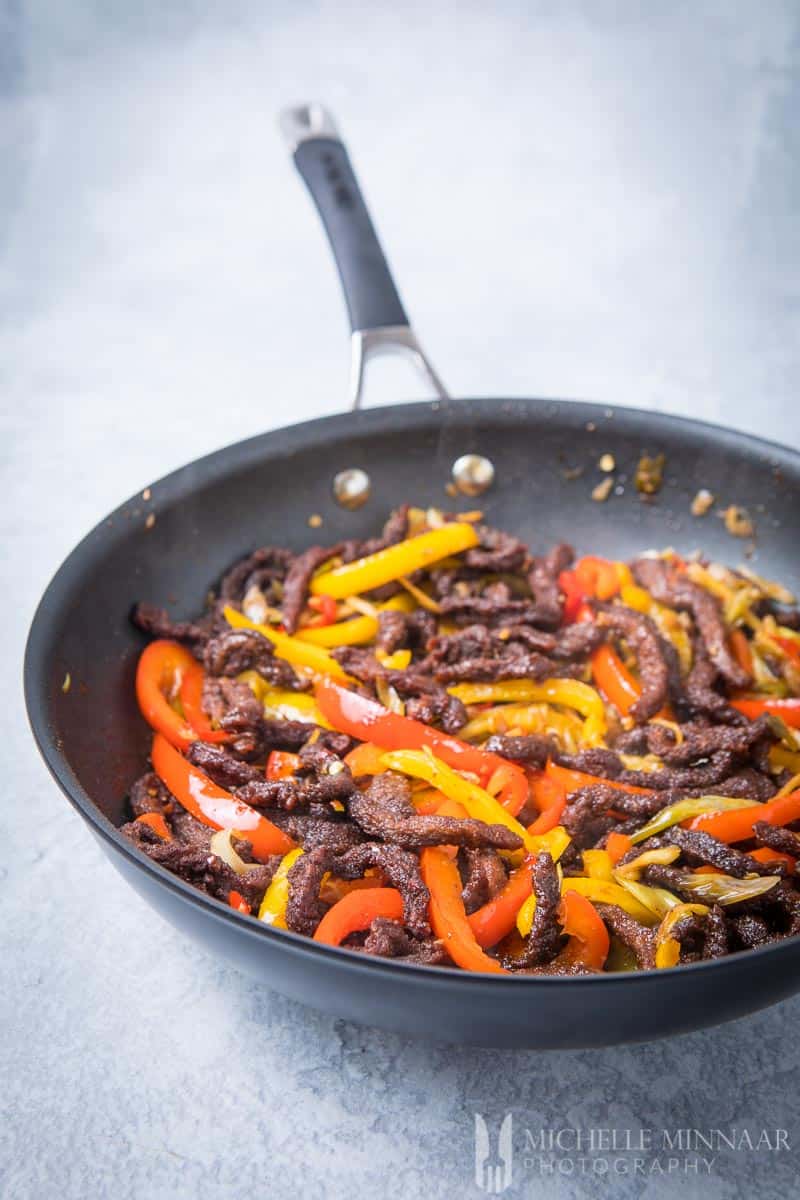 Toppings
To present this recipe Chinese style, make sure you've got some sesame seeds and leftover spring onions. You can also use the traditional fresh bean sprouts. That will give this dish the true Asian look! I also love to top my Asian dishes with fresh red chilli peppers, however, you can opt to hold back on these if you're not a big fan of chillies. Also, consider adding one of these chilli powder substitutes or Aleppo pepper substitutes.
Lastly, drizzle some fresh lime juice and enjoy!
Print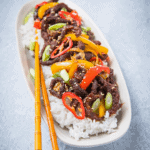 Crispy Chilli Beef
---
Author:

Michelle Minnaar

Prep Time:

15 minutes

Cook Time:

20 minutes

Total Time:

35 minutes

Yield:

2

1

x
Description
Don't underestimate the amazing flavours of this Chinese crispy chilli beef recipe. You'll need rump steaks, but you can use any type of meat you love most.
---
30

ml (2 tbsp) cornflour

10

ml (2 tsp) Chinese 5 spice powder

250g

(½ lb) rump steak, thinly sliced

75

ml (5 tbsp) vegetable oil

1

red pepper, washed and julienned

3

spring onions, peeled and sliced

1

red chilli, washed and finely chopped

2

garlic cloves, peeled and crushed

5

cm (2in) fresh ginger, peeled and finely chopped

45

ml (3 tbsp) rice wine vinegar

15

ml (1 tbsp) dark soy sauce

30

ml (2 tbsp) sweet chilli sauce

15

ml (1 tbsp) brown sugar

1

lime, juiced

30

ml (2 tbsp) sesame seeds, toasted
---
Instructions
Mix the cornflour and Chinese 5 spice powder in a bowl.

When well mixed, coat the thin strips of steak in it.

Heat the oil in a wok until it starts smoking, then fry the meat in batches until everything is completely crisp.

Lift the crispy meat out and keep warm.

In the same wok, fry the pepper, chilli, garlic and ginger for 3 minutes.

Stir in the vinegar, soy, chilli sauce, sugar and lime juice.

Let the sauce bubble for 3 minutes.

Incorporate the beef with the vegetables and sauce and serve immediately on top of cooked white rice.

Sprinkle with sesame seeds and leftover spring onions. Enjoy!
Notes
Be sure to keep the crispy beef warm on the side while cooking the remainder of the dish. Only incorporate the meat with the saucy ingredients at the last minute when serving. The longer the meat soaks in the sauce, the less crispy it will get.
Category:

Main

Cuisine:

Chinese
Nutrition
Serving Size:

1 serving

Calories:

545

Sugar:

24.3 g

Sodium:

3254 mg

Fat:

25.6 g

Saturated Fat:

4.9 g

Carbohydrates:

51.6 g

Fiber:

4.5 g

Protein:

26.6 g
save the recipe to your pinterest board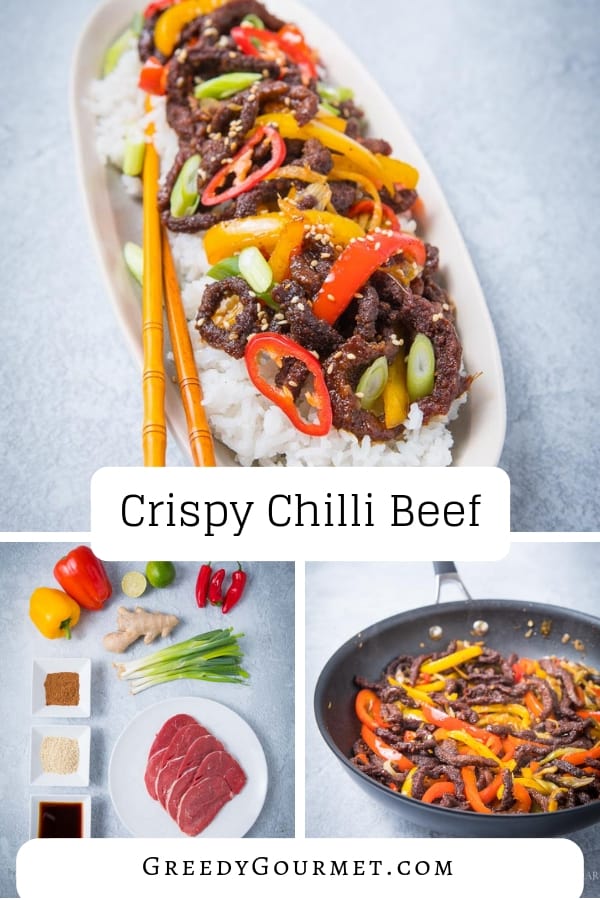 P.S. This is a sponsored post.