Fast, easy to make cheesecakes don't come much more delicious than a no bake cherry cheesecake. My recipe uses extra special cherries to take this cheesecake to the next level.
Best of all, it's a no-bake cheesecake, so it's straightforward to make. So, don your apron, and let's make a fantastic cherry cheesecake!
Products you need for this recipe
Here are some products you'll need for this no bake cherry cheesecake recipe:
No bake cherry cheesecake
Okay, my fellow cheesecake lover. This recipe is all about the simple beauty of a non-baked cheesecake mixed with the irresistible quality of a luxury ingredient.
So, let's work from the base all the way up to that luscious, luxury cherry on top!
The digestive biscuit base gives the cheesecake a lovely, crunchy, buttery layer at the bottom. I'm a fan of keeping this simple – leave the flavor to the cherry and don't overcomplicate things.
For me, a plain digestive is best, although a few other options would work – more on this later.
A light and fluffy cream cheese mixture makes up the middle of the cherry cheesecake. A beautiful blend of cream cheese, heavy whipped cream, vanilla paste, and luxurious Amarena Fabbri cherries makes for a heavenly combo. It's like the most luscious homemade cherry pie filling ever!
As an alternative, you can use sour cream in place of heavy cream if you prefer that sour cream tang in your cherry and cream cheese mixture!
On top of the buttery biscuit base and cheesecake filling are the whole cherries and a generous drizzle of cherry sauce. You're left with a dessert to make you weak at the knees!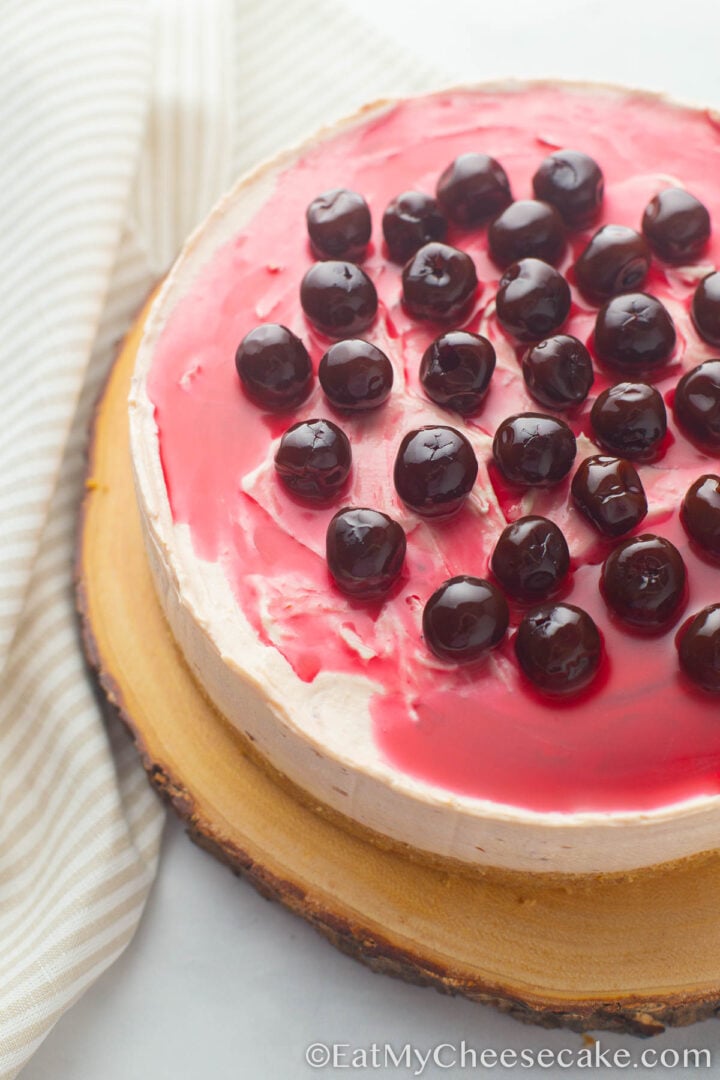 What are the best cherries for cherry cheesecake?
A cherry cheesecake recipe needs quality cherries. For me, the VERY best is a specialty from Italy, whose popularity goes back over 100 years...
Amarena Fabbri cherries
A classic Italian cherry, Amarena Fabbri has been used in desserts for generations. This super cherry dates back to 1905!
It's more significant than the average cherry, slightly sour, and comes in a delicious syrup that's sweet and rich – perfect for desserts.
Fresh cherries
If it's the right season – the cherry season is from May to August – fresh cherries are an excellent way to go. Of course, you'll have to pit them using a cherry pitter, so if time is a significant issue, you'll probably want to go for an alternative option.
Go for shiny, plump cherries with bright green stems. They're the best! Add cherry syrup or a few tablespoons of water to get the right consistency to your cherry sauce. If you can't get fresh cherries, frozen cherries will work in a pinch.
Big, juicy cherry cocktails served in sweeter are ideal for your dessert and natural syrup cocktail. Use them in your no-bake cherry cheesecake, then whip up a Manhattan afterward. 
These Maraschino cherries are amazing! If you didn't get Amarena Fabbri, these would be your next best bet. They're sweet, plump, and utterly delicious.
Tinned natural cherries are readily available, affordable, and delicious. If you want a budget option, this is the one for you.
Can I use cherry pie filling for cherry cheesecake?
Have you ever seen those fruit pie fillings that come in cans? They actually come in handy when making a quick and easy no-bake fruit cheesecake.
Cherry pie filling is straightforward to get hold of and tastes excellent. It's made especially for baking cherries and pies, but it works perfectly when making a cheesecake. 
So, if none of the cherry options above tickle your fancy, could you get hold of a can or two of cherry pie filling? Just remember to keep a few cherries and some juice for decoration.
Where are Amarena Fabbri cherries grown?
The Amarena cherry is grown in two Italian cities, Bologna and Modena. For many years, they've been used in dessert recipes, from rich chocolate cakes to cherry pies.
How are Amarena Fabbri cherries made?
These incredible cherries are made by steeping wild and sour cherries in sugar, water, stabilizers, and citric acid. For an intense cherry flavor, they are stored in this liquid in an airtight container for around a month.
What's the best biscuit base for cherry cheesecake?
I've gone for plain digestives. They're a British favorite and are great for use in cheesecakes. 
They keep the base's shape very well, taste great without overpowering the rest of the dessert, and always complement the light and fluffy cream cheese and whipped cream filling above.
If you're in the States, you might be tempted to go for a graham cracker crust. I don't blame you! Graham cracker crumbs are right up there with digestive crumbs for great cheesecake bases. 
If you want to add some extra to your cherry cheesecake biscuit base, plenty of options exist. 
You could add some spice – for me, cinnamon and cherry work well together. So, add a teaspoon of cinnamon when melting your butter, then mix it into the blitzed digestive or graham cracker crumbs.
You could add a handful of chopped almonds to the biscuits before blasting them. This will give your cheesecake biscuit base a wonderful nuttiness.
Add some lemon zest to the biscuit base if you want a little citrus. Add the zest of one lemon to the biscuit crumb and melted butter mix.
How do you store a cherry cheesecake?
This no-bake cherry cheesecake recipe will last up to 5 days in the fridge. Be sure to keep it airtight in a container or by covering it with plastic wrap.
Can you freeze no bake cherry cheesecake?
Yes, you can freeze a no bake cherry cheesecake. However, when freezing this cheesecake, always freeze it WITHOUT the cherry topping. Then, when you thaw the cheesecake, add the cherry topping before serving.
Also, if you plan to freeze your cheesecake, using full-fat plain cream cheese is essential. If you use reduced fat, your cheesecake might 'weep' when thawed, meaning you'll have a cheesy liquid at the bottom. This will lead to a soggy biscuit base.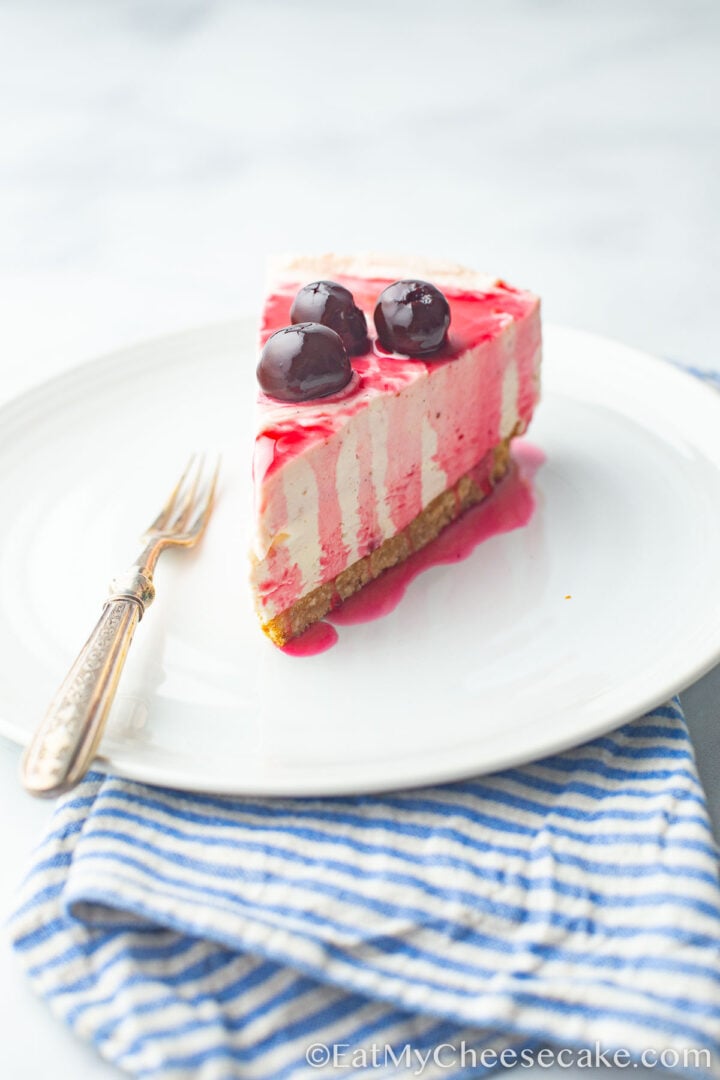 How to decorate a no bake cherry cheesecake
After you've made your mouth-watering masterpiece, you'll have some un-chopped cherries and a little sauce left over. Now it's time to get creative!
Scatter your leftover cherries evenly across the top of your cheesecake. Then, follow it up with criss-crossing drizzles of cherry sauce. I like to get a little Jackson Pollock and go nuts!
Speaking of nuts, chopped or sliced almonds are another option to bring a little crunch to the top of your cheesecake.
If you want to give the cheesecake some added color, throw in some chopped mint. Not only will this make your cheesecake look great, but it will also add an extra dimension of flavor – cherry and mint pair well.
Classic cherry recipes
Do you cherish this little juicy fruit? Then take a look at these delicious recipes and get merry with a little cherry:
More sublime fruity cheesecake recipes
No Bake Limoncello Cheesecake – with the intense lemon flavor of the limoncello lemon, this cheesecake is like a refreshing kiss on a hot summer's day. It's so straightforward that you'll want to make it throughout the whole summer and all year round!
No Bake Lemon Cheesecake - if you're into lemon, we've also got a zesty no bake lemon cheesecake
Pineapple cheesecake – speaking of refreshing, here's another fresh summer cheesecake that will tingle your taste buds. If you love pineapple, this is the one for you
Fruits of the Forest Cheesecake – full of fresh summer fruits, this no-bake cheesecake is a cocktail of delight. Strawberries, raspberries, blueberries, red currants… whatever your favorite flavor, you'll find it in a Fruits of the Forest cheesecake
Banoffee Cheesecake - a true favorite with the young and old
No Bake Rhubarb Cheesecake – sweet, tangy, fresh, and full of flavor, rhubarb cheesecake could become your new favorite.
Strawberry and White Chocolate Cheesecake – the perfect dessert for summer, another irresistible fruity cheesecake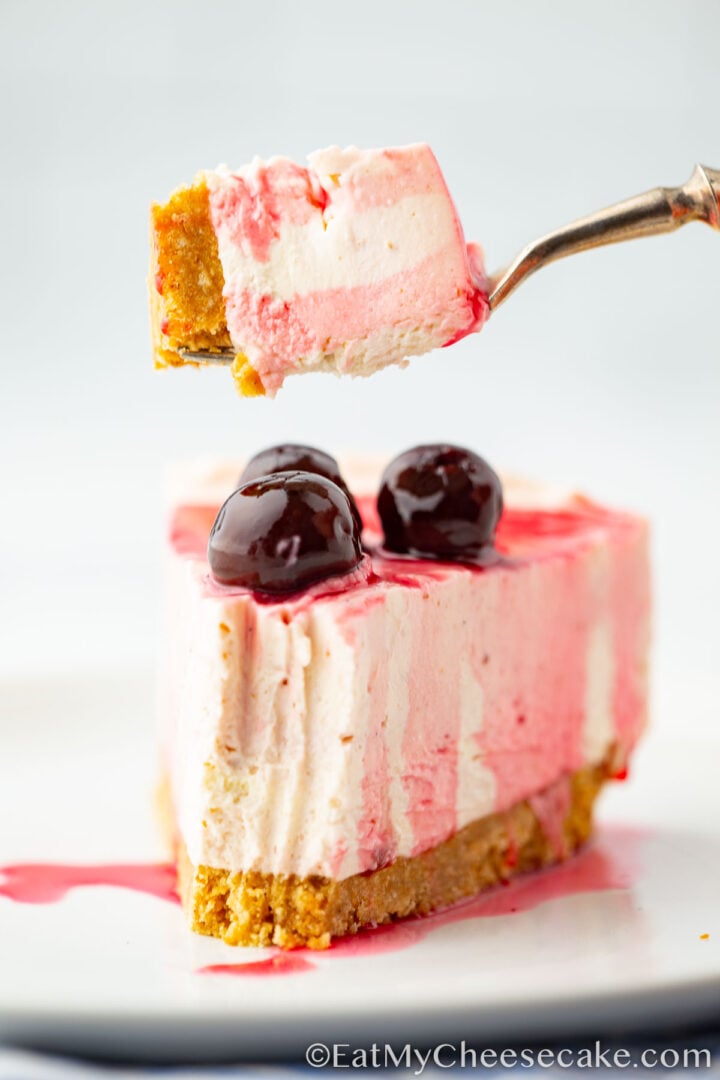 Print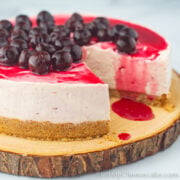 No Bake Cherry Cheesecake
---
Author:

Michelle Minnaar

Total Time:

6 hours 30 minutes

Yield:

12

portions

1

x

Diet:

Vegetarian
Description
This No Bake Cherry Cheesecake is an easy recipe using luxurious black cherries to make a delectable cheesecake.
---
Biscuit Base
300

g

digestives

150

g

unsalted Butter
Cheesecake Filling
750

g

full-fat cream cheese

10

ml

vanilla paste

125

g

icing sugar

75

ml

cherry sauce, that comes with the Amarena Fabbri

435

ml

heavy (double) cream
---
Instructions
For the Biscuit Base: Place the digestive biscuits in your food processor and blitz into a crumb. While the food processor is still running, add the melted butter and allow it to combine, which should only take about 15 seconds, then turn off.
Prepare your 23cm (9 inch) springform pan by putting a layer of greaseproof paper over the base and then clasping the springform ring around the outside, as I find this easier when removing the cheesecake at the end.
Pour your crumb into the pan and flatten evenly - I use the bottom of a large glass.
Place in the fridge for around 10 minutes to chill.
Cherry cheesecake filling: In a bowl, beat the cream cheese and vanilla paste - I use a KitchenAid stand mixer on level 2 or 3 as I find this so much easier, until smooth.
Add the icing sugar a bit at a time and continue to mix.
I use an Optimum 9400 in a blender, as it gives me a much smoother result. Place the cherries and the cherry juice and blitz till smooth. Add this a bit at a time to the cream cheese mix until mixed, though.
In a separate bowl, whisk the heavy (double) cream until you achieve soft peaks, and then fold the cream cheese mix and heavy (double) cream until the cream is fully incorporated.
Remove the tin from the fridge and cover the whole base with the cheesecake filling, then gently drop the tin onto the kitchen counter 5 to 10 times to let any bubbles out.
Place the cheesecake in the fridge for at least 6 hours, preferably overnight.
Remove the cheesecake from the tin. Tip: I use a kitchen blowtorch to loosen the sides. Alternatively, I use a cloth dipped in hot water to complete the job.
To Decorate: Use the leftover Amarena Fabbri cherries and sauce as you see fit; I like to get a little Jackson Pollock to add something different. Enjoy!!!
Notes
If you can't find Amarena Fabbri cherries, don't worry. Feel free to make your own cherry sauce.
If the Amarena Fabbri cherries are expensive, trust me, they are worth every penny. They are black cherries that go perfectly with this dessert.
Prep Time:

30 minutes

Chilling Time:

6 hours

Category:

Dessert

Method:

Chill

Cuisine:

British
Keywords: cherry cheesecake, cherry dessert recipe, cherry recipe, no bake cheesecake recipe, no bake cherry cheesecake