Few pairings are quite as delicious as coffee and chocolate! That's what makes this decadent mocha cheesecake recipe the perfect pick-me-up. And if, like me, you're a fan of coffee-based desserts, this is one recipe you do NOT want to miss!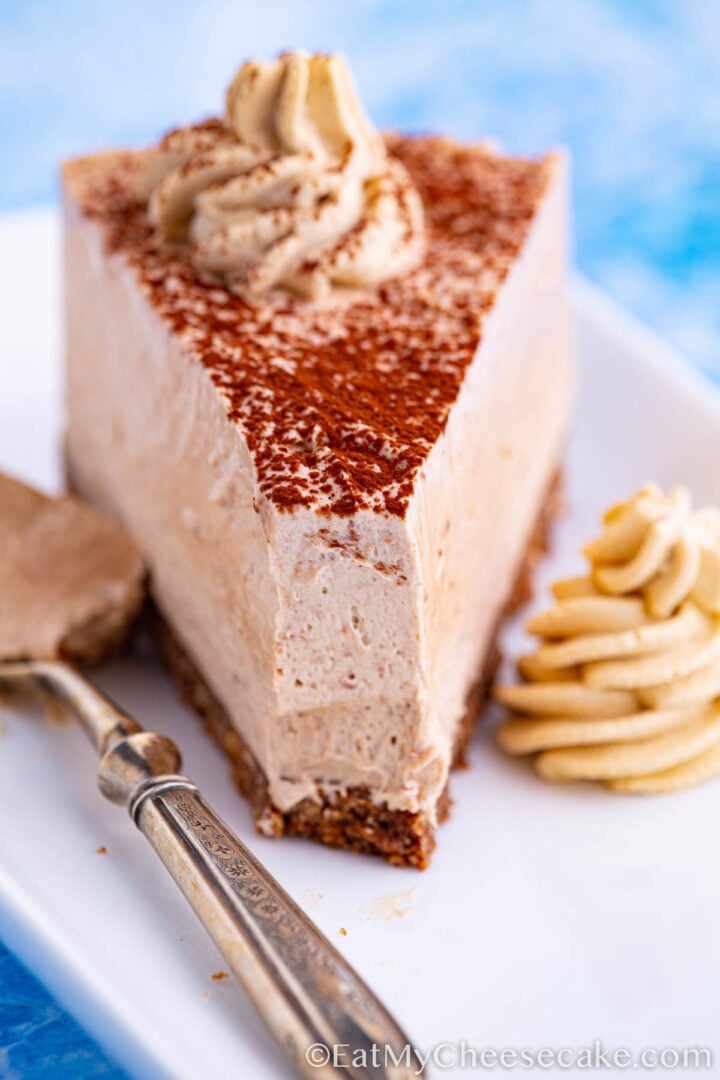 Products you need for this recipe
Here are some of the things you'll need for this mocha cheesecake recipe:
Mocha cheesecake recipe
This recipe is like a dream combination of three of my favorite things. A holy trinity of treats that make me weak at the knees.
Chocolate? Check. Coffee? Check. Cheesecake? Check me out as I eat the whole freakin' lot.
Cheesecakes are all about bringing joy. Sweet comfort food at its best, cheesecakes are simple and effective – they never fail to bring smiles all-round.
While they are easy to make – especially the "no bake" kind like this mocha cheescake recipe – they aren't something you can whip up and devour in a moment. They take time.
And the wait? Oh, it's more than worth it!
The real secret of a great cheesecake is the balance of flavors. For me, it's what makes this one extra special.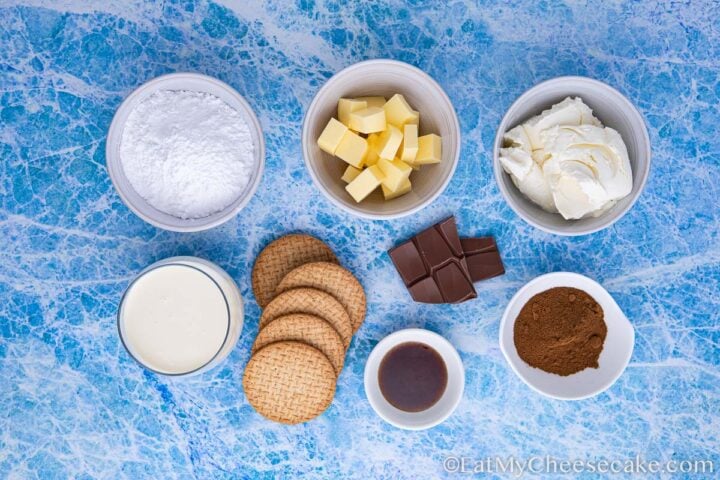 What is "mocha?"
If you're a coffee fiend – or even a coffee dabbler – you'll know that a "mocha" is a chocolate-flavored caffè latte. 
"Mocha" refers to a famous coffee bean with a slight chocolate taste. Moka beans come from the Yemen port city of Al Moka – once a critical city in the global coffee trade. 
Caffè Mocha soon became a mid-morning must for many Americans in the middle of the 20th century. 
Beyond the drink, "mocha" became known as the marriage between coffee and chocolate as ingredients. Genius chefs and pastry masters took mocha out of the cup and onto the plate. 
Today, you'll find everything from mocha muffins to mocha cookies and every sweet treat in between. Most deliciously of all, of course – mocha cheesecake!
No bake vs baked cheesecake
Have you ever wondered the difference between a baked and a no-bake cheesecake? Well, traditionally, cheesecakes have always been baked.
Like regular cakes, this kind of cheesecake has eggs in it. It's baked in the oven using a water bath. A good baked cheesecake is velvety, dense, and rich. It's also quite challenging to get right.
What about a no-bake cheesecake? Well, just a few years ago, the term "no bake cheesecake" would be enough to make a baking geek throw their apron down. These no-bakes had a reputation as being "processed," "artificial," and "tasteless."
What a load of utter codswallop!
Trust me… a no-bake cheesecake can be a beautiful thing. It's nothing to do with the readymade cheesecakes you buy in the freezer aisle at the store. You know, the ones full of additives. 
It's about putting together a mouth-watering cheesecake using good ingredients, and instead of baking it in the oven, you let it set in the fridge. 
A no-bake cheesecake is softer and creamier than a baked cheesecake, which is more "set." Also, there's no getting around it: no-bake cheesecakes are much easier and less time-consuming. Hence their massive rise in popularity.
What type of cream cheese should you use for a no bake mocha cheesecake?
The best way to ensure your no-bake mocha cheesecake sets appropriately is to use the full-fat kind. 
If you want to, you can opt for the low-fat variety. Be careful – the cheesecake batter splits all too easily with the low-fat kind. Stir the mixture carefully to avoid splitting.
What biscuits should you use for a mocha cheesecake base?
I'd opt for plain, old-fashioned digestive biscuits for most cheesecakes. I advise keeping it simple and letting the other cheesecake layers do their thing.
Graham cracker crumbs also make an excellent base for a no-bake cheesecake. 
If you want to push the indulgence factor of this mocha cheesecake recipe to another level, you could always break out the Oreo cookies. There are a thousand flavors to choose from, so pick your favorite. 
If you go for a chocolatey biscuit, leave the cocoa powder.
What chocolate should you use for mocha cheesecake?
Standard milk chocolate works best for the chocolate ganache in this cheesecake. Baking chocolate chips are sold in all good supermarkets and online (I recommend these Callebaut chips if you want the BEST-tasting chocolate).
You could also use dark chocolate if you like that intense chocolate taste. It's a bit overpowering for me and could cancel out the coffee flavor.
What coffee should you use for a mocha cheesecake?
Maybe you're a coffee connoisseur, but I've gone for instant coffee granules for this simple no-bake mocha cheesecake recipe. They bring the perfect subtle coffee taste to the chocolate cheesecake.
If you want to use the quality stuff, no problem. Mix 1 tbsp of coffee powder with 1 tbsp of hot water, stir, then let it dissolve and cool completely. Add to the mocha cheesecake filling as per the recipe below.
How long will this cheesecake last in the fridge?
This mocha cheesecake is dangerously tasty – there's a chance you and those lucky enough to get a slice might devour it in one sitting.
If, however, you have temptation under control, this mocha cheesecake will last in the fridge for 3 days in an airtight container.
If you keep a mocha cheesecake uneaten in the fridge for over three days, I'll eat my chef's hat.
Can you freeze mocha cheesecake?
Absolutely! Most cheesecakes will keep for a month or two when frozen in an airtight, freezer-friendly container.
How can you make this cheesecake healthier?
As I said, there are better ideas than using a reduced-fat cream cheese. Still, there are plenty of other ingredients that you can swap out for healthier alternatives.
- Use reduced-fat digestive biscuits or crackers for the biscuit base
- Use 50–100g instead of 150g of icing sugar
- Choose a healthier chocolate for your chocolate ganache. You could even use carob powder in place of cocoa powder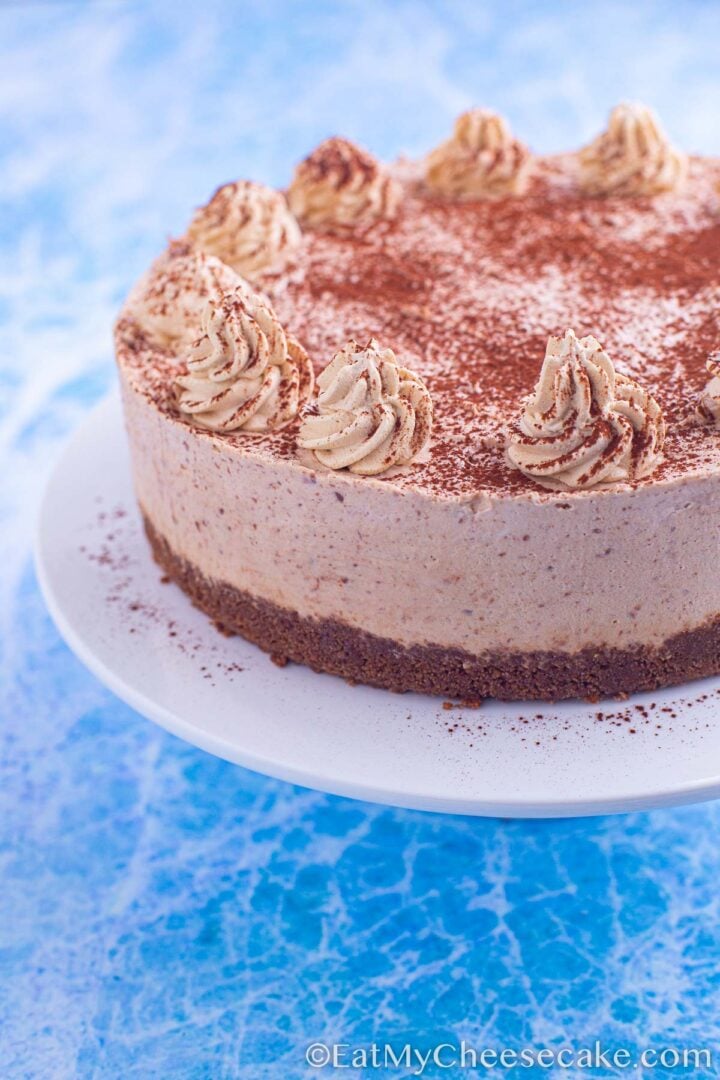 Tips for a top cheesecake
This no-bake mocha cheesecake is an absolute cinch to make! Follow the recipe step-by-step, and you'll have a delicious dessert to make your mouth water.
Still, there are a few great little tips that you should follow. Remember these; you'll end up with a 10 out of 10 mocha cheesecake every time.
Use a stand mixer! Using an electric hand-held whisk is fine, but it can lead to over-whisking while using a standard balloon whisk is waaay too much effort. Stand mixers hit the sweet spot – you'll have a wonderful creamy mixture.
Cream cheese softened is the way to go. Please bring it to room temperature before mixing it with the other ingredients.
Don't guess the measurements! Use kitchen scales.
Please ensure the springform pan's base is the right way around. It should be raised side up, with the lip at the bottom.
Line the base of your springform pan with greaseproof paper. This will make it easier to remove your mocha cheesecake after it has cooled.
After you've poured the chocolate ganache over the chilled biscuit base, drop the cheesecake onto the counter 5–10 times to let any air bubbles out.
Don't be tempted to skimp on the chill time!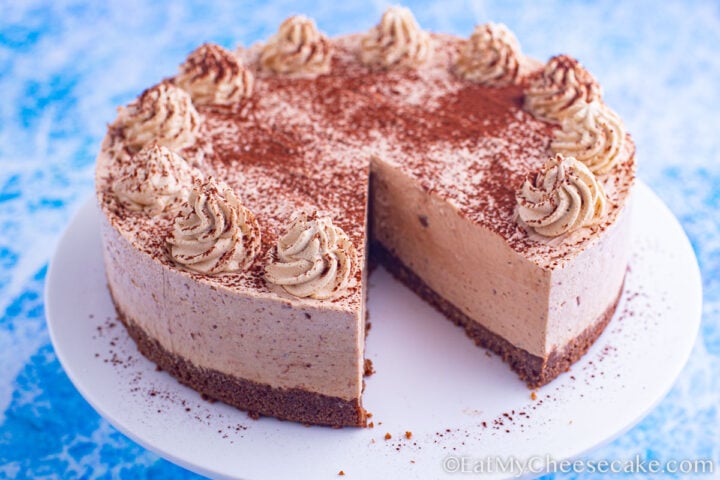 Loved this mocha cheesecake? Check these out
African prince pie – rich, elegant, and downright irresistible
Fruits of the forest cheesecake – this recipe is what midsummer night dreams were made of
Sopapilla cheesecake – a golden brown beaut, this South American cheesecake is different from the average
Oreo cheesecake – if you're a chocoholic – especially if you're a fan of Oreos – you won't want to miss this one
Kinder Bueno cheesecake – one for the chocoholics. You won't forget this in a hurry!
Apple pie cookies – the taste of America! These are actually mini apple pies. Easy, delicious and, best of all, they'll please the whole family
Don Pedro drink – creamy, rich, and utterly irresistible. Sip this on a lazy summer afternoon, and you're good to go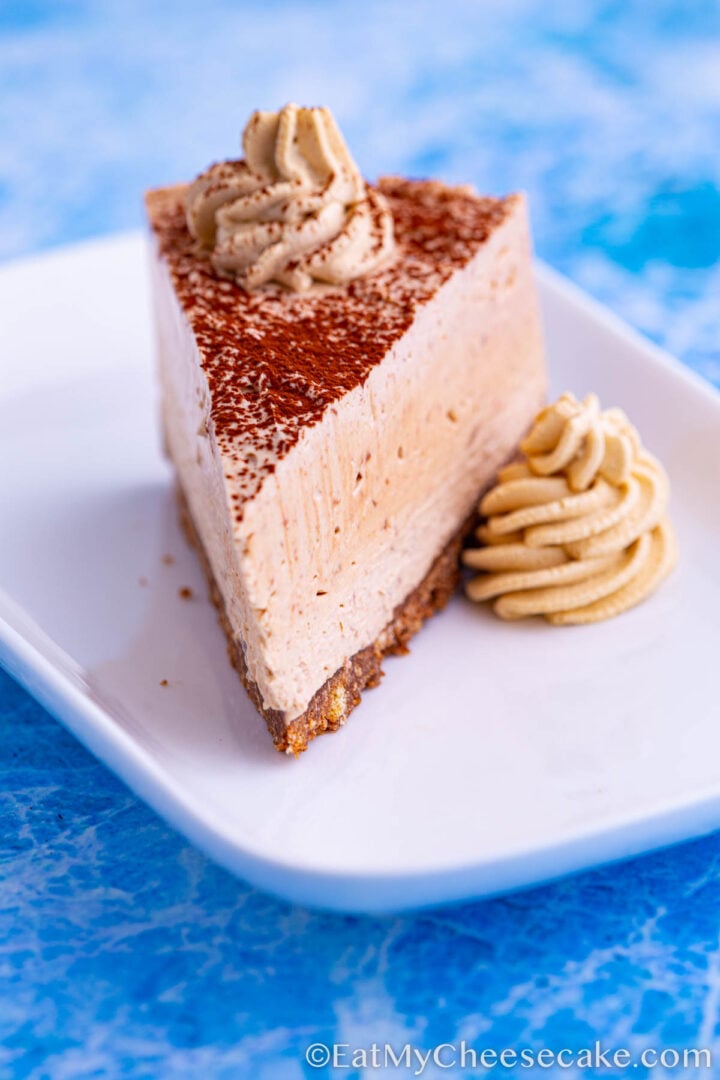 Print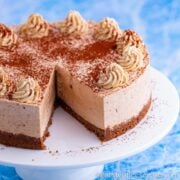 No Bake Mocha Cheesecake
---
Author:

Michelle Minnaar

Total Time:

6 hours 30 minutes

Yield:

12

portions

1

x

Diet:

Vegetarian
Description
This Mocha Cheesecake is an easy no bake recipe using instant coffee, mixed with decadent chocolate.
---
Biscuit Base
300

g

digestive biscuits

150

g

unsalted butter, melted

25

g

cocoa powder
Mocha Cheesecake filling
750

g

cream cheese

5

ml

vanilla paste

150

g

icing sugar

6

g

instant coffee powder

200

g

milk chocolate

415

ml

double cream
Decoration
125

ml

double

(heavy ) double cream

2

g

instant coffee powder

15

g

icing sugar
---
Instructions
For the Biscuit Base: Place the digestive biscuits in your food processor, blitz them into a crumb, and add the cocoa powder. While the food processor is still running, add the melted butter and allow it to combine, which should only take about 15 seconds, then turn off.
Prepare your 23cm (9 inch) springform pan by putting a layer of greaseproof paper over the base and then clasping the springform ring around the outside, as I find this easier when removing the cheesecake at the end.
Pour your crumb into the pan and flatten evenly - I use the bottom of a large glass — place in the fridge for around 10 minutes to chill.
Mocha cheesecake filling: In a bowl, beat the cream cheese and vanilla paste - I use a KitchenAid stand mixer on level 2 or 3 as I find this so much easier, until smooth.
Add the icing sugar and instant coffee powder a bit at a time and continue to mix.
Melt the milk chocolate in the microwave on 10-second blasts, stirring between each blast. When completely melted, add to the cream cheese mixture until combined.
In a separate bowl, whisk the heavy (double) cream until you achieve soft peaks, and then fold the cream cheese mix and heavy (double) cream until the cream is fully incorporated.
Remove the tin from the fridge and cover the whole base with the cheesecake filling, then gently drop the tin onto the kitchen counter 5 to 10 times to let any bubbles out.
Place the cheesecake in the fridge for at least 6 hours, preferably overnight.
Remove the cheesecake from the tin. Tip: I use a kitchen blowtorch to loosen the sides. Alternatively, I use a cloth dipped in hot water to complete the job.
To Decorate: Place the heavy (double) cream, instant coffee powder, and the icing sugar into a mixing bowl and whisk until you achieve soft peaks.
Fill a piping bag with this mixture and decorate as you see fit. Enjoy!
Notes
If you like a bit more decadent taste, you are welcome to use a 50:50 ratio of milk and dark chocolate, respectively - i.e., ½ cup (100g) of each. You can even substitute milk chocolate for dark chocolate, but you might lose the coffee flavor.
If you have vanilla extract, by all means, exchange it, I just prefer the flavour of vanilla paste.
Prep Time:

30 minutes

Chilling Time:

6 hours

Category:

Dessert

Method:

Chill

Cuisine:

American
Keywords: mocha cheesecake recipe, mocha dessert, mocha recipe, no bake mocha cheesecake