As the name suggests, this cocktail is for those who are feeling a bit mischievous. Fresh and fruity with a playful punch, pornstar martinis are the way to go if you want to bring a bit of fun to the party.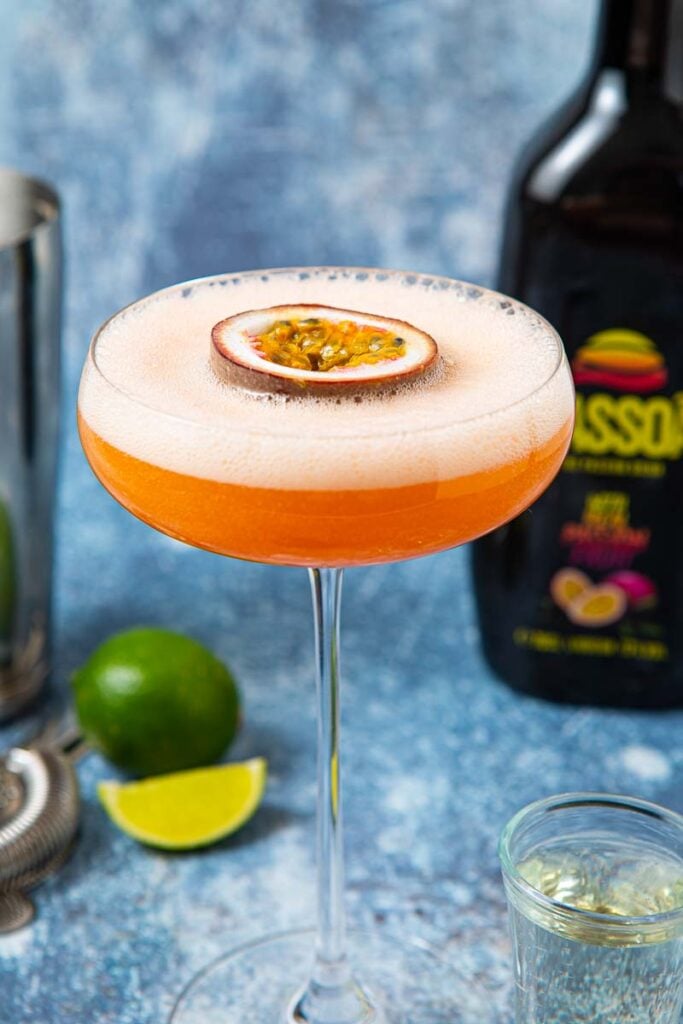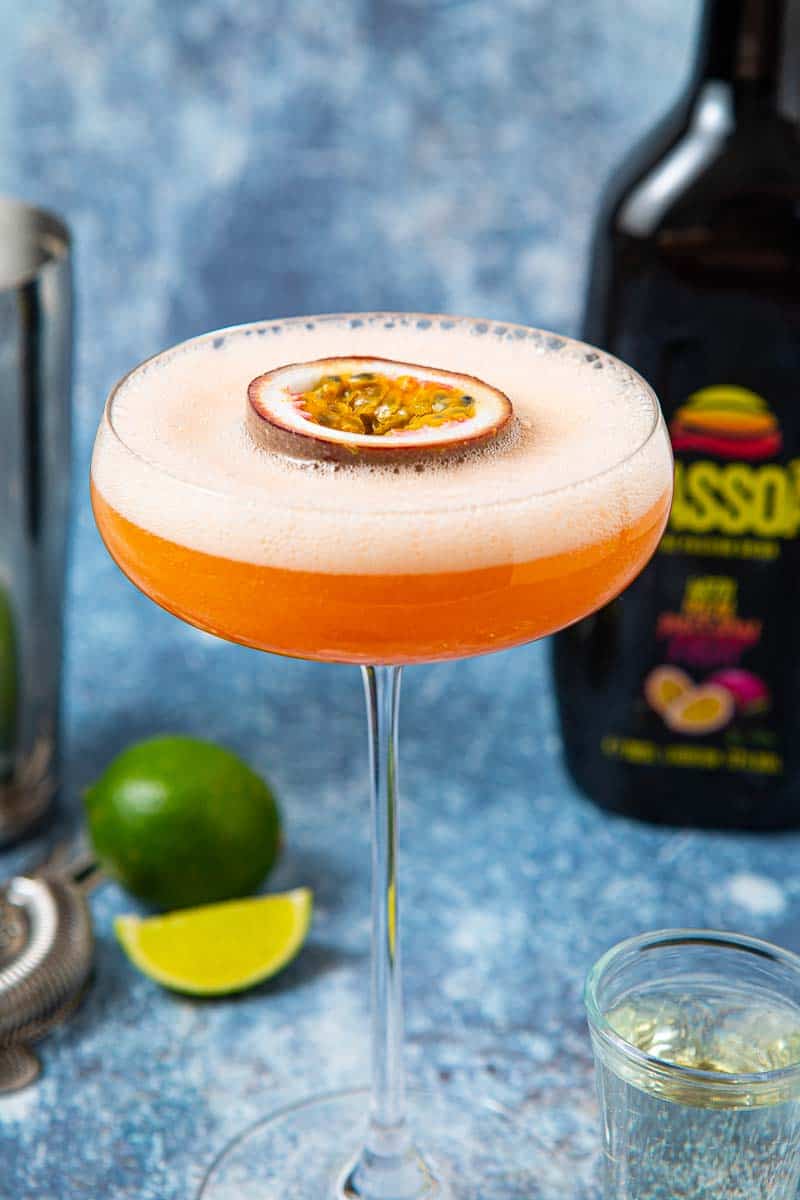 A fresh passion fruit cocktail that goes down incredibly well, this drink is the perfect summer cocktail.
Intrigued? Read on for the definitive recipe for pornstar martini.
Pornstar Martini Cocktail
A luscious combination of fresh passion fruit, delicious vanilla vodka, mouth-watering passion fruit liqueur and sweet sugar syrup – with a naughty little shot of champagne on the side – a pornstar martini is as seductive as it sounds.
Despite its risqué name – or perhaps because of it – the pornstar martini has become one of the most popular cocktails in the world, particularly in the UK. Once you get past the steamy, suggestive title, it's the flavours that make this drink so divine.
The irresistible blend of passion fruit, vanilla vodka, lime juice and sugar syrup make this pornstar martini a winner. The shot glass on the side gives it a devilish twist.
For this recipe, you'll use fresh passion fruit, as well as fresh lime juice. Strain into a chilled bowl for maximum taste – fresh fruit juice makes all the difference when it comes to a quality cocktail.
Keep it authentic and serve this passion fruit martini the right way – in chilled martini glasses.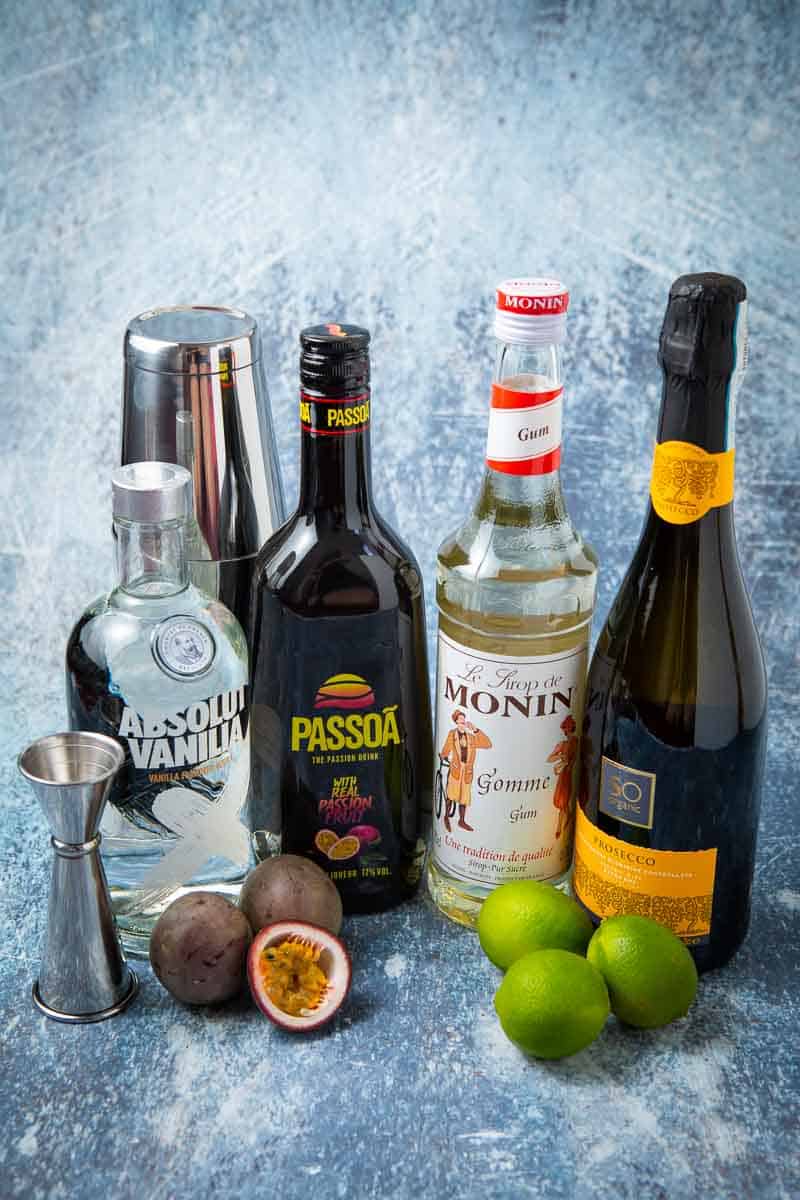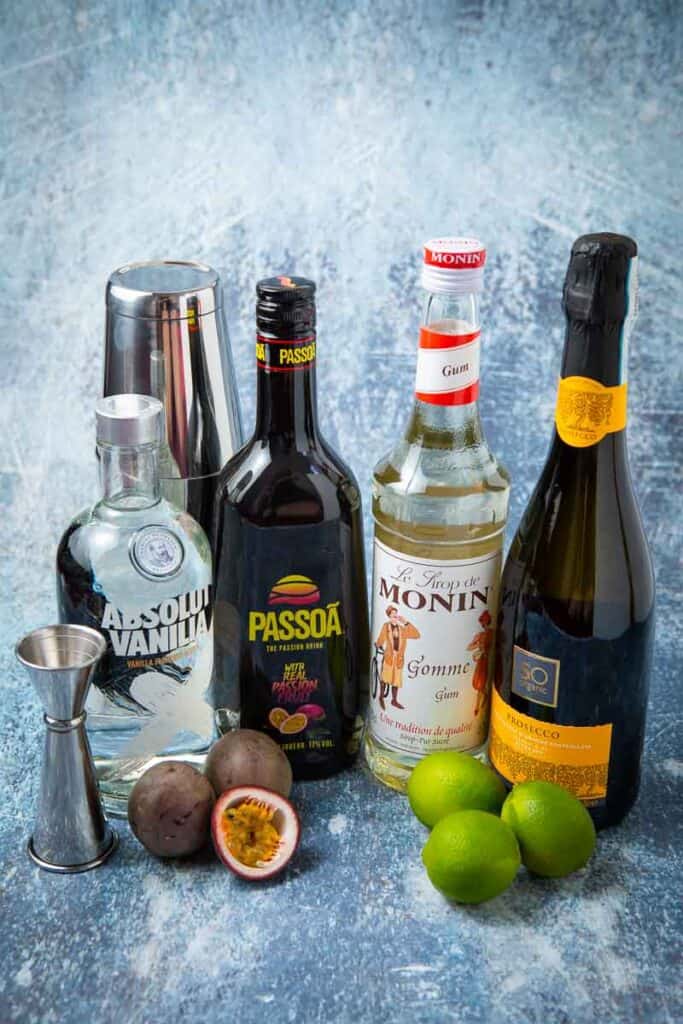 The world's favourite cocktails
Ever wondered what are the most popular cocktails in the world? Cocktails are deeply rooted in cultures across the globe and each culture has its own favourite blend of ingredients, from time honoured classics to new ingenious mixes.
Scenic – a luxury cruises and tours company – is on a mission to uncover the world's favourite cocktails, from mojitos and margaritas to martinis and mimosas.
Using precise Google data, they've pinpointed the most searched for cocktails in the UK, Europe and all over the world.
It's true that you can tell a lot about a country's values by its local cuisine. On the other hand, cocktails let you in on the secret side of a culture, telling you all you need to know about how its people like to have fun.
So, if you want to discover the authentic taste of a nation, check out its favourite mixed tipple. Join Scenic on a cruise through the world of cocktails and find a few new favourites.
They've also compiled a list of recipes for the UK's favourite cocktails, so you can try your hand at whipping up your own versions of the world's very best blends.
You can also join in the conversation on the Scenic Facebook page and share your favourite aperitif!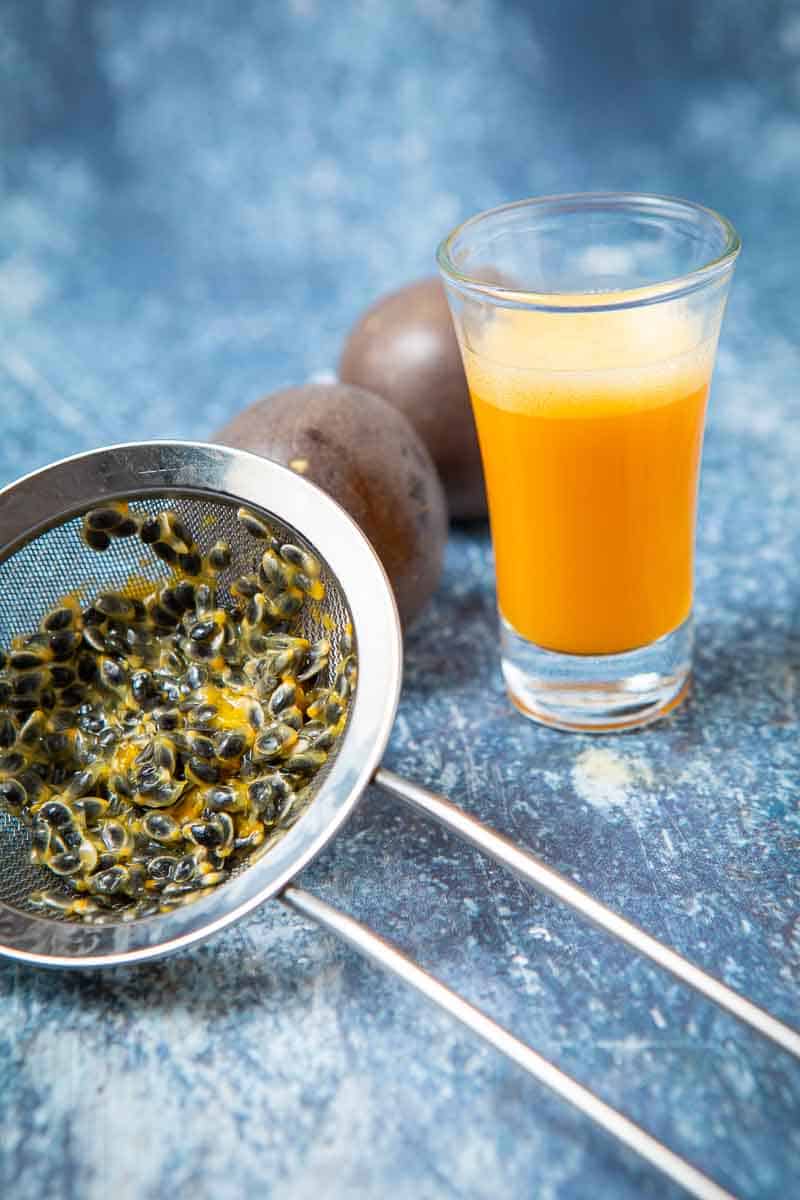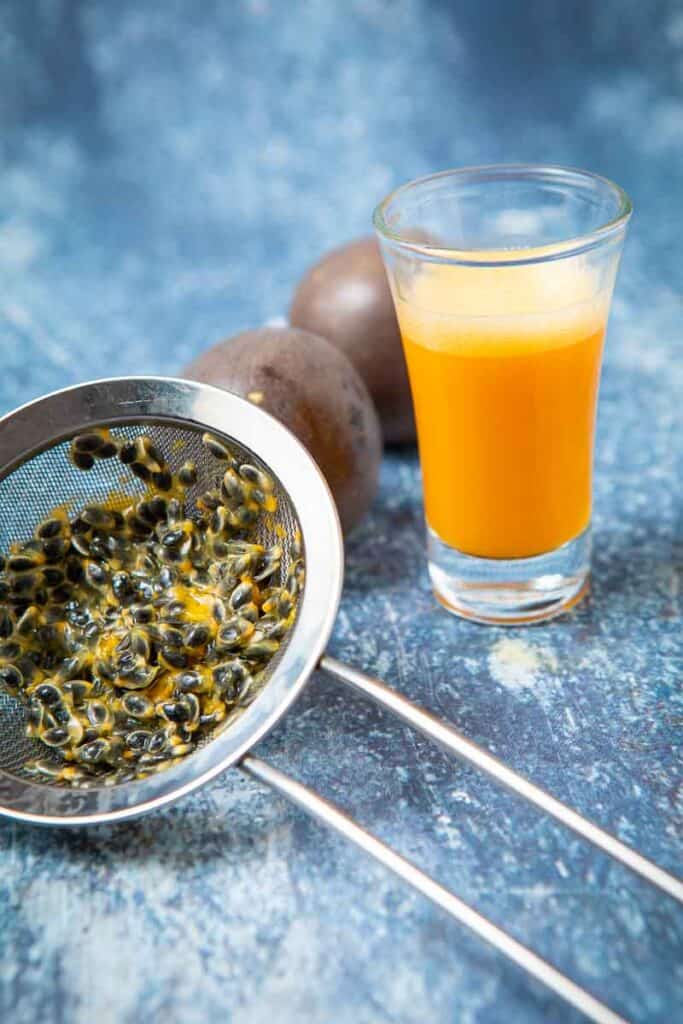 Why is it called a Pornstar Martini?
So, what's up with the frisky name? Well, this passion fruit cocktail's creator Douglas Ankrah, says that he dubbed it the pornstar martini because he thought it was the sort of cocktail that a porn star would drink.
He said he wanted to create "a stylish and confident drink...[that's]….pure indulgence, sexy, fun and evocative."
It's that simple.
Ankrah, a top mixologist who shook his stuff at LAB Bar and Townhouse – two famous bars in London – originally named his passion fruit cocktail 'the Maverick Martini' after a strip club in Cape Town.
Let's be honest, it was a bit of a bland name and didn't quite fit with this exciting, provocative drink.
Pornstar martini it is then.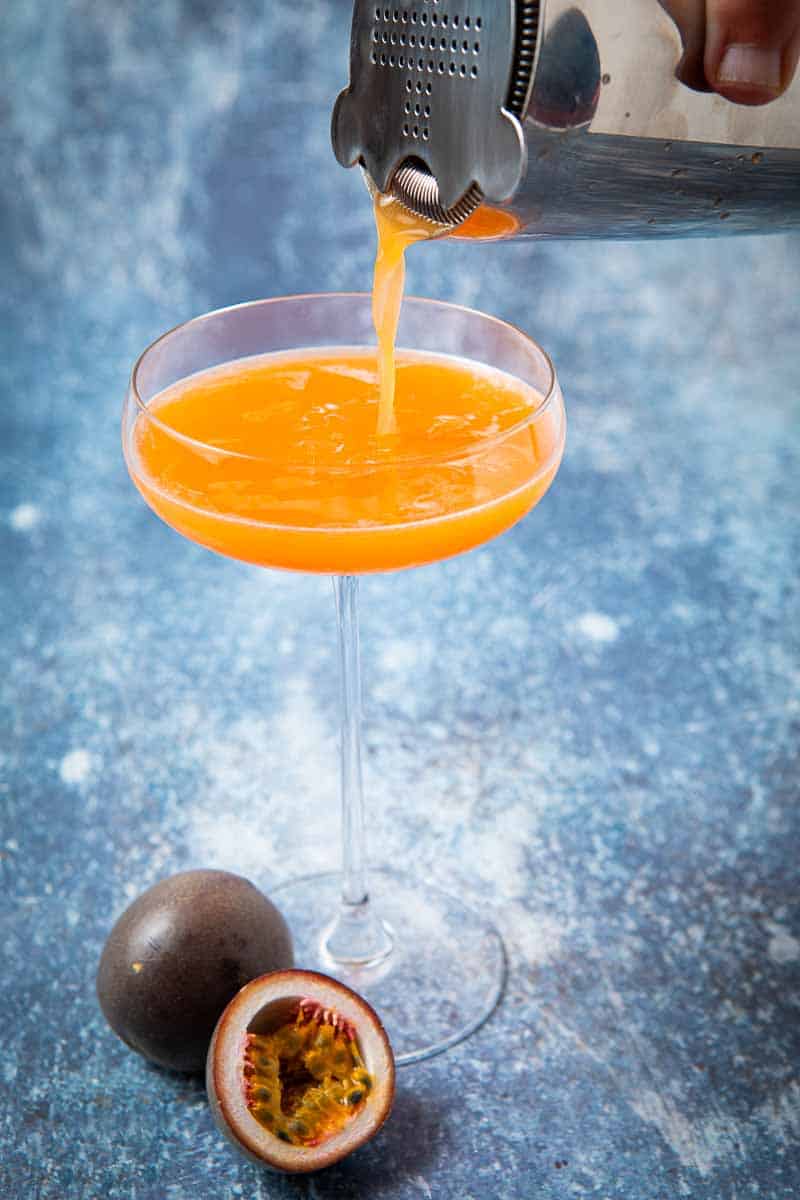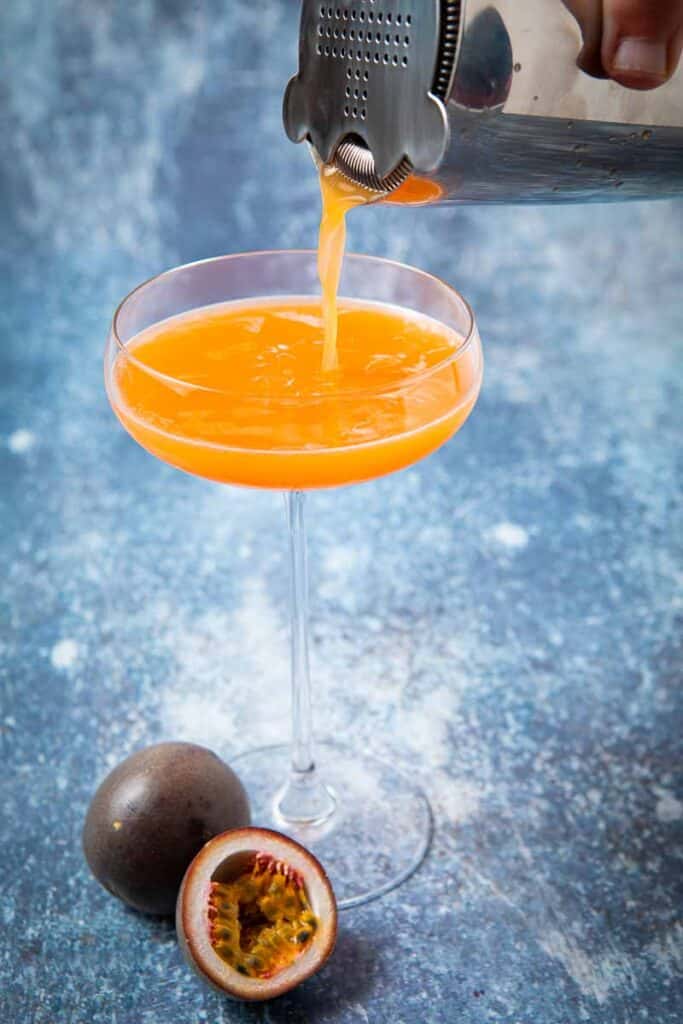 What can you use instead of Passoa?
Passoa is a delicious passion fruit-based liqueur made using fresh passion fruit. It's one of the key ingredients to a porn star martini – the passion fruit flavour really gives the cocktail its unique character and blends so well with the other ingredients, especially the vanilla and lime juice flavours.
If you've run out of Passoa, don't despair! There are a few options when it comes to alternative ingredients to this delicious passion fruit liqueur.
For starters, a pornstar martini with pineapple juice liqueur is a good way to go – there are a few good pineapple liqueurs (particularly Caribbean ones) that will go great in place of Passoa in a porn star martini.
Also, you could try an orange liqueur, like a triple sec for instance.
Both these alternatives offer the same kind of zesty flavour as Passoa and will go well with the lime juice and vanilla. However, they'll change the flavour profile quite a bit. So, you'll need to add a little more fresh passion fruit to the mix, just to bring out the key flavour.
What's best with a pornstar martini – prosecco or champagne?
This pornstar martini recipe calls for a little bit of luxury – a side shot of champagne! The deep rich taste of champagne, not to mention the bubbles, really go well with the taste of passion fruit, the sweet notes of vanilla and tangy zest of lime.
Of course, champagne's not essential. You can always have a shot of prosecco with a pornstar martini. A shot of cava would also go down a treat, as would any good sparkling wine.
If you're making up a batch of porn star martinis for a special occasion, it's definitely worth splashing out on a bottle of champagne.
As well as a shot on the side, this recipe also calls for topping each glass with champagne (or your chosen substitute). It adds the sparkling final touch to a divine cocktail.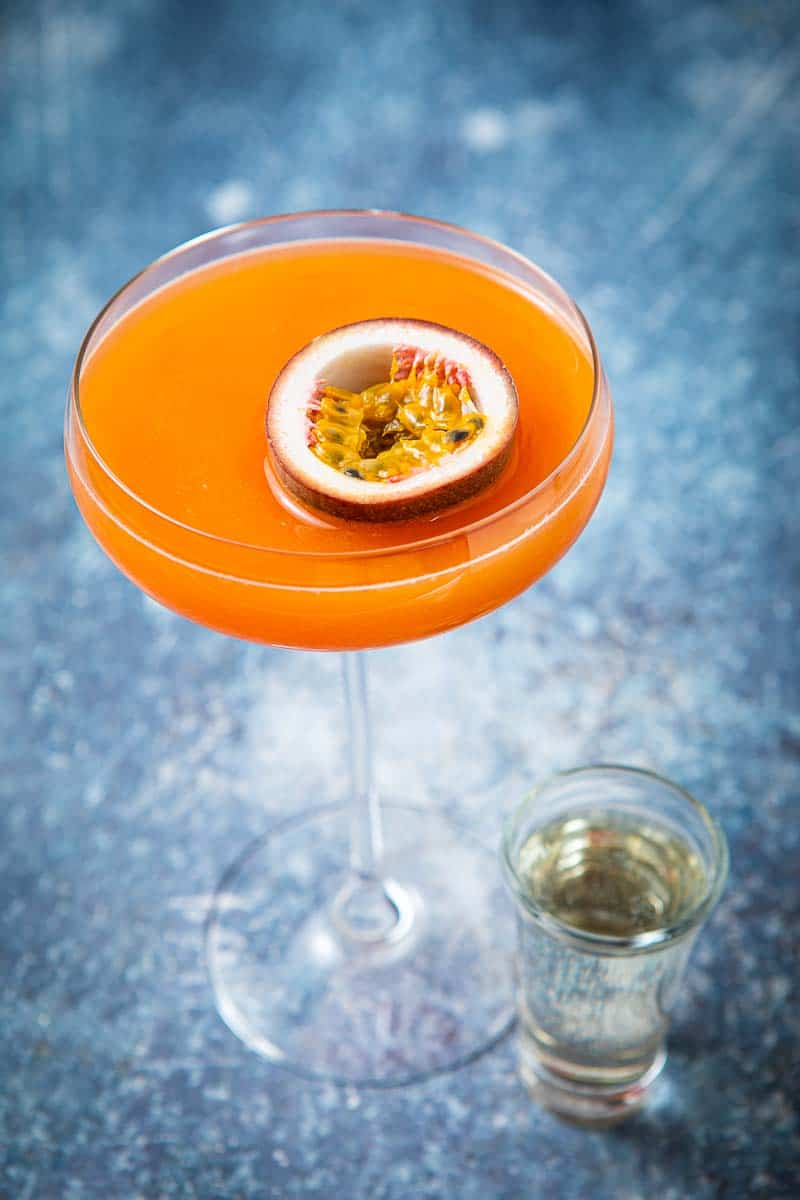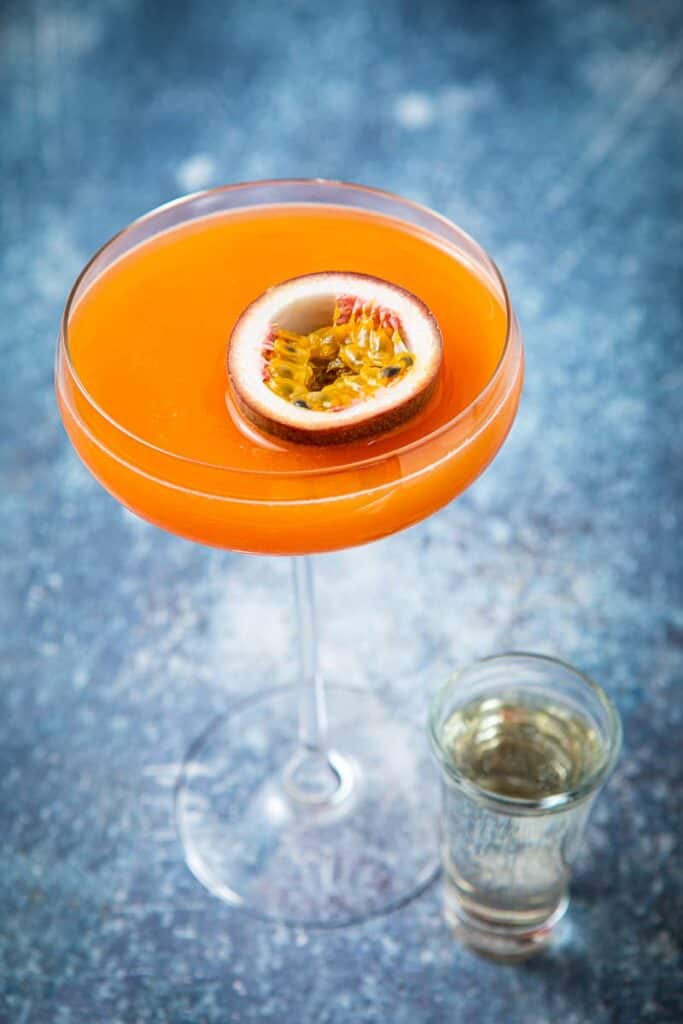 More delicious cocktails and drinks
Print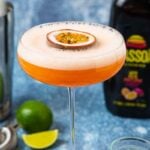 Pornstar Martini
---
Description
Make your own Pornstar Martini at home. It comprises passion fruit, champagne, vanilla vodka, lime juice and sugar syrup. It's super easy to put together!
---
2

ripe passion fruit, about 50ml (2fl oz)

50

ml (2fl oz) lime juice

100

ml (4fl oz) vanilla vodka

50

ml (2fl oz) Passoa (passion fruit liqueur)

25

ml (1fl oz) sugar syrup
Ice, handful
champagne, to serve
Extra passion fruit, for decoration
---
Instructions
Halve the passion fruit, scoop the seeds out and place in a sieve over a bowl.
Use the back of a spoon and press repeatedly on the seeds until all the juice has been extracted. Discard the pips.
Place a handful of ice into a cocktail shaker.
Pour the fresh passion fruit puree into the cocktail shaker, along with the lime juice, vanilla vodka, Passoa and sugar syrup.
Close the cocktail shaker and shake for 30 seconds.
Divide the mixture between two martini glasses, then top up each glass with champagne.
Decorate each martini glass with half a passion fruit and serve with a shot glass of champagne on the side. Enjoy!
Notes
For this recipe, you need a 25:50ml (1:2oz) jigger to make your life easier.
Ripe passion fruit works best. Pick passion fruit with wrinkly skin.
If you can't get hold of vanilla vodka, you can use plain vodka instead and add 2.5ml (½ tsp) vanilla extract to the mix.
If you buy passion fruit puree from the shops, it might already be sweetened, so go easier on the sugar syrup.
If you would like a less potent cocktail, halve the vanilla vodka in the recipe and top up with more champagne.
If you're lazy, you can place the passion fruit directly into the shaker, but when pouring it in the martini glasses, you'll need a double strainer to prevent the passion fruit pips from going into the glasses.
Champagne is traditionally used for this recipe, but any good quality sparkling wine or Prosecco will do.
Prep Time:

5 minutes

Cook Time:

0 minutes

Category:

Cocktails

Method:

Mix

Cuisine:

British
Keywords: pornstar martini, martini recipe, passion fruit martini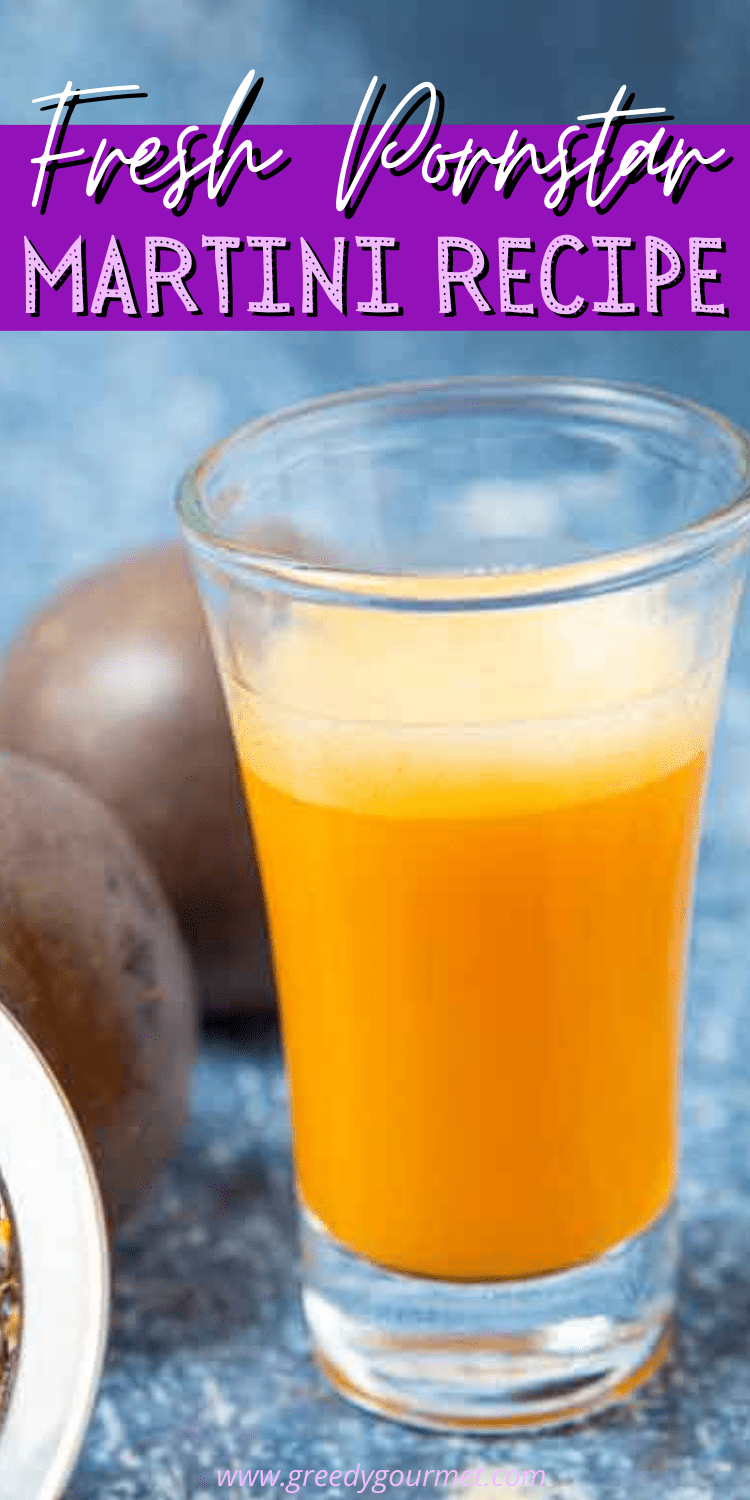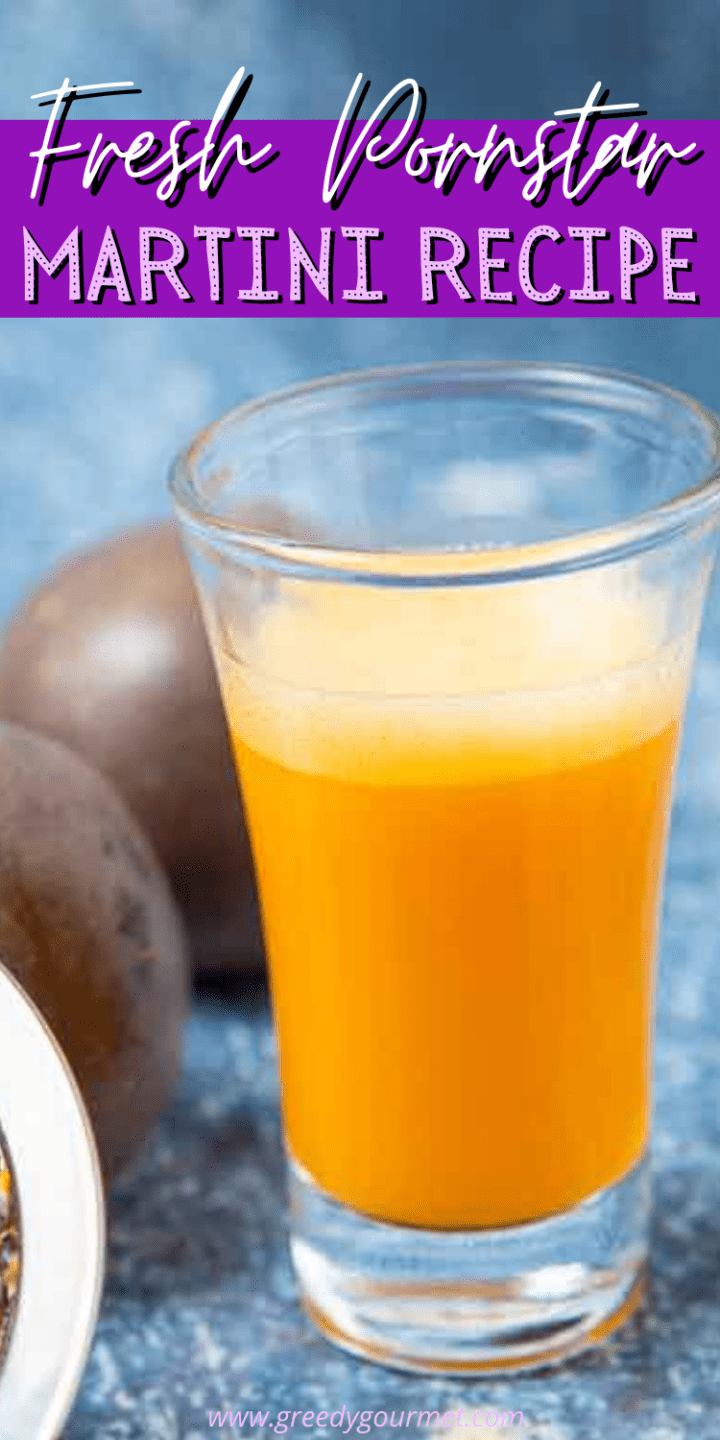 P.S. This is a sponsored post.