This Amarula cocktail is a strong creamy cocktail recipe with the addition of the delicious South African Amarula liqueur.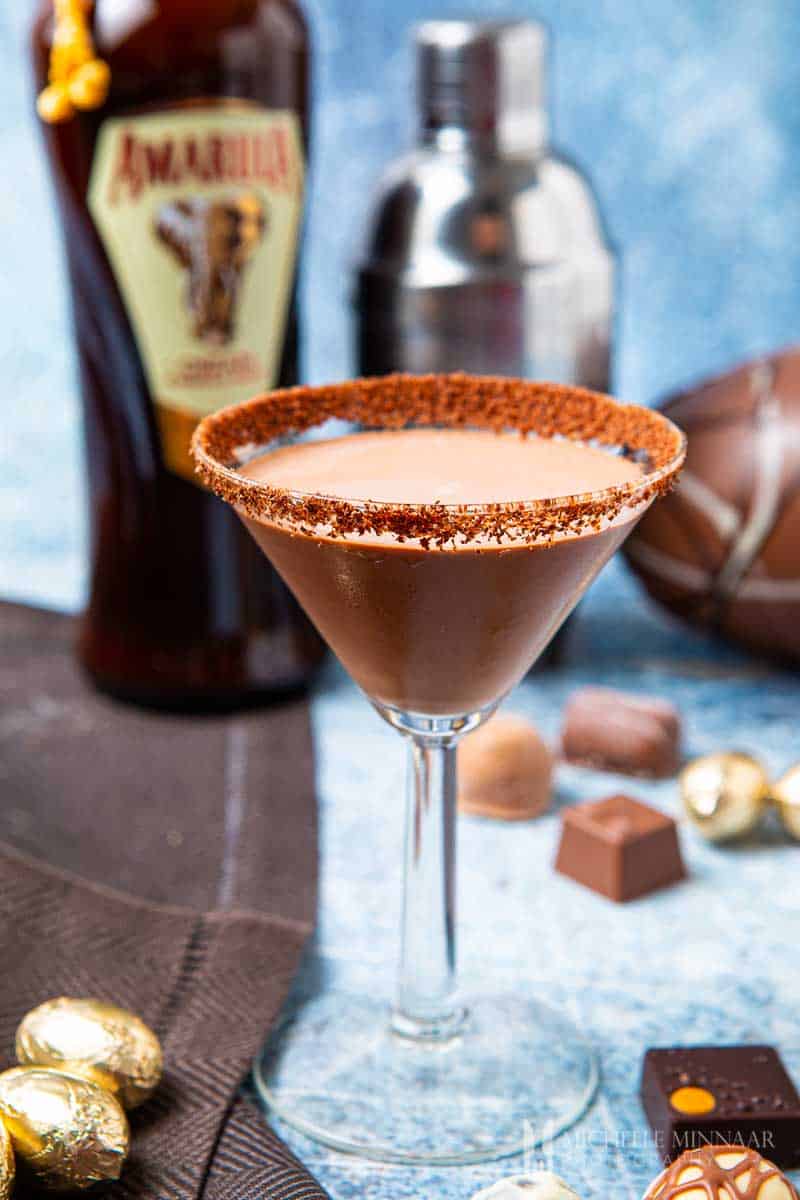 The cream liqueur adds an irresistible fruitiness, which is complemented with the addition of the dark chocolate. In short, it makes one heck of a cocktail, that bursts with South African flavours! Enjoy and let me know how it works out for you.
Since the overruling flavour of this recipe is chocolate, Easter and Christmas come to mind. It's the perfect excuse to serve this cocktail at parties and special occasions.
Amarula cocktail mix
Fortified with the addition of vodka, it is one of the stronger Amarula cocktails out there. So, enjoy it but drink with caution, as the alcohol can be misleading.
However, with the addition of the double cream and chocolate, it makes the cocktail refined, well-balanced and very enjoyable.
What type of alcohol is Amarula?
In essence, it is a creamy, fruity African liqueur with moderate alcohol content. In addition, it's the drink of choice in South Africa and other African nations.
One of the main Amarula ingredients is the infamous Marula fruit from the magical Marula tree.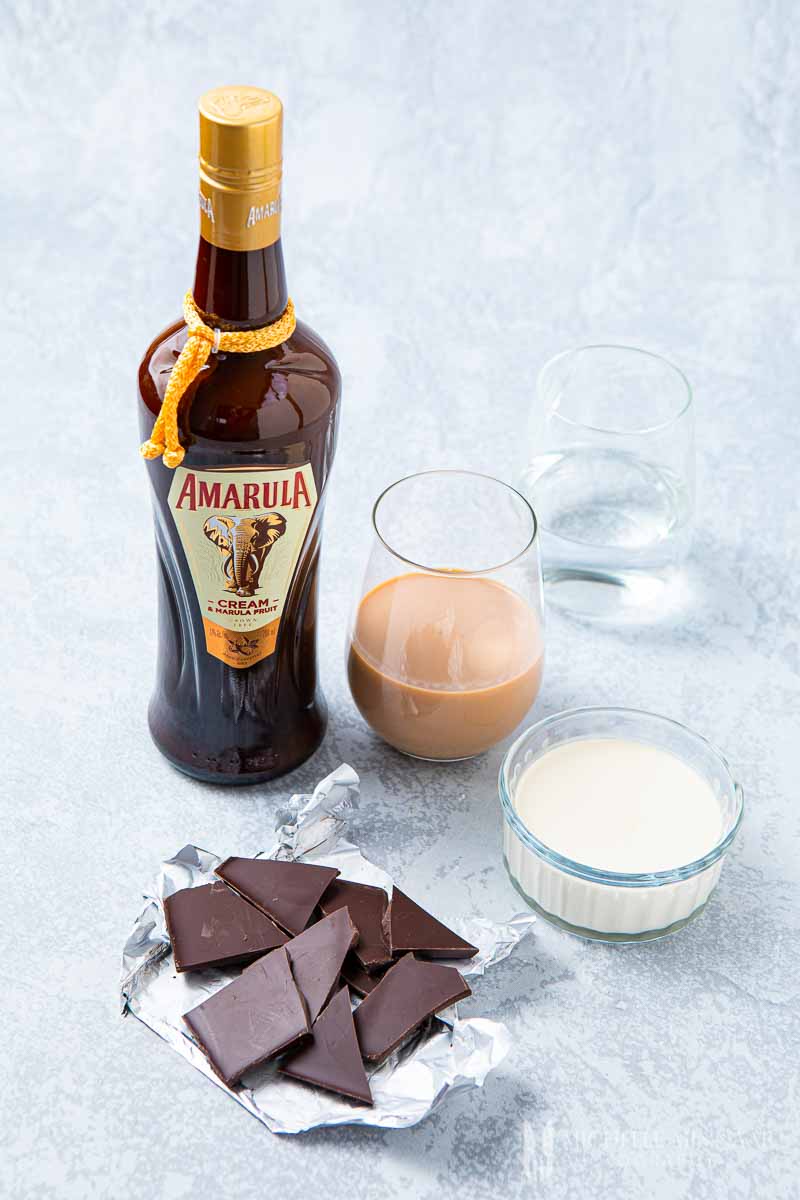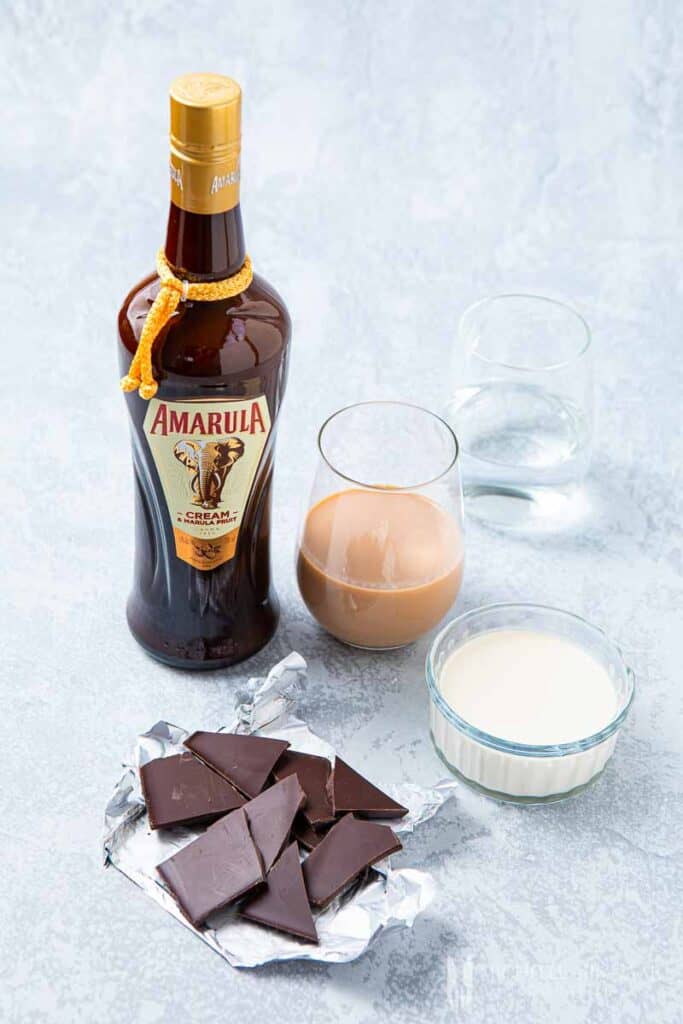 About Marula trees
The Marula tree grows only in one part of the world, making it special. Moreover, it's only once a year that the female Marula trees bear the fruit.
When the fruit is ripe it reaches the size of a yellow plum. It turns a rich yellow colour on the outside, with a soft white flesh.
In terms of taste, it has a unique citrus flavour with a hint of creamy nuttiness. It's perfectly fruity compared to other cream-based alcohols.
Would you believe me if I told you that it also contains four times the amount of vitamin C in an orange? It is an excellent source of nutrition and antioxidants.
To learn more about the harvest and the making of this excellent liqueur, click right here.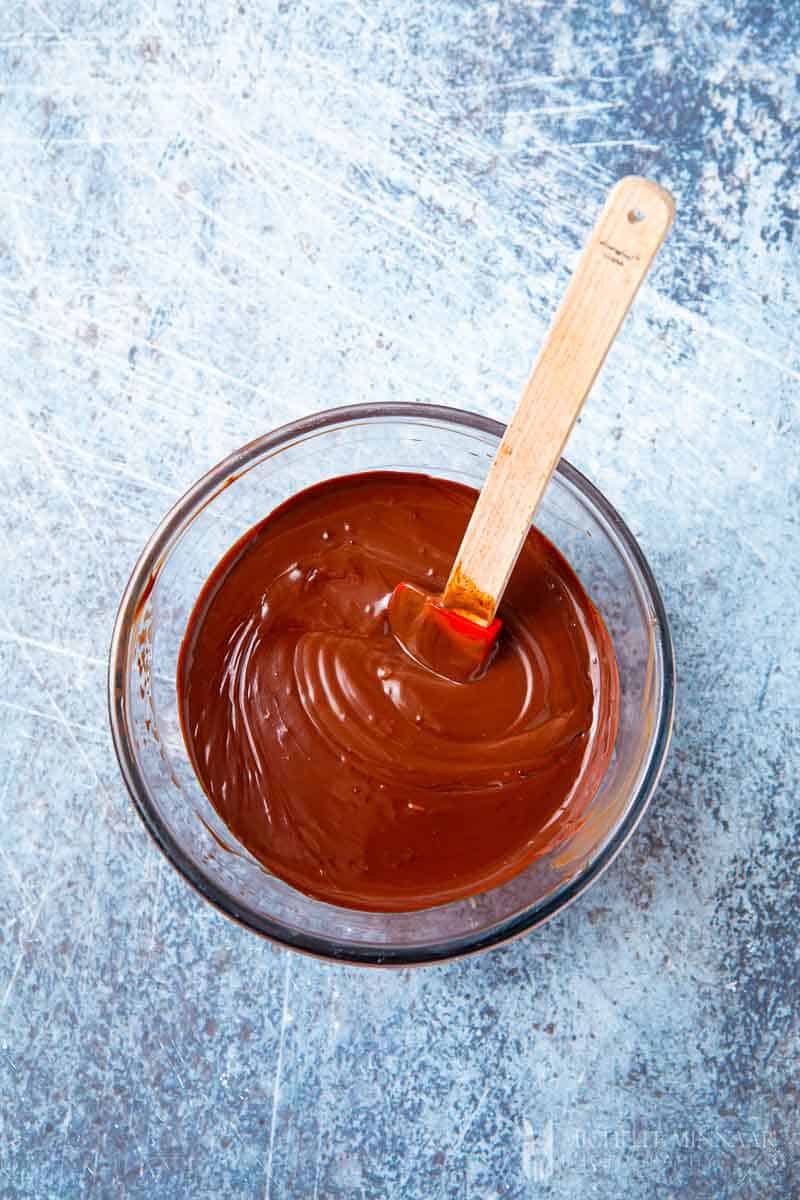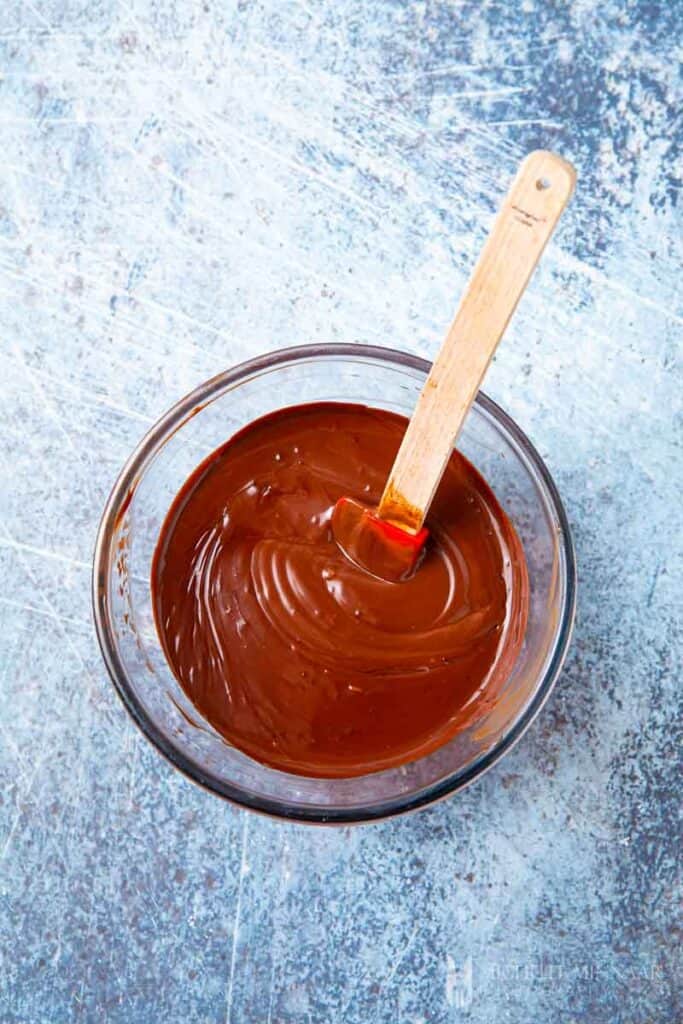 African legends
In South Africa, the Marula tree is also known as the "Elephant tree". This is because when the fruit ripens, its aromas attract elephant herds. In fact, the elephants travel for miles across South African savannas to get a hold of it.
South African and greater African legends also state that the Marula tree is in fact a Marriage Tree. Many tribes across Africa came to acknowledge that the tree has magical, aphrodisiac properties.
As a result, under South African law, the Marula trees are protected, just as the elephants are.
Incidentally, many South African celebrations also coincide during the ripening and harvesting seasons of the Marula trees. During this time, South Africa is definitely the place to be.
To learn more about the legends, click right here.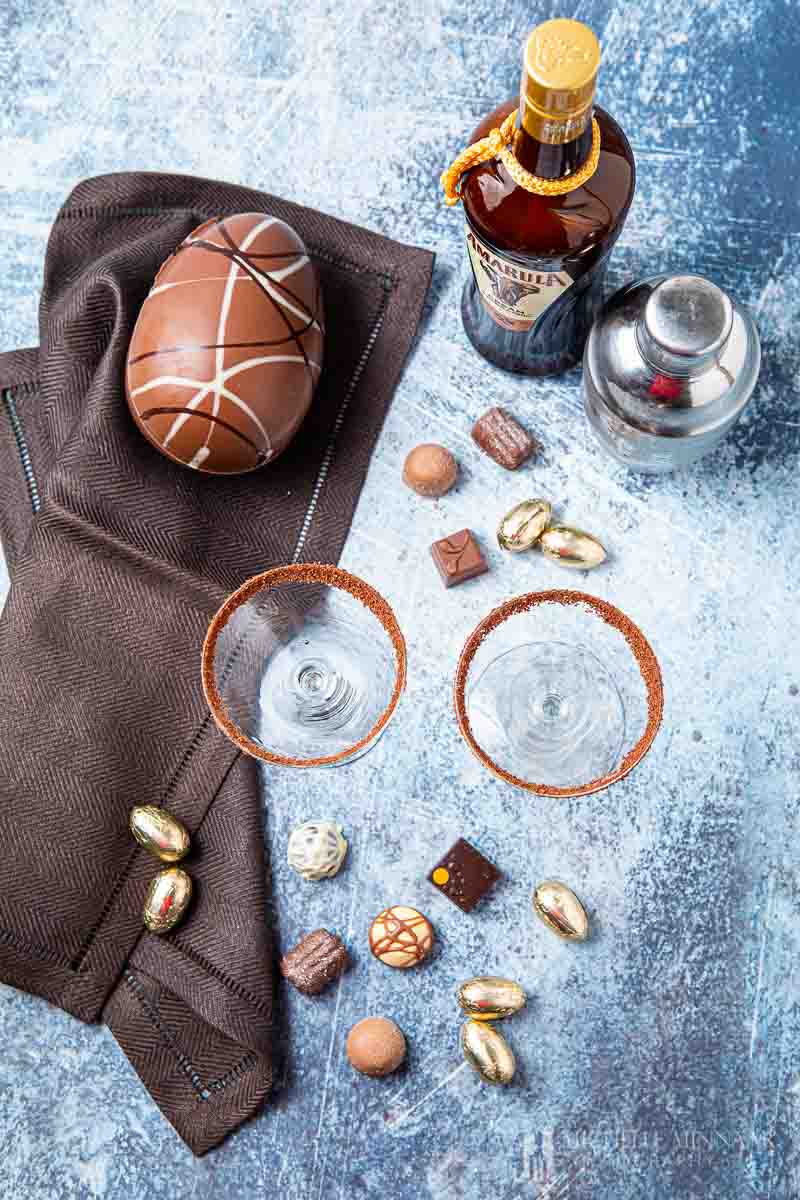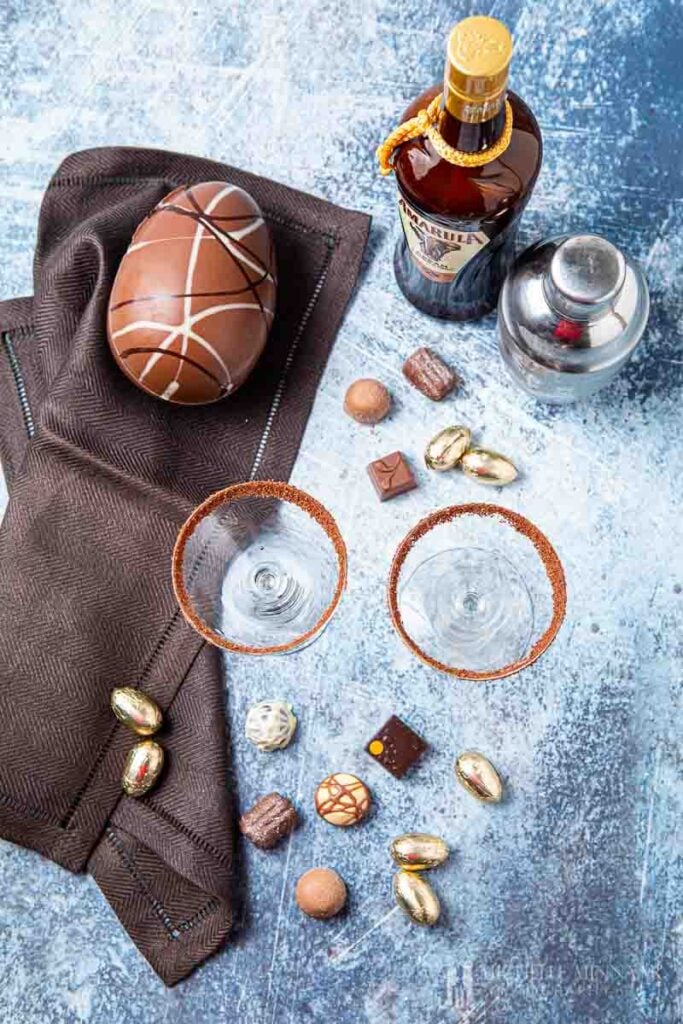 Amarula awards
In 2018–2019, the liqueur received the BRAND OF THE YEAR AWARD in the Alcoholic Spirits – Cream Liqueur category, among many others.
As a result, it's no surprise that this South African liqueur is being sold and enjoyed by people in more than 100 countries worldwide.
I've used Amarula liqueur for many delicious desserts as well. Just take a look at the recipes below which feature this delicious drink:
Amarula cheesecake - you can make a cheesecake with it and use it as a topping
Malva pudding - another fantastic South African recipe. Although, just because it originated in South Africa, it doesn't mean that you can't recreate the recipe outside South Africa.
Amarula makes an excellent addition to boiled custard.
Remember, this liqueur is available worldwide. So explore all of the South African flavours from whichever part of the world you may reside in.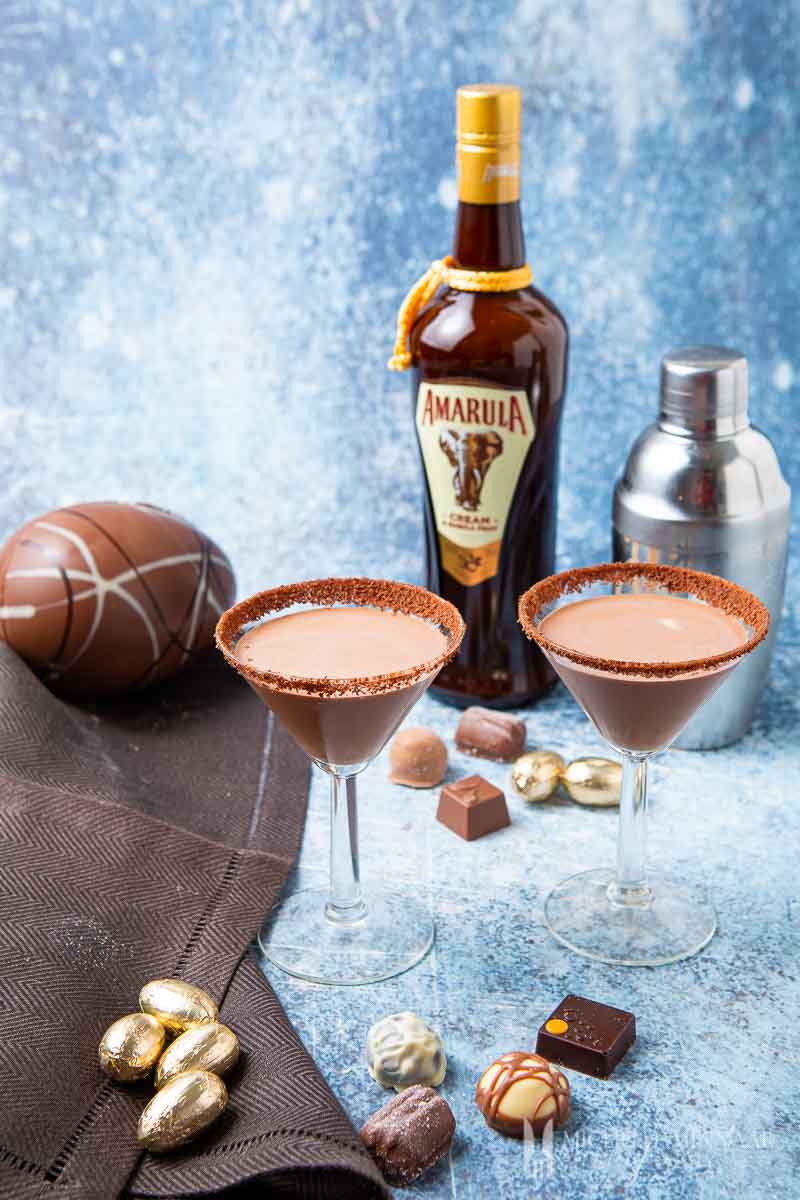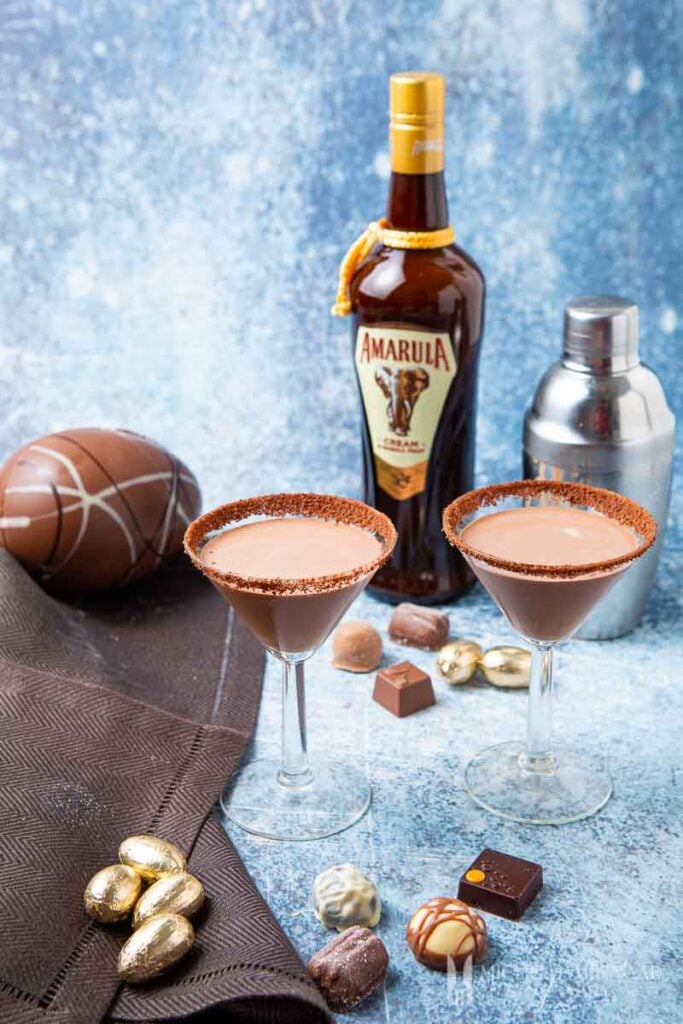 How do you drink Amarula?
Usually, pure Amarula is best enjoyed straight, in a chilled glass with a couple of ice cubes. The cubes can turn the shot of the alcohol into a longer drink, giving you the opportunity to enjoy the fruity taste even longer. Plus, the ice dilutes the alcohol slightly.
Simply add a bit of ice to make this cocktail into a South African long drink! Just pour it over the ice until you're satisfied with the strength. The is the way one would enjoy it in South Africa!
Naturally, you can always enjoy Amarula in other Amarula-based cocktail recipes. That's because the Amarula cream adds a lovely fruity flavour and a creamy texture. Check out these recipes below:
Don Pedro - used the Amarula drink instead of whisky
Toblerone cocktail - it would also work in this cocktail recipe instead of the Baileys for a more fruity flavour.
If you're keen to master more amazing cocktail recipes, then make the following cocktails below:
Do you have a favourite cocktail recipe in mind into which you'd want to pour some of this South African alcohol? Let me know what your ideas and cocktail inspirations are in the comments section below.
Is Amarula similar to Baileys?
The only thing Amarula and Baileys have in common is that they are both creamy liqueurs and they both contain the same volume of alcohol, which is 17%.
However, in taste, they differ completely, as the Amarula liqueur is fruitier and is a tad lighter on the taste buds.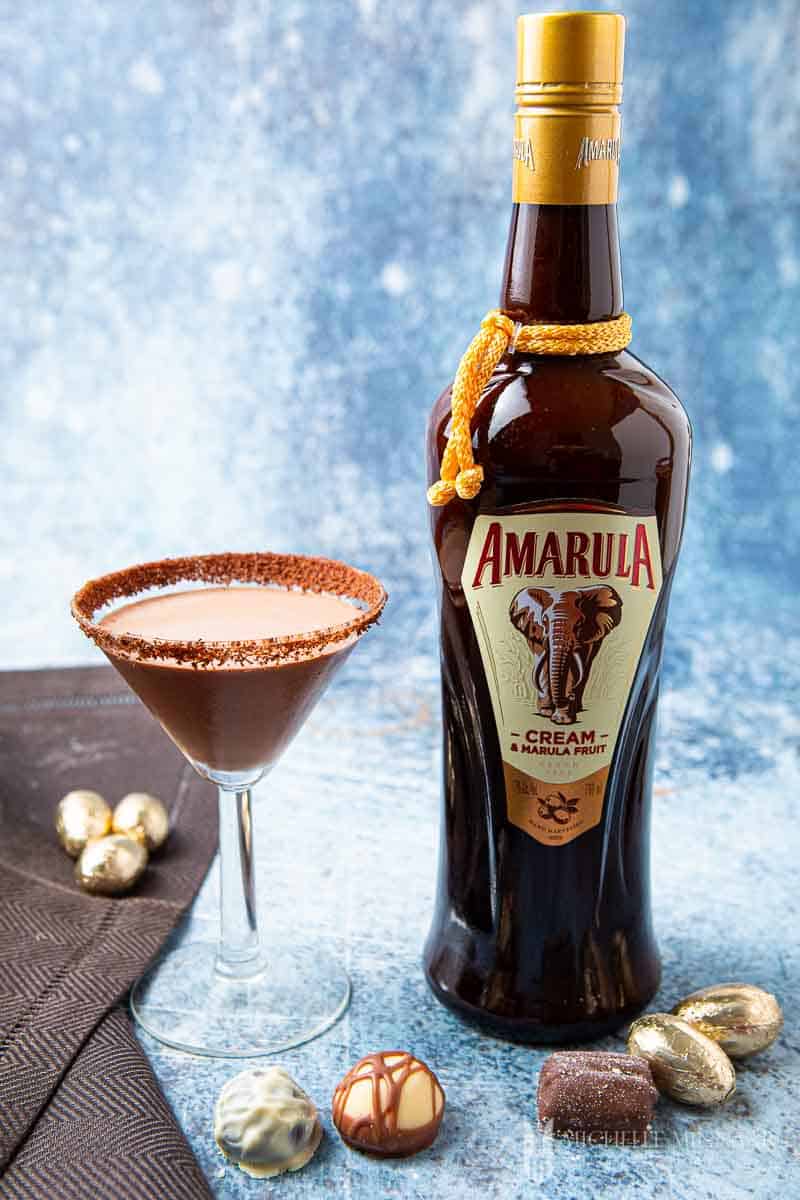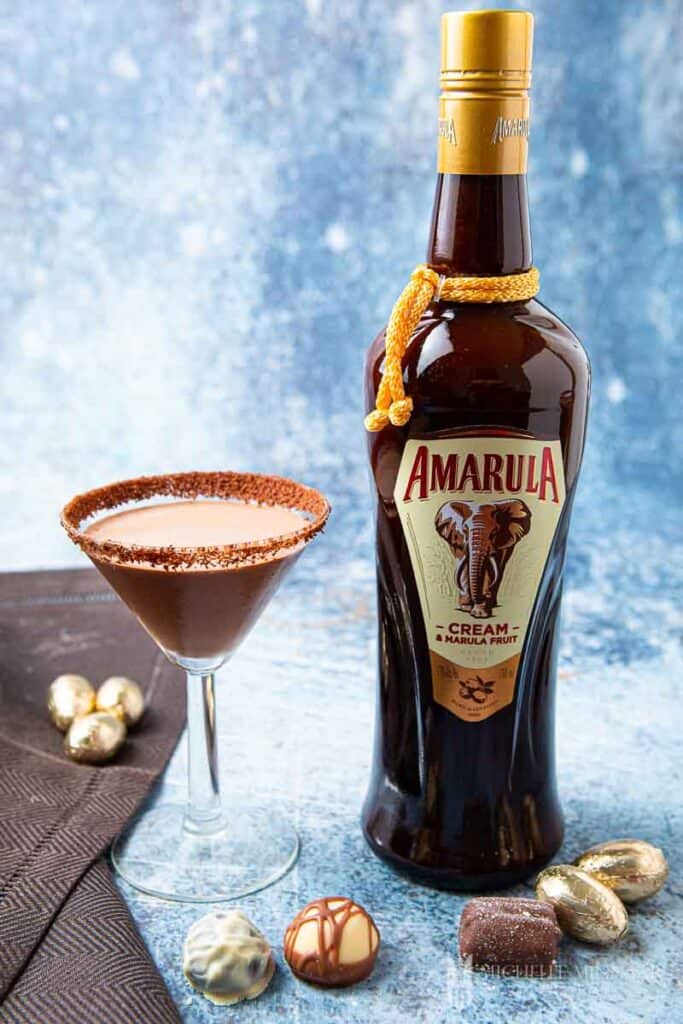 Can you get drunk from Amarula?
As with any alcoholic beverage or liqueur, the answer will always remain yes. You can get drunk from drinking too much Amarula, despite the fact that it's a cream-based drink.
Even though the drink is very well balanced, and one hardly feels the strength of the Amarula liqueur, it is an alcoholic beverage nonetheless.
The total content of this Amarula alcohol is 17%. It's much stronger than a beer, so don't be fooled. You can get drunk by consuming too many glasses of this irresistible creamy liqueur.
Above all, this cocktail recipe calls for you to add even more alcohol, namely vodka. So, if you want to limit the alcohol content, simply don't add the vodka and enjoy the taste of the South African liqueur on its own.
best toppings for creamy cocktails
Before we explore the best toppings for this recipe, serve the Amarula cocktail in a longer glass. You could opt for a martini glass, but then drinking it with the addition of ice would make it rather hard to enjoy as the ice would move around and lead to spillage.
Therefore, make sure you get a deeper glass (you can use the glass one would serve a whisky sour in or a glass for a longer drink such as a Singapore Sling).
Once your pour your cocktail into a glass of your choice, add some cocoa powder as garnish. Although, I strongly suggest grating the remainder of the dark chocolate on top of the drink. It gives a wonderful impression. Besides, who doesn't love chocolate as garnish?
You can also use fresh fruit as garnish. For instance, strawberries, raspberries, etc. Whichever topping you add, I'm sure it won't disappoint.
If you like creamy cocktails, have a look at Alien Brain Hemorrhage.
How would you enjoy the Amarula liqueur? Do you have any recipes you would like to share? Let me know in the comments section below.
Print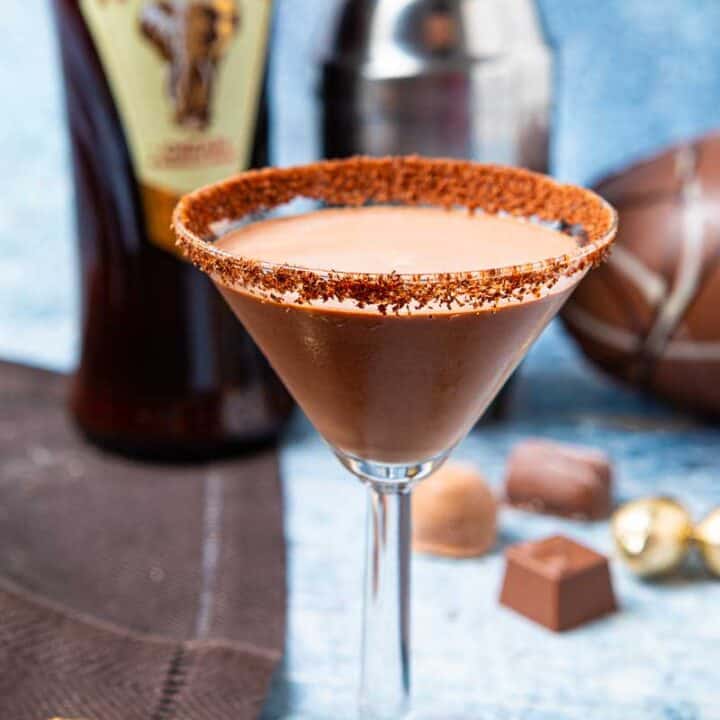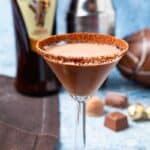 Chocolate Amarula Cocktail
---
Description
Chocolate Amarula Cocktail is a the perfect party pleaser. Adored by chocolate lovers, it's a great idea for occasions such as Easter and Christmas.
---
---
Instructions
Place the chocolate in a medium-sized, heat proof mixing bowl. Set aside.
Gently heat the cream in a saucepan until it reaches a boiling point.
Pour the hot cream into the chocolate bowl and stir the contents vigorously until all the chocolate has melted and the end result is a chocolate ganache. Let it cool completely.
Fill a cocktail shaker halfway with ice, then add half of the chocolate ganache, vodka and Amarula to it.
Cover the cocktail shaker and shake it with enthusiasm for 30 seconds.
Fill the one glass with the cocktail.
Add the remaining ingredients to the cocktail shaker and repeat the process.
Serve at an adult chocolate themed party. Easter and Christmas are great opportunities. Enjoy!
Notes
If you want to be fancy, you can finely grate the leftover chocolate onto a plate. Dip the martini glasses in water, then into the chocolate. The end result is a chocolate-rimmed cocktail glass! Do this before shaking and pouring the cocktail.
Prep Time:

5 minutes

Cook Time:

5 minutes

Category:

Drinks

Method:

Shake

Cuisine:

Italian
Keywords: amarula cocktail, easter cocktail recipe, amarula drink recipe, chocolate cocktail, amarula cream liqueur recipe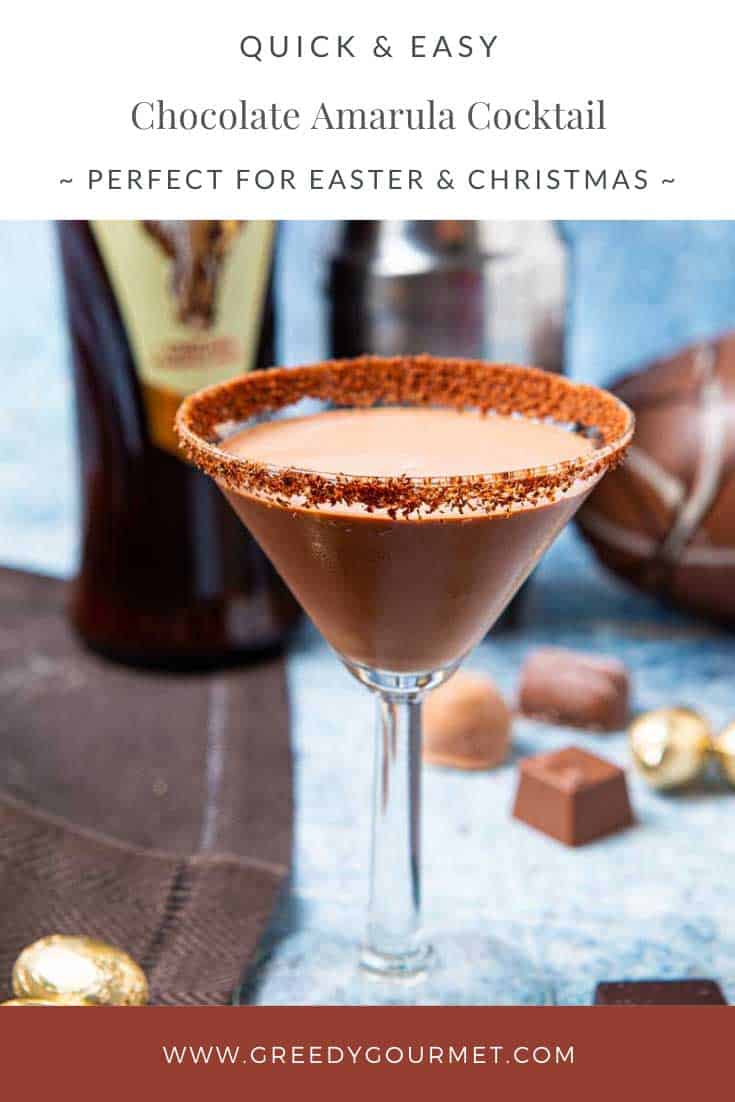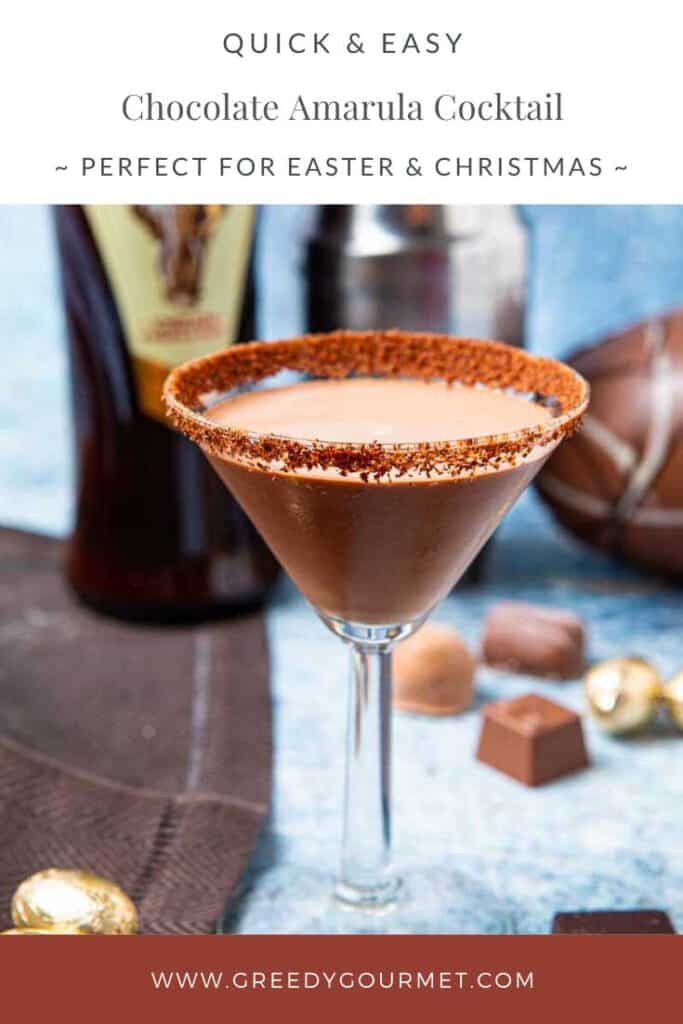 P.S. This is a sponsored post.