Have you ever heard of tadka daal? It sounds like a tasty exotic dish, full of spices and rich flavours. Well, you know what? That's exactly what it is! Tadka daal is a wonderful Indian experience packed in a dish, full of protein and vitamins, which makes it an excellent choice as a comfort meal. My favourite way of serving the tadka daal is sizzling hot, with extra chilies and herbs on top. Don't worry, the chilies are totally optional and you can eat the tadka daal at any given temperature. Furthermore, the tadka daal is also made up of ingredients that are not so pricy, making your meal economical. This versatile dish can be served as a main course or side dish – the choice is yours.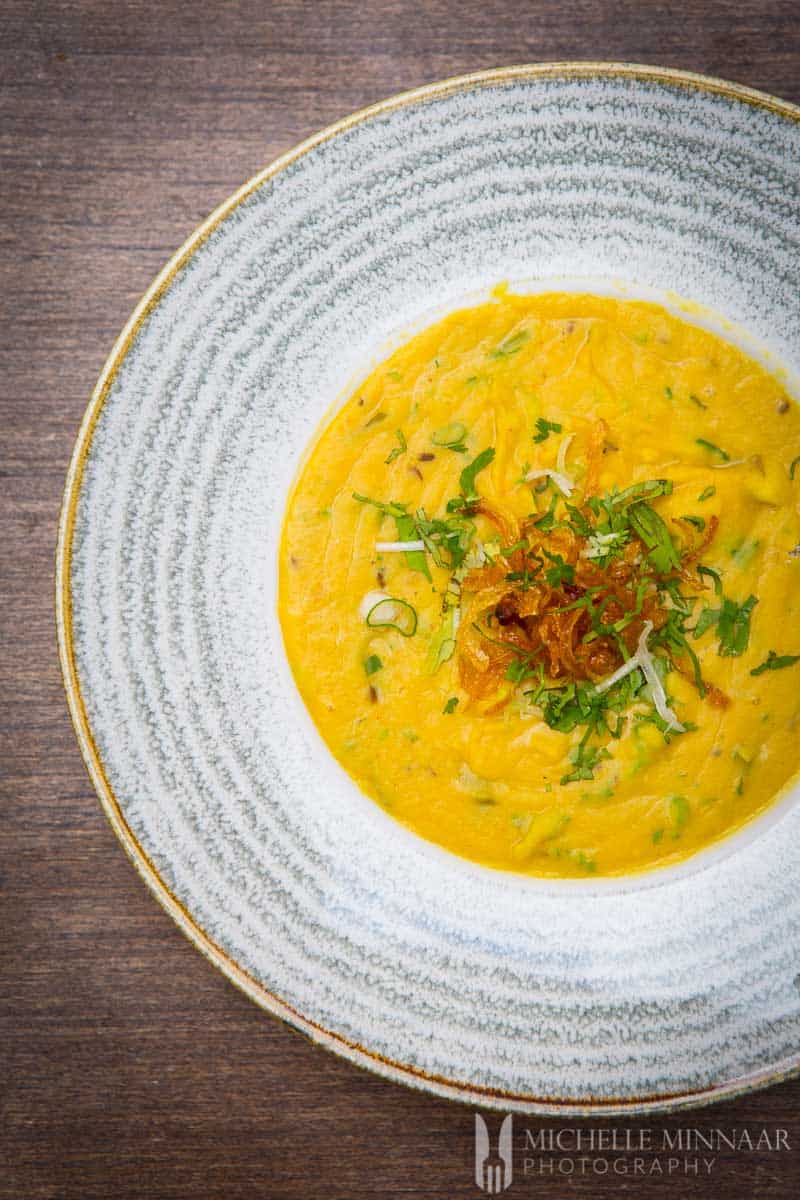 Celebrity Chef Cyrus Todiwala at Café Spice Namasté
I had the pleasure of tasting a version of the tadka daal in Café Spice Namasté. Serving wonderful and authentic meals, you definitely get more than you expect! It feels like you travel to parts of Asia with each bite. Moreover, you are in for a proper heritage menu experience, which the talented chef Cyrus Todiwala so brilliantly designed!
With celebrity television chef and owner Cyrus Todiwala, Café Spice Namasté has become more than just a family-run business. It has become known as one of the top restaurants to eat in London. Cyrus Todiwala, the creator of this wonderful tadka daal recipe, definitely serves as an inspiration for all the young chefs out there that, that culinary dreams can come true.
Born in Mumbai, he started his culinary career at Taj Hotels Resorts and Palaces in India. After years of hard work and training, he rose to become an executive chef of eleven separate restaurants. With so much success back in India he decided to realise his food dreams in the UK in 1991. Facing many difficulties, Todiwala's talent and commitment shined through, and thus Café Spice Namasté opened its doors in 1995.
Since the opening, Cyprus Todiwala has received multiple awards in recognition for his culinary work. In 2000, he was awarded an MBE for services to the restaurant and the catering industry. Furthermore, he was appointed an OBE in the 2010 New Year's Honours List. These are just a few of his many awards. Other awards include: the Craft Guild of Chef Award (2012), Education and Training Catey Award (2005) and Springboard Awards for Excellence (2005). As you can see, Café Spice Namasté is run by a legendary chef.
Here I am in the kitchen with Pervin Todiwala, a.k.a. The Boss of this establishment.
What is Tadka Daal
Tadka daal is one of those names that make you ask the question "what exactly am I eating here"? Daal is a classic Indian dish, made from split-open pulses. These can include beans, lentils, etc. The most popular are lentils of course! To sum it up, a tadka daal is like a looser lentil puree, which is packed with intense flavours and spices. Daals are generally known across Asian cultures such as India, Pakistan, Bangladesh, etc. However, the exact origin of tadka daal is unknown.
This recipe calls for masoor daal (pink lentils) and toor daal (yellow lentils). This is the reason behind tadka daal's beautiful golden colour. There are many types of daal you can use. The most common substitute are the green lentils. However, you 'll loose the golden colour.
If you love pulses, don't forget to check out Daal Makhani, Green Pea Fava and Red Lentil, Tomato and Coconut Soup.
Consistency
Getting the consistency right plays a key role for this dish. If the tadka daal is too thick for your liking, simply add water. Therefore, it would be good to have a glass of water handy at the finishing stages. You may need to dilute the tadka daal again, when you reheat it at a later stage. If you like your food smooth, you can puree the daal for a silky consistency.
Storage
Tadka daal is a very high protein dish. Fantastic in terms of nutrition and keeping the body healthy. However, there are downsides to the high protein content. The more protein a dish has, the less it lasts in terms of storage. Do you know why? The reason is that it easily attracts bacteria. Therefore, this meal is not a good option if you want to store your meal in the fridge for a week. I recommend giving it a maximum of three days. Freezing is an option to consider. However, you will lose the flavour intensity. Let's face it, the flavours are what make the dish so meaningful. Don't freeze the tadka daal, unless you really must.
Health boost
It's not only the daal that is nutritious in the meal. There are other elements that play their part in making the tadka daal a hearty and healthy meal. These include:
Turmeric – powerful anti-inflammatory effects and also fat soluble. Great with fatty meals.
Cumin seeds – excellent for digestion problems and morning sickness.
Garlic – helps fight colds and lowers blood pressure. It's also good for your heart.
Chilies – excellent for the metabolism. Be careful which chilies you use, not all are the same!
Asafoetida – very specific herb that tastes of leek. Eases digestion and bloating.
In fact, the high protein content creates flatulence and gas in the stomach. For this reason, you have anti- flatulents like cumin and asafoetida in the tadka daal. This helps ease the suffering and the bloating.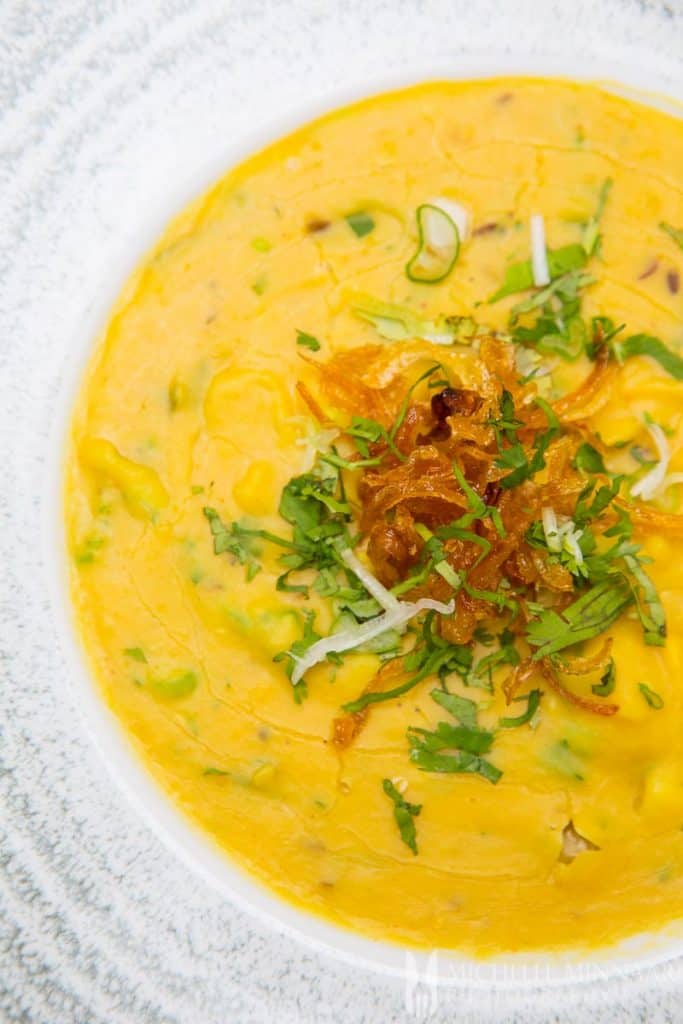 Sides
The best thing you can possibly pair the tadka daal with are rotis or chapatis. These are types of flatbreads. You can also go for the basmati rice. I prefer eating the tadka daal with a flatbread and a sweet chutney or mint yogurt to bring down the heat. Top off with fresh herbs like coriander or fresh salad, and you are set for one delicious experience. Let us know how you get on!
For more inspiration, have a look at:
Print
Tadka Daal
---
Description
Author: Michelle Minnaar
---
Scale
Ingredients
250g

(

8oz

) masoor daal/pink lentils

250g

(

8oz

) toor daal/yellow lentils

5

ml (1 tsp) salt

15

ml (1 tbsp) turmeric powder

100

ml (3fl oz) sunflower oil

60g

(

2oz

) butter

5

ml (1 tsp) cumin seeds

6

cloves of garlic, finely chopped

2

green chillies, slit

1

dried red chilli, broken up

1.25

ml (¼ tsp) asafoetida [optional]
---
Instructions
Mix the two types of lentils and wash them thoroughly in cold water until the water runs almost clear.
Soak them in plenty of water for 5-6 hours or overnight. Ensure that the water is cold. When the lentils have almost doubled in size you can boil them.
Place them in a deep pan to allow for expansion and add water up to 4cm (1½in) above the level of the lentils.
Do not discard the water in which they were soaked. In fact, add any more water if required and add some salt and turmeric powder.
Bring to the boil, slowly stirring from time to time so as not to let the lentils stick to the bottom of the pan.
If you get too much scum on the top gently remove it by skimming it off.
Add the butter when the scum has ceased.
When the lentils are cooked, remove from the heat.
Take a deep frying pan or a small wok and add the oil.
Bring the oil up to almost smoking point and add the cumin, chillies and garlic. Stir and cook until the garlic is golden in colour but not dark brown.
Add the asafoetida as soon as the garlic is ready and remove from the heat.
Pour the contents of the pan in one go into the lentils and stir well. It will sizzle with and steam so keep your face away whilst doing this.
Adjust the seasoning and serve.
---
Notes
Remember if the daal is not to be eaten straight away you may need to dilute it when reheating.
Also, remember that daal is very high in protein and therefore attracts bacteria quite rapidly, which means care needs to be taken. You may prefer to refrigerate as soon as it is at room temperature.
You can also sizzle mustard seeds and raw channa daal (split yellow peas) along with the other ingredients in the tadka for a different flavour. Try it another time.
You may prefer to puree the daal to make it smooth. In that case make and add the tadka after you have pureed the daal.
The high protein content creates flatulence and gas in the stomach, which is why you have anti- flatulents like cumin and asafoetida in the tadka which help ease the suffering and the embarrassment.
Category:

Side

Cuisine:

Indian
Nutrition
Serving Size:

1 serving

Calories:

278

Sodium:

220 mg

Fat:

18.7 g

Saturated Fat:

5.2 g

Carbohydrates:

20.7 g

Fiber:

3.7 g

Protein:

8.2 g

Cholesterol:

16 mg
save the recipe to your pinterest board