Do you love Brinjal Bhaji but haven't a clue how to prepare it? In this recipe When you combine the flavour and texture of roasted aubergine, the heavenly blend of onion, garlic, chilli and ginger, and the scent of fresh coriander and other aromatic spices, what have you got? Your new favourite curry – brinjal bhaji!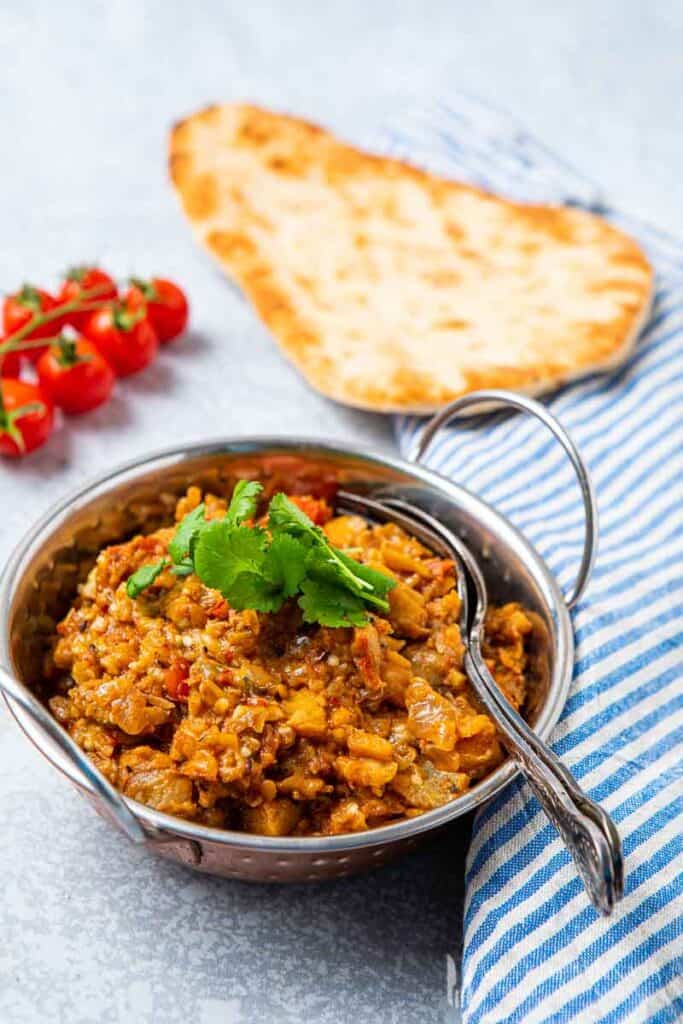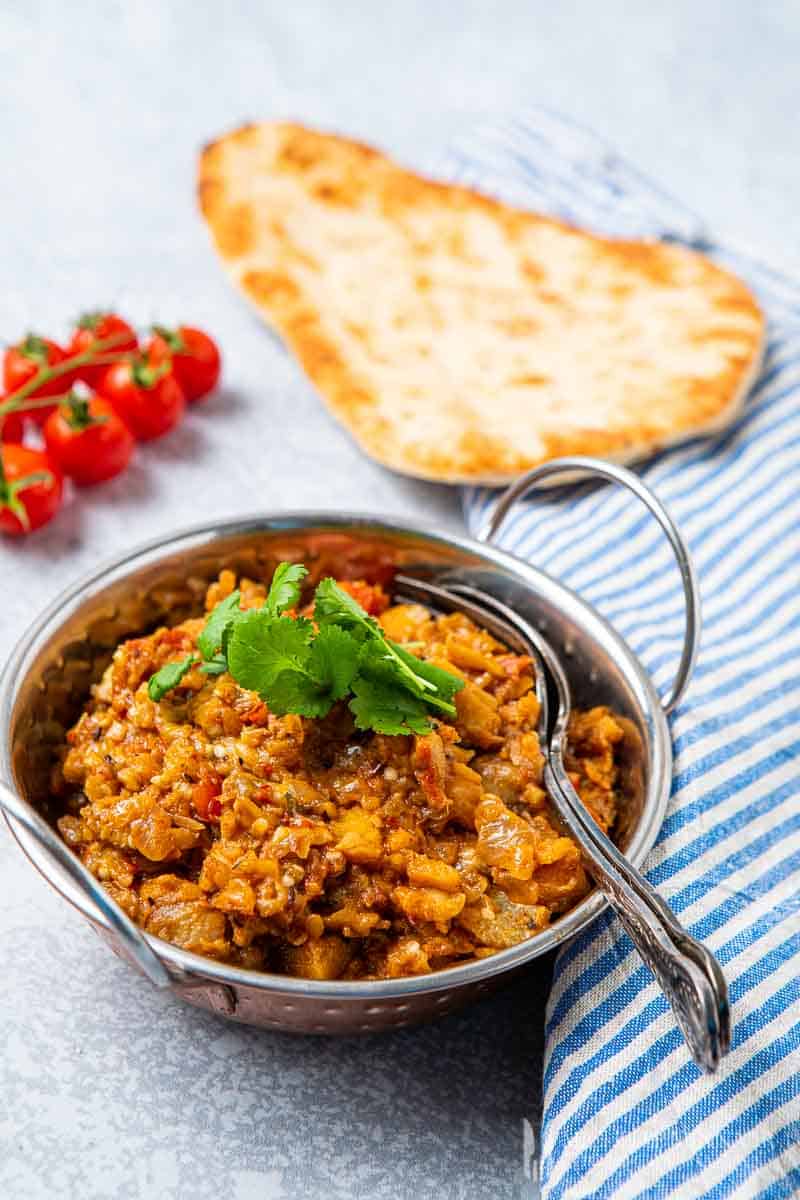 Brinjal bhaji recipe
Brinjal bhaji, otherwise known as aubergine bhaji, is an incredible Indian dish that has a creamy texture and rich taste. It's actually on the healthier end of the curry spectrum, as the creaminess comes from the aubergine, rather than actual cream or yoghurt.
It's also 100% vegan! And as veganism is becoming more and more popular, this delicious Indian aubergine curry is increasingly springing up on menus of Indian restaurants all over the UK.
Do you love brinjal bhaji but haven't a clue how to cook it? Or, have you never even heard of it and are curious to give it a go? In this recipe, you will see a step-by-step on how to cook this most authentic of Indian aubergine recipes.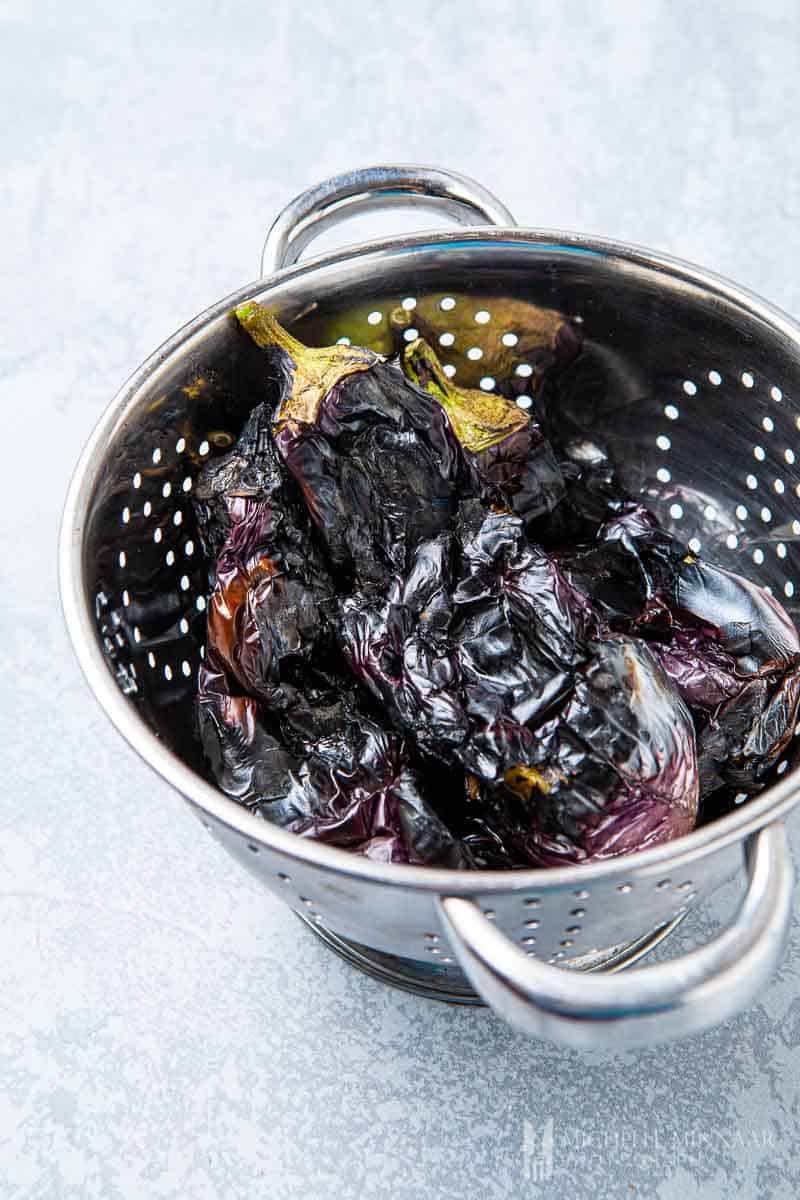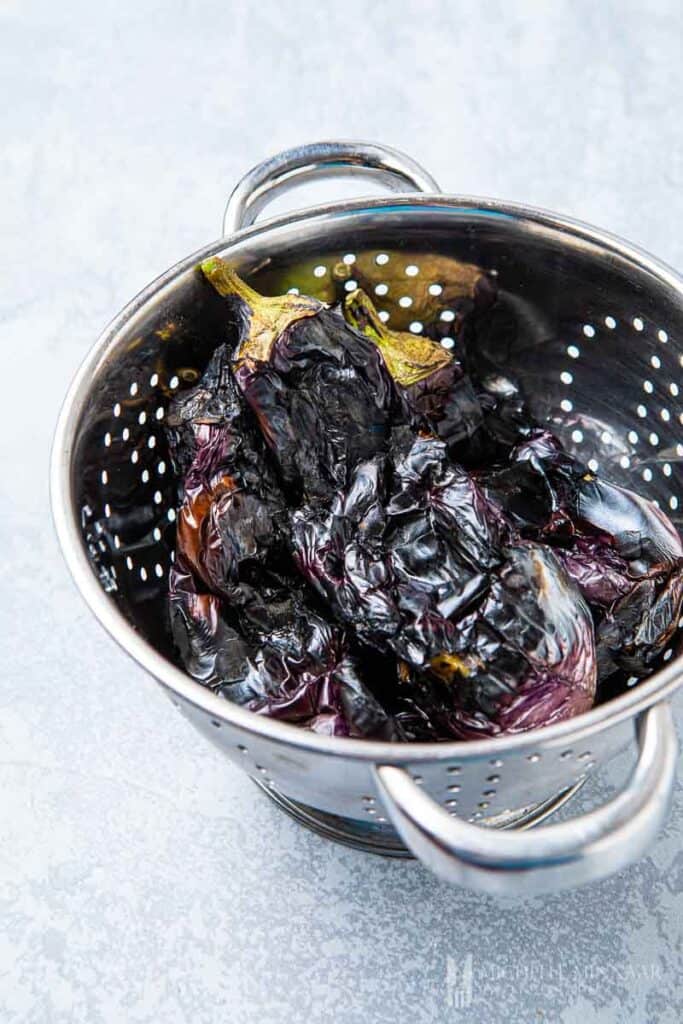 Items you'll need to make brinjal bhaji
There are a few things you'll need to make this aubergine curry Indian recipe:
Products you'll need for this recipe
There are a few things you'll need to make this aubergine curry Indian recipe: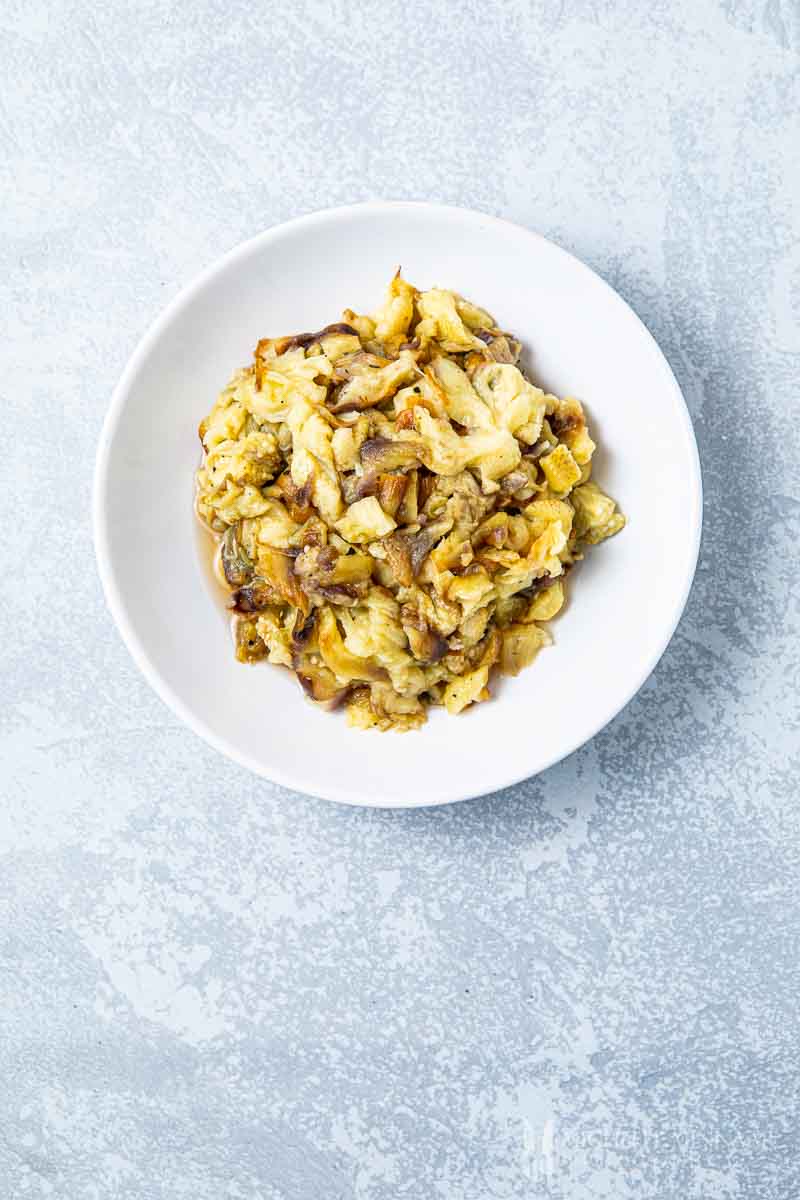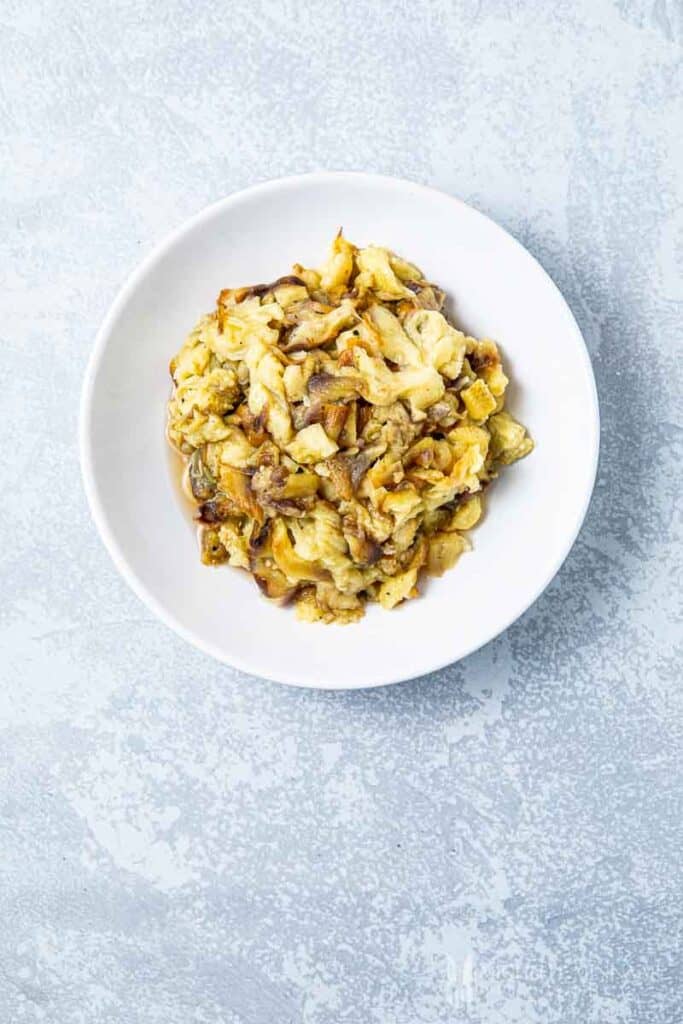 What is brinjal bhaji?
The first time I came across brinjal bhaji on an Indian menu I was perplexed. Thinking of an onion bhaji, I wondered what greasy, deep-fried monstrosity would appear if I ordered it. What arrived was nothing like I imagined it would be.
It tasted wonderful! Creamy and rich yet light and subtly spiced, it won me over after the first mouthful. Since then, I've never looked back, ordering it at every opportunity.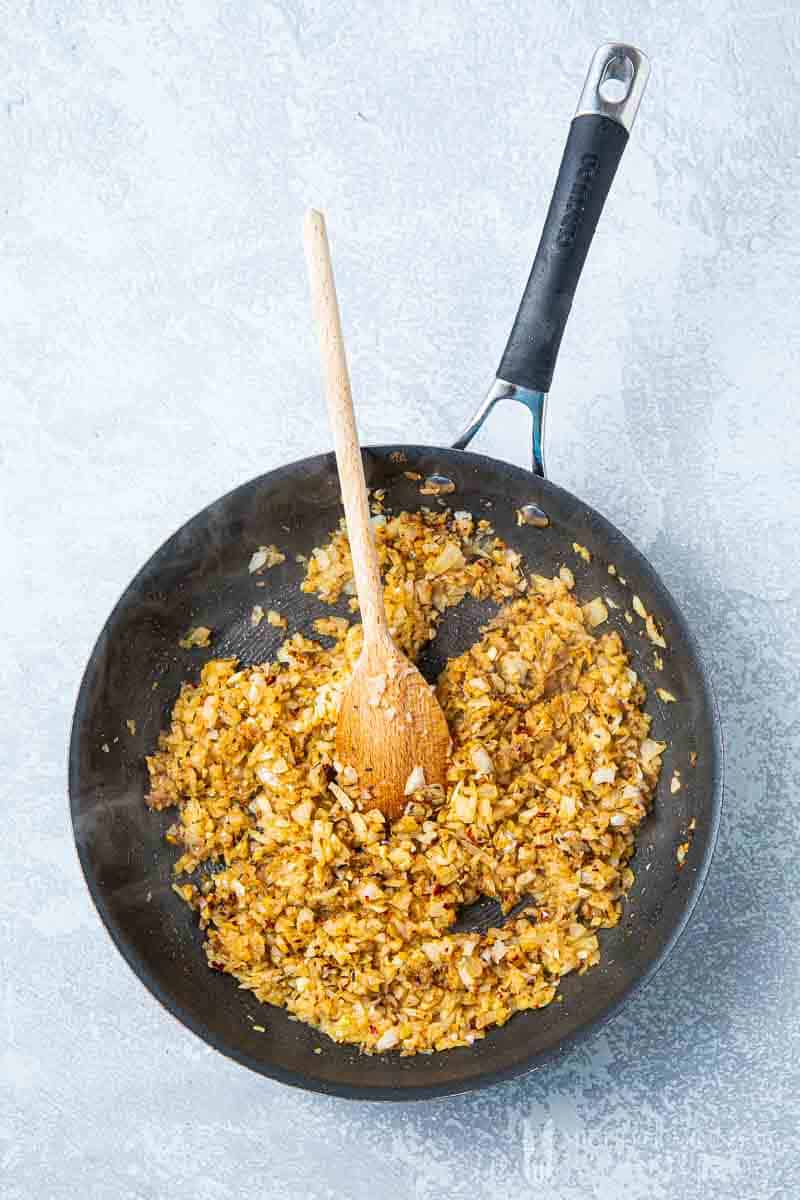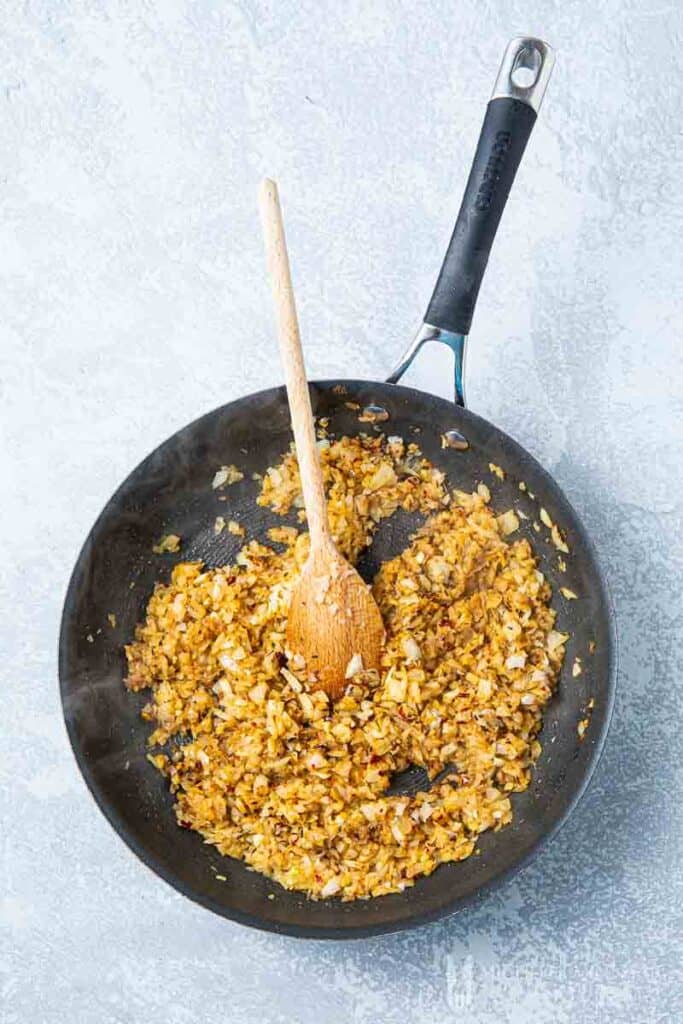 If all else fails and my brain freezes and I become tongue-tied, I just play the "English is my second language"-card and I get away with it. Most of the t
Aubergine curry
This version of aubergine bhaji is a Punjabi twist on the dish. It's twice cooked – first the aubergine is roasted in the oven for 30 minutes.
Then you peel the skin off and stir in the aubergine in with onions, garlic, chillies, ginger, tomato and a blend of aromatic spices, sautéing everything for a few minutes, before adding a final flourish of fresh coriander.
What I especially like about this recipe is that it's not drenched in oil. So many standard British Indian restaurants serve up overly greasy food.
Aubergines are like sponges and they can become too greasy when pan-fried in oil. Before you know it, you're sitting with a highly calorific, somewhat unhealthy plate of food in front of you.
Instead, here the aubergines are cooked in their skins for 30 minutes in the oven until soft, then peeled and finely chopped. This dramatically reduces the need for oil and suddenly turns this aubergine bhaji into an ultra healthy, delicious vegan meal.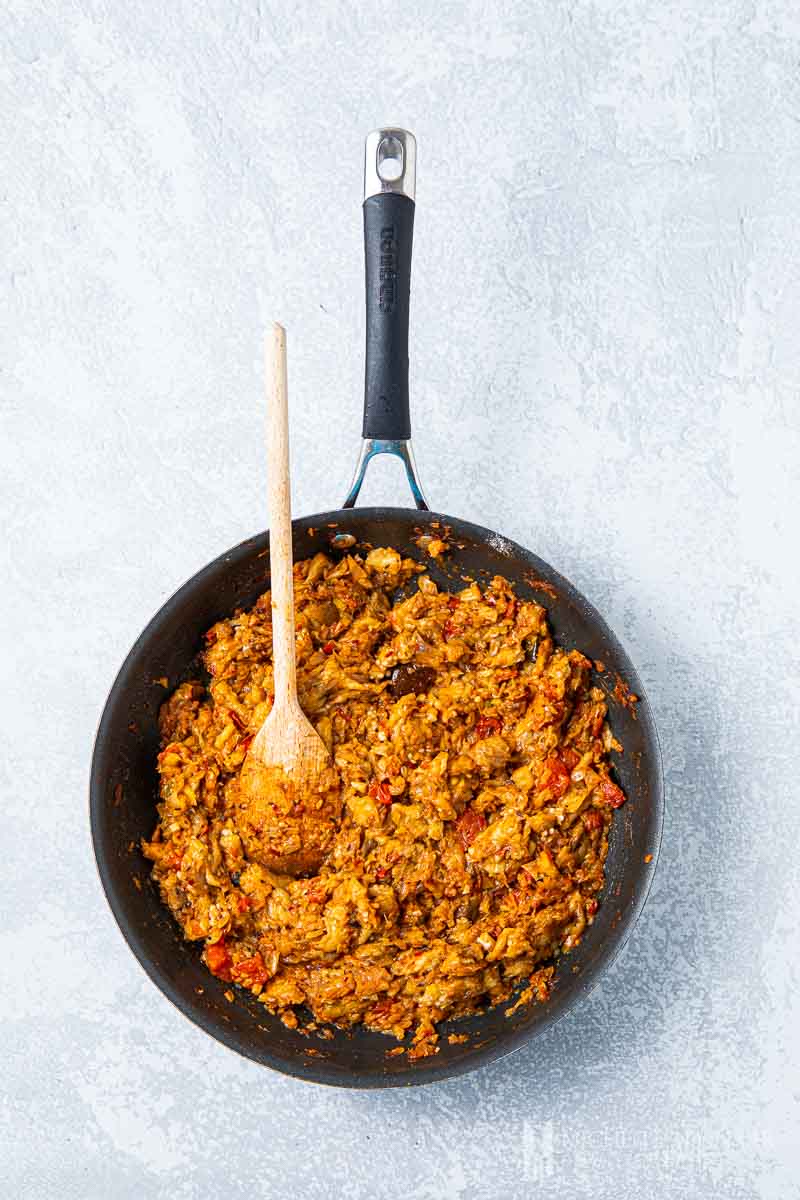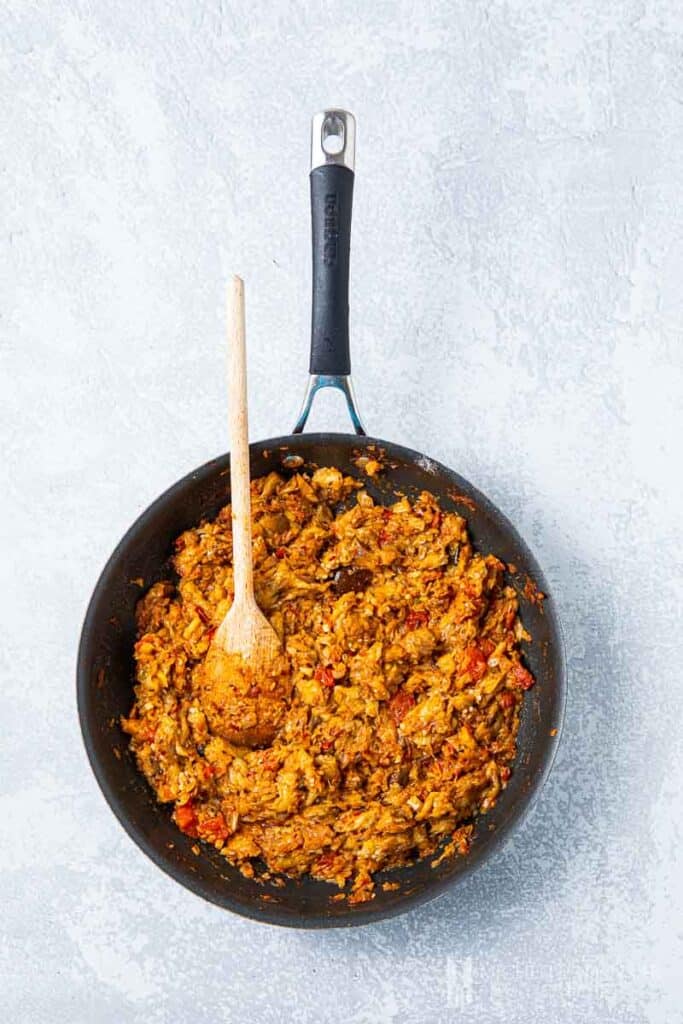 Why use different types of chilli in a curry?
This aubergine bhaji recipe uses two whole dried red chillies, red chilli powder and two green chillies. You might wonder why different types of chillies are used in a single recipe. Surely, they all serve the same purpose...
Actually, no! Dried chillies are in fact used to temper and flavour a dish, while chilli powder is used to add heat. At home I made this curry again and went a bit easy on the chillies across the spectrum. It's much easier to add heat afterwards, than trying to save a dish after you've gone overboard on the heat.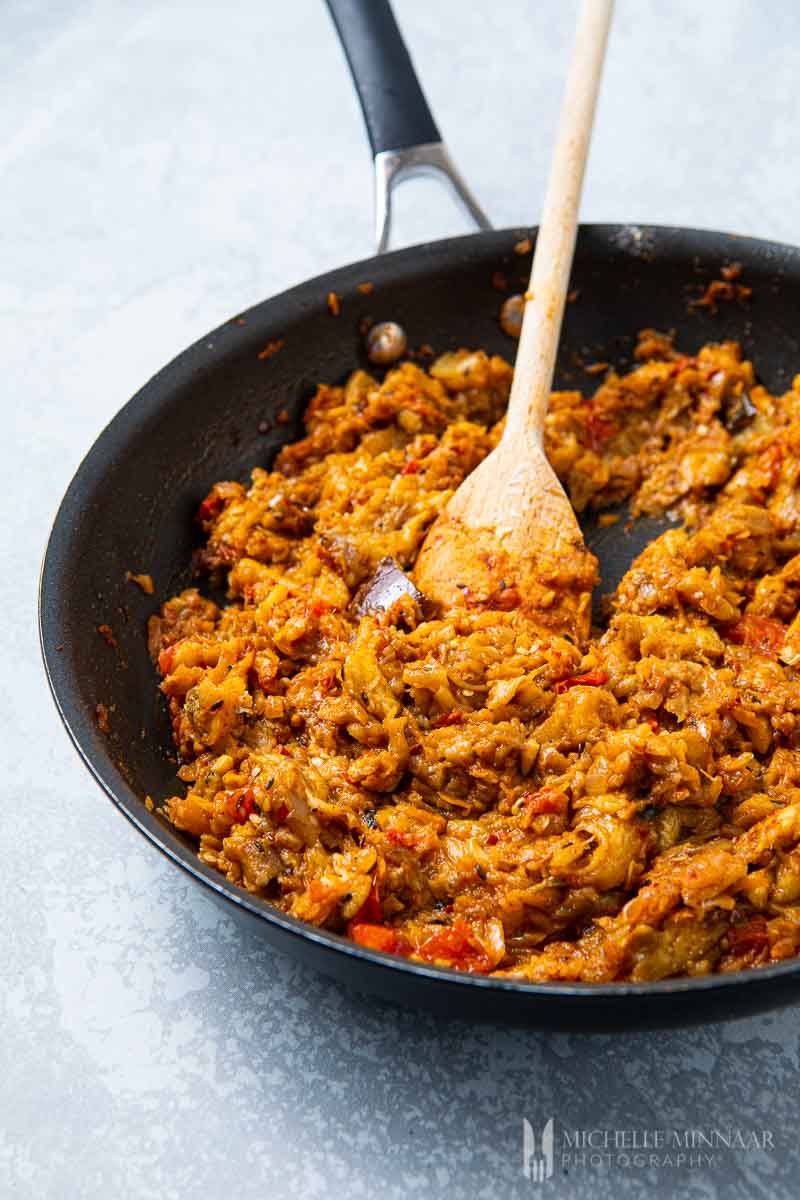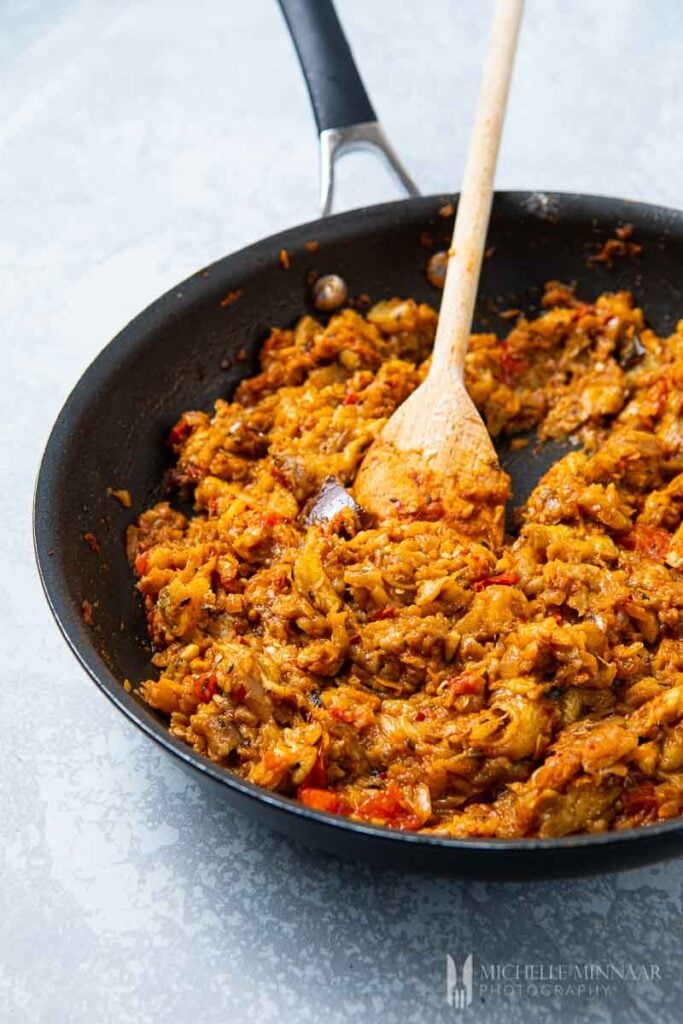 Other great aubergine recipes
Brinjal Bhaji is the equivalent of the aubergine based Middle Eastern classic baba ghanoush and the Greek melitzanosalata. But while brinjal, or aubergine bhaji is a delicious meal in its own right, baba ghanoush is best treated like a dip and served with naan or your favourite bread. It goes well with lentil dishes and makes a fabulous lunch.
If you love mixing aubergines with spices, check out this delectable Japanese style katsu curry. Or, if like your curries with a tang, check out this masala grilled aubergine.
If you're vegan or considering making the switch away from animal products, have a look at my vegan aubergine recipes. You'll discover some creative ways to replace meat, with some mouthwatering Middle Eastern, Italian, Greek and Indian dishes to inspire you.
How to store aubergine bhaji
A big plus is that this is a recipe that's ideal for bulk cooking. If you go to the market you can easily pick up six aubergines for £3 and have a mini-cooking session.
Then you can store your leftovers in the fridge or freezer. They'll gain an even more intense flavour, as the ingredients have a chance to breathe and blend with one another.
If you'd like to freeze your curry, omit the garam masala and fresh coriander. This is because these ingredients don't freeze well. Only after thawing can you stir in the garam masala and top with coriander for maximum impact.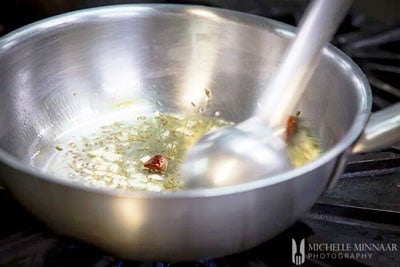 What to serve with brinjal bhaji
This aubergine curry is best served with traditional Indian bread or rice. You'll want to mop up the juices of this incredibly flavoured curry, making the most out of every mouthful.
Any naan bread would be a perfect pairing with this dish. Get creative and cook your own peshwari naan. Or, try this kerala peratha, a flaky, doughy Indian flatbread.
When it comes to rice, jazz things up a little. Cook your own authentic Indian rice dish – keema rice takes rice to a new level.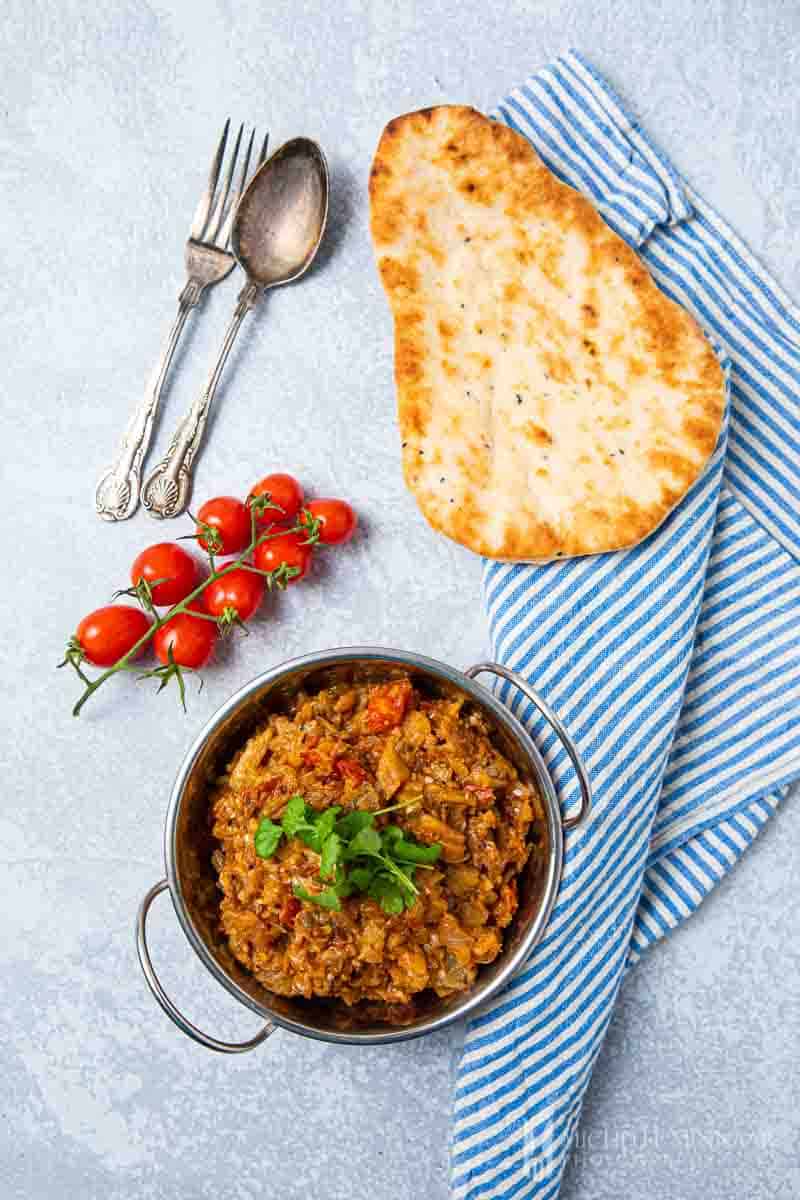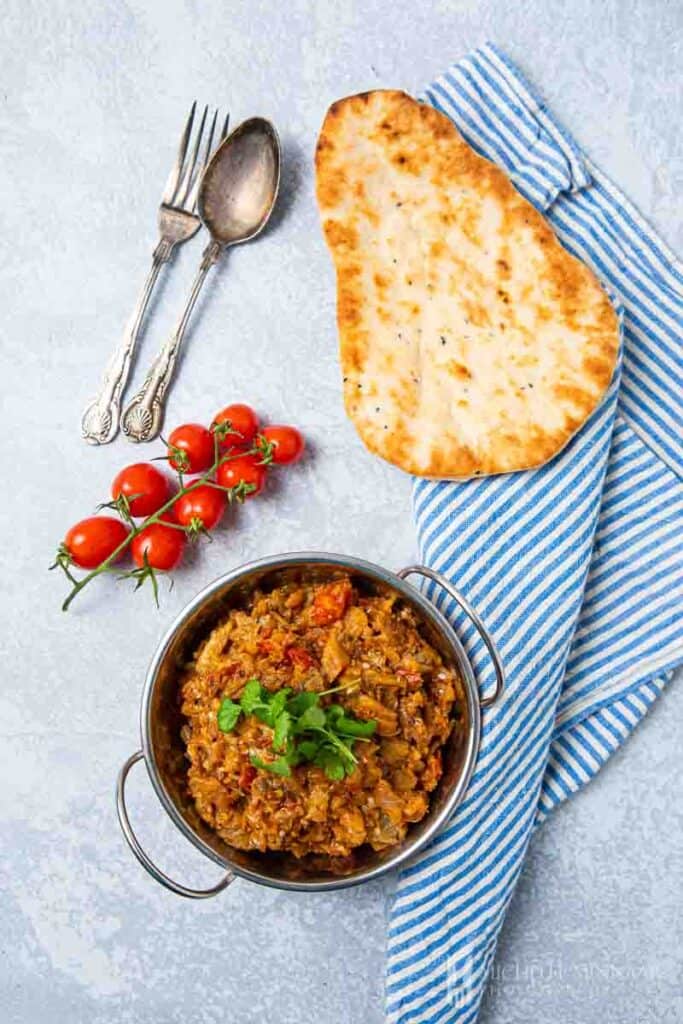 Other incredible curry recipes
If you're a regular Greedy Gourmet reader, you'll know that I absolutely adore Indian cuisine.
So, if you're keen on mastering some more Indian recipes and are on the lookout for your next curry fix, have a look at some of these irresistible dishes:
Cook More Indian Food At Home
What is your favourite way of enjoying aubergine?
Print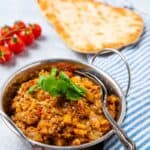 Brinjal Bhaji
---
Author:

Michelle Minnaar

Total Time:

1 hour 15 minutes

Yield:

4

side dish servings

1

x

Diet:

Vegan
Description
Brinjal bhaji, also known as "aubergine bhaji", is a vegan aubergine recipe that is typically served as a starter or side dish as part of an Indian meal.
---
2

large aubergines/eggplants

30

ml

(2 tbsp) vegetable oil

2.5

ml

(1/2 tsp) cumin seeds

3

cloves of garlic, chopped

2

whole dried red chillies

1

large onion, finely chopped

5

ml

(1 tsp) red chilli powder

5

ml

(1 tsp) cumin, roasted and ground

2.5

cm (1 inch) piece of ginger, chopped

2

green chillies, chopped

1 tsp

salt

1.25

ml

(1/4 tsp) garam masala

15

ml

(1 tbsp) chopped fresh coriander
---
Instructions
Cook the aubergine in the tandoor or alternatively, smear a little oil on the aubergine and roast it in a moderate oven for about 10-15 minutes. When the skin starts to wrinkle and soften, allow to cool, then peel off the skin and mash to a pulp.
Heat oil in a pan, add cumin seeds and red chillies and when they begin to crackle, add the garlic and sauté will golden brown.
Now add the onions and sauté until they too begin to turn brown.
Add the chilli powder and cumin powder and cook for half a minute.
Add the tomatoes and cook until they are mashed.
Add the ginger and green chillies and mix in the mashed aubergine pulp and stir well for two more minutes.
Add salt and fresh coriander and sprinkle the garam masala.
Mix well and turn the heat off after 30 seconds.
Serve with your peshwari naan or kashmiri naan. 
Prep Time:

30 minutes

Cook Time:

45 minutes

Category:

Curry

Method:

Braise

Cuisine:

Indian
Keywords: brinjal bhaji, aubergine bhaji, indian aubergine recipes, indian side dish, vegan indian recipe, brinjal recipes,