Keema rice is one of the items commonly found on Indian takeaway menus. Up til now, you might be hesitant to order it because you simply have no clue what it actually is. Well, once you've tried this nutritionally dense lamb mince rice dish, you'll never want to eat plain rice again.
Keema rice can easily be prepared with leftover lamb mince, which not only saves money but helps you to be more environmentally friendly as well. This keema recipe makes an excellent side dish to luscious and creamy Indian curries. Serve it with a traditional cucumber raita recipe to offer more variation in terms of texture. Indulge yourself in this vibrant Indian rice dish and don't hesitate to spice it up with some fresh chillies.
If you double up on the ingredients, you can batch cook and freeze your ready-made meals for later enjoyment. Mind you, you will need to fry the rice in batches though for maximum flavours and results. It stores very well, so it is perfect for people who lead busy lives and for those who work late. All in all, keema rice is a budget-friendly meal!
what is an Indian keema rice recipe
Growing up in South Africa, I didn't know much about Indian cuisine and the abundance of dishes it offered. Once every year or two our family holiday would be in Durban where we got to try some curry but we weren't that adventurous, sticking to safe options such as biryanis. Of course, England, thanks to its history, is a paradise for Indian food. So as I worked my way through Indian takeaway menus I came across keema rice.
Keema rice is a minced meat rice recipe using lamb mince. It is a very popular recipe enjoyed in India for its aromatic and rich flavours. Keema, or qeema in southern parts of Asia, is translated to ground meat. On the Indian subcontinent, keema is used for multiple curry dishes and samosa fillings. However, it's not uncommon to find lamb keema seekh kebabs on skewers.
Lamb keema makes up a very popular Mumbai street finger food dish, which is serving curried keema patties in a bun (pau). Pau is a bread native to India which you'll find being served on the street. As you can see, lamb keema is extremely versatile and you can use it in a variety of dishes. Ultimately, keema rice is one of the best ways to cook with lamb mince, because lamb is such a beautiful and healthy ingredient.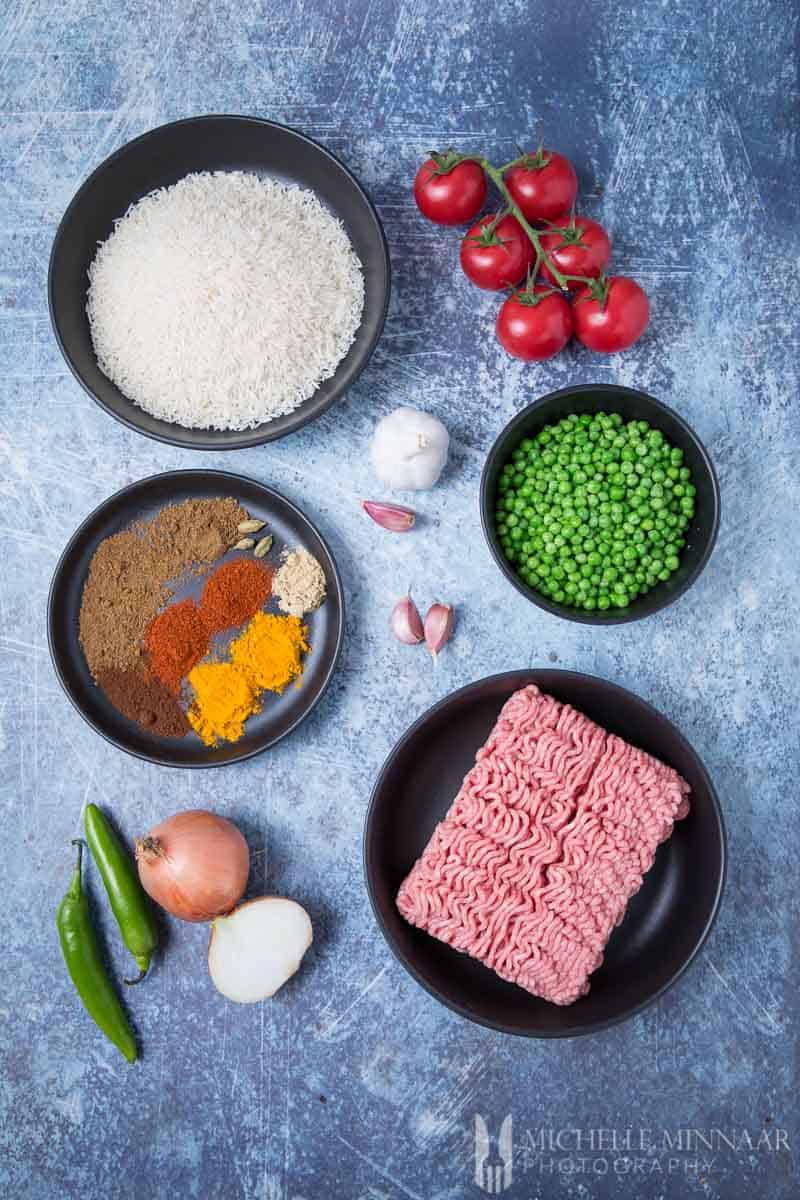 tasty lamb mince keema rice
The ingredient that matters most in this recipe is the lamb and the quality of it. When was the last time you cooked with lamb? Understandably, with its distinct flavour lamb isn't for everyone, but it stands up well to spices, which makes it perfect for adventurous eaters. Did you know that the overall appetite for lamb is on the decline in the UK? For this reason, the EU-funded campaign Lamb. Try It Love It was launched. This campaign goes on proving that lamb is really not just a one-roast wonder recipe that people cook once a year over Easter holidays. In fact, there are so many amazing cuts of lamb you can use for an easy recipe for any day of the week!
These cuts include:
why you should start cooking with lamb today
So many cuts and so many types of dishes - lamb is truly a versatile ingredient! With the right cuts, such as lamb mince, steaks, fillets and more, lamb is really easy to prepare. In fact, you can cook with it every single day, and you don't have to roast or stew the meat every time.
Plus, did you know that European lamb in amongst the best? European lamb comes from sustainably operated farms across multiple regions of Europe. Just because it is high-quality, doesn't mean that is it priced at a premium level. Give yourself the opportunity to cook with lamb and eat something with a punch of flavour. You can start with this lamb keema rice!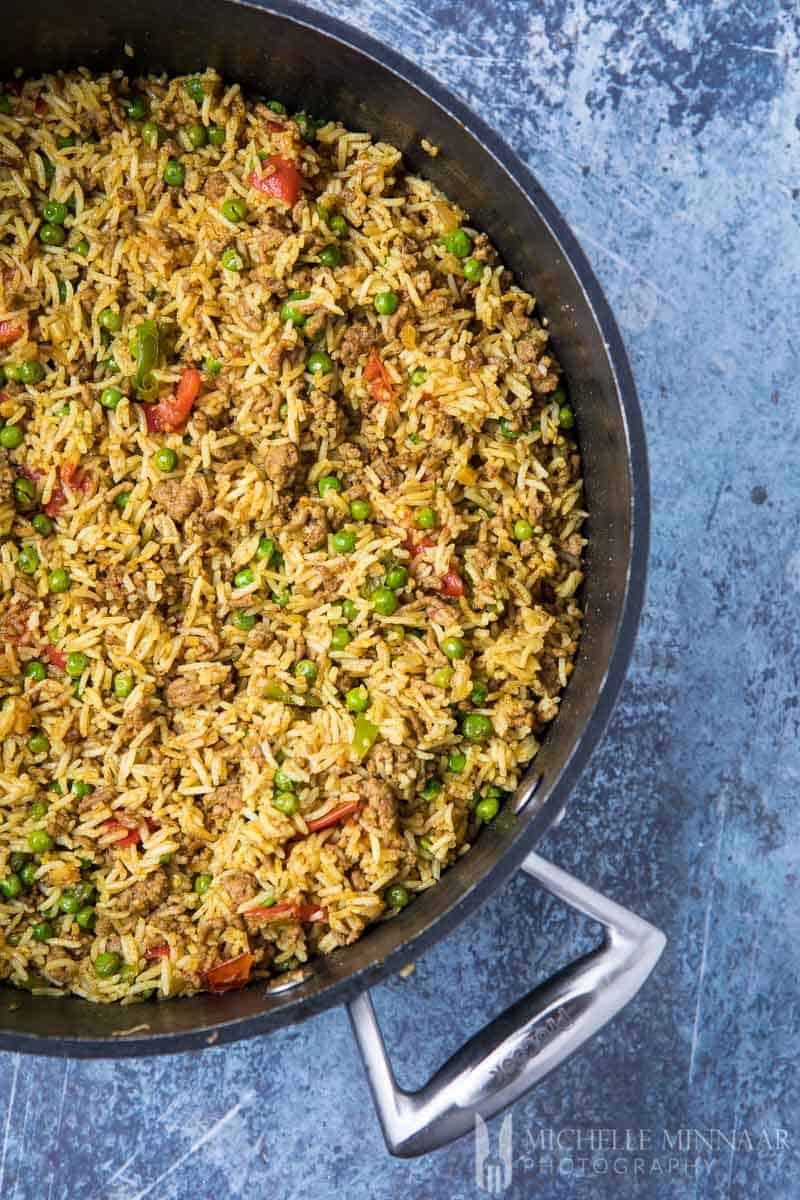 how to make easy lamb mince keema rice
My favourite part of a typical lamb keema rice recipe is that flavours of the lamb incorporate well into the rice. When you fry the lamb with the Indian spices, the flavourful juices are released. My recommendation is to not fry the lamb mince at too high a temperature. This way, you won't burn off the delicious juices which the rice is meant to soak up.
Now, lamb and peas are a time-old combination and in this case it's a great way to add vegetables to the dish. This is the perfect winter warmer recipe for the coming colder months.
how to spice a lamb minced rice dish
Fresh green chilli is the second secret ingredient to making an impact on the keema recipe. Top it off with some coriander leaves and sprinkle some lime for a bit of acidity. Serve with raita to tame your tongue and enjoy!
Print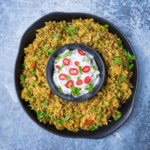 Keema Rice
---
Description
Keema rice is a vibrant and popular Indian dish which uses lamb mince and traditional Indian spices. Lamb keema rice is quick and easy. Budget-friendly.
---
1

onion, finely chopped

3

cardamom pods, crushed

15

ml (1 tbsp) vegetable oil

3

garlic cloves, peeled and crushed

2.5

cm (1in) fresh ginger, peeled and grated

450g

(1lb) lamb mince

5

ml (1 tsp) turmeric

5

ml (1 tsp) chilli powder

2.5

ml (1/2 tsp) ground fenugreek

1.25

ml (1/4 tsp) ground cloves

15

ml (1 tbsp) garam masala

2

green chillies, washed and finely chopped

2

tomatoes, washed and finely chopped

250

ml (1 cup) cooked peas

700g

(

4 cups

) cooked basmati rice
---
Instructions
Fry the onion and cardamon gently in the oil for a few minutes until the onion is translucent.
Add the garlic and ginger to the onion and fry for 1 minute.
Turn up the heat and add the mince to the mix and brown the meat while stirring constantly for 5 minutes.
Add all the remaining spices along with the tomatoes and continue to fry on high heat until the tomatoes have melted.
Pour in the peas and rice and carry on stirring until everything has been covered with the spices.
Serve immediately with raita.
Notes
Feel free to use one of these fenugreek substitutes if there isn't any in the kitchen or you are struggling to find any.
Prep Time:

10 minutes

Cook Time:

20 minutes

Category:

Side Dish

Cuisine:

Indian
Nutrition
Serving Size:

1 serving

Calories:

392

Sugar:

5.5 g

Sodium:

270 mg

Fat:

24.2 g

Saturated Fat:

7.5 g

Carbohydrates:

16.9 g

Fiber:

4.4 g

Protein:

28.3 g
save the recipe to your pinterest board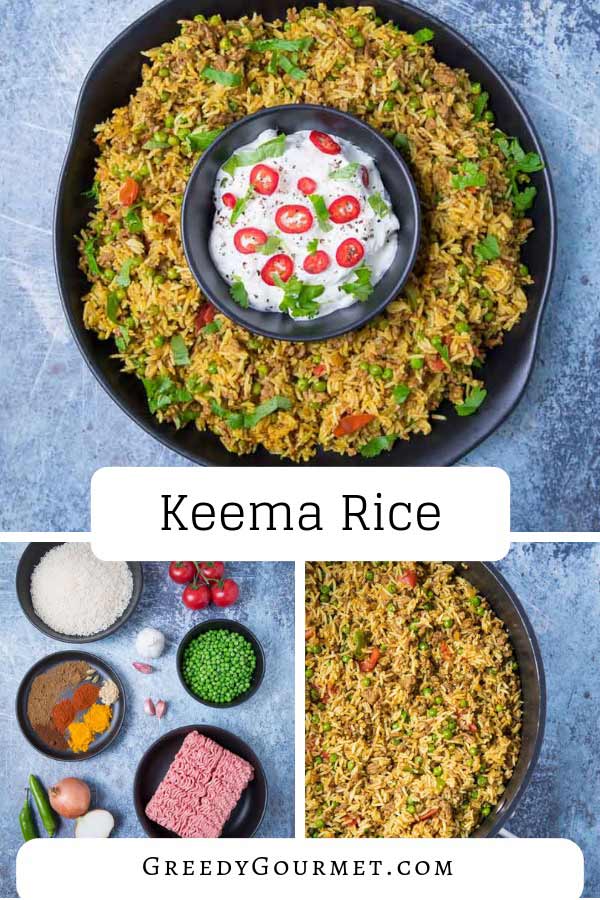 P.S: This is a sponsored post.