A one pot wonder with a flavour that will blow you away, this delicious lamb keema curry recipe is an absolute dream of a dish.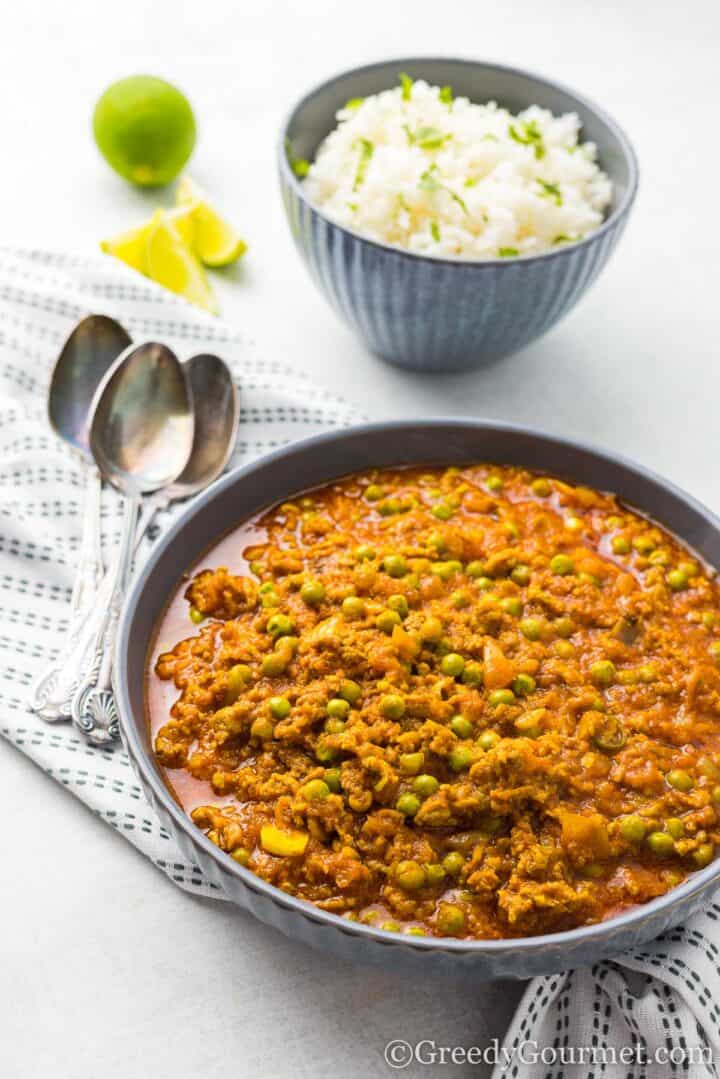 Tasty, aromatic, simple and full of healthy fresh ingredients, it's a slow cooked curry that's the perfect comfort food for any time of year.
Why you'll love this recipe
It's truly delicious, with a depth of flavour that takes the breath away
All the cooking happens in one pan, meaning it's easy to make and easy to wash up afterwards
If you're used to chicken or beef curries, lamb makes for a really interesting change
It's a great recipe to make a big batch and keep some leftovers for later... the flavour gets even better after a day or two!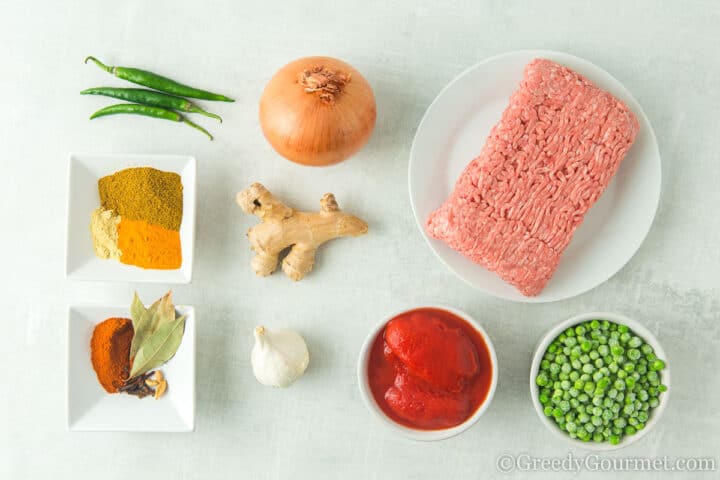 Equipment needed to make this recipe
There are a few key pieces of equipment that you'll need for this lamb keema curry recipe:
How to make lamb keema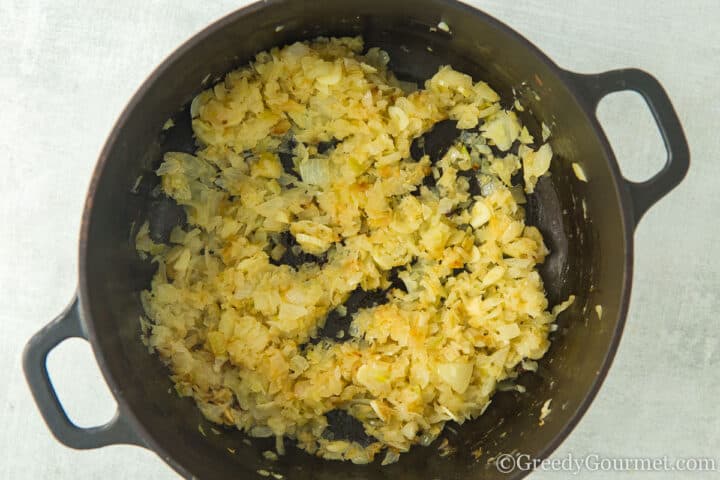 Gently fry the onions until softened.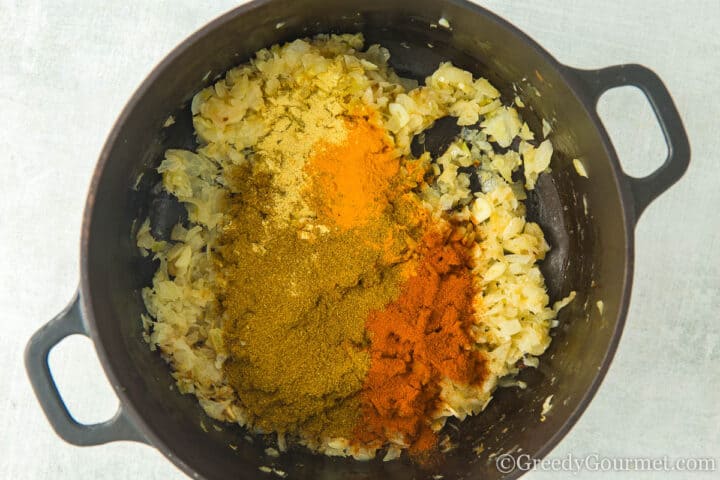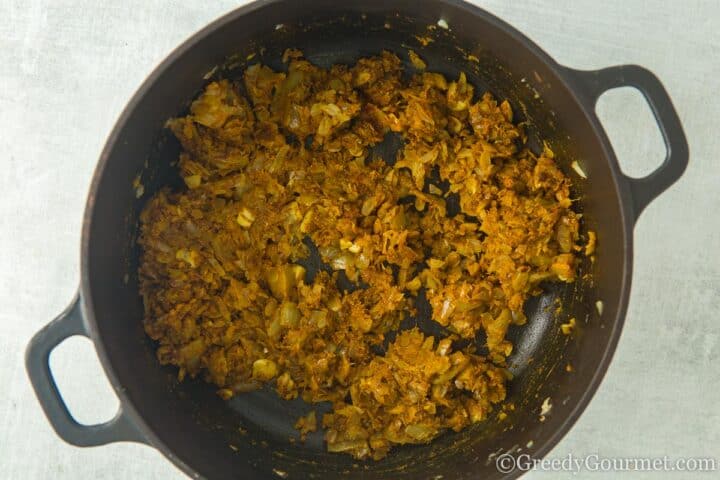 Fry for 5 minutes until the aromas start releasing.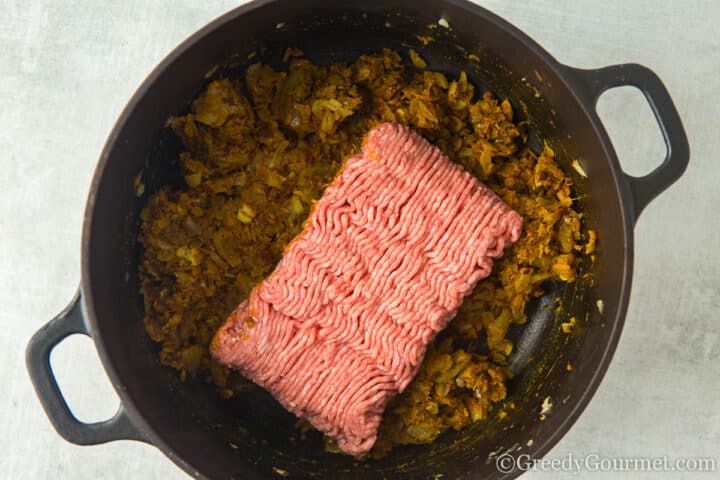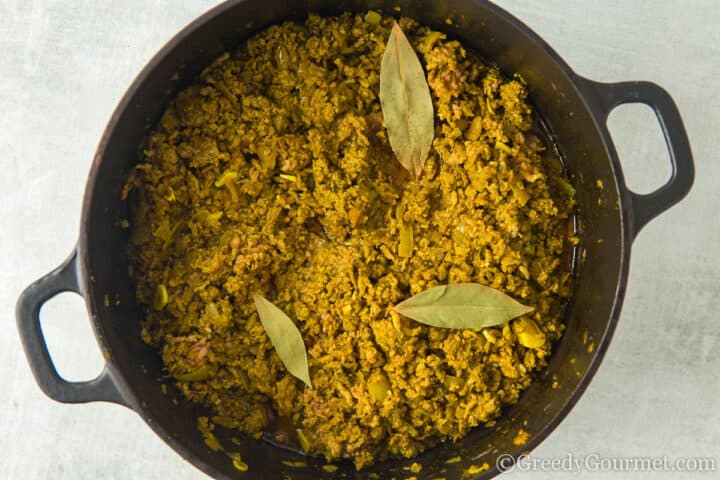 Fry the ground lamb until browned, then add the bay leaves.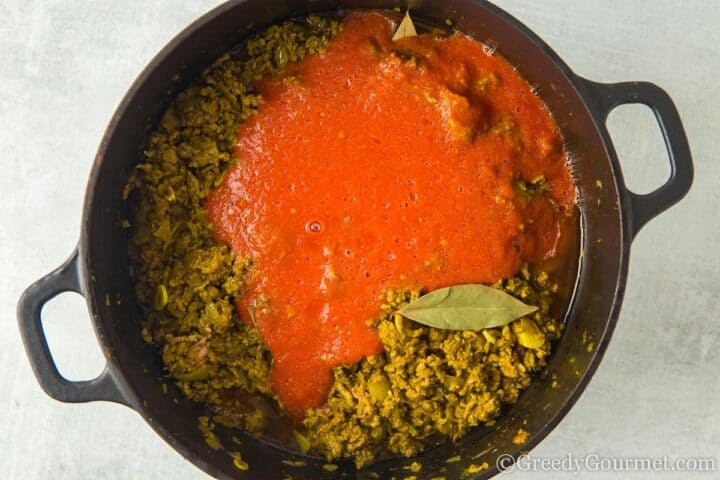 Add the chopped tomatoes and chillies. Simmer for 20 minutes.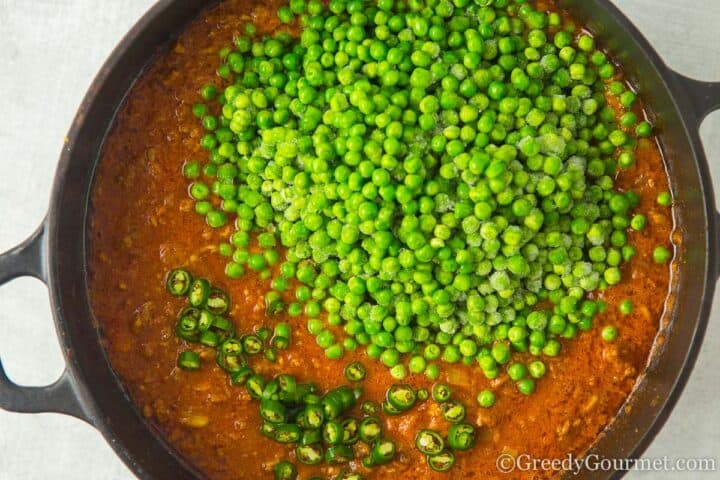 Add the peas and cook for another 50 minutes.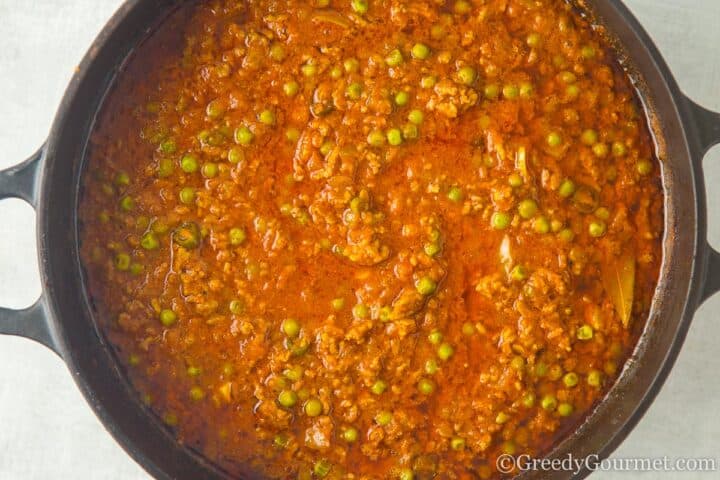 Top Tip
When frying the onions, garlic and spices, be sure to add water to the pan if it's starting to catch on the bottom. This will prevent any bitter flavours in the curry.
What to serve with lamb keema
The great thing about a curry, particularly this lamb keema curry, is that there are so many wonderful side dishes that you can serve with it. Here are just a few suggestions, courtesy of some Greedy Gourmet inspiration!
Rice
The classic 'go-to' accompaniment with any kind of curry is rice. For me, it's basmati rice every time... it's got that incredible aromatic scent and wonderful texture that makes it perfect when served with a deliciously rich curry such as lamb keema.
Jasmine rice is another excellent accompaniment and would perfectly suit this lamb mince curry.
Puris, rotis, parathas or naan breads
These are all authentic Indian sides that you'll find in all good Indian restaurants. Naan breads and puris are available in supermarkets and Asian food stores, although making homemade naans and puris is way to go for a really special feast.
My Kashmiri naan recipe is simple and delicious... serve it alongside this amazing lamb keema and you'll be in absolute heaven! This gluten free roti and gluten free puri are also excellent recipes for pairing with this lamb keema recipe.
Chutney
A proper curry feast wouldn't be complete without a selection of chutneys on the side. Mango chutney, apricot chutney, marrow chutney and damson chutney are all wonderful options when it comes to pairing with lamb keema curry.
Looking for a different kind of chutney? Check out all my chutney recipes and take your pick!
Wine pairing
Have you ever heard people say "you can't pair wine with curry!" Well, I say nonsense!
While it's true to say you can't pair just any wine with curry, if you pair the right wine, the results are fantastic!
South African wines are perfect for complementing lamb dishes and spiced food. The earthy notes of red wines such as Pinotage, Cabernet Sauvignon or Shiraz work wonders with this keema curry recipe.
Variations to this recipe
Vegan keema
You can easily swap in a meat-free vegan mince in place of lamb if you want to make this a vegan keema.
Extra herbs
Add a handful of fresh mint alongside the fresh coriander for fragrant garnish.
Popular substitutions for lamb keema
Seeds instead of ground spices
If you prefer, you can grind your own seeds in place of ready ground spices. So, grind your own cumin and coriander seeds, fenugreek seeds etc., using a mortar and pestle and lightly toasting in a dry frying pan. The flavour and fragrance will be incredible!
Use ready made curry paste
I'm all for authentic curries, but there's a time and a place for cutting corners. There are some fantastic curry pastes out there, so if you don't have time or can't get hold of the spices, you a paste instead. Just add a tablespoon of curry paste along with curry powder or garam masala.
Use different minced meat
This recipe is for a lamb keema, but it's easily adaptable. Instead of lamb mince, you can use beef mince for a beef keema, or chicken mince for a chicken keema.
Fresh tomatoes
Use fresh tomatoes along with tomato puree in place of canned chopped tomatoes if you prefer.
Bay leaf and fenugreek substitutes
Bay leaf & Fenugreek are strong flavours in this dish, but if you don't have any then I would suggest using one of these bay leaf substitutes and/or one of these fenugreek substitutes.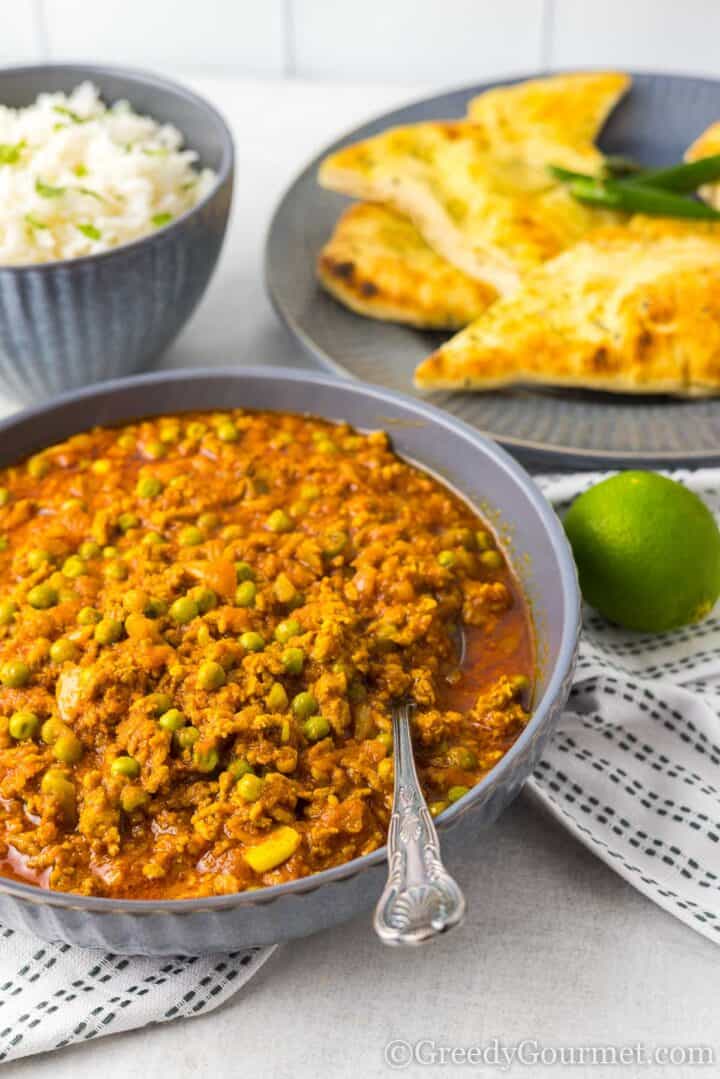 Top Tips
Here are a few key points to keep in mind when it comes to cooking the perfect lamb keema curry:
Use a proper high quality saucepan that can withstand the heat to produce the kind of flavours that are needed for this curry.
Use a high quality lean lamb mince if you can. You'll end up with a luscious rich velvety sauce.
If you can, grind your own spices. This is how you get a next-level quality curry.
What is lamb keema?
Lamb keema is a minced lamb curry dish that is cooked in one pan, first at a high/medium heat on the hob, then low and slow in the oven. It contains many spices, such as cumin, cardamom, turmeric, cloves, chillies and fresh ginger, together with onions and garlic.
Chopped or fresh tomatoes are also included to form a rich tomato sauce that complements the lamb and spices.
Where does keema come from?
Keema is minced lamb curry that is a widely popular dish in northern India, Pakistan and Bangladesh, but the origins of the dish are said to stretch back over 500 years to the Mughals in Persia.
The word 'keema' means 'minced meat' in Urdu. Although lamb is the typical meat in keema, beef is sometimes used instead.
How do you store lamb keema?
Store your luscious lamb keema leftovers in an airtight container in the fridge – just make sure it's cooled down to room temperature first. Leftovers will stay fresh for around three days.
Can you freeze lamb keema curry?
Yes. If you wish to keep lamb keema for longer than a few days, freezing is the way to go.
To freeze lamb keema curry, place it in a suitable freezer-safe airtight container. If you have quite a lot of leftovers, you can freeze this lamb curry recipe in smaller portions and defrost just the right amount each time.
How do you defrost frozen lamb keema?
Always defrost frozen curry leftovers in the fridge. It's best to transfer the leftovers from the freezer into the freezer the night before you plan to use them, allowing them to thaw in the fridge overnight.
Never defrost frozen curry at room temperature. This could lead to food poisoning.
Can I grind my own spices for this lamb keema curry?
Absolutely! Using freshly ground spices when cooking a curry will give you even more flavour and fragrance. Use a mortar and pestle or an electric spice grinder — you'll need to toast the spices in a dry pan for a minute or two before grinding them.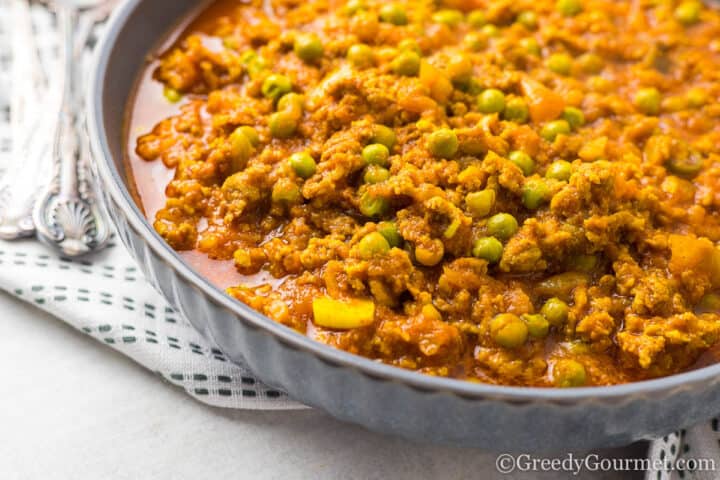 More amazing lamb curry recipes
If you enjoyed making this curry recipe, you'll absolutely love these! From popular classics to unknown gems, these a curry here to suit every taste:
Print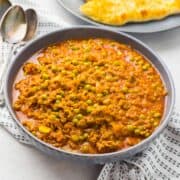 Lamb Keema Curry Recipe
---
Author:

Michelle Minnaar

Total Time:

1 hour 50 mins

Yield:

8

portions

1

x

Diet:

Gluten Free
Description
Lamb keema curry is an Indian curry dish made of ground meat, vegetables and spices. Follow the recipe to make this tasty dish at home.
---
30

ml (2 tbsp) vegetable oil

2

onions, finely chopped

4

garlic cloves, crushed

2.5

cm (1 inch) fresh ginger, peeled and finely chopped

6

cloves

2

cardamom pods, crushed

8g

(

2 tsp

) ground fenugreek

12g

(

2 tbsp

) garam masala

10g

(

2 tsp

) turmeric

4g

(

2 tsp

) chilli powder

1

kg (2.2lbs) ground lamb

800g

(

2

cans) chopped tomatoes

3

bay leaves

2

green chillies, thinly sliced

280g

(

2 cups

) peas
coriander leaves, for garnishing
---
Instructions
Heat the oil in a large pan and gently fry the onions until softened.
Add the garlic, ginger, cloves and cardamom pods in and fry for another 5 minutes until the spices' aromas have been released.
Tip in the fenugreek, garam masala, turmeric and chilli powder and fry for 2 minutes while stirringly thoroughly. Add a little water if it dried up too much.
Add the mince in batches and fry until everything is browned and well mixed.
Add the tomatoes and bay leaves. Cover and cook in a preheated oven at 190°C/fan 170°C/375°F/gas mark 5, for 20 minutes.
Take it out of the oven, season with salt and stir in the chillies and peas. Return to the oven and continue to cook for a further 50 minutes.
Garnish with coriander and serve with puris, parathas or naan.
Notes
If you can get hold of it, use ground mutton.
You can use beef mince instead of lamb.
This recipe freezes well.
Prep Time:

20 mins

Cook Time:

1 hour 30 mins

Category:

Main Course

Method:

Stew

Cuisine:

Indian
Keywords: keema, keema recipe, keema matar, keema curry, keema mutton recipe, punjabi keema matar recipe, best keema matar recipe, lamb keema matar recipe, lamb keema, beef keema, keema curry