One of the most delicious winter chutneys, orange chutney is sweet, tart, syrupy and sensational!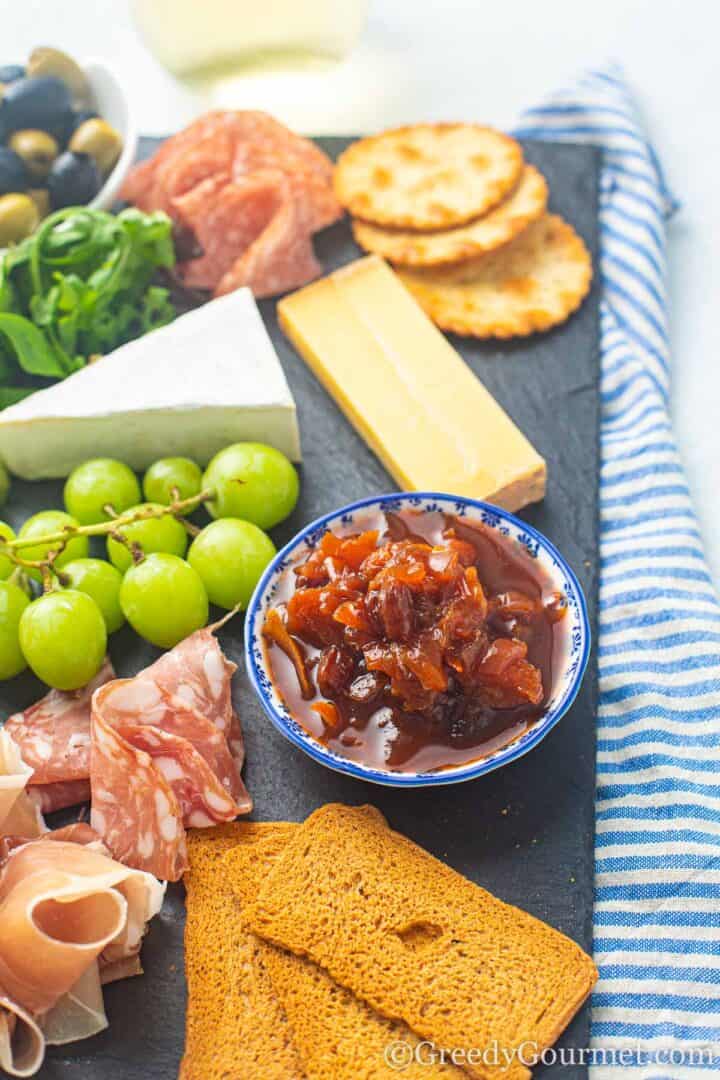 It's also super easy to make and I'm going to show you how.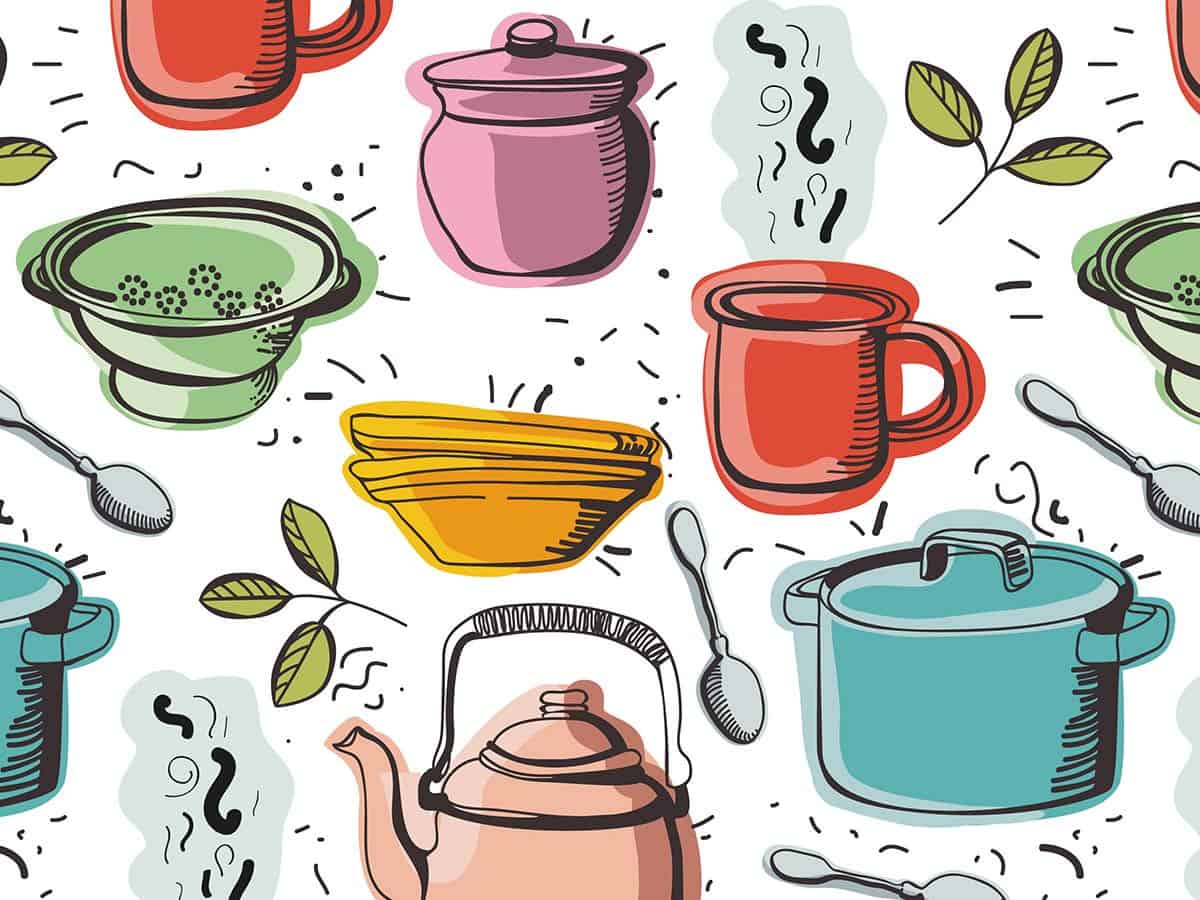 CHUTNEY EQUIPMENT YOU NEED
Check out the ultimate list to chutney making equipment. You actually don't need that much and most of the items are quite affordable!

Making your own preserves is a great and satisfying hobby. Giving the gift the lovely food to your friends and family are especially rewarding!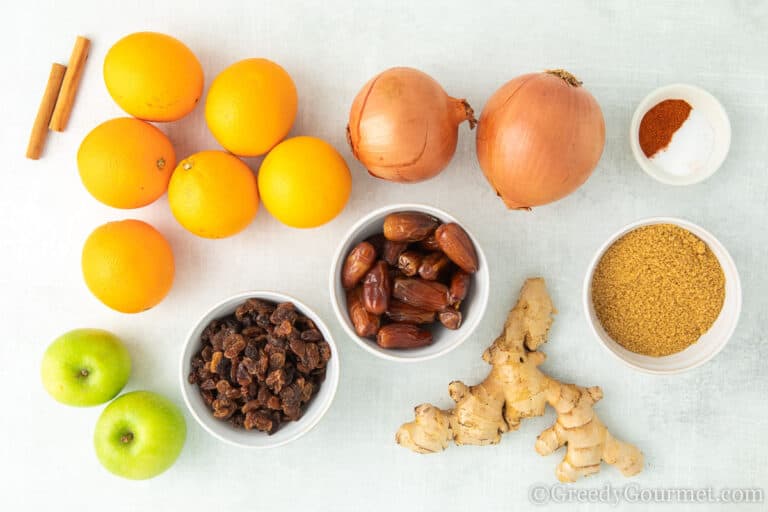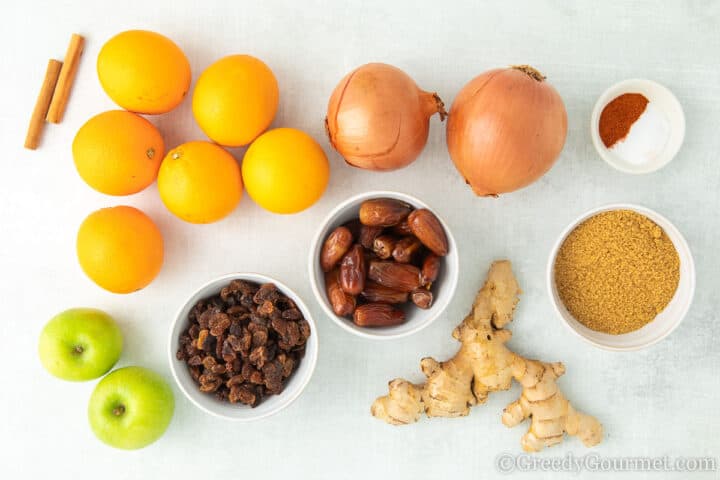 Orange chutney recipe
Cooking this recipe is so easy! It's just a matter of peeling and zesting, mixing juice and peel with vinegar, leaving for a moment to absorb all the flavors, then cooking – you'll crank it up then reduce heat and allow it to simmer to perfection!
When it's finished, you'll have a thick, delicious mixture that tastes like a dream. It's so good, it could replace cranberry sauce as your go-to holiday condiment.
Just like cranberry sauce, this chutney's got that amazing blend of sweet, savory and slightly spicy flavor. Unlike with cranberries though, this chutney has a slight bitterness that makes it unique.
How to prepare the oranges
Before simmering them in the pot with the other ingredients, you'll need to prepare them. First, you'll need to rinse them. Once washed, you'll peel them and remove the bitter white pith.
Discard any pips and shred the pulp and orange zest. You'll need a sharp kitchen knife for this. Shred the peel in thick or thin slices, as you prefer.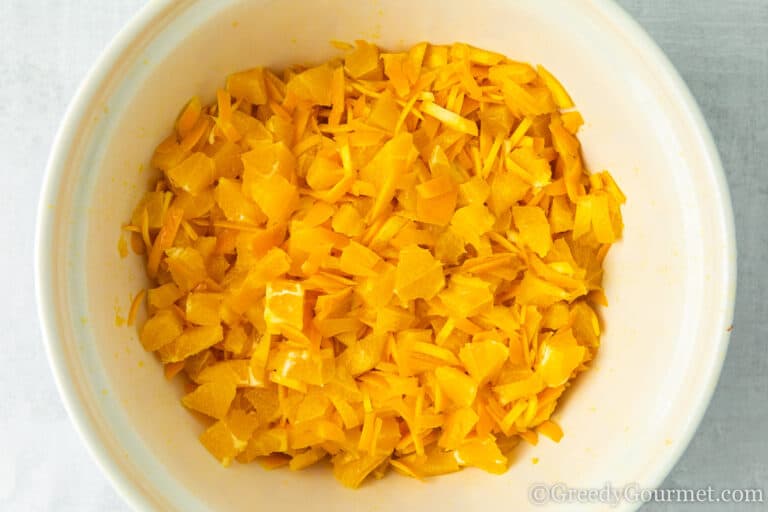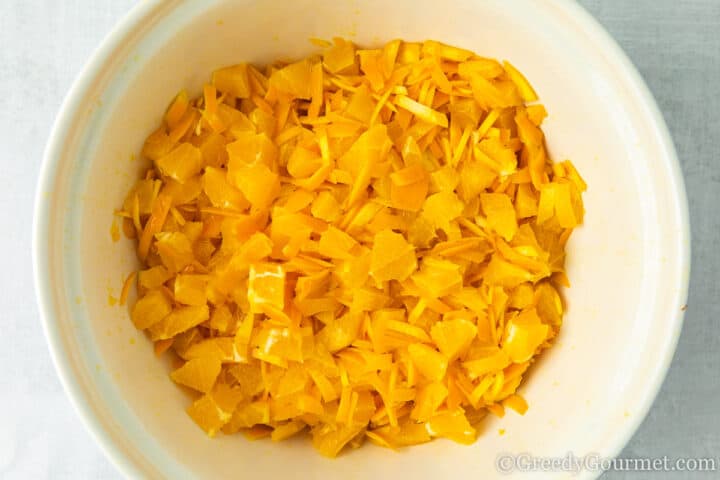 What oranges should I use with this recipe?
They are not all the same. In fact, they come with different flavors that make them unique. Here's a list of some of the most readily available that would be perfect for this chutney recipe:
Navel 
Sweet with a hint of bitterness, the navel orange is the most common type of orange. Chances are, you've seen them in your local supermarket or grocery store. You'll know them by their little belly button – hence the name 'navel' orange!
They taste great and they're seedless, making them perfect for making orange juice or for making chutney. Navel oranges are in season from November to June.
Seville 
Big on tartness and bitterness, this juicy Spanish orange brings lots of flavor! The lack of sweetness might be a problem for those who prefer their chutneys on the sweeter side, but their deep flavor really comes to the fore when cooked.
Get them when you can, as this winter orange is only in season from December to February.
Blood oranges
The vivid red color of a blood orange make chutneys with a very distinctive tone. Sweet, tart and extremely juicy, blood orange has a unique taste that begs to be 'chutneyed!'
Blood orange season is from November to March, so don't miss out!
What's the best vinegar to use in orange chutney?
Vinegar is a big ingredient in the chutney-making process. Different vinegars work well with different chutneys. Here's a few recommendations for this recipe:
Malt vinegar
Malt vinegar has a lemony, caramel flavor, making it a perfect pairing with these flavors. For me, it's the ideal pick!
Red wine vinegar
Another wine that works well with this recipe. Punchy, vibrant and fruity, red wine vinegar may be a little too much when it comes to balancing the flavors in this recipe.
Do you need to let this chutney mature?
Yes. This chutney is best if you let it mature for at least a month – even better if you leave it for 3 months.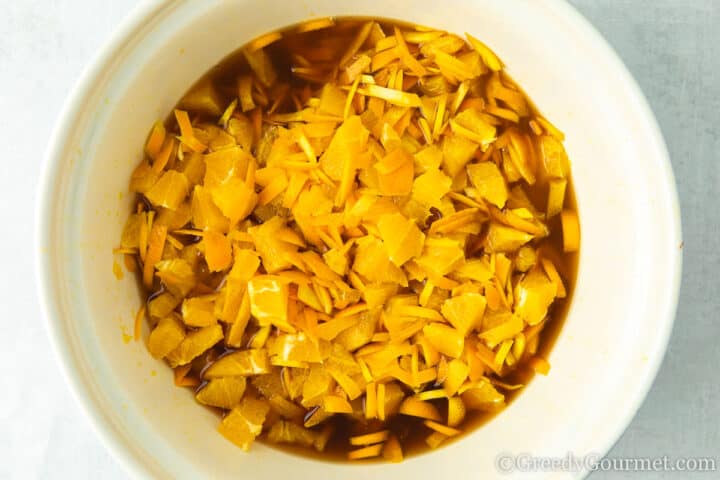 Other fruit you can combine orange with
Make up your own divine combinations! Swap 50% of the orange in the recipe below with one of the following fruits:
Fresh coconut shavings
Mango
Strawberries
Apples
Apricots
Figs
Grapefruit (prepared the same as the oranges)
Lemon (prepared the same as the oranges)
Lime (prepared the same as the oranges)
Peach
Pineapple
Rhubarb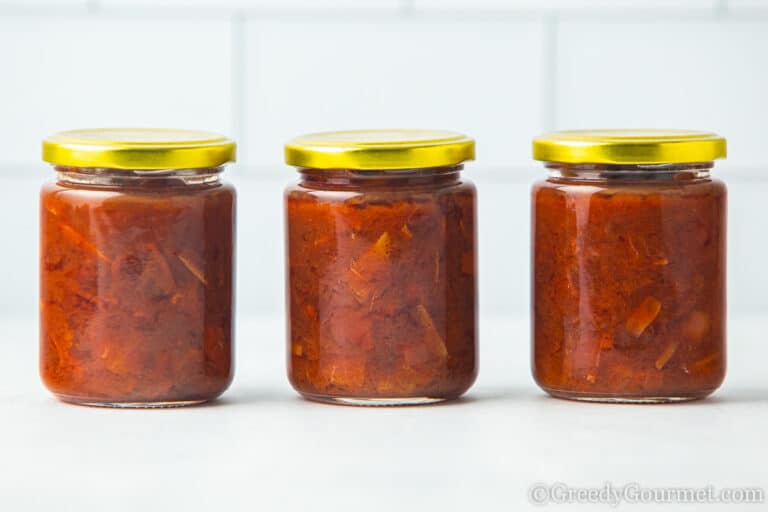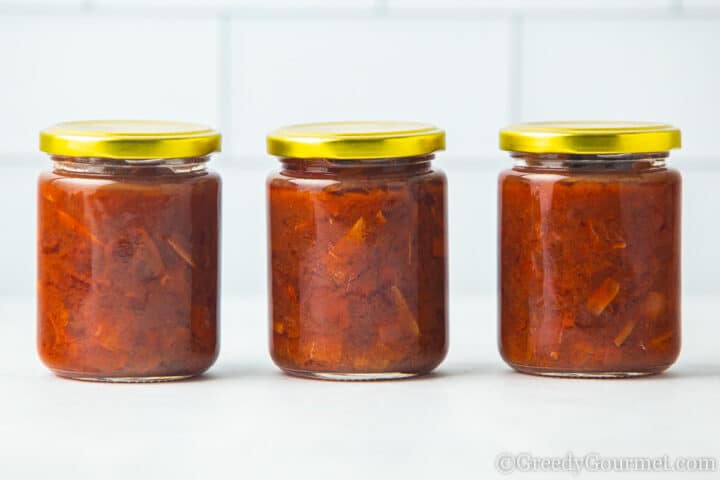 Variations on this recipe
Add an extra dimension of flavour to your chutney with any of the following:
1 cinnamon stick
½ tsp ground cinnamon
1 vanilla pod
1 rosemary sprig
2 thyme sprigs
Pinch of saffron
12g (½ cup) fresh mint
12g (½ cup) fresh basil
4 cardamom pods, crushed
3 chipotle peppers, finely diced
5cm (2in) fresh ginger root, grated
50g (½ cup) almonds, chopped or slivered
50g (½ cup) pecans, chopped
1 star anise
¼ tsp ground cloves
3 cloves
3g (1 tsp) ground coriander
3 juniper berries
50g (½ cup) walnuts, chopped
Alcohol that pairs well with oranges
Probably the simplest and most enjoyable way to enjoy chutney is part of a cheeseboard.
If you pair your chutney with a cheeseboard, you might want to take a dream double to a triple with a nice little tipple!
While enjoying this chutney as part of a cheeseboard, you can enjoy the following drinks with it.
Armagnac
Brandy
Cointreau
Grand Marnier
Kirsch
Alternatively, you can actually make your chutney boozy! Simply pour in 125ml (½ cup) of your preferred alcohol at the end of cooking time and bottle up your orange chutney as soon as possible.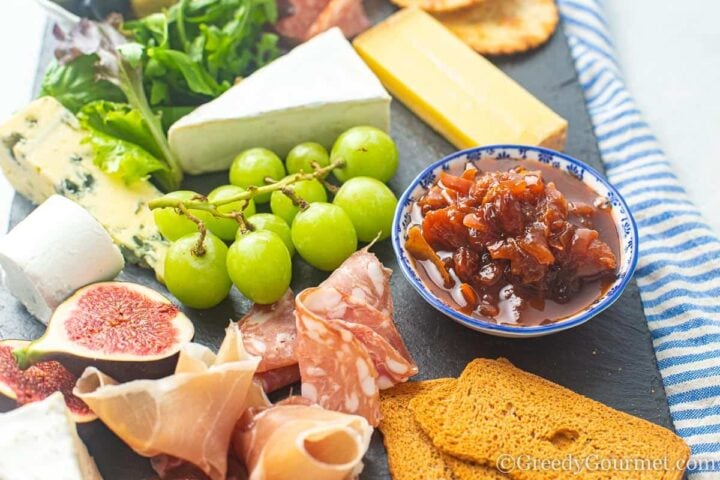 Ideas for how to use this chutney
Serve with bacon, roast beef, turkey or pork recipes, any hard cheese or white fish.
More orange recipes
Want the best of zest? Check out these recipes:
More fabulous Chutney Recipes
Print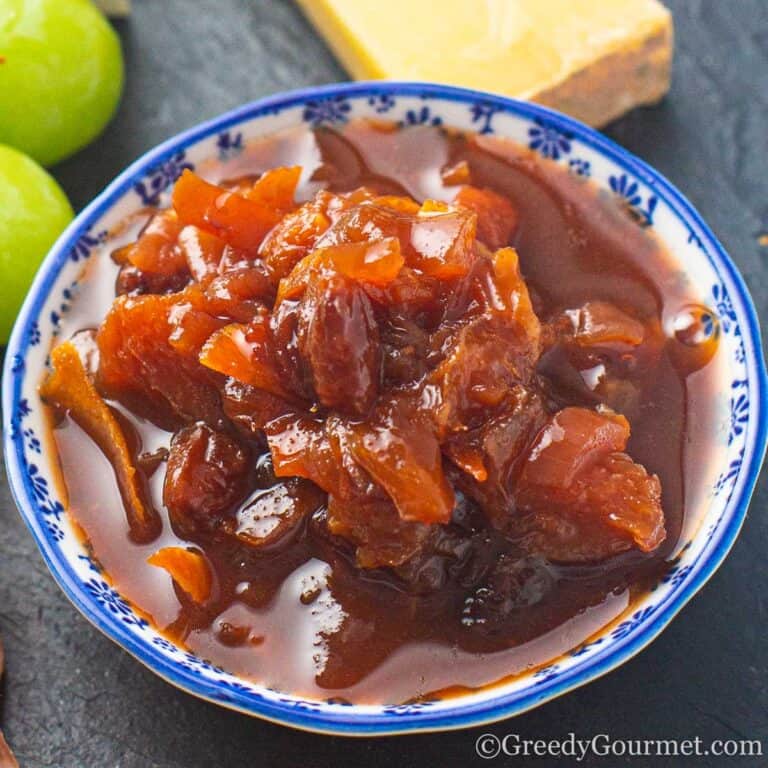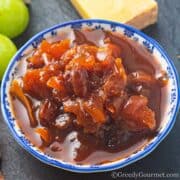 Orange Chutney Recipe
---
Author:

Michelle Minnaar

Total Time:

1 hour 30 minutes

Yield:

12

x 370g jars

1

x

Diet:

Vegan
Description
Have you ever tried an orange chutney? This easy homemade chutney uses fresh oranges to create a sweet chutney perfect for winter time.
---
2

kg

(4lb) oranges

1.5

L (6 cups) malt vinegar

500

g

(1lb) onion, finely chopped

1

kg

(2lb) apples, peeled, cored and chopped

250

g

(1/2 lb) sultanas

250

g

(1/2 lb) dates, pitted and chopped

18

g

(1 tbsp) salt

1

cinnamon stick

5

cm (2in) fresh ginger root, grated

5

g

(1 tbsp) cayenne pepper

1

kg

(2lb) brown sugar
---
Instructions
Wash the oranges, then peel them. Remove as much of the white pith as possible. Discard the pips. Shred the peel and pulp, pretending you're making marmalade. 
Place the orange peel, pulp and vinegar in a large saucepan. Leave covered overnight or for several hours.
Add the rest of the ingredients to the orange mixture.
Stir the contents over a medium heat until the sugar has dissolved. 
Crank up the heat and let the mixture reach a boil, then reduce to a steady simmer.
Continue to cook uncovered for 1 hour or until the chutney has thickened. Do give it a stir every now and then to prevent the food from sticking to the bottom of the pan. 
Spoon into hot, sterilised jars. Seal and then let it cool down. 
Label the jars, then let the chutney mature for at least a month before opening. Enjoy!
Prep Time:

30 minutes

Cook Time:

1 hour

Category:

Chutney

Method:

Boil

Cuisine:

British
Keywords: orange chutney, orange recipe, chutney recipe, spiced orange chutney recipe, homemade orange chutney