This simple recipe for orange peel chicken is perfect when you need to cook a quick yet tasty meal. To make a good orange peel chicken, you actually only need a handful of ingredients. Most of which are staples that you most likely have in your pantry anyway. Orange chicken is a perfect balance of sweet and savoury. You might think of it as a common dish on a Chinese takeout menu, however it is a lot more satisfying to make yourself. So make your own 'fake away' in the comfort of your own kitchen!
Moreover, this Chinese dish is an easy recipe to scale up if you are cooking for your family or having to serve some unexpected guests. Not to mention, you can easily freeze a portion of orange peel chicken and always have a super-tasty meal ready to serve in no time. Any leftovers (unlikely!) are also perfect for packing as an office lunch the next day.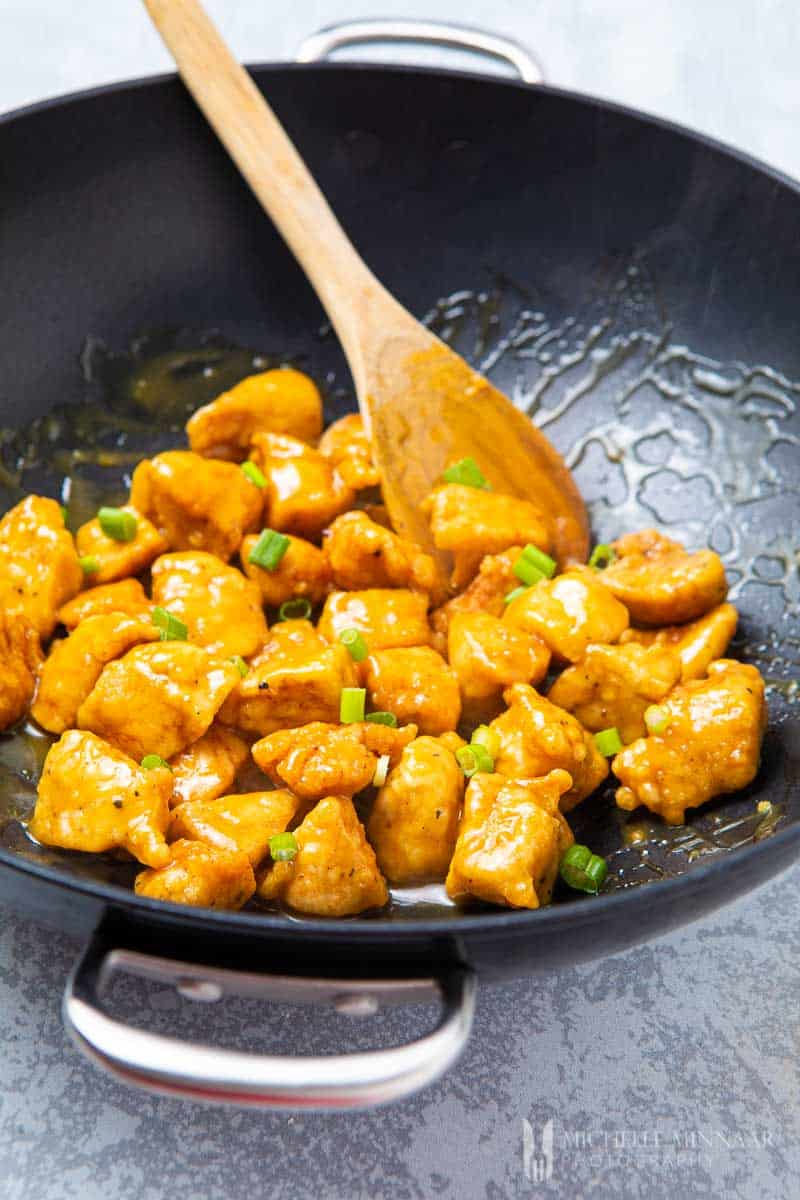 Chinese orange peel chicken recipe
Orange peel chicken is a dish featured in many Chinese restaurants throughout the country. There is a good reason for this, namely that it is delicious. The good news is that it is much easier to cook it yourself than you might have thought. There is no need to go out to have a Chinese meal with this recipe in your repertoire. The key to making the best orange chicken is of course to use fresh, ripe oranges. Since in this case you will be using only the orange zest, it is important to go for the organic oranges. This way you are sure not to get any unwanted preservatives or pesticides in the dish. Be careful when you peel the orange, so that you do not get too much of the bitter, white part into the sauce.
In order to intensify the orange flavour, I am also using freshly squeezed orange juice in my orange sauce. In order to get those Chinese flavours into my orange peel chicken, I am also adding ginger, rice vinegar and soy sauce to the orange sauce. If you have leftover oranges, you can always make a delicious homemade orange marmalade. Next, if you enjoy Asian-flavoured chicken dishes you also need to try my yasai itame – an amazing Japanese-style stir fry that you simply must taste.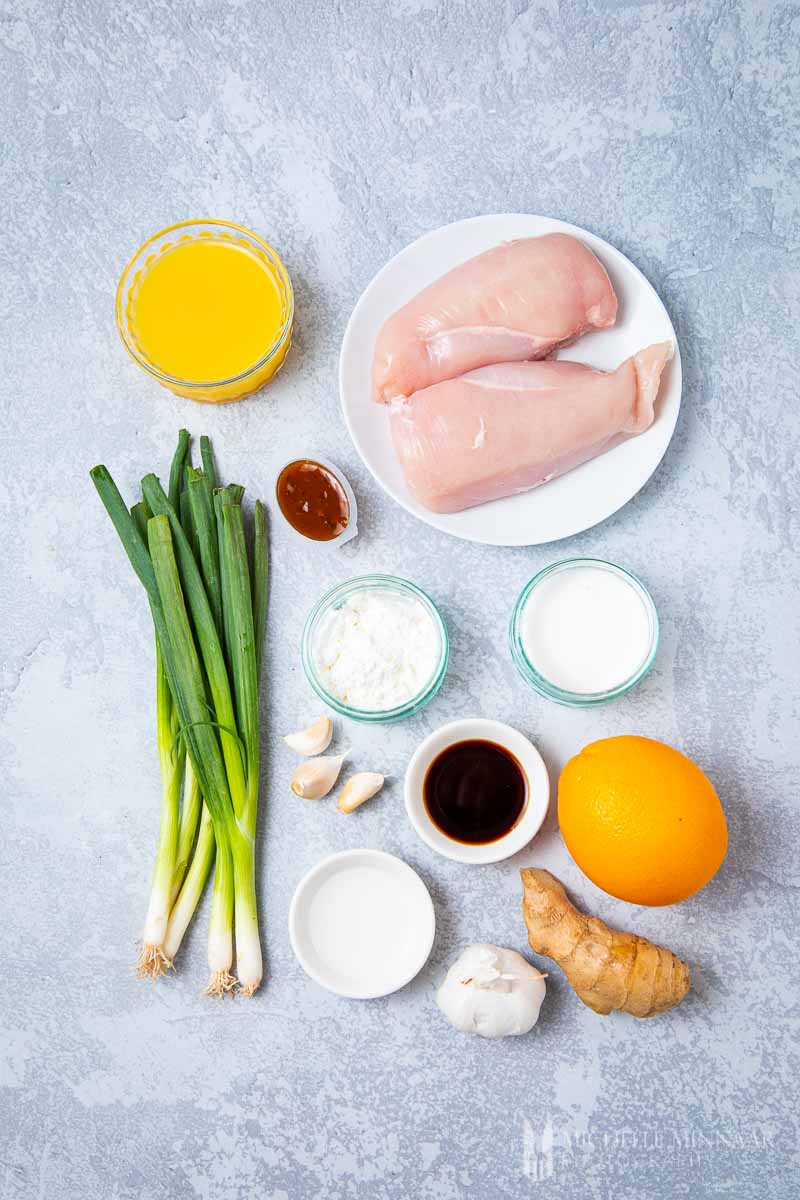 Equipment you need for this Chinese recipe
Here's a list of things you'll need to make this delicious orange peel chicken recipe:
easy orange peel chicken
You might think that cooking Chinese orange peel chicken sounds complicated. However, I can assure you that it is not. As a matter of fact, all you need to do is add all the ingredients for the orange peel sauce into a saucepan and let it simmer for around ten minutes. Meanwhile you can prepare and fry the diced chicken, as well as cook some jasmine rice to serve along with it. Cooking a fresh and tasty meal does not get much easier than this amazing orange peel chicken. If you have an appetite for more easy chicken dishes, have a look at my salt and chilli chicken. Pair it up with a complementary side of salt and chilli chips.

orange peel chicken calories
Many delicious dishes are not exactly fat free, however orange peel chicken is actually relatively low on calories – a standard-sized portion only has about 390-400 calories. That is less than a quarter of the average daily calorie intake for a normal grown up. Since chicken is a lean type of meat, you can eat your home-cooked orange chicken with a clear conscience. Nevertheless, if you want to make this dish even leaner, you can substitute the chicken with turkey meat instead.
healthy orange peel chicken
If you feel like your orange peel chicken could do with a little bit more vegetable, don't be afraid to steer away from the original recipe. For example, you can julienne some carrot and add to the dish too. Make sure those carrot sticks are matchstick-thin and you will only need to stir-fry them for a little while along with the chicken and the orange sauce. This way you have the additional freshness of the carrots, which still ought to have a bit of bite in them. For more inspiration, you can also have a look at my chicken in oyster sauce stir fry. Otherwise, you can also try this delicious and healthy vegan chop suey recipe.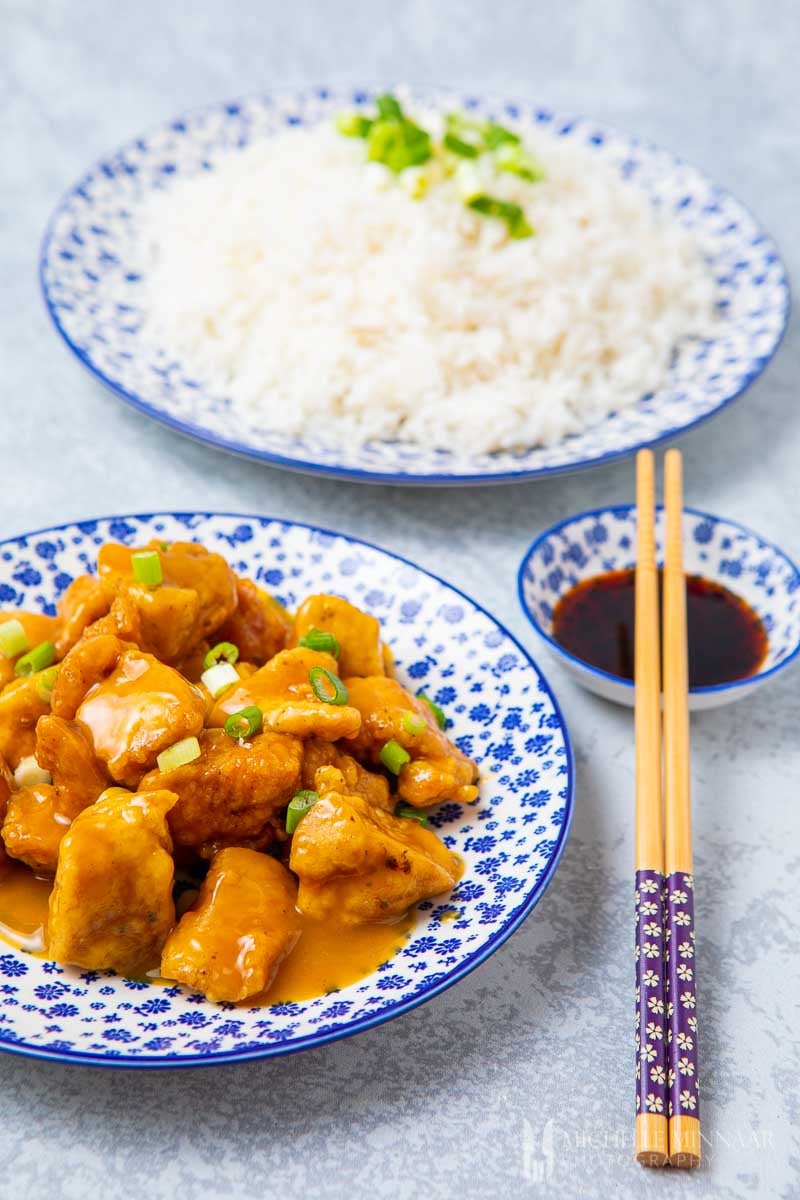 what to serve with orange peel chicken
The most classic and probably the most obvious side to serve with orange peel chicken is rice. I have to admit that for me the perfect side for a good stir-fry type of dish, like the orange peel chicken, is rice. Well-cooked jasmine rice has that nice oriental smell, and can soak up that delicious orange sauce. If you like a bit of variation you can mix some green peas into the rice, like I did when I made my fanta chicken.
That being said, you can also serve your orange peel chicken with egg noodles. If you are not in the mood for rice, but still want to keep it Asian, noodles are the perfect alternative. Alternatively you can serve the orange peel chicken with steamed vegetables such as courgettes/zuchini. Another option is to make your own vegetable noodles. You can learn how to do that by studying my recipe for baked basa with vegetable noodles.
best topping for Chinese dishes
As with all Asian dishes, the right sort of topping is important for the perfect orange peel chicken. For once, I am actually abstaining from topping the dish with fresh coriander. Instead, I sliced up some spring onions and sprinkled these on top of the orange peel chicken.
Of course, if you simply cannot live without coriander, do not let me stop you from using that as a topping! Although I do find the spring onion to be the perfect, fresh element to top off the sweet and sour orange peel chicken. Another nice topping is sesame seeds. Sprinkling the orange peel chicken with white sesame seeds really brings that Chinese touch to the dish.
How would you serve this orange peel chicken recipe? Let me know in the comments section below.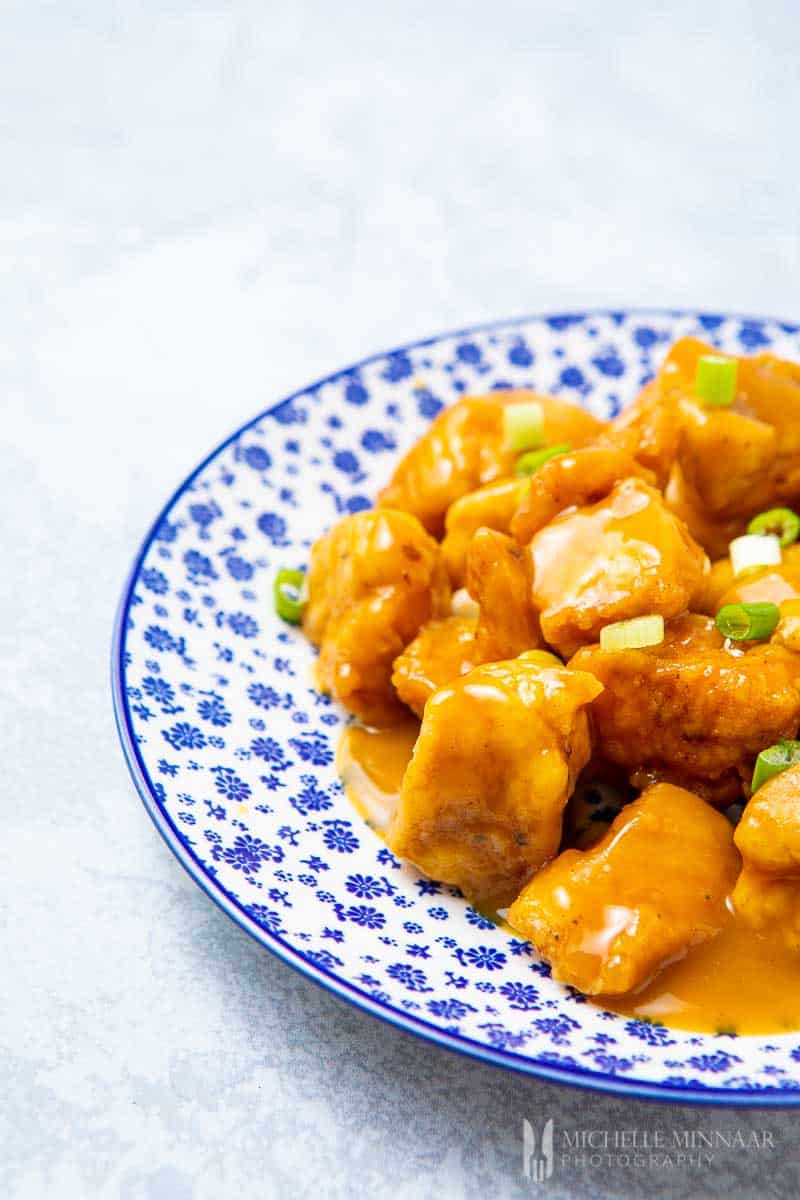 Print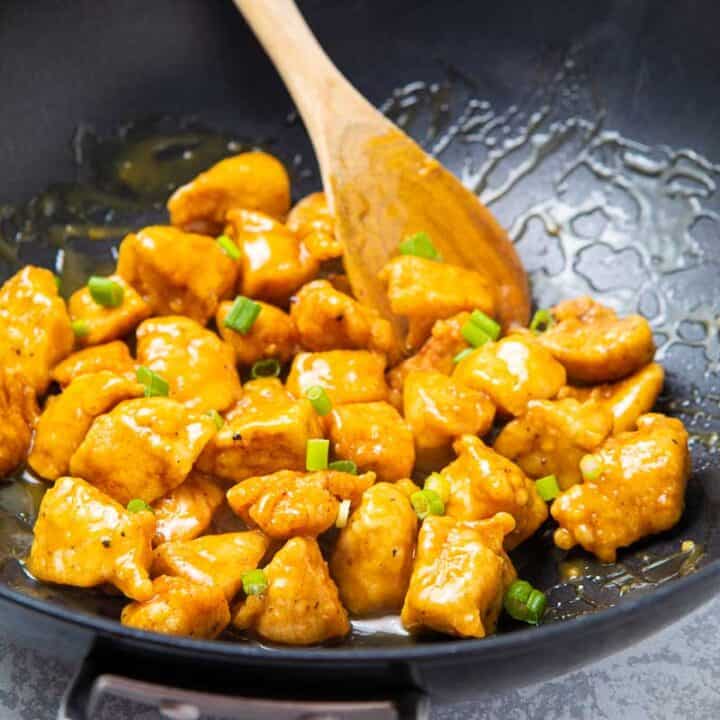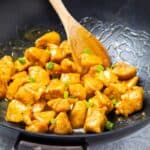 Orange Peel Chicken
---
Orange Peel Sauce
2

oranges, zest and juice

250

ml (1 cup) orange juice

125

ml (½ cup) chicken stock

30

ml (2 tbsp) rice wine vinegar

30

ml (2 tbsp) soy sauce

3

garlic cloves, peeled and crushed

2.5

cm (1in) fresh ginger root, peeled and minced

30

ml (2 tbsp) brown sugar

15

ml (1 tbsp) sriracha [optional]

15

ml (1 tbsp) cornstarch
Fried Chicken
600g

(1½lbs) chicken breasts, cut into 2.5cm (1in) pieces

60

ml (¼ cup) cornstarch

30

ml (2 tbsp) vegetable oil
Garnish
4

spring onions, washed and chopped
---
Instructions
For the Orange Peel Sauce: Place all the ingredients, except for the cornstarch, in a saucepan.
Turn up to a medium heat and let the sauce reach a slow simmer point and continue to cook for 10 minutes or until the flavours have infused the sauce.
Place the cornstarch in a small cup and add 15ml (1 tsbp) of water to it. Stir.
Slowly drizzle the cornstarch slurry to the sauce while stirring.
After a few minutes the sauce will thicken.
Turn off the heat and set the sauce aside.
For the Fried Chicken: Place the chicken in a bowl and coat with the cornstarch.
Heat the oil in a wok and fry the chicken in batches until browned all over.
Place all the browned chicken in the wok and turn up the heat.
Pour the sauce over the chicken and let it sizzle for 2 minutes or until the chicken has been cooked through.
Sprinkle with spring onions and serve immediately with rice. Enjoy!
Notes
When frying the chicken pieces, use more oil if needed.
[Optional] If you would like a smooth sauce, sieve the orange peel sauce before adding the cornstarch slurry to thicken the sauce.
If you're a sauce aficionado like me, add a dash more orange juice to the sauce after it's been thickened to create a bit more of it. It will boost the orange flavour even more!
Prep Time:

20 minutes

Cook Time:

20 minutes

Category:

Dinner

Method:

Fry

Cuisine:

Chinese
Keywords: orange peel chicken, pf Changs orange peel chicken recipe, pei wei orange peel chicken