Hands up – do any of you worry constantly whether your children are eating a balanced diet? I know I do.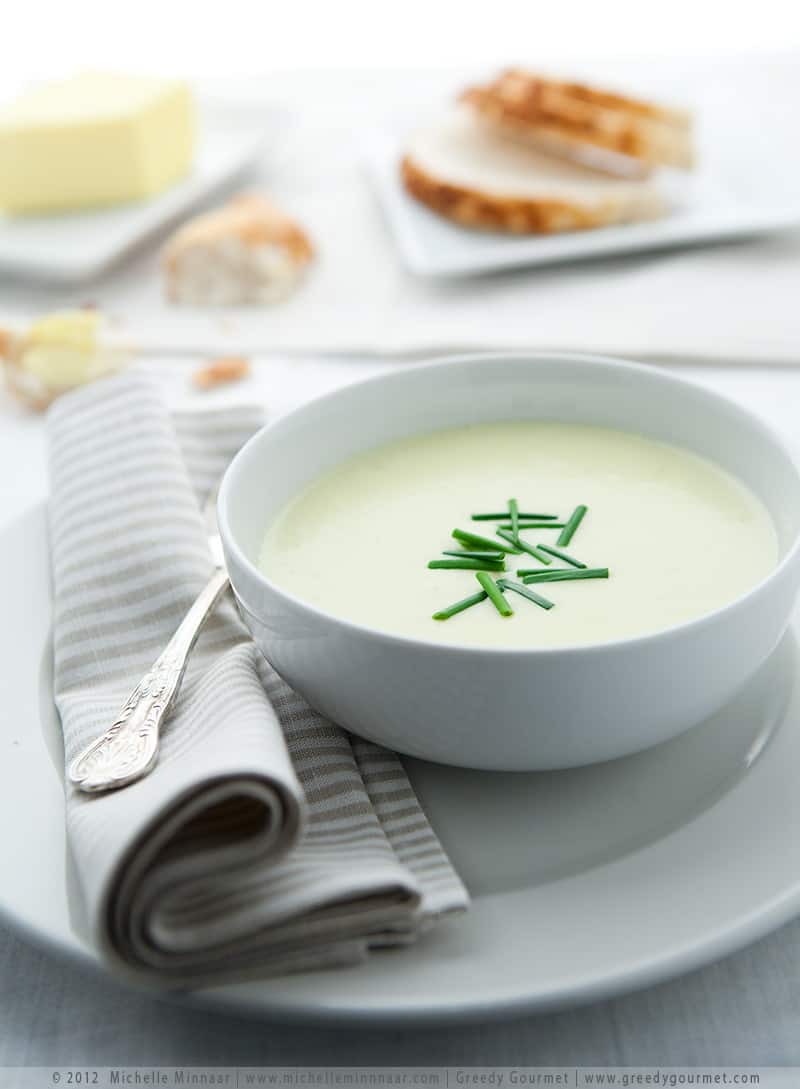 Since Robyn is still quite receptive to new foods I'm not as concerned but Gabriel, the super fussy eater in the house, is a whole other kettle of fish.
Through lots of trial and error I discovered he likes smooth soups and butternut squash soup is his favourite.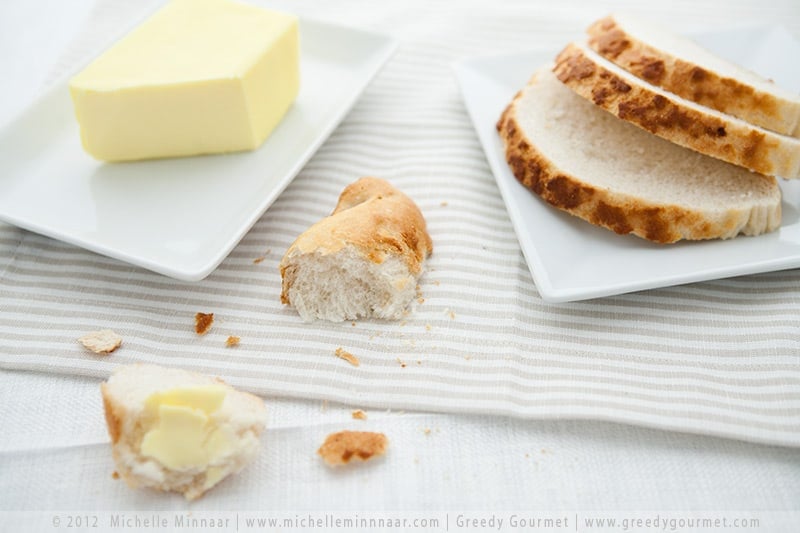 When there are no butternuts lying around I make them leek and potato soup. For added fun factor I serve the soup in cups with straws which intrigue them immediately.
Leek and potato soup is not just for children though! The leeks lend sweetness to this hot, hearty and robust soup.
In the summer months it can be served cold and is then known as Vichyssoise. The French, the original creators of this dish, know it as Potage Bonne Femme.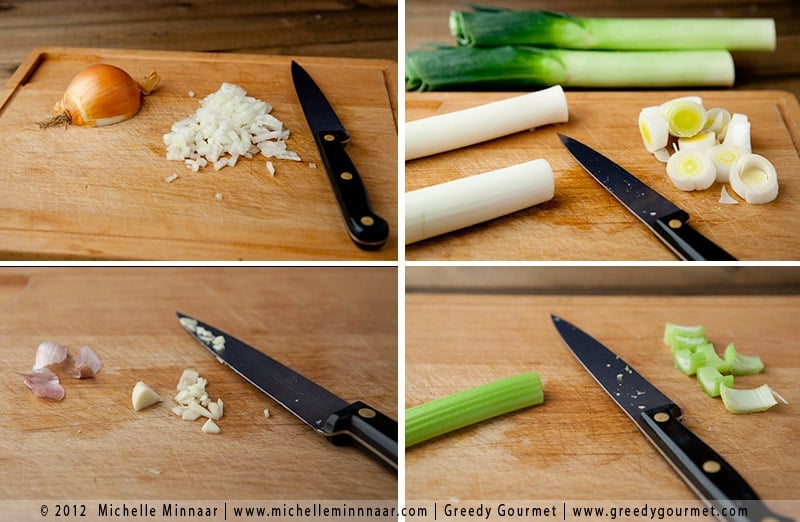 NUTRITIONAL INFORMATION
Leeks are rich in folate, vitamin C, potassium, calcium and phosphorus. Just like leeks, potatoes contain vitamin C and potassium, but also five out of the eight B vitamins and other minerals. What I'm trying to tell you is that this soup is good for you!
Leek & Potato Soup and Special Diets
If you looked at the recipe below you're probably yelling at the screen right now. How can all that loads of butter and cream possibly be good for you? If you ate it on a daily basis, it probably isn't.
The original recipe is for special occasions when you have guests over or simply want to please yourself if you're in desperate need of some comfort food.
Of course, the beauty of cooking is that all recipes can be tweaked. Here's how to make it healthier.
Weight Watchers and other Low Fat Diets
Leave out the butter and use low fat cooking spray to fry the onion, leek, celery and garlic. Omit the double cream and add a total of 1 litre (4 cups/almost 2 pints) of stock to the vegetables. 1 ProPoint per serving!
Vegetarian
Use vegetable stock instead of chicken stock.
Vegan
Use olive/vegetable/sunflower oil instead of butter. Use vegetable stock instead. Soy milk or other dairy alternatives can be used instead of cream or simply add extra vegetable stock.
Gluten-Free and Lactose-Free
Follow the vegan route above and use gluten-free stock cubes.
Baby Food
Leave out the garlic, stock, salt and cream. Boil the vegetables in 1 litre (4 cups/almost 2 pints) water instead.
Just Lighten It Up
Don't want to use double cream? Why not substitute it with something healthier instead? For example: single cream, crème fraîche, milk, skim milk, stock or water.
How long will it keep in the fridge?
Two days at most.
Can I Freeze Leek and Potato Soup?
Yes, BUT don't add the cream to the soup until after it has thawed and been reheated.
How To Spice Up Your Leek and Potato Soup
Chances are you will like this soup so much that you'll make it again and again. Here are two ideas to spice it up:
5ml (1 tsp) ground cumin, just add to vegetables before pouring in the stock
2.5ml (½ tsp) dry-roasted cumin seeds, 2.5ml (½ tsp) dry-roasted black peppercorns, 2.5ml (½ tsp) dry-roasted coriander seeds - crushed with mortar and pestle and added to the vegetables.
Other Recipe Variations
Did I hear some men grumbling in the background? Oh, right. There's no meat in this soup. Well, we can fix that! Here are some other variations with meat and other interesting twists on this recipe.
Bacon, Leek and Potato Soup
Heat a large, ovenproof pot over medium high heat. Add 5 slices of back bacon and cook until crisp. Remove with a slotted spoon, crumble and set aside.
Carry on frying the vegetables in the bacon dripping, instead of butter, and follow recipe below. When soup is blended, add the crumbled bacon on top.
Leek and Potato Soup with Bacon and Chicken
Exactly the same as Bacon, Leek and Potato Soup recipe above but you can add 200-300g of shredded cooked chicken in the end.
Leek, Potato and Blue Cheese Soup
Before blending the soup add 100g (4oz) of blue cheese, such as Cashel Blue or Stilton, to the soup. When soup is served sprinkle another 50g (2oz) on top.
If using a stronger blue cheese such as Roquefort or Gorgonzola use slightly less; about 100g (3oz) in total.
Parsley Soup
While the soup is simmering, take a large bunch of continental parsley and remove the large stalks. Bring a pan of water to a boil and blanch the parsley in this for 1 minute, then refresh by immersing in cold water. Add the cooked parsley to the soup and liquidise.
Spinach Soup
Add a pinch of nutmeg to the sweating vegetables. While the soup is simmering, blanch 500g (1lb) of spinach in a pan of boiling water then refresh by immersing in cold water. Add the cooked spinach to the soup and liquidise.
Watercress Soup
Follow the recipe and when the soup has finished cooking add 4 bunches of watercress. The latter will wilt and then you can blend the soup.
Wild Garlic Soup
Drop a few leaves into the leek and potato soup base about halfway through cooking, then blend.
Rocket Soup
Follow the recipe and when the soup has finished cooking add 4 big handfuls of rocket. The latter will wilt and then you can blend the soup. Hard stalk may need to be removed beforehand.
What to serve with Leek and Potato Soup
Still not satisfied? Well, toast 8 slices of baguette, top them with oodles of grated Gruyère cheese and place under a preheated grill until the cheese melts. Tada!
Wine Pairing
What a great comfort food in the winter yet light and healthy lunch in the summer. Perfect for matching to a crisp white wine and why not consider putting a splash into the soup whilst it's cooking too?
Cheverny is made predominantly from the Sauvignon Blanc grape, better known for producing Sancerre and Pouilly-Fumé just down the road.
The wine is really clean and fresh with a character of wet earth, lime zest and grapefruit that works perfectly with leeks of any description. The texture is smooth and light so compliments the soup beautifully. Buy it here.
Other tips when making Leek & Potato Soup
When sweating onions or other vegetables for a long time, cover them with a butter wrapper or a piece of greaseproof paper as well as the saucepan lid. This helps to retain the moisture and makes sure they don't burn.
Remember to adjust the seasoning before you serve Vichyssoise - cold soups sometimes need a bit of perking up. Serve in chilled soup plates.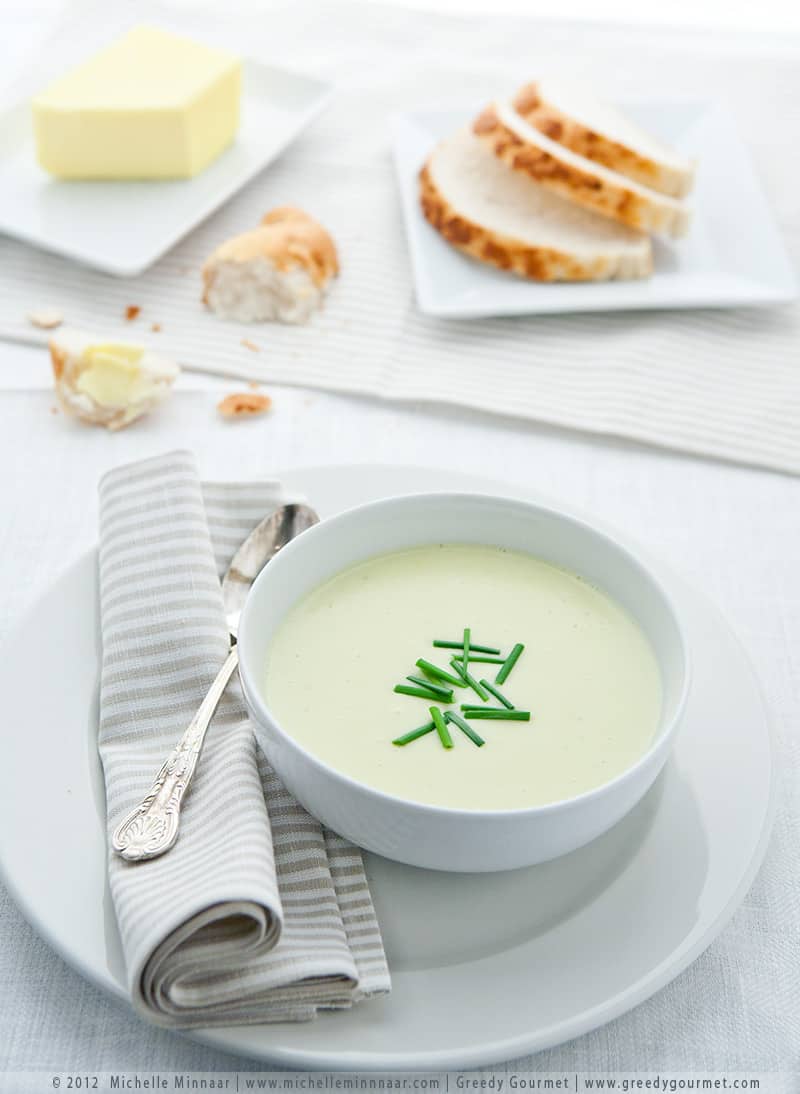 By the way, if you love all things French and potatoes, check out these boulangere potatoes.
More smooth vegetable soup recipes
Need some more soup for the soul? Check out these divine recipes.
Print
Easy Leek & Potato Soup
---
Description
The ONLY recipe you will ever need for Leek & Potato Soup. Special diets friendly and lots of variations included.
---
50

g

(1 3/4 oz) butter

1

onion, finely chopped

3

leeks, white part only, chopped

1

stalk celery, chopped

1

clove garlic, finely chopped

200

g

(7 oz) potatoes, peeled and chopped

750

ml

(26fl oz/3 cups) chicken stock

220

ml

(7 3/4 fl oz) double [heavy] cream

30

ml

(2 tbsp) chives, roughly chopped
---
Instructions
Melt the butter in a large, heavy-bottomed saucepan and add the onion, leek, celery and garlic.
Let the vegetables sweat over a low heat until they are softened but not browned. This will take about 12 to 15 minutes.
Add the potato and stock and bring to the boil. Reduce the heat and leave to simmer, covered for 20 minutes.
Allow to cool a little before puréeing in a blender or food processor. Return to the clean saucepan. (If you have a hand blender there is no need to wait. You can blend the soup immediately.)
Bring the soup gently back to the boil and stir in the cream.
Season with salt and pepper and reheat without boiling.
Serve hot or well chilled, garnished with chives.
Notes
Your favourite type of bread, buttered, will go down a storm.
For 1 Weightwatchers Propoint per serving: Substitute the butter with non-fat oil spray. Omit the cream and use a total of 1 litre (4 cups) of stock instead.
Don't have any celery? Check out these celery substitutes to use instead!
Prep Time:

15 minutes

Cook Time:

40 minutes

Category:

Soup

Method:

Boil

Cuisine:

French
Nutrition
Serving Size:

224.8

Calories:

434

Sugar:

4 g

Sodium:

281 mg

Fat:

36.9 g

Saturated Fat:

6.5 g

Carbohydrates:

24.4 g

Fiber:

3 g

Protein:

3.1 g

Cholesterol:

27 mg
save the recipe to your pinterest board