Have you ever eaten garlic soup? I'm talking REAL garlic soup – the kind with wild garlic leaves as well as garlic cloves? Well, prepare your palette for the pleasing punch and wonderful warmth of wild garlic soup.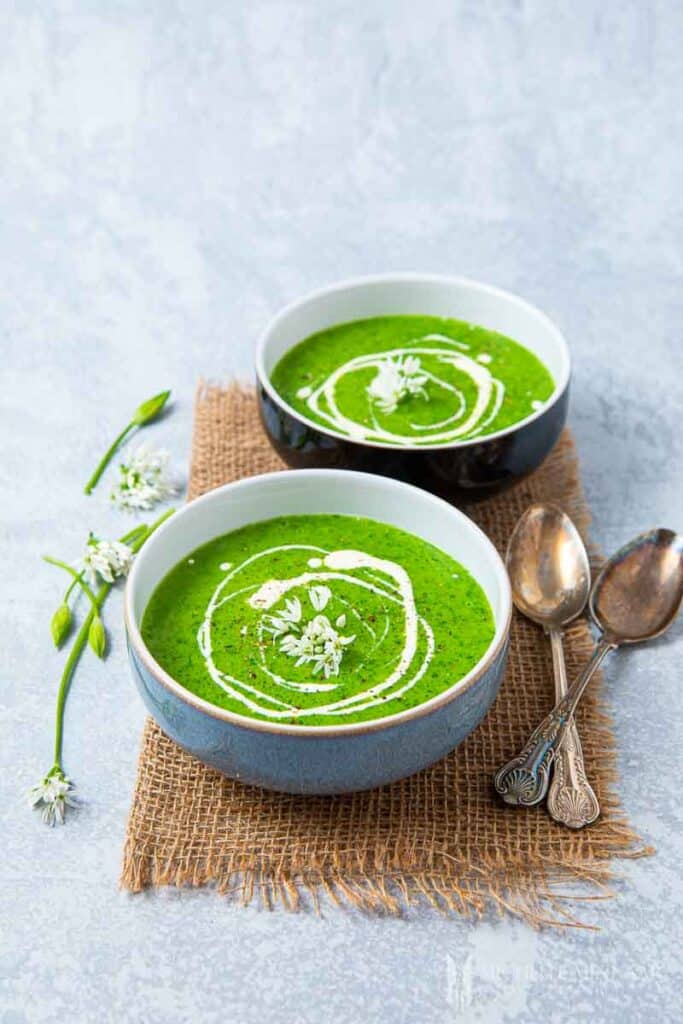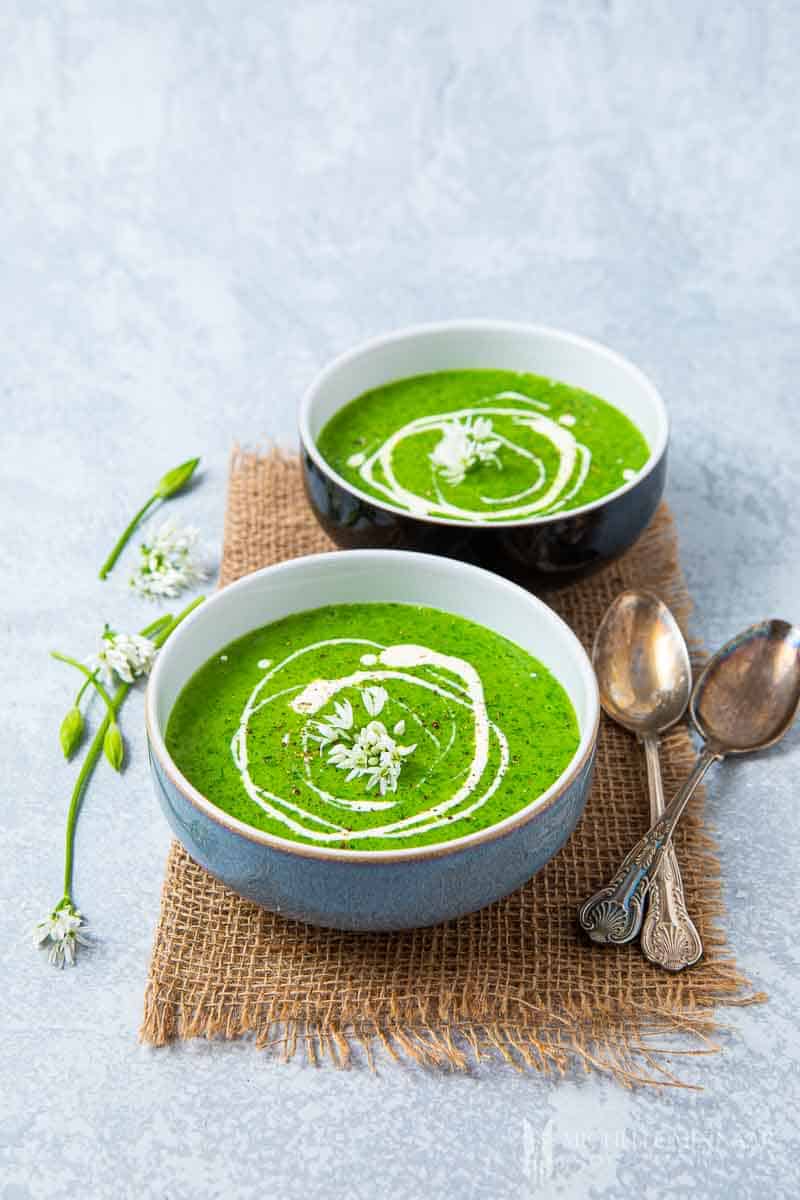 Wild garlic soup recipe
If you've never made your own wild garlic soup, this recipe is for you. It's simple, lightning quick from start to finish and tastes like a dream.
With a rich sweetness from the onion, chopped and fried in olive oil and butter, the velvet texture from the potatoes and an beautiful garlicky taste, this wild garlic soup just melts in your mouth. Add some stock and a little sprinkle of salt and pepper and you have an incredible tasting wild garlic and potato soup. Make it once and you'll be hooked.
Items you'll need for this recipe
Before you whip up this tasty wild garlic soup, there are a few kitchen items you'll need:
What is wild garlic?
Wild garlic is a bulbous plant that typically grows from March to June. Native to the UK, it grows in big batches, which makes it the perfect ingredient for springtime foragers.
Its botanical name is Allium ursinum and it's a perennial plant – which means it lasts for more than a year, growing over the spring, receding over the autumn and winter, then coming back with a vengeance the next spring, growing from its rootstock.
What part of wild garlic is edible?
The flowers and the leaves are edible, both of which pack a punch and make great ingredients for soups, pestos, salads and sandwiches. The leaves are best picked and eaten when they're young, for a fuller garlicky taste.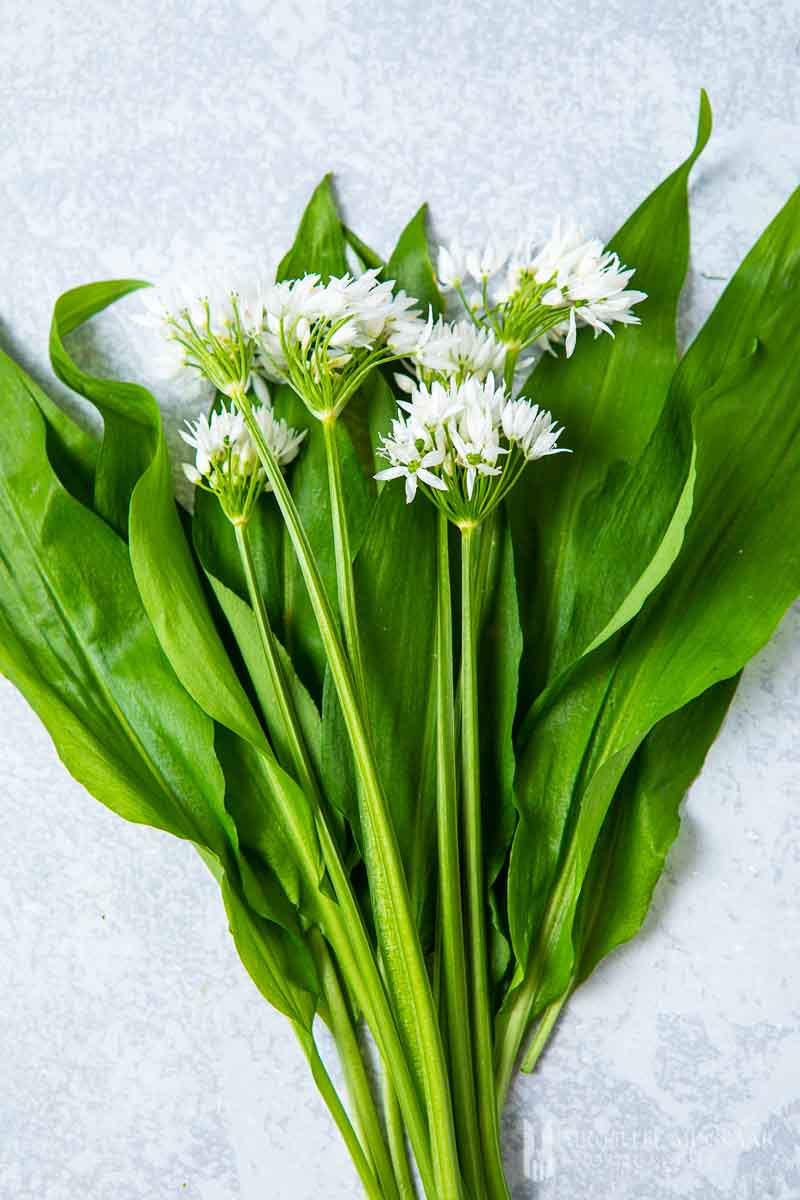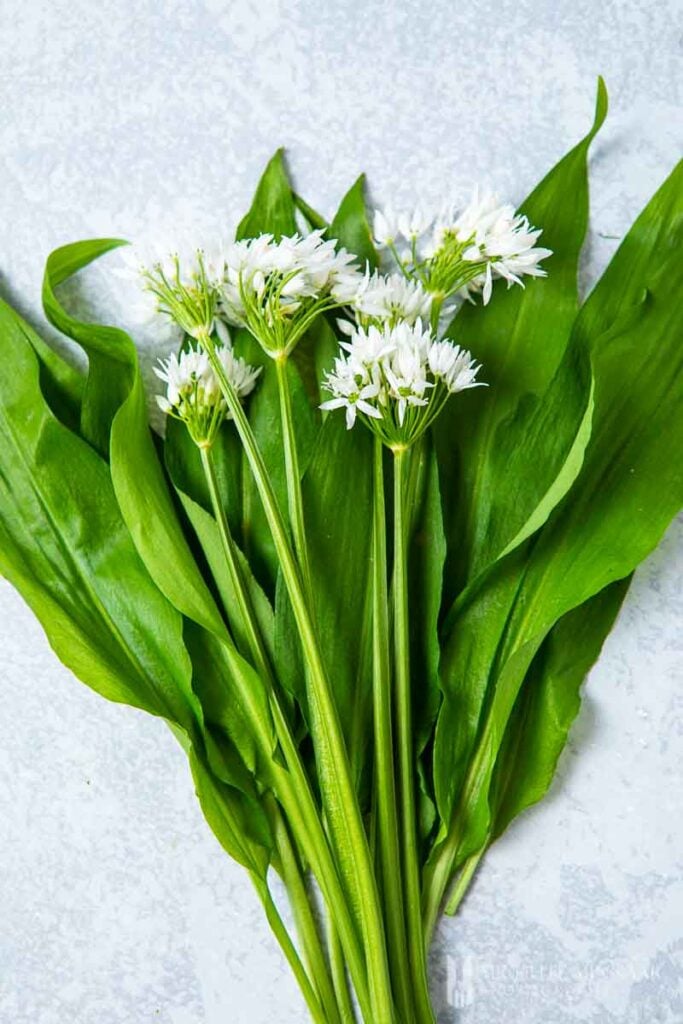 What other names does it go by?
A wild relative (we've all got them, right?) of the chive family, wild garlic is sometimes referred to as bear's or devil's garlic, gypsy's onions, buckrams and stinking Jenny.
It's a massively under-rated ingredient and the best thing is that it grows all over the place! Chances are, you've got some springing up near your doorstep.
What does wild garlic look like?
It has quite a distinctive appearance. With its broad leaves and angular white flowers, it's hard to miss.
However, while you'll easily spot it while out for a Sunday morning stroll, you'll most likely come across it by way of a different sense. That's because, unsurprisingly, it can be distinguished by its strong aroma more than anything else.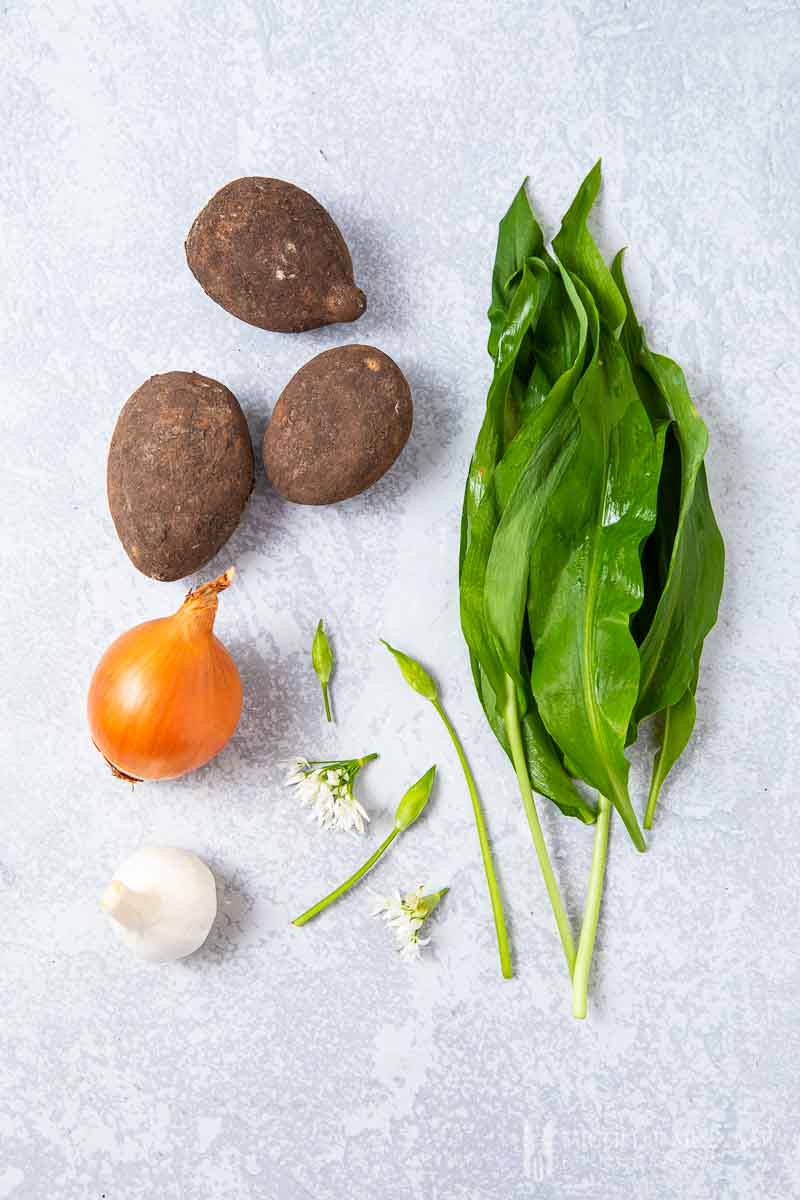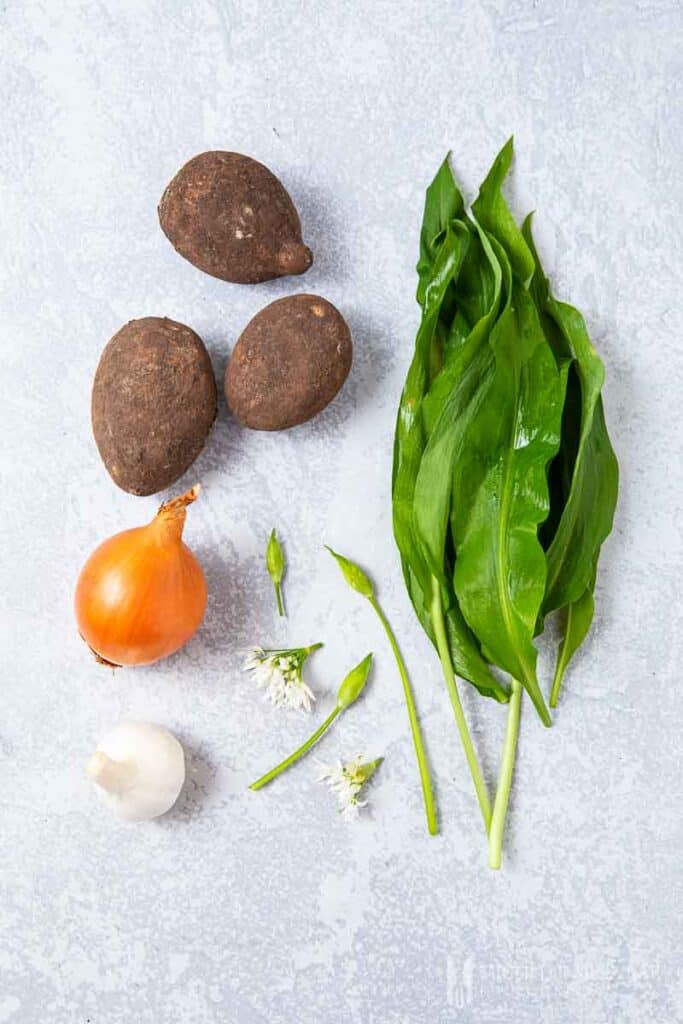 What does wild garlic smell like?
When walking through woodlands in the springtime, you might smell a certain sweet scent filling the air. Stumbling across a batch is like striking gold and there's no mistaking that heavenly aroma.
If you like the smell of the regular variety – and I'm assuming you do, or you wouldn't be here – you'll love the smell of the wild type. It has a fresher, more subtle, less pungent smell than in its clove form.
What does wild garlic taste like?
In the same way that the smell of the leaves differs to the smell of the cloves, the taste is more mellow and delicate.
It also tastes more 'herby' than garlic cloves – which makes the two work well together, especially when whizzed up in a sumptuous springtime soup.
What is ramson?
If you hear someone referring to wild garlic as 'ramson', it's because it's an alternative term for it. The word comes from the Old English term hramsa, which literally means 'wild garlic.'
Where does wild garlic grow?
It grows in abundance in damp areas. That's why you'll often find it near a river bed or a stream. Sometimes you can find it in a woodland area.
Native to the UK, it grows in rural areas all over the country.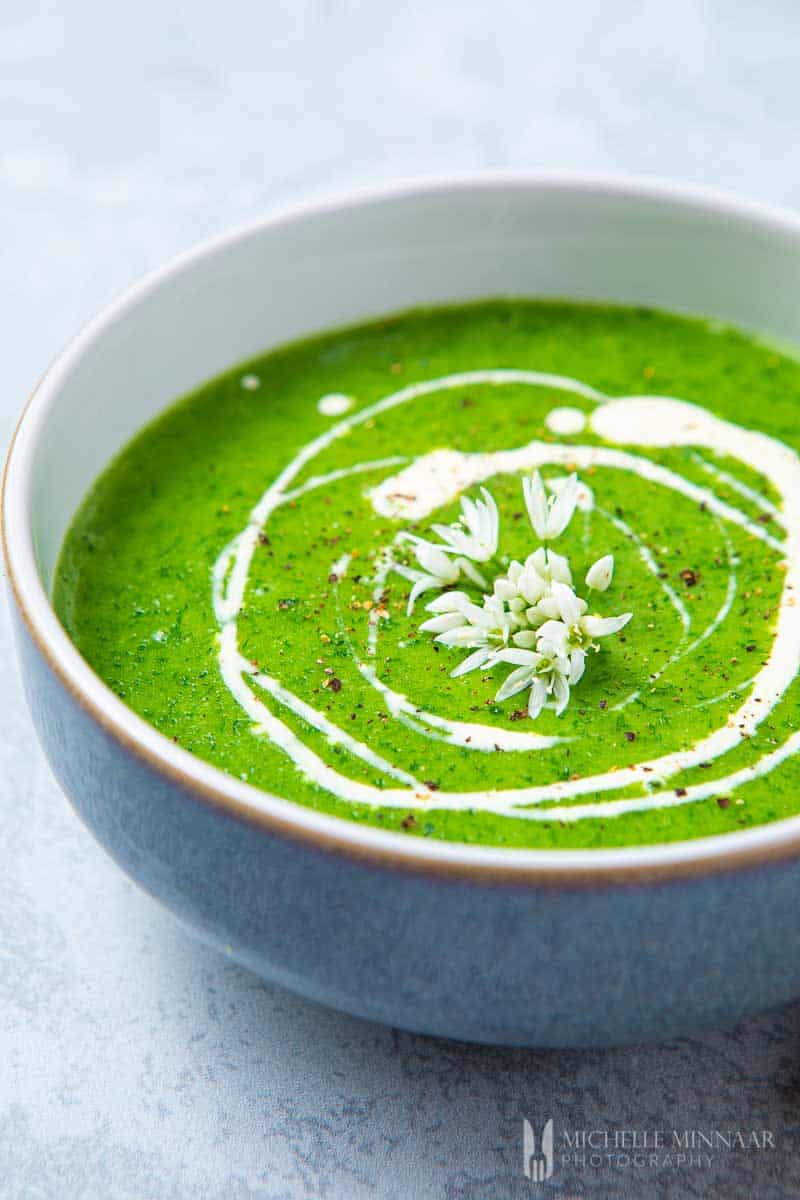 Foraging for wild garlic
Few things are as satisfying as foraging for your own food – it just ends up tasting even better when you know you sourced the food yourself.
Between March and June, you should be able to find plentiful supplies of wild garlic growing in wet woodland areas and beside rivers and streams.
If you decided to forage for the star ingredient of wild garlic soup, make sure you pick from a plentiful supply. Never strip an area completely – you might end up stopping others from being able to forage or, even worse, damaging the local ecosystem.
If you can't find any, why not plant your own? You can buy the bulbs online and have your own steady supply!
Can wild garlic be confused for another plant?
Yes it can and, if you're foraging for it, be sure it's definitely the right plant. With its angular white flowers, wild garlic closely resembles the Lily of the Valley plant – which is poisonous!
So make sure to pinch the stalks and rub the leaves. If you smell that beautiful garlicky aroma you know you've got yourself some of the good stuff!
How to store wild garlic
If you pick more than you need for this garlic soup recipe, you can always blanch and freeze the leaves for later use. If you only want to keep them for a few days, storing them in a cool, dry place will be fine.
Is wild garlic good for you?
It's a super food! It has antibiotic, antibacterial, anti-inflammatory, antifungal properties and helps to reduce blood pressure and cholesterol.
For many years, this amazing ingredient has been used for its medicinal qualities. It's been touted as a miracle cure by many an old wife, with its supposed benefits ranging from a cold and cough remedy to treatment for tooth ache, warts, measles and sore eyes.
But forget myths and folk tales... the proven benefits are clear. So, you can enjoy the taste and health benefits of wild garlic soup.
Other uses for wild garlic
This amazing ingredient is as versatile as it is delicious. There are just so many incredible wild garlic recipes.
Soup aside, you can make your own wild garlic pesto. It tastes unbelievable! Or, you can elevate a spring salad by scattering in some wild garlic flowers.
Another idea is to make your own wild garlic butter. Try adapting this macadamia nut butter recipe by adding the leaves into the mix. It'll make a fantastic twist to a great recipe.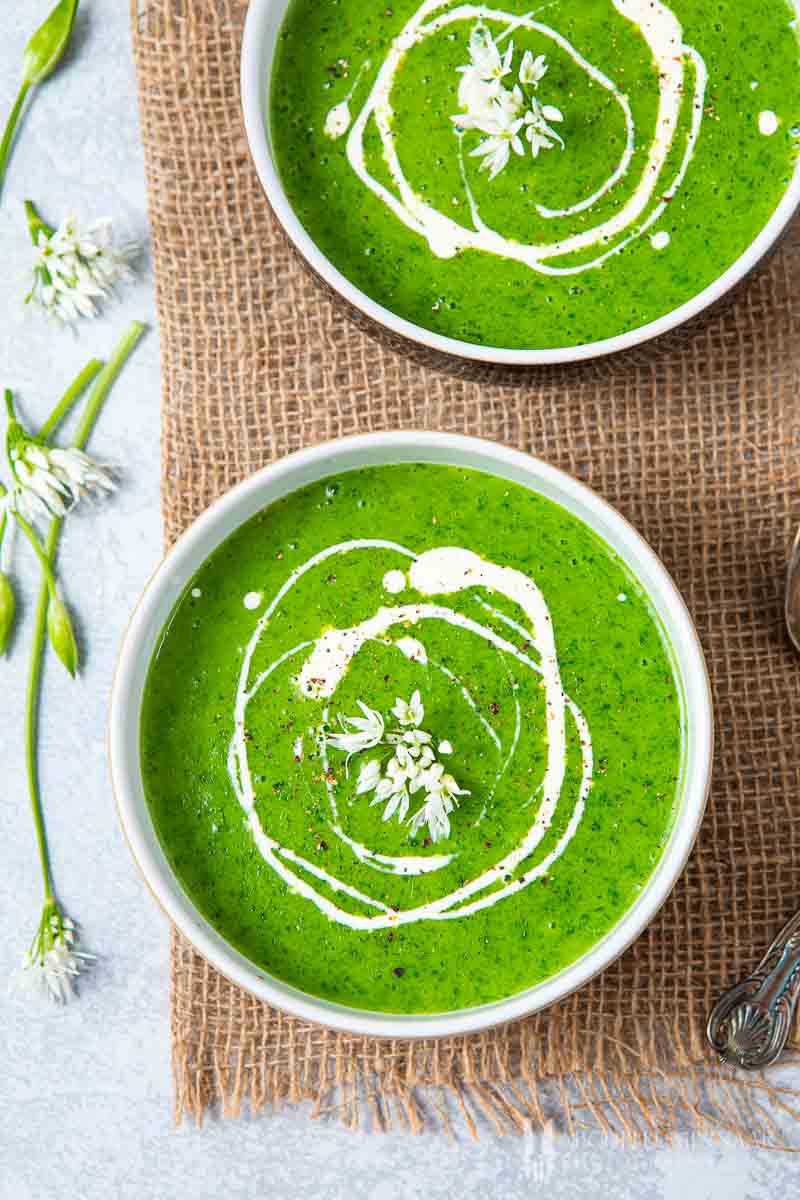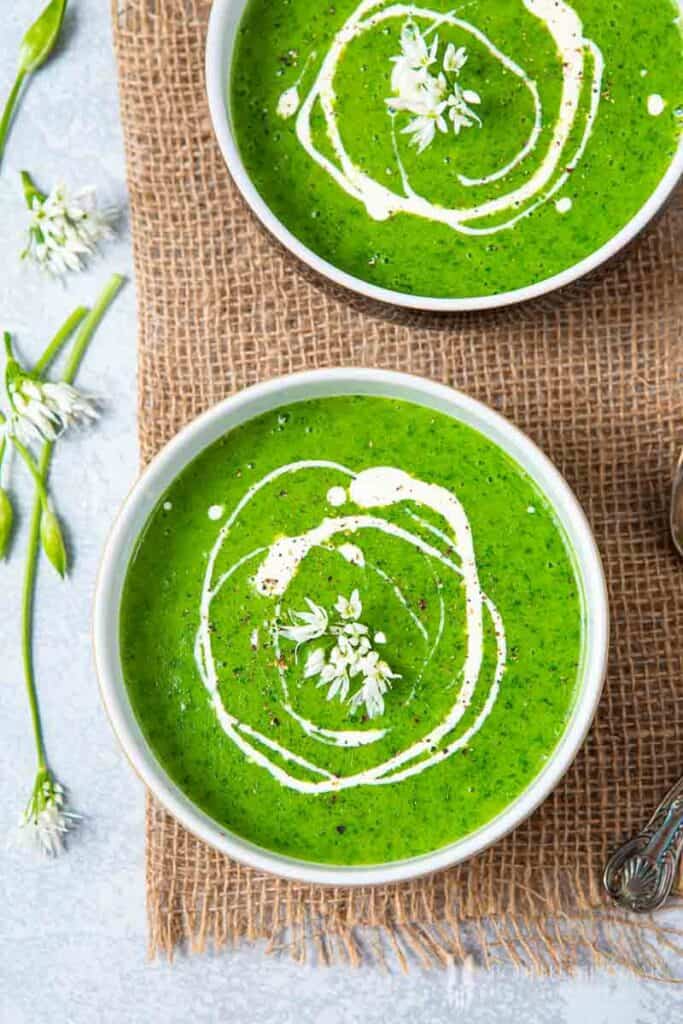 What to serve with wild garlic soup
What goes best with wild garlic soup? Well, something crunchy of course. Add a handful of croutons on top for a perfect complement.
You could also try making your own chia seed bread to go with wild garlic soup! Just imagine freshly baked bread, straight out of the oven, mixed with freshly made wild garlic soup. That's a knockout combination.
You could also try pesto stuffed bread for cheesy-garlicky heaven!
Divine garlic recipes
If you can't get enough of the aromatic stuff, why not try out these tantalising recipes?
More sumptuous soup recipes
If you're in need of some soothing soup for the soul, check out these recipes:
Print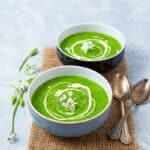 Wild Garlic Soup
---
Description
Wild Garlic Soup is made up of onion, garlic, potato and foraged wild garlic leaves. It's a vibrant green, healthy and delicious soup. 
---
15

ml (1 tbsp) butter

15

ml (1 tbsp) olive oil

1

onion, peeled and sliced

2

garlic cloves, peeled and crushed

450g

(1lb) potatoes, peeled and chopped

750

ml (3 cups) vegetable stock

150g

(

5oz

) wild garlic leaves/ramsons, washed
salt and pepper, to taste 
---
Instructions
Heat the butter and oil in a large saucepan. 
Gently fry the onion until softened then add the garlic and cook for a further 2 minutes. 
Tip in the potatoes and vegetables and bring the contents to a boil. 
Lower the heat to a slow simmer and cook for 10 minutes or until the potatoes are cooked. 
Add the wild garlic to the soup and let it wilt, which would take about 1 minute. 
Transfer the contents to a food processor (or use a hand blender) and blend until smooth. 
Season to taste then divide the soup between four bowls.
[Optional] Drizzle with cream and top with wild garlic flowers. 
Serve with your favourite bread on the side. 
Notes
If you like your soup to have a thinner consistency, add a bit more vegetable stock at a time until the desired consistency is achieved.
Prep Time:

20 minutes

Cook Time:

20 minutes

Category:

Starter

Method:

Boil

Cuisine:

British
Keywords: wild garlic soup, vegetarian green soup recipe, wild garlic recipe