One of the bonuses of cooking a whole roast turkey at Christmas is being able to make your own turkey stock. My amazing stock recipe shows you just how easy it can be!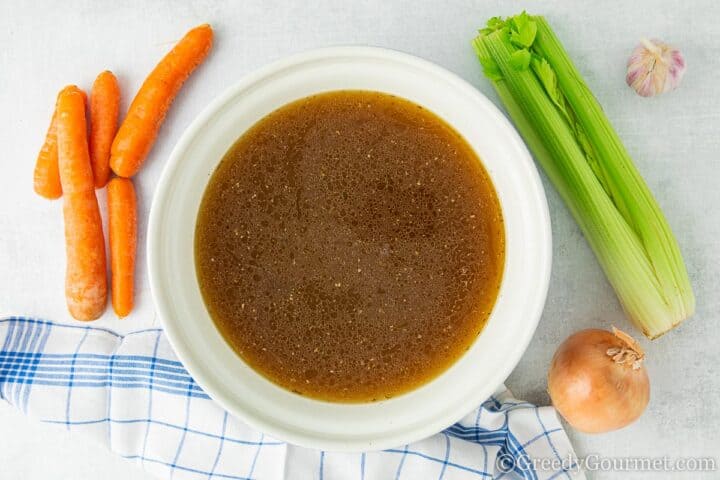 With endless uses for this homemade stock and a simple, easy to follow step-by-step, this is one festive recipe you don't want to miss!
Products you need for this recipe
There are a few key items you'll need for this recipe: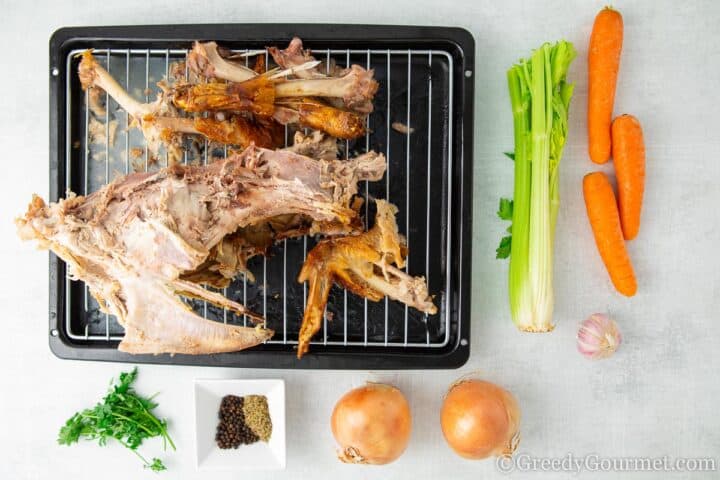 Homemade turkey stock recipe
Us foodies love to put everything into cooking the perfect Turkey on Thanksgiving or Christmas Day. After all the hard work and toil over the centerpiece to the feast, the last thing you want is to let something special go to waste.
So, once you've carved up your turkey and served your holiday meal, go one step further and save the leftover turkey – carcass, bones and all – to make the most incredible homemade stock you've ever tasted.
Making your own stock is simple and once you've given it a go, you'll never want to go back to stock cubes again! Okay, there's definitely a time and a place for the quick and easy method – tired weeknights after a hectic day – but trust me… if you've got the chance to make turkey stock fresh, you should grab it.
Not only is there an immense amount of flavor in this homemade stock recipe, but the ingredients list is super simple and the actual active cook time is minimal. Instead, you just leave the stock to gently simmer and take on a flavor that's rich and delicious.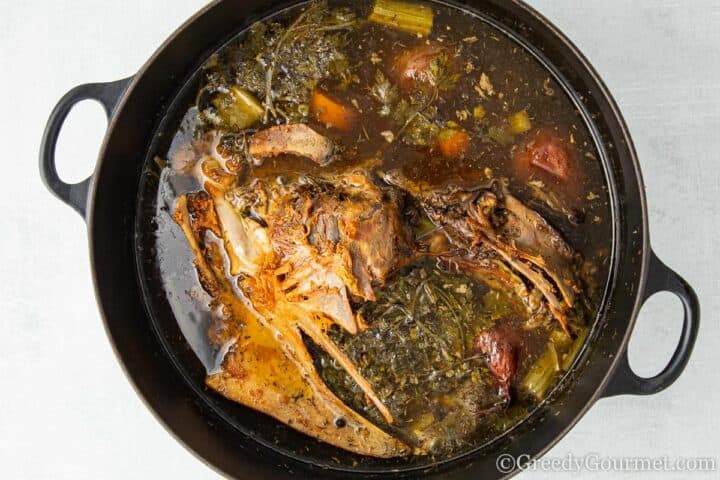 What part of the turkey is used to make stock?
Turkey carcass 
Once you've removed the meat from the carcass, it will be ready to make homemade turkey stock. It's the main source of flavor for your stock. 
Turkey bones
Bones contain a lot of flavor that will infuse the liquid when cooked for long enough. Don't worry too much about taking all the meat off the bones, as this will only enhance the flavor. If you don't have a large stockpot, you might need to cut some of the larger bones down.
Turkey neck
Sometimes your whole turkey will be supplied with the turkey neck. They can be very tough to eat, hence why they aren't typically used. However, they bring a lot of flavor when cooked for long periods of time, which makes them ideal for homemade turkey stock and turkey broth.
Is turkey stock the same as turkey broth?
Both turkey stock and turkey broth are rich liquids made from leftover turkey carcass and bones. However, turkey broth tends to be made by slowly simmering the turkey bones and carcasses for up to 24 hours. Sometimes, turkey broth is made just with meat and without the bones.
Stock, on the other hand, isn't simmered for quite as long and is always made using bones. This means it often gels when it cools.
Ultimately, you can use turkey stock and turkey bone broth interchangeably.
What is turkey stock good for?
Turkey stock is so versatile! You can even use your homemade turkey stock for recipes that call for chicken stock or chicken broth.
The first thing you should think of when you make turkey stock is gravy. Fresh made homemade turkey stock makes the richest, tastiest, most downright delicious gravy. For me, it steals the show at a festive feast. 
Another great use for turkey stock is soup. Soup recipes that call for chicken stock will taste amazing with the addition of homemade turkey stock. Also, risotto, paella and any rice dish that calls for a rich stock.
Is turkey stock good to drink?
It certainly is! Both turkey stock and turkey bone broth are packed full of nutrients and are incredibly soothing, especially on those cold winter days.
Turkey stock is almost like a thin soup. In fact, as I mentioned above, you should definitely make turkey stock to use in soup recipes.
How long do you need to simmer turkey stock?
You should simmer turkey stock for around four hours, or until the liquid has reduced by half.
Can you make stock in a slow cooker?
This turkey stock recipe can easily be adapted for slow cooker use. To make stock in a slow cooker, place all the ingredients in your slow cooker, then set it to cook for at least 8 hours. The flavor will be unbelievable.
Why should stock not be boiled?
If you cook your stock on a very high heat, the fatty tissue and unpleasant parts of the turkey will end up boiling down into your stock. You'll risk getting an unpleasant taste and a greasy, cloudy appearance. Also, when boiled, the flavor of the vegetables in the stock will be ruined.
When cooking any kind of stock, low and slow is the way to go.
Should I peel the onions?
When making stock, you don't have to peel the skin from the onions. In fact, if you leave the skins on, your chicken stock will take on a gorgeous rich color.
What other vegetables should I use?
This recipe calls for simple vegetables that bring wonderful flavor – carrots, onions, celery and garlic.
I'd avoid using vegetables like broccoli and cabbage, or starchy root veg like turnips or potatoes. Instead, leeks, mushrooms, a few parsnips and a few herbs like thyme, rosemary, parsley and oregano.
How do you store turkey stock?
If you want to keep your stock to use later, first let it cool completely, then transfer it into airtight storage containers. 
Turkey stock will keep fresh for a few days, but is best used the next day.
Should my turkey turn to jelly when cooled?
Yes, don't worry it's totally normal!
When you store it in the refrigerator, it will turn into a jelly-like substance. This is because the bones, particularly the wings, contain lots of collagen.
When you make turkey stock, the collagen breaks down into gelatin after a long time simmering away in the stock pot. The result? A delicious, rich, tasty liquid that becomes jelly-like when cooled.
When you reheat your stock, it will become liquid again.
Can you freeze it?
Yes you can! If you want to keep your stock longer than a week, your best bet is to freeze it.
Freezing it is simple – you can either freeze it all in one large, freezer-safe, airtight container, or ziploc freezer bags. You can also freeze it in smaller portions.
If you want to freeze your stock in smaller portions, simply take a few large ice cube trays and pour stock into each compartment. Then, whenever you need a small portion of stock for a recipe – whether it's soup, a stew or a rice dish – you can add the stock ice cube and simply cook it into the dish.
Frozen turkey stock will keep for up to three months.
What other flavors can I add?
This turkey stock recipe brings some fantastic rich flavor to whatever dish you use it with. However, if you want to take the depth of flavor even further, there are a few tricks you can use.
Umami enhancers
Firstly, you can use a few splashes of the one and only Worcestershire Sauce. If you can't find any, check out my Worcestershire Sauce substitute guide.
Another great flavor enhancer is Marmite. Just a teaspoon of Marmite will bring an extra umami taste to your stock. Soy sauce or miso are also excellent flavor enhancers that you could use for your stock.
Acidity
Acidic ingredients also help to liven up the flavor. When it comes to turkey, lemon is the go to ingredient when it comes to balancing out the acidity.
Spices
In terms of spices, ground paprika, ginger, nutmeg, turmeric and fenugreek can add some lovely warmth and extra character to your stock.
Recipe ideas for using turkey stock
Here are some specific ideas for how to get the best out of your delicious turkey stock: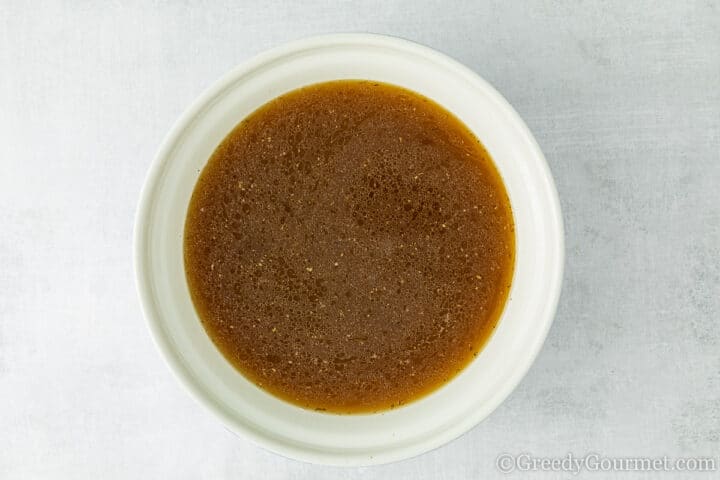 More amazing Christmas recipes
Deck the halls and cook up a storm this Christmas with these fantastic, utterly irresistible recipes:
Whole roast turkey – the big centerpiece star to your Christmas or Thanksgiving feast. This recipe is full of flavor and simple to make. If you're looking for something to spice up your roast turkey, try this apricot stuffing!
Apricot stuffing – a meat-free stuffing that doesn't hold back on the flavor. It's made with a handful of very simple ingredients and tastes wonderful, particularly with roast pork
Christmas salad – the ultimate Christmas salad, this is no normal salad! It's a recipe big on flavor, yet it's healthy, easy and one that you'll go back to throughout the holiday season
Marmite roast potatoes – my marmite roasties are a thing of beauty! Crispy on the outside, fluffy on the inside and full of wonderful rich flavor, they are the perfect complement to your Christmas turkey
Leftover turkey casserole – leftover recipes don't get much better than this! After any whole turkey dinner, whether it's Thanksgiving, Christmas or a standard Sunday lunch, this should be your go to lunch the next day
Honey roast parsnips – a sumptuous side with a flavor that will knock you for six! Serve them up at Christmas time and you'll please the whole family
Whole turkey brine – this one is a very special recipe indeed. If you want to take things up a notch, brining your turkey works wonders. Simple, yet deliciously effective!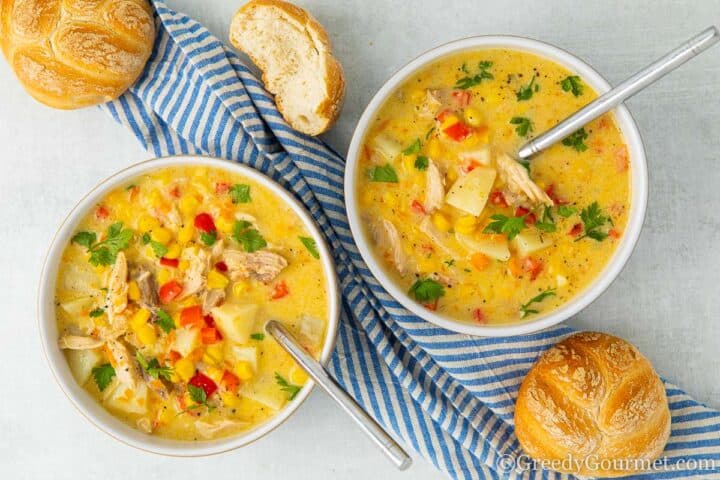 Print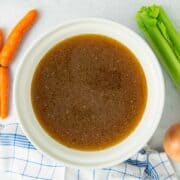 Turkey Stock Recipe
---
Author:

Michelle Minnaar

Total Time:

4 hours 20 minutes

Yield:

8 cups

1

x

Diet:

Gluten Free
Description
Learn how to make a great homemade Turkey Stock with your leftover Christmas turkey. Best used to make soup, chowder and risotto.
---
1

turkey carcass

2

onions, halved

1

garlic bulb, halved

2

carrots, roughly chopped

2

celery ribs, roughly chopped

3

g

(1 tbsp) black peppercorns

3

g

(1 tbsp) dried thyme

2

handfuls of flat leaf parsley
---
Instructions
Firstly, ensure that all meat is stripped off the carcass. The leftover meat can be stored in the fridge or freezer, and used in numerous ways such as in leftover turkey chowder or leftover turkey curry.
Place all the ingredients in a large stock pot and ensure everything is covered with water. Around 4L (16 cups) of water will do.
Bring the contents to a boil then lower the heat to a steady simmer.
Simmer for 4 hours or until the liquid has reduced by half.
Once you feel the stock is ready, strain the stock through a fine-meshed sieve into a large bowl. Discard the bones and vegetables.
When the stock has cooled down, place it in the fridge and use it the next day. Alternatively, you can freeze the stock in practical batches for future use. Enjoy!
Notes
By keeping the onion skins on, the turkey stock takes on a wonderful rich colour.
Keep in mind, the longer you simmer the turkey carcass, the more intense the flavour. The evaporation of water also intensifies the flavour. You can reduce the liquid by a third but the flavour won't be intense but the stock will be usable.
If you can't find any celery, check out these celery alternatives!
Prep Time:

20 minutes

Cook Time:

4 hours

Category:

Soup

Method:

Boil

Cuisine:

American
Keywords: turkey stock recipe, turkey broth, leftover turkey recipe, leftover thanksgiving recipe, leftover christmas recipe, turkey soup base, healthy turkey recipe