When the days get shorter and the weather turns colder, nothing beats a one pan chicken chasseur!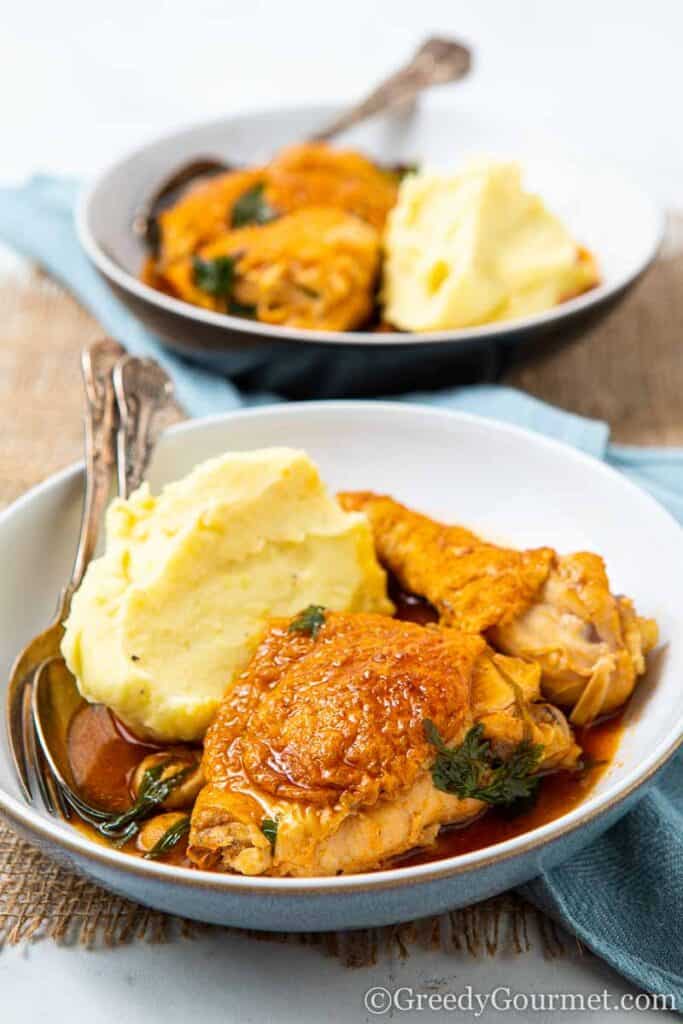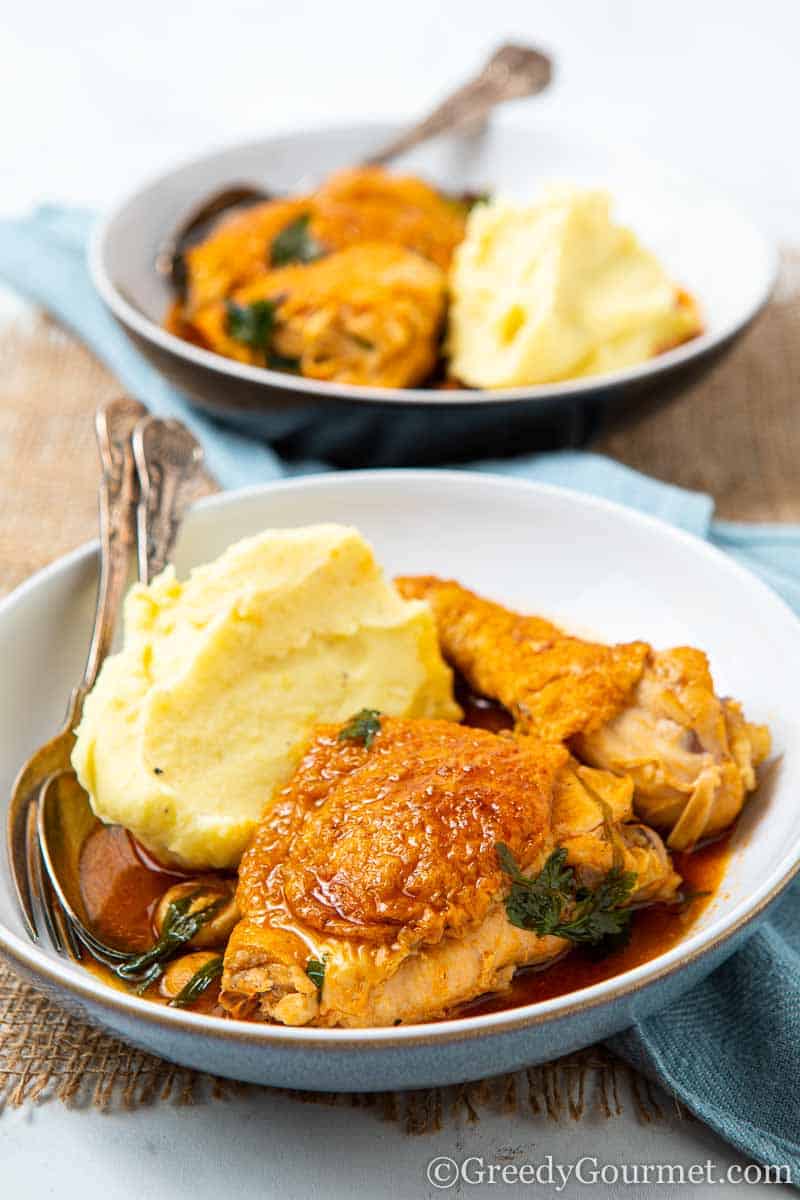 It's a classy, elegant recipe that's rustic at the same time; the perfect recipe when you want something delicious, comforting and easy to cook.
Products you need for this recipe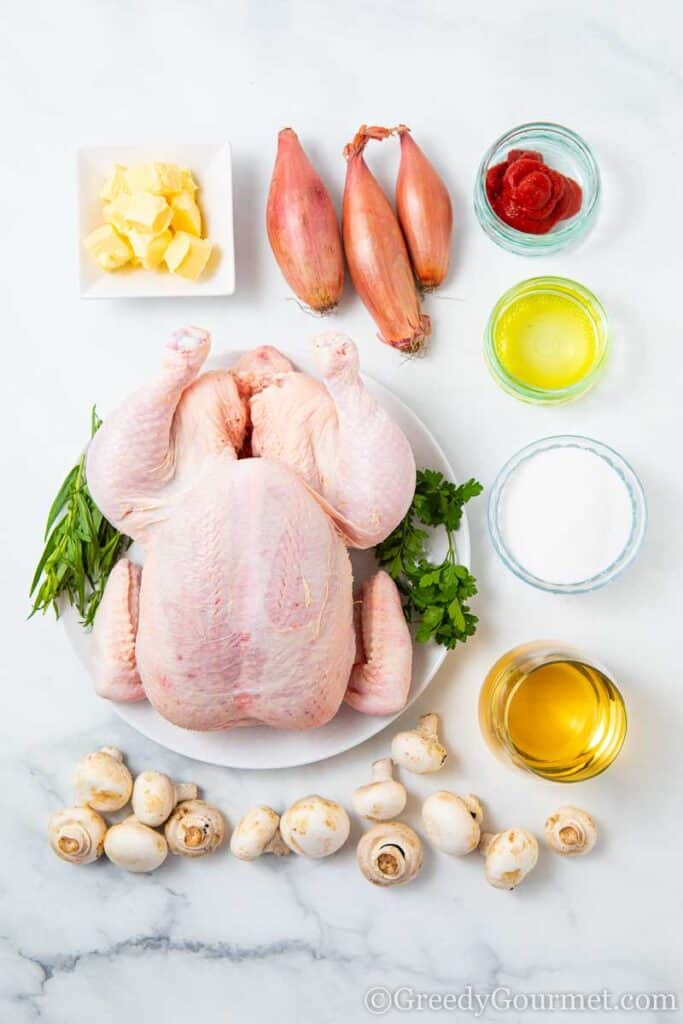 Chicken chasseur recipe
A one pot wonder, this French dish is simple to make and tastes sensational! With this recipe, you make everything in one pan.
So minimal washing up, minimal stress and maximum satisfaction.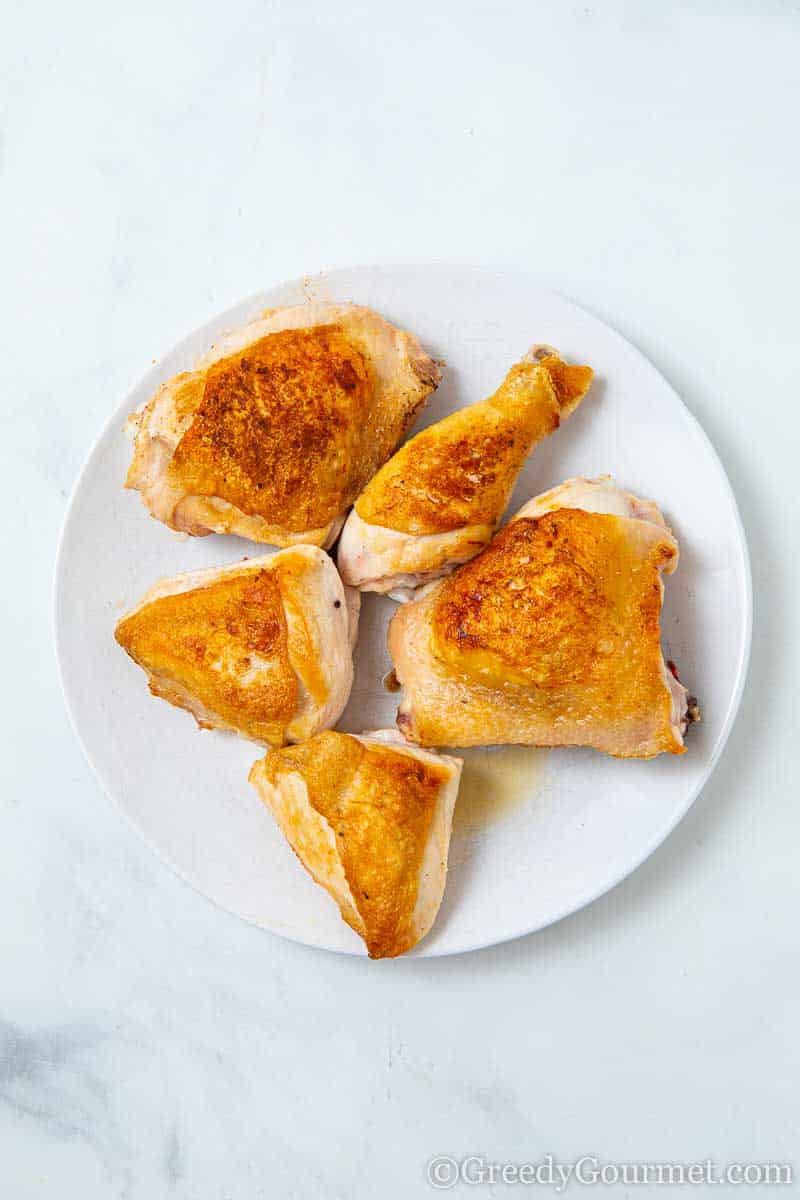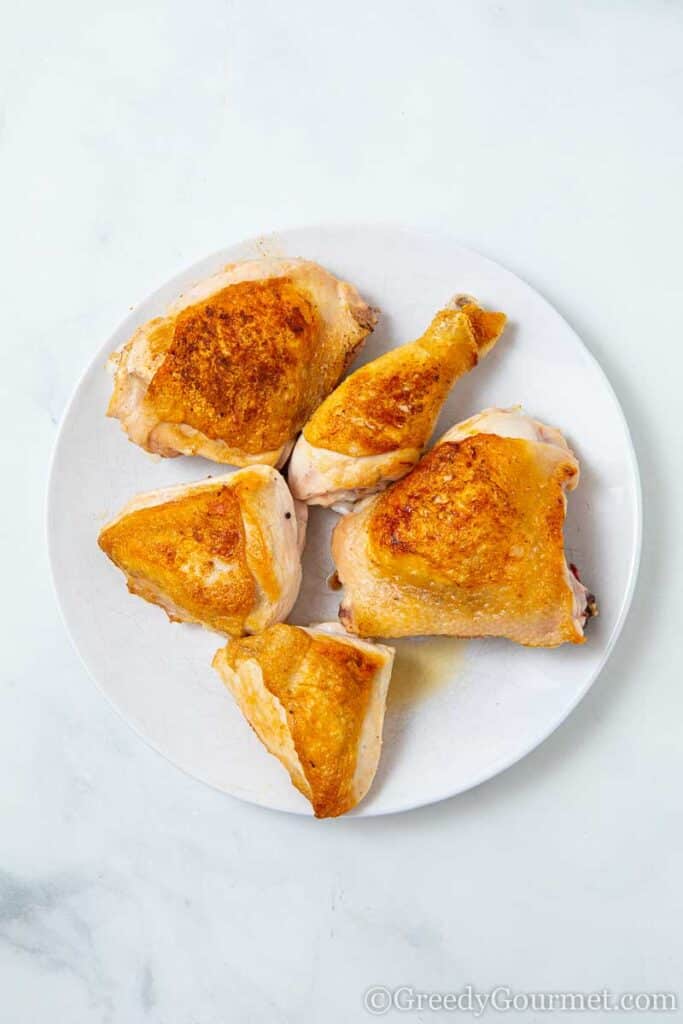 How to cook chicken chasseur
It's packed with flavour – the chicken is fried in a mixture of butter and oil for a real depth of taste. The sauce is a blend of incredible flavours, all working together in harmony to create a rich, succulent sauce that will send your taste buds into overdrive!
This chicken recipe is all about two very important elements. Firstly, delicious crispy fried chicken pieces. Secondly, a rich sauce made up of tomatoes, mushrooms, garlic cloves, shallots, chicken stock, tarragon, brandy and/or dry white wine.
To get the chicken nice and crispy, you need to fry the pieces in batches until golden brown. You then remove them from the pan and, keeping some of the juices in the pan, fry the mushrooms and shallots, adding tarragon, tomato puree and chicken stock to make the sauce.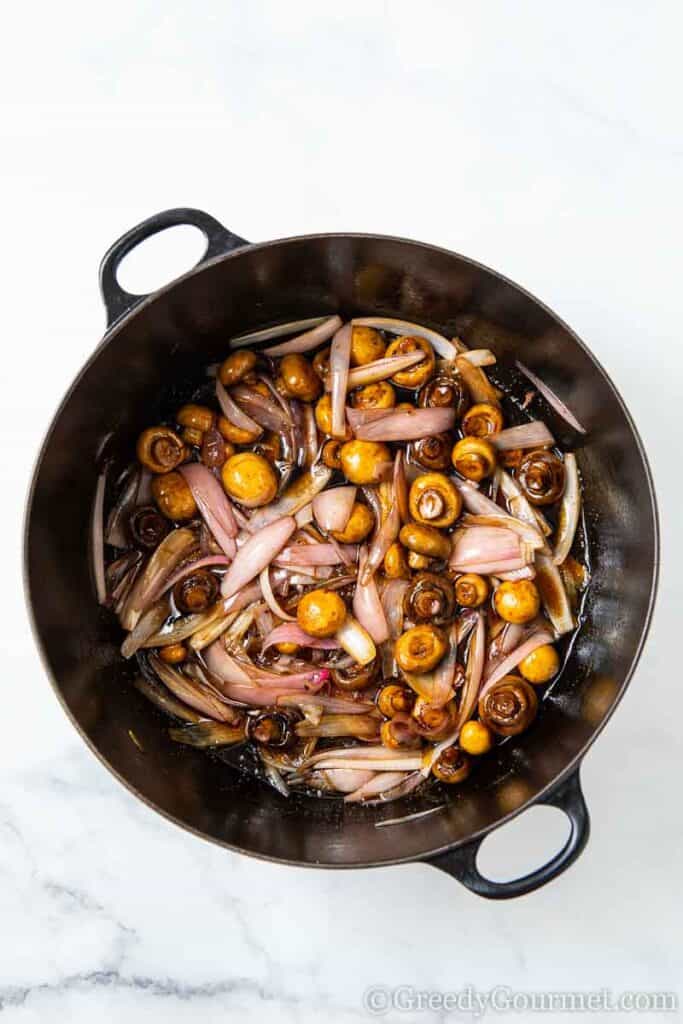 Do you need to joint the chicken?
Although this recipe calls for you to joint the chicken beforehand, it's not essential. You can always buy chicken thighs, legs and breasts at the shop, making up the specified weight in this recipe.
How do you pronounce chicken chasseur?
It's a French word that's pronounced 'sha-sir.'
What does chicken chasseur mean?
The word Chasseur means "hunter" in French. It refers to the origins of the dish, when hunters would return from a hunt with meat to be cooked up for a meal, together with mushrooms and herbs which would be added to the pot to make a sauce.
Where does chicken chasseur come from?
'Chasseur' is the French version of this dish. Although people assume that it originated in France, it is said to have first appeared in Italy, where it is known as chicken cacciatore.
What is the origin of chicken chasseur?
Widely known as a French dish, legend has it that hunter's chicken originated in central Italy during the Renaissance period.
'Cacciatore' means hunter in Italian and chicken cacciatore [catch-ah-toh-ree] became a staple dish in rich Italian households when hunters would bring meat home for feasts.
Okay, so they weren't out there hunting chickens. The dish was most likely originally wild game, rabbits and maybe pheasants.
The hunters would also bring wild mushrooms and fragrant herbs to be added to the pan to create a delicious sauce.
Later, tomatoes were added to tenderise the meat and bring some acidity to the dish.
What was the French influence on hunter's chicken?
The French took the recipe to another level, as they tend to do. They added their own classy gourmet twist on things, by adding wine and brandy to the sauce, taking the taste of this humble food to another dimension.
Is Hunter's chicken the same as chasseur?
Yes, hunter's chicken and chasseur are the same. They are both dishes where you cook chicken in a rich sauce with mushrooms, tomatoes, salt, pepper and tarragon.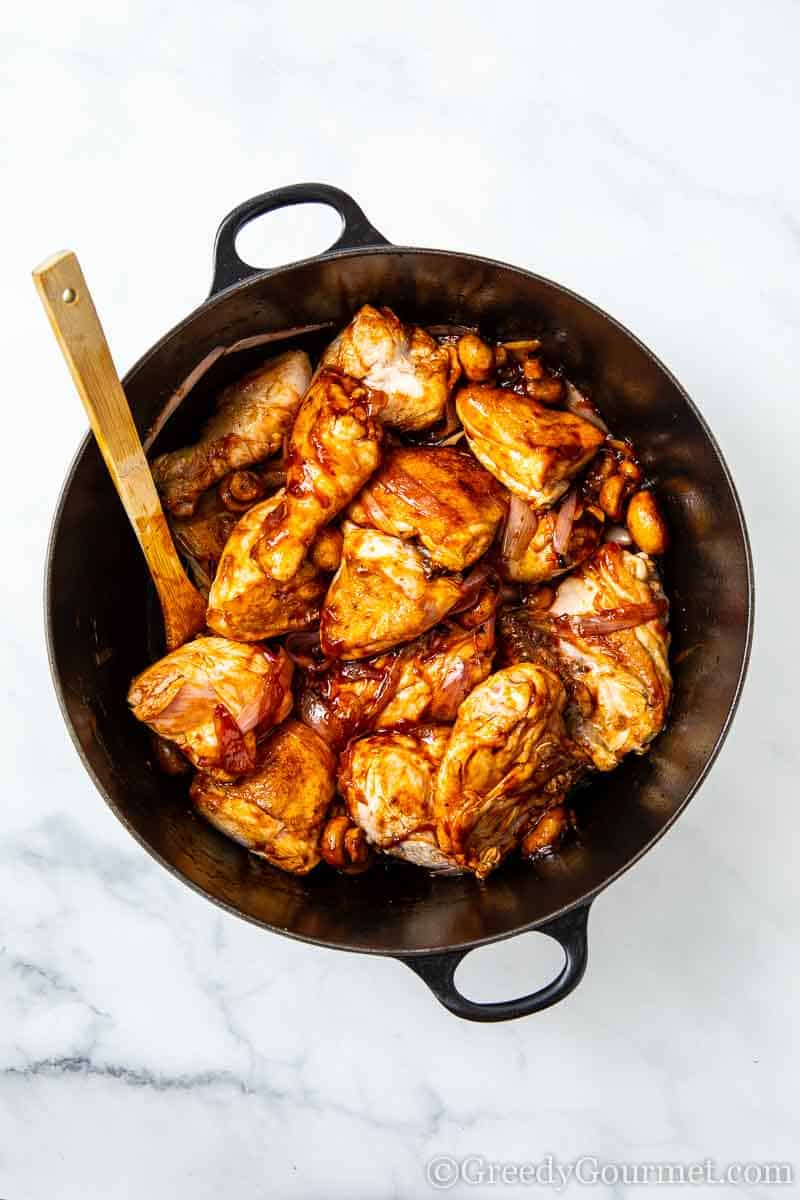 What does chicken chasseur taste like?
It's the ultimate comfort food! The chicken is crispy and succulent, while the sauce has a deep rich flavour with a hint of acidity and a woody fragrance from the herbs.
Think of a thick, warming autumn stew.
What type of mushrooms are best to use in hunter's chicken?
You want something that is small and simple, that absorbs other flavours like a little sponge.
For me, button mushrooms are the best type to use in stews and casserole recipes. They are simple, inexpensive and soak up lots of flavour. Use more than you think you need – when they cook, they shrink a lot.
Can you have chicken chasseur without mushrooms?
If you're not a mushroom lover (hey, I'm sure there are some of you out there) this recipe still works without them. There are plenty of other ingredients you could use in their place.
What can you use in place of mushrooms in hunter's chicken?
My top choice would be chickpeas. Let them cook for a long time, like the mushrooms, to soak up the flavour. You could also use butter beans, which would also take on the flavour of the sauce.
If you'd rather add a vegetable, go for something like courgette or aubergine, which also act like great flavour sponges. Just chop them up into bite-size pieces.
Can you cook chicken chasseur in the oven?
You can easily finish hunter's chicken in the oven. You'll need an oven-proof pan, which you'll need to transfer to the oven after you've added the stock. Cover the pan and cook for 25 minutes to 30 minutes at 375ºF.
What wine goes with chicken chasseur?
Something like a dry chardonnay, sauvignon blanc or a pinot noir would go great in this classic chicken recipe.
Go for quality and remember – if you wouldn't drink it, it's not good enough to add to your food.
What's the difference between coq au vin and chicken chasseur?
'Coq au vin' means chicken with wine, so you would assume that they are one and the same.
Coq au vin recipes typically use a red for the sauce, as well as the addition of bacon.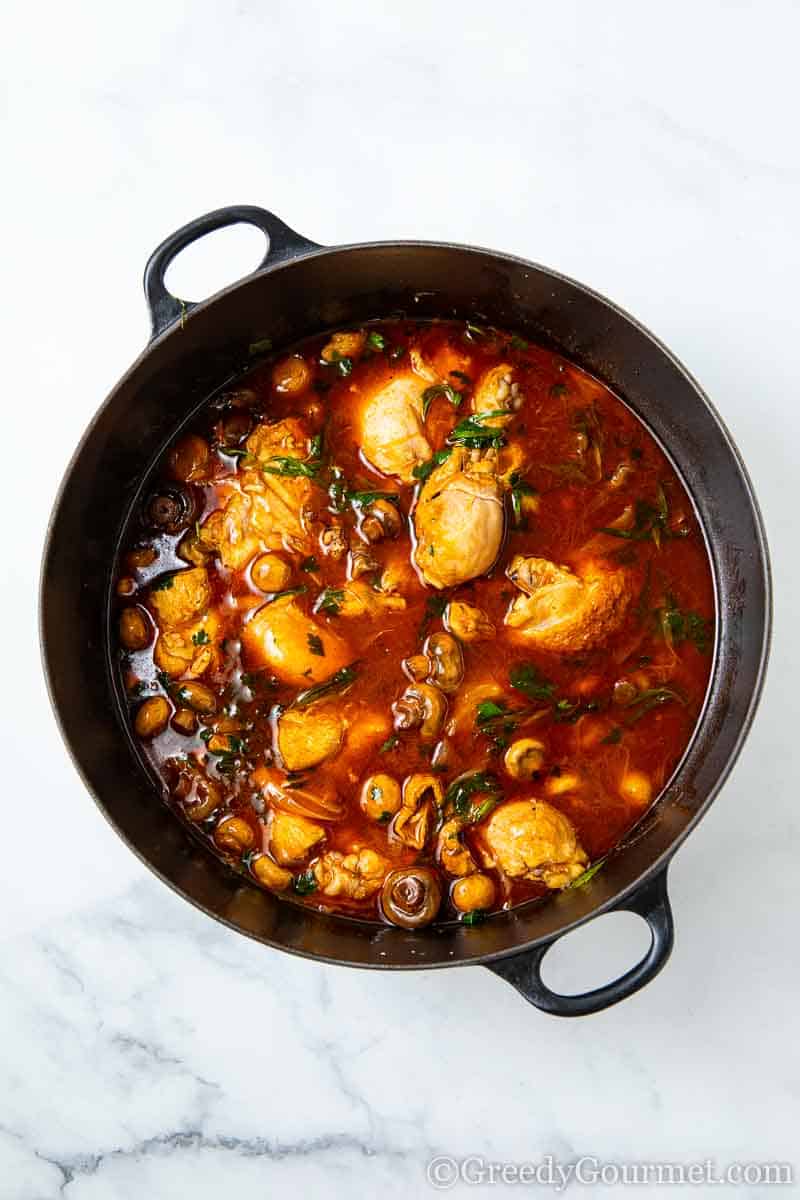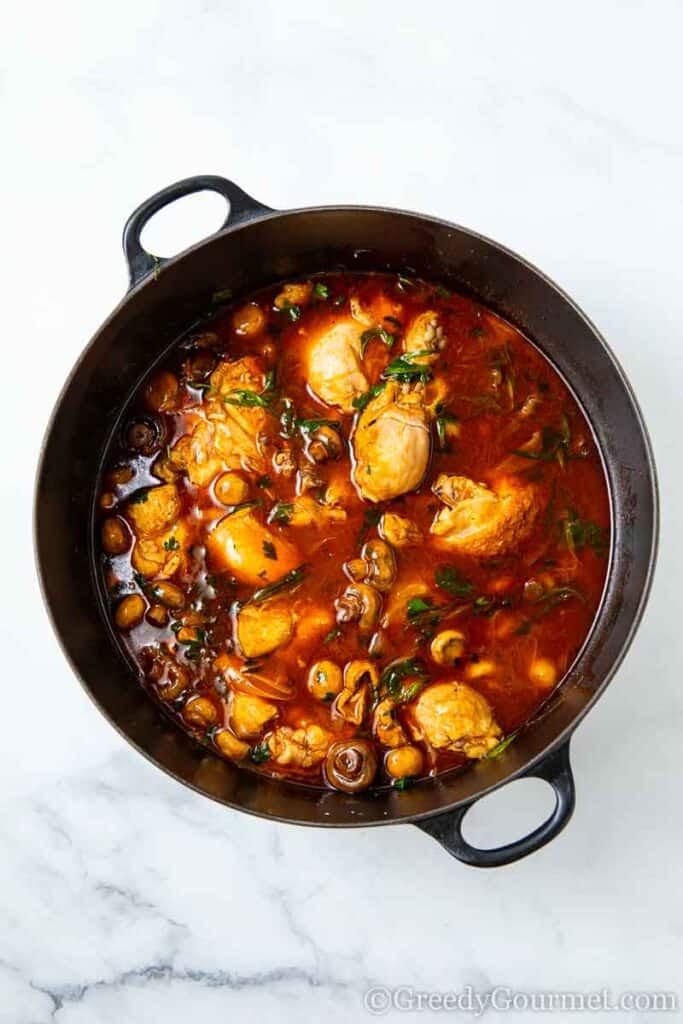 What you eat with chicken chasseur?
Parmentier potatoes – a quick and easy roast potato side with a few simple ingredients. Just olive oil, rosemary and garlic make this French favourite the ideal side for this chicken recipe
Roasted Jerusalem artichokes – if you've never tried Jerusalem artichokes, give this recipe a go. Crispy on the outside and creamy on the inside, they're one the best alternative side dishes to serve alongside hunter's chicken
Roasted carrots – a simple recipe that will go just perfect with hunter's chicken recipes
Parmesan parsnips – in just 30 minutes you can have one of the tastiest, healthiest side dishes that you've ever had
Rosemary potatoes – a simple, easy to prepare recipe, this is one of the best sides you could serve up with your hunter's chicken
Tobacco onions – these tasty onions, that you can make in minutes, add an extra level of flavour to just about any meal
Roast marrow – the humblest of ingredients made spectacular with this ravishing roasted recipe
Boulangere potatoes – a rustic old-school classic French favourite, boulangere potatoes are oven baked bliss!
Baked sweet potato fries – another oven baked recipe, these fries will please all the family every single time and are healthy to boot!
Macho peas – no ordinary peas, these little firecrackers have attitude! They make the perfect side for this hunter's chicken recipe
Confit potatoes – just imagine mopping up the chasseur sauce with these delicious confit potatoes. Utter heaven!
More delicious French recipes
Print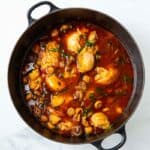 Chicken Chasseur
---
Author:

Michelle Minnaar

Total Time:

1 hour

Yield:

4

servings, 3 prawns each

1

x

Diet:

Low Lactose
Description
Chicken Chasseur, also known as Hunters Chicken, is a French chicken recipe that only requires one pot. Serve with creamy mash - pure comfort food.
---
1

x 1.6kg (

3.5

lbs) chicken

15

ml (1 tbsp) oil

15

ml (1 tbsp) plain flour

60g

(

¼

cup) butter

3

large shallots, peeled and sliced lengthways

55g

(

¼ cup

) caster sugar

150g

(

1 cup

) button mushrooms, cleaned

180

ml (⅔ cup) white wine

30

ml (2 tbsp) brandy [optional]

30

ml (2 tbsp) tomato purée

300

ml (1⅛ cup) chicken stock

10

ml (2 tsp) tarragon, chopped

2

tomatoes, deseeded and chopped

5

ml (1 tsp) parsley, chopped
---
Instructions
Joint the chicken into 8 pieces by removing both legs and cutting between the joint of the drumstick and the thigh. Cut down either side of the backbone and lift it out. Turn the chicken over and cut through the cartilage down the centre of the breastbone. Cut each breast in half, leaving the wing attached to the top half.
Heat the oil in a frying pan or saucepan and add half the butter. When the foaming subsides, add the chicken and sauté in batches on both sides until browned. Lift out onto a plate and keep warm. Pour the excess fat out of the pan.
Melt the remaining butter in the pan, add the shallot and caster sugar, then cook gently until softened and caramelised. Add the mushrooms and brown them, over moderate heat for 3 minutes.
Cook, stirring constantly, for 1 minute. Stir in the white wine and brandy [optional] to deglaze.
Add the tomato purée and stock. Bring to the boil, stirring constantly, then reduce the heat and add the tarragon. Season.
Return the chicken to the pan, cover and simmer for 30 minutes, or until the chicken is tender and cooked through.
Tip in the tomatoes and simmer for a further 2 minutes.
Sprinkle with parsley and serve with mashed potatoes and greens.
Notes
If you don't know how to joint a chicken, you can buy chicken drumsticks, thighs and breasts at the shops and make up your own combo to the stated weight in the recipe.
If you eat pork, you can add 4 rashers of bacon (sliced), after the chicken has been browned and removed from the saucepan. Fry until lightly browned then proceed with the recipe, by adding the butter and shallots.
Prep Time:

15 minutes

Cook Time:

45 minutes

Category:

Main Course

Method:

Braise

Cuisine:

French
Keywords: chicken chasseur, hunters chicken, French chicken recipe, chicken casserole recipe, slow cooked chicken recipe, chicken and mushroom recipe