Brunelli's steakhouse is the best steak restaurant in Tenerife. Period. Based in Puerto de la Cruz, and a stone's throw away from Loro Parque, this restaurant appeals to everyone, from business people to young families. Read on to find out why.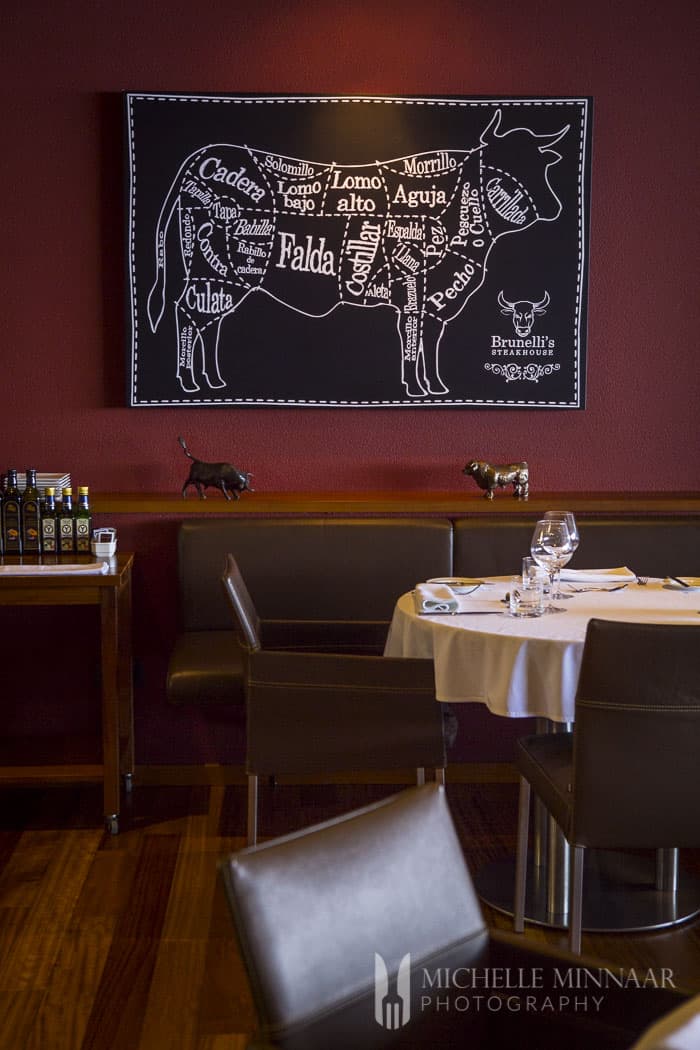 As you enter the restaurant, a fridge with a striking display of beef cuts is on the right, followed by an impressive collection of wines. Brunelli's even boasts its own Gran Reserva wine which has matured 18 months in the barrel, produced in 2009.
The restaurant's German owner, Wolfgang Kiessling, possesses a multitude of establishments around the island and is considered the adopted son of the Canaries. He is a major fan of local artwork. All along the walls the works are proudly displayed.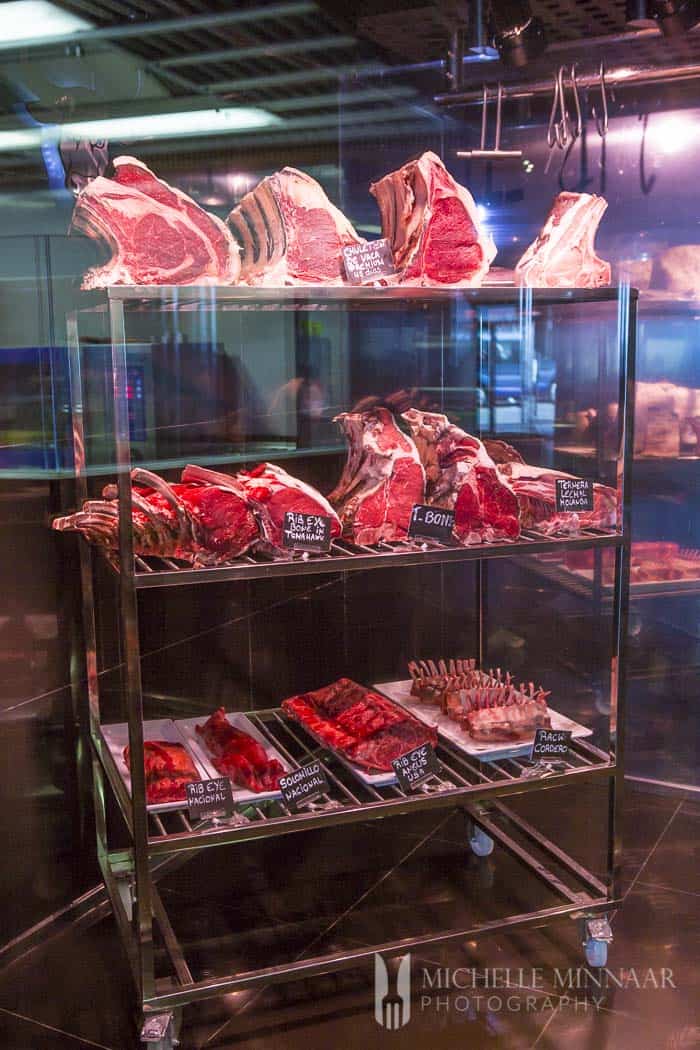 At the table the chef would bring the different types of beef cuts available to assist you in making the best choice for your meal. Porterhouse, rib-eye bone in and without, fillet and veal chop, just to name a few. The meat is specially sourced from the foremost cattle rearing countries around the world such as Uruguay, Spain and northern parts of Europe such as Ireland. When the meat arrives at Brunelli's steak house, it is matured for 28 days before being served to customers.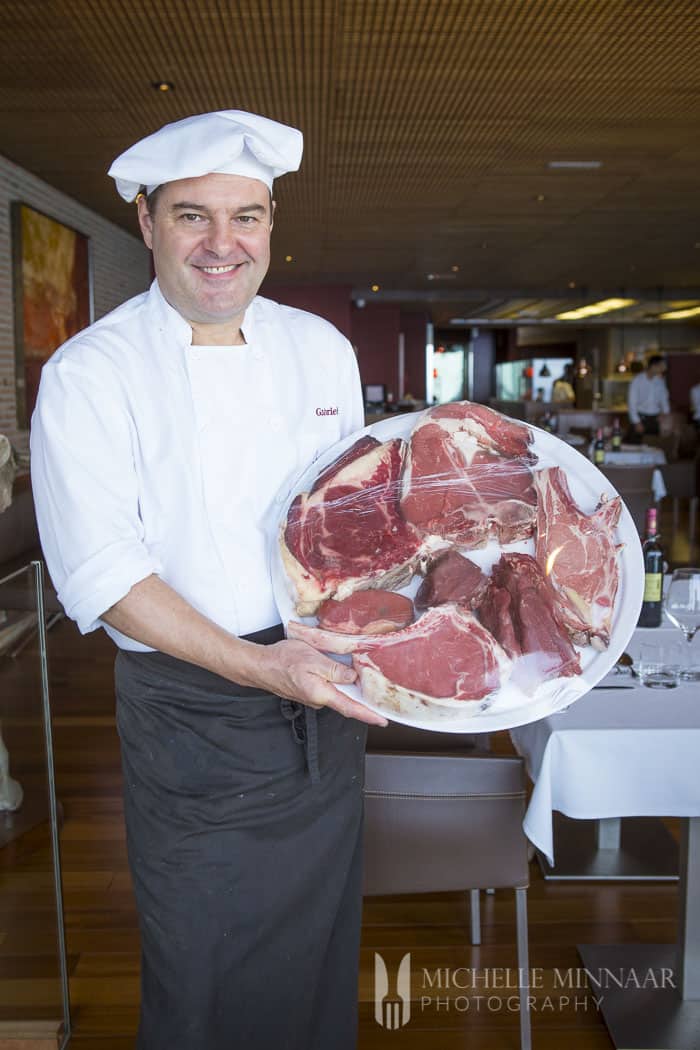 This was my third visit to Brunelli's steakhouse over the course of three years and yet again I wasn't disappointed. The first time round in 2016, when it just opened, the restaurant was incredibly quiet. The second time it was a little bit busier. This time it was a lovely surprise to see just how well frequented it was. Couples, businessmen, mothers and daughters, and young families were dotted all across the restaurant. Kid-friendly meals are available to keep young children happy while parents can, for just once, enjoy a meal more sophisticated than a burger and fries or spaghetti bolognese.
As price tags will indicate, Brunelli's steakhouse isn't a cheap establishment. It's the type of place the average holidaymaker will save up for by eating moderately cheaply on his weeklong holiday and then splurging on a place such as Brunelli's steakhouse on the last night. Of course, if you're not constantly counting the pennies, you'll find yourself eating here every day!
Another reason why you might find yourself end up at Brunelli's steakhouse is that you've had more than your share of fish. Around the Canary Islands, you can go on fishing trips and learn how to cook it. This is also an excellent opportunity to try out different fish species, such as bonito and wreckfish. Don't get me wrong, I love fish but there's only so much I can cram into my stomach in an allotted time before the craving for meat kicks in.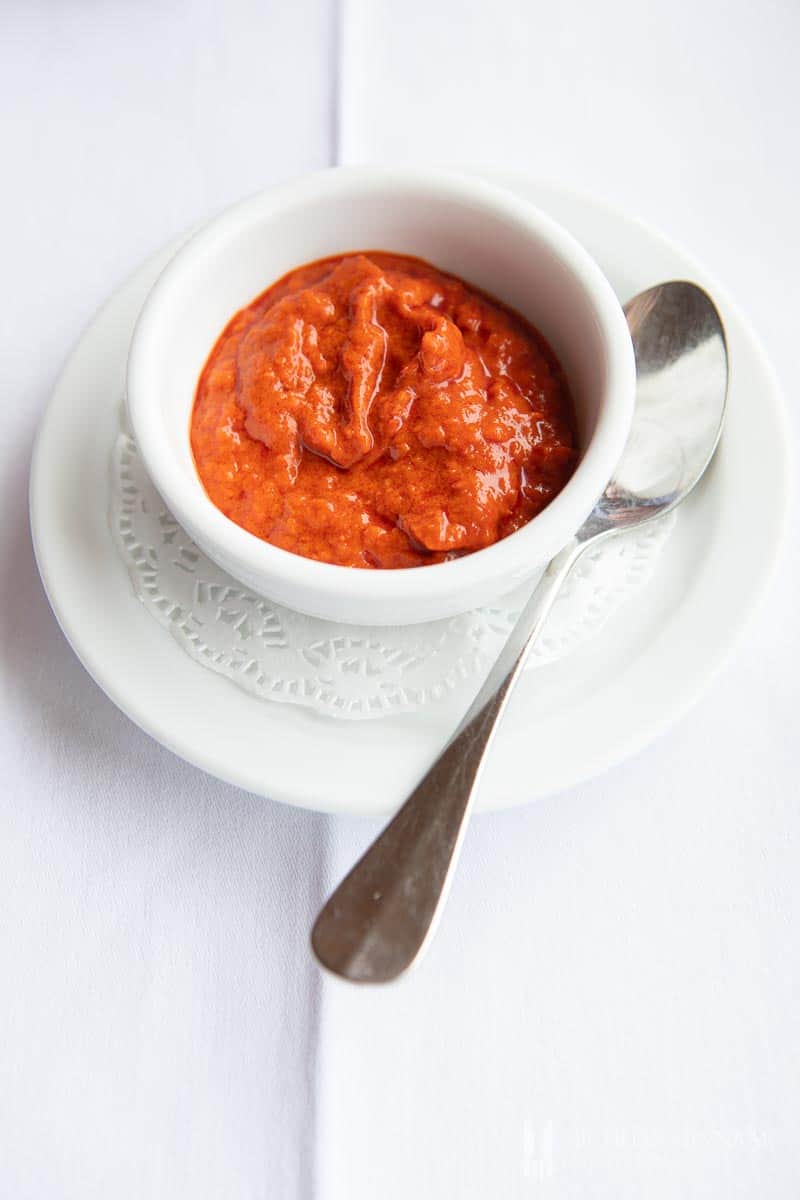 Brunelli's Steakhouse appears to have stopped serving amuse bouche. The past visits the latter was an an octopus salad comprising boiled octopus with diced onion, red, green and yellow peppers and a basic vinaigrette. This was a small and fantastic start to the meal. On the other occasion it was a meatball which was delicious too.
This time, traditional mojo rojo (1.5€) was brought to the table with fresh, warm bread.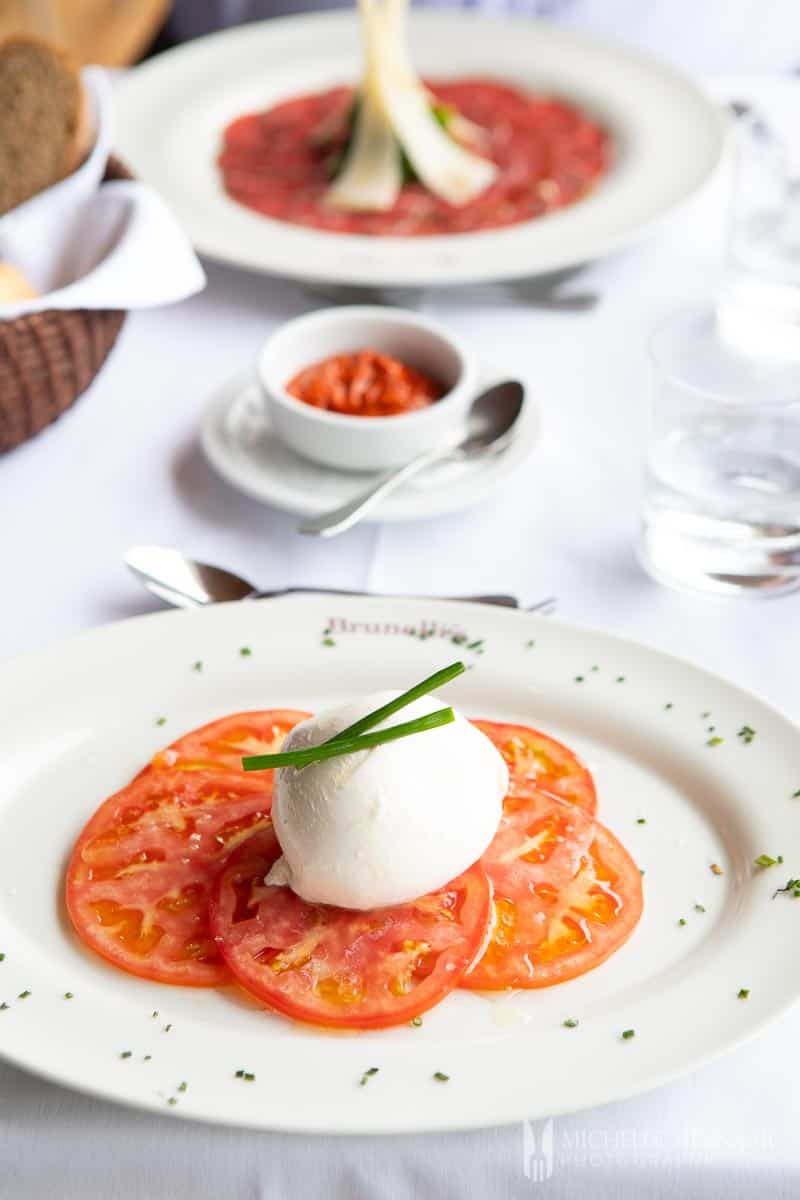 The big blob of silky smooth burrata on sautéed spinach, which was almost a meal in itself, was simply to die for the last time. On this occasion, I eagerly ordered again but it wasn't the same and the cheese's filling were mysteriously lumpy, which was a shame because it's the silky smoothness that makes burrata so desirable for me.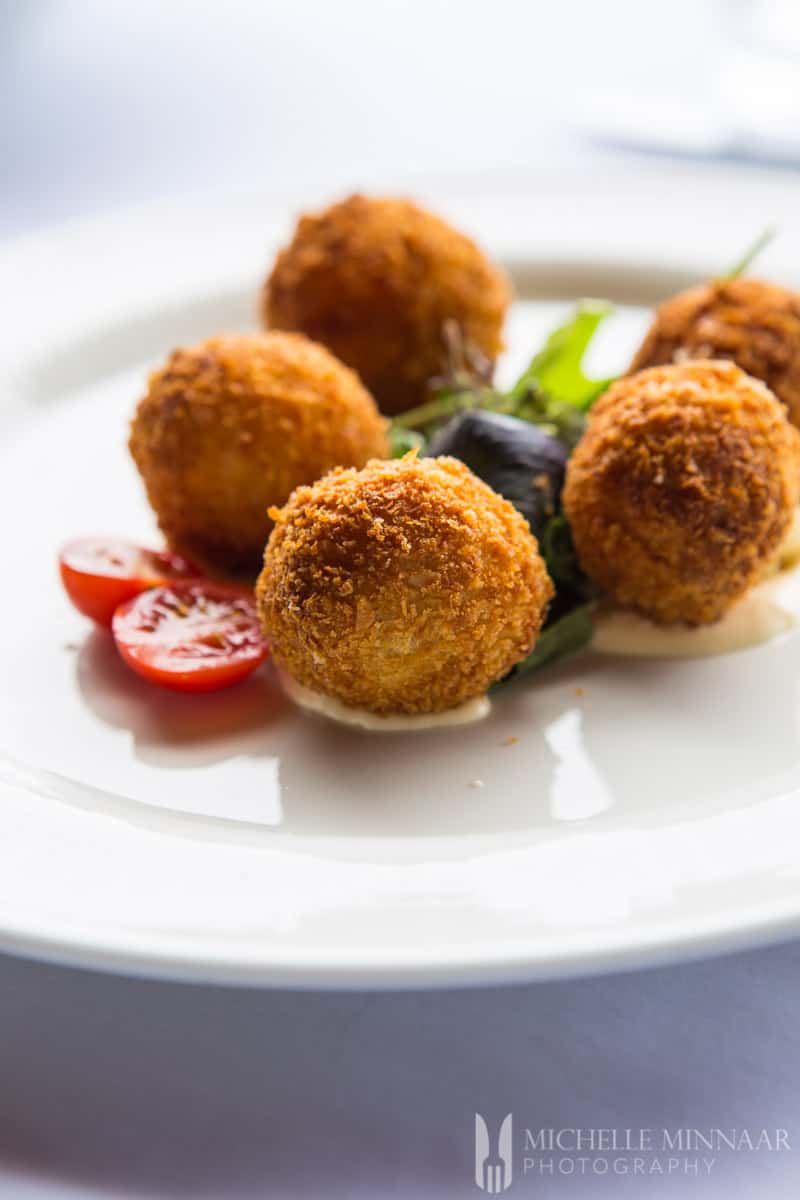 Croquetas de Espinacas y Queso Crema (7.50€) are homemade spinach and goat's cheese croquettes. Its crunchy exterior reveals a creamy, vivid green filling. Another unique offering you'll be hard pressed to find anywhere else. (This isn't on Brunelli's steakhouse's menu anymore.)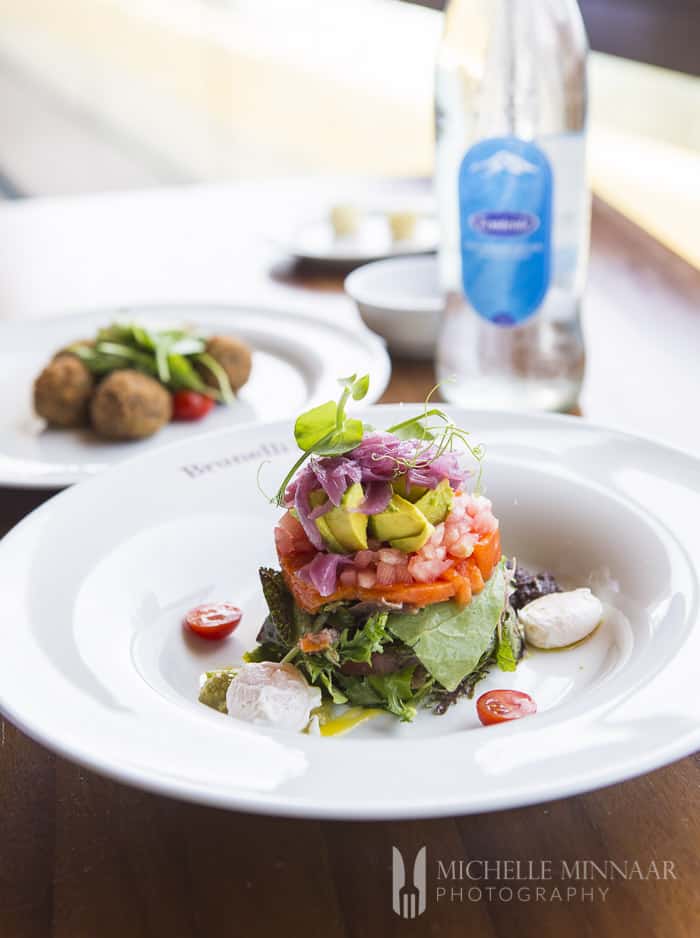 Ensalada Brunelli's (11.5€) is Brunelli's trademark salad. Layers of tomato, pickled onion, papaya, avocado, mackerel and quail - the unusual flavour combinations - make this salad truly memorable.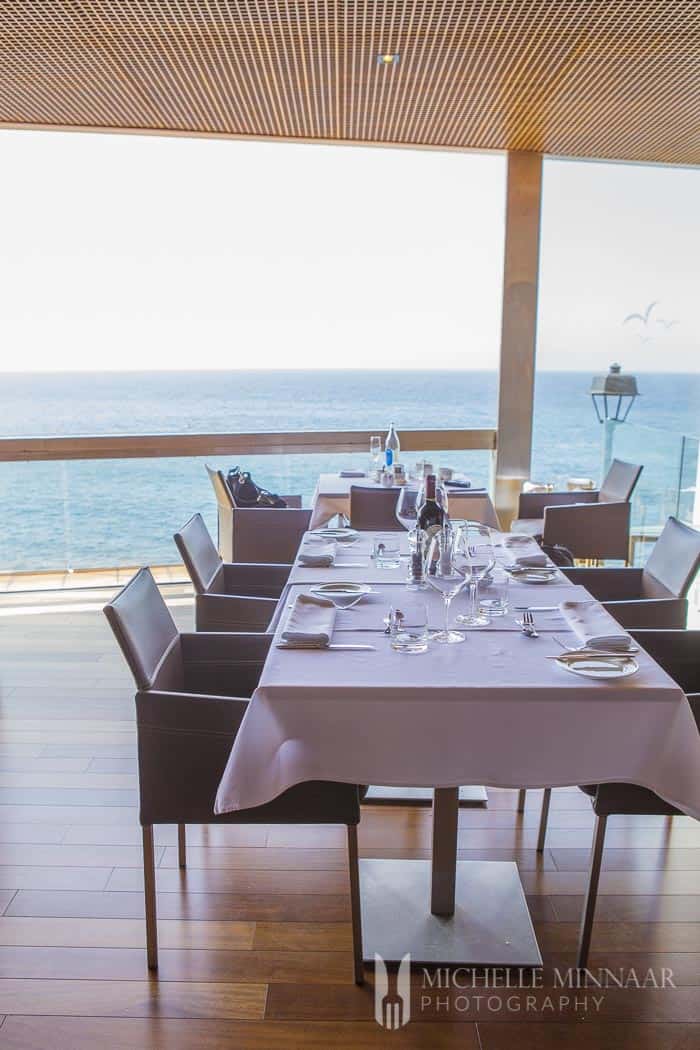 Oh, and the views! How can I forget? While waiting, you can enjoy stunning views of Punta Brava. Cool fact - the restaurant's terrace window is one solid piece of glass that moves up and down, depending on whether the restaurant is open or closed. So, should you have to wait for your food, it would be far from an ordeal. Sitting in such a beautiful setting, you actually wish for the kitchen to take longer!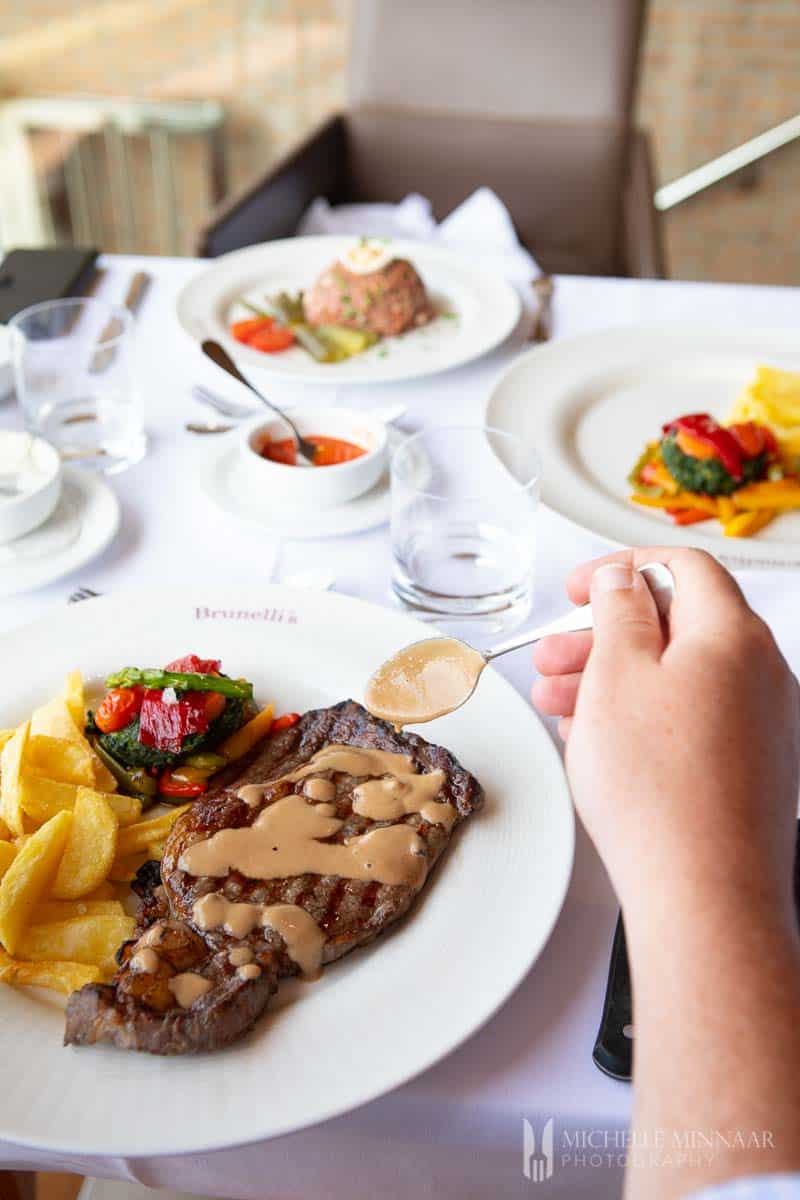 You get steak and then you get steak. The lengths a lot of restaurants will go to to convince you that their meat is best knows no bounds. For example:
"Our 250g fillet steak was reared in the grassy pastures of Goblinshire and then lovingly dry aged for 124 days in an oak barrelled room. Our expert grill chef will then cook the steak to your perfection in our KickAssExpensive Cooker for you to enjoy." [Feel free to add more flowery prose and other drivel if you're that way inclined.]
When I finally get to taste the steak, I'm left slightly puzzled and underwhelmed. Most of the time, it tastes good but the restaurant's claims to it being the best is somewhat unfounded. The menu descriptions seem to be more of a marketing ploy than anything and I honestly wouldn't have known any better if the steak actually came from the supermarket around the corner.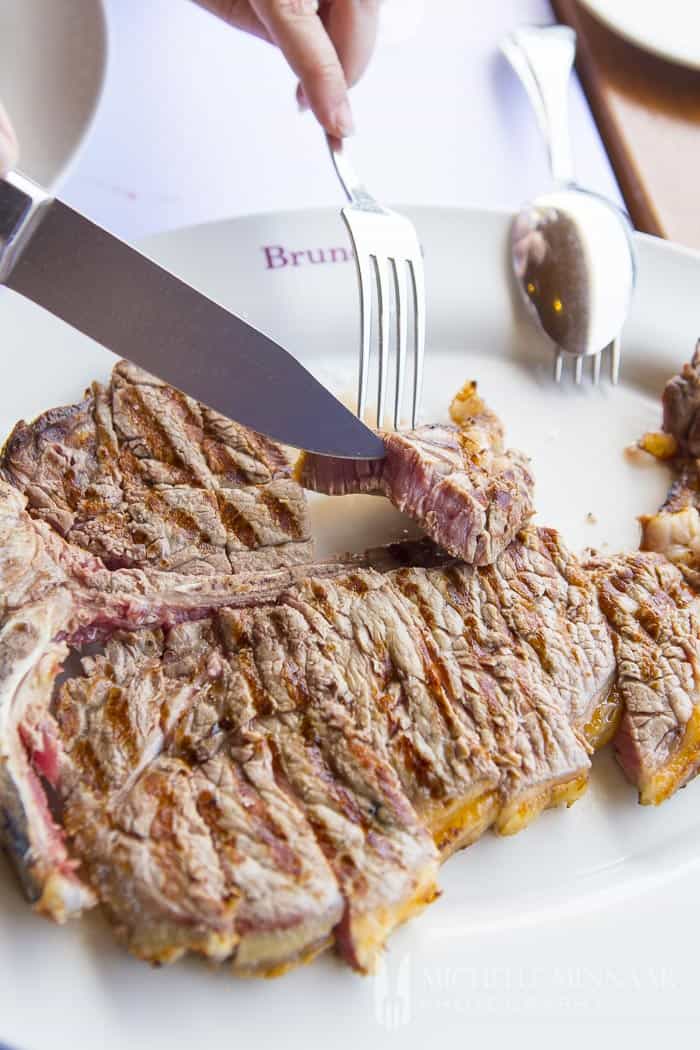 How can you tell a good steak from a bad steak? Other than the obvious signs, e.g. gristly bits and dry stringiness, after a certain quality is reached it's hard to tell them apart. The best way to truly learn more about steak is to go to a tasting evening, much like wine tasting. What could be more enlightening than sharing an evening with a steak expert letting you taste the different cuts from different sources side-by-side? Alas, thus far I've missed these opportunities so am still living in ignorance.
Like wine, steak is a science in itself. The flavour outcome depends on the diet the cow was fed, its environment and activity levels, the raging process, the type of cut, seasoning, and the equipment used and the cooking process. Lastly, it depends on your preference as how you like it cooked.
Our T-Bone steak (€7 per 100g, from 750g) was a sight to behold. It sprawled over a large serving plate, with attractive griddled lines, crunchy in the right places and meltingly tender in the middle. Sea salt is provided on the side so that you season it to your liking. There are four sauces you pick to enjoy the meat with: Béarnaise, Peppercorn, BBQ & Mojo.
What I also appreciated was the addition of the hot stone that came with the order. It's solved a problem I've been faced with before when ordering chateaubriand with a dining companion. I like my meat rare but others seldom do, which means I need to compromise and eat meat more cooked. With the hot stone the meat arrived rare and my companion could cook her meat further to her desire on the hot stone. Trust me, on the inside I was jumping with joy. Rest assured, no divorces would take place in this restaurant!
Steak is served with chips and roast vegetables. The latter was properly cooked and not a rush job; the peppers were super sweet and aubergine silky.
We had the Ribeye Steak (9/100G€) and Chateaubriand (10/100G€). The Chateaubriand, i.e. fillet won hands down. A lot of chewing is usually associated with eating steak but this meat was as close to melt-in-the-mouth as you could get. Now I've eaten a lot of steak in my lifetime, but this memory will stick around for a long time.
What is one of Brunelli's steakhouse's secrets? The Southbend broiler. There is only one in the Canary Islands and another one in Madrid, mainland Spain. A chef needs special training to operate this rapid induction gas oven. The latter's temperature immediately reaches 800Cº and seals the surface of the meat, developing a crispy crust on the outside while keeping the meat meltingly tender inside.
This time I opted for something new, taking the rawness of steak up a notch. Steak Tartare (€28).
A little bit of theatrics follow as the classic French dish is meticulously assembled at your table. When the mixture is more or less prepared, much like tasting wine when a bottle has been opened, you get to try a bit of the tartare first and ask for tweaks where you see fit. After that, your food is stylishly plated and topped with a boiled quail egg. The final result? Excelente!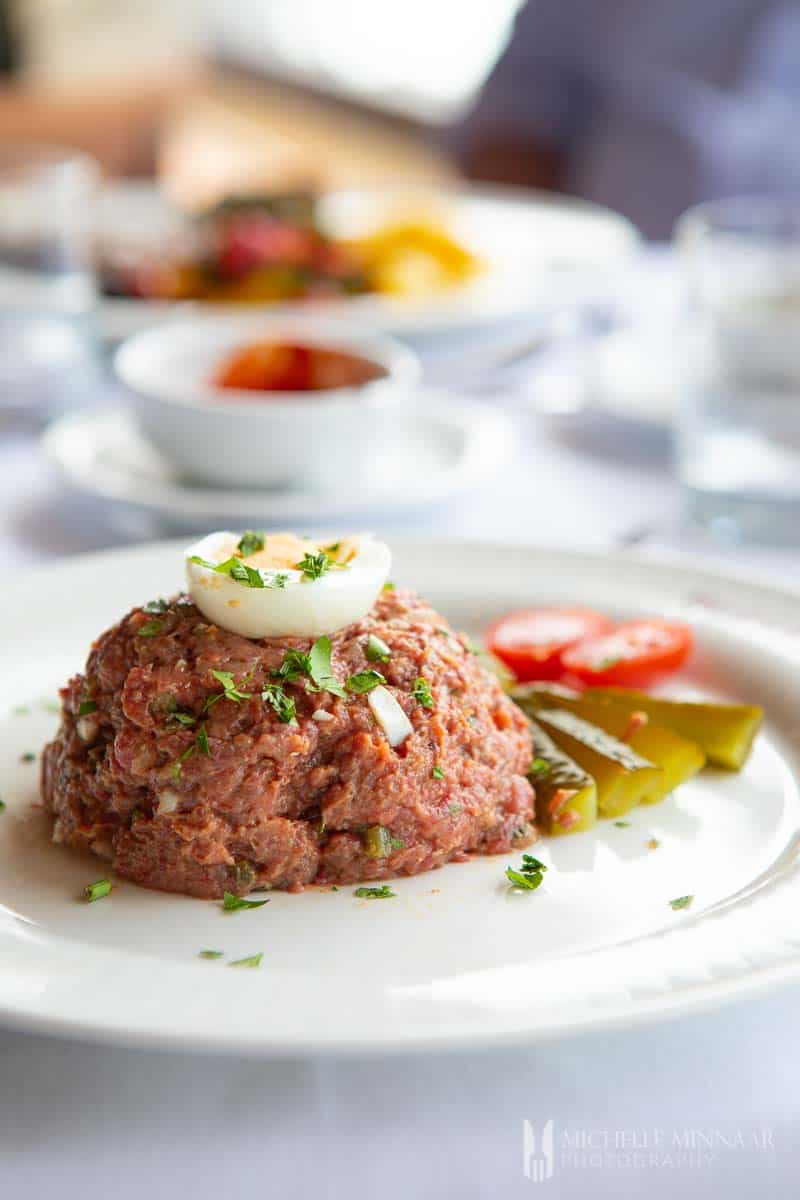 If you're, somewhat unbelievably, still hungry then the Mixed Dessert Plate (€16) will give you the best of all worlds. It comprises Brunelli's cheesecake, which is laced with raisins, chocolate coulant with a gooey center and banana fritters with ice cream. My favourite? The banana. Everything we had was exquisite and the dessert was no different.
There you have it!
Looks tempting? You will have to fly to Tenerife to get to Brunelli's steakhouse but, don't worry, there's plenty to see, eat and do in the Canary Islands while enjoying beautiful weather. You can stay at Hotel Botanico, which is close by. Best of all, the Brunelli's menu contains no pretentious descriptions of the food!
Brunelli's
Calle Bencomo,42
Punta Brava 38400
Puerto de la Cruz
Tenerife
Website
P.S. I was a guest of Brunelli's.