Sweet grapes and aromatic mint are a match made in heaven, giving this terrific white grape chutney a delicious taste of its own.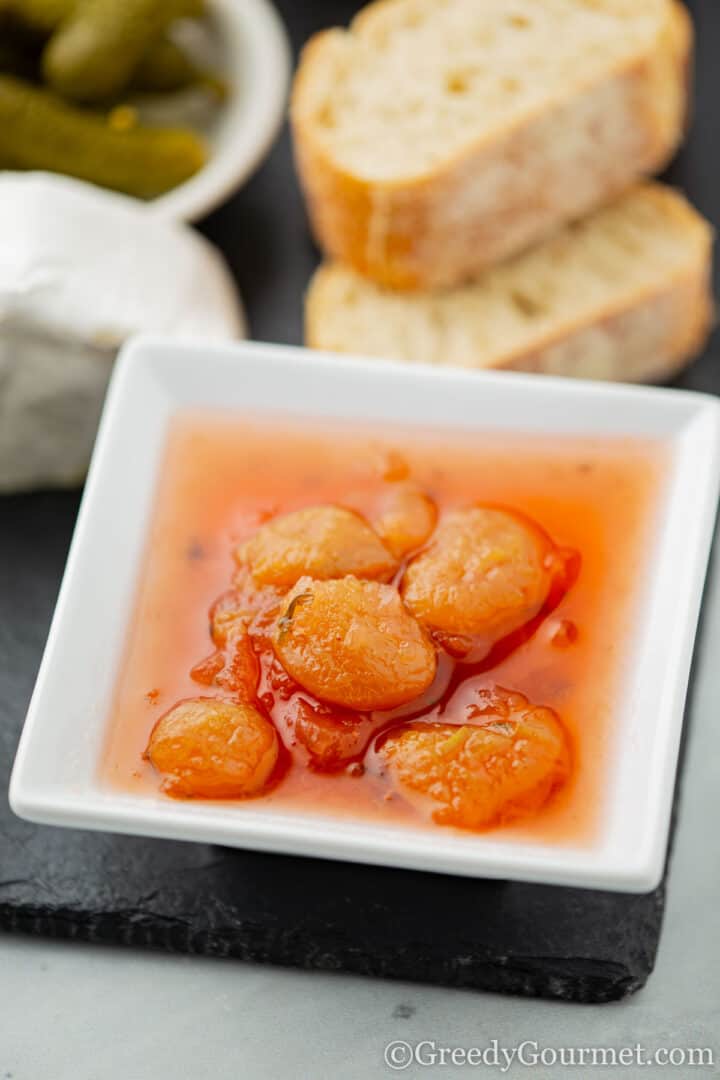 It's easy to make – perfect for novices and experienced foodies alike – and can add such depth and character to such a wide variety of recipes. So, let's find out how to make white grape and mint chutney.
Products you need for this recipe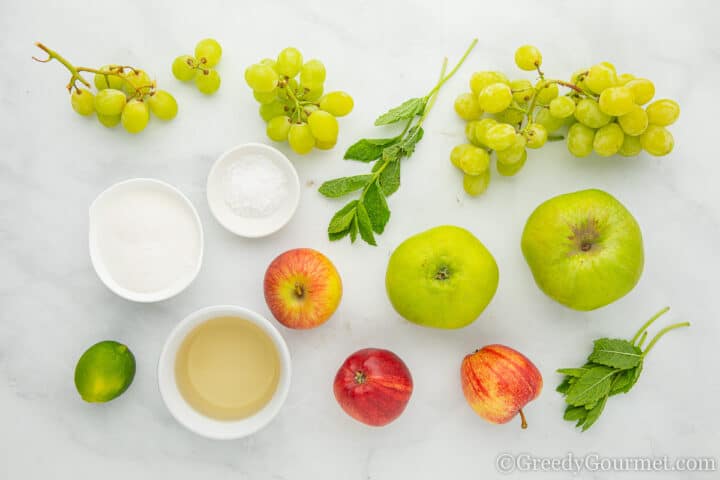 White grape chutney with some added mint
This is a simple, delicious chutney, with minimal ingredients and maximum flavor. The two key flavors – grape and mint – work so well together.
The apple brings tartness, while a squeeze of lime and a hint of zest brings that all important fresh citric flavor.
The vinegar brings balance and acts as a preservative, while a touch of salt brings it all together.
Simple… yet, when all these flavors are given the chance to breathe and blend together, the result is a wonderfully complex chutney that dances on the palate.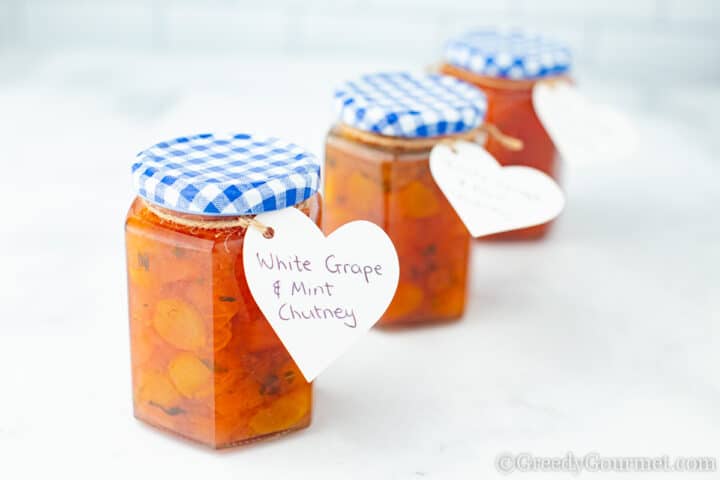 What can I serve with grape chutney?
This chutney is so versatile and can be paired with such a wide variety of foods. Here are just a few great pairing options for this chutney recipe:
– Warmed with a bit of butter with roast pork
– Avocado
– Blue cheese
– Chicken
– Hard cheese
– Peanut butter
– Soft cheese
– Walnut
How do you store this chutney?
This white grape and mint chutney needs to be stored in a cool, dark place. Once you open it, keep it in the refrigerator.
How long does chutney last?
Unopened, this chutney will last for 18 months. However, once you've opened it and transferred it to the refrigerator, you'll have to use it within a month.
Do you need to let this chutney mature?
Yes, this chutney gets better with age!
Avoid the temptation to pop the lid and dive in! Give it at least a month for the flavors to really settle in.
You'll be amazed at how much the fragrant mint comes through and how the richness and depth of the chutney develops.
What type of apples should I use?
For chutney recipes that call for apples, you should go for a tart apple that can hold together when cooked for a long time.
Look for a traditional cooking apple, like a Granny Smith or a Bramley.
Should I chop up the grapes or leave them whole?
For this recipe, I left them whole. It seemed like an interesting experiment – big sweet grapes, with that explosive fruity flavor popping out amid the luscious thick chutney. 
I'm not sure though. I think chopping or halving the grapes gives a better overall texture to the chutney. Feel free to experiment and decide for yourself!
Can I make this chutney boozy?
Yes, you can! If you prefer a bit of a boozy kick to your chutneys, simply stir in 125ml (½ cup) of your chosen tipple towards the end of the cooking time, then get your chutney sealed in the jar as quickly as possible.
I recommend going for something with a mellow sweetness, like a rum, cognac or brandy.
Can I add more mint?
Absolutely. Feel free to up the ante on the mintiness of this chutney recipe. 
Remember though, when you leave it to mature, the mint flavor will become a lot more powerful.
So, bear that in mind when adding the mint and be sure not to add too much, as it really could overpower the dish and throw it off balance.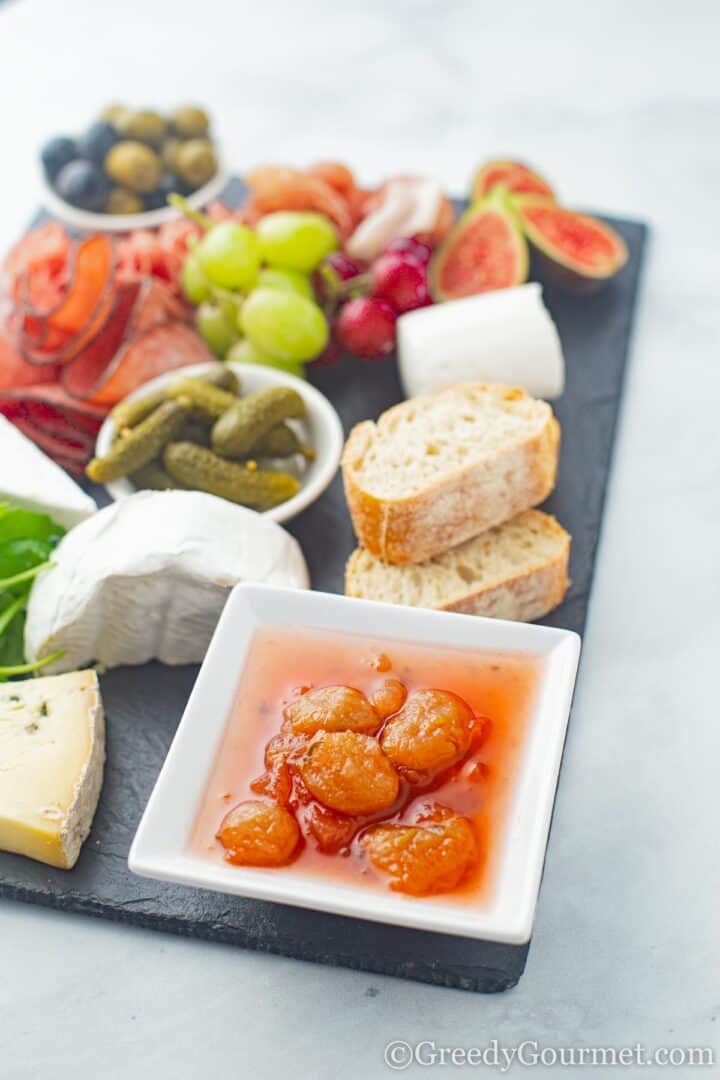 More amazing chutneys
Homemade chutneys are such a delight to make and to eat! So, here are a few more tantilizing recipes for you to try:
Black grape chutney with rosemary
Print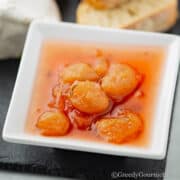 White Grape Chutney with Mint
---
Author:

Michelle Minnaar

Prep Time:

30 minutes

Cook Time:

1 hour

Total Time:

1 hour 30 minutes

Yield:

1.2

kg (2½ lb)

1

x

Diet:

Vegan
Description
Learn to make this easy delicious homemade White Grape Chutney. The secret ingredient? Mint! Best served with cheese or white meats. 
---
900g

(2lb) white seedless grapes, chopped

900g

(2lb) apples, peeled, cored and finely chopped

450g

(

2¼ cup

) granulated sugar

500

ml (2 cups) white wine vinegar

1

lime, juice and zest

1g

(

¼ tsp

) salt

3g

(

2 tbsp

) fresh mint, finely chopped 
---
Instructions
Place the grapes and apples in a large heavy bottomed pan with the sugar and vinegar then bring slowly to the boil. 
Reduce the heat to a gentle simmer and cook for 45 minutes, or until the fruit is soft and the chutney on the thick side.
Stir in the lime juice, zest and salt. 
Cook for another 15 minutes, or until the chutney is thick.
Stir in the mint, then tip the chutney into freshly sterilised jars, then cover and seal. 
Leave to mature for at least 1 month before eating. Enjoy!
Notes
900g of grapes are approximately 6 cups.
Tart cooking apples, such as Bramleys, are preferred in this recipe.
As an experiment, I kept the grapes whole in this recipe. Final thoughts? I think it's better to chop/halve the grapes for a better texture and a more uniform chutney. Still tastes great though!
The mint lends a wonderful freshness to the chutney. Play around with quantities but keep in mind that flavours will become stronger when the chutney matures for a month. 
Category:

Condiment

Method:

Boil

Cuisine:

American
Keywords: white grape chutney, chutney recipe, white grape and mint chutney, white grape recipe