Almond flour is a delicious, gluten-free nut flour that proves that going grain-free doesn't have to mean going taste free. Along with coconut flour, it's becoming the go-to low-carb flour for health conscious bakers.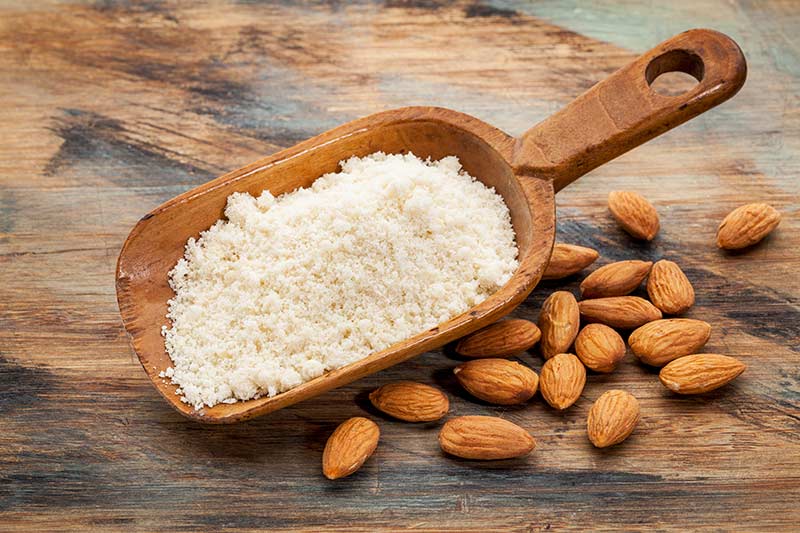 But what if you don't have any to hand? Or maybe you want to bake something nut-free for allergy reason.
Don't worry, there are plenty of great almond flour substitutes available for any type of baking or cooking. Some might even surprise you...
What is Almond Flour?
Made from finely-ground blanched and peeled raw almonds, almond flour has a very neutral flavor. This makes it ideal for baking and adding as a thickener to sweet or savoury dishes, as the last thing you want is an overpowering taste of the flour.
It's becoming increasingly popular in gluten-free cooking as a great alternative to wheat flours. It's also starting to be used by those on a paleo or keto diet.
For those with nut allergies or those who are looking to bake for others who may have nut allergies, almond flour is far from ideal. So, it's definitely one of those ingredients where good alternatives are a must.
Or maybe you love this nutty flour, but you've completely run out and can't get hold of more. Either way, you'll need to know about ideal alternatives.
Some ideas for an almond flour substitute...
12 Best Almond Flour Substitutes
Allergic to nuts or simply don't like almonds? Check out this list of ingredients that act as a great almond flour substitute. There are plenty to choose from!
If you're looking to replicate the taste rather than the texture, almond meal is ideal. It's perfect for cookies, granola bars, bread and other quick baked recipes with almond flour and brings the same slightly sweet nuttiness.
The difference between almond meal and flour is that the meal has a more coarse texture. This is because the nuts aren't peeled during the grinding process, so the skins are included. Still, you can substitute with a cup for cup basis.
Due to the coarse texture, it can be a great substitute for breadcrumbs, adding a subtle sweet nutty taste when coating meat or added across vegetable dishes, casseroles or even a curry. Try scattering some over a chicken pasanda towards the end of cooking!
If you're wanting to stay gluten-free, you can substitute either pumpkin seed or sunflower seed meal on a cup-for-cup basis.
Pumpkin seed meal has light nutty taste that blends well with pretty much any dish, sweet or savory. It's naturally gluten-free and is packed full of all essential amino acids, making it a complete source of protein.
It's a great alternative to almond flour. In fact, it has a slightly more subtle taste, making a little more versatile. Aside from using it in baked recipes, pumpkin seed meal is delicious when blended into smoothies, scattered over salads or added to yogurts or other healthy desserts.
If you want a nut-free alternative to almond flour, pumpkin seed meal is perfect. Substitute on a cup-for-cup basis.
A superseed that's rich in Omega-3 fatty acids and a good source of vitamin B1 and copper, ground flaxseed can make a good substitute for almond flour in certain dishes.
Also known as flax meal, ground flax or linseed, flaxseeds are highly nutritious and is one of the lowest carb flours you can get. Not only is it a good choice for almond flour recipes, but it can also replace eggs in vegan recipes.
and are a good source of vitamin B1, Copper and Omega 3. What's great about baking with flax meal is that not only can it replace flour in recipes, but it can also replace eggs in vegan dishes.
Ground flaxseed works well as a healthy boost to fruit smoothies, or mixed into pancakes or waffles, although it can also be used as a substitute for almond flour in cakes and baked goods, especially if given a little extra grind in a food processor.
Hazelnut flour can used as an alternative to almond flour for most recipes. However, it'll work better in crumbly, nutty textured recipes. Almond flour is actually a lot denser than hazelnut flour, which doesn't hold its form quite as well. So for cake recipes, you'll need to use 1/2 cup of hazelnut flour and 1/2 cup of wheat flour or cassava flour to 1 almond.
Hazelnut flour has a sweeter, more mellow flavour than almond flour. It also has rich, nutty buttery undertones. For cookies and sweet pie crusts, hazelnut flavour works great – substitute it at a 1:1 ratio. Hazelnut flour also works great as a replacement for bread crumbs.  Just rub a little oil on fish or chicken and coat liberally with the hazelnut meal.
You could even make homemade Nutella… perfect for a mouthwatering slow cooker Nutella fudge recipe!
If you're not worried carb-content and aren't looking for a non-grain alternative, wheat flour is ideal.
The best thing about wheat flour is its availability. If you're stuck for a replacement, you'll have no problem getting hold of wheat flour. There will however be less flavor. So, if your recipe calls for that almond taste, replace it with sliced almonds or almond essence, if possible.
Wheat flour is a better binging agent than almond flour. So, you'll need to adjust the recipe slightly. Use one or tow less eggs and a ratio of 3/4 cup of wheat flour to 1 cup of almond flour.
Much like wheat flour, all-purpose flour is a far better binder than almond. So, you'll need to use a little less (around 3/4 cup to 1 cup). Keep in mind that all-purpose flour will need less binding agents added into the mix, so you may need to reduce an egg or two.
For those with nut allergies or on a special diet (keto, gluten-free etc.) you'll need to look for other alternatives on this list. But for those looking for an readily available replacement, that's cheap, reliable and a good binder in cakes, desserts and other baked goods, this is a great substitute.
For those on a gluten-free diet, gluten-free flour is a great alternative to almond flour. Nowadays, there are some amazing gluten-free flours available that make gluten-free making incredibly easy.
A special blend of ingredients(cornstarch, white rice flour, brown rice flour, milk powder, ground tapioca, potato starch, xanthan gum), gluten-free flour is tailored made as a an easy and convenient swap for regular flour.
It's made as a 1:1 swap for wheat flours, so will be a better binder than almond. For this reason, you may need to use a little less when swapping in for a recipe with almond flour.
It's especially ideal for a gluten-free adaptation to pancakes, muffins, cookies and brownies.
A fantastic alternative to almond flour, this nut-free substitute plant-based flour is a favorite for those on a paleo diet. Cassava is a very fibrous root vegetable and quite starchy, which gives it a great binding quality.
It's allergen-friendly, completely free of grains and gluten and has a neutral flavor.  In fact, cassava flour has a neutral taste and texture similar to that of wheat flour.
It's also a 1:1 substitute all-purpose wheat flour and is a better binder than almond flour, so you've want to use a little less (3/4 cup to 1 cup) when baking. It'll also be a great addition to sauces and stews as a flavor-free thickener.
A super healthy plant based flour that works great as a substitute for almond flour, plantain flour is ideal for those with food allergies and food sensitivities. It's easily digestible and contains high amounts of resistant starch – plantains are good sources of fiber, iron, vitamins A, C, and B-6, magnesium and potassium.
Plantains are very similar to bananas in appearance, but taste a lot less sweet. In fact, they can taste more like a vegetable, with a certain neutral, even bland flavor. This makes them perfect as a basis for flour!
Plantain flour is a straightforward swap for almond flour – substitute at a 1:1 ratio. It'll make a perfect ingredient in pastries, waffles, breads, pancakes & more.
Arguably better for baking than almond flour, pecan flour holds together very well. It's a bit harder to get hold of though, so might not be readily available as a substitute.
If you can find it, it's definitely worth using as an alternative. Pecan flour works best when added to dishes that require a rich creaminess. This is because its a great thickener, but also because it brings quite a rich, distinctive nutty taste. Perfect for a healthy super green smoothie, for example.
Its taste also pairs well with savory flavors such as stews, as well as spicy flavors like ginger, cardamom and cinnamon. Pecan meal's skin is left on during the production proceess, giving it a dark brown color – so avoid adding to recipes that call for a white finish.
A great nut-free flour alternative, sunflower seed flour has a deep flavor and a subtle sweetness. As it has slight nutty flavor it makes a very good replacement in recipes for almond flour.Sunflower seed flour
can be swapped in at a 1:1 ratio to all-purpose flour, so about 3/4 cup to 1 cup for almond. It especially tastes great with baked goods like cakes and cookies.
A sweet and fruity flavored flour, coconut flour makes a good addition to dessert dishes and curry that call for a certain sweetness. Taste wise, coconut flour can be a great almond flour recipe alternative. In terms of consistency, however, coconut flour needs to be added along with a few other ingredients.
One way to add coconut flour as a replacement for almond is to add an egg to help the coconut flour bind. Use 1/2 cup of coconut flour to 2 cups almond and an extra egg to the recipe, as well as the coconut flour.
You could also use a 50/50 blend of coconut flour and wheat flour or, for a good non-grain alternative, a 50/50 blend of coconut flour and cassava flour works wonders.
Have you tried any of these substitutes for almond flour? Which is your favorite? Let me know in the comments below.