If you only make one dessert this summer, make it this Amarula berry trifle, which is full of so many delicious flavors that combine so well. One spoonful is like a sumptuous summer party in your mouth.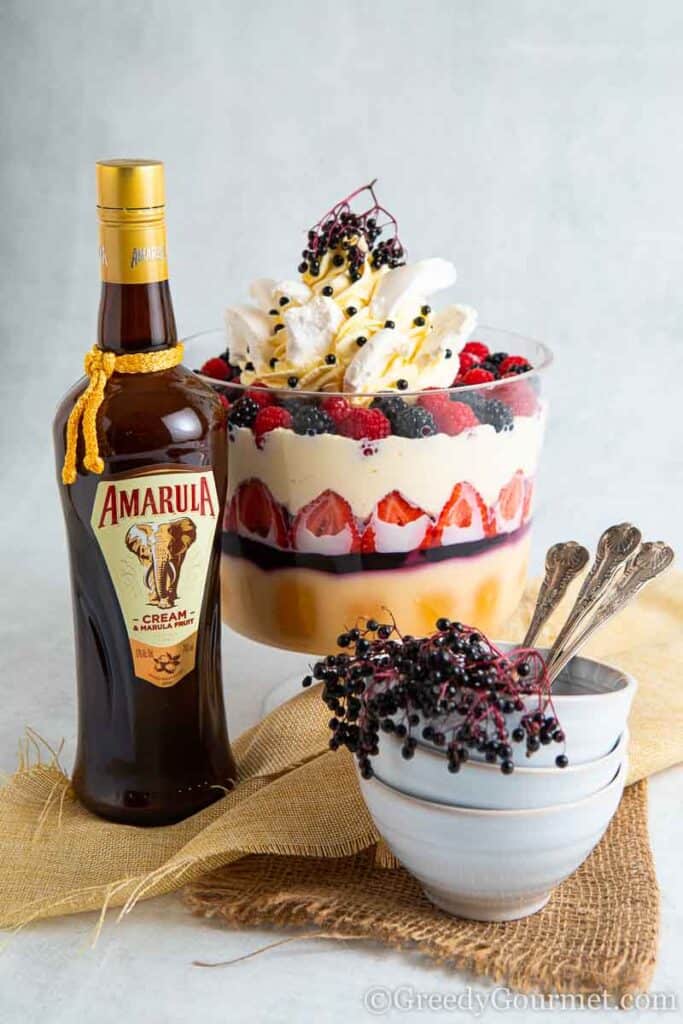 So, if you want a blissful bowl of tantalizing trifle, read on for the only recipe you'll ever need.
A summer berry trifle recipe
A summer berry trifle is where fresh fruity flavors meet creamy indulgence. This recipe will show you how to make the ultimate berry trifle. It's a summery showstopper – a whipped cream, custard drenched sponge, fresh berry, vanilla pudding, all rolled into one.
It completely encompasses summer.
This recipe is pretty straightforward to make – it'll take a little bit of your time and you'll have to source quite a few different ingredients.
It's well worth the effort though. Once you've made this trifle you'll be making it time and time again. When it's perfected, you'll have a spectacular summer dessert.
There is so much scope for creativity as well. Why not go foraging for some elderberries? The latter gives this dessert an all new twist with the addition of this seldomly used ingredient that is completely free and healthy.
Amarula – the refreshing taste of summer
With its sweet fruity taste and subtle nutty undertones, Amarula makes the perfect extra ingredient for your favorite summertime dessert recipes.
Whether you're baking a summer cheesecake or whipping up a berry trifle like this recipe, Amarula can bring a flavor that'll take your summer to new heights.
It's definitely a flavor to share with friends and family. So, what better time to break open the Amarula and toast to health and happiness than during a summertime barbecue or backyard party?
Amarula is often thought of as a winter drink – it's not surprising really, when you think of its warm, creamy and comforting taste. Serve it chilled over ice or use it in a summertime dessert and you'll see that this versatile liqueur is as much about summertime as any other time of the year.
The taste of the marula fruit is like a little burst of summer. Tropical flavors dance on your tongue, tantalizing your taste buds. This trifle recipe takes this tropical taste and uses it to full effect.
Paired with fresh berries, whipped cream and a sponge finger base, Amarula Vanilla Spice works so well. 
Wondering where to get hold of Amarula? It's available on Amazon and large supermarkets.
Products you need for this recipe
What is a trifle dessert?
A trifle is a summery dessert that's made up of several different layers in a trifle bowl – a sponge cake layer (think pound cake or angel food cake), a layer of fresh fruit and jelly, a layer of thick luscious custard and a layer of whipped cream (can be cream cheese or cool whip cream).
History of trifle
Trifle originated in England. The earliest references to this whipped cream fruity cake recipe are as far back as 1585, in an English cookery booked called 'The Housewives Jewel.'
That's right. Trifle is almost 200 years older than America!
Around this time, fruit fool recipes were very popular. A fool is a pudding mix that involves folding fresh fruit into custard for a creamy fruity mixture. The original trifle recipes were also flavored with sugar, ginger and rosewater.
The fact that people are still making this delicious pudding mix shows just how popular old English dessert recipes can be!
Trifle variations
There are lots of recipes that call for a boozy twist. Once classic recipe for trifles involves using Madeira wine or sherry to infuse the jelly. Others call for port.
Another twist on this pudding calls for the sponge cake or angel food cake to be soaked in jelly.
The Scottish, not content with the oh-so-polite cake recipe of the English, decided to make their own version. Tipsy laird recipes contain – yep, you guessed it – whisky in the whipped cream. Well, it wouldn't be Scottish without whisky now, would it?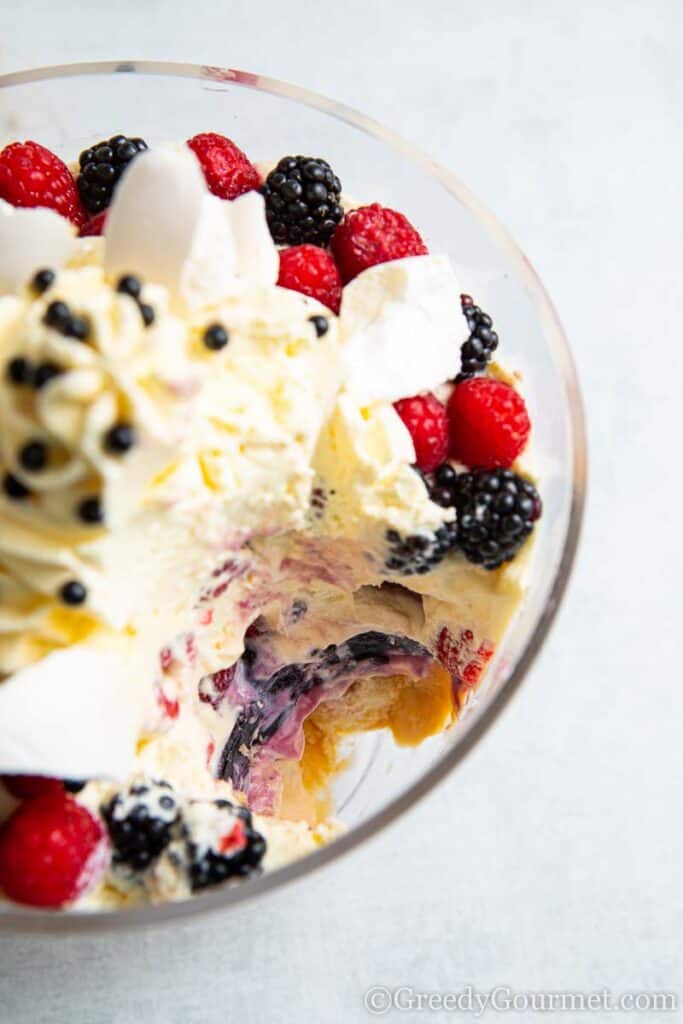 What is the best way to layer a trifle?
When layering a trifle, you want to use a ⅓ of each ingredient at a time. This is because you're going to be making three layers.
Start with the angel food cake or pound cake sponge fingers on the bottom of the trifle bowl. Next add the fresh fruit and fruit jelly layer to the trifle. This recipe calls for fresh berries and elderberry jam.
After this comes the custard. Pour the custard over the fruit – it'll soak down the bottom pound cake layer and all the flavors will mingle.
On top of the custard layer, you want a delicious layer of whipped cream. You can also use a cream cheese mixture. I've opted for a delicious whipped cream infused with Amarula in this recipe. Trifle is quite a flexible dish, so feel free to experiment.
Once you've added the cool whip or cream, repeat the process – angel food cake sponge, fresh berries, custard, then whipped cream. Repeat it once more, for a final third layer.
The last step is to add fresh fruit on the top of your trifle, for decoration. Your trifle is now complete!
Will trifle get soggy overnight?
You can make the trifle up to two days in advance, but it's very important you don't add the cream. If you add the cream, it'll become a big soggy mess, as the juices soak in the bottom pound cake layer. So, make the trifle layers, leaving out the cream layer and keep it covered in the fridge.
Then, when it's ready to serve, add the freshly whipped cream layer. If you like, you can use cool whip cream.
How long does trifle last in the fridge
If, for whatever reason, you don't devour your trifle in one go, you can store it in the fridge. It'll keep fresh for around three days. After that, it's going to get soggy, as the vanilla pudding base will soak up all the juices and the layers collapse into one big glop. It'll also lose its taste.
So, be sure to eat leftover trifle within three days. Come on, it's not that hard!
How long does it take a trifle to set?
After you've made your scrumptious summer berry trifle, it'll need to set. Once the jelly has set, it will keep its shape beautifully.
Looks aren't everything, of course. This recipe tastes like a dream. Still, there are few things quite a spectacular as a well set trifle, displayed as the centerpiece recipe on your party table.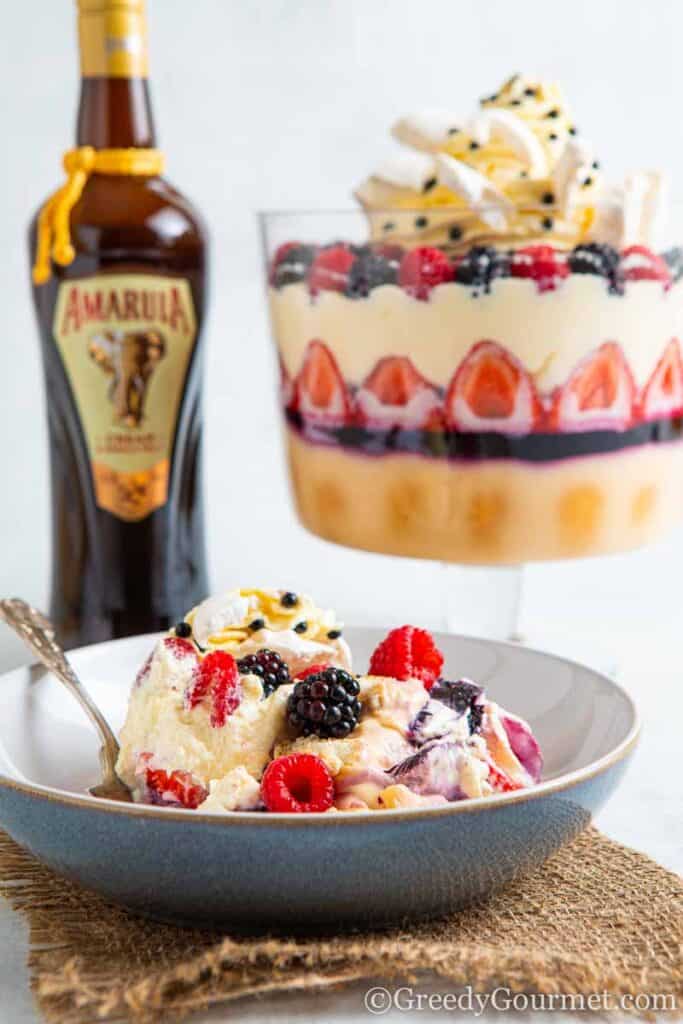 More amazing Amarula recipe
Now that you've tried the amazing taste of Amarula, why not whip up a few more Amarula-based recipes? From delicious drinks to seriously sumptuous summertime desserts, Amarula recipes are as varied as they are delicious.
Butterbeer fudge – if you're a fudge fanatic or a full blown Harry Potter fan, you have to give this a go! It's buttery, rich and melt-in-your-mouth fantastic, perfect for your Potter party or Halloween bash.
Amarula cheesecake – another one of my Amarula dessert recipes, this one is deliciously decadent and extremely simple to make. This cheese cake recipe will blow you away!
Chocolate fairy cakes with Amarula buttercream – rich, moist, indulgent and utterly scrumptious, this simple fairy cakes recipe will have you swooning with delight.
Alcoholic butterbeer – if you're a fan of this butterbeer fudge and Harry Potter in general, you won't want to miss this one!
Amarula cocktail – a beautiful chocolatey drink that's bursting with flavor and makes a perfect indulgent drink any time of the year.
Other sumptuous summertime desserts
What's your favorite summertime dessert? Let me know in the comments below!
Print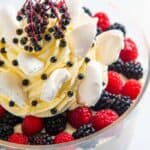 Amarula Berry Trifle
---
Author:

Michelle Minnaar

Total Time:

1 hour 30 minutes

Yield:

12

servings

1

x

Diet:

Vegetarian
Description
Nothing screams summer such as a berry trifle. What makes this recipe awesome is the addition of Amarula. Play with different berry combinations. You can even go and forage for elderberries. Cherries are an option too!
---
Amarula Custard
Elderberry Jelly
Amarula Vanilla Spice Cream
Trifle
---
Instructions
For the Amarula Custard: Combine the cream, milk and Amarula in a saucepan. Bring to the boil then remove from the heat.
In a large bowl, whisk together the sugar and egg yolks, until the mixture has gone pale in colour and doubled in size.
Temper hot milky mixture into the sugar yolk mixture, by slowly adding hot milky mixture about 60ml (1/4 cup) at a time, whisking to distribute heat. Once half of the milky mixture has been added, transfer mixture back into the saucepan with the remaining milky mixture.
Place the saucepan over low heat. Create a slurry by placing cornstarch and 15ml (1 tbsp) of water in a cup and stirring until a smooth paste forms. Slowly pour the slurry into the custard while mixing.
Stir continuously until mixture reaches a thick consistency.
Remove from heat and pour the custard into a large mixing bowl. Place the bowl into icy water and stir until the custard has cooled.
Once it has cooled to a suitable temperature, transfer to fridge.
For the Elderberry Jelly: Place all the ingredients for the Elderberry Jelly, minus the vege-gel, in a saucepan.
Bring to a simmer and stir for 10 minutes.
Pass the contents through a sieve and allow to cool.
Sprinkle the vege-gel onto the liquid and stir until completely dissolved.
Pour the liquid back into the saucepan and heat to boiling point.
Set aside to cool, while you start building the trifle.
To build the Trifle: Place the sponge fingers upright in the base of the trifle bowl.
Pour the cooled Amarula Custard over the sponge fingers.
Slowly pour the Elderberry Jelly on the custard layer. Place in the fridge and allow to set. This will take about 15 minutes, or until set.
Hull the strawberries and halve a quarter of them.
For the Amarula Vanilla Spiced Cream: Pour the cream into a mixing bowl and add the icing sugar. Whisk until soft peaks form. Add the Amarula Vanilla Spice a little at a time, while whisking. Set aside.
Retrieve the trifle from the fridge, placing the halved strawberries around the outside for decorative effect and fill the rest of the layer with whole strawberries.
Pour the Amarula Vanilla Spice Cream over the layer of strawberries and level.
Decorate the next layer by alternating blackberries and raspberries.
Whip 100ml (⅓ cup) double cream until stiff peaks form and use a piping bag to create a creamy tower in the centre.
Decorate with crushed meringue and elderberries.
For best results, chill at least 1 hour before serving. Enjoy!
Notes
In this recipe, we used a 3.6l 20cm footed trifle bowl.
In this recipe, you can use the original Amarula and Amarula Vanilla Spice interchangeably.
If elderberries are out of season, you can substitute them with blackberries or blueberries. You can't go wrong! 
Storage: You cannot freeze this recipe. The trifle will keep in the fridge loosely for 2-3 days.
Prep Time:

1 hour

Cook Time:

30 minutes

Category:

Dessert

Method:

Combine

Cuisine:

British
Keywords: berry trifle, amarula dessert recipe, amarula trifle, elderberry jelly recipe, British summer dessert
P.S. This is a sponsored post.