What's better than enjoying a bite of luscious and fruity strawberry flan? A flan recipe is easy and inexpensive to make. Although, when finished, it looks like it just came out of the window of a Parisian patisserie. So, try out this strawberry custard flan recipe.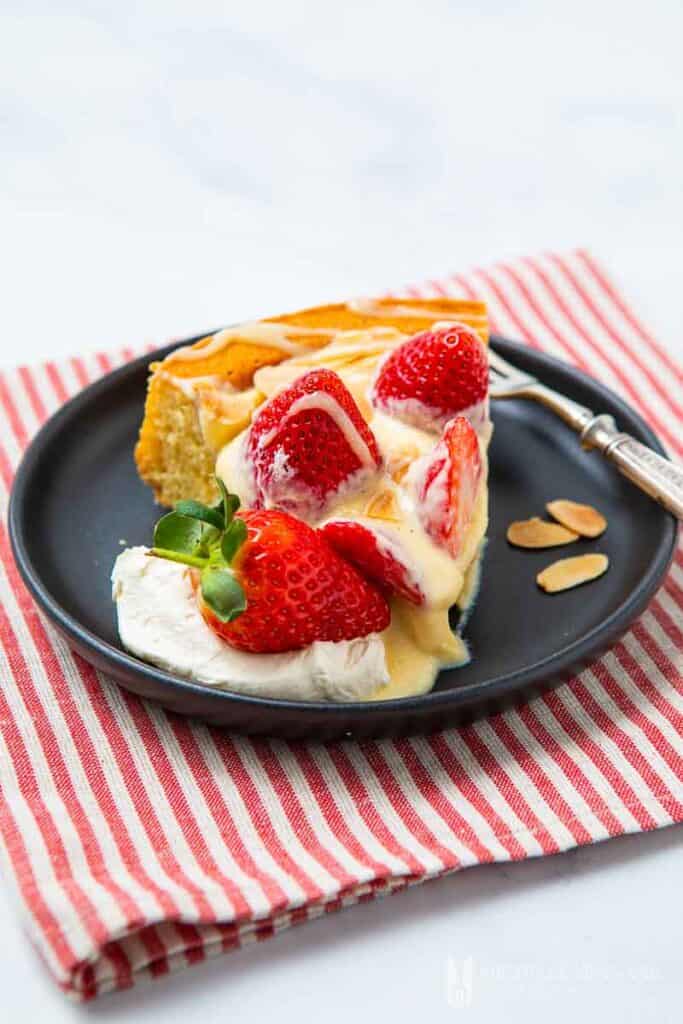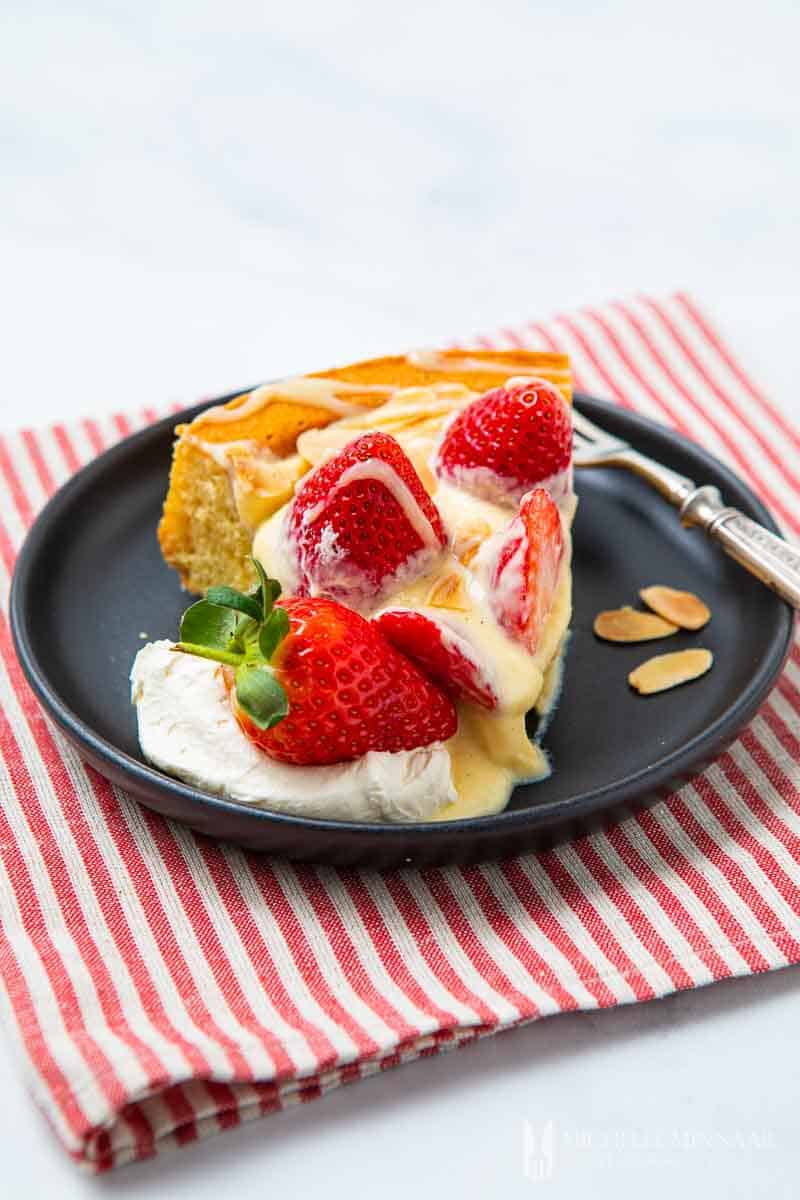 Topped with some fresh juicy strawberries, whipped cream or curd, a strawberry flan is the perfect treat. With a little bit of effort you can also decorate the flan beautifully with the strawberries and make it look like the centrepiece in a magazine.
Next, if strawberries are not your thing, you can easily substitute them with other types of fruit. For instance, you can consider raspberries, blueberries, apricots and many more.
Or, you can also stick to the standard flan options one sees in Paris like coconut or chocolate. Regardless, this strawberry flan recipe is a keeper. Enjoy and let me know how it works out for you.
products you need for this recipe
Here's a brief list of the top products you'll need for making this strawberry flan recipe. In essence, you can make any type of fruity cake with these. Take a look below:
silicone spatula set - whenever I prepare a cake recipe I always make sure I've got a couple of silicone spatulas. It ensures that none of the good stuff is stuck to the mixing bowl.
cake tray - how else are you going to serve this strawberry flan?
cake decorating kit - if you would like to take your cake decorating skills to the next level, then make sure you have this kit in your kitchen.
set of cake tins - with these cake tins you can make a fantastic fruity cheesecake or a droolworthy louise cake for instance.
cake knife - use this cake knife to serve a slice of the strawberry flan.
gelatine leaves - you can never have enough of these in your kitchen cupboard.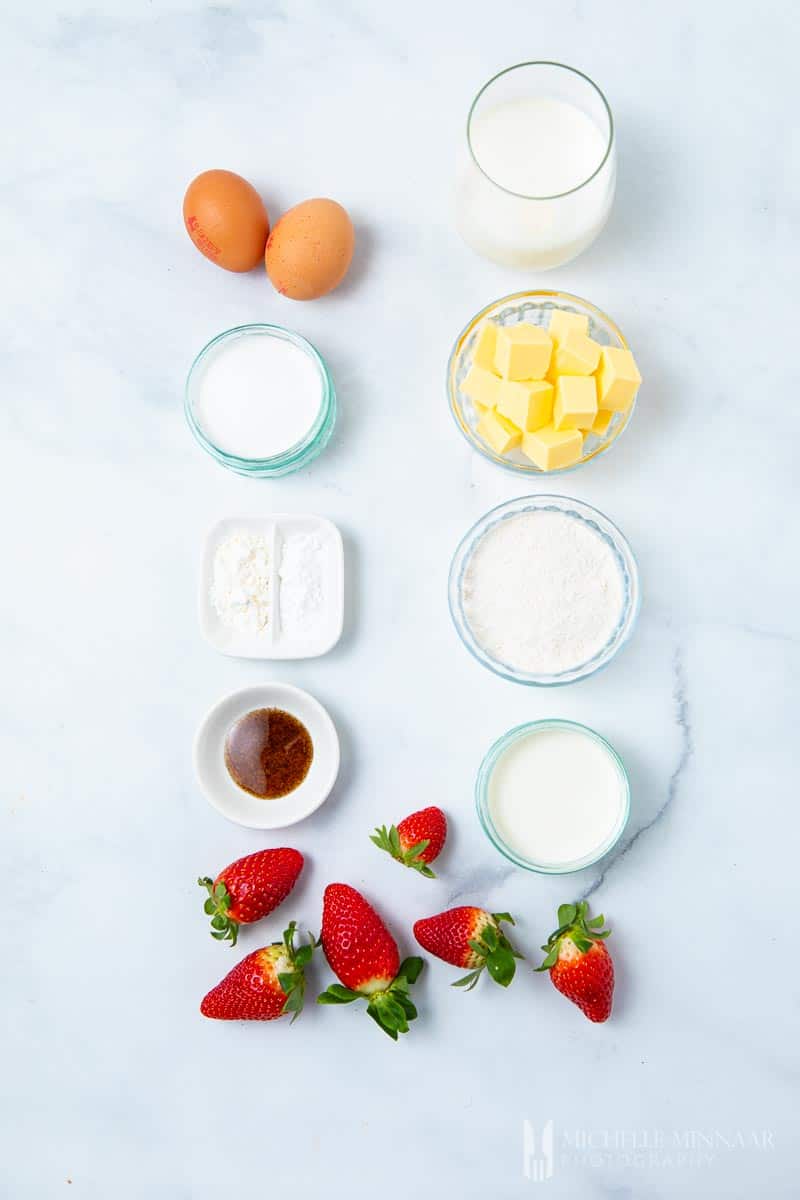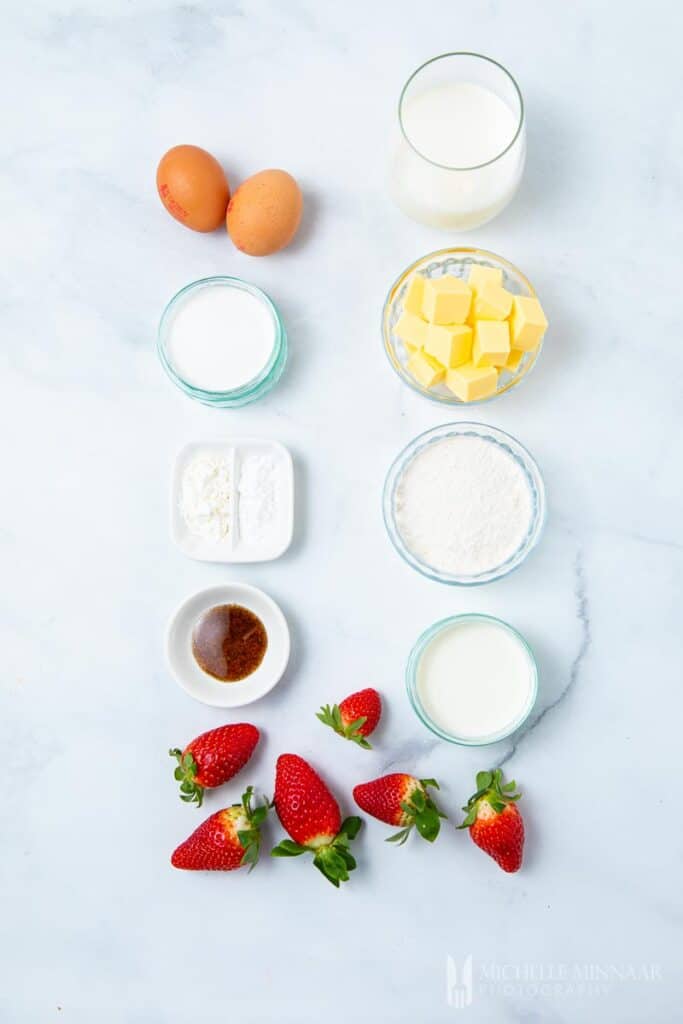 easy strawberry flan recipe
This strawberry flan recipe isn't your ordinary flan. Most of the time, a flan is also known as creme caramel (in French) or crema volteada (in Spanish).
In short, flan is usually a caramel-based custard, layered with a dark caramel sauce. You might also know it as caramel pudding. In either case, my strawberry flan is a little bit different. It has a sponge base, and the flan filling doesn't include caramel.
Actually, my version of strawberry flan resembles those in Paris, which also have a base. However in the UK, a flan is also considered an open sweet pie.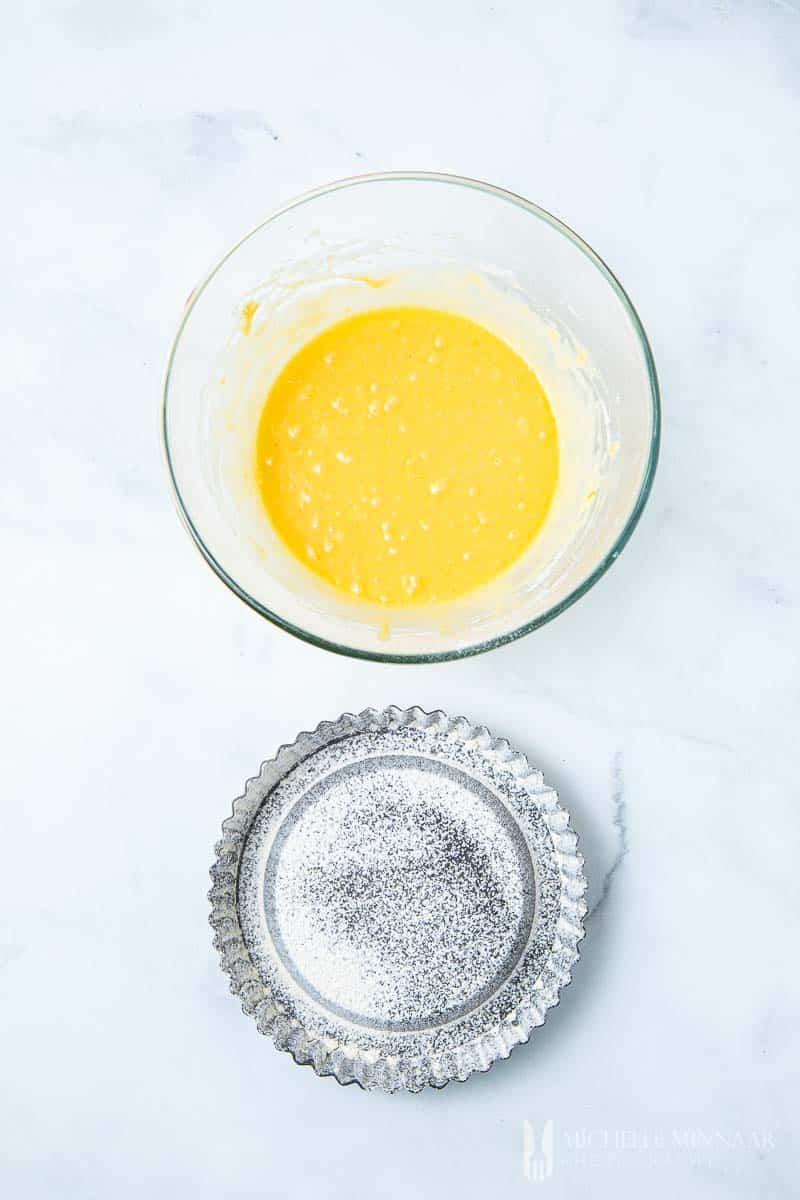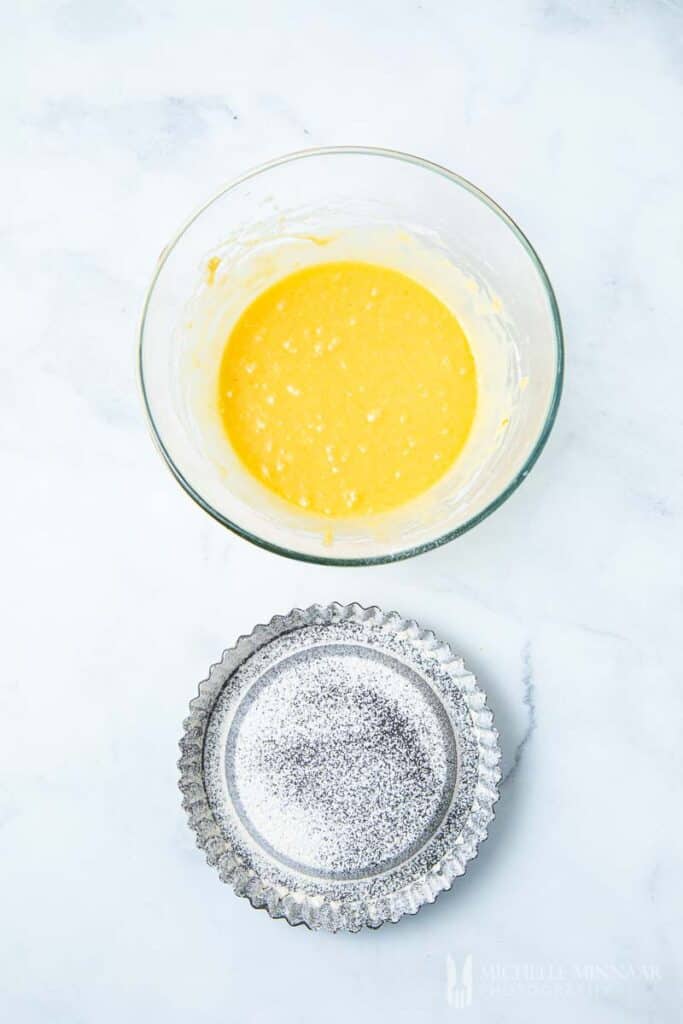 If you are a fan of baking beautiful cakes like this one, don't hesitate to look at these cakes below:
Are you tempted by any of the above-mentioned cake recipes, or are you going to stick to this strawberry flan?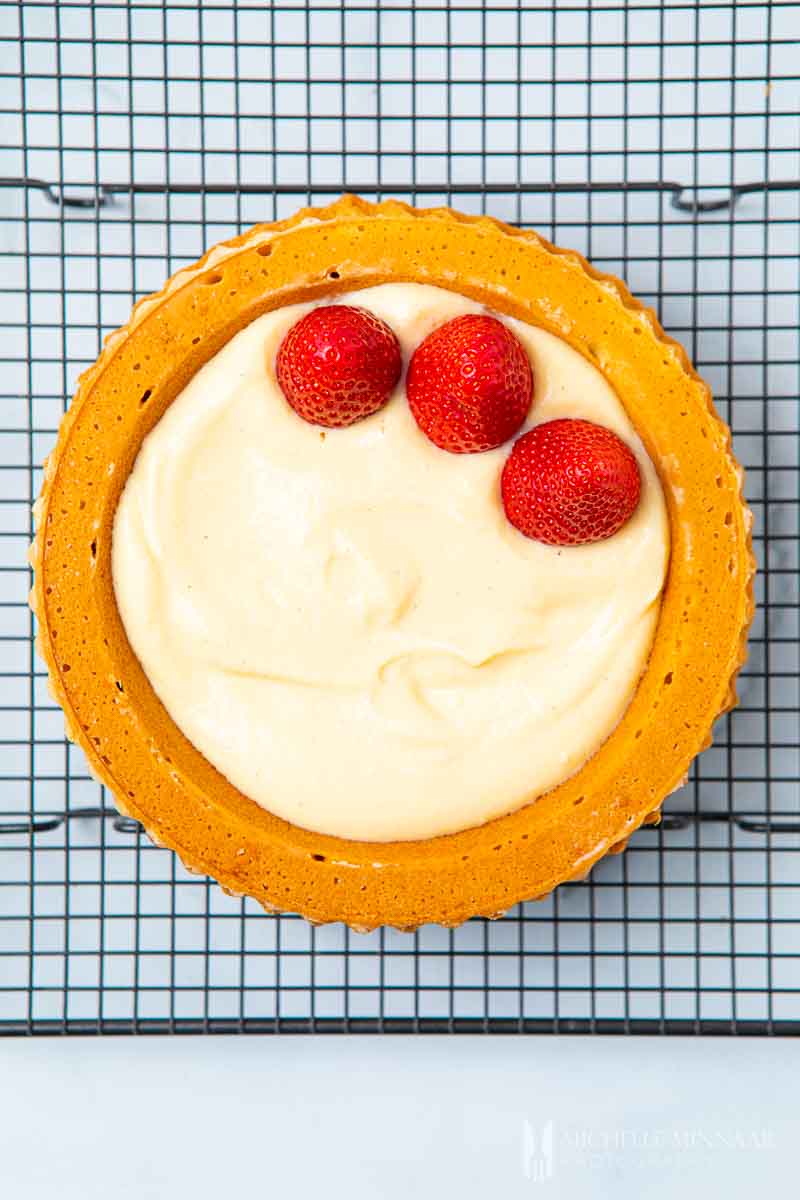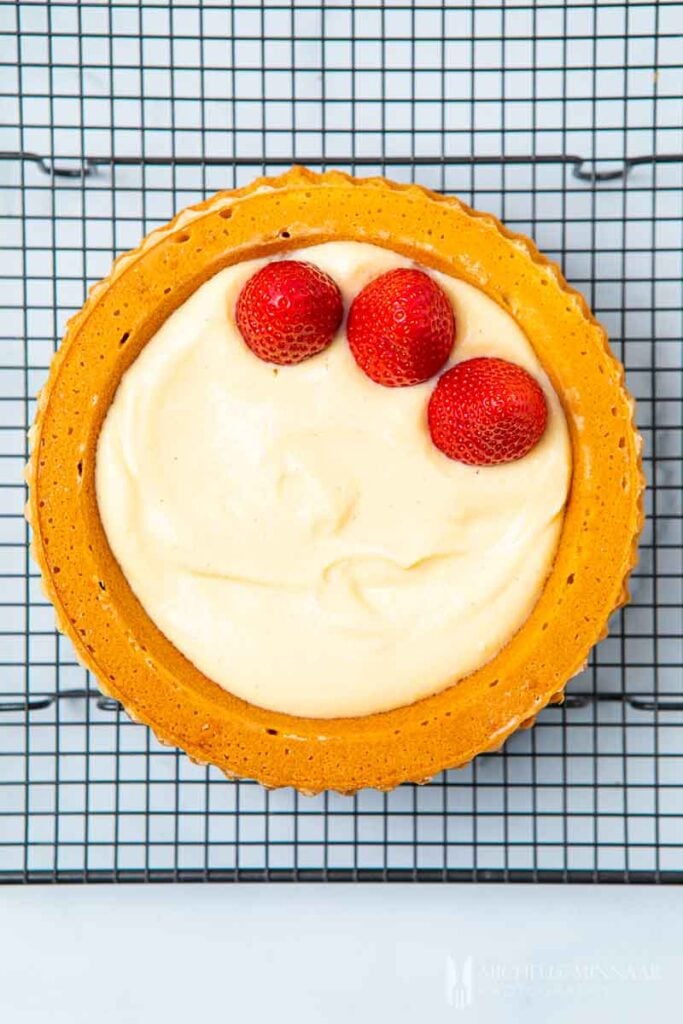 how to select the best strawberries
If you are going to make strawberry flan, then you will need to know how to select the right type of strawberries.
If you are attempting this recipe in the winter months when strawberries are naturally off season, then take this advice – source your strawberries in a premium supermarket.
Otherwise, you will not be able to extract any of the fruity flavour from the strawberries. As you know, when strawberries aren't in season, sometimes it's the case that the strawberries are really bland and have no flavour at all.
However, if you are attempting this recipe in the late spring or summer months, then you are in for a treat. Go for strawberries which have a dark red colour. Avoid the pink / greenish ones as these aren't ripe enough. Also, avoid strawberries which are turning brown. These are not good anymore.
My advice is, source your strawberries from a farmers' market. That way, you'll know that they've been picked within the last 24 hours.
If you have any leftover strawberries, then you can make yourself a healthy breakfast smoothie. For example, try to make this strawberry and orange smoothie, this strawberry and orange juice or you could even try to make a strawberry chutney.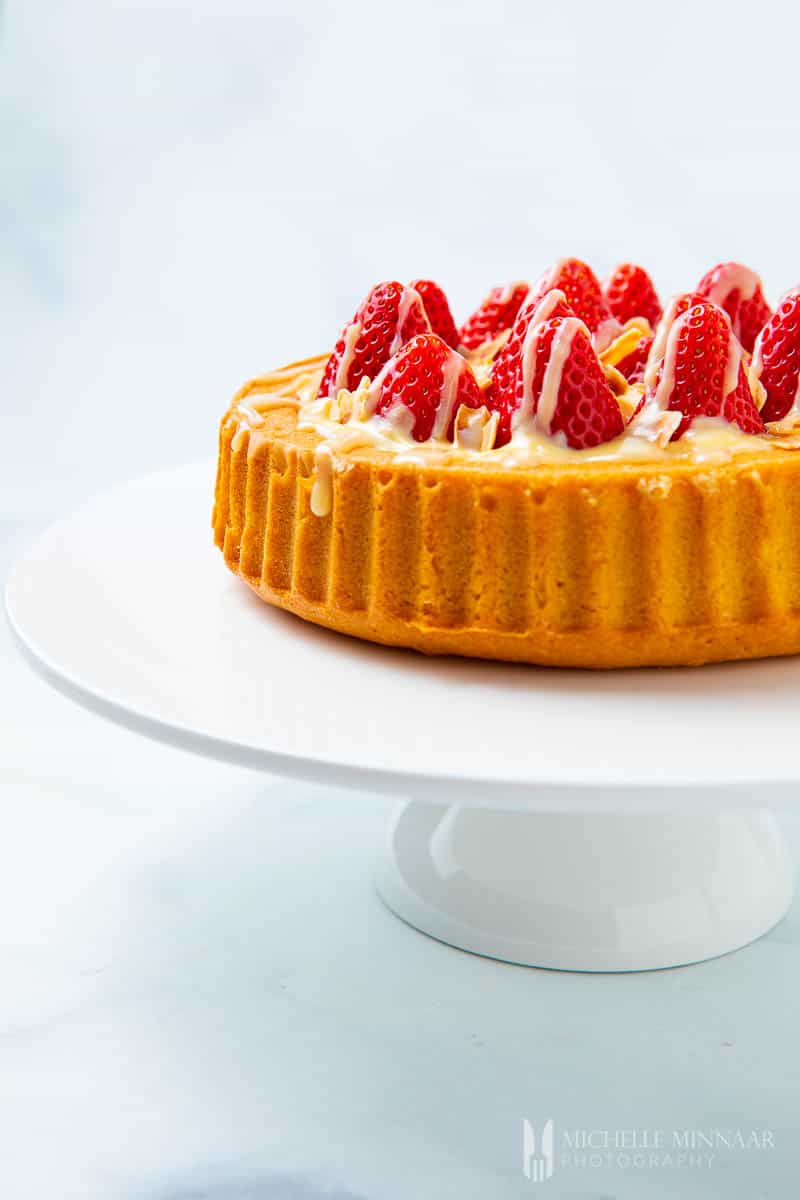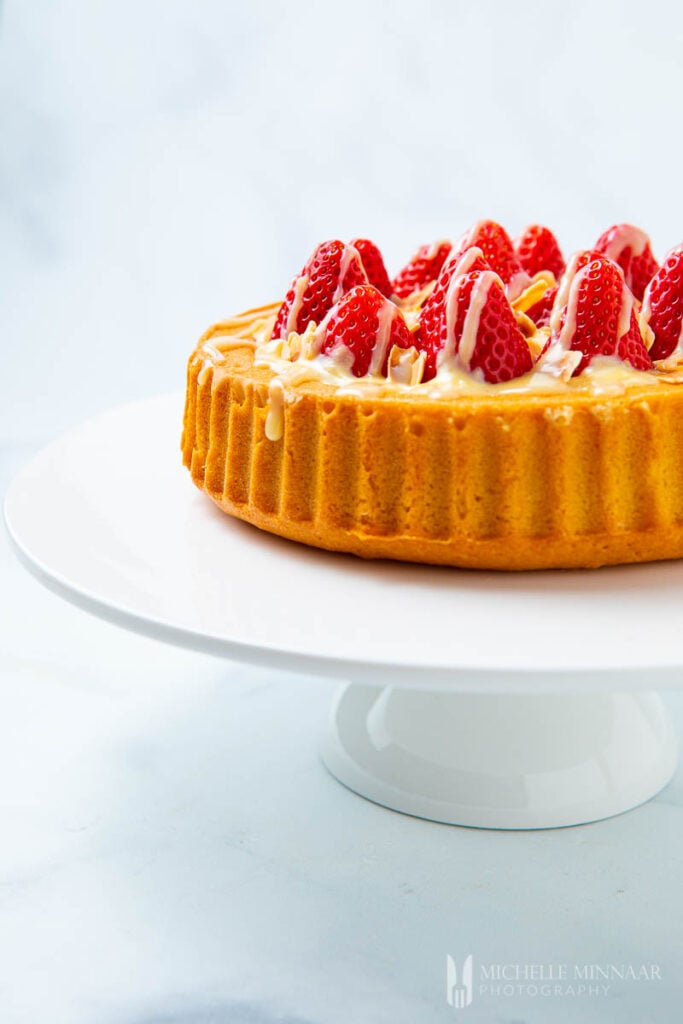 strawberry custard flan
The best way to enjoy this strawberry flan is with a delicious and silky smooth strawberry curd. It's finger-licking delicious.
If you've made a large batch of the homemade strawberry curd, you can also use it as a topping for other recipes. For example, add it into your yogurt or pour it over your morning porridge. Whatever you desire!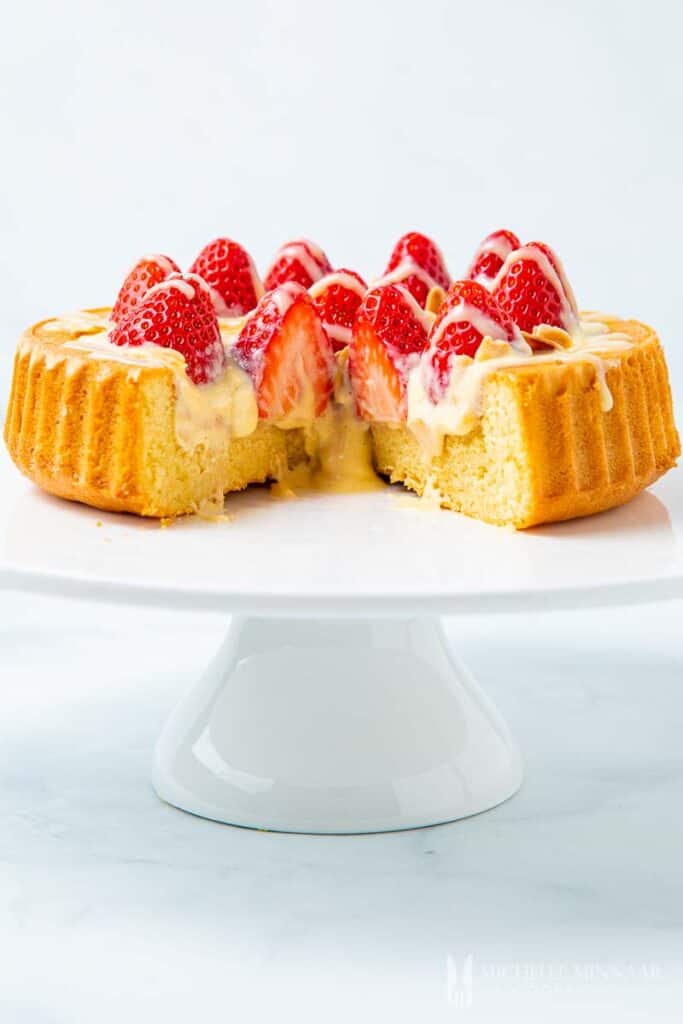 best toppings for strawberry flan
The best toppings for a strawberry custard flan recipe obviously involve fresh fruit. Consider the following toppings:
fresh strawberries (the best possible topping for this recipe)
other fresh forest berries like raspberries, blackberries, blueberries
almond flakes
fresh mint
whipped cream
vanilla custard
caramel sauce
white chocolate shavings
If you would like to make this strawberry flan as beautiful as possible, then prepare the fresh strawberries with care. Cut them up into delicate slices. Place the thin slices of fresh strawberry next to one another.
You can also layer the thin slices of strawberries and make the strawberry flan resemble a strawberry tart. This way, when guests cut inside the flan, they'll be happy to find the lovely surprise inside, which is the flan filling.
How would you enjoy this incredible strawberry flan recipe? Would you serve it with fresh fruit, whipped cream, custard or something completely different? Let me know how your slice of strawberry flan would look like in the comments section below.
Print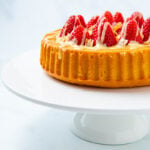 Strawberry Flan
---
Description
Learn how to make a fruity strawberry flan recipe. Best served with fresh strawberries, whipped cream or vanilla ice cream. 
---
Cake Base
3

eggs

100

g

(1/2 cup) sugar

75

g

(1/3 cup) butter, melted

125

g

(1 cup) flour

22.5

ml

(1 1/2 tbsp) baking powder
Filling
375

ml

(1 1/2 cups) milk

1

vanilla pod, split in half

4

egg yolks

75

g

(1/3 cup) caster sugar

25

g

(4 tbsp) flour

450

g

(3 cups) strawberries, washed and hulled

100

g

(2/3 cup) white chocolate, melted

30

g

(1/3 cup) slivered almonds, toasted
---
Instructions
For the Cake Base: Preheat the oven to  180°C / 350°F / gas mark 4.
Grease a 30cm (12in) sponge flan baking pan with butter, then dust with flour & set aside.
Place eggs, sugar and butter into a large bowl and mix together with a blender until fluffy, which should take about 3 minutes.
Sieve the flour and baking powder into the egg mixture, then whisk.
Pour the contents into the prepared baking pan and spread evenly.
Place the pan in the preheated oven and bake for 12 – 15 minutes until golden brown. Remove the sponge flan from the oven, and carefully tip it out onto a cooling rack to allow it to cool completely.
For the Filling: Place the milk and vanilla pod in a pan and heat through. Remove from the heat.
In a separate bowl, beat the egg yolks and sugar.
Add the flour and a bit of the warm milk and stir.
Add this mixture to the rest of the warm vanilla milk which is still in the saucepan.
Whisk over a medium heat until smooth and thickened, which should take about 4 minutes. Remove from the heat and cool completely.
When the pastry case and custard have cooled down completely, fill the pastry case up to the brim with custard.
Arrange the strawberries on top and drizzle with melted white chocolate and sprinkle with almonds.
Serve immediately with whipped cream or ice cream, plus extra strawberries. Enjoy!
Notes
This isn't a make ahead recipe. If this flan stands around too long the custard will soak through the pastry, making it soggy.
Looking for more recipes to add to your low calorie diet? Try this incredible Wheatabix cake.
Prep Time:

20 minutes

Cook Time:

40 minutes

Category:

Dessert

Method:

Bake

Cuisine:

French
Keywords: strawberry flan, strawberry sponge flan recipe, strawberry and custard flan, Valentine's Day dessert, strawberry dessert recipe