An absolute stone cold classic dessert, nothing says wonderful, creamy, chocolatey indulgence like the three simple words… black… forest… gateau.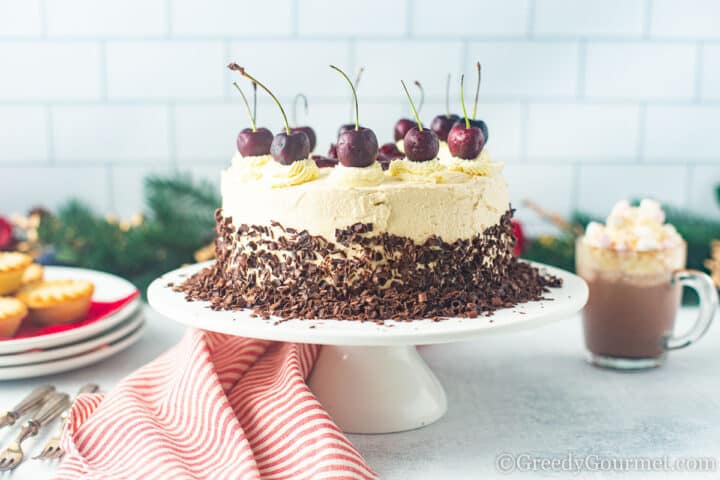 It's making my mouth water just thinking about it! So, get your baking apron on and get set for a showstopping cake that will win the hearts, minds and taste buds of all your friends and all your family.
Products you need for this recipe
There are a whole host of items that will make the baking and assembling process so much easier.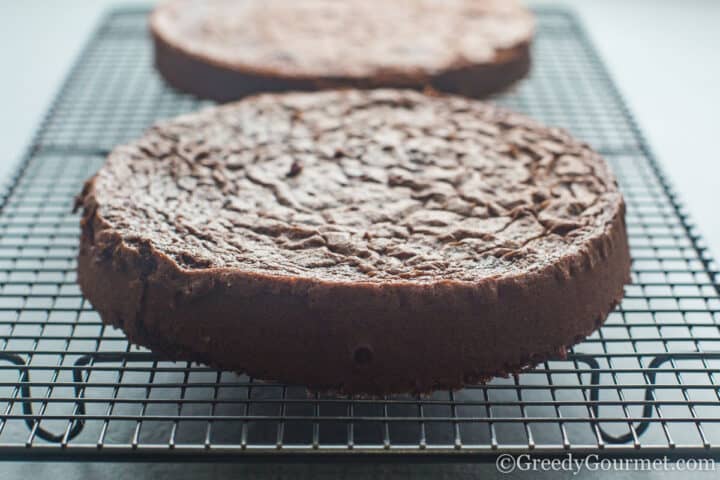 Black forest cake recipe
Few desserts are quite as indulgent and wonderfully satisfying as a black forest gateau.
It really is a showstopper! Place one of these on a table and it will draw collective gasps. Not only does this black forest cake look incredible, but it tastes like a dream.
Just one slice of black forest gateau is enough to take the breath away. Here are the elements to this very special dessert.
The marinated cherries
An essential part of this black forest cake is the juicy marinated cherries. In keeping with the traditional German method, the cherries are marinated in kirsch – a delicious cherry liqueur – to give them that extra juiciness and deep flavour.
The chocolate coffee sponge
The chocolate cake makes up the main part of this recipe. The cake batter is made from eggs, caster sugar, butter, flour, cocoa powder, coffee powder and vanilla paste. Three separate chocolate sponge cake layers make up the chocolate coffee sponge.
Coffee amarula cream
Nestled in between each cake layer, just waiting to tantalise your taste buds, is my extra special coffee amarula cream. Made from double cream, icing sugar, corn starch, vanilla paste and my secret ingredient, Amarula Ethiopian Coffee Cream Liqueur, it's tailor made to taste incredible alongside the chocolate cake layers.
Whipped cream frosting
A mixture of double cream and icing sugar, whipped together into fluffy, creamy heaven. This is spooned into the piping bags to create your creamy swirls to decorate the top of your black forest cake.
The assembly
A big part of the appeal of this cake is its spectacular appearance. This layered chocolate sponge cake starts with a cake layer, followed by cherry jam and then the cherry and Coffee Amarula cream mixture.
This is followed by another cake layer and then more jam and cream. When all the cake layers are in place, the remaining cream is piped over the whole black forest cake stack, before being decorated with cream swirls and chocolate shavings.
Origins of Black Forest Cake
This classic cake has been dropping jaws for centuries! It has a long and fascinating history, originating from the enchanted forests between Germany and Switzerland in the 17th century.
The idea is said to have come from the land surrounding the central Swiss lakes, specifically Zug – a small town south of Zurich. Zug was well known for producing incredible sour cherries, which in turn was used to make kirsch – a cherry liqueur.
The first black forest cake – or kirschtorte, as it is known in Switzerland and Germany, was made, and its popularity soon spread towards the Rhine Valley in Southwest Germany.
It's said that the famous German confectioner Josef Keller invented the version of the black forest cake that we know and love today. The addition of whipped cream to the chocolate cake layers came about when he decided to bring a touch of innovation to the traditional cake, when working at a cafe in Bonn in 1915.
The earliest written black forest cake recipe appeared in the mid 1930s. By the '40s and '50s, this cherry chocolate cake was well on the way to achieving classic status and, by the 1970s, it became a huge exotic hit in Britain.
So exotic, in fact, that it couldn't be properly replicated, as kirsch was hard to get hold of. Cherry syrup was often used instead and the term 'black forest gateau' was coined.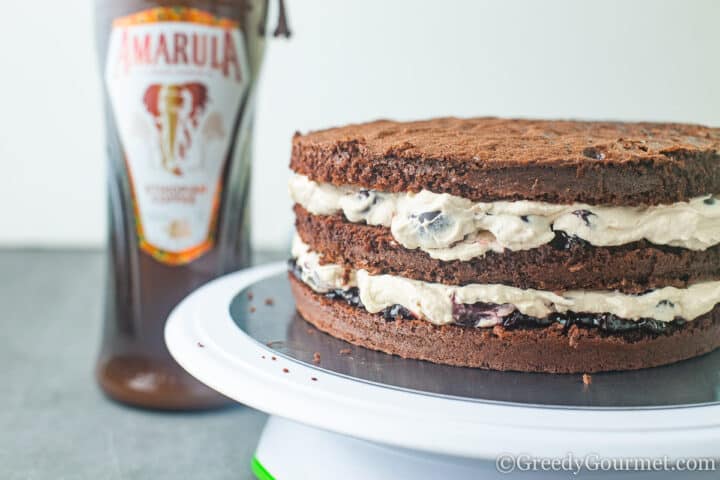 What's the difference between a torte, a cake and a gateau?
Essentially, they are the same thing, with the main difference being the language each of them originated from.
Torte is the German word for cake, while gateaux is the French word for cake. Still, the traditional styles of each country's cuisine has an impact on their definitions.
For example, a French gateau is typically a multilayered, fancifully decorated cake, with combinations of cream, fruit and sponge.
A torte tends to be less sweet, less focused on dairy and more focused on fruits and nuts. Traditional cakes usually consist of sugar, eggs, butter and flour.
So, when you think of the differences between a gateau, a torte and a cake, think of the differences between French, German and English baking.
What's kirsch?
Kirschwasser or kirsch is a clear, colourless brandy made from distilled sour cherries. It was originally made from Zug cherries in Switzerland, but now Morello or other types of sour cherries are commonly used. Whole cherries, including their stones, are used to ferment kirsch.
Kirsch takes its name from the word for cherry in German. It's not like a typical cherry liqueur, as it's not sweet. A distinctive sour taste, with a subtle cherry flavour and undertones of almonds from the cherry stones, makes it a fantastic ingredient for baking. 
In fact, it's not technically a liqueur at all. This is because there is no sugar added during the distillation process. Instead, kirsch can be called an 'infusion'.
Can I make my own kirsch?
There are lots of recipes online for making kirsch. Many of them call for using only cherry pits, some of them call for using vodka and others say to add mountains of sugar.
Personally, I would make the effort to track down some genuine kirsch. The unique flavour makes this dessert extra special. So, leave it to the experts on this one.
Where can I buy kirsch?
Kirsch is available online, as well as in-store at most good supermarkets and off-licenses. 
What cherries should I use for a Black Forest Cake?
This chocolate black forest cake calls for cherries to be marinated in kirsch, before being added to the cream filling mixture. Here are a few different cherries you can use.
Morello
The king of the sour cherry, fresh morello cherries are the best type to use for this black forest cake. If it's the right season – cherry season is from May to August – buy fresh cherries! You'll have to pit them, of course, so make sure you get a quality cherry pitter – see 'Products you need for this recipe' above.
Maraschino
Maraschino cherries are amazing! Sweet, plump and utterly delicious, they would make an excellent decorative cherry for the top of your black forest cake. Not the best cherries to steep in kirsch though, as they are too sweet.
The larger than life classic Italian cherry, Amarena Fabbri has been used in desserts for generations. In fact, this Italian stallion of a cherry dates back to 1905!
It's slightly sour, which would work for the filling of this black forest cake. You could also use a few to decorate the top of the cake.
Tinned
Tinned natural cherries are readily available and affordable. They wouldn't be my first pick, but if you want a budget option, this could be the one for you.
What cream liqueur should I use?
Ah, the magic ingredient!
While you may have had black forest cake before, you've never tasted anything like this cherry, chocolate coffee cake. That's because of the addition of Amarula Ethiopian Coffee Cream Liqueur.
It combines the unique flavour of the marula fruit – a South African fruit that only grows in a specific region and nowhere else on the planet – with full-bodied, fragrant mocha-chocolate undertones of single origin Ethiopian Arabica beans. 
How should you store black forest gateau?
Black forest cake needs to be stored in an airtight container. As it contains cream, it needs to be stored in the fridge. It will stay fresh for up to 3 days, but good luck waiting that long to polish it off!
If you want to store this delicious chocolate cake for longer than 3 days, you can also freeze it. Freezing it preserves it for around 4 months. After it has cooled down, double wrap your cake in clingfilm, then store it in an airtight, freezable container. This will help to protect it from freezer burn.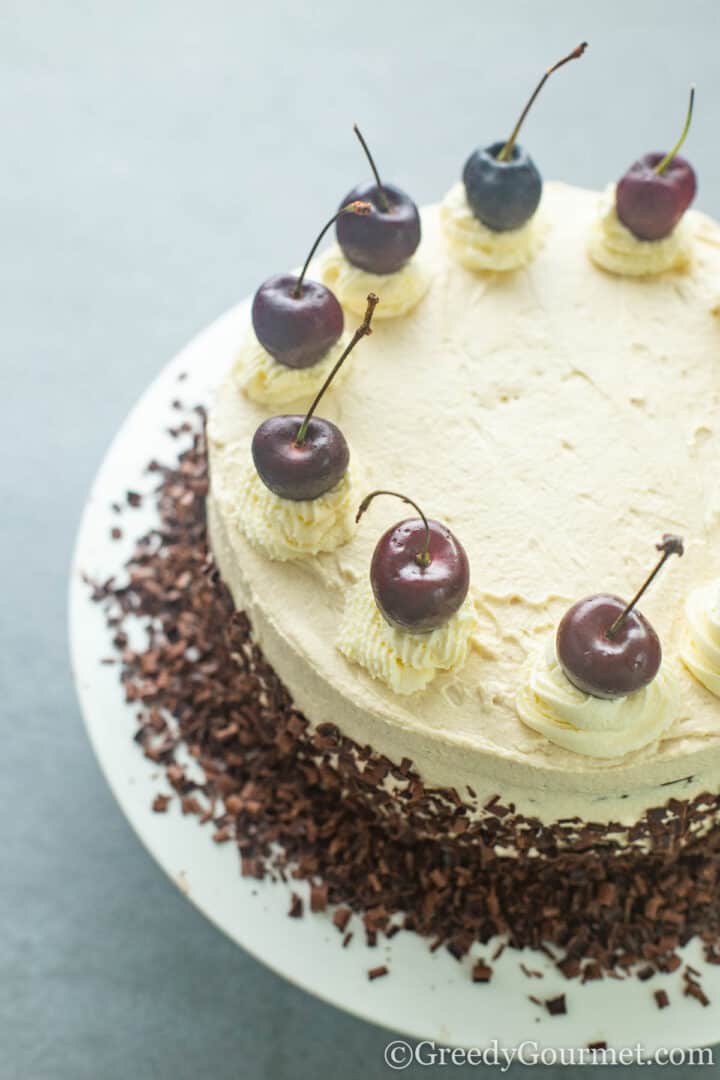 What wine goes with black forest gateau?
Although it's often tricky to pair wine with rich chocolate desserts, there's still a few great options out there. Try a sweet Italian red like a Recioto della Valpolicella or a late harvest Tannat or Zinfandel.
You could also try a sweet sherry or a tawny port, both of which would be delicious with a black forest cake. The important thing is to go for a wine with lower alcohol content and low tannins.
In terms of white wines, fry a German Riesling, a New Zealand Pinot Gris or a chardonnay.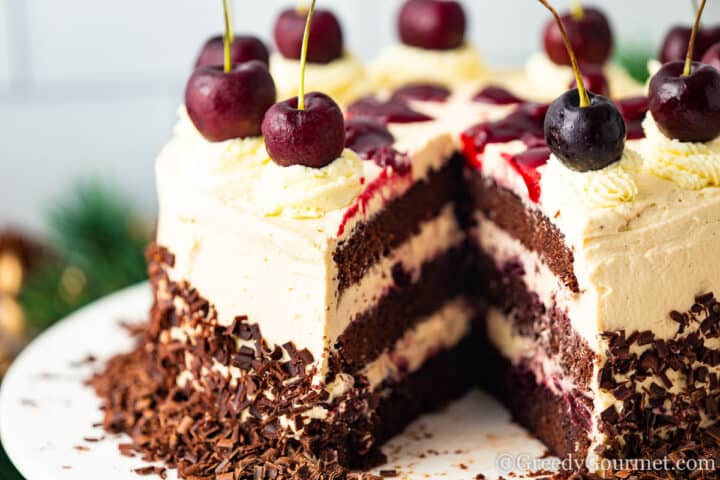 More classic decadent desserts
Want to show off your baking skills? Here are some more incredible recipes that will hypnotise the whole family!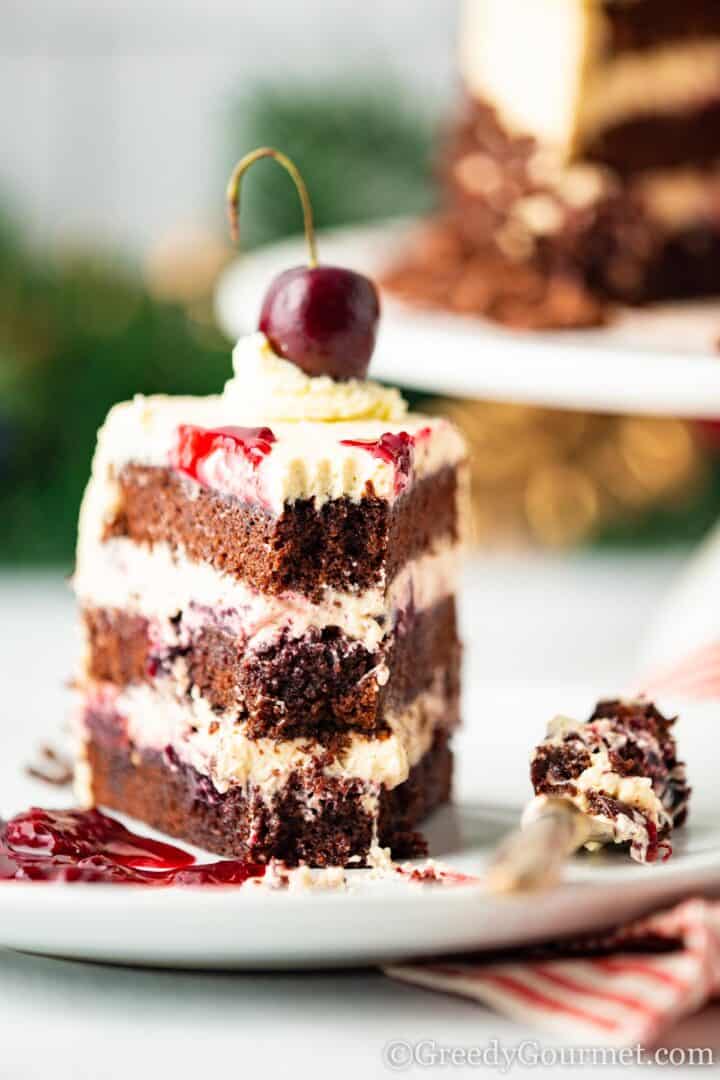 Print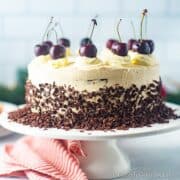 Black Forest Gateau
---
Author:

Michelle Minnaar

Total Time:

1 hour

Yield:

12

servings

1

x

Diet:

Vegetarian
Description
Learn how to make this rich chocolatey Black Forest Gateau cake. Why don't you indulge yourself with this fabulous German dessert?
---
Marinated Cherries
100

g

(1/2 cup) cherries, pitted

250

ml

(1 cup) kirsch
Chocolate Coffee Sponge
5

large eggs, room temperature

5

ml

(1 tsp) vanilla paste

250

g

(1 1/4 cup) caster sugar

150

g

(2/3 cup) unsalted butter, melted and then allowed to cool

100

g

(1/2 cup + 2 tbsp) self raising flour

50

g

(1/2 cup) cocoa powder

5

g

(1 tbsp) coffee powder
Coffee Amarula Cream
Whipped Cream
125

ml

(1/2 cup) double cream

8

g

(1 tbsp) icing sugar
Assembly
3

sponge bases

1/2

Coffee Amarula cream, mixed with the cherries

1/2

Coffee Amarula cream, in piping bag

250

g

(3/4 cup) black cherry jam

100

g

(2/3 cup) dark chocolate, grated or shaved with peeler
---
Instructions
For the Marinated Cherries: Place the cherries and the kirsch in a jar. Cover then set aside for at least 24 hours or as long as possible.
For the Chocolate Coffee Sponge: Preheat the oven to 180°C / 160°C / 355°F / gas mark 4.
Grease three 20cm (8in) springform tins and line the bases with parchment paper.
In a bowl whisk, together the eggs, vanilla paste and caster sugar on a medium to high speed. The mixture should turn pale yellow and double in size.
While still whisking, pour in your butter a little at a time until all of it is incorporated.
Sift in the flour, cocoa powder and coffee powder and fold in fully.
Divide the batter between the three tins, and even out the mixture in each one. 
Bake in the oven for 20-25 minutes. (Use the skewer method to make sure it's completely cooked. The skewer should come out clean if it is cooked. Make sure you test all of the bases.)
Once cooked, remove from the oven and set aside for 5 minutes before turning them out onto your cooling racks. Set aside to cool for at least 30 minutes.
For the Coffee Amarula Cream: While cooling, in a mixing bowl place all the ingredients for your Coffee Amarula cream and whisk until firm.
Place half of the Coffee Amarula cream into a piping bag.
Drain the cherries over a bowl, reserving the kirsch, and fold into the half of the Coffee Amarula cream.
Spoon the kirsch over the sponges. 
To assemble the cake: Put one of your sponges into the centre of your plate and spread over half of the cherry jam and spoon over half of the cherry and Coffee Amarula cream mixture. Place the second sponge on top and repeat the process.
Top with the last sponge and then pipe the Coffee Amarula cream all over the stack and smooth out with an icing spatula.
To decorate, whisk the double cream and the icing sugar together until soft peaks form. Place in a piping bag and pipe over the top of the gateau and place a cherry on  top of each cream swirl. Spoon the chocolate shavings around the outside of the gateau.
Place in the fridge for 30-60 minutes before serving for best results. Enjoy!
Prep Time:

35 minutes

Cook Time:

25 minutes

Category:

Dessert

Method:

Bake

Cuisine:

German
Keywords: Black Forest Gateau, black forest cake, dessert Amarula recipe, Coffee Amarula recipe, Coffee Black Forest Gateau, German Dessert, coffee amarula buttercream