Learn how to smoke your chicken thighs like a pro! These are the hit of any barbeque party. For one, chicken thighs are known for their deliciously tender meat, which tends to be super juicy with lots of flavour. Second, any meat lover knows that a smoked chicken recipe is in a whole league of its own due to added complexity and flavours coming from the smoke. You don't have to be a top chef to know how to make smoked chicken. What you will need, however, is a smoker! Once you nail these smoked chicken thighs, you'll eagerly want to prepare them regularly.
Here is a thought - smoke a whole chicken and everyone can have their favourite part, whether it be smoked chicken breasts or smoked chicken drumsticks. Plus, it is a relatively inexpensive meal and it's so simple to make. Add a luscious gluten-free barbeque sauce and you've got yourself a restaurant quality meal. Serve with a refreshing side like a celeriac remoulade or vegan cauliflower mash.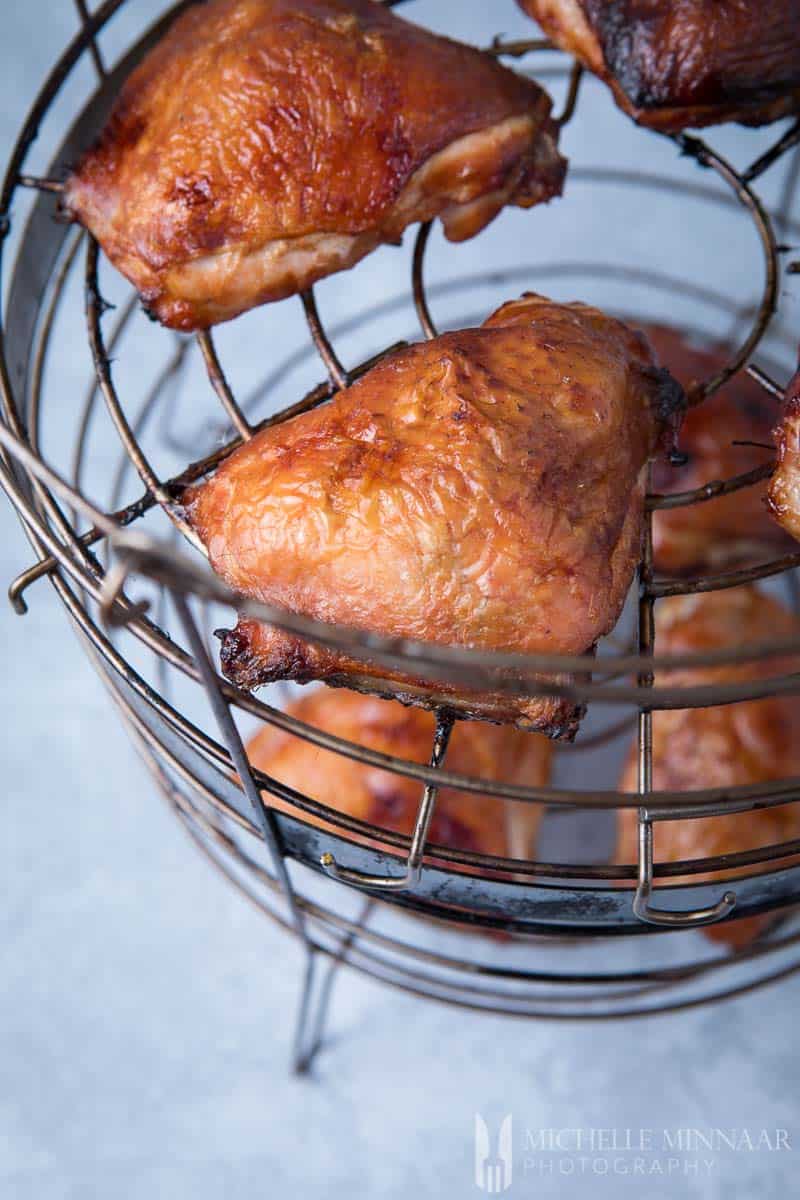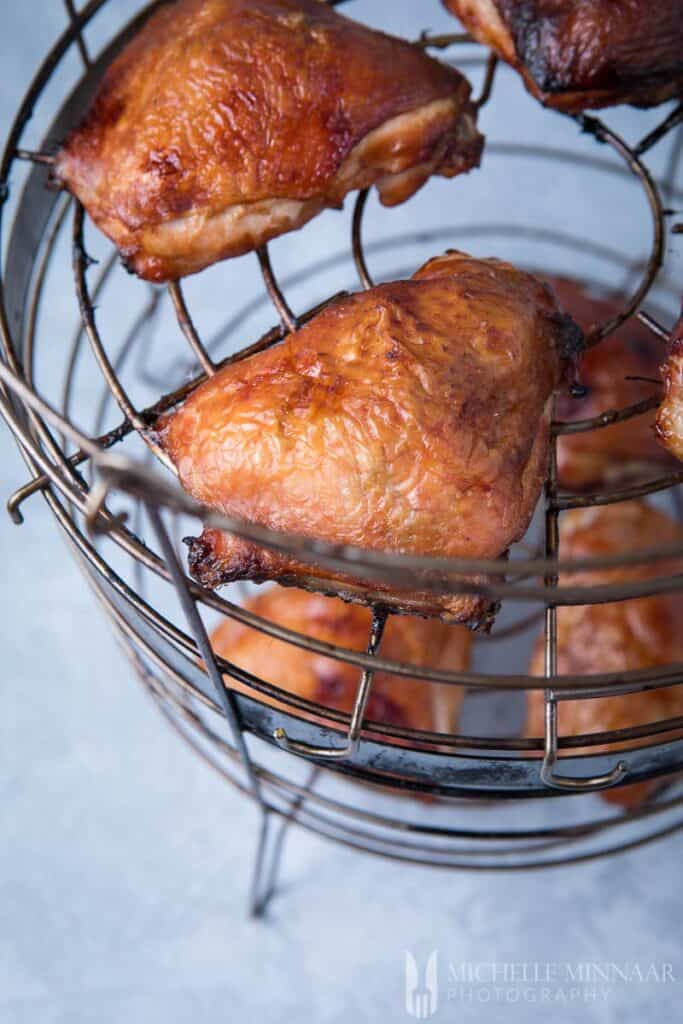 how to make competition smoked chicken thighs
There are plenty of tricks about how to make incredible smoked chicken thighs. In fact, this smoked chicken thighs recipe - when done correctly, can easily win any barbeque competitions out there.
Smoking chicken is quite popular among barbecue experts. These experts know that smoked chicken differs vastly from a regular chicken recipe. This is due to the fact that when you smoke a chicken, it absorbs a certain level of richness from the woodchips. So, before you start your smoked chicken thighs recipe, it's extremely important to select the right woodchips. Naturally, different types of woodchips will result in different flavours.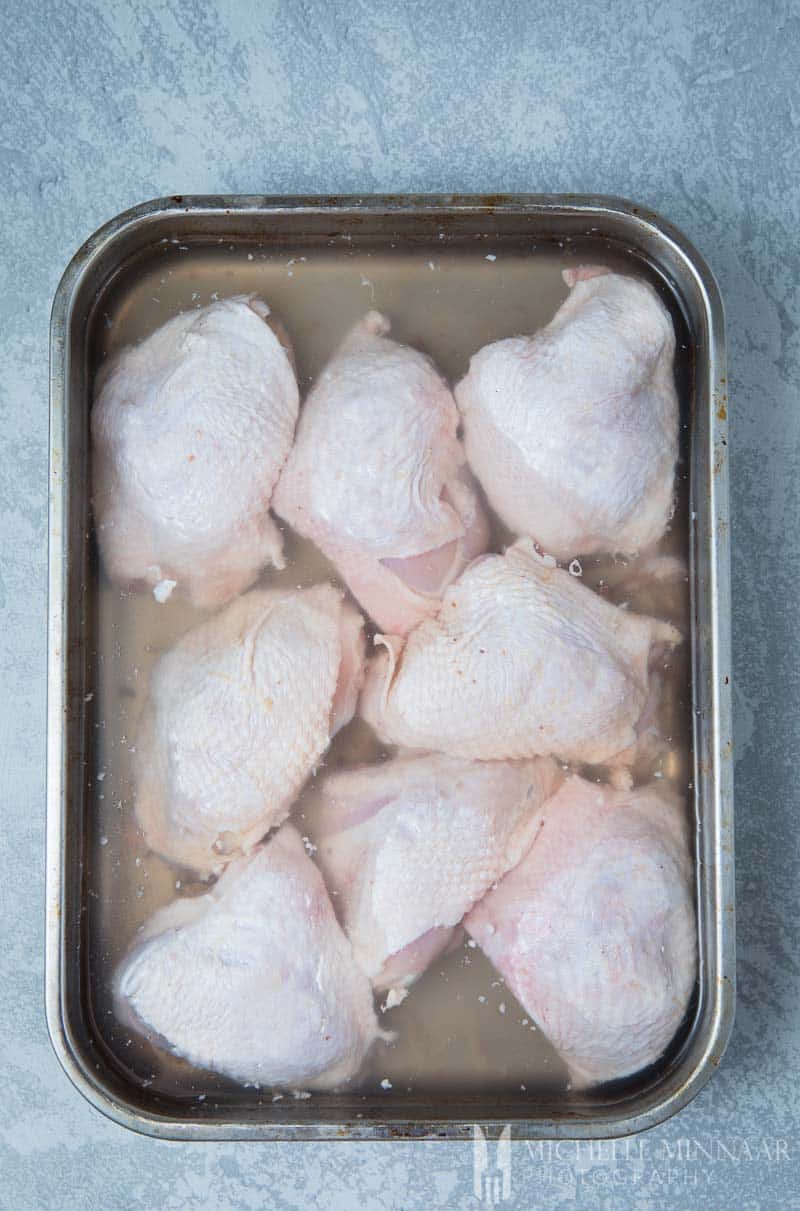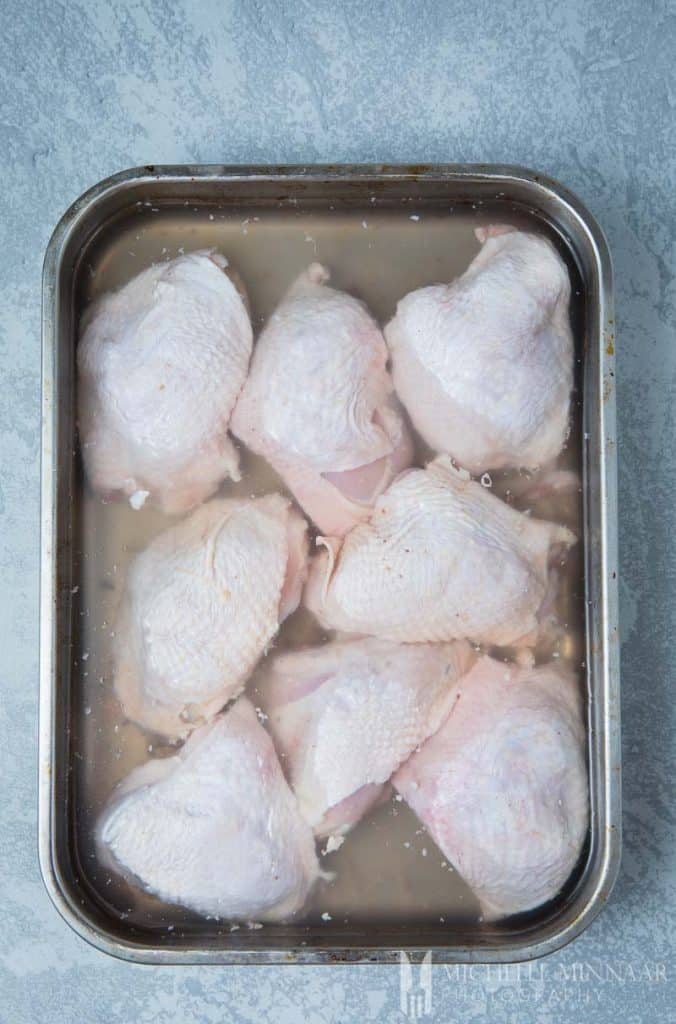 best woodchips for smoking a chicken
These woodchips below work perfectly with a chicken recipe:
apple - the best choice for poultry. It will result in sweet and subtle flavours running through your chicken thighs.
cherry - slightly sweeter and more fruity flavour than apple. Still an excellent choice.
hickory - the best choice if you are looking for a pungent and bacon-like flavour.
mulberry - also ideal for poultry recipes. Very similar to apple.
Other fruit woods like peach or pear will work very well too, but I highly recommend apple woodchips. Also, on an important note, avoid any wood that comes from trees with a high resin. The resin, as well as oil, will result in a very thick smoke which can potentially ruin your chicken recipe. To learn about the flavour profiles of different woodchips and which specific woodchips to avoid, click here.
Keep in mind, that before you place your favourite woodchips in the smoker, soak them in water. This way, they won't burn so quickly and they'll release subtle aromas.
smoked chicken thighs brine
This is just one of the secrets to making the best smoked chicken thighs. Brining chicken is a time-old tradition of making juicy and moist chicken. So, to make the best chicken thighs, you'll need to first know how to brine an entire a chicken. The brining process involves preparing a salty solution which is very similar to a marinade. There are two types of brining techniques, a dry brine and a wet brine. These chicken thighs work perfectly with a wet brine.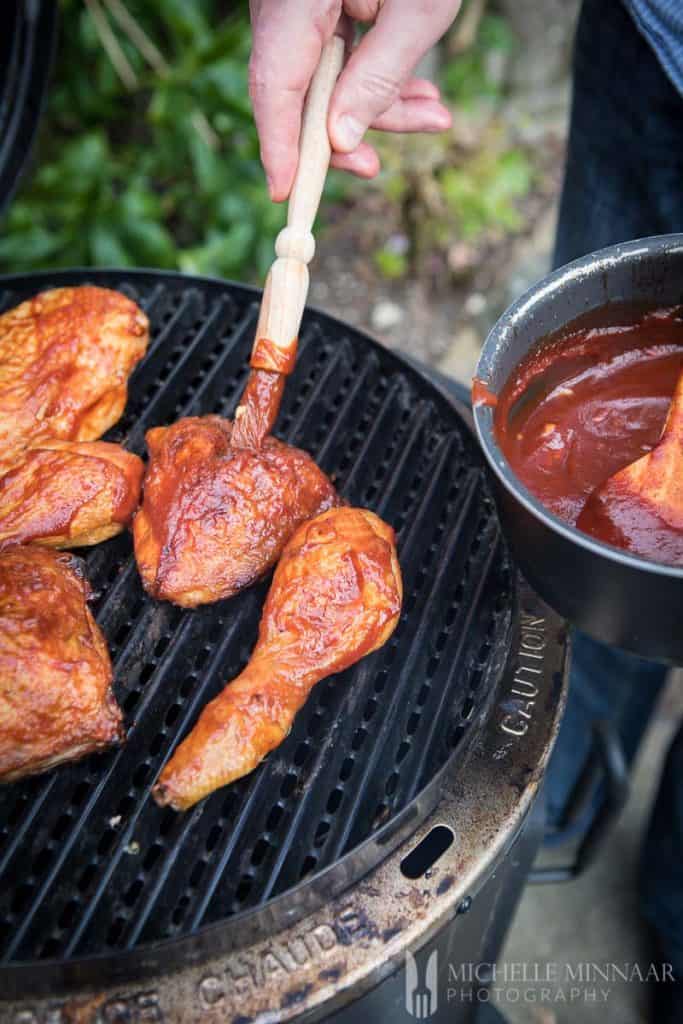 A wet brine involves water, salt and sometimes sugar. Often, meat lovers add their favourite herbs into the brine so that it incorporates into the chicken over time. What happens during the brining process is that the salt breaks down the fibres. As such, water is then reabsorbed into the meat hence making the meat very moist and tender. Therefore, if you want the best barbecue chicken on the block, make these brined chicken thighs.
If you want to master the brining technique, you can also learn: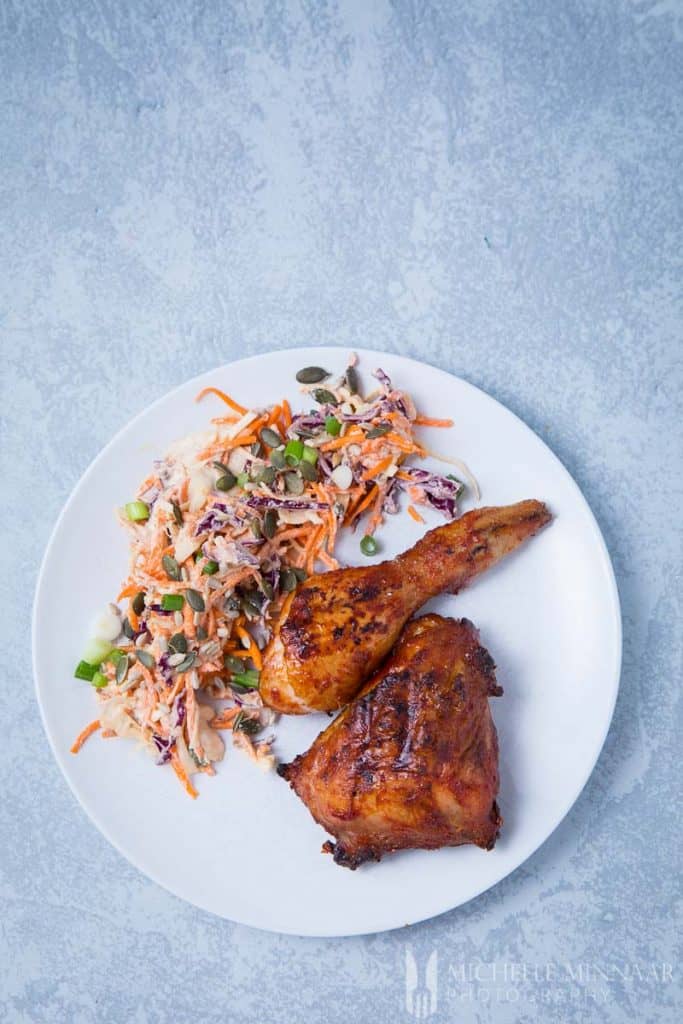 make smoked chicken thighs like a boss
If you really want to take things up a notch, you can inject low-sodium chicken broth into the side of each thigh. Let the chicken thighs rest for one hour, then proceed with the smoking process.
If you brine the chicken thighs and you follow the above-mentioned steps, you will literally have the best chicken thighs ever!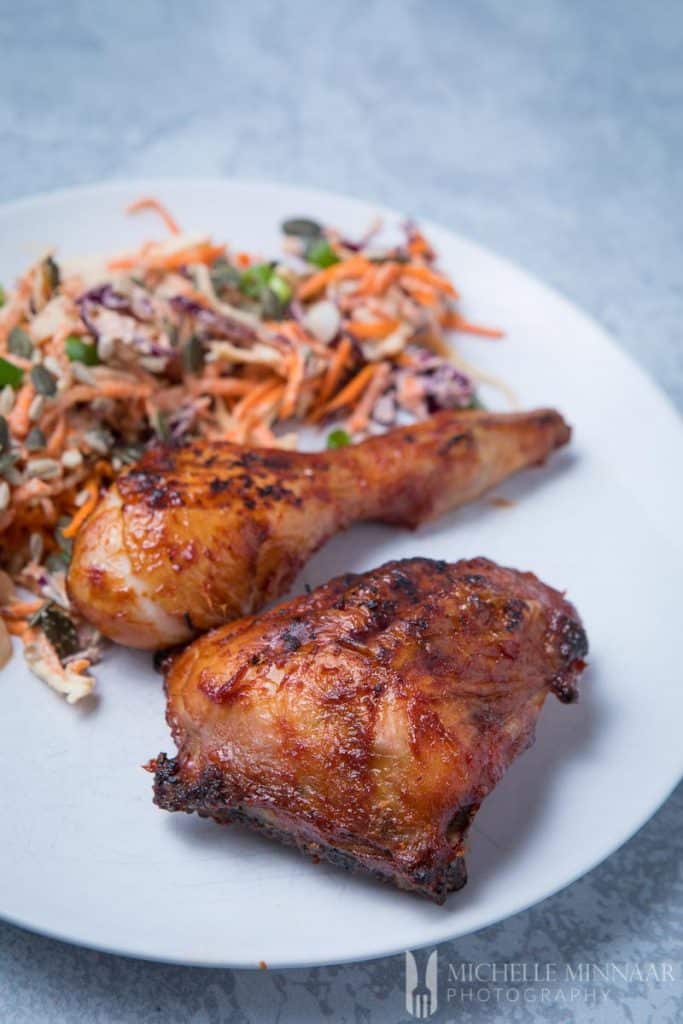 what to serve with your juicy chicken thighs
With an amazing chicken recipe such as this one, opt for a refreshing side like this vegan coleslaw. For a more filling alternative, try making rosemary roast potatoes, salt and pepper chips or this creamy potato and bacon brie tartiflette. Yes, it might be slightly sinful and a calorie bomb, but so worth it!
Otherwise, for healthier options try these green salads:
grilled courgette salad - remember to sprinkle over some feta cheese to lighten it up
cucumber avocado salad - a creamy yet crunchy salad that lightens up any meat dish
mung bean salad - a protein-rich salad that requires very little effort
cherry tomato salad - get some balsamic and some olive oil and indulge in this simple salad
Whichever side you choose, you should let the smoked chicken thighs stand out. Enjoy the richness and flavour of your chicken thighs. Remember, keep these tricks to yourself. Then, everyone will proudly call you the master of chicken!
Print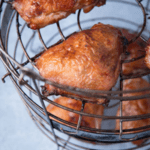 Smoked Chicken Thighs
---
Description
Dying to make the perfect smoked chicken thighs? Learn how to smoke chicken thighs in just a few simple steps. Enjoy with your favourite barbecue side dishes!
---
8

brined chicken thighs
Salt and pepper
Apple or cherry wood chips
---
Instructions
For a very basic brining method, check out my How To Brine Chicken article.
Preheat the Char-Broil Big Easy Smoker on the High setting and fill the smoking box with wood chips.
Wait for 10 minutes until the chips begin to smoke, then change the heat setting to Low.
Arrange the chicken thighs on the top and bottom shelf of the wire basket and place in smoker.
Close lid and cook until the chicken's internal temperature is 75°C (165°F). This takes about 35-40 minutes.
Remove the chicken from the smoker and wrap the chicken in foil, letting it rest for about 20 minutes before eating.
Notes
To cook the chicken evenly, halfway through the cooking time you can place the bottom pieces in the top shelf and vice versa.
I preferred using the low setting because cooking meat can sometimes lead to rubbery/tough textures.
The cooking might differ from the above because it depends on the size of the chicken and heat setting you use. For best results, use a meat thermometer!
Prep Time:

15 minutes

Cook Time:

45 minutes

Category:

Main Course

Cuisine:

American
Nutrition
Serving Size:

1 serving

Calories:

175

Sugar:

2.9 g

Sodium:

75 mg

Fat:

10.1 g

Saturated Fat:

3 g

Carbohydrates:

3.9 g

Protein:

19.1 g

Cholesterol:

90 mg
save the recipe to your pinterest board