Just reading the title and closing my eyes, makes me salivate for a cherry tomato salad. I bet you are thinking the same thing after you saw the picture! This is one of my all time favorite foods during spring and summer.
The produce used in this recipe is simple and at its best! Dig into the Mediterranean lifestyle by making yourself a fresh cherry tomato salad. The bright red colours popping of the dish.
The delicious taste of the tomatoes, sweet and sharp at the same time, drizzled in olive oil, and topped with basil, is a must for any table in the summer time.
Origins of the tomato
Tomatoes came to Europe from South America during the 16th century. Over time the fruit became widely cultivated, especially in the warmer southern climate of Mediterranean Europe. Here, the bright red fruit was quickly integrated into the local cuisine, in many different ways.
There are hundreds of different species within the tomato family. The cherry tomato is especially delicate, with is snack bite size, sweet and slightly acidic taste. It makes it ideal for simple salad settings, with just a touch of vinaigrette and some fresh herbs.

Health benefits
Tomatoes have in recent years become known as one of the super foods of the world, thanks to its high content of anti-oxidants, which is greatly beneficial to your health. Tomatoes are said to help prevent heart disease too and are also a rich source of the vitamins A and C.
Herbs & Spices
As mentioned above, a touch of basil if the ideal choice for this salad. The basil simply gives the salad that irresistible Mediterranean vibe. The best basil you can use, of course, is picking the leaves yourself straight from the plant.
Basil releases the most aroma when freshly picked. I don't know about you but the basil plant I buy from the supermarket dies quite quickly. Do you have any advice for me? Make sure you leave a comment!
You can also use coriander, chives, rosemary, oregano and parsley instead of basil. These flavours will catapult you right back to the romantic taverna from your last summer holiday in the sun. You can certainly play with flavours in this easy dish.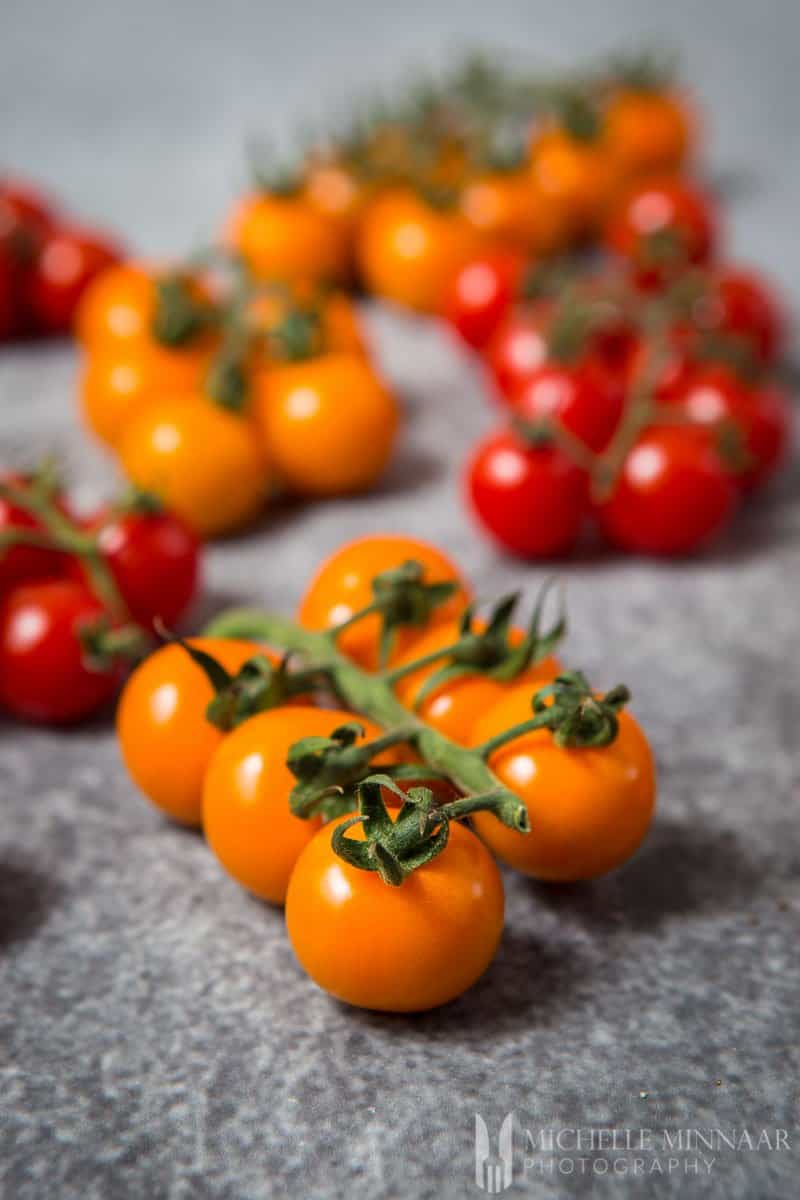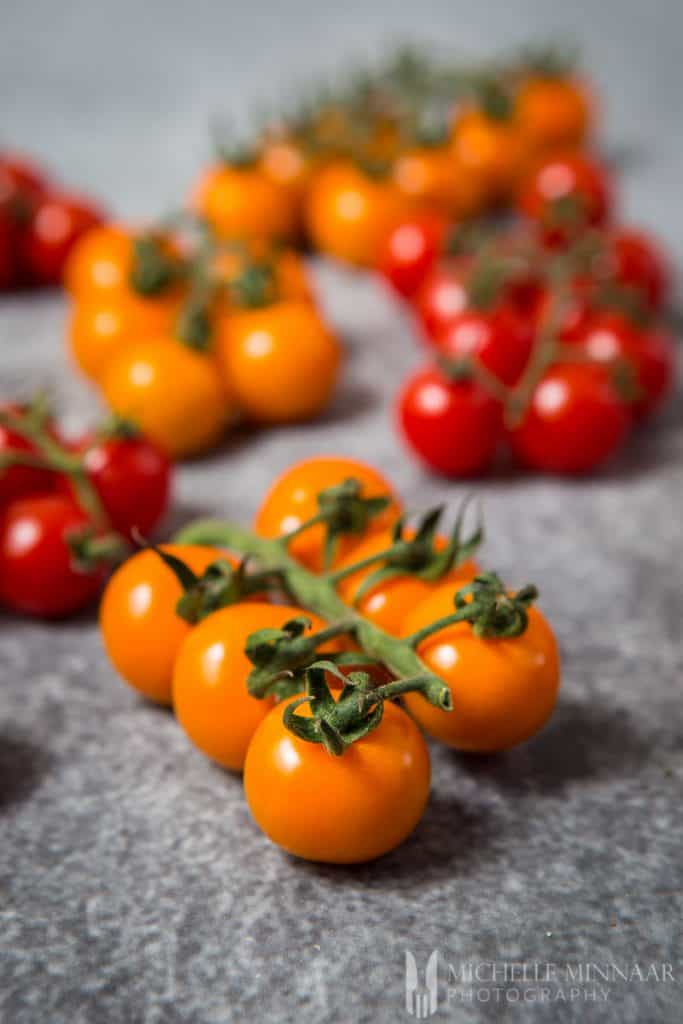 A side dish
Whether as a side dish for barbecued meat or fish, or as a companion to scrambled eggs for a Sunday brunch, cherry tomato salad is just irresistible. Not to mention, this is a dish you adjust just to your liking.
For instance, make it sturdier, by adding the bitterness of arugula and some cheese, or fine-tuning the flavour with your favorite fresh herbs from the garden.
Cherry tomato salad goes Asian
You can even take this recipe in an Asian direction, by mixing the tomatoes with spring onions, coriander and fresh chili. Sprinkle with a little bit of cumin and coriander power. The possibilities go on and on. There is really no going wrong with this dish!
Rosé wine
There is no doubt in my mind that a beautiful salad like this deserves to be accompanied by a beautiful summer rosé wine. My ultimate suggestion for a rose is to purchase one from the Aix-en-Provence region where you can enjoy the lovely bouquet of the wine along with the fruity tones.
The perfect side to your cherry tomatoes in the summer. Just looking at the salmon pink color of the wine and the gorgeous red and orange hues of the tomatoes makes me feel as if I am on vacation. Mind you, even if I am sitting in my backyard in England.
Practical information
Make sure you store your whole tomatoes at room temperature. However, if you do this, you must remember to consume them rather quickly or they will rot.
It is recommended to serve this salad immediately. Once you refrigerate those beautiful tomatoes, they will lose flavour and intensity. That would truly be a waste of great tomatoes.
You can refrigerate the cherry tomato salad, however you shouldn't exceed one night or roughly eight hours. Although the flavour might be compromised if left in the fridge overnight, the upside is that the tomatoes will marinate in the vinaigrette thus soaking up the tanginess and in turn out rather punchy.
What is your favourite way of eating cherry tomato salad? Do you like as a side to your breakfast? Do you prefer it as a side dish for a hearty dinner? Or do you love this salad so much that you can snack on it alone all day?
If you like tomatoes and Mediterranean inspired dishes, you might also like:
Print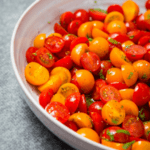 Cherry Tomato Salad
---
1

kg

(2lbs) cherry tomatoes, washed and halved
Handful of basil and flat leaf parsley, finely chopped

60

ml

(4 tbsp) extra virgin olive oil

30

ml

(2 tbsp) white wine vinegar

2.5

ml

(1/2 tsp) salt

15

ml

(1 tbsp) caster sugar
---
Instructions
Place the tomatoes and herbs in a large serving bowl.
Pour the oil, vinegar, salt and sugar in a smaller bowl, mixing the ingredients thoroughly.
Mix the salad dressing with the tomatoes.
Serve immediately or refrigerate (maximum overnight) for the salad to marinate.
Notes
Serve at a barbecue, with breakfast dishes such as scrambled eggs or as a side dish with a main meal.
Nutrition
Serving Size:

1 serving

Calories:

91

Sugar:

5 g

Sodium:

162 mg

Fat:

7 g

Saturated Fat:

1 g

Carbohydrates:

7.3 g

Fiber:

1.2 g

Protein:

1.1 g
save the recipe to your pinterest board