Nothing says holidays and celebrations like a batch of light and fluffy brandy butter as part of your dessert spread! This decadent addition to your holiday sweets is perfect with hot and cold desserts like Christmas pudding and mince pies.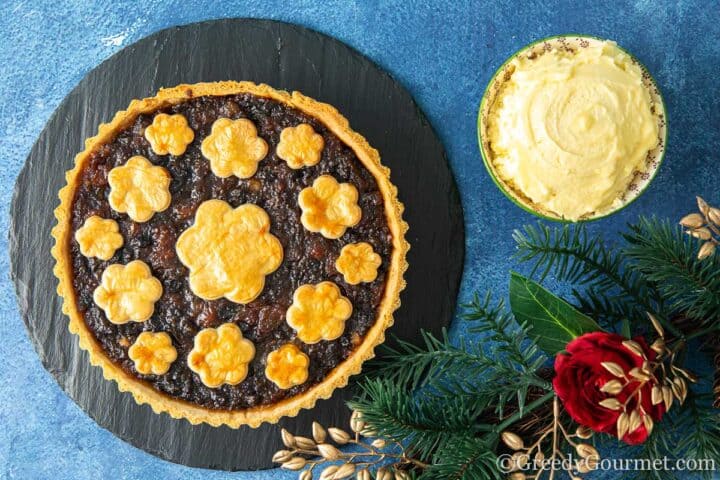 It is so simple to make this delicious brandy butter recipe. All you need are just three ingredients - butter, icing sugar, and brandy! Even better is that the recipe can be made ahead of time, is no-bake, comes together in minutes, and stores in the refrigerator for months!
Brandy butter is also known as hard sauce, which doesn't describe the texture, in fact it's anything but. This creamy, light, and melty holiday condiment is smooth and has the consistency of frosting for a cake. The warm flavors of the brandy are subtle and sweet, and pairs well with other desserts.
This recipe for brandy butter is inspired by my holiday eggnog cream that is also on my site. A scoop of brandy butter would taste great with this filo pastry mince pies recipe, made for a proper holiday feast!
Brandy butter is a traditional holiday staple, and it is sure to enter into your annual rotation of recipes. Since brandy butter keeps so well, there is no reason to stop enjoying it once the festivities have passed. You can enjoy it with bread pudding, gingerbread, cobblers, and fruit cakes.
Why You'll Love This Recipe
It's sweet, slightly boozy, and rich
Only three simple ingredients
You can make it ahead of time
The taste will elevates your desserts to make them even more delicious
Equipment Needed to Make This Recipe
Hand Mixer - use an electric hand whisk or an electric mixer to beat your ingredients together as you add them to your brandy butter and the mixture binds
Mixing Bowl - use a large mixing bowl so that you have plenty of room to move your hand mixer around in the bowl, incorporating all of the ingredients of the brandy butter
Sifter - a sifter will help you get any clumps out of your icing sugar, ensuring that the ingredients come together in a silky and smooth mixture
Ingredients You Need For This Recipe
Brandy - you can use whatever brand that you have on hand for this recipe. The most common type is cognac, so if you need to purchase some I would recommend finding an inexpensive brand. If you don't care for brandy, you can use whiskey or even rum instead.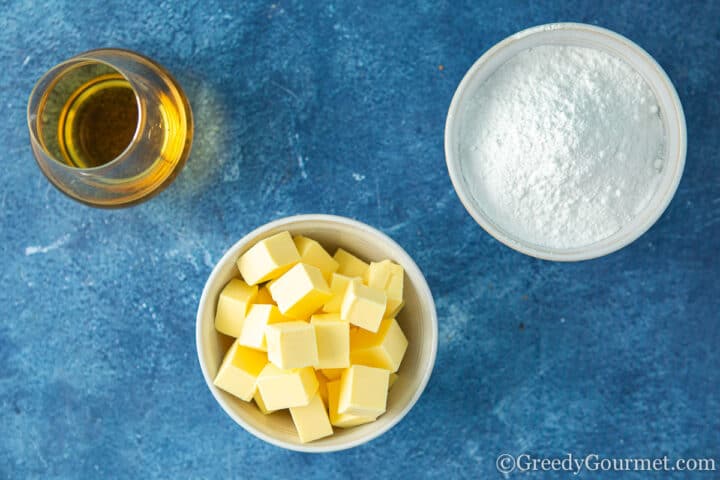 What Is Cognac?
Cognac is a brandy that is made specifically in the Cognac region of southwestern France. Cognac is made of a base of fermented white grapes, unlike brandy which can be made of any distilled fruit. In order for it to be cognac, it must be distilled between October 1st and March 31st. 
There are different types of cognac that you will notice are indicated on the label of the bottle. VS, VSOP, and XO all indicate the amount of time the liquor has been aged. 
VS stands for very special, and is aged for at least two years. VSOP, or very superior old pale, is aged four or more years. Finally XO or extra old, indicates that the cognac has been aged for more than six years. 
All to say that if you choose a cognac to make this recipe, you will find slightly different flavors based on the age of each cognac. Popular brands that you may have seen in your favorite liquor store are Hennessy, Martell, Courvoisier, and Remy Martin.
How to Make This Recipe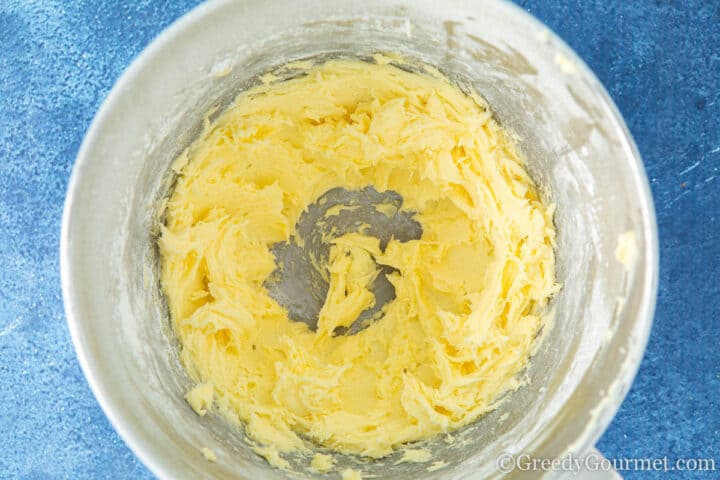 Whisk the butter and icing sugar together.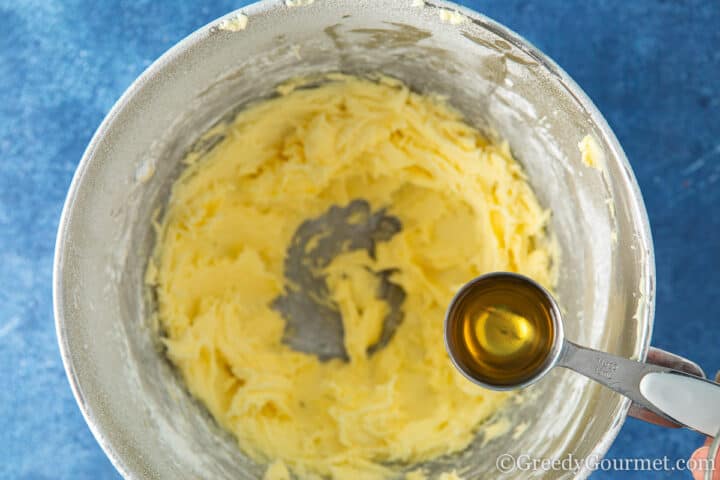 Top Tip
Remove the butter from the fridge and allow it to get soft at room temperature before you beat it together with the sugar so that all of the ingredients combine seamlessly.
What To Serve With Your Brandy Butter
Although you may want to eat this whipped topping alone by the spoonful, this recipe is even better when enjoyed served with a dessert and a holiday cocktail.
Desserts
Serving a dollop of brandy butter along with a hot or cold dessert makes for the perfect finishing touch to your holiday party
Cherry crumble pie - this sweet and tart pie is a mix between a classic crumble and a cherry pie. Try a spoon of this butter on top of this or any other holidays pies for a real treat
Malva pudding - this unique South African marshmallow pudding is drenched in a decadent sauce made of Amarula, a fruity South African liqueur. Try a dollop of butter instead of clotted cream or whipped cream scooped on top of this delicious pudding in a serving dish
Salted caramel apple crumble - just in time for autumn, this buttery and salty apple dessert would be even better with a little brandy butter to round out the warm flavors
Christmas pudding - this traditional Christmas pudding dessert is made of dried fruit, spices, and a little brandy. A bit of this whipped butter topping to accompany this classic Christmas pudding is the perfect combination.
Mince pies - mincemeat pies, or mince pies are traditionally enjoyed with brandy butter. This classic recipes flavors of cloves, cinnamon, and nutmeg pair perfectly with the warm flavors of brandy.
Cocktails
Enjoy one of these cocktails along with a serving of brandy butter and dessert to keep that warm and fuzzy holiday feeling going.
Top Tip
Use salted butter to give your butter extra flavor and to bring out the taste of sweetness from the sugar.
Popular Substitutions for This Recipe
Brandy - You can use rum, sherry, or whiskey instead for this recipe. The flavors will be slightly different, but you can still serve it with Christmas dessert recipes.
Butter - use salted or unsalted butter for this recipe depending on your preference or dietary needs
Variations to This Recipe
You can add a bit more brandy if you prefer, but be sure not to add too much brandy since it will make your sauce curdle and create an unpleasant consistency
Sugar - you can use brown sugar instead of icing sugar for a deeper, molasses flavor. Just keep in mind that there will be a slightly different texture from the courseness of the brown sugar.
Flavors - add lemon zest, orange zest, orange flavored liqueur, vanilla extract, or vanilla paste to this brandy butter recipe for some extra flavor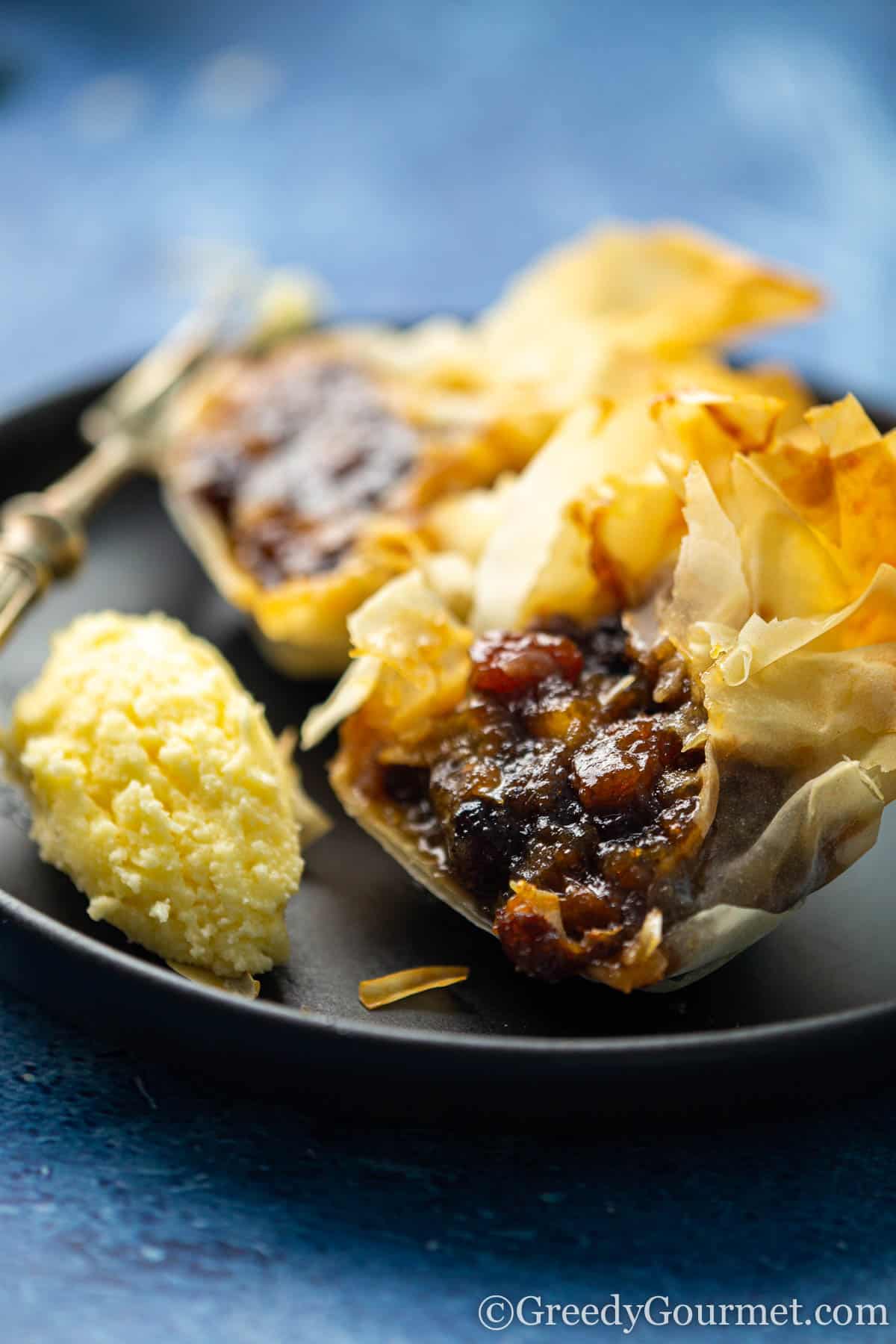 How Do I Store Leftovers?
Store leftover brandy butter in an airtight container in the fridge for two months. When you are ready to use it, the brandy butter will be hard, so you may need to remove it ahead of time to let it soften. 
Can This Recipe Be Made In Advance?
Yes, you can make this brandy butter recipe in advance. Store it in the refrigerator and enjoy it for a couple months, if it lasts that long!
Can You Freeze Brandy Butter?
Yes, you can freeze this recipe. Put brandy butter in an airtight container or plastic ziploc bag with all of the air removed and keep it in the freezer for up to six months. 
What is Brandy Sauce?
Don't confuse these two recipes for one another. Brandy sauce is another common holiday treat that is served up with Christmas pudding. The main difference between the two toppings is that the base of brandy butter is butter, while brandy sauce is an egg-based custard sauce made with heavy cream.
While both condiments are absolutely decadent and fitting for Christmas, they have different textures and consistencies due to their ingredients. Brandy sauce is slightly more involved to make than this recipe, but they both have very few ingredients.
Other Christmas Dessert Recipes You'll Love
Christmas pavlova wreath - this very Christmas dessert is made of meringue, fruit, and cream. The perfect Christmas centrepiece, this wreath is not only beautiful but gorgeous
Christmas cheerio baubles - these fun Christmas balls will give your kids a fun project that they can also eat. Chocolate, peanut butter, and cheerios come together to make this delicious and interactive snack
Print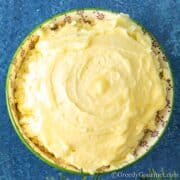 Brandy Butter
---
Author:

Michelle Minnaar

Total Time:

5 minutes

Yield:

10

servings

1

x

Diet:

Vegetarian
Description
Brandy butter is creamy, sweet and slightly boozy. It is simple to make, you'll only have to whisk 3 ingredients together. Click here for the recipe!
---
170g

(

1¼ cups

) butter, room temperature

170g

(

1½ cups

) icing sugar

105

ml (7 tbsp) brandy
---
Instructions
In a bowl, whisk your butter until light and fluffy.
Continue whisking the butter while adding the icing sugar a tablespoon at a time until everything is fully incorporated.
Once the icing sugar has dissolved, add the brandy a tablespoon at a time until it's fully combined. 
Serve with your favourite Christmas dessert. We served it with a Mincemeat Slice. Enjoy!
Notes
The amount of brandy may vary due to the fat content of the butter you use; use your judgment. 
If the mixture looks as if it has split then add a little icing sugar and a little more butter to bring it back together.
Prep Time:

5 minutes

Cook Time:

0 minutes

Category:

Condiment

Method:

Whisk

Cuisine:

British
Keywords: Brandy butter, What To Serve With Mince Pies, what is brandy butter used for, brandy butter ingredients, how to use brandy butter, how long does brandy butter last, brandy butter sauce recipe