This sloe gin fizz cocktail is an absolute showstopper! It's easy to make and brings a deliciously simple harmony of flavors that work wonders and create magic in a glass. Trust me... this one goes down so easily!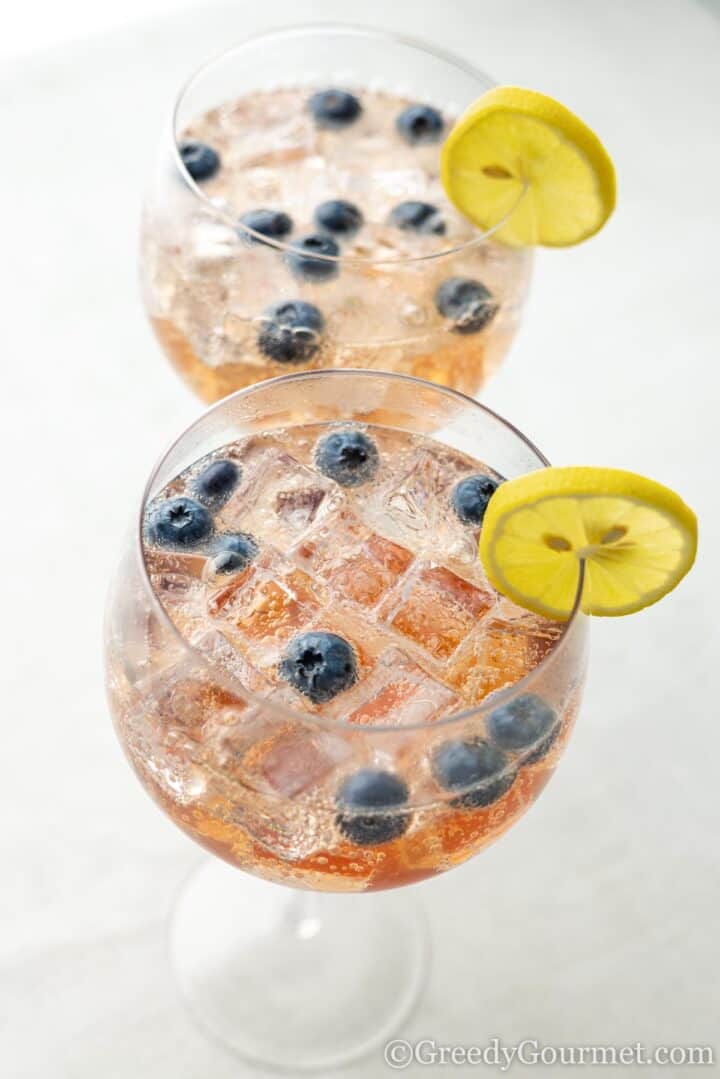 The combination of fruity sloe gin, zesty lemon juice, simple syrup and sparkling water or club soda, all served with ice and some fresh or frozen berries is sensational. This sloe gin fizz is definitely up there with my favorite cocktail recipes and I'm excited for you to try it!
Don't forget to use homemade sloe gin to take it to another level!
Why You'll Love This Recipe
The flavour combination is next-level quality
It's a classic cocktail recipe that's perfect all year round
It's minimal effort for maximum reward
Equipment Needed To Make This Recipe
There are a few important kitchen items that you'll need before you make this recipe: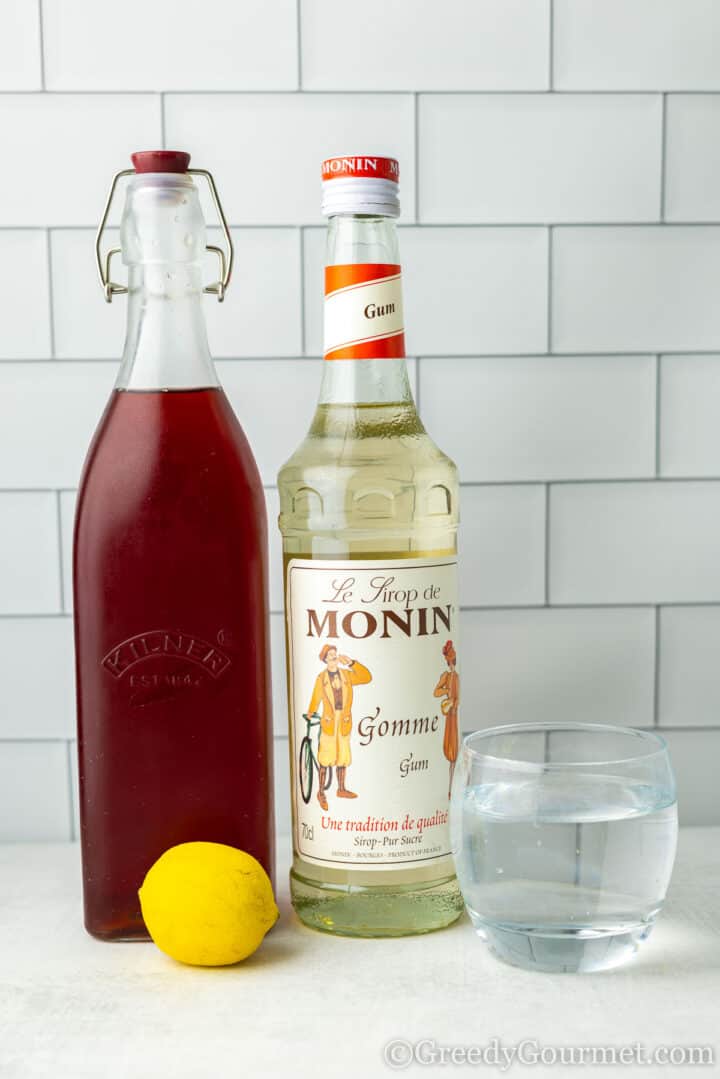 Top Tip
Use homemade sloe gin for best results.
Popular Substitutions For This Recipe
For a twist on the citrus side of this recipe, replace the lemon with lime juice
If you can't find sloe gin, you can use regular gin for a straight up gin fizz
Substitute sloe gin for sloe vodka and make a sloe vodka fizz
Variations To This Recipe
For a sweeter drink, add an extra teaspoon of simple syrup. If you prefer your tipple less sweet, only add one teaspoon instead of the two called for in the recipe below.
Add an egg white to your cocktail shaker for a silky texture and a creamy head to your sloe gin fizz cocktail. Shake the egg white with the other ingredients, leaving out the ice to allow the egg white to foam, then add the ice and shake again to chill.
You can also garnish with a cherry wedged on to the rim of the glass.
For milder berry notes, use a 50:50 split of regular gin and sloe gin.
Top Tip
Serve your sloe gin fizz in a tall cocktail glass (a highball glass) and sip it slowly with a straw to really appreciate the flavors.
What are sloes?
Sloes – pronounced 'slows' – are tiny blue/black berries that typically grow on blackthorn bushes in the UK. The word 'sloe' comes from a mixture of old European words for plum. Sloes grow between August and November and the later in the season they are, the better.
Sloe gin makers usually wait until the first frost – this is because the berries freeze, leaving a split along the side. This allows the berries to infuse a lot more flavor into the gin.
What is sloe gin?
Sloe gin is a gin based liqueur made by steeping sloe berries in gin. Basically, this involves leaving the tiny berries in the gin for months, until you're left with a wonderfully tart, fruity infusion.
Sloe gins have a delicious deep flavour, perfect for making a refreshing cocktail like this sloe gin fizz!
Do I need to use fresh lemon juice?
Yes! While technically you can use lemon juice from a bottle, fresh is best. There's nothing quite like the fragrance and flavor of fresh lemon juice to complement your sloe gin fizz!
Of course, you could give it a twist and use fresh lime juice.
What is sugar syrup?
Sugar syrup, or simple syrup, is used for sweetening cocktails. It's made from one part water to two parts sugar and comes pre-mixed in bottles you can buy from most supermarkets.
How do you make simple syrup?
Making simple syrup is easy! All you need to do is dissolve two parts sugar to one part water (e.g. 300g caster sugar in 150ml water) in a saucepan over a low heat. Once the sugar has fully dissolved, allow it to cool completely.
You can even make a big batch and store your sugar syrup in the fridge, ready to add to your favorite cocktails.
How strong is this sloe gin fizz?
It's not too strong! However, it's easily adaptable – you can add an extra shot of sloe gin for a suitable kick or add extra sparkling water for a milder version.
Can this recipe be scaled?
Not really. Of course, you could double or triple the amounts below to make a large batch, but the point of a sloe gin fizz is to keep that fizz. So, only make as much as you need – you can always shake up a few more to keep the party going!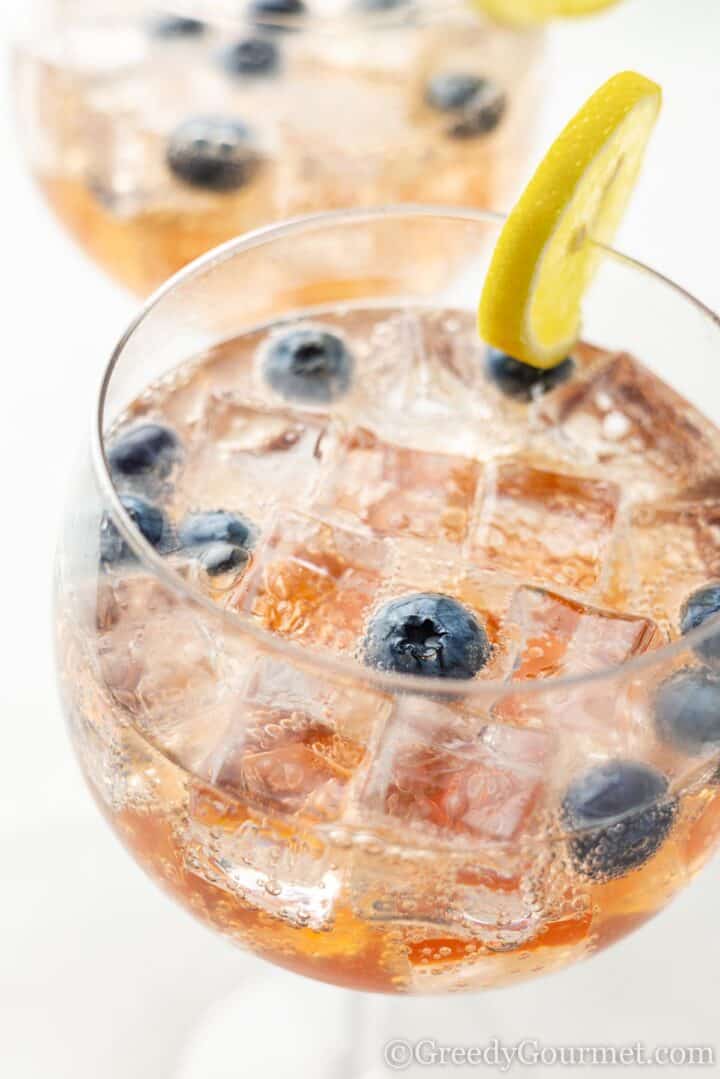 Other Drinks Recipes You'll Love
So, you loved making this sloe gin fizz recipe and fancy trying your hand at a few more cocktail recipes? Well, as luck would have it, I have a few more up my sleeve:
Don't forget to come back and let me know how your recipe turned out!
Print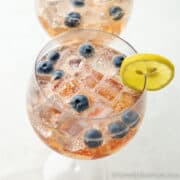 Sloe Gin Fizz
---
Description
Made in under 5 minutes this Sloe gin fizz is a show stopping cocktail that will leave a fruity flavour tingling on your tastebuds.
---
50

ml

(1 jigger) sloe gin

25

ml

(1/2 jigger) lemon juice

10

ml

(2 tsp) sugar syrup
ice
sparkling water
lemon slices
fresh or frozen blueberries or blackberries
---
Instructions
Fill up a cocktail shaker with ice cubes. 
Pour the gin, lemon juice and syrup into the shaker. 
Shake for 30 seconds. 
Pour into a glass and top it up with ice. 
Pour the sparkling water into the glass and stir gently. 
Garnish with lemon slices and berries. Enjoy!
Prep Time:

5 minutes

Cook Time:

0 minutes

Category:

Cocktail

Method:

Stir

Cuisine:

British
Keywords: sloe gin fizz, sloe gin fizz with 7up, sloe gin fizz egg white, sloe gin fizz prosecco, sloe gin fizz history, sloe gin fizz with sprite, sloe gin recipes, sloe gin cocktail, sloe gin fizz drink, sloe gin fizz ingredients, sloe fizz, best way to drink sloe gin