These white chocolate and raspberry blondies are simply to die for!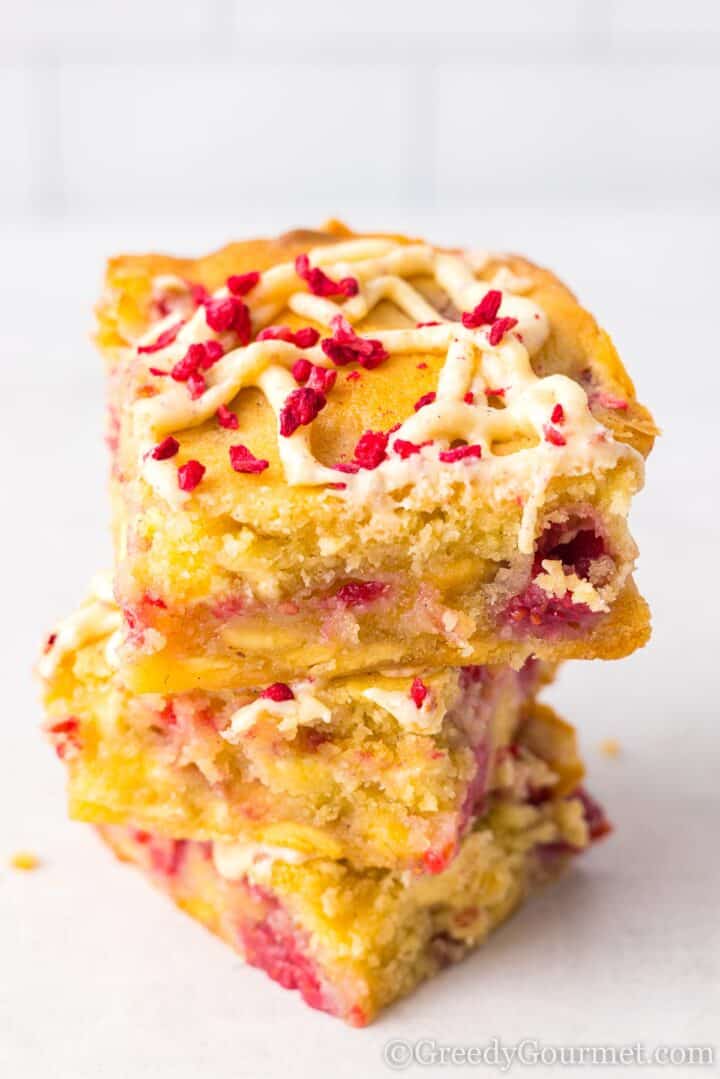 With a delicious gooey texture, rich white chocolatey flavour, juicy raspberries and a deep vanilla flavour, those little bites of heaven are the perfect sweet snack to please the entire family.
Why you'll love this recipe
They're chewy and gooey on the inside and crunchy on the outside
These white chocolate raspberry blondies are so easy to make!
After you've made them, these white chocolate blondies will stay fresh for a good few days, although they're so scrumptious there's no way they'll last as long as that!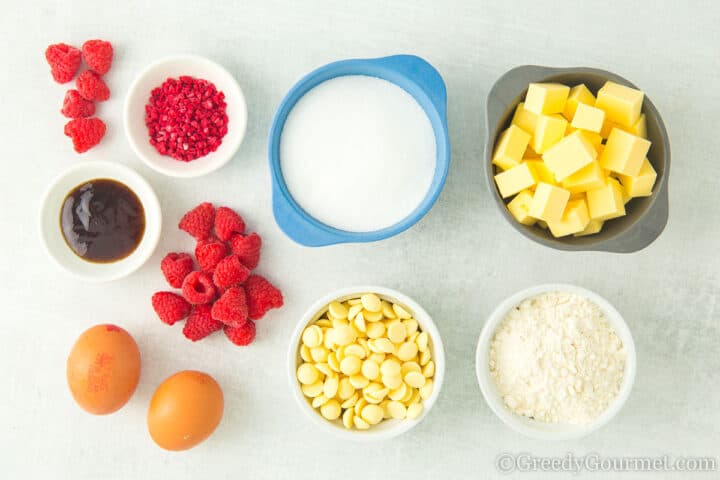 Equipment needed to make this recipe
Blondies are a breeze to make. However, there are a few key kitchen items you'll need to make this recipe:
30 x 20 cm (12 x 8 inch) baking tin – a square tin is also an option, but for me this size of baking tin works best for this recipe.
Stand mixer – when making blondies, a stand mixer is great for getting that luscious blondie batter.
Kitchen scales – when baking any kind of recipe, getting the precise measurements is so important. That's why it's so crucial to make sure you've got a good quality set of kitchen scales.
How to make Jammie Dodger Blondies
Whisk the melted butter and sugar together.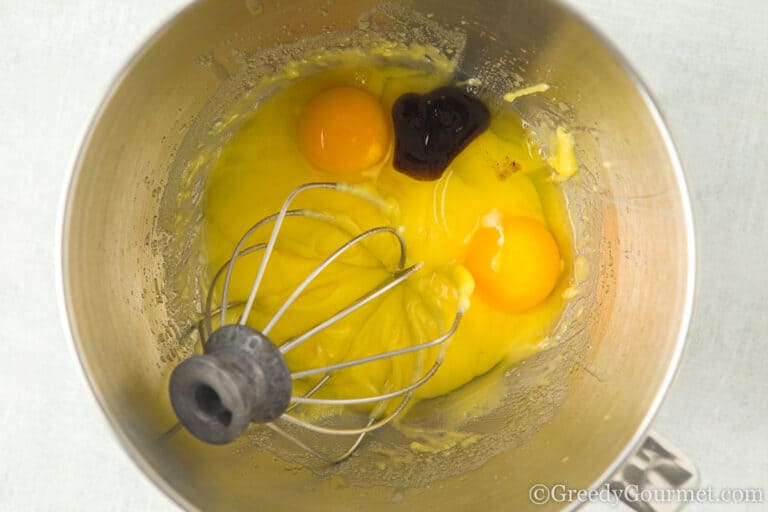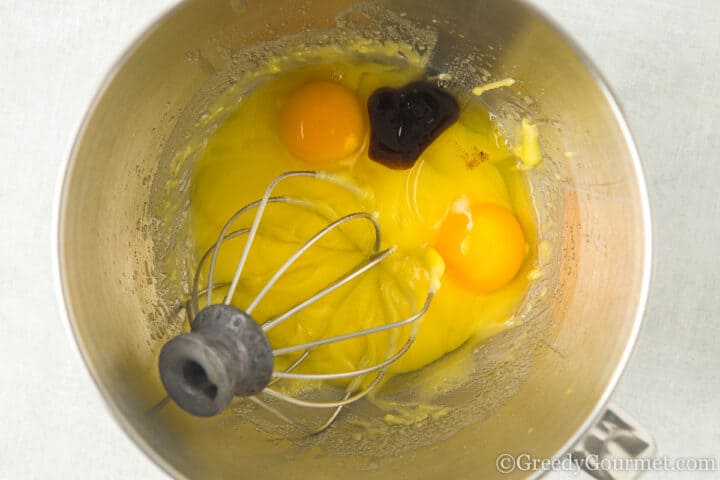 Add the eggs and vanilla paste.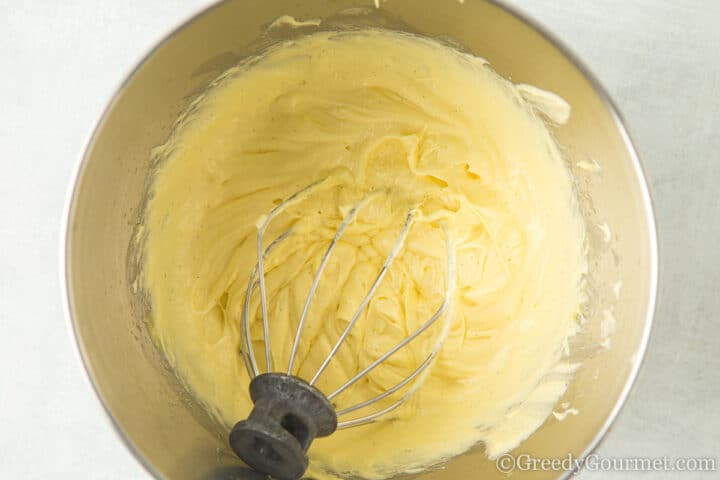 Whisk until light and fluffy.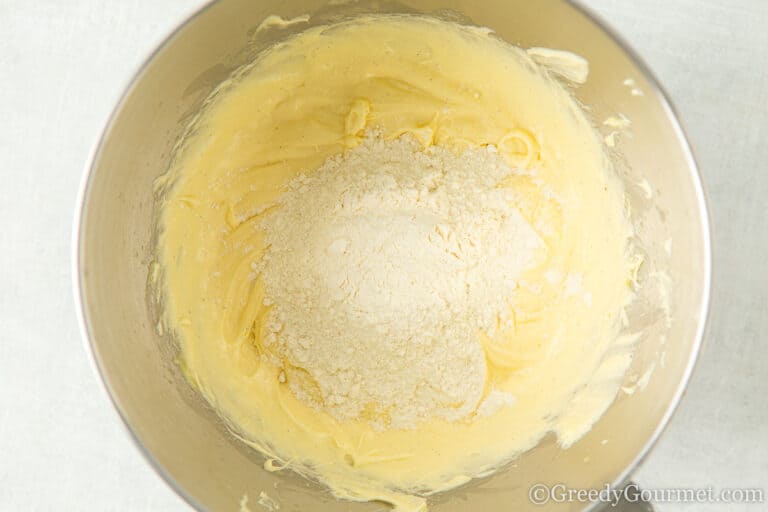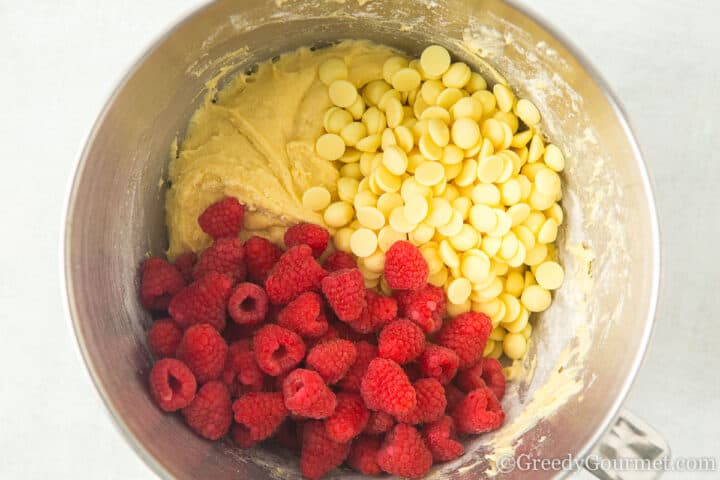 Stir in the white chocolate chips and raspberries.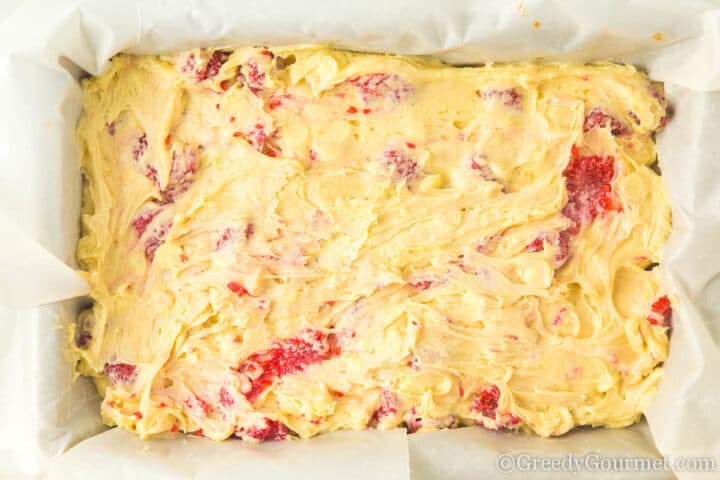 Transfer the batter to a lined baking tin.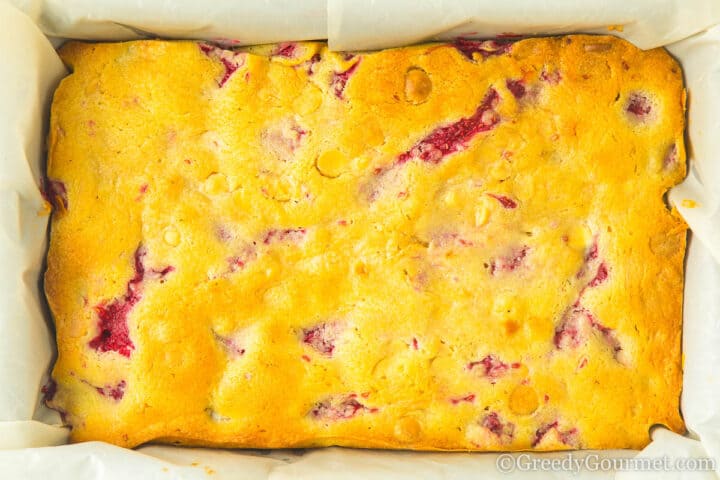 Bake until golden and slightly wobbly in the centre.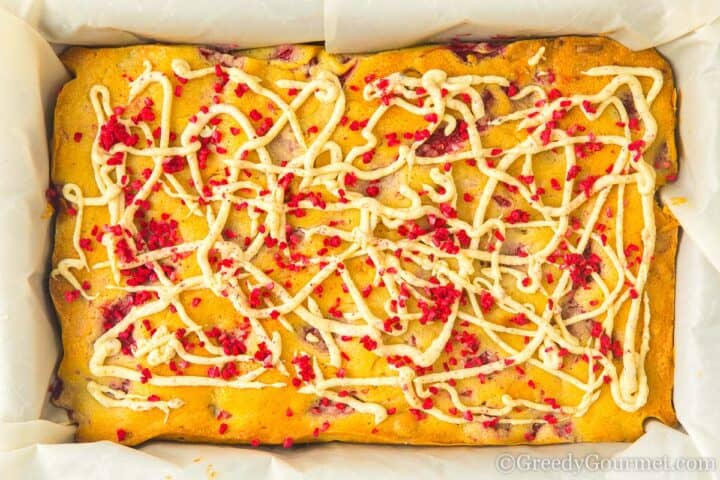 Drizzle with melted white chocolate and freeze dried raspberries.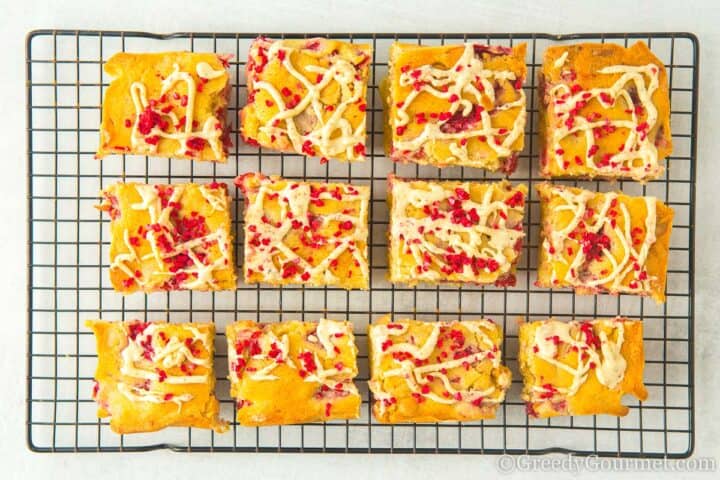 Cool completely then cut into portions. Enjoy!
Top Tips
Be sure to use a flexible spatula to scrape the sides of the bowl. This will ensure everything is evenly distributed and that you get an even bake.
Variations to this recipe
Make these blondies gluten free by using rice flour or a similar gluten free flour in place of plain flour.
Popular substitutions
If you can't find vanilla paste, use vanilla extract instead. Substitute at a like-for-like ratio.
You can use broken or chopped up white chocolate chunks in place of white chocolate chips if you prefer.
If you're not mad about raspberries, you can use other types of fruit. For example, replace the fresh or frozen raspberries with strawberries or blueberries and put a different spin on this recipe.
You can replace regular caster sugar with light brown sugar.
Replace white chocolate with milk or dark chocolate, use a teaspoon of cocoa powder and replace caster sugar with dark brown sugar to make raspberry brownies.
Top Tips
Add the flour slowly to your batter mix. This is the trick when it comes to getting a deliciously smooth blondie mixture texture and consistency.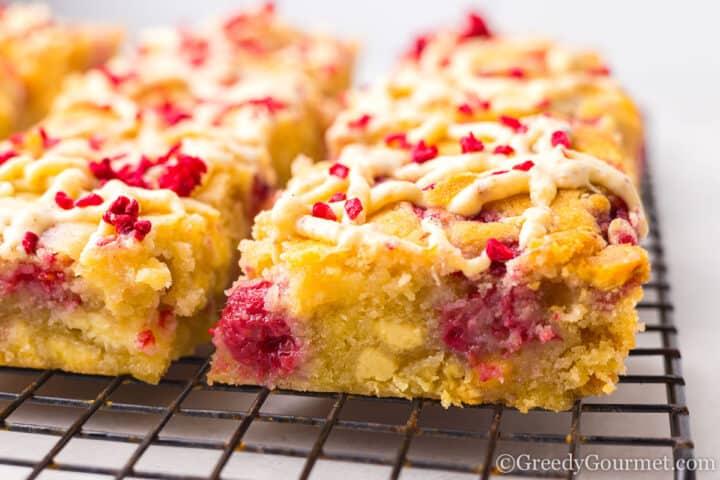 What flavour are blondies?
Blondies are chocolate flavoured, but instead of milk or dark chocolate they have a white chocolate flavour, with a lighter taste and consistency.
This blondie recipe uses white chocolate chips, bringing a less deep, rich flavour.
What's the big difference between blondies and brownies?
The big difference between traditional brownies and blondies is the colour – one is dark brown and the other is blonde. This difference in colour is achieved through the ingredients that are used.
For instance, blondies use vanilla paste or vanilla extract as well as white sugar and white chocolate chips. On the other hand, standard brownies contain dark or milk chocolate as well as cocoa powder.
Much like brownies, blondie recipes can be difficult to get right. Still, with a little bit of practice and by following this recipe to a T, you'll end up with the perfect blondies – gooey, chewy and absolutely irresistible!
How do you know when blondies are cooked?
You should bake these white chocolate and raspberry blondies for around 40 minutes. However, different ovens work differently – my oven took around 50 minutes to achieve the desired consistency – you need to make sure you check your blondie batter around the 30 minute mark to see if yours is done.
If you notice that the edges of the blondie block have started to turn golden brown, it's most likely ready. It's okay if there's a slight wobble in the center. As the blondies cool completely, they will set further.
The ultimate way to make sure your blondies are cooked is to the skewer test. Insert a wooden or metal skewer into the blondie block – if it comes out clean and not covered in gooey batter, then it is ready.
Do you need baking powder for this recipe?
No, this blondie recipe doesn't require baking powder.
Should blondies be wet in the middle?
Yes! A perfect blondie should be crisp and firm on the outside and slightly gooey on the inside.
How do you fix undercooked blondies?
It could be that your oven wasn't hot enough. It could also be because you removed them from the oven too early. It could even be that you over mixed the blondie batter. Whatever the reason, there are time when your blondies will seem undercooked and in need of being fixed.
If your blondies need to be fixed, simply cover them with foil to prevent them from drying out, then return them to the oven and check after 5 minutes. If they're still not done, return them to the oven again and repeat, checking every 5 minutes until done.
What kind of butter is best for making blondies?
For me, unsalted butter is the best kind to use for baking. Using unsalted butter gives you more control over how much salt is going into your brownies.
Salted butter is best used with bread or to bring extra flavour to savoury dishes.
Should blondies be kept in the fridge?
You don't need to keep blondies in the fridge. Storing them in an airtight container at room temperature is just fine. They'll last up to five days.
If you keep brownies in the fridge, it will extend their lifespan by a day or so. However, you'll lose some of that wonderful gooey texture. Plus, there's no way these bad boys are going to last a week... they're just too irresistible!
Can you freeze white chocolate and raspberry blondies?
Absolutely! Freezing white chocolate blondies is easy and they retain their taste pretty well, meaning it's a good idea to make a big batch!
First, allow the blondies to cool completely. Next, flash freeze them in the baking tin or on a baking tray. This involves freezing them for an hour or so and will prevent them from sticking together.
Next, place the semi frozen brownies into an airtight container. They will stay fresh for up to three months.
More amazing sweet treat recipes
Once you've made these fantastic white chocolate blondies, why not try one of these?
Print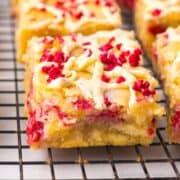 White Chocolate and Raspberry Blondies Recipe
---
Author:

Michelle Minnaar

Total Time:

1 hour

Yield:

12

squares

1

x

Diet:

Vegetarian
Description
These White Chocolate And Raspberry Blondies are irresistible for both kids and adults. This recipe is easy for anyone to follow.
---
Blondies
225

g

(1 cup) butter, melted

220

g

(1 cup) caster sugar

2

large eggs

15

ml

(1 tbsp) vanilla paste

260

g

(2 1/8 cup) all-purpose flour

200

g

(7oz) white chocolate chips

250

g

(2 cups) fresh raspberries
Decoration
100

g

(3oz) white chocolate, melted

15

g

(1/2 oz) freeze dried raspberries
---
Instructions
Preheat the oven to 180°C/160°C/ gas mark 4. Line a 30x20cm (12x8in) baking tin with non-stick parchment paper.
Place the butter and sugar in a saucepan and melt over a low heat while stirring. After about 5 minutes, remove from the heat and let the mixture cool to room temperature.
Pour the contents into a mixing bowl and add the eggs and vanilla. Whisk until the mixture becomes light and creamy.
While the mixer is running on a low speed, add the flour one spoonful at a time until everything is incorporated. Don't forget to scrape the sides to avoid any lumps forming.
Stir the white chocolate pieces into the blondie batter.
Gently fold in the fresh raspberries.
Transfer the batter to the baking tin and smooth out into an even layer.
Bake for 40 minutes, or until the blondies are cooked. Use the skewer test, ensuring that it comes out dry and not wet with batter. It's okay if there's a slight wobble in the center. As the blondies cool, they will set further. With my oven it took around 50 minutes to achieve the desired consistency.
When it's completely cooled down, drizzle with melted white chocolate and sprinkle with freeze dried raspberries. Once the chocolate has set, cut into 12 squares.
Store in an airtight container and consume within 4 days. Enjoy!
Notes
Feel free to swap half of the caster sugar with brown sugar.
The cooking time might need tweaking depending on what type of oven you've got. It's best to use the skewer test.
If you're unsure about whether the dessert has set, before you slice them, place it in the fridge to firm up first.
The blondies can be frozen for up to 3 months. Each square should be wrapped in a double layer of cling film before being placed in the freezer. Thaw in the fridge overnight.
Prep Time:

10 minutes

Cook Time:

50 minutes

Category:

Dessert

Method:

Bake

Cuisine:

British
Keywords: white chocolate and raspberry blondies, white chocolate raspberry blondies recipe, raspberry blondies, white choc raspberry blondies, nigella white chocolate and raspberry blondies, white chocolate blondies