Calling all chocoholics… this Biscoff Rocky Road recipe is a life-changing experience!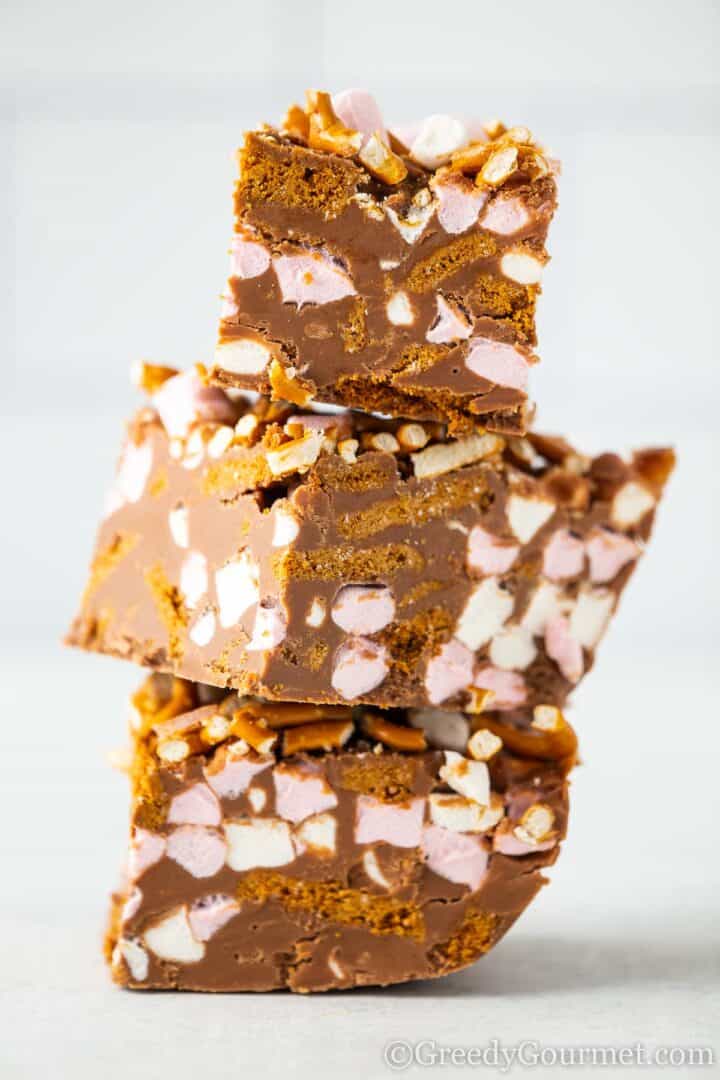 Okay, maybe that's going a little overboard. Still, this is one terrifically tasty, utterly irresistible recipe that will make the whole family go and little gaga.
Are you ready for a thrilling journey down the rocky road? Strap yourself in… things are going to get dangerously delicious.
Equipment needed to make this recipe
There are a few important kitchen items you'll need before you start making your Biscoff rocky road.
Baking tin – a non-stick baking tin is best. Just make sure it's the right size for the amount of Rocky Road you want to make
Airtight container – the key to keeping your Biscoff Rocky Road delicious is to store it in an airtight container
Microwave – when it comes to whipping up a quick delicious snack, a microwave is the way to go. If you haven't already got one, or need a new one, now's the time to invest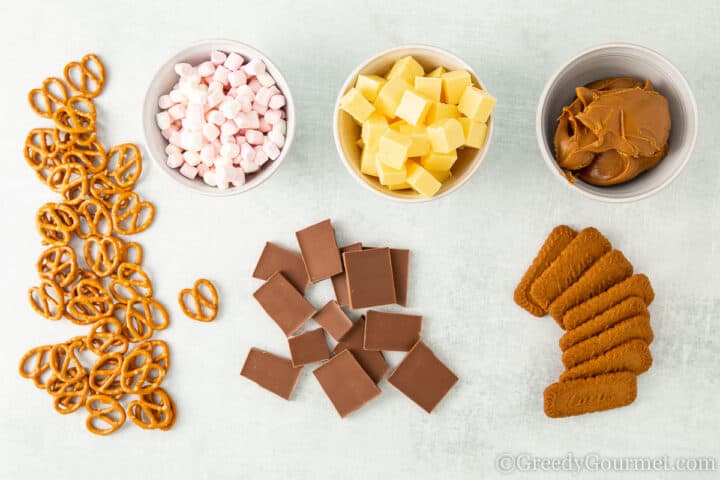 Why you'll love this recipe
The prep time is 15 minutes, max
It tastes really good
The ingredients list is pretty short
It tastes way better than shop bought rocky road
Crunchy biscoff biscuits, melted biscoff spread, melted chocolate, mini marshmallows… what's not to love?!
How do I store leftovers?
Leftovers? Chance would be a fine thing. If you end up with leftovers after making this recipe, I'll come round and polish them off.
Seriously though, Rocky Road leftovers should be transferred into your favourite cookie container or, failing that, any kind of airtight container will do. Either way, they won't be around for long… I guarantee it!
A word of advice – let it sit out at room temperature for half an hour before serving. Biscoff Rocky Road tastes better when not its not chilled.
How long will this food last in the fridge?
Biscoff Rocky Road lasts a whole three weeks in the fridge, as long as you store it in an airtight container.
However, if you manage to go three weeks without Biscoffing the lot, I'll give you a medal.
Can I freeze this recipe?
Absolutely! Freezing Biscoff Rocky Road is easy and doesn't affect the taste or texture too much. While frozen roads normally remind us of those nightmare midwinter commutes, this is one frozen road that we certainly can't complain about!
All you need to do is store your Biscoff Rocky Road in a freezable airtight container. Make sure you place a little sheet of parchment paper in between each piece of rocky road, to prevent them from sticking together.
You can freeze Biscoff Rocky Road for up to 2 months. After that, the taste and texture will start to be affected.
How do I thaw frozen rocky road?
It's simple! Just leave it to defrost in the fridge. Your best bet is to transfer your Biscoff Rocky Road from the freezer to the fridge in the evening, then allow it to defrost overnight. This way, the taste and texture won't be affected.
Can this recipe be scaled?
Yes! To make a big batch of Biscoff Rocky Road, simply double or treble the recipe. Equally, to make a smaller amount, just halve the ingredients.
Can this recipe be made in advance?
Yes it can. You can keep your Rocky road in the fridge for up to 3 weeks, as long as you keep it in a suitable airtight container. I recommend making it no more than two days in advance.
Is homemade Rocky Road better than the stuff in the shops?
I'm going to say yes! While there are some delicious Rocky Road snacks out, this homemade one takes the biscuit. It's the combination of milk chocolate, Biscoff biscuits, Biscoff spread and the marshmallows that just works every time.
Plus, my homemade Rocky Road recipe doesn't contain added preservatives like the ones you'll find in the shop. 
What's the difference between tiffin and Rocky Road?
Tiffin is the British word used to describe this delicious dessert. The word comes from the term 'tiffing,' meaning to take a little snack, and became used in the British Raj in India, specifically referring to the time when tea would be taken.
Later, the name tiffin was given to the chocolate and dried fruit biscuit that became popular in Britain in the late 19th century.
Is Rocky Road vegan?
No, it's not. The vast majority of Rocky Road contains marshmallows. Marshmallows, in turn, contain gelatin, which is what gives them that oh so gooey texture. Gelatin is derived from animal protein, making it unsuitable for vegetarians and vegans.
However, there are now a tonne of vegan marshmallow options on the market. These are made from a combination of soy proteins and carrageenan, which is a substance that comes from seaweed.
These two in combination produce a bouncy texture, similar to that of gelatin. Vegan marshmallows tend to be bouncier than normal marshmallows and they even have a similar taste. 
So is Rocky Road a British invention?
Actually, no. Despite what many people think, the origins of Rocky Road aren't British. In fact, they aren't American either. To trace the origins of this chocolatey, biscuit-based snack, we need to look a little further down under.
The story goes that Rocky Road started in Australia in 1853. Businessmen arriving in the country after a long boat trip from Europe would find that the sweets and candies they brought had gone slightly stale.
Unable to sell them in their original form, they tried to think of ways to make them palatable for a sweet-crazed public. One clever businessman decided to try mixing them with cheap chocolate and nuts. It worked.
Travelling across the 'rocky road' towards the gold fields, the businessmen would sell their new confectionery along the way. They made a good living and the trend continued. The name 'Rocky Road' stuck and the rest is sweet history.
Never ones to be outdone, the Americans, of course, have claimed that the Aussie origin story is hogwash, poppycock, a load of porky pies. Nonsense, plain and simple.
US food historians claim that the 'real' Rocky Road was invented in 1929, when a certain William Dryer used his wife's scissors to cut up marshmallows, mixing them with walnuts and stirring them into his homemade chocolate ice cream. 
Dryer later claimed that the name was a reference to the 'rocky road ahead' that Americans faced in the time of the great depression.
The truth is, nobody knows the exact origin of this sweet treat. All we know is that Rocky Road is utterly delicious, whether served up as an ice cream, cheesecake or as a Biscoff Rocky Road dessert.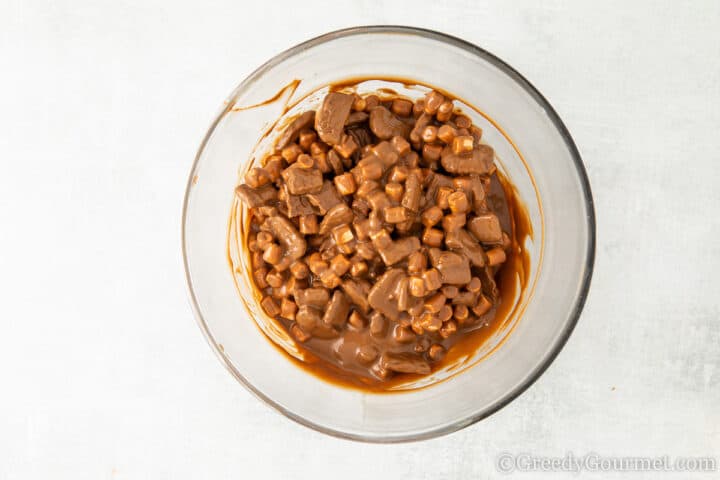 What to serve with your Biscoff Rocky Road
With something this good, there's no reason to overcomplicate things. This Biscoff Rocky Road recipe goes down perfectly well with a lovely cup of tea.
Maybe a cup of tea is not… well, your cup of tea. In that case, brew up a nice cup of coffee and enjoy!
If you're feeling extra indulgent, serve this Biscoff Rocky Road with your favourite tipple. I recommend a Grenache or a sparkling Italian red, like a Valpolicella dessert wine.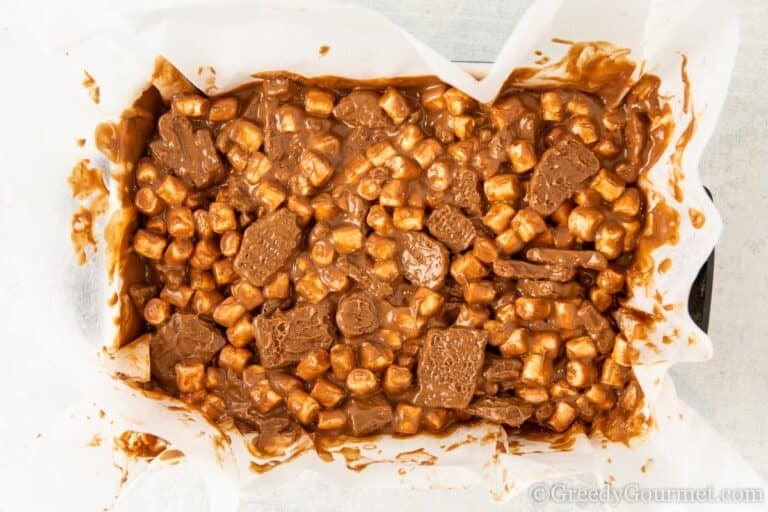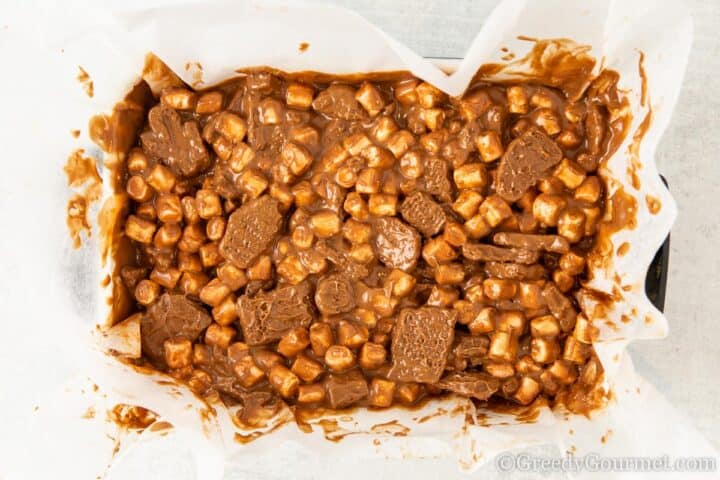 Popular substitutions for this recipe
Here are a few ideas when it comes to swapping ingredients:
Marshmallows – if you want to make a vegan Biscoff Rocky Road, replace the marshmallow with a gelatin-free version. There are now lots of great vegan marshmallows out there with a taste that gets close to the real thing
Chocolate – feel free to experiment with different types of chocolate. White chocolate tastes great in Rocky Road (melted white chocolate… mmmm) and, if you prefer a stronger chocolate taste, you can go for dark chocolate
Peanut butter – if you can't find Biscoff spread, or you prefer a different taste, you can swap it for peanut butter
Cashews – replace the pretzels with salted cashews for a nutty crunch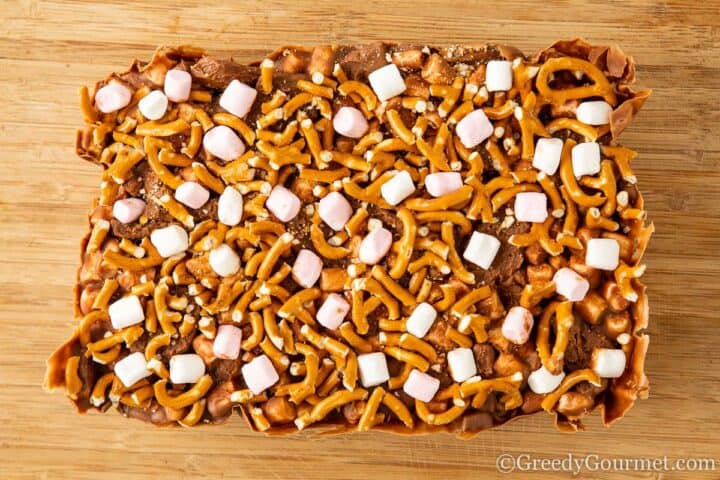 Variations to this recipe
Aside from some of the recipe tweaks above, there are a whole host of rocky road variations. Countries all over the world, including the US, the UK and Australia all have their own versions of this delicious chocolate indulgence.
Use various types of nuts with this Biscoff Rocky Road
Golden syrup – if you a real sweet tooth, you can add a teaspoon of golden syrup into the mix
Add a tablespoon of desiccated coconut for a whole new flavour profile
Use a mixture of dried fruits, including apricots, sultansas, currants and glace cherries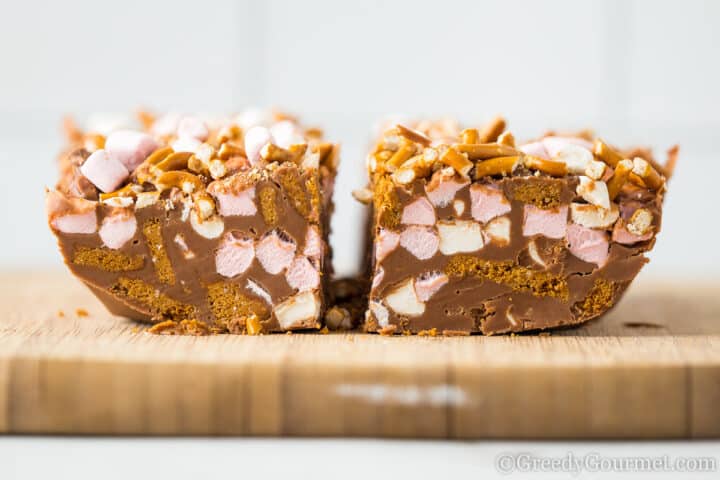 Other dessert recipes you'll love
Once you've mastered this irresistible Rocky Road recipe, try your hand at one of these:
Biscoff cookies – you think Biscoff Rocky Road is tasty? Wait until you try these cookies!
Biscoff cupcakes – this is one for the cupcake fans. Utter heaven!
Mini Egg brownies – this is a wonderful Easter treat that never fails to bring smiles
Chocolate orange cupcakes – cupcakes of the highest order! These chocolate orange delights are easy to make and impossible to resist
Chocolate flapjacks – these are so easy to make and are an excellent recipe to make with kids. Try having just the one… it's almost impossible!
Oreo cupcakes – if you're an Oreo fan, you won't want to miss this recipe. Indulge a little and you won't be able to forget the taste of these incredible cupcakes
Chocolate fairy cakes with Amarula buttercream – fairy cakes, cupcakes… there's not much difference. All I know is that these little chocolate delights are bound to put a smile on your face
Drizzled lemon curd cupcakes – if you're a lemon dessert fan, this one is a must. Cupcakes don't get much better than this. Dangerously addictive… you can't just have one!
Creme Egg cupcakes – these aren't just for Easter. When something is this delicious, it deserves to be devoured all year round!
Dessert tortilla wraps – this ingenious recipe is based on an online craze. It's such a simple idea, but the end effect is just divine. Your new favourite quick treat? Quite possibly
Cherry brownies – so so good! Rich, chocolatey and deliciously decadent, these brownies are 100% vegan and 100% irresistible
Halloween brownies – these spooktacular brownies with have the big kids and small kids screaming with delight
Chocolate and pistachio brownies – one for the sophisticated brownie fan. These indulgent treats come with a satisfying nutty crunch and a perfectly gooey centre
Peanut butter and pecan brownies – no ordinary brownie. These bad boys bring some serious depth of flavour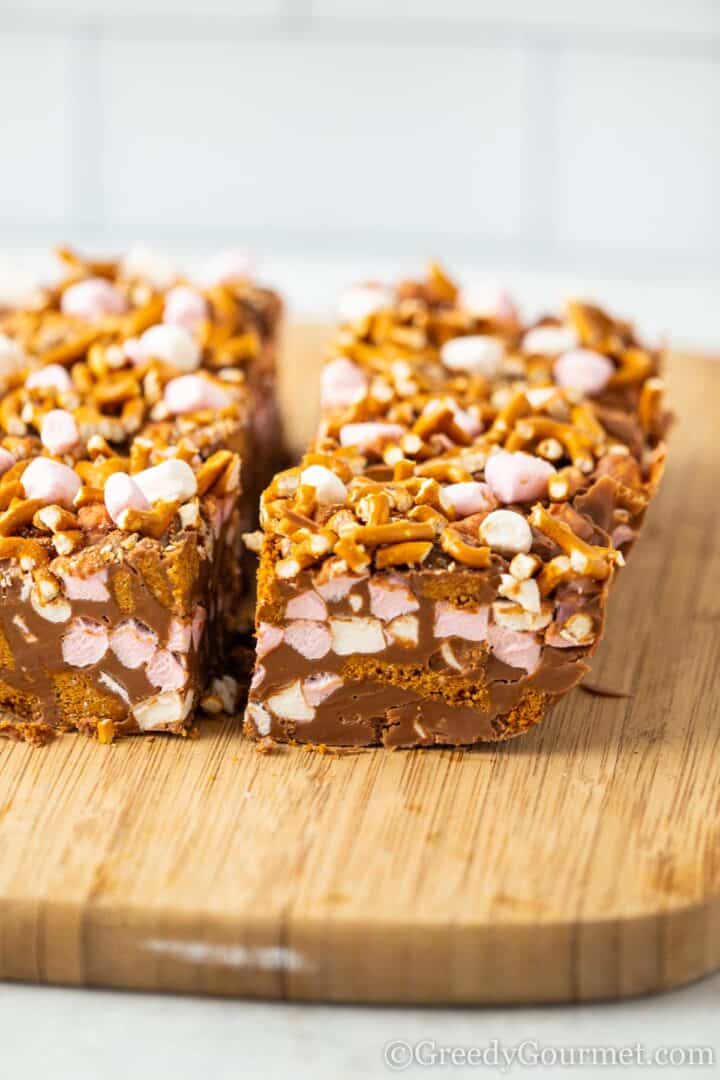 Print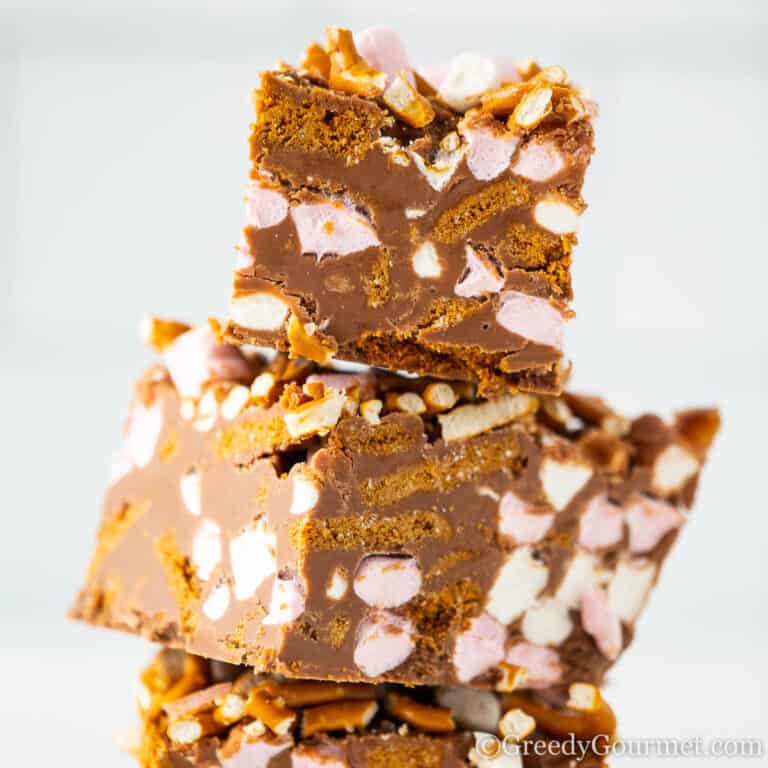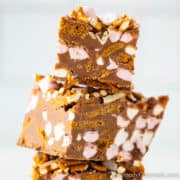 Biscoff Rocky Road
---
Author:

Michelle Minnaar

Total Time:

10 minutes

Yield:

12

portions

1

x

Diet:

Vegetarian
Description
Learn how to make an irresistible Biscoff Rocky Road, perfect for chocolate lovers. This fab dessert is made in a few easy steps.
---
Biscoff Rocky Road
400

g

(2 1/2 cups) milk chocolate, chopped

150

g

(3/4 cup) biscoff spread (speculoos spread)

50

g

(1/4 cup) unsalted butter

150

g

(1 1/4 cup) biscoff biscuits (speculoos biscuits), lightly broken up

120g

(

2 cup

) mini marshmallows
To Decorate
150

g

biscoff spread (speculoos spread)

40

g

(1 cup) pretzels, lightly crushed

15g

(

1/4 cup

) mini marshmallows
---
Instructions
Grease your deep baking tray with butter, then line with greaseproof paper, making sure the paper is pushed into the corners. I make cuts on each corner of the paper as this allows the paper to fit more snugly.
In a microwave-proof bowl, place the milk chocolate, biscoff spread and the butter. Place the bowl in the microwave and heat in 30 second blasts stirring after each blast, until fully melted.
Add the biscoff biscuits, mini marshmallows and stir until the ingredients are evenly dispersed.
Tip the contents into the baking tray and spread out into an even layer, ensuring you reach the corners as well.
Place in the fridge for an hour, or until set, then cut into big chunks.
To decorate: Remove the biscoff rocky road from the tray. Heat the biscoff spread in the microwave for 30 seconds.
With a spoon, drizzle over the biscoff spread then sprinkle over the crushed pretzels and mini marshmallows.
Portion up and serve. Enjoy!
Prep Time:

5 minutes

Cook Time:

5 minutes

Category:

Dessert

Method:

Chill

Cuisine:

American
Keywords: Biscoff Rocky Road, Rocky Road recipe, Biscoff dessert, Biscoff Recipe