One of the most delicious Indian street food dishes, aloo chaat is so simple to make you can easily make your own at home.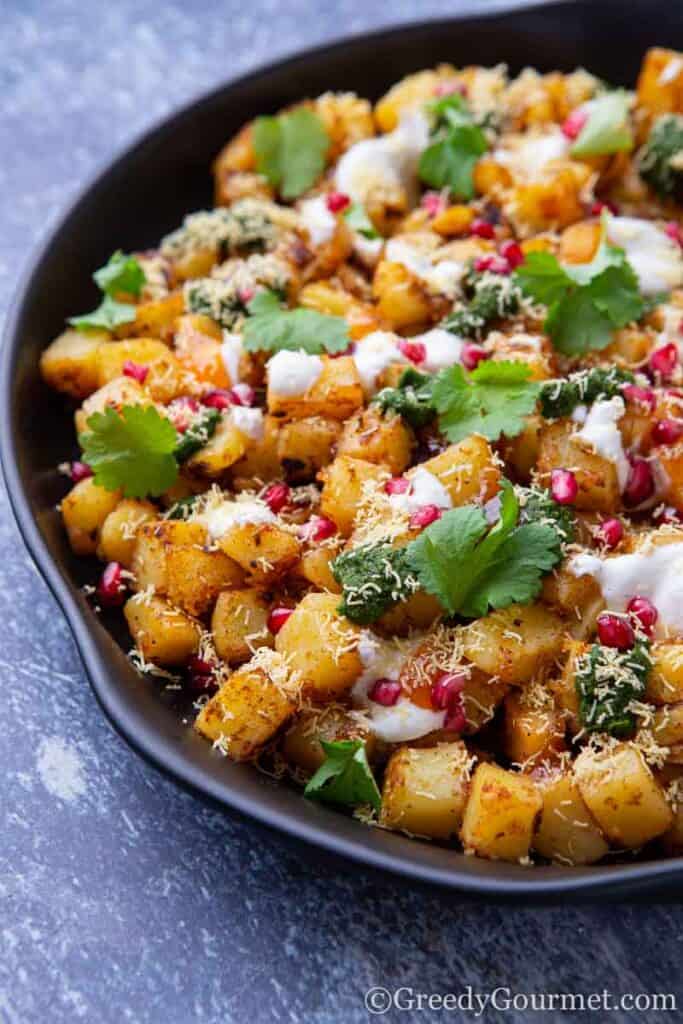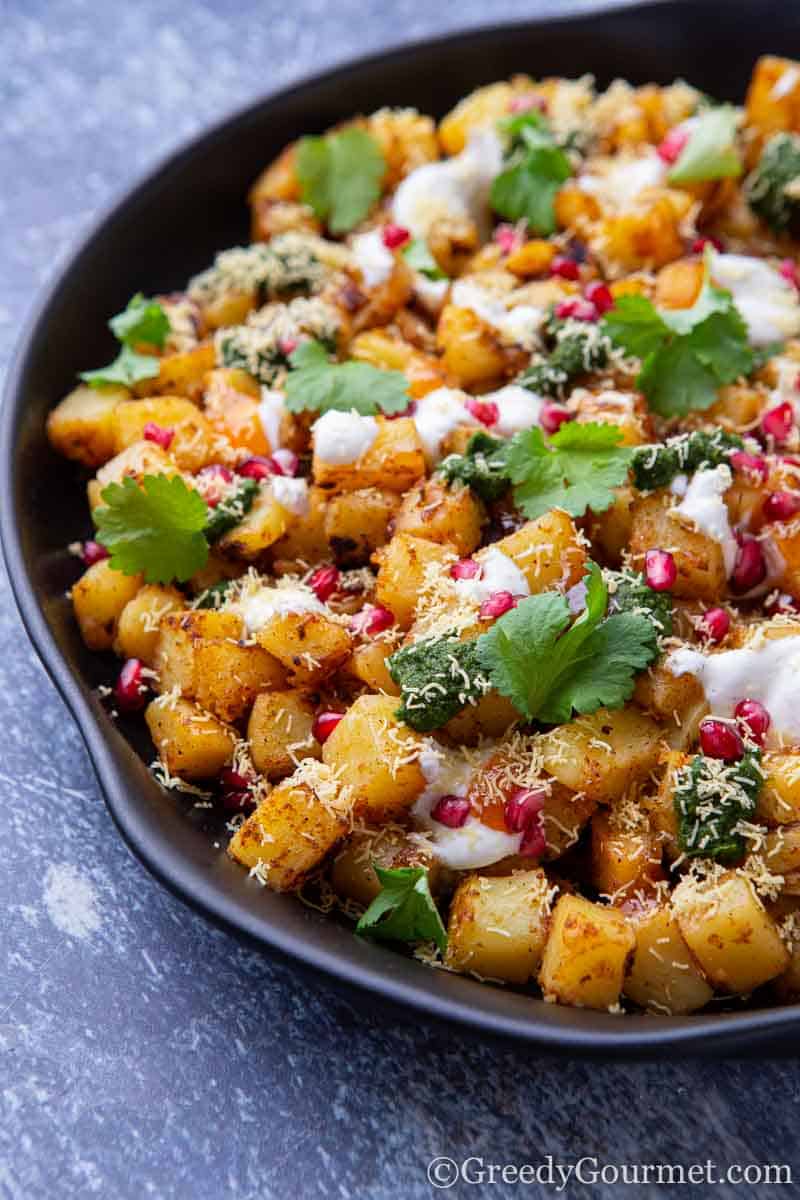 All you need are potatoes, a handful of other simple ingredients and a little bit of time. So, prepare your tastebuds and get ready to taste this incredible spicy side dish.
Products you need for this recipe
There are a few key pieces of kitchen equipment and ingredients that you need for this recipe: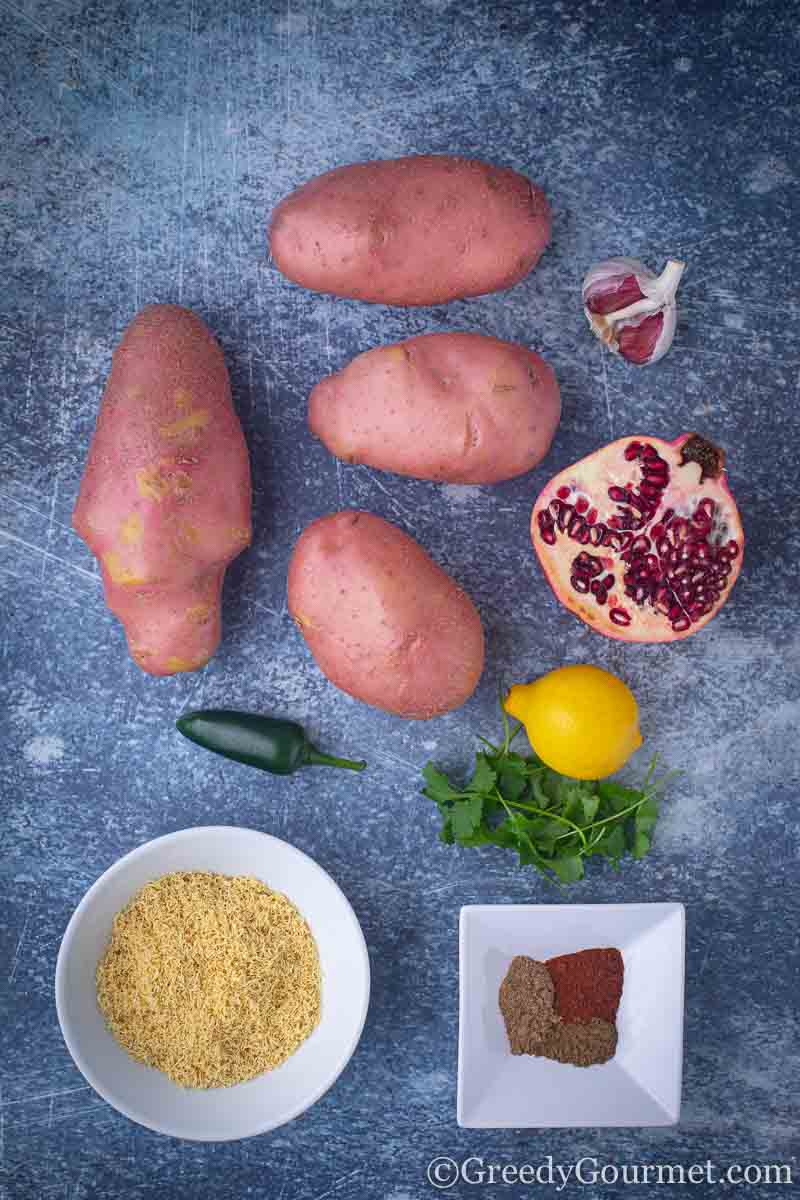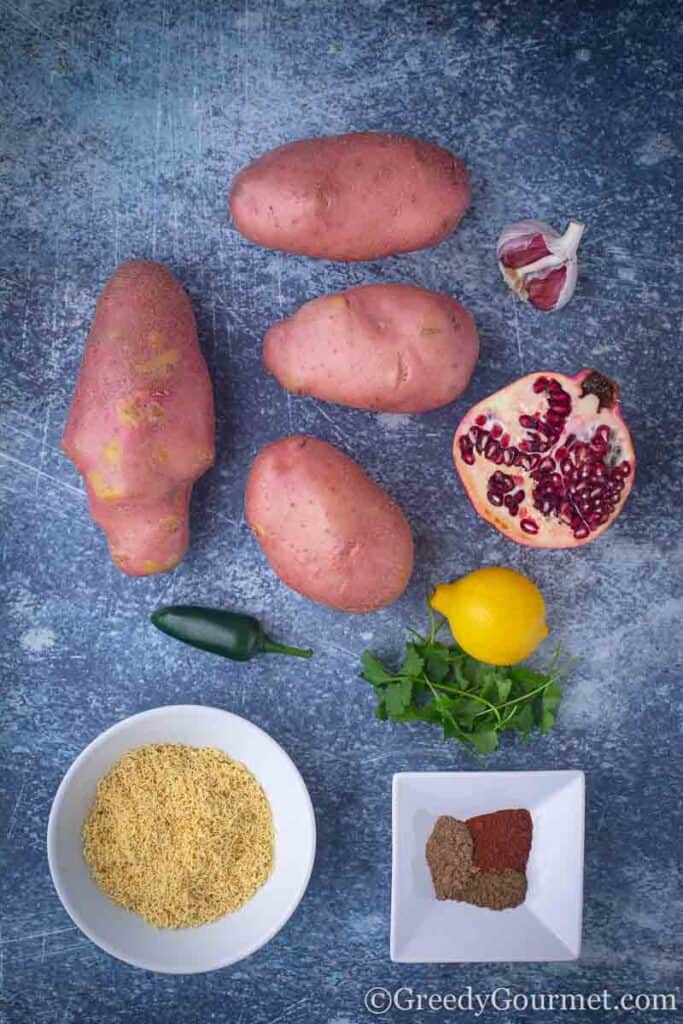 Aloo chaat recipe
If you've never tried this recipe before, you're in for a treat! This aloo chaat recipe is super simple. There's barely any prep time – 10 minutes total time, meaning you can whip up this sumptuous Indian street food in a flash.
This recipe is perfect for a light lunch, a warming midweek dinner or as a side dish to a hearty curry.
The cook time is split into two different parts. Blanching the potatoes and then frying them with spices.
To make aloo chaat, first, you cube the potatoes – around 2cm cubes are best. Then, the potatoes are blanched, to soften them a little. Once the water has reached boiling point, the par-boiled potatoes are left to steam dry.
Next, the garlic, chilli (or chili powder) and ginger is fried in vegetable oil. You can also use ghee if you prefer. Ghee is clarified or melted butter that has had the milk solids removed.
You then add the cubed potatoes into the saucepan, along with spices. The spices for this recipe include red chilli powder, masala chaat and cumin powder. You then fry the potatoes and spices together until cooked through.
Once cooked, the spiced potatoes are served with nylon sev, green chutney, mango chutney, yogurt, coriander (cilantro) and pomegranate seeds.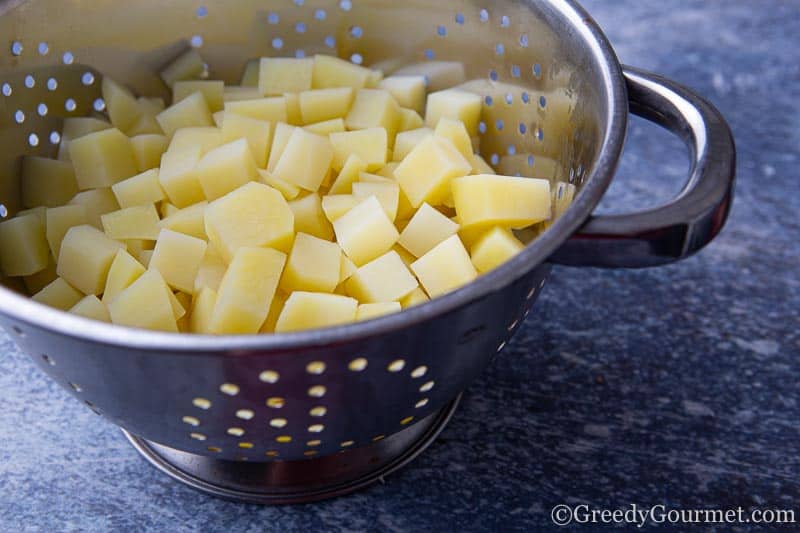 What does chaat mean?
Chaat is a type of street food that is very common in India. It's basically an umbrella term that describes any type of spicy, savoury snack that you'd find in Indian cuisine. Why not this other tasty Chicken Chaat recipe, or this masala chana chaat.
Chaat dishes are often found on restaurant menus throughout India, as well as in roadside food stalls and food markets.
The word 'chaat' comes from the Hindi cāṭ – चाट – which translates into English as a tasting, or delicacy.
What do we call chaat in English?
In English, the closest word that describes chaat would be a snack. An appetiser, hors d'oeuvre or starter could also describe a chaat.
How many types of chaat are there?
There are so many different types of chaat. Just a few examples include aloo paneer chaat, boondi chaat, aloo and peas chaat and palak chaat.
In total, there are over 500 different varieties, although aloo chaat is one of the most loved.
What is aloo?
The meaning of the word has proven aloo-sive for many curry lovers outside of India. Well, 'aloo' or 'alu' means potato in several languages, including Hindi, Urdu and Farsi.
So now you know. Whenever you see the word aloo on an Indian restaurant menu, that means potatoes as a main part of the recipe.
What are the origins of aloo chaat?
The recipe aloo chaat originated in Uttar Pradesh, a state in Northern India. Since its origins, it's become hugely popular all over the Indian subcontinent, especially West Bengal, Eastern India, Pakistan and parts of Bangladesh.
What is chaat masala?
Probably the most essential element of this recipe – aside from the potatoes, obviously – is chaat masala.
It's a spice blend, specially made to flavor Indian snack dishes. A mix of earthy spices and sweet and sour flavours gives the recipe an amazing depth of flavour.
The spice blend normally consists of cumin powder, coriander powder, ground fennel, mango powder, tamarind powder, chlli powder and ginger powder.
Check out my homemade chaat masala recipe to take your aloo chaat to the next level!
What is aloo tikki chaat?
The word "tikki" means a small croquette in Hindi and Marathi.
Aloo tikki is a spiced fried potatoes dish that is similar to aloo chat. The difference is, the potatoes are made into little patties – hence the "tikki" – often mixed with peas and spices. The patties are then fried until crisp.
Is aloo chaat healthy?
Although potatoes typically get a bad wrap, they are actually good for you. Potatoes are only moderately calorie-dense and are packed full of essential vitamins and nutrients.
Also, to make aloo chaat this way, the potatoes are blanched first. Blanching the potatoes removes a lot of the starch.
One serving of aloo chaat contains about 212 calories, depending on the size of the serving. It also contains vitamin B1, vitamin B3 vitamin B9 (folic acid) and is packed full of vitamin C. These vitamins are essential to maintain a healthy immune system.
The spices used in aloo chaat are also very beneficial for your health. Many of them contain anti-oxidising properties, aid digestion, protect against heart disease, can reduce stress and aid weight-loss.
Is aloo chaat vegetarian?
Yes, aloo chaat is vegetarian! It's a delicious meat free side recipe that goes especially well with vegetarian curries.
Is aloo chaat vegan?
The only ingredient in this aloo chaat recipe that's non-vegan is yoghurt. If you want to make this aloo chaat vegan, just omit the yoghurt or replace it with a coconut yoghurt.
What is nylon sev?
Nylon sev is a fine, crunchy noodle recipe, often served as a garnish with chaat dishes. It's made using chickpea flour and is usually flavoured with turmeric and other spices. It goes especially well with aloo chaat!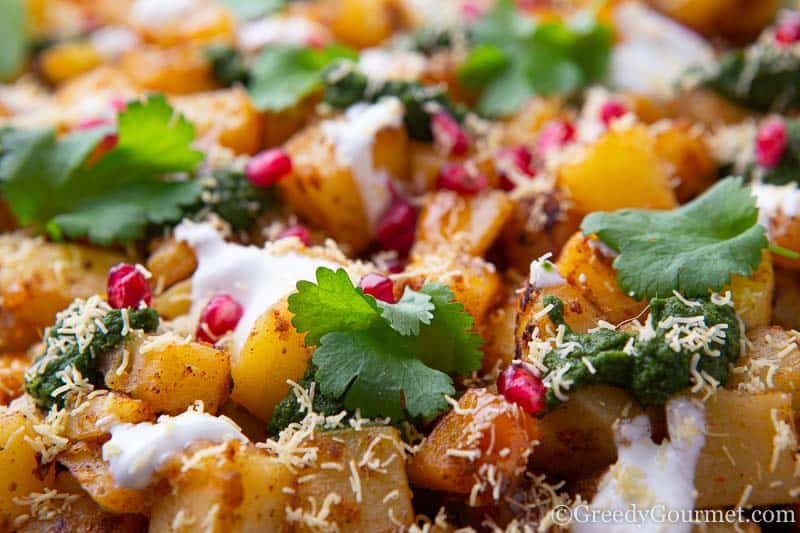 Other great Indian side dishes
When it comes to side dishes and appetisers, nothing beats Indian cuisine! Don't stop at this recipe – here are a few more side dish/appetiser recipes to get you inspired and make your mouth water.
Print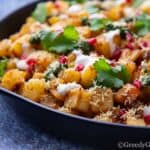 Aloo Chaat
---
Author:

Michelle Minnaar

Total Time:

30 minutes

Yield:

8

as a starter, 4 as a main course

1

x

Diet:

Vegetarian
Description
Aloo Chaat is a classic Indian street food recipe comprising potatoes fried in spices and topped with yogurt and various chutneys.
---
1

kg

(2lbs) potatoes, peeled and cubed

30

ml

(2 tbsp) oil

4

garlic cloves, peeled and chopped finely

2.5

cm (1in) fresh ginger, peeled and grated

1

green chilli, topped and chopped finely

2

g

(1/2 tsp) ground cumin

2

g

(1/2 tsp) chaat masala

1

g

(1/4 tsp) salt

2

g

(1/2 tsp) red chilli powder

60

g

(4 tbsp) nylon sev

60

g

(4 tbsp) green chutney

60

g

(4 tbsp) mango chutney

60

g

(4 tbsp) plain yogurt

10

g

(1/2 cup) cilantro/coriander leaves, washed and chopped

1/2

pomegranate, arils only
---
Instructions
Blanch the potato cubes by placing them in a pot full of salted water and bringing it to a boil.
Once boiling point is reached, drain the potatoes and set to one side to steam dry.
Add the oil to a large frying pan and bring a medium temperature.
Add the garlic, ginger and chilli and fry for 30 seconds.
Tip in the potato cubes and fry until they turn golden, which takes about 3-5 minutes, stirring constantly.
Sprinkle the cumin, chaat masala, salt and chilli powder on top of the potatoes and stir.
Stir for 2 minutes, check that the potatoes are now cooked. If not, continue frying until they are until desired texture is achieved.
When potatoes are cooked, remove from heat and tip into a serving bowl.
Sprinkle with nylon sev, green chutney, mango chutney, yogurt, cilantro and pomegranate.
Serve immediately. Enjoy!
Notes
The potato cubes should ideally be cut into 2.cm (1in) cubes.
Prep Time:

15 minutes

Cook Time:

15 minutes

Category:

Starter

Method:

Pan Fry

Cuisine:

Indian
Keywords: aloo chaat, how to make aloo chaat, vegetarian indian potato recipe, indian street food recipe, indian potato snack