Potato bhajis are one of the most popular Indian street foods. These vegetarian starters are the perfect snack. Paired with a cucumber raita or a traditional pakora sauce, you are in for a treat.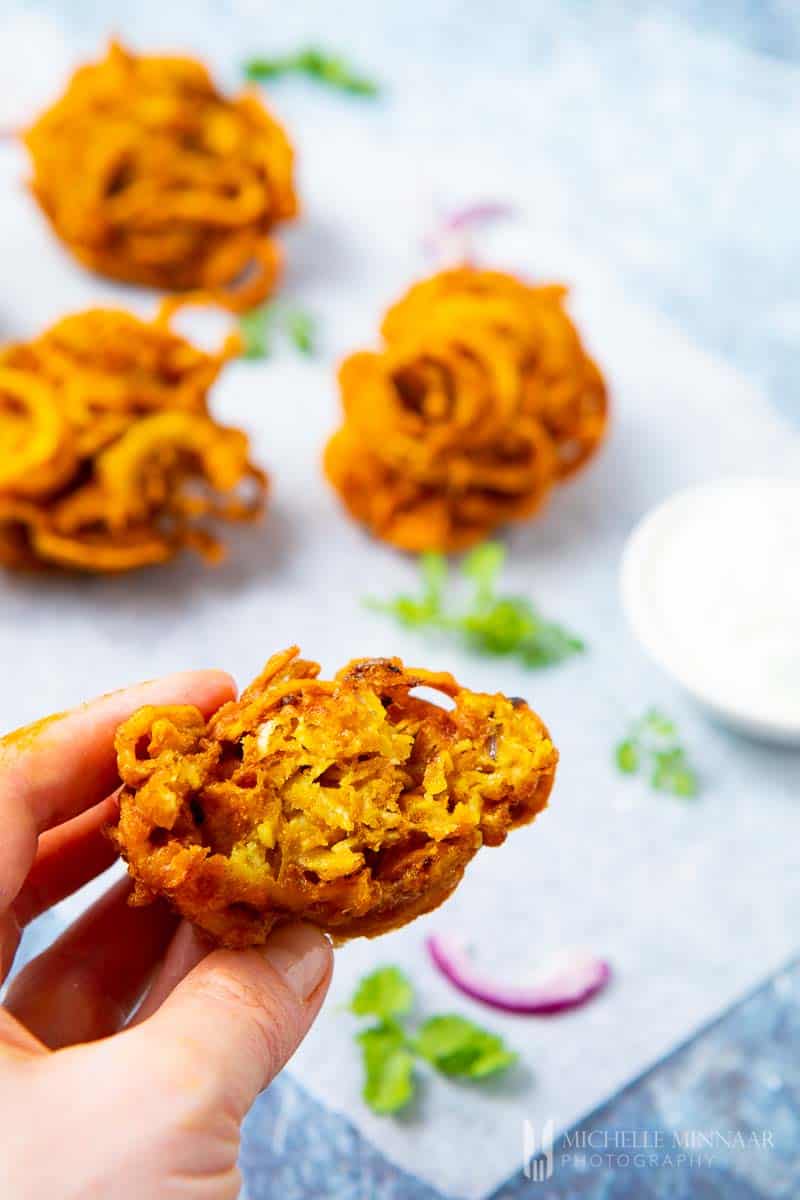 Bhajis come in all sorts of variants, but most commonly you come across potato bhajis and the ever-popular onion bhaji. Basically, bhajis are an Indian starter, which consist of chopped up vegetables.
Once they are rolled up into spheres, they are placed in a batter and deep-fried. Altogether, they are delicious.
A potato bhaji is sometimes known as potato pakora in Indian states like Kerala or Pradesh. In general, they're consumed prior to the main course alongside poppadoms.
They are the ultimate starter as well as the ultimate street food. Remember to serve them immediately – hot and fresh! And a word to the wise... make a large enough batch, because these babies tend to disappear quite quickly.
potato bhajis, Indian recipe
As mentioned above, potato bhajis are just one kind of bhaji. There are plenty of bhaji variants throughout the Indian subcontinent. That being said, bhajis have different names.
You might also know them as bhajji, bajji or bhajiya. In general, bhajis are one of the most common street snack foods as well as starters. One would generally nibble on onion or potato bhajis before starting your curry (main course) in restaurants.
They are most popular in these Indian states:
Maharashtra
Gujarat
Tamil Nadu
Kerala
Karnataka
Assam
Odisha
Pradesh
Andhra
West Bengal
If you travel through any of these states, you will be able to source potato bhajis almost everywhere.
Ordinarily, bhajis consist of gram flour and any form of chopped-up vegetable. Here are some of the traditional versions of bhajis you may also find in the above-mentioned states:
mirchi bhaji - made with chopped banana peppers
onion bhaji - made with only onions
mushroom bhaji - also known as mushroom pakora
bread bhaji - also known as bread pakora
bonda bhaji - potato bhaji mixed with vegetable filling
gota - found in Gujarat and made with fenugreek leaves
Which one are you tempted by the most?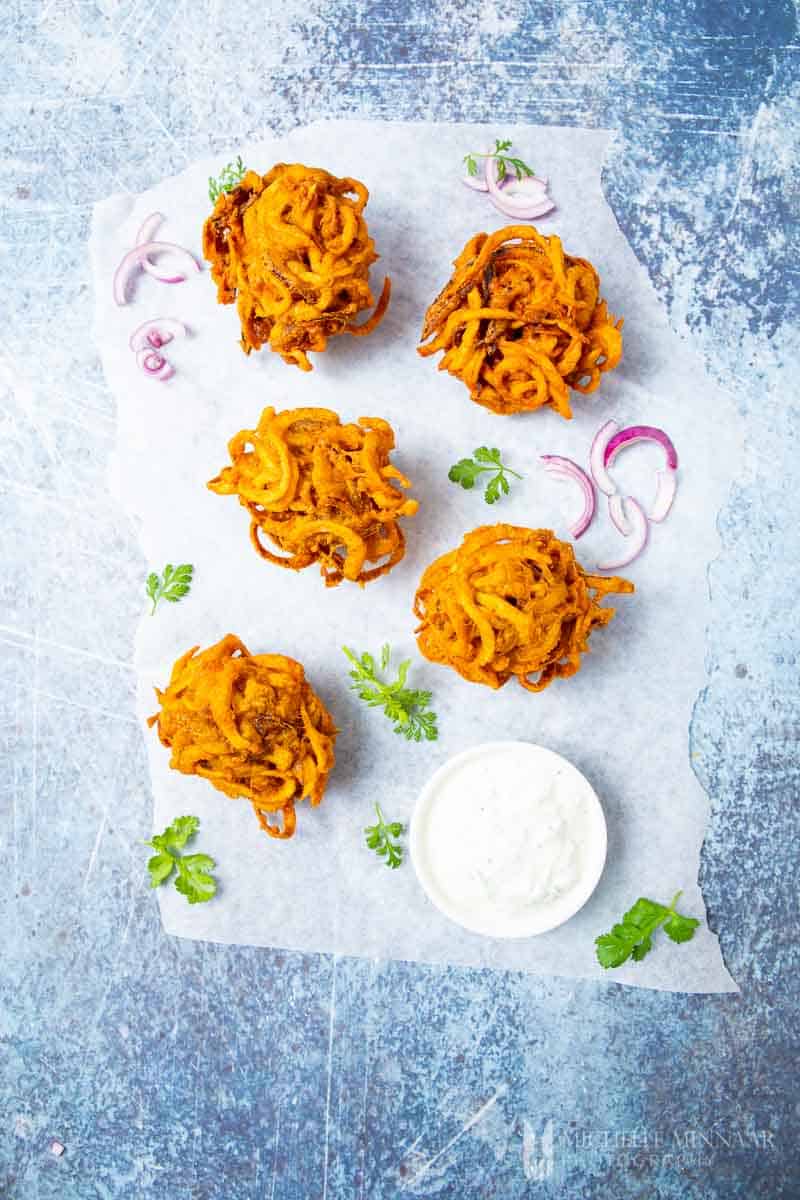 how to make Indian bhajis
For making this potato bhaji recipe, you will need the following items:

potato bhaji
I've made a bhaji recipe before – bhindi bhaji – and it was delicious. These potato bhajis are no exception.
In short, you can use all sorts of potatoes. Both starchy and waxy types are alright for this little nibble. Therefore, my recommendation is to go for ordinary universal potatoes.
If you've got leftover potatoes, then definitely try to make these Indian favourites:
If you love deep-fried Indian starters, then you should also check these out: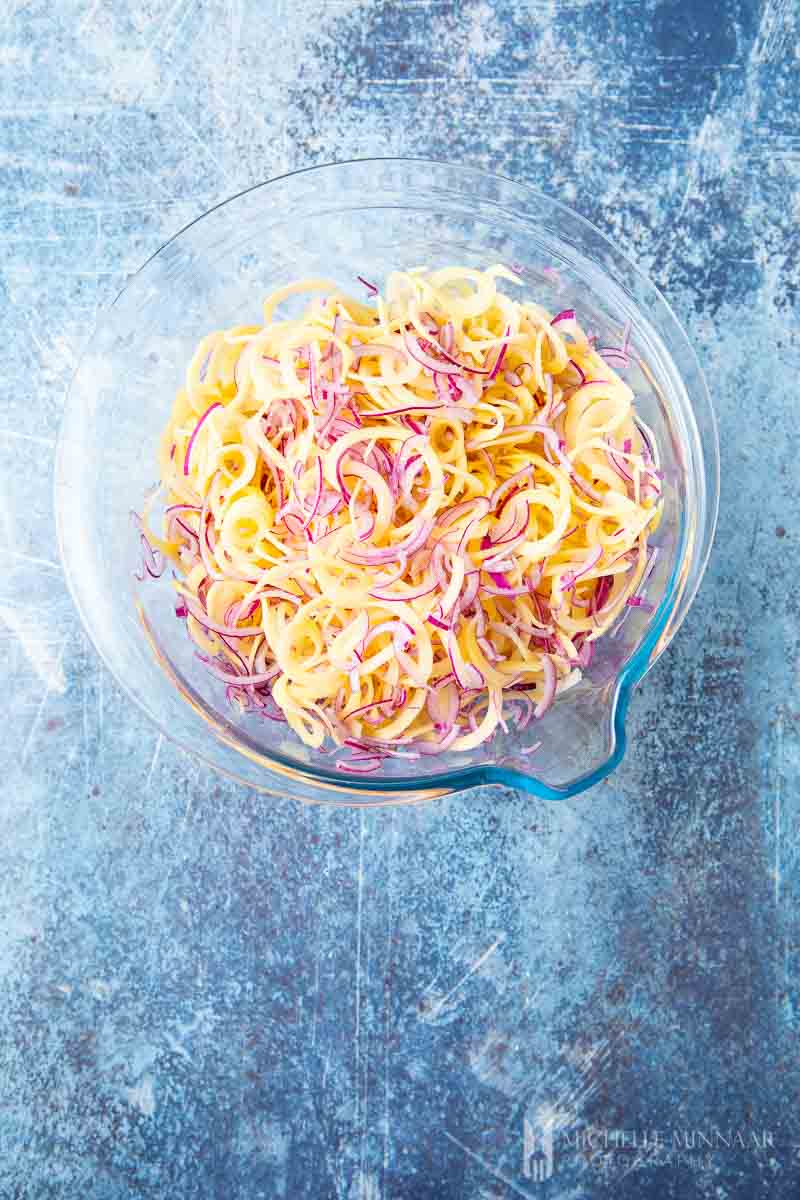 onion potato bhaji
One way in which you can enhance the flavours of potato bhajis is to add other vegetables. I recommend adding red onion slices, however white onion is also good.
The onions will also lend a softer consistency to the potato bhajis. You can also add celery or these celery substitutes for extra flavour.
In addition to the potatoes, you can also add spices and herbs to enhance the flavour of your bhajis. For instance, consider these:
How would you flavour your potato bhajis?
onion bhaji
You can also turn these potato bhajis into onion bhajis. They are slightly sweeter and mushier in terms of consistency. Nevertheless, I recommend making three alternatives.
potato bhajis
potato onion bhajis (to get the best of both)
onion bhajis
This way, every single bite is going to be different.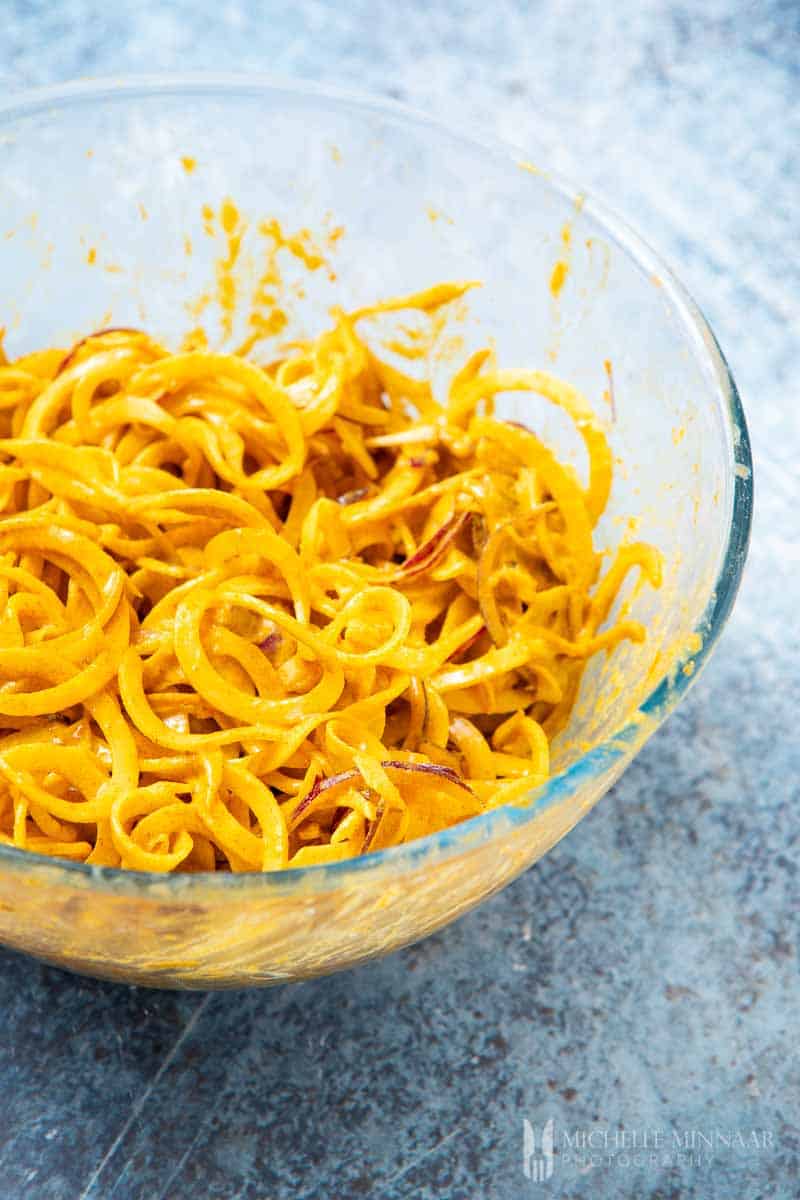 shallow-fried onion bhaji
As for the frying process, the easiest way is to use a deep-fryer. If you haven't got one at home, you can use a deep frying pan instead and fill it up with cooking oil. Not the healthiest thing, I think we could all agree, but delicious!
Handy tip: My recommendation is to fry the bhajis in unscented coconut oil. It's not only suitable for frying, it's also healthy. Coconut oil contains anti-inflammatory properties and is considered as one of the best substitutes to cooking oil.
Don't worry about your food tasting like coconut. Remember, it's unscented.
onion bhaji recipe, baked
If you prefer to refrain from frying your potato bhajis in general, then you can oven bake them. However, you run the risk of the bhajis losing their structure. In this case, it's better to fry them as the process also binds all of the ingredients together.
If you oven bake them, they will simply fall apart. Especially if you opted for starchy potatoes. They will become mushy, and it's all going to turn into a fragile mess.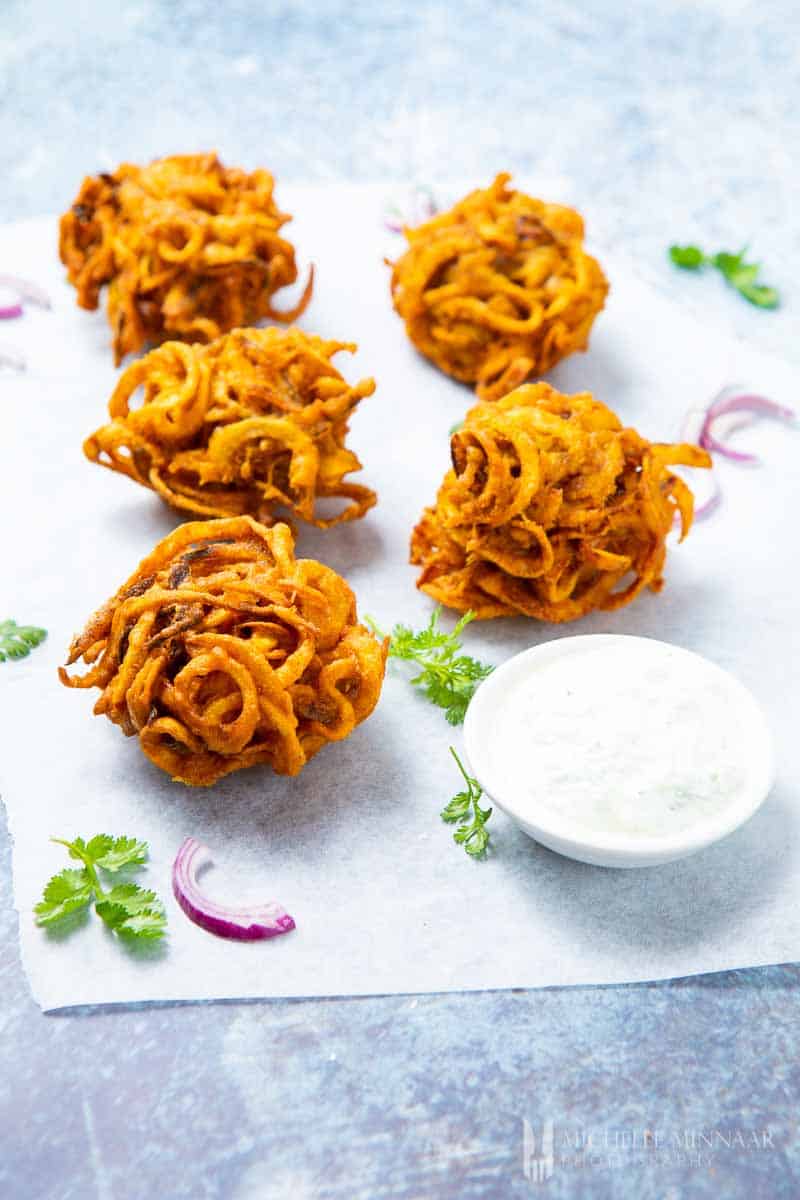 vegan onion bhaji recipe
You can make these bhajis vegan. Just make sure not to add an egg into the batter.
Same goes if you purchase pre-made batter. Make sure it is egg as well as dairy-free!
By the way, if you're vegan and love potatoes check out these recipes:
best sauces for bhajis
When you are done with your potato bhajis, serve them immediately with a dipping sauce. Consider these:
Print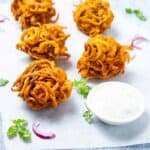 Potato Bhajis
---
Description
Make these irresistible potato bhajis at home with a deep-fryer or with a frying pan. They are small battered spheres comprising potato, onion & spices.
---
900

g

(2lbs) potato, peeled and spiralized

2

red onions, peeled, halved and thinly sliced

2.5

ml

(1/2 tsp) ground ginger

10

ml

(2 tsp) ground coriander

5

ml

(1 tsp) chilli powder

5

ml

(1 tsp) turmeric powder

10

ml

(2 tsp) ground cumin

5

ml

(1 tsp) salt
120g (

1

cup)

gram

flour

5

ml

(1 tsp) baking powder

125

ml

(1/2 cup) water
Vegetable oil, for deep frying
---
Instructions
Wrap the potato spirals in a cloth and squeeze all the excess liquid out of it. Snip the spirals with scissors to make them more manageable.
Place the potato and onions in a large mixing bowl.
Sprinkle the ginger, coriander, chilli, turmeric, cumin and salt on top and stir the potato mixture thoroughly.
Measure the flour and baking powder into a separate bowl then systematically beat in the water to form a thick, smooth batter. Add a splash of water if you think the batter is too stiff.
Fold the batter into the potato mixture until everything is evenly coated.
Heat about 5cm (2in) of oil in a wok or deep pan.
Test whether the oil is hot enough by dropping a small quantity of the batter into the oil. If it rises to the surface surrounded by bubbles and starts to brown, then the oil is hot enough for frying.
Form a ball, with a diameter of no more than 7.5cm (3in) with your hands, place it on a slotted spoon and lower it into the oil. Remove the spoon. Repeat, but don't add too many balls at a time, because you risk lowering the oil temperature too much.
Cook the balls for a few minutes, turning once, until they are evenly browned and crisp, so about 3-4 mins. Repeat the process until you have used up all the potatoes.
Drain on kitchen paper, season to taste and keep warm while you cook the rest.
Serve with raita and pakora sauce. Enjoy!
Notes
If you don't have a spiralizer, get one! It's really handy gadget in the kitchen. Otherwise, grate the potatoes.
You can use any type of onion you like.
If you want to take a healthier route than deep-frying the bhajis, you can bake them in the oven at 190°C/375°F for about 25 minutes or until golden and crispy. Tip: Use a muffin tin!
Prep Time:

40 minutes

Cook Time:

20 minutes

Category:

Starter

Method:

Deep Fry

Cuisine:

Indian
Keywords: potato bhajis, potato bhaji recipe recipe, vegan potato bhajias, indian potato and onion bhajia recipe
How would you make your potato bhajis? How would you serve them? Let me know in the comments section below.