Deliciously crispy Brussels sprouts chips with a smoky, slightly spicy, rich flavor make an excellent alternative to regular potato chips. Best of all, they're so easy to make!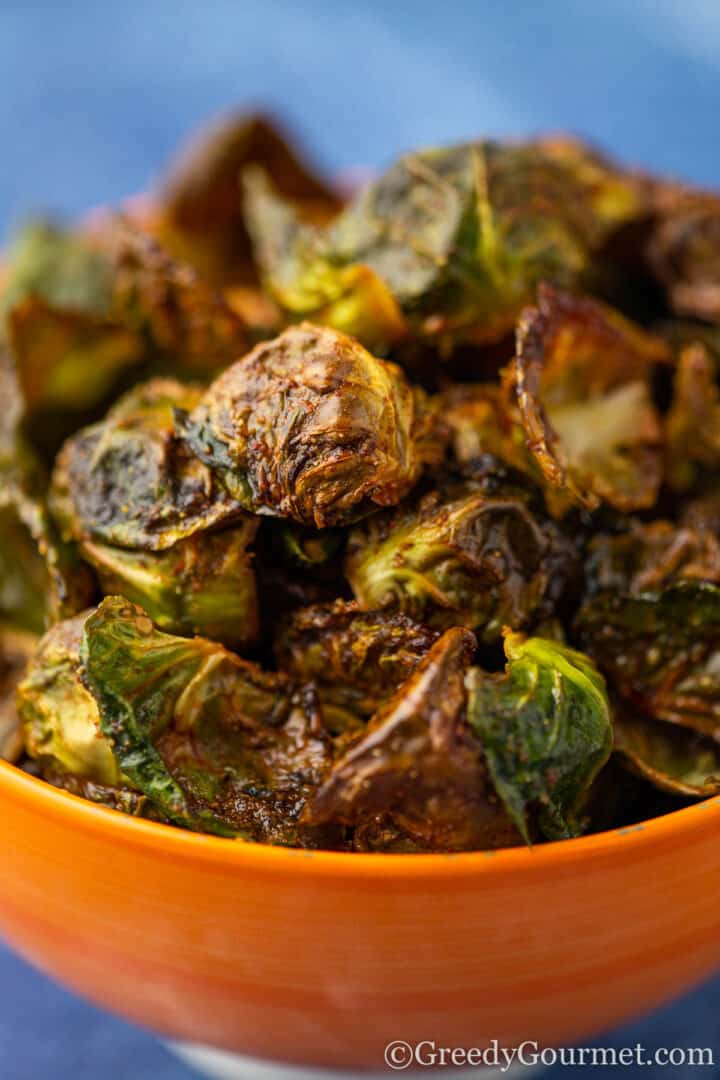 So, if you're looking for a healthy, simple, versatile dish perfect for the holiday season, this is the one for you!
Why you'll love this Brussels sprouts chips recipe
These Brussels sprouts chips are crispy, rich and delicious!
Really easy to make, and you can make a big batch
The perfect side to a roast, especially around the holiday season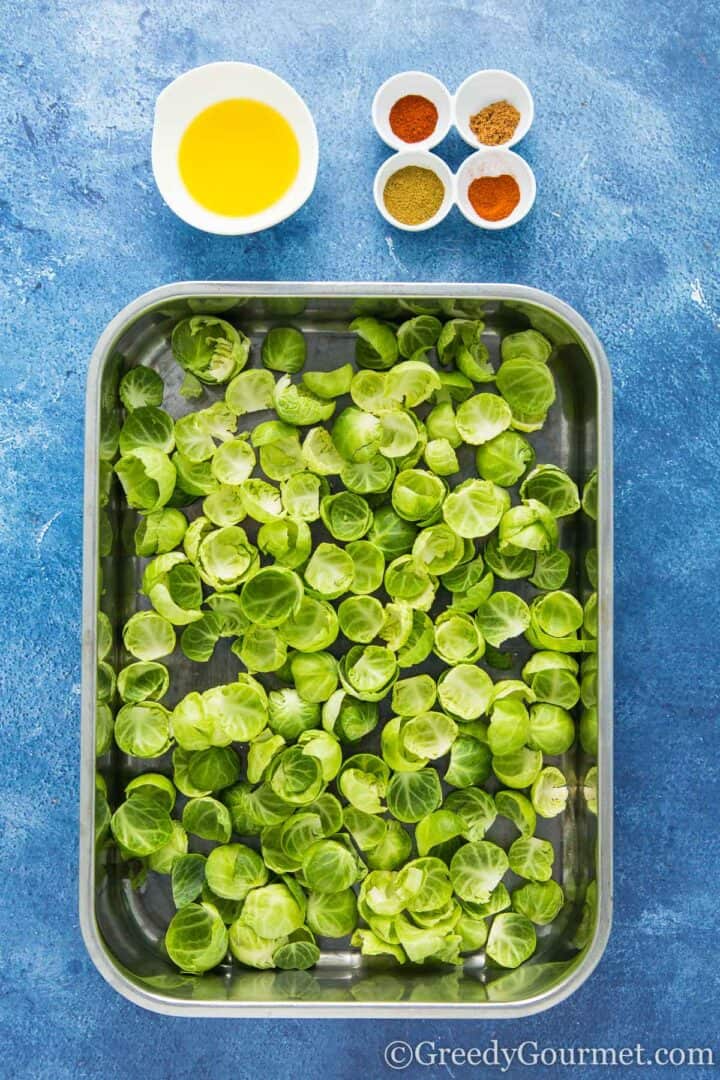 Equipment you'll need for this recipe
There are a few important items you'll need for this Brussel sprout chips recipe:
Baking sheet – a good quality rimmed baking sheet is essential when it comes to making any kind of chips
Large mixing bowl – you'll need a large bowl to make sure the sprout leaves are evenly coated with all the seasonings
Paring knife – use this to trim the ends off the sprouts
How to make shaved Brussels sprouts chips
Toss the Brussels sprouts leaves in the oil and spices. Arrange them in a single layer in a baking tray.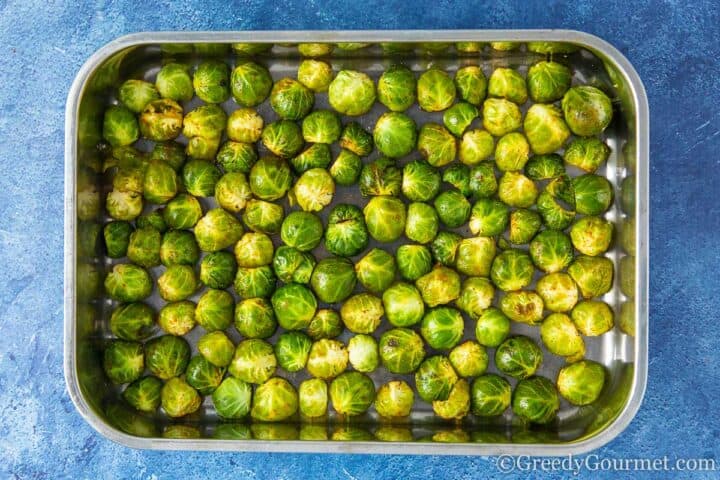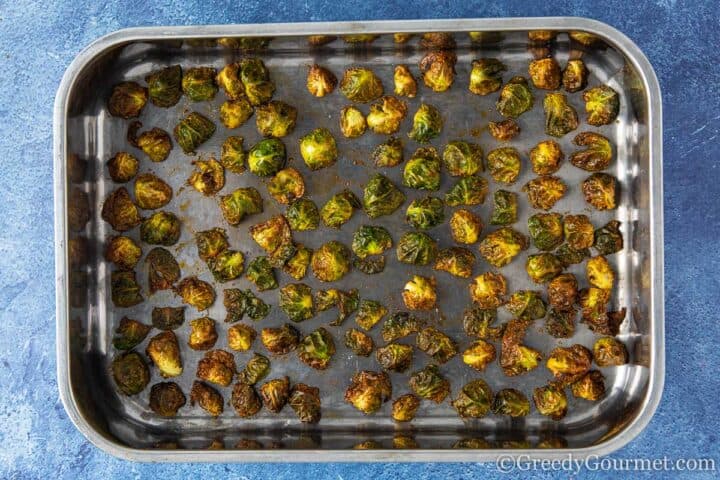 Bake until crispy. Serve immediately. Enjoy!
Top Tip
Don't let the chips burn! Brussels sprouts are delicate; if you go over a few minutes, they can go from crispy to burnt.
What to serve with Brussels sprouts chips
With a roast
Brussels sprouts chips make for a magnificent side dish. Serve with a slow-roasted turkey at Thanksgiving, Christmas, or any Sunday!
As a soup or salad garnish
Believe it or not, these Brussel sprouts chips are delicious when served on a salad, soup, or casserole. A halloumi salad, honey and mustard salad, or a simple pumpkin and feta salad.
Soups like sweet potato and red pepper, chicken carcass soup, or lobster bisque would be sensational.
With a dip
Consider serving these chips with a dipping sauce, such as a yogurt-based tzatziki, a honey mustard dip, or a simple aioli. These sauces complement the spicy and smoky flavors nicely.
Variations to this recipe
Adjust the amount of dried chili powder according to your heat preference. Some like it hot, so increase the chili powder if that's your thing. However, be careful not to go overboard!
You can just experiment with other seasonings and spices. You can use the likes of cayenne pepper to bring an extra smokiness.
You can add grated Parmesan cheese for a cheesy twist. To add a cheesy flavor and keep it dairy-free, you can add flavorings such as nutritional yeast for a hit of extra flavor.
For a refreshing hit of citrus, add a squeeze of lemon juice or a pinch of lemon zest.
If you're a garlic or onion lover, add garlic powder or onion powder to the crispy Brussels sprouts chips.
Mix some kale with the sprout leaves for a marvelous mix of sprout and kale chips.
Popular substitutions
Olive oil can be replaced with the likes of vegetable oil or even avocado oil.
Top Tips
When removing the leaves, try to keep them roughly uniform in size. This will help ensure even cooking, resulting in uniformly crispy chips.
Keep a close eye on the chips during baking, especially in the last few minutes. They can go from perfectly crispy to overdone quickly, so don't leave the oven.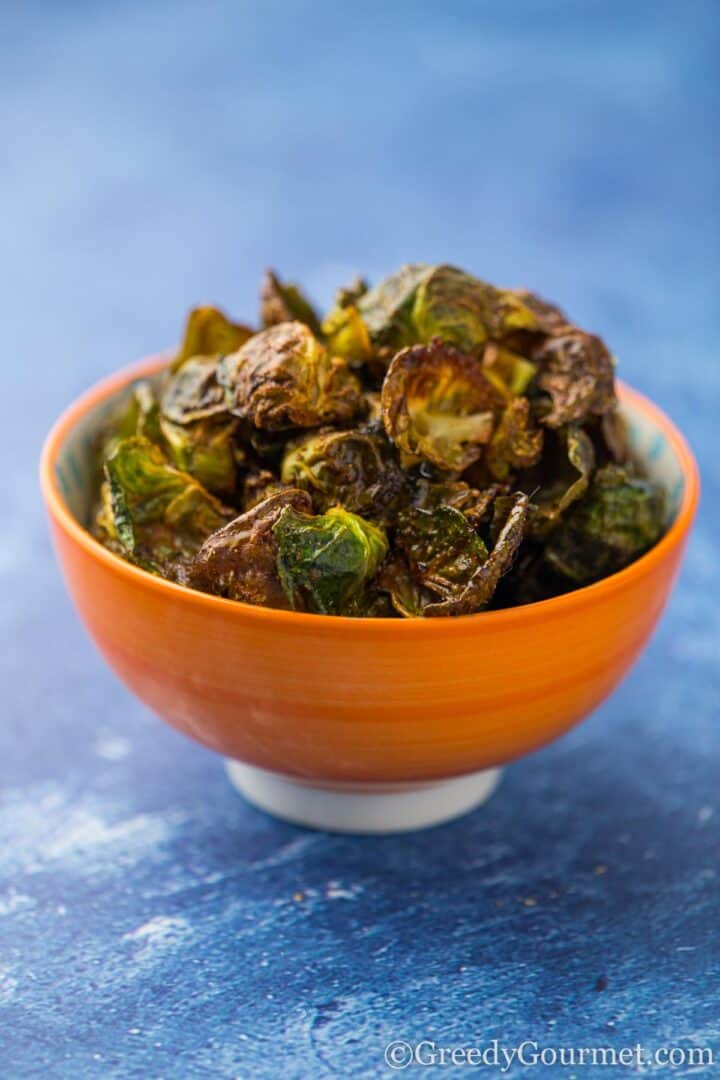 How do you pick Brussels sprouts?
Select fresh Brussels sprouts with tightly closed leaves and no signs of wilting. The smaller ones tend to be more tender and can yield crispier chips.
Are these Brussels sprouts chips gluten free?
Yes. This Brussels sprouts chips recipe is 100% gluten-free.
How do you store Brussels sprouts chips?
These chips are best enjoyed fresh and crispy, but if you have leftovers, store them in an airtight container. Reheat them briefly in the oven to regain their crunchiness.
Can you cook Brussels sprouts chips in an air fryer?
Roasted Brussels sprouts chips are typically made in the oven, but you can also use an air fryer.
More Brussels sprouts recipes
Can't get enough sprouts? Here are some of my favorite ways to get the best out of this humble vegetable:
Roasted Parmesan Brussels sprouts – this roasted Brussels sprouts have colossal flavor, with olive oil, garlic powder, and parmesan cheese bringing one of the tastiest side dishes
Sous vide Brussels sprouts – sous vide cooking brings amazing flavor, and these sprouts are no exception. Cooked to absolute perfection, with a flavor that melts in your mouth
Brussels sprouts with bacon, blue cheese and pine nuts – these sprouts are next level! The crispy bacon, crunchy nuts, and rich cheese add so much flavor to the sprouts
Caramelized Brussels sprouts – sticky, sweet and sensational, these are the ideal pairing for a big hearty roast dinner
Print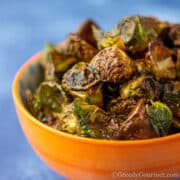 Brussels Sprouts Chips
---
Author:

Michelle Minnaar

Total Time:

30 minutes

Yield:

4

portions

1

x

Diet:

Vegan
Description
Discover a crispy, guilt-free snack with our Brussels Sprouts Chips recipe. These roasted greens are a flavorful, addictive treat!
---
450

g

(1 pound) Brussels sprouts

2 tablespoons

olive oil

1/2 teaspoon

dried chili powder (adjust to taste for spice)

1/2 teaspoon

paprika

1/2 teaspoon

ground cumin

1/2 teaspoon

smoked paprika

1/2 teaspoon

salt (adjust to taste)

1/4 teaspoon

freshly ground black pepper
---
Instructions
Preheat the oven to 375°F (190°C).
Trim the stem ends of the Brussels sprouts and carefully remove the leaves one by one, creating a pile of loose Brussels sprout leaves.
In a large mixing bowl, combine the Brussels sprout leaves with olive oil, dried chili powder, paprika, ground cumin, smoked paprika, salt, and black pepper. Toss to coat the leaves with the seasoning evenly.
Spread the seasoned Brussels sprout leaves in a single layer on a large baking sheet, ensuring they are not overcrowded.
Bake in the preheated oven for 15-20 minutes or until the Brussels sprout leaves are crispy and golden brown. Check and gently stir them at the 10-minute mark for even cooking.
Remove the Brussels sprout chips from the oven, let them cool briefly, and transfer them to a serving plate.
Serve the Spicy Smoked Paprika Brussels Sprouts Chips immediately as a flavorful and healthy snack or side dish. Enjoy their smoky, slightly spicy, and rich flavor!
Prep Time:

15 minutes

Cook Time:

15 minutes

Category:

Snack

Method:

Bake

Cuisine:

American
Keywords: brussels sprouts chips, brussel sprouts chips recipe, brussel sprouts snack, brussel sprout chip recipe, brussel sprout chips air fryer, brussels sprout crisps, sliced brussel sprout chips, crispy brussel sprout chips, brussel sprout chips with parmesan, sliced brussel sprout chips, roasted sliced brussel sprouts, brussel sprout snack recipe, brussel sprouts appetizer, brussel sprout chips in air fryer, brussel sprout leaf chips