These caramelized Brussels sprouts have all the elements of a perfect side dish. If you're a big fan of these mini cabbages, you're sure to love them caramelized along with the other flavors in this dish.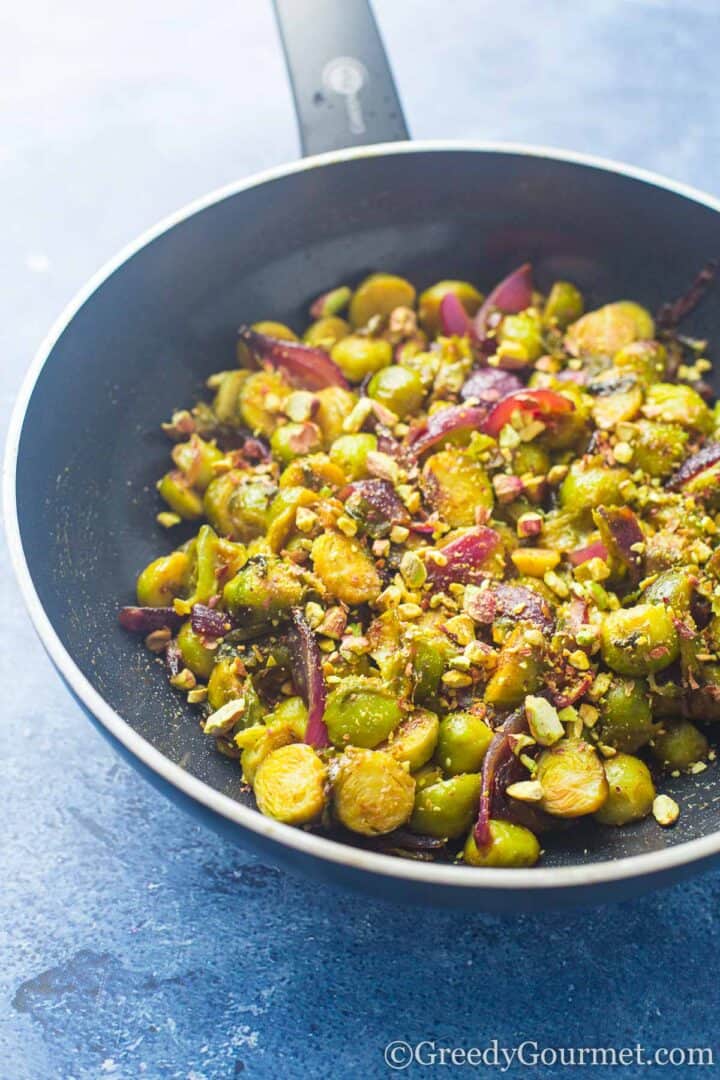 The sweetness from the honey and onions balances the tart acidity from the wholegrain mustard and apple cider vinegar harmoniously. Chopped pistachios add a salty crunch for added texture and flavor, sure to make it one of your new favorite recipes.
This recipe for caramelized Brussels sprouts is inspired by my Roasted Parmesan Brussels Sprouts recipe. They go great alongside these Roasted Garlic Mashed Potatoes or my satisfying Braised Short Ribs.
Caramelized Brussels sprouts are a side dish to enjoy any time of the year, but still special enough to make an appearance during a fancy dinner party or at the holiday table. Unlike using a baking sheet in the oven to make roasted Brussels sprouts, this recipe uses a pan to roast Brussels sprouts, allowing you to free up the oven for other dishes.
Why You'll Love This Recipe
It's packed with layers of flavor
It's a healthy side dish recipe
It's gluten-free and low-carb
It's a great light side dish for heartier meats
It can be made on the stove instead of in the oven
Equipment To Make This Recipe
Here are a few tools that will help you make this caramelized brussels sprouts recipe
Ingredients Needed to Make This Recipe
Fresh Brussel sprouts - if you can find a small brussels sprout, they will have a sweeter and less bitter flavor than the larger ones. Small brussels sprouts will also cook quicker and more evenly.
Red onions - red onions are great for caramelized Brussel sprouts, they have a lovely red color and aren't too sweet, so you can control the amount of sweetness in the dish recipe
Apple cider vinegar - apple cider vinegar gives the dish a nice burst of acidity to balance the sweetness
Wholegrain mustard - wholegrain mustard is slightly spicy and compliments the flavor of the roasted Brussel sprouts and onions
Honey - honey adds a little sweetness to the already caramelized onions and evens out the tartness of this recipe
Shelled Pistachios - salty and nutty, pistachios are a welcomed addition to this roasted brussels sprouts dish for added flavor and texture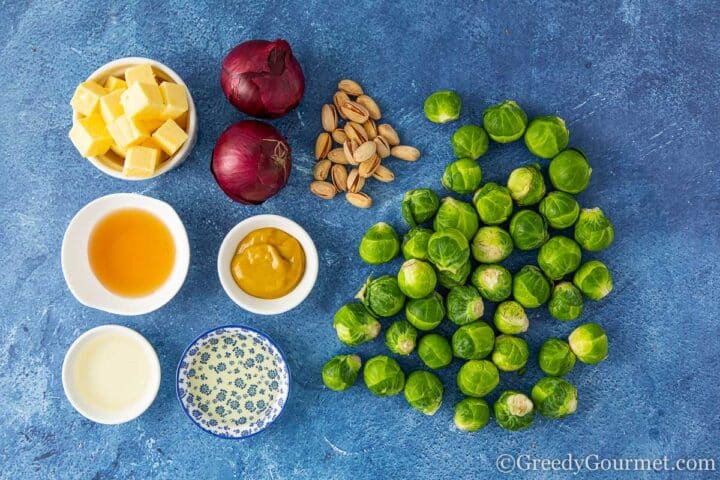 What to Serve with Your Caramelized Brussel Sprouts
These golden brown pan-roasted brussels sprouts with pistachios are a healthy side dish that is guaranteed to please everyone around the table. Pair them with a delicious main and some additional sides for a stellar weeknight dinner.
Mains
Roasted Brussels sprouts pair great with any main dish for wholesome meals and are a healthy and delicious side.
Sides
These roasted Brussels sprouts with pistachios stand alone as side dish cuisine for meats and fish, but also accompany other sides perfectly, including other roasted veggies.
Desserts
After a satisfying meal with these Brussel sprouts as a side dish, you'll want to save room for an enticing dessert to end your evening
Marrow Cake - a healthier dessert, marrow cake is moist and soft, and a great finish to a fantastic meal
Gooseberry Crumble - this easy dessert is a classic English dish that satisfies the sweet tooth with ripe gooseberries and oats
Salted Caramel Apple Crumble - decadent and different, this dessert is another crumble that is sure to please after a healthy meal with roasted Brussel sprouts
Cocktails
Nothing accompanies an excellent dinner like a cocktail to start or finish the meal. Here are a couple of tempting boozy cocktails to accompany your caramelized pan-roasted Brussels sprouts
Eggnog Martini - if you are enjoying your side of Brussels sprouts in the holiday season, try mixing up an eggnog martini to enjoy after dinner
Chocolate Amarula Cocktail - this rich cocktail is for the chocolate lover in all of us; irresistible and a real treat!
How to Make This Recipe
Peel the outer layer of each Brussels sprout and cut in half. Boil until barely tender.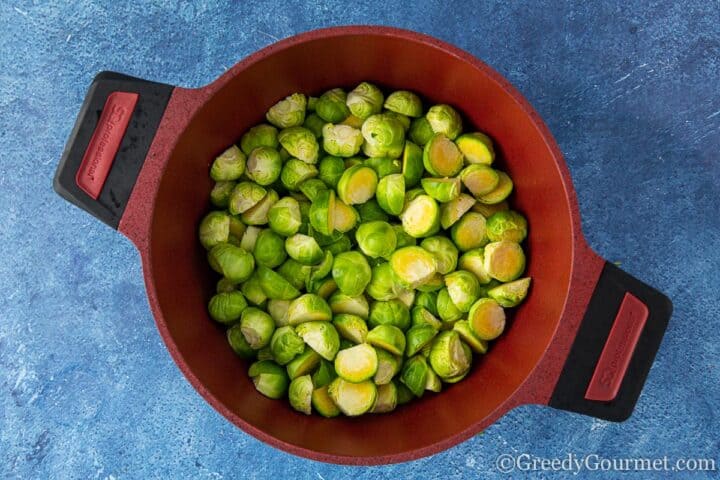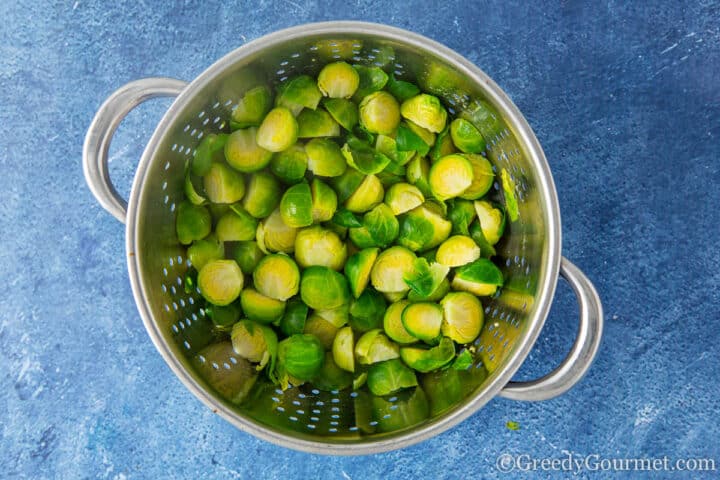 Drain and let them steam dry.
Caramelize the onion, then add the honey, vinegar, mustard and pistachios. Toss and serve.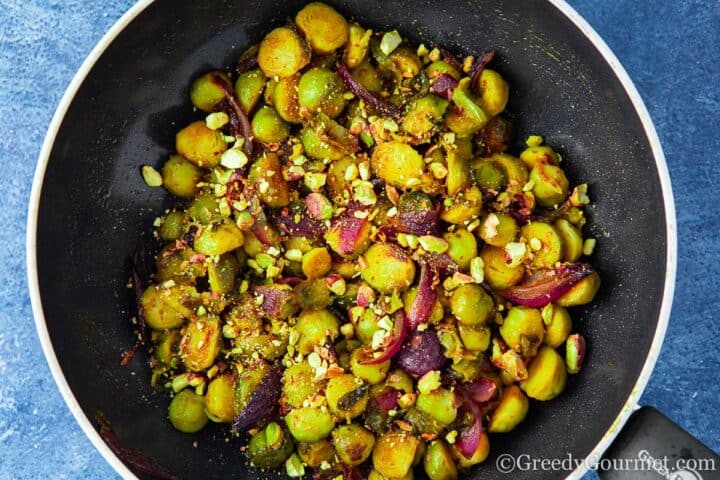 Top Tip
Balsamic vinegar works well in this recipe as well but due to its darkness might discolor the brussels sprouts a bit. It will still taste good though!
Popular Substitutions for This Recipe
Vegan
Make this dish vegan by using vegan butter and maple syrup in place of honey. These easy substitutes will not change the taste of the dish.
Vinegar
Not a fan of apple cider vinegar? Use balsamic vinegar for a sweeter and richer flavor. Balsamic vinegar will change the appearance of the roasted Brussels sprouts to be darker, so don't be worried about the color.
Mustard
If you prefer different mustard, or don't have whole grain, dijon can be used in its place.
Onions
I suggest using red onions for this recipe, but white or yellow onions caramelize beautifully as well. The difference is in the amount of sugar between the different onions, so adjust accordingly with some granulated sugar if you desire more caramelization.
Nuts
Any nut can be used instead of pistachios, such as roasted and salted almonds or pecans to give the same flavor and texture. If you or a guest have a nut allergy, you can easily substitute pistachios with a roasted seed, such as sunflower or pumpkin. It will give you the added crunch and salt of the pistachios.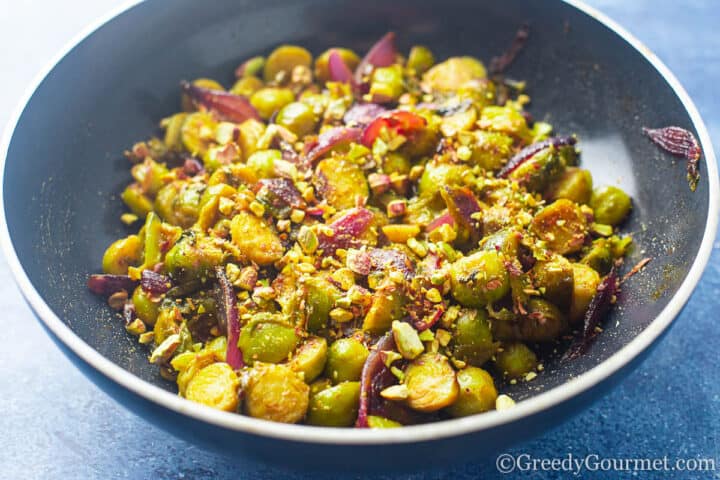 Variations for This Recipe
To add some extra sweetness and richness to the dish, a drizzle of balsamic reduction over the finished roasted Brussel sprouts will elevate your weeknight dinner.
Instead of pan roasting the Brussel sprouts, they can be roasted on a baking sheet in the oven. Mix together brussels sprouts in a large bowl along with a drizzle of olive oil and a sprinkle of kosher salt and pepper, and balsamic vinegar.
Lay them out on a baking sheet lined with parchment paper in a single layer. Remove the baking sheet from the oven when they look crispy and caramelized.
When roasted in the oven, the balsamic vinegar does the trick of giving the Brussel sprouts a candy-like sweetness. The oven also produces crispy outer leaves on the Brussels sprouts that can't be achieved on the stovetop.
For some concentrated citrus flavor to ramp up the Brussel sprouts, try a little lime zest sprinkled over the dish before serving.
For extra luxury, you can add bacon with the onions before adding the rest of the ingredients.
Alternatively, you can lightly steam the brussels sprouts. Keep in mind that due to the absence of salt the Brussels sprouts' color might turn a pale not-so-desirable green.
Top Tip
If roasting in the oven, combine the balsamic vinegar and olive oil, and salt and pepper together before adding it to your Brussels sprouts and tossing them together in a large bowl.
How Do I Store Leftovers?
Store leftover caramelized Brussel sprouts in an airtight container in the refrigerator. Allow the Brussels sprouts to cool down before putting them away.
How Long Will This Recipe Last in the Fridge?
The cooked Brussels sprouts are best if eaten three to four days after being cooked. Over time the Brussels sprouts will get mushy and lose their bright flavor.
Can I Freeze This Recipe?
Yes, you can freeze this caramelized Brussels sprouts recipe. Store the completely cooled recipe in a Ziploc bag with all of the air removed for up to six months.
Why Won't My Brussel Sprouts Get Crispy?
If your Brussel sprouts aren't getting crispy, it could be a result of the heat being too low. Whether on the stove or the oven, increase your heat to see better browning and crisping of the sprouts.
Print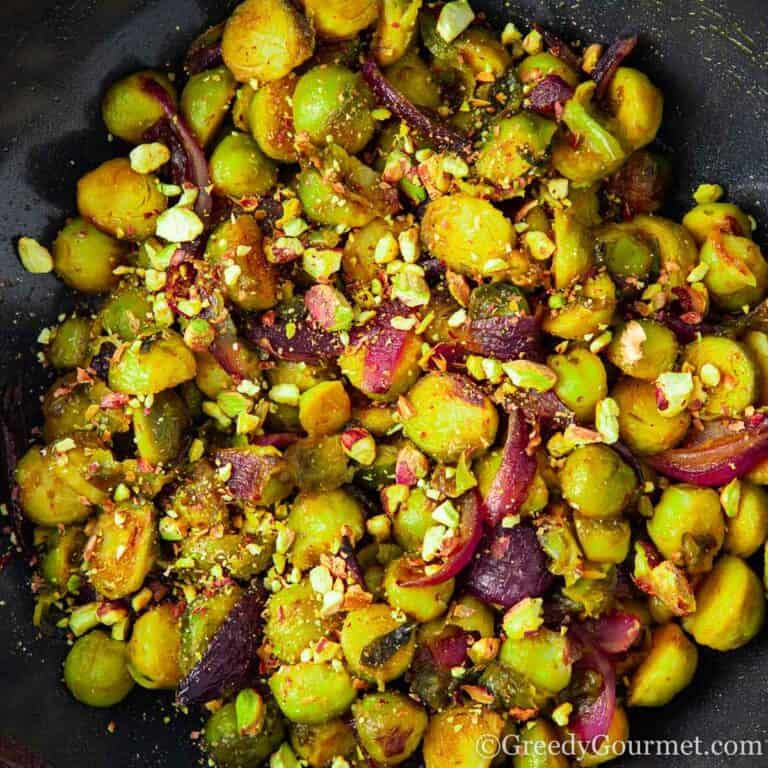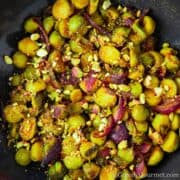 Caramelized Brussels Sprouts
---
Author:

Michelle Minnaar

Total Time:

40 minutes

Yield:

6

servings

1

x

Diet:

Vegetarian
Description
Learn how to make these tasty Caramelized Brussels Sprouts. Not just for Christmas you can enjoy these mini cabbages any time of year.
---
1

kg

(2.2lbs) brussels sprouts, trimmed and halved

28

g

(2 tbsp) butter

5

ml

(1 tsp) oil

2

red onions, finely sliced

30

ml

(2 tbsp) apple cider vinegar

15

ml

(1 tbsp) wholegrain mustard

15

ml

(1 tbsp) honey

18

pistachios, shelled and chopped
---
Instructions
Parboil the brussels sprouts. Fill a large pot with salted water and let it reach a boiling point. Plunge the sprouts in the water and boil for 3-4 minutes - they should start to look bright green. Drain the sprouts in a colander and set aside while you cook the rest of the recipe. 
Heat the butter and oil in a large frying pan then cook the onions over a medium heat for about 10-15 minutes until they're caramelized. 
Crank up the heat and add the brussels sprouts to the onions, stirring constantly, until the brussels sprouts start to brown. 
Tip in the vinegar, mustard and honey and give it a good stir. 
Cook for 1 more minute then remove from heat. 
Top with pistachios and serve immediately. Enjoy!
Notes
Alternatively, you can lightly steam the brussels sprouts. Keep in mind that due to the absence of salt the brussels sprouts' color might turn a pale not-so-desirable green.
Balsamic vinegar works well in this recipe as well but due to its darkness might discolor the brussels sprouts a bit. It will still taste good though!
To make a vegan version, substitute the butter with more oil and the honey with maple syrup. 
You can experiment topping the vegetables with different types of nuts, such as pecans or hazelnuts.
For extra luxury, you can bacon with the onions before adding the rest of the ingredients.
Prep Time:

15 minutes

Cook Time:

25 minutes

Category:

Side Dish

Method:

Pan fry

Cuisine:

American
Keywords: caramelized brussels sprouts recipe, how caramelize brussels sprouts in a pan, keto caramelized brussels sprouts, vegan caramelized brussels sprouts, christmas side dish recipe, winter side dish recipe