Nutty, creamy, smokey and subtly sweet, Romesco Sauce is an absolute delight.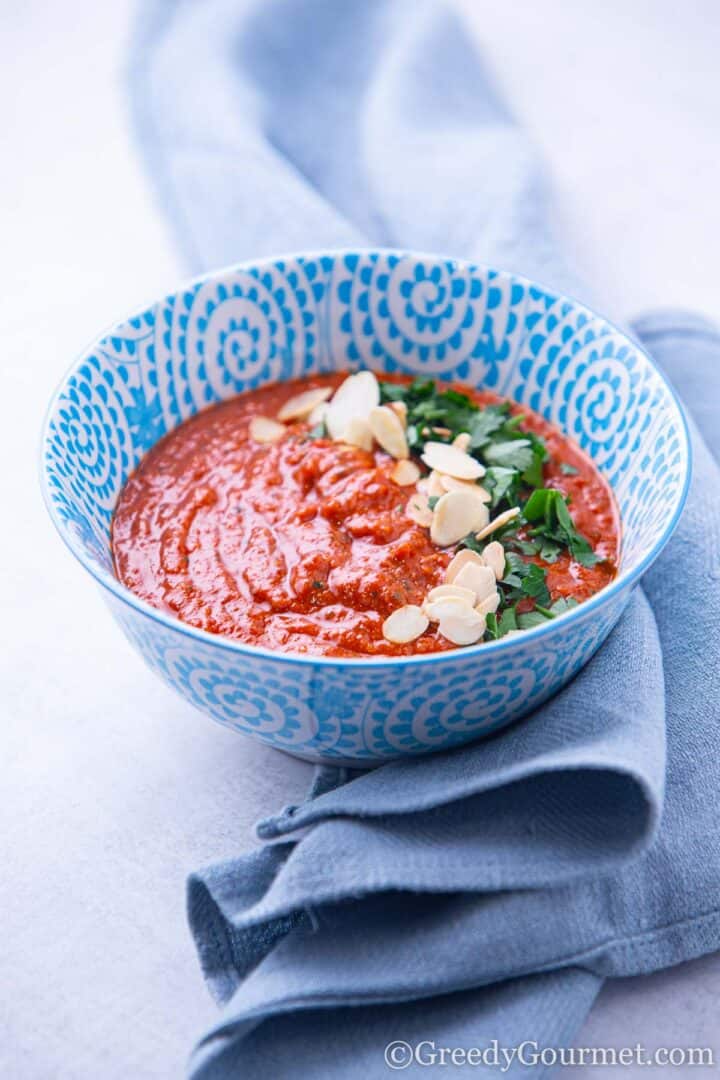 With its endless versatility and irresistible flavor, this is one sauce you're going to want to make again and again!
Products you need for this recipe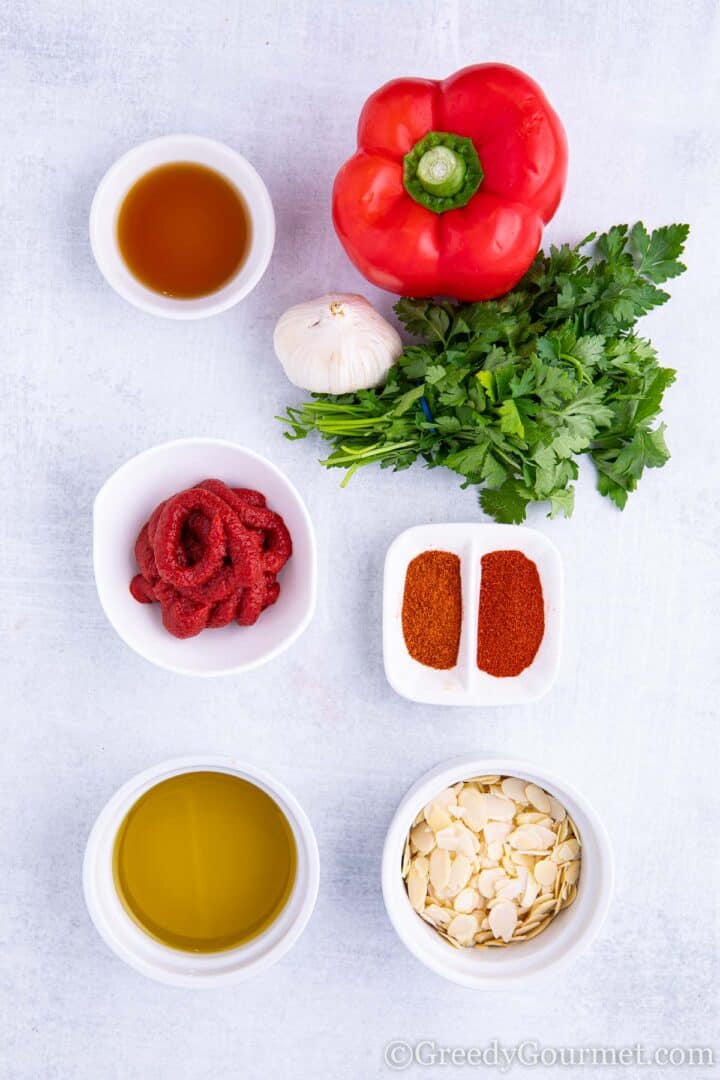 Romesco sauce recipe
Who doesn't love a good sauce? I'm talking about those incredible velvet textured, taste making marvels that totally transform a dish.
The thing about a great sauce is that it gives you a real insight into the cuisine from which it comes. Whether it's Indian, South American, Mexican, French, Middle Eastern or Mediterranean, you can tell a lot about the culinary style of a culture by the complex flavors of its favorite sauce.
The sauce is the source, you might say!
When it comes to great sauces, the Spanish are right up there with the best of them. That's why I was so excited to make this amazing romesco sauce recipe.
If you're a fan of smoky, earthy flavors and like a little bit of spice in your life, you're going to love it!
While you could say this is a Spanish sauce, it would be more accurate to say it's a Catalan sauce. That's because it originates from Catalonia, the northeast region of Spain, of which Barcelona is the capital.
The Catalans are serious about their food! This sauce showcases all that's great about Catalan cuisine, with extra virgin olive oil, smoked paprika, smoky peppers, toasted almonds and garlic combing for a memorable taste.
As a bonus, it's also gluten free and keto friendly!
Trust me… as soon as your homemade romesco hits your taste buds, you'll be transported to sunny Catalonia!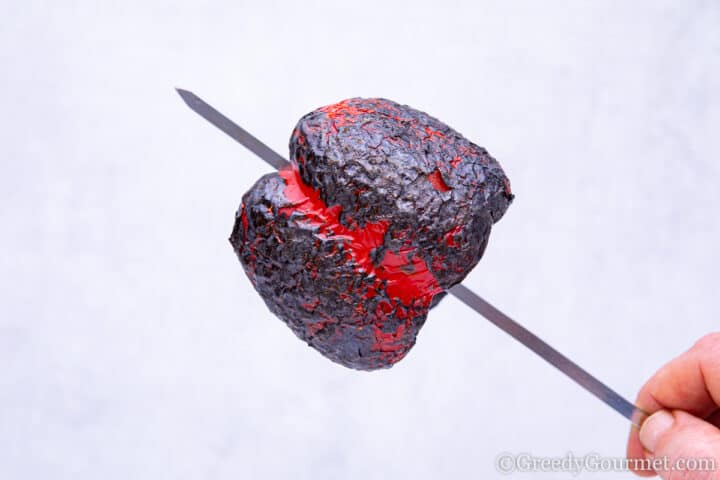 The star players in this sauce
The key ingredient in romesco sauce recipes is pepper.
For my easy romesco recipe, I charred a red pepper on an open flame, to get that sweet smoky flavor. Roasted red bell peppers bring a wonderful depth of flavor to romesco.
Another big ingredient in romesco is tomato. Traditionally, roasted tomatoes would be used, but my recipe keeps things simple with tomato paste. You can, of course, add roasted tomatoes – more on this later.
Nuts are essential in romesco. They bring an earthy creaminess that makes it special. For this recipe, I've gone with almonds. Traditional romesco also adds hazelnuts into the mix.
In terms of spice, smoked paprika is key. One of the number one spices in Spain, smoked paprika gives romesco notes of earthy, smoky flavor, essential for this sauce. I've also added cayenne pepper, for a little extra dimension of spice.
Romesco wouldn't be complete without garlic, olive oil and vinegar. The vinegar – often red wine vinegar, but I've gone with sherry vinegar – brings a hint of acidity, while the olive oil and garlic are the essence of Mediterranean cuisine.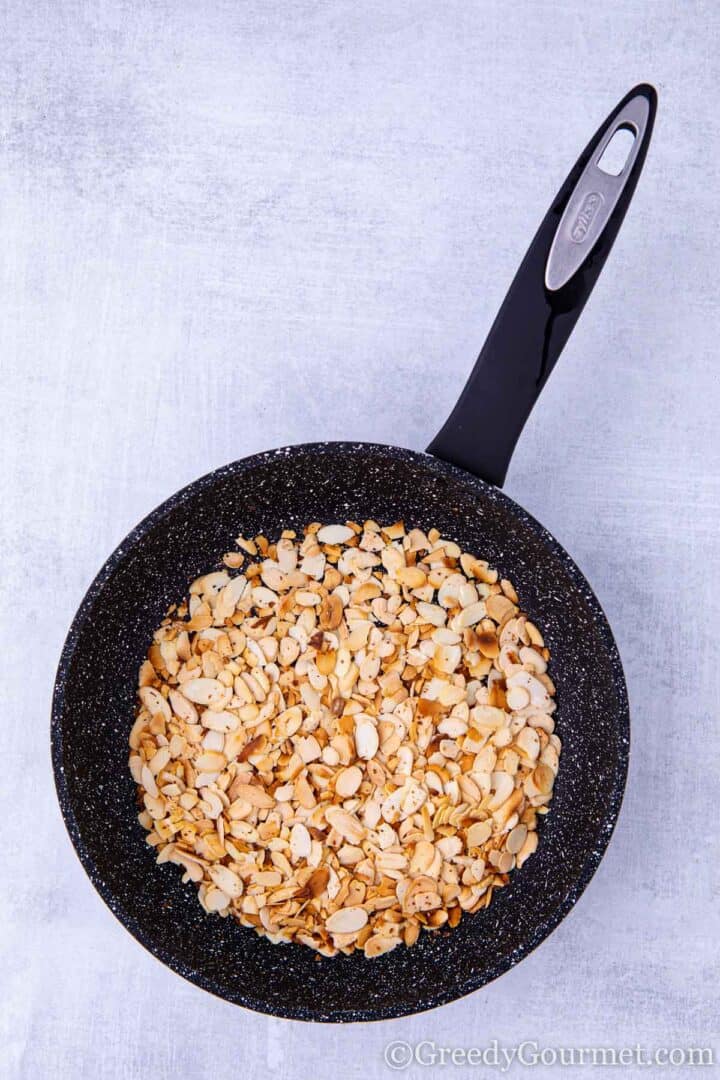 The history of romesco
This magical sauce originated in the historic coastal city of Tarragona, just an hour and a half's drive southwest of Barcelona. More specifically, its roots lie in the old fishing port neighborhood of El Serallo.
According to Tarragonese legend, fishermen began making the sauce at sea, using the ingredients they had to hand. These included stale bread from the day before, stale wine, nuts (which sailors always took on board for extra energy) and non-perishable vegetables, like peppers and garlic.
When back on land, the sailors would bring the sauce home and the intense taste, said to only be suitable for the palate of the high seas, was softened with the addition of tomato and a little white wine.
The recipe has evolved over the years, with specific elements fine-tuned and key additions made. The popularity of romesco sauce soon spread all over Spain and beyond, due in no small part to its flexibility and downright deliciousness.
Nowadays, the traditional way to make romesco is by roasting a red pepper with a head of garlic and a tomato in the oven. Hazelnuts and toasted almonds are peeled, along with a special pepper called a ñora, which is scalded and quickly boiled.
All the roasted ingredients are then peeled (which will be easy if they are well cooked). A clove of raw garlic is added, along with olive oil, vinegar and a pinch of salt.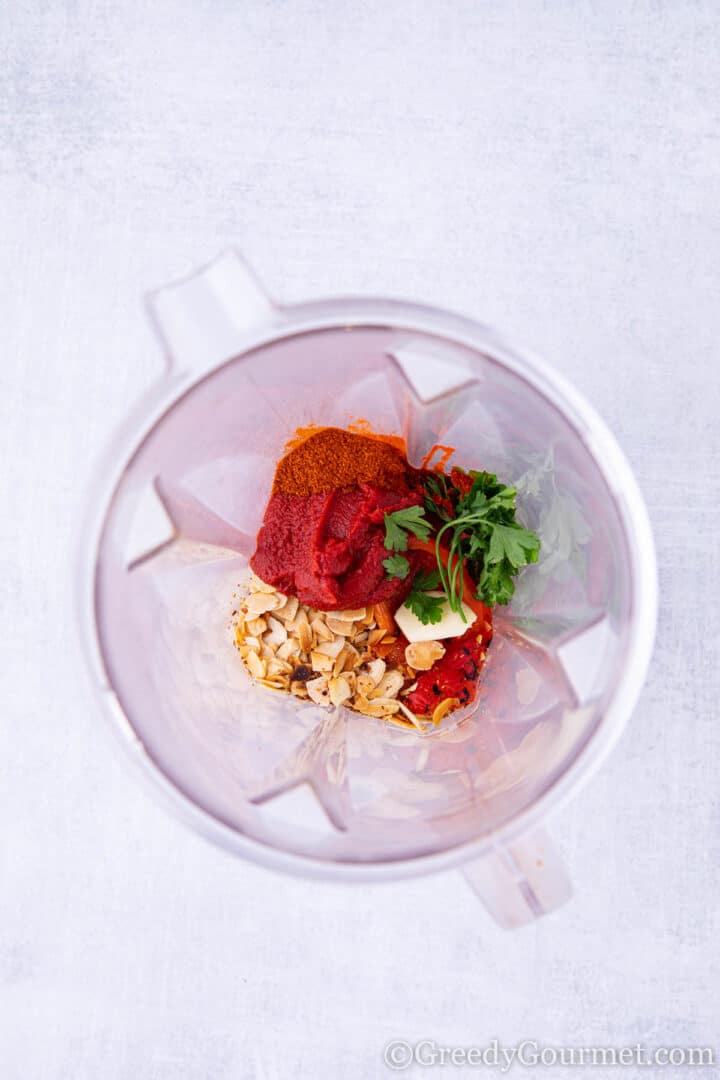 Romesco chicken traybake
A great way to use this sensational sauce is as a marinade. It's just heavenly… and here's the proof.
My romesco chicken traybake recipe is a simple one tray romesco sauce recipe that shows just how delicious this sauce really is. Tender, juicy chicken with a hint of smokiness. Perfect with a generous serving of creamy mashed potato!
Romesco sauce with calçots
The most typical way to eat romesco sauce is with a type of onion native to Catalonia called a calçot (pronounced cal-sot).
Calçots are like green onions. They grow in massive quantities all over Catalunya and are big at festive feasts in the late winter season.
They are traditionally cooked on an open flame, charring the outside, before being wrapped in newspaper and allowed to cool for 30 minutes, while continuing to slowly cook from the heat trapped inside.
Kind of like braising, where the rapid fire heat gives way to a slow, tenderizing cooking process.
Calçots are absolutely delicious! Still they are only available in Spain. If you want to discover just how tasty they are, especially with romesco sauce, barbecue some leeks or large green onions on the grill. 
Is it a side sauce or a marinade?
It's both! It's renowned in Catalonia as a side sauce (... con romesco) or cooked as part of the main dish (...de romesco).
The Catalans, especially those from Tarragona, say that one wouldn't exist without the other. Still, it's much better known outside of Catalonia as a side sauce.
What peppers should you use to make romesco?
There are a few different options you can use when it comes to peppers in romesco sauce.
Red bell peppers
The most widely available pepper, red bell pepper is slightly sweet and perfect for this easy romesco recipe. Charred or roasted red peppers bring a smoky sweetness to the sauce, for which red bell peppers are perfect. 
Red anaheim peppers
Very similar to a bell pepper, these peppers are longer and thinner. They too have a mild taste and slight sweetness and they should also be easy sourced from most supermarkets and grocery stores.
These long, dry peppers are typically used in making chorizo – the famous Spanish sausage. They are also the traditional peppers used in making Tarragona romesco sauce. Subtly sweet and smoky, with a rich complex flavor. Hard to get hold of, but definitely worth the effort.
Slightly sweet with an intense aroma and meaty taste, these traditional Spanish peppers are often used to make romesco. They are similar in taste to choriceros but different in shape – they are round instead of long.
Ñora (short for señora) peppers are normally dried in the Spanish sun and ground up, to be added to countless classic Spanish dishes. The most notable is probably paella, in which the small ball-shaped pepper plays a big part.
Roasted red peppers
You can also buy pre-roasted red peppers in a jar. 
What does romesco sauce taste like?
It tastes creamy, smoky, tomatoey, rich, garlicky and slightly nutty. The texture is smooth but quite thick – you should be able to coat the back of a spoon with it. This makes it perfect as a dipping sauce, as well as a marinade.
The spiciness is on the tip of the tongue from the first taste, but dissolves within a second. The Spanish are definitely not big on heat, so traditional romesco shouldn't be hot.
If you are big on heat, however, you can of course adapt this recipe by adding chili flakes or fresh chili.
Is romesco sauce vegan?
Yes! Romesco sauce is a fantastic recipe for vegans. It brings an amazing amount of flavor from just a handful of ingredients.
As a dip, it pairs particularly well with vegetables, particularly roasted onions and artichokes. 
Do you need to use extra virgin olive oil?
Yes, I think extra virgin olive oil is definitely the best oil to use.
You could also use sunflower oil, or a similar neutral tasting oil, but I think the subtle olive flavor sits well with the rest of the ingredients and delivers that Mediterranean flavor.
Can you make nut-free romesco sauce?
Nuts play a key role in the taste and texture of romesco sauce. However, for those who have allergies or would prefer a nut-free romesco sauce recipe, there are options.
One is to roast pumpkin or sunflower seeds. Swap at like-for-like measurements and only use unsalted seeds.
You could also toast some oats and use them in place of almonds. Try toasting them in butter to better capture the nutty flavor of almonds.
How do you store romesco sauce?
As it contains vinegar and olive oil, romesco sauce keeps quite well. You can store it in the refrigerator for up to 4 days. 
Can you freeze romesco sauce?
If you want to keep romesco sauce longer than a few days, you can freeze it. Just place it in an airtight container and label it with the date of freezing. Romesco will last for around 4 months in the freezer.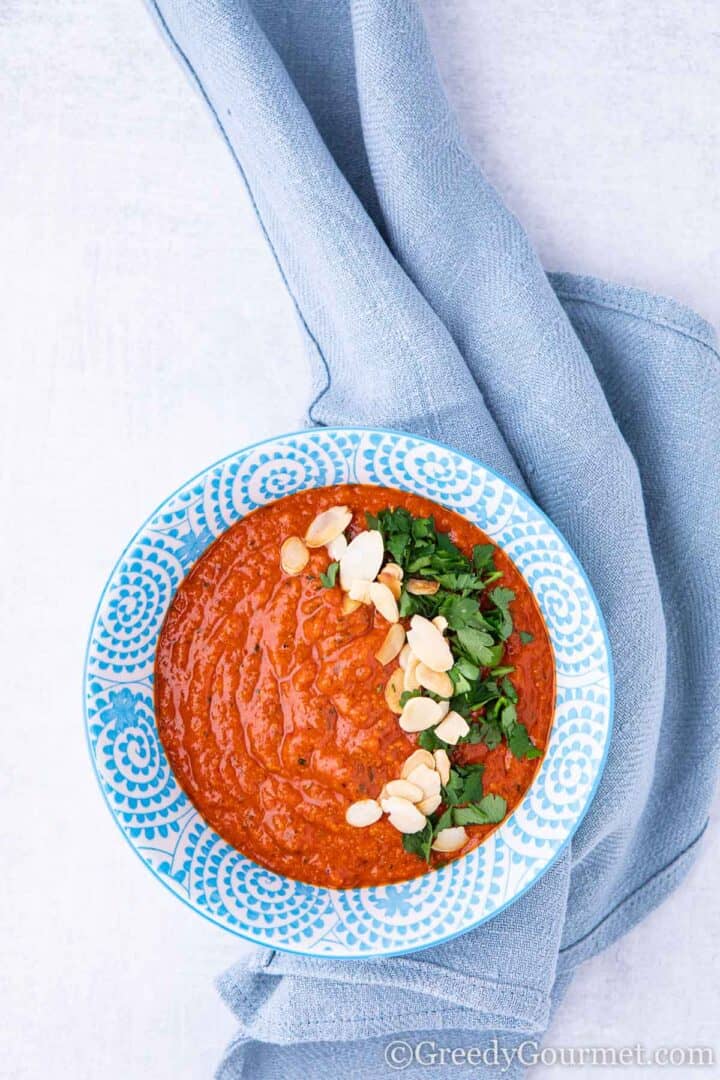 Wine pairing for romesco sauce
Catalonia isn't just famed for its delicious cuisine. It's also one of the biggest wine-growing regions in Europe, with an array of amazing wines on offer.
The wines from the mountainous part of Catalonia are particularly good for this dish, as they have a high minerality. Something like a Grenache from Montsant would be perfect.
Then again, any full bodied Spanish red would be an ideal pairing with romesco sauce.
What to serve with romesco sauce
Whether you want a side sauce or a marinade for a main, there are so many options when it comes to serving up romesco. Here's some Greedy Gourmet divine inspiration:
More sumptuous sauces
Are you a sucker for sauce? Try these others on for size:
Print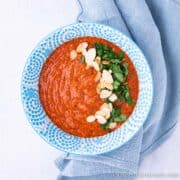 Romesco Sauce Recipe
---
Author:

Michelle Minnaar

Total Time:

20 minutes

Yield:

250

ml (1 cup)

1

x

Diet:

Vegan
Description
Learn how to make this melt-in-your-mouth Romesco Sauce. This easy recipe makes a creamy sauce that can transform any dish.
---
1

red pepper

1

garlic cloves, peeled

40g

(

¼ cup

) flaked almonds, toasted

60

ml (4 tbsp) tomato paste

25g

(

⅛ cup

) flat-leaf parsley, leaves only

30

ml (2 tbsp) sherry vinegar

2g

(

1 tsp

) smoked paprika

2g

(

1 tsp

) cayenne pepper

125

ml (½ cup) olive oil
salt and pepper, to taste
---
Instructions
Place the red pepper directly over a flame and turn them until they are black all over. 
Once blackened, remove from the heat and wait until it cools down to room temperature. 
Use your fingers or a knife to scrape the charred skin from the pepper. Set aside.
Place the pepper along with the rest of the ingredients, except the olive oil, in a food processor and blend until as smooth as can be. 
While the food processor is running on a high speed, slowly drizzle the oil in a very thin stream. Carry on until you run out of oil. 
Season to taste and chill. Enjoy whenever!
Prep Time:

10 minutes

Cook Time:

10 minutes

Category:

Sauce

Method:

No Cook

Cuisine:

Spanish
Keywords: romesco sauce, spanish sauce, romesco sauce recipe, roasted red pepper sauce, red almond sauce, vegan spanish recipe