Do you love chocolate as much as I do? If you do, then you will adore my chocolate fudge sauce recipe.
Forget about buying pre-made chocolate sauce in the supermarket. Making your own homemade chocolate fudge sauce is the best thing ever! You won't even want to share the fudge sauce with anyone, giving Golem a run for his money with his ring. Let alone drizzle the chocolate fudge sauce on top of something, it's too precious!
I have a feeling you might need to make a larger batch because you'll find yourself snacking on the jar. You can decide the type of chocolate you use in this chocolate sauce, hence controlling the sweetness and consistency. In short, I hope you enjoy this irresistibly finger-licking delicious chocolate fudge recipe. Let me know how it works out for you in the comments below.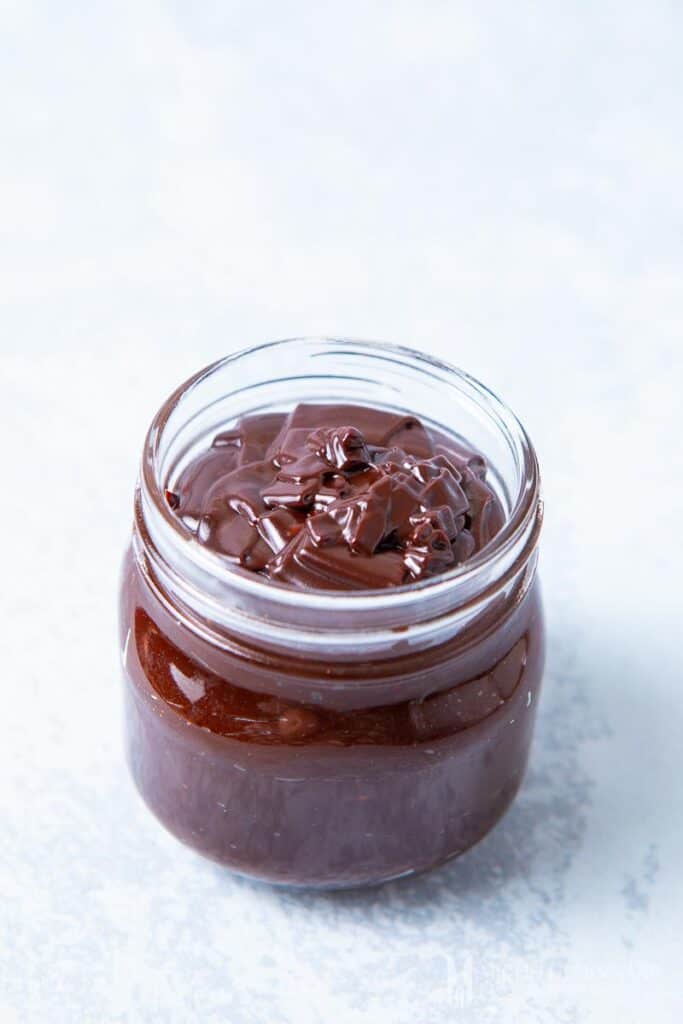 chocolate fudge sauce by nigella lawson
As always, I always love to find inspiration from one of the greatest cooks on the planet, Nigella Lawson. I love her style of comfort cooking, and this chocolate fudge sauce is all about comfort food. Her version of hot fudge sauce calls for chocolate and evaporated milk. Although, she doesn't specify which type of chocolate she uses.
You can check out her recipe here, however, I feel like I've tweaked her chocolate sauce recipe to perfection. Plus, I try to be more specific so that you won't have to deviate or improvise. Let's get this chocolate fudge sauce right!
old fashioned hot fudge sauce
What comes to mind when you hear or see the words 'old fashioned' hot fudge sauce? For me, it conjures images of grannies in the kitchen cooking up a storm.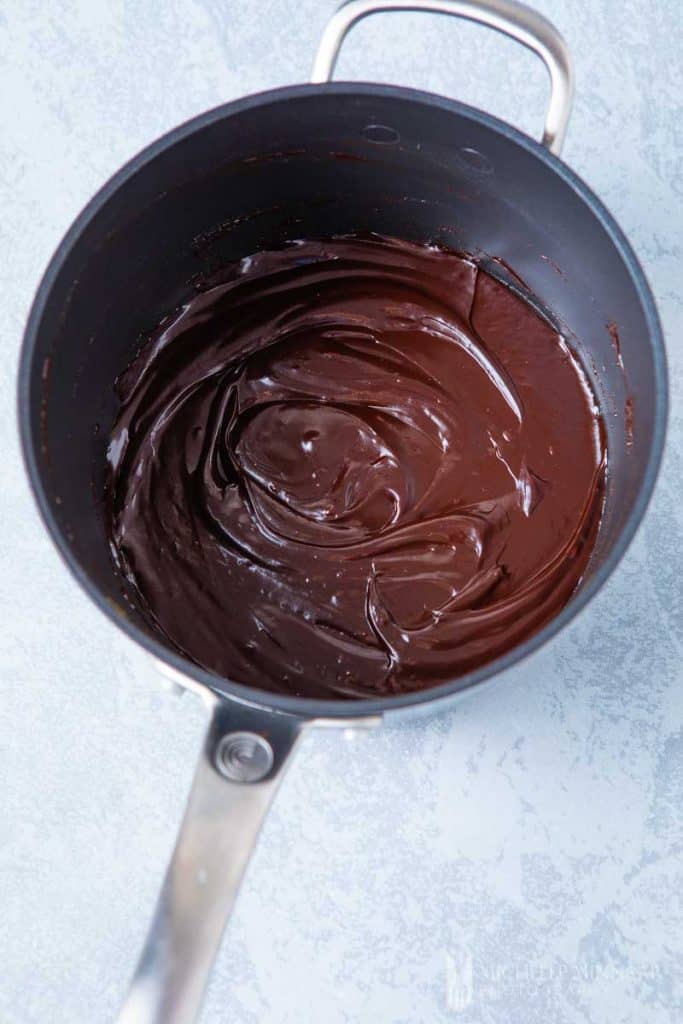 One ingredient that they swear by to this day is booze. Add a bit of rum or even whisky! The rum will add a lovely vanilla well-rounded flavour to the chocolate sauce.
sauce serving
Chocolate fudge sauce is runny when it's warm. This one anyway. Hence, you often see chocolate fudge sauce being used as a topping for ice creams, cakes, sundaes, s'mores and much more. Just take a look at what you could use this luscious chocolate fudge sauce recipe with:
Also, here's food for thought. You can also use a hint of this chocolate fudge sauce with milk and make a hot cup of cocoa on a rainy day. Also, feel free to add a spoonful of it into this incredible chocolate and banana protein shake.
At room temperature it becomes thick and diving in with a spoon eating it straight from the jar is simply irresistible.

chocolate sauce with alcohol
As mentioned before, you can add alcohol to this chocolate fudge sauce to make things more interesting. I think that the alcohol actually balances out all the flavours and ties everything together. However, this step is optional and you can omit this step completely.
Rum possesses a lovely vanilla flavour from the oak barrels. If you are not a big fan of rum, you can also add orange liqueur. Orange and chocolate is a divine combination. If you're not convinced, I dare you to try these chocolate orange cupcakes to win you over. You can use the chocolate fudge sauce as a topping in this case too.
If you are not keen on alcohol, you use extracts to enhance this chocolate sauce. For example, peppermint extract. Who doesn't love the marriage of chocolate and mint? In addition, you can use the leftover peppermint extract in making the famous South African peppermint crisp tart.
Lastly, you can also add these flavour enhancers to make this chocolate fudge sauce to your taste:
vanilla extract
orange zest
cinnamon
chopped hazelnuts or almonds
ground frozen raspberries or ground raspberries
ground chilli powder - chilli and chocolate is an excellent combo
Do you have any other flavour enhancers that you like to use?
hot fudge sauce made with cocoa powder
You can substitute real chocolate with cocoa powder. Beware, you might need to add a little bit of butter into the mixture as chocolate is already made with butter. Of course, if you would like to keep the butter element out of the equation, you can.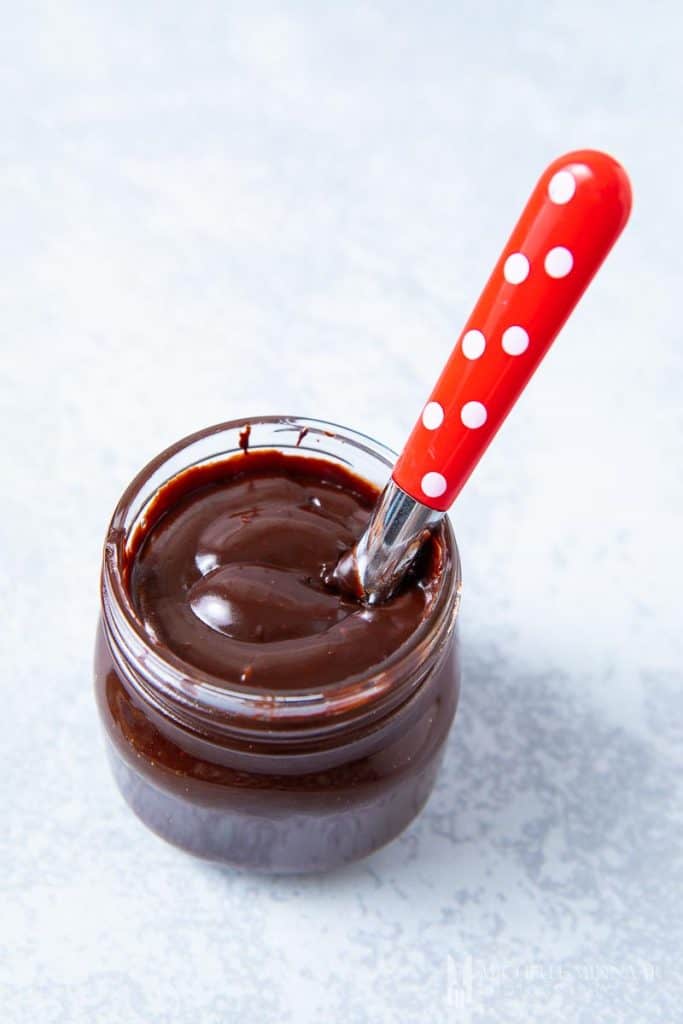 I still prefer melting chocolate because there is something satisfying about watching chocolate melt. Plus, I love to lick the spoon at the end. In addition, you can also alter milk chocolate and dark chocolate. So, you don't have to end up with a super sweet chocolate sauce. I recommend going for milk chocolate and dark chocolate above 85%. The balance of flavours between sweet and bitter is superb.
hot fudge sauce recipe sweetened condensed milk
Now, if you would like to use your hot chocolate fudge sauce for something else, you can. You can make this incredibly sinful but amazing slow cooker Nutella fudge. You'll need Nutella as well as hazelnuts to complete the recipe, but it is worth the extra effort. Take my advice and have a look at that fudge. It really is as good as it sounds. So, would you be able to resist the temptation of this rich chocolate fudge?
How would you use your homemade chocolate fudge sauce? Let me know in the comments section below. I am very curious to see who else would just snack on this bad boy directly from the jar! Enjoy!
Print
Chocolate Fudge Sauce
---
Description
This chocolate fudge sauce recipe is simple to make and can be used for many desserts. Choose between chocolate and cocoa powder, and add your own twist!
---
30g

(

2 tbsp

) butter

150

ml (2/3 cup) double cream

170g

(

1/2 cup

) golden syrup

50g

(

1/4 cup

) brown sugar

20g

(

1/4 cup

) cocoa powder

170g

(

6oz

) 70% dark chocolate, chopped

2.5

ml (1/2 tsp) vanilla extract
---
Instructions
Combine the butter, cream, syrup, sugar and cocoa in a small saucepan.
Bring the mixture it to a simmer. Keep stirring for 3 minutes or until everything has melted.
Remove from the heat and stir in the chocolate and vanilla.
Once the mixture has cooled, drizzle over your favourite ice cream.
Notes
Alternatively, if you're not going to be using the sauce immediately, pour it in an airtight container. Let it cool down completely and then store in the fridge, which should last for a month.
Prep Time:

10 minutes

Cook Time:

10 minutes

Category:

Dessert

Method:

Boil

Cuisine:

American
Keywords: chocolate fudge sauce, dessert sauce recipe, dark chocolate sauce
save the recipe to your pinterest board