This slow cooker sweet potato soup is an incredible dish that will even make your grandmother jealous! A definite winter warmer, preparing this recipe is almost too easy.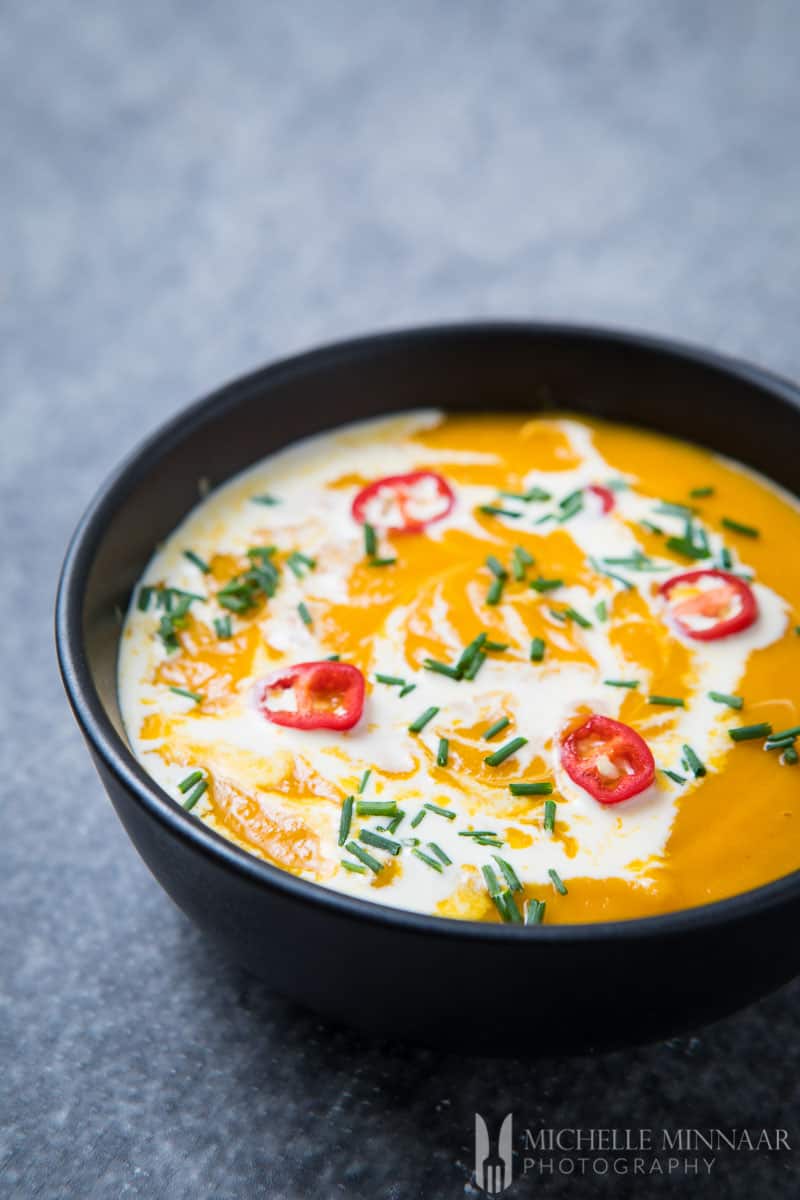 The hardest part is peeling the potatoes which you can cleverly delegate to someone else. This festive sweet potato soup is also a very versatile recipe, where you substitute the sweet potato with other root vegetables.
Enjoy this rich, yet healthy soup at your next available opportunity. Did I mention that it makes a great starter for family meals?
sweet potato soup with eva solo
A colourful recipe such as this slow cooker sweet potato soup deserves to be served with equally beautiful tableware and cutlery. What better way to present your dishes that using high quality Danish designs from Eva Solo?
Eva Solo is a Danish design company specialising in all kinds of products that are beautiful and functional for the home.
Having won more than 150 design awards, it's no surprise the company continues to be successful since its establishment in 1997.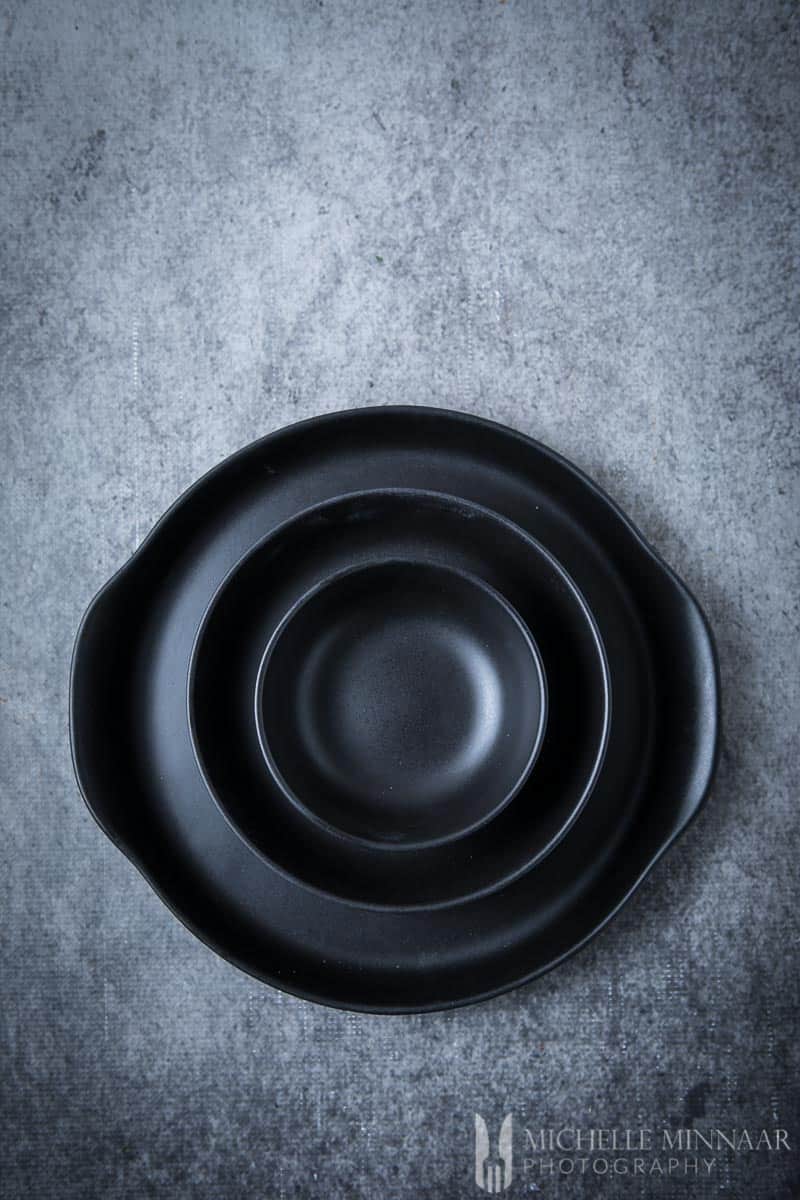 I had the pleasure to photograph these stunning items:
So, which one appeals to you most or which one would you need most in your kitchen?
You can easily buy these amazing Danish designs online at FormaHouse. Established for nearly 50 years, the former exclusively manage and distribute a diverse portfolio of design-led home & giftware across the UK.
Make sure to take a look at their website to check out what you will serve your slow cooker sweet potato soup in.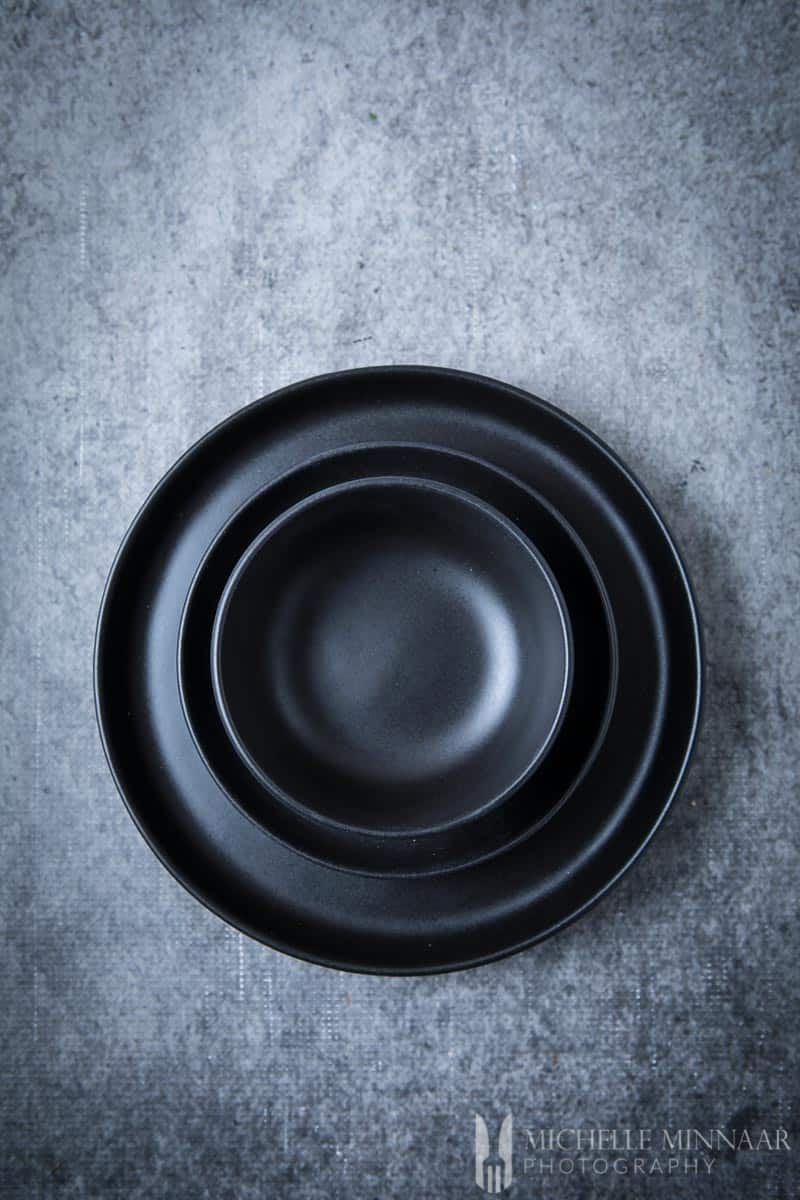 milk and stock
You might think otherwise, however this slow cooker sweet potato soup is vegan. The recipe doesn't call for the use of any chicken or beef stock, although these would intensify the flavours of the sweet potato.
So naturally, if you feel like having more umami and salty flavours, you can use these in the cooking process. The soup also doesn't use any cream.
Instead, I used coconut milk and tried to keep the soup as healthy as possible.
For an even healthier alternative, you can opt to omit the coconut milk altogether and add just plain water.
I like to use bio coconut milk when I can get hold of it, because standard coconut milk usually contains preservatives and chemical additives. Be sure to check the labelling next time you shop for it!
substitutes
Although sweet potato is a very versatile ingredient, sometimes it is easily to come by it in the super market. The sweet potato is a seasonal root vegetable, mostly found in the autumn months.
So, if you can't get hold of it, you can also use traditional potatoes and make a slow cooker potato soup. Just jazz it up with some chives or make an easy leek and potato soup like this one.
You might not get the same sweet flavours with the normal potato, however this can be solved by substituting with a butternut squash.
In my opinion, slow cooker butternut soup is the closest alternative to the sweet potato soup. The butternut squash itself is nutty, sweet and has a very similar texture.
Otherwise, this recipe will also work with chickpeas, any kind of squash or pumpkin and chestnuts as well. Yes - you can make a chestnut soup easily! Don't believe me? Take a look here.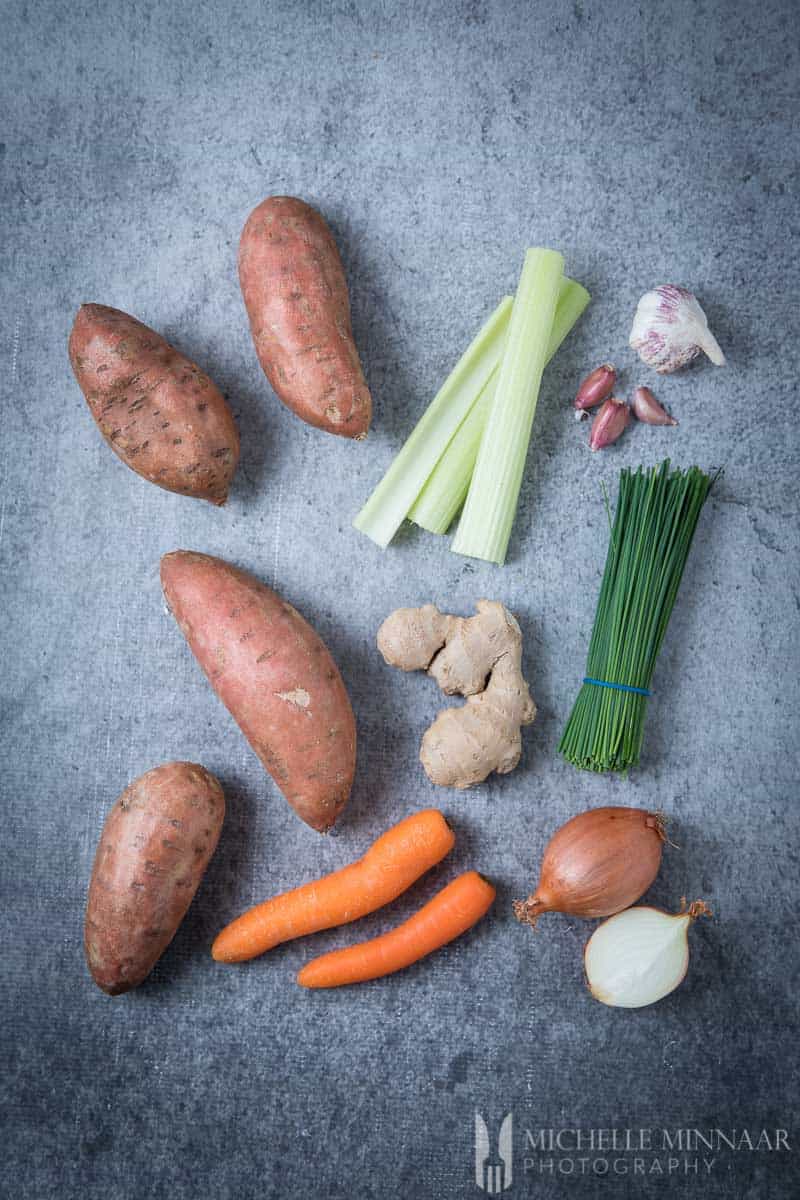 Asian twist
Why should you keep things plain and simple if you like a bit of spice? Just add your favourite spices into the slow cooker sweet potato soup and make it your own.
For example you can take the soup in a Thai direction and create a slow cooker Thai sweet potato soup. Just make sure that you add the right red Thai curry spices, such as galangal, and the red curry paste.
Since the original recipe involves the use of coconut milk, it will pair well together with the Thai flavours, since sweet potato is commonly used in Thai cuisine.
Another cuisine I adore is Indian cuisine. Along with the addition of the coconut milk, you can add turmeric and cumin to create a delicious sweet potato turmeric soup. Top it off with some coriander and some fresh chillies.
too many potatoes
Bought too many sweet potatoes for your slow cooker sweet potato soup? Since this soup takes very little effort and time to prepare there are plenty of other dishes you prepare in the meantime.
For example, everyone loves sweet potato fries, check out my favourite sweet potato fries recipe here. They are crunchy, crispy and sweet!
If you feel like making a mash rather than fries, I 've also got a hearty sweet potato mash recipe that pairs well will any type of meat. Admittedly, you can also eat it on its own directly from the pan.
Ultimately, my favourite sweet potato recipe is the sinful sweet potato gratin. Actually, it's not as sinful as my tartiflette, because the sweet potato is much healthier due to its low glycemic index.

Want more than one vegetable? Add some pumpkin to the mix and you can make this delicious pumpkin and sweet potato soup.
toppings
I would recommend you to serve the slow cooker sweet potato soup with some traditional Asian toppings. These include freshly cut chillies, parsley, spring onions, coriander leaves, etc.
If you are not a vegan, also go for the addition of some cream or grate a bit of cheese on top. You can sprinkle some pumpkin seeds on top, especially if you are using butternut squash as a substitute!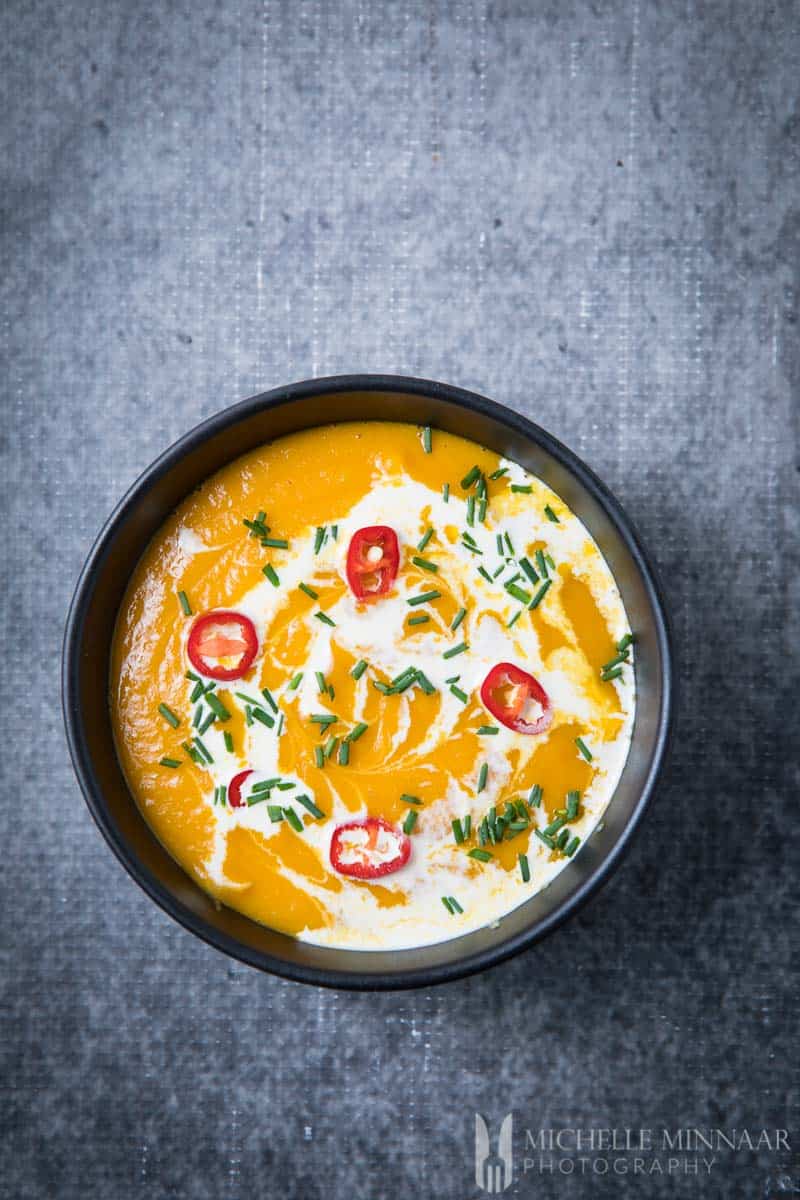 storage
There is no such thing as making too much of slow cooker sweet potato soup. Firstly, it stores really well in the fridge. You can keep it for up to three to four days in your fridge depending on how cold your temperature setting is in your fridge.
Alternatively, you this soup freezes well so just place it in portion-sized freezer-friendly containers and eat them at your earliest convenience.
More smooth vegetable soup recipes
Need some more soup for the soul? Check out these divine recipes.
Print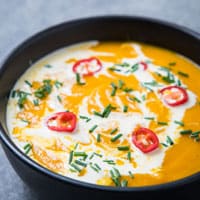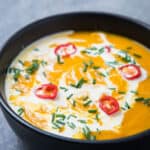 Slow Cooker Sweet Potato Soup
---
Description
This slow cooker sweet potato soup is not any sweet potato soup. Due to the slow cooker, it is packed with intense flavours that would even challenge your grandmother's best soup! The sweet potato soup is a very healthy starter that you can jazz up with any spices. Garnish with cream and sprinkle with fresh herbs.
---
1.5

kg

(3lbs) sweet potatoes, peeled and chopped

2

stalks celery, washed and chopped

1

onion, peeled and chopped

2

medium carrots, peeled and chopped

2

cloves garlic, peeled

400

ml

(1 can) coconut milk

2.5

cm (1in) fresh ginger, peeled and finely chopped

1

ℓ (4 cups) vegetable stock

2

green chillies, washed and chopped [optional]
---
Instructions
Place all the ingredients in a slow cooker. 
Cook for 6 hours on the low setting, or 4 hours on high.
At the end of cooking time, process the soup in batches until everything is silky smooth. 
Serve with your favourite toppings such as fresh chillies, cream, spring onions, etc. 
Notes
Made too much? This soup freezes well!
Can't find any celery? Check out these celery substitutes!
Prep Time:

20 minutes

Cook Time:

6 hours

Category:

Starter

Cuisine:

International
Nutrition
Serving Size:

1 serving

Calories:

481

Sugar:

5.9 g

Sodium:

73 mg

Fat:

16.6 g

Saturated Fat:

14.4 g

Carbohydrates:

80.4 g

Fiber:

13 g

Protein:

6.1 g
save the recipe to your pinterest board